Liard Hot Springs is a must see spot. If you're traveling before September you need to make reservations at their provincial campground. The hot spring is in a natural setting with moss and trees. It's open 24-hours a day. You can take a soak at 3:00am. If the Northern Lights are out, you can see them.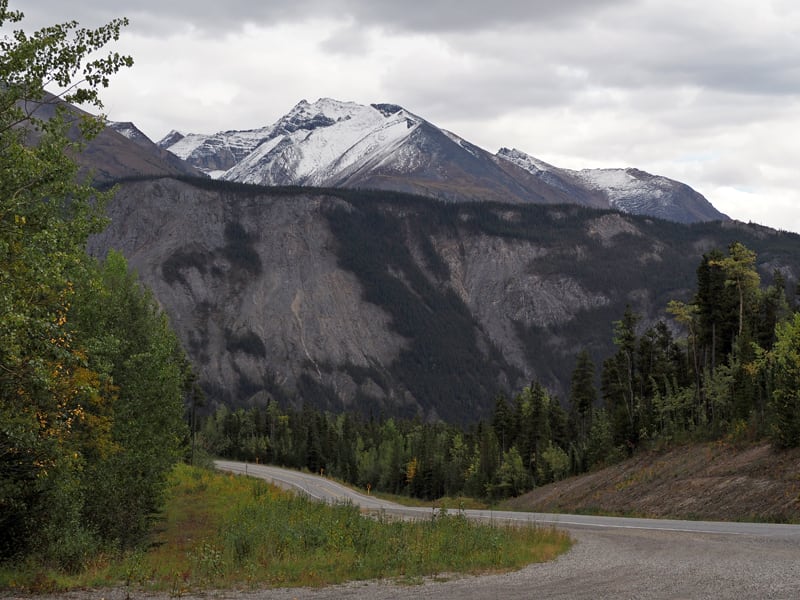 Above: The drive through Muncho Lake, British Columbia
Tumbler Ridge is also a nice place to go. There are about 30 different waterfalls and hiking trails. There is a short hike that's only a couple kilometers. You'll see dinosaur tracks in the rocks on the river bank. There are ATV trails and mountain bike trails. There's a municipal campground with services. There are also provincial parks in the area. We were totally amazed by that place.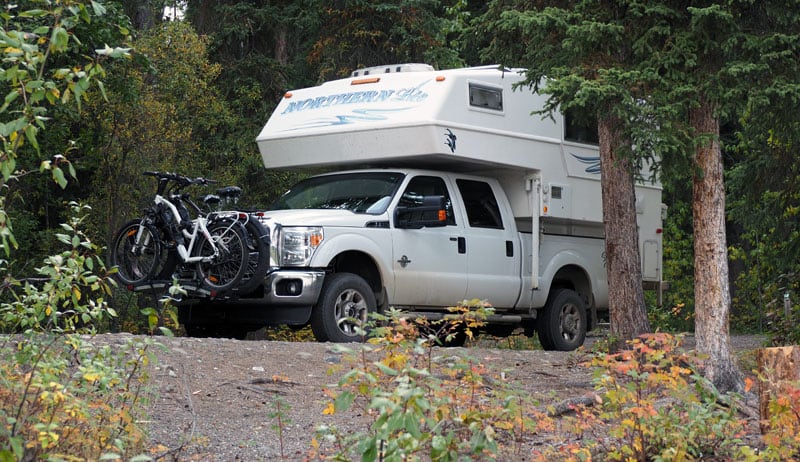 Above: Camping at Frances Lake, Yukon
What should others know before attempting the road to Tuk?
The road is much worse than I thought it would be. Make sure your spare tire is in good shape. We brought tire repair kits with us. We also have a really good electric tire pump. Luckily we didn't need to use it. Some people had more than one flat.
If it happens to rain a lot while you're up there you might find yourself camped out for two or three nights waiting for a ferry to cross a river. Or you may encounter a temporarily closed road while workers fix a bridge.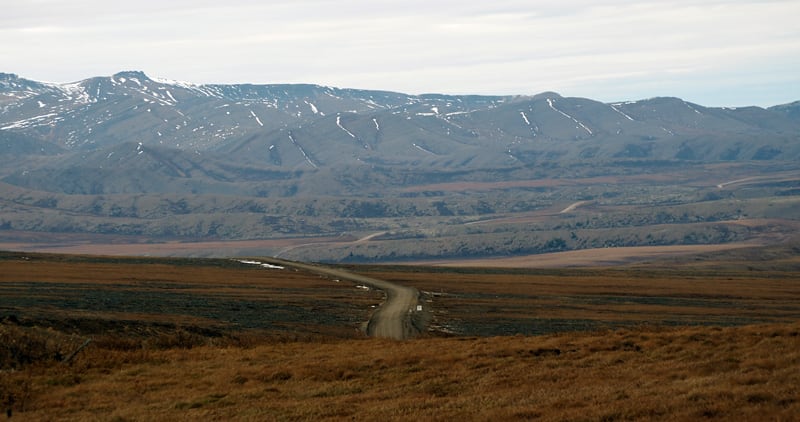 Above: The road through the Northwest Territories
We joined the Tuk page on Facebook. They post pictures weekly. That helped us see how muddy the area was before we arrived.
Gum boots were a top priority. Gum boots are a weatherproof boots with no laces. We lived in those during the trip.
You should allow for more time in the Northwest Territories and the Yukon. There is so much to see up there. We took a month to drive from Vancouver, British Columbia to Tuk and back. We could have taken two months to do the whole trip. The far north is spectacular.
Nate Kew and Nancy Murray's Rig
Truck: 2016 Ford F350, crew cab, single rear wheel, four wheel drive
Camper: 2011 Northern Lite 8'11" Queen SE
Tie-Downs and Turnbuckles: Torklift Fastguns
Suspension: Three leaves added to the rear spring packs