Nate Kew and Nancy Murray take their Northern Lite truck camper rig to the Arctic Ocean via the Inuvik-Tuktoyaktuk Highway.  Don't attempt this run without a spare or two, and gum boots.  Not everyone makes it.

It's hard to imagine that something as simple as building a road could be that challenging in modern times.  After all, Romans were building roads in 300 BC for goodness sake.  In an age when our cell phones can answer the question, "When did the Romans first build roads?", building actual roads should be easy – right?
Not if you're attempting to build on permafrost.  Essentially frozen soil, permafrost freezes solid in the winter, melts in the spring, and can be nothing more than mud all summer.  Evidently, building a road on permafrost is a bit like playing Jenga on a Klondike Bar during the dog days of August.  That might sound challenging (and oddly delicious) but that tower is coming down.
The Inuvik-Tuktoyaktuk Highway
Located on the Arctic Ocean in Canada's Northwest Territories, Tuktoyaktuk (or Tuk) was only accessible by an ice road spanning frozen sections of the Mackenzie River delta and Arctic Ocean.  After debating the feasibility of completing all-season road over permafrost for decades, Canada finally committed to the $65-million dollar project in 2012.  Let the Jenga begin.
Starting in early 2014, crews from Inuvik and Tuk endured 24-hour shifts, arctic temperatures and punishing winds.  Along the way they erected eight bridges and battled a myriad of ever-changing ground conditions.  The road was finally opened to the public in November of 2017.
News of the Inuvik-Tuktoyaktuk Highway opening was exciting news for Nate and Nancy.  They wanted to reach Tuk and meet its people before tourists permanently changed their way of life.  With their Northern Lite 8-11 Special Edition and Ford F-350, they set out.  What they didn't know was just how bad the road conditions would be.  Put your gum boots on now.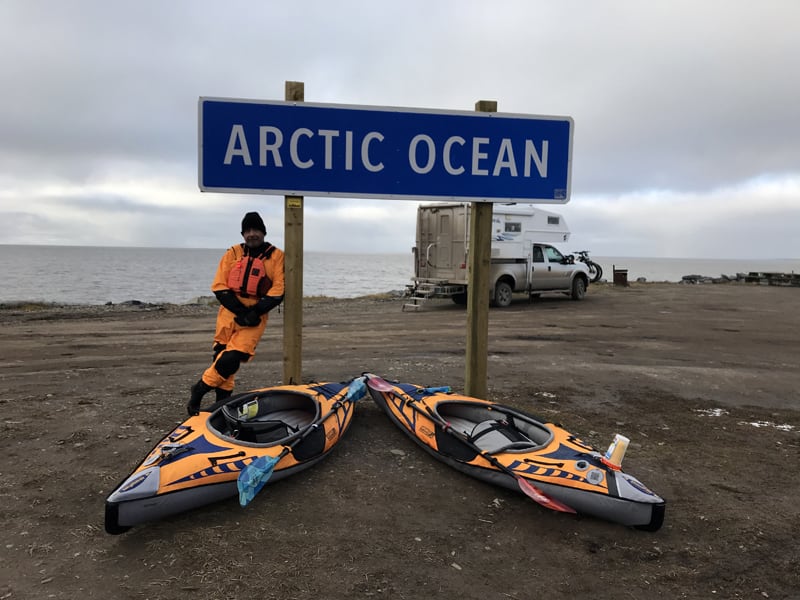 Tell us the story of how you decided to go to Tuk.
We decided to buy an RV in the spring of 2011. A truck camper was the best choice for us because of the ability to maneuver into tight spaces and navigate backcountry roads.
We bought a used 2009 Ford F-350 short box and a new 2011 Northern Lite 8-11 SE. We have since replaced the truck with a 2016 Ford F-350. The Northern Lite gives us the ability to load and unload with full tanks and also provided an interior style that we felt at home in.
One of our goals was to drive to Tuktoyaktuk (Tuk) in Northwest Territories, Canada. A little over a year ago the last 130-kilometers of the Inuvik-Tuktoyaktuk Highway was pushed through to the town of Tuktoyaktuk. 2017 was the first year you could drive on a road to the Arctic Ocean in Canada.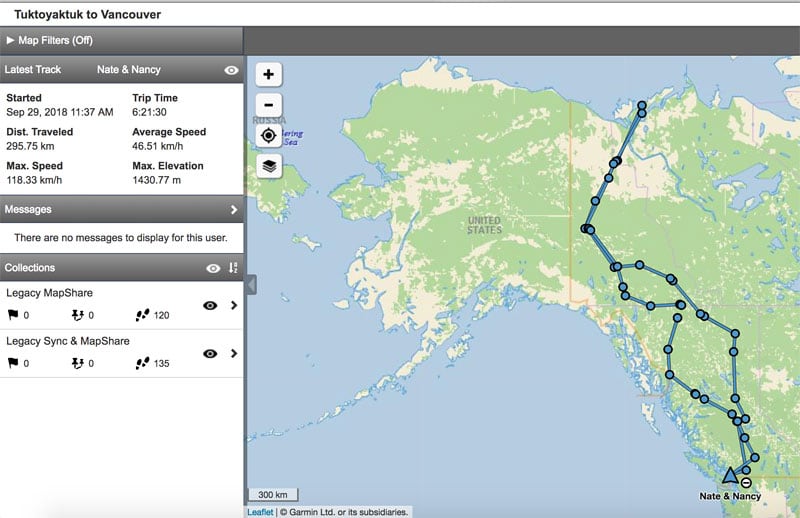 The road crosses tundra and permafrost making it difficult to build an actual road. They had to bring in a lot of fill and lay it over the permafrost. A local guide from Tuk helped with the planning. He was familiar with the ground from his years of hunting and living off the land and knew where the firmest tundra was to support the road's bed.
Before the road was completed, trucks from Dawson City would stockpile fuel in the fall. When the rivers froze over, an ice road would be employed. Before the new road, there were often several weeks when even the ice road was impassable.
On the new road, the gravel is soft. Fuel trucks are making big mud holes. There is no way to pave the road because the ground is too soft to support pavement. As a result, crews are continuously repacking and grading fill.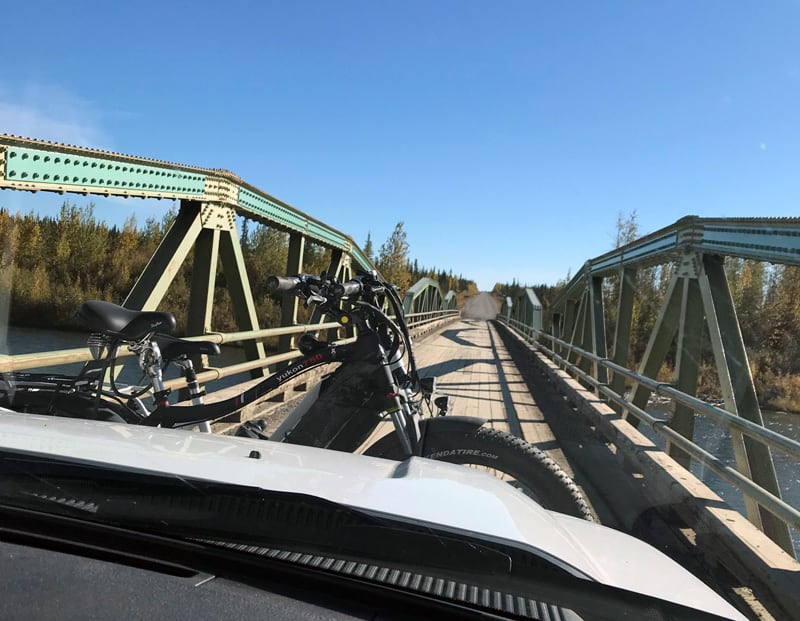 Above: At the start of the Dempster Highway, Yukon
What was the condition of the road when you took it?
From Dawson City to Tuk there is about 900-kilometers of dirt road. The condition of this part of the road is very poor in some areas. There were long stretches of mud holes that were rough, so we crawled along.