Dann and Helen O'Kane share their circle tour of Canada's Atlantic Provinces via the Trans-Labrador Highway including packing and planning tips, boondocking recommendations, and must-see points of interest.

Our final route selection for this summer enabled us to re-discover Canada's east coast. It had been nineteen years since we drove through the Atlantic provinces.  At that time it was only possible to explore a very small portion of the Labrador region in the provinces of Newfoundland and Labrador.  There just weren't many roads.
In 1996, we drove the traditional counter-clockwise route from southern Ontario, east through Quebec, New Brunswick, and Nova Scotia, and then ferried across to the Island of Newfoundland.  From Newfoundland's Northern Peninsula, we boarded a second ferry to Labrador and drove the short road between Red Bay, Labrador, and Blanc-Sablon in Quebec.
This time our route took us clockwise, from Ontario.  The plan was to spend a little time in Quebec, but to head north as soon as possible since it was getting late in the season and the weather would soon be changing.  Colder temperatures could be arriving soon and even snow was a possibility.
We chose to go straight to Labrador partly because of it being mid-August and because we didn't know how much time we would spend in Labrador.  Since we have been to the other provinces, it made sense to shorten the time spent in those provinces.  We wanted to leave ourselves open to the possibility of spending more time in Labrador and not be forced to move on.
We had no schedule and no reservations.  Our goal was to drive the Trans-Labrador Highway and allow an itinerary to just unfold after that.
Planning and Packing
By mid-August, we were packed and ready with spare fuel and a stocked emergency kit.  Our GPS maps were updated, the backroad map books were marked, the Delorme inReach for emergency communications was on-board, and we had the Rogers hub for Internet communication.  We had food, water, warm and cold weather clothing, bullet proof rain gear, and new mesh bug suits.
We didn't find we were lacking anything.  In fact we probably didn't even need the Delorme inReach since there was lots of traffic on the road and we wouldn't be stranded for too long.
We brought along a bug tent that we didn't use, but that was only because we didn't find any place to boondock for several days.  We were hoping to find a nice spot along a river or stream to fish but, because of the construction, those spots were no longer accessible.  Black flies can be a problem at certain times of the year in Labrador, but we only wore our bug gear once.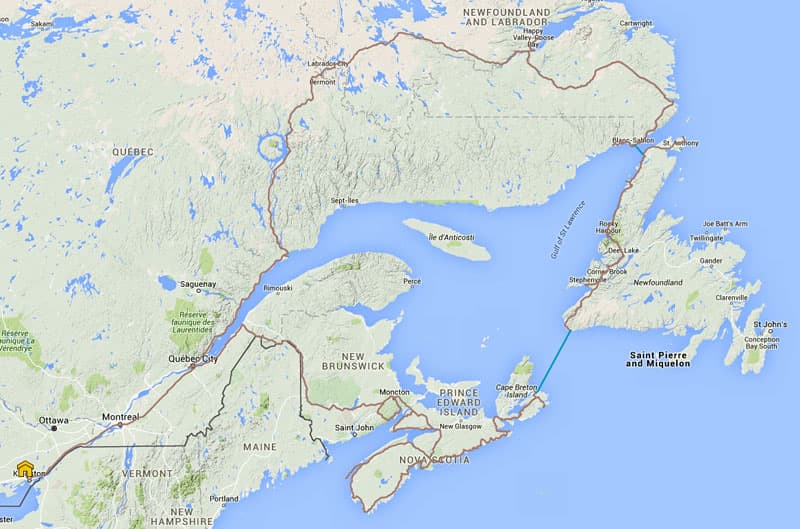 Quebec
A few hours after leaving home in Ontario, we were in the Province of Quebec.  We by-passed the busy city of Montreal and crossed over to the north shore of the St. Lawrence River.
We had decided to travel the historic Chemin du Roy, which is the King's Highway, Highway 138.  The road was completed in 1737.  At the time it was the longest road north of Mexico, and Canada's oldest.  It is a beautiful drive through historic villages and farms with lots of roadside fruit and vegetable stands.  The area is also renowned for their fromagerie, or cheese makers.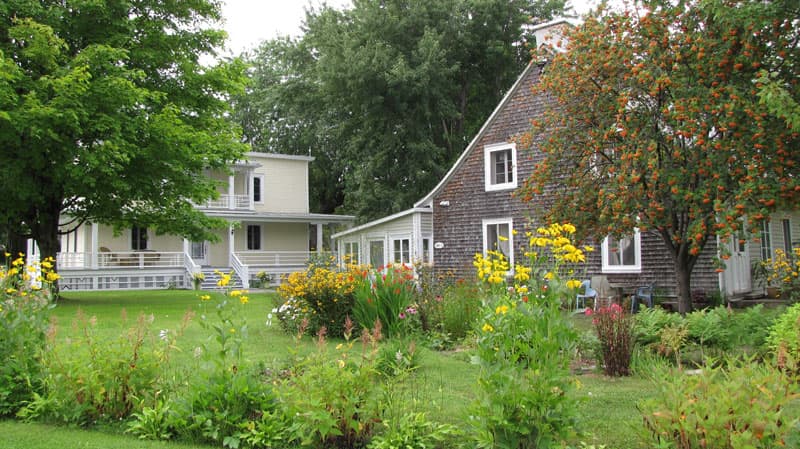 We spent a day exploring Vieux-Quebec (old Quebec City), a UNESCO World Heritage site and a National Historic Site of Canada.  The Ramparts of Quebec City are the only remaining fortified city walls in Canada or the United States.  Well preserved stone buildings with a French European architectural influence, a 400 year history, several beautiful churches, cobblestone streets, buskers, artists' rows, musicians, and a great selection of cafes and restaurants.
Decisive military engagements here were primarily responsible for the split of British North America into the two nations of Canada and the United States.
The drive from Quebec City to Tadoussac is through the Charlevoix Region of Quebec.  This is a fairly mountainous and windy highway at times with lots of grade changes and views of the St. Lawrence River shoreline.
We stopped at the sacred shrine of Sainte-Anne-de-Beaupre, a major Roman Catholic pilgrimage site that is credited with performing many miracles of curing the sick and disabled.  Visitors leave behind crutches and canes as a testament to the miracles.
As we continued east on the Chemin du Roy, the dramatic landscape of the Charlevoix area continues with rolling terrain, fjords, headlands, and bays, and was designated a UNESCO World Biosphere Reserve in 1989.  Bus loads of tourists flock to the area to camp, hike, boat and whale watch.  Exploring the region will have to wait for another trip.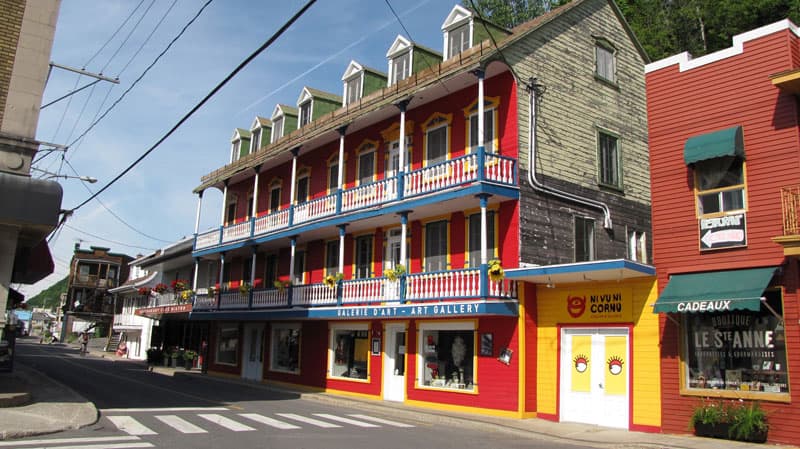 After a resupply in Baie Comeau, we left the King's Highway and headed north.  We traveled Highway 389 in Quebec to its northern terminus near Fermont, which is just a few kilometers south of the official start of the Trans-Labrador Highway.  A number of once isolated communities are now accessible by the new road.
Our research revealed that over half the Trans-Labrador Highway was still under construction and that we could expect more than 500 kilometers of dirt and/or gravel.  Conditions varied from new pavement to frost heaves, to gravel washboard, to an absolutely horrible stretch of pot-holed dirt with no shoulders.  In addition, we were anticipating similar rough road conditions along Route 389 through Northern Quebec.
You have to steer clear of the extremely soft shoulders.  Even professional drivers can get caught unaware.
Above: The Manic-2 Dam
There are five hydroelectric dams in the area (Manic-1 to Manic-5) in addition to numerous mining and forestry projects.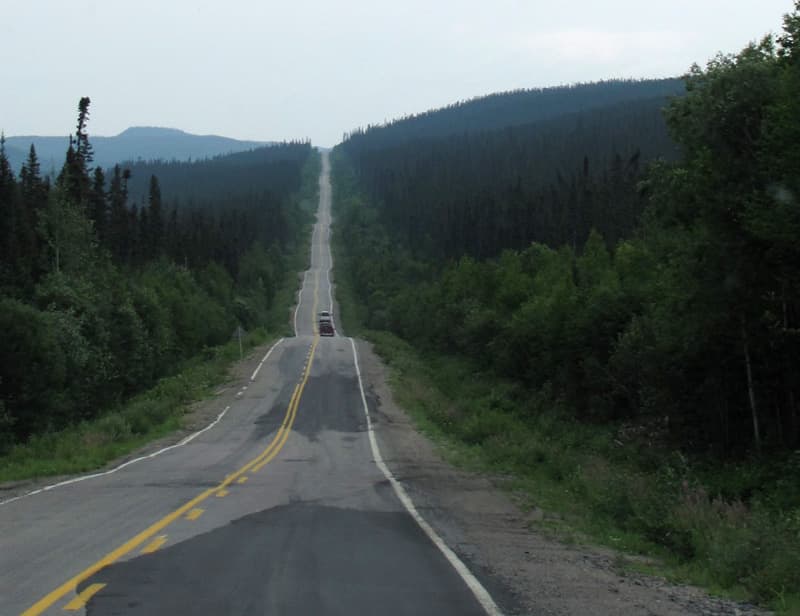 On the Trans-Labrador Highway there are few fuel stops and 420 kilometers (260.9 miles) is the longest stretch between possible fill-ups.  Gas and diesel were readily available in the remote areas.  There are lots of tractor trailers and mining vehicles, so I wouldn't anticipate any diesel problems.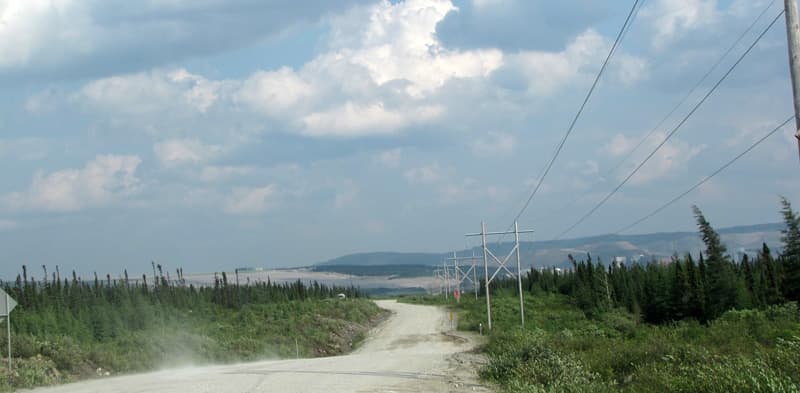 As a precaution, we stopped and topped up our fuel tank whenever possible.  Road conditions required we drive slow, but not slow enough to take a picture of a beautiful gray wolf that crossed the road in front of us.
Labrador
Finally, after five days on the road, we are at the start of the Trans-Labrador Highway and, believe it or not, pavement!
We stopped in Labrador City and enjoyed a pizza lunch.  Then we restocked food, wine, and fuel.  The Visitor Center informed us that the Churchill Falls Generating Station had lost their tour guide and weren't currently offering tours.  What a disappointment.  One of the reasons we wanted to drive the highway was to tour one of the world's largest generating stations.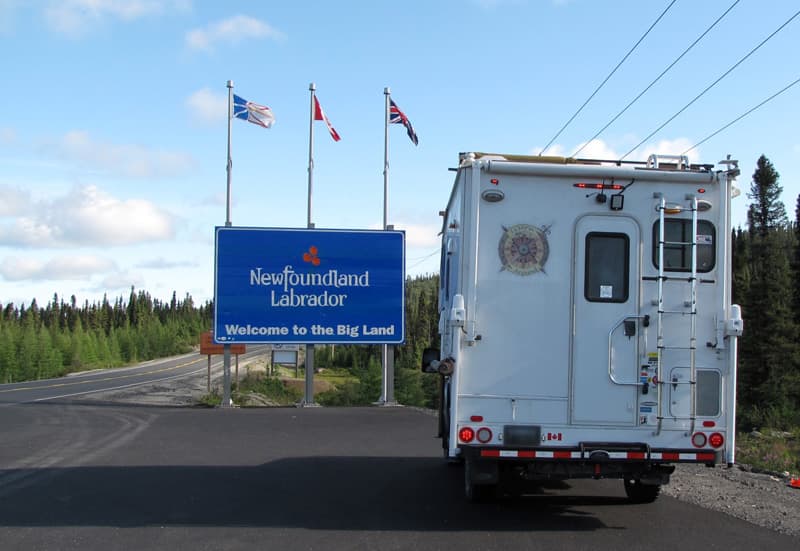 There is no cell coverage and no emergency services available on the Trans-Labrador Highway.  The Newfoundland and Labrador provincial government will loan travelers a satellite phone.  There are several pick up and drop off points along the route and they are outlined in the guide.  There is no charge to borrow the phones, but you must leave a credit card number in case the phones are not returned.
We chose to just rely on our Delorme InReach in case of an emergency and to update family and friends back home on our progress.  We bought the inReach two-way satellite communicator without the GPS since we already have an RV GPS and a back country GPS that we use on remote wilderness canoe trips.  We paid around $350 Canadian for the inReach.  Unlike a satellite phone, you can use these anywhere in the world, and they actually work.
There is no more climbing to a high point in order to obtain a clear signal.  In addition, there are two way communications, so we could send short email messages and receive answers.  We could post to Facebook and include an exact location of where we were located.  Since we had virtually no Internet access in Labrador, the Delorme InReach worked really well to let people know where we were and that we were safe.
Traffic dropped off considerably in the last few hundred kilometers of the Trans-Labrador Highway, but someone would eventually come along if you needed assistance.  The highway is paved between Labrador City and Happy Valley/Goose Bay.  The road is in great shape.  One of the unfortunate consequences of this upgraded road is that the new road bed has been raised several feet above the old road and access to those older pull-outs has been temporarily eliminated.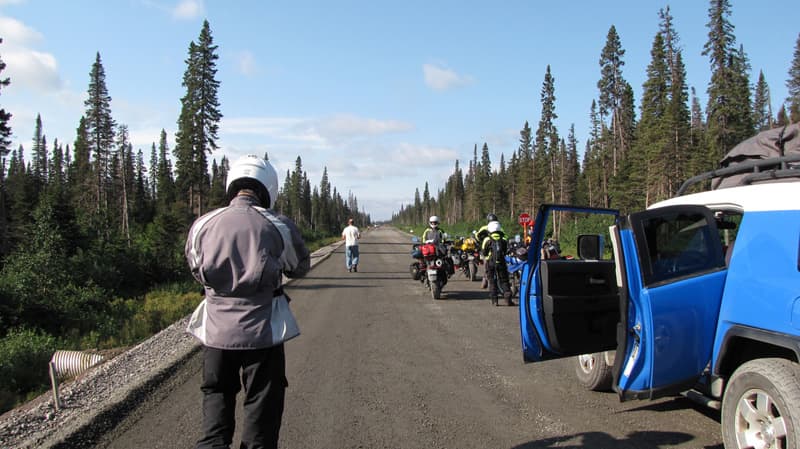 In the construction areas the shoulders were very soft so you couldn't even pull over on the shoulder.  We managed to find a place to boondock not far from Churchill Falls, so we took advantage of those pull-offs when we could.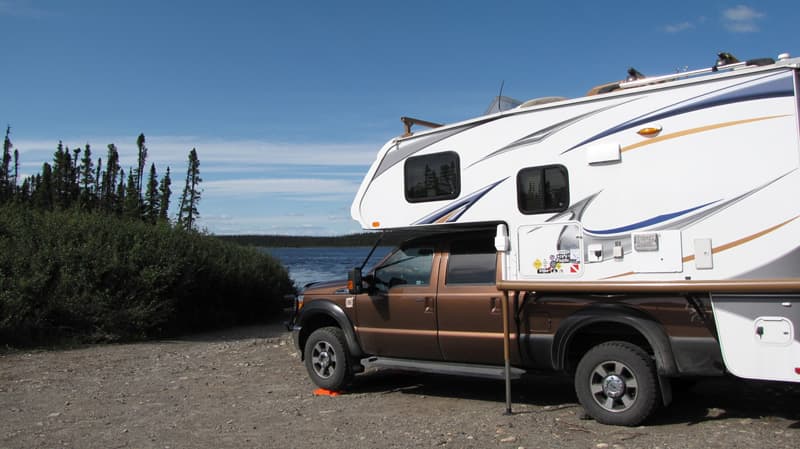 In this region of Labrador there are no campground or RV Parks, so people are forced to boondock.  It is expected that you camp wherever you can find a spot.  In Labrador City the visitor center will allow you to camp behind their building, plug into their power, and use their WIFI.  The visitor center in Happy Valley/Goose Bay actually told us places where we could boondock.  We paid nothing for camping the whole time we were in Labrador.
The major resource development in this area is the widening of the Churchill Falls Power Line Corridor.  After Churchill Falls, the terrain becomes increasingly mountainous.  We entered mixed forest that started about 70 kilometers south of Happy Valley/Goose Bay.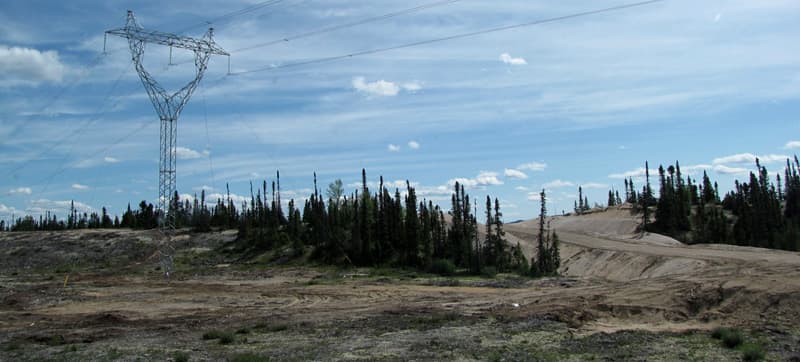 Happy Valley/Goose Bay is the next resupply stop, so we spent a couple of days exploring the area.  There are no campgrounds, but they do have a public dump station.  We spent one night boondocking at the local ski hill where a three-legged black bear and her cubs visited in the middle of the night.  We spent another night at the town's swimming pool where a very friendly local permitted us to use the shower facilities and their WIFI.
There is no app like All Stays for camping in Labrador.  There is an older guide from 2012 (see above), but it is outdated.  I did some research ahead of time reading other people's blogs, but even those were out of date.  There are visitor centers in Labrador City, Happy Valley/Goose Bay, and in Red Bay.  Fortunately, they were very helpful at providing information.
When we boondocked at Mary's Harbour, we asked at a store and they told us to park on the water at the new wharf in town.  We just got set up and a truck and tractor pulled in and started off loading building materials for the wharf.  Dann asked the man if we were in his way and, in typical Newfoundland and Labrador fashion, he replied, "Oh no, me boyyo.  If ye are, I'll just move ye out of me way".  They are the friendliest people in the world.  They will go out of their way to help you.
A side trip from Happy Valley/Goose Bay will take you to North West River.  This community is the most north-easterly point that you can drive to in North America.  From the beginning, Northwest River has been the meeting place for all the cultures of Labrador; the Innu, Inuit, Metis, and settlers.  It was established as a Hudson's Bay Trading Post in 1743 and is the oldest community in central Labrador.  It is also home to the Labrador Cultural Center.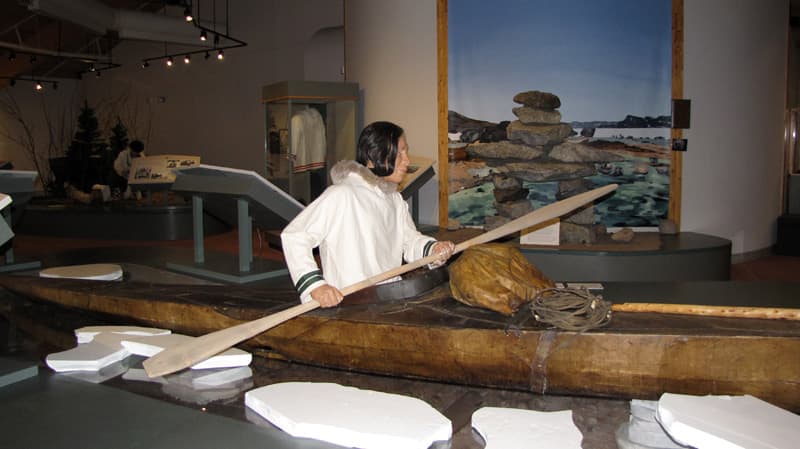 The highway from here to Red Bay, Labrador is under construction, so leave lots of time.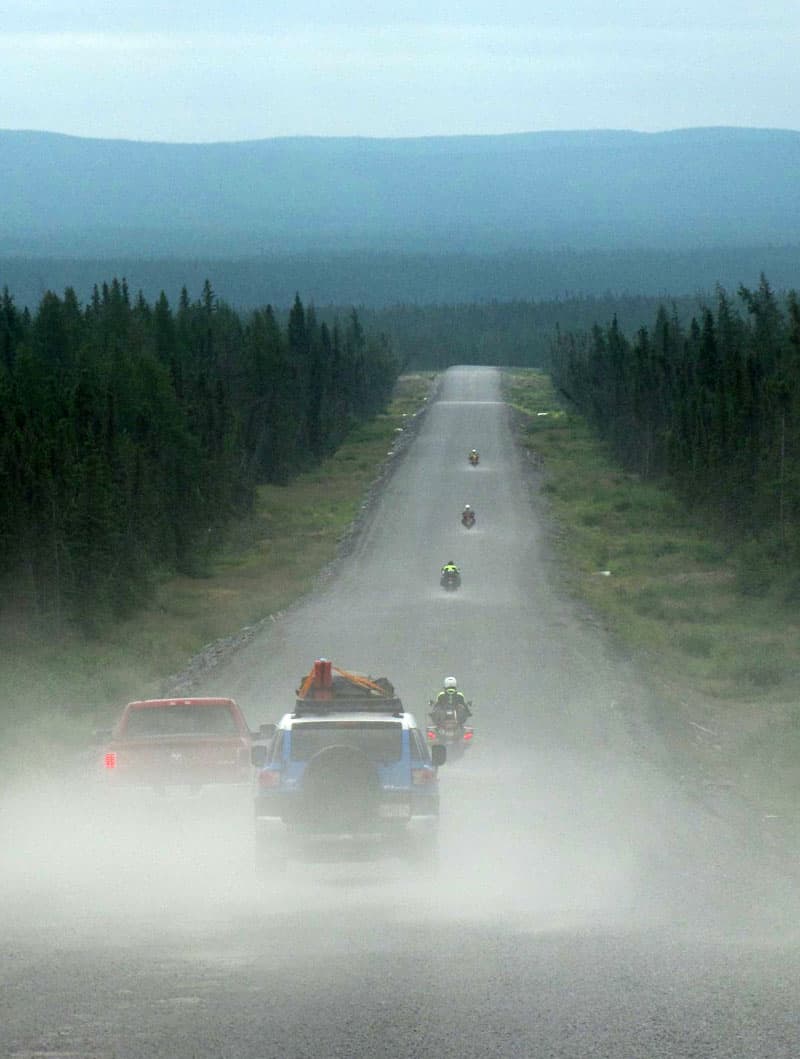 Again, because of the highway construction, pull offs and boondocking sites are few and far between.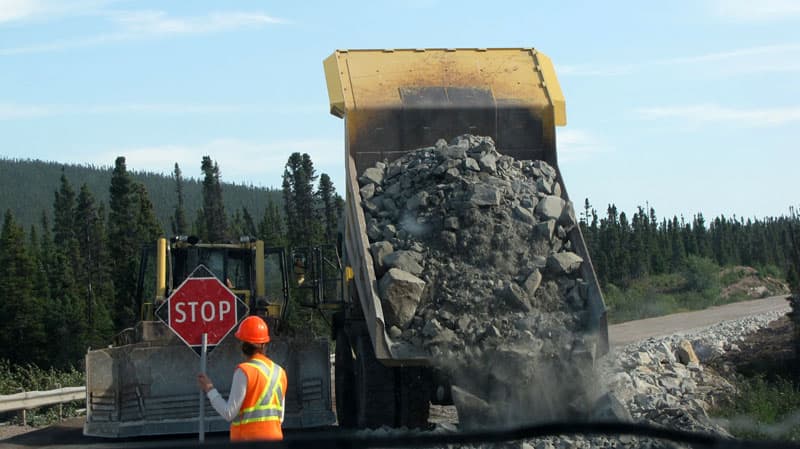 We managed a couple of days layover in Mary's Harbour and took a boat trip to the National Historic District of Battle Harbour, once the salt fish capital of Labrador.  At one time the island was home to 300 year-round residents and 1,000 seasonal workers.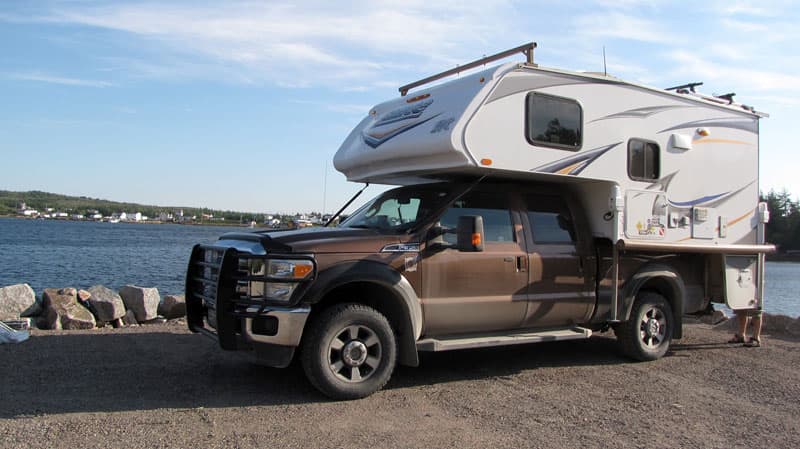 Above: Our campsite in Mary's Harbour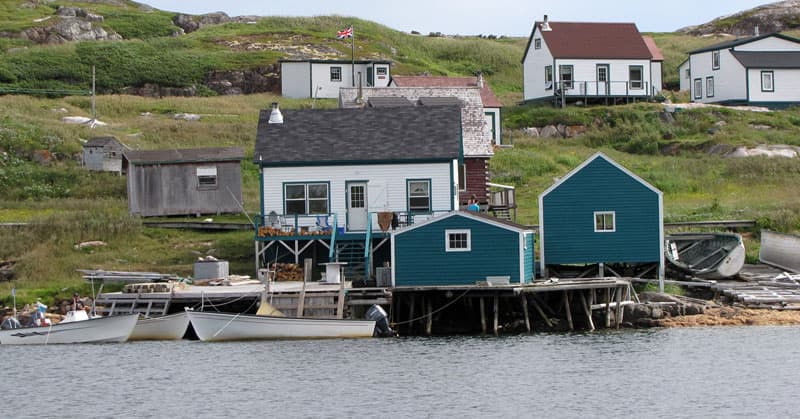 Battle Harbour holds the dual distinction of National Historic Site and Historic District of Canada.  The place commemorates the 19th and 20th century fishing out ports of Newfoundland and Labrador.  Descendants from the original families now act as tour guides on the island.  A small crew of restoration carpenters, with monies from the Canadian federal government and private donations, are doing a wonderful job restoring some of the aging buildings and structures on the island.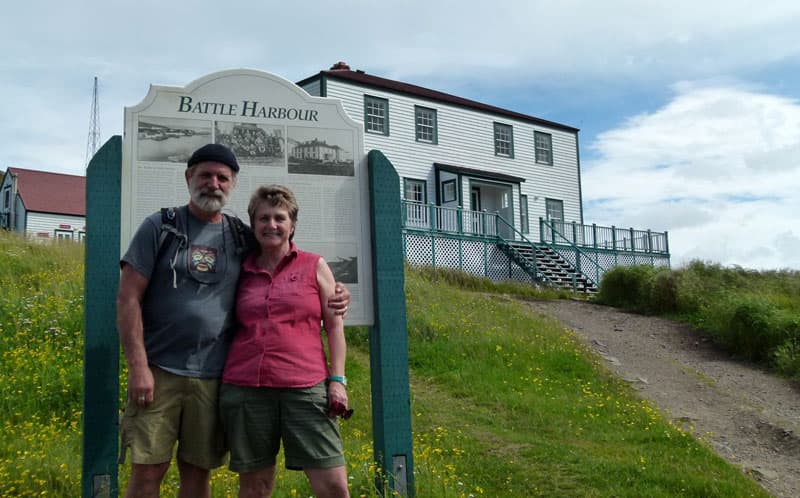 Above: The local RCMP officer obliged us with a photo
Almost at the end of the Trans-Labrador Highway you will arrive at the village of Red Bay, a UNESCO World Heritage site.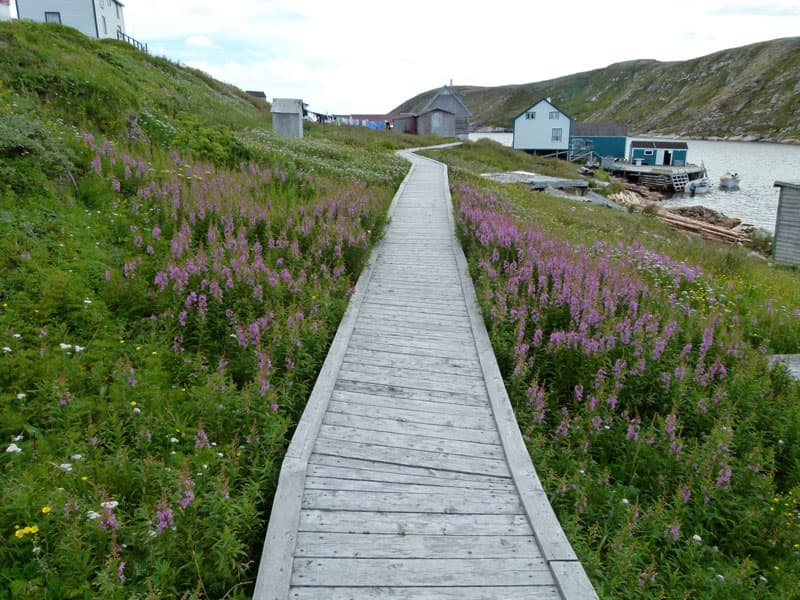 Red Bay tells the intriguing story of 16th century Spanish Basque whalers who built the first major industrial complex in the New World.  They hunted Right Whales for rendering oil that lit the lamps of Europe in the Middle Ages.  The Basques left in the early 1600s, but not before they had harvested approximately 25,000 Right Whales.
Across from Red Bay is Saddle Island, where the earliest and the best preserved Basque whaling site is found.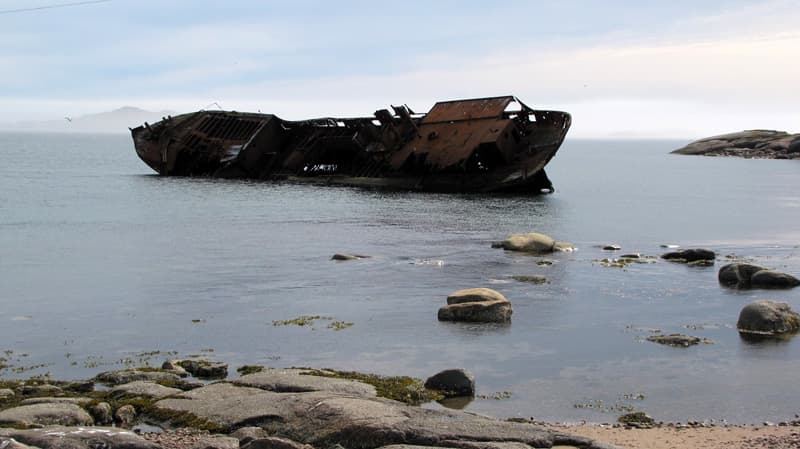 Above is a picture of the remains of a shipwreck, The Bernier.  It broke its moorings during a gale in 1965.  It is only a few hundred feet from Saddle Island.  You could get to it by the water, but it's easily seen from shore.
Newfoundland
After taking the ferry from Labrador to St. Barbe, Newfoundland, we headed north to explore the area around St. Anthony and L'Anse Aux Meadows, an archaeological site of a Viking settlement showing evidence of the first European settlers in North America.  There are Viking interpreters that will explain the archaeological digs and what life was like in the recreated Viking settlement.
Local residents take advantage of the ditches along the roadways to plant their gardens.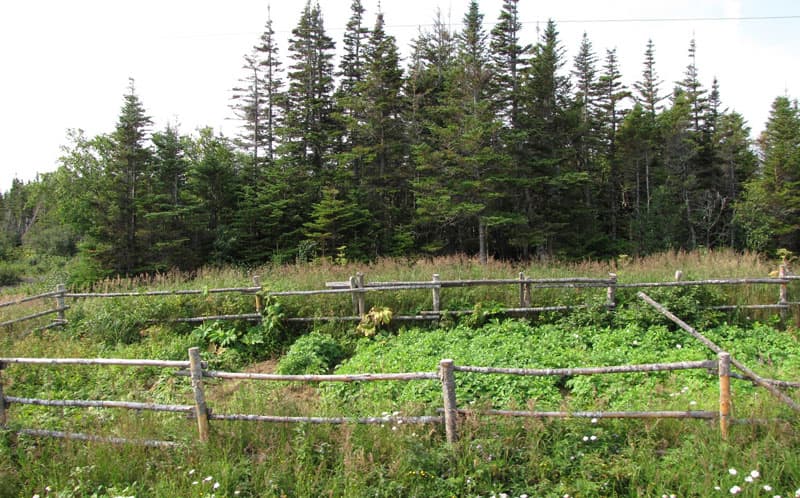 Everywhere we went along the West Coast we were reminded of Newfoundland's unique culture and proof of why they are known for their friendliness.  From the little villages, to the fishing boats, or doing a hike in Gros Morne, people will go out of their way to welcome you.
Above: Caribou at Port Aux Choix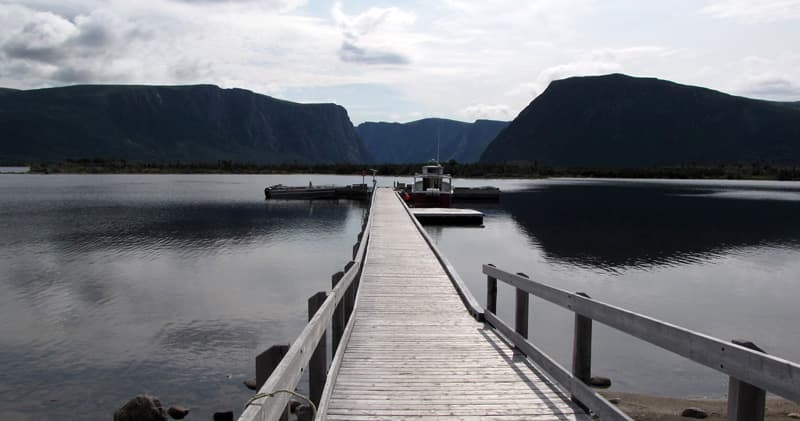 We went on a boat trip into Westernbrook Pond, a landlocked fjord, in Gros Morne National Park.
It is another world heritage site and the northern most terminus of the Appalachian Mountains.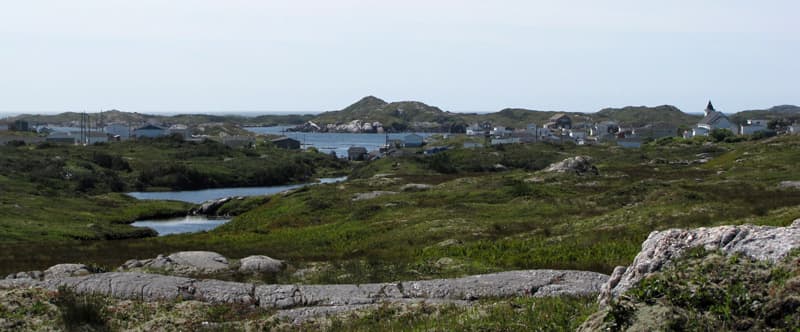 Above: Woody Point, Newfoundland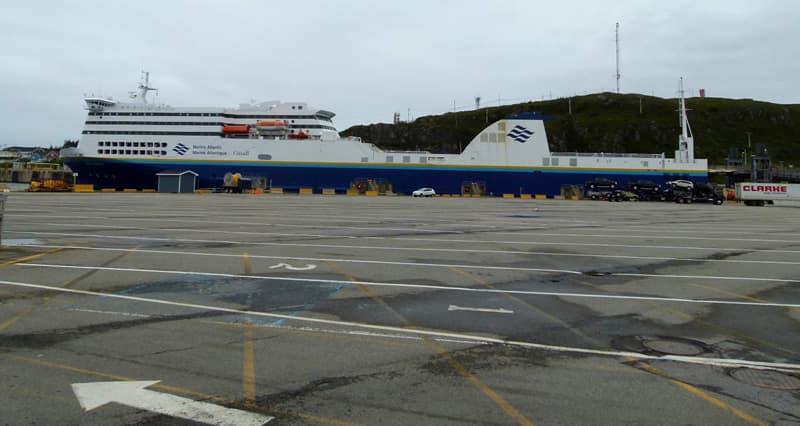 Above: Port Aux Basques, Newfoundland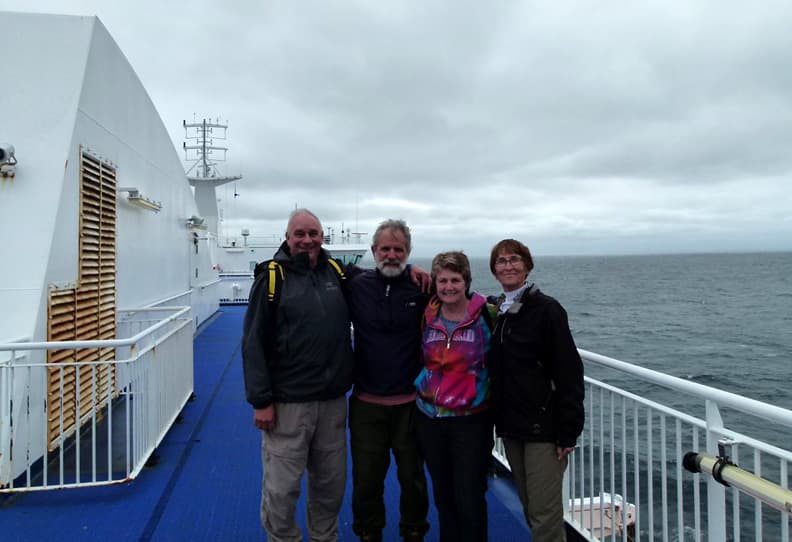 Above: Friends we met on the MV Highlander ferry
We met friends that we hadn't seen in a couple of years in the parking lot waiting for the ferry.   What are the chances of that?  They actually parked next to us in the loading zone.  Catching up sure made the 6.5 hour ferry ride go quickly.
Nova Scotia
The ferry from Blanc Sablon, Quebec to St. Barbe, Newfoundland was around $40 Canadian and was under an hour.  The 6.5 hour ride from Port Aux Basques Newfoundland, to North Sydney, Nova Scotia was around $250 Canadian.  It depends on the passengers' ages and length of the vehicle.  You can book a room if you want.
There is a longer, overnight ferry that runs from Argentia, near St. John's, Newfoundland to North Sydney.  Of course this costs more.  The ferry has restaurants, bar, and a gift shop.  They take tractor trailers, so there was no issue with the truck camper.  You must turn off all propane, so we made sure our refrigerator was empty.
After a 6.5 hour ferry ride from Port Aux Basques, Newfoundland, we headed to the backroads of Nova Scotia and followed the coastline from Sydney (Cape Breton Island) until the Bay of Fundy.  What a pleasant surprise!  There were beautiful picturesque villages, historic sites, lighthouses, fishing boats and amazing fresh seafood.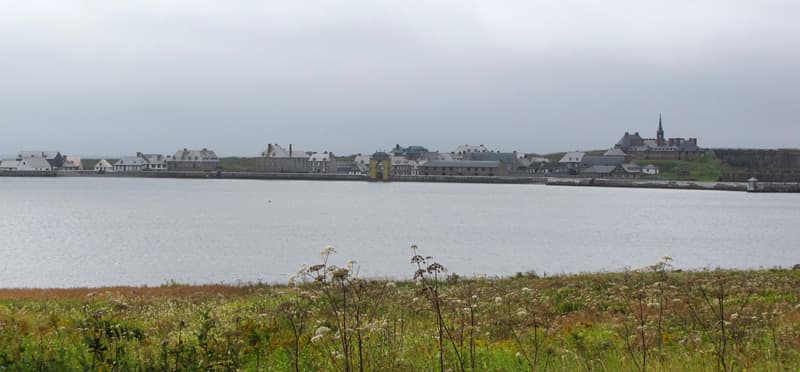 We absolutely loved everything about Nova Scotia, except for the condition of their secondary roads.  While these roads were paved, the harsh winter of the previous year had obviously taken a toll of them.  There were huge potholes, broken-up asphalt, and frost heaves.
We spent a day at the Fortress of Louisbourg, which was founded by the French in 1713.  One quarter of the town and fort has been reconstructed.  It is now the largest historical reconstruction in North America and a National Historic Site of Canada.
Above: Peggy's Cove Lighthouse
We spent a day in Lunenburg and sailed on The Bluenose II, which is an exact replica of The Bluenose that was built in 1921 as a racing schooner and fishing vessel.  It was undefeated in over seven years of racing.  The Bluenose is depicted on the Canadian dime.
The Bluenose II was built in 1963 by the same company using the original blueprints.  A brewing company actually paid roughly $300,000 to build it.  It was used to market their Schooner Lager.  They sold it to the Nova Scotia government in 1971 for $1.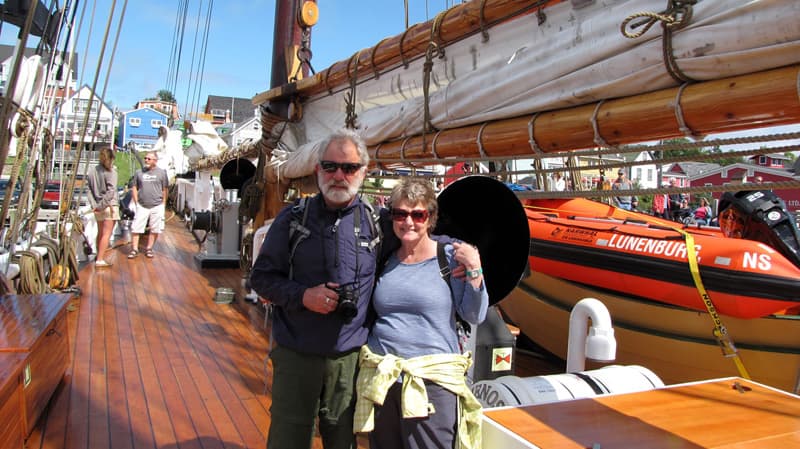 From 2009 to 2015 a major restoration was done on the vessel and it was only open for sailings in 2015.  It was an amazing experience to watch the crew hoist the sails and stand on deck with the wind in your face.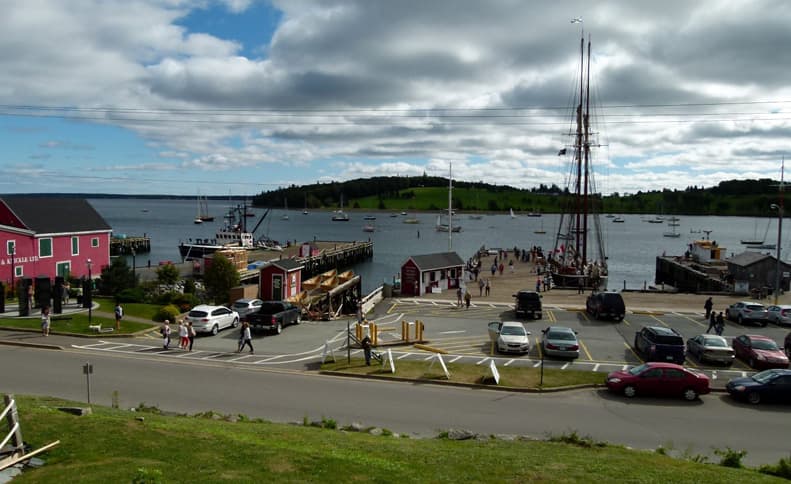 The crew all live aboard the ship for the sailing season.  We spoke with one crew member, a young girl who had never sailed before.  She decided to apply for a crew position and got the job and was thoroughly enjoying herself.  Some of the crew returns every summer, and one member fishes lobster during the winter.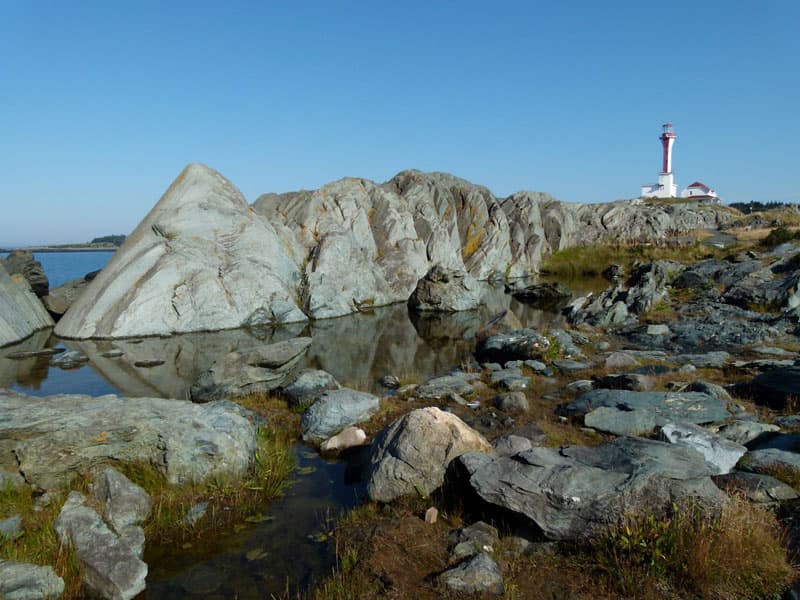 Above: Cape Forchu Lighthouse
We witnessed the tide change on The Bay Of Fundy, which is home of the highest tides in the world.  The Bay of Fundy is a 270 kilometer long ocean bay that stretches between Nova Scotia and New Brunswick.
Every day the bay fills and empties over a billion tons of seawater during each tide cycle.  That is more than the combined flow of the world's freshwater rivers.  The height of tide difference ranges from 3.5 meters (11 feet) along the southwest shore in Nova Scotia to over 16 meters (53 feet) in the Minas Basin in New Brunswick.
Above: On the Bear River most of the homes are built on stilts.
We visited Five Islands Provincial Park.  When the tide is out it allows for a lovely shoreline hike on The Bay Of Fundy.  We did not camp there, but they had beautiful sites.  We wanted to go a little further that day, so we set up in an area that had more hiking to offer.
After a day of hiking we enjoyed a dinner out in Advocate Harbour, which is one of the best restaurants we have ever eaten in.  It was voted the best restaurant in Nova Scotia for 2015.  You never know what you may find.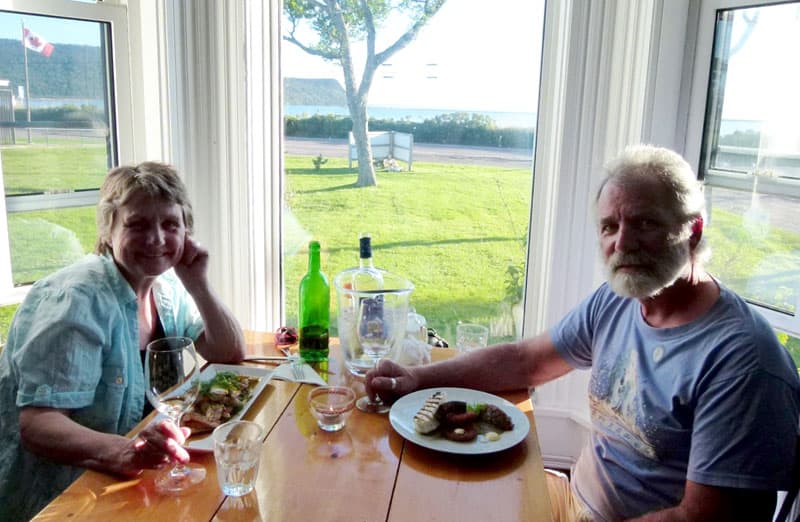 New Brunswick
We left Nova Scotia and continued following the coastline of The Bay Of Fundy into New Brunswick.  Since we were running out of time, we decided to spend a few days hiking in Fundy National Park before heading home.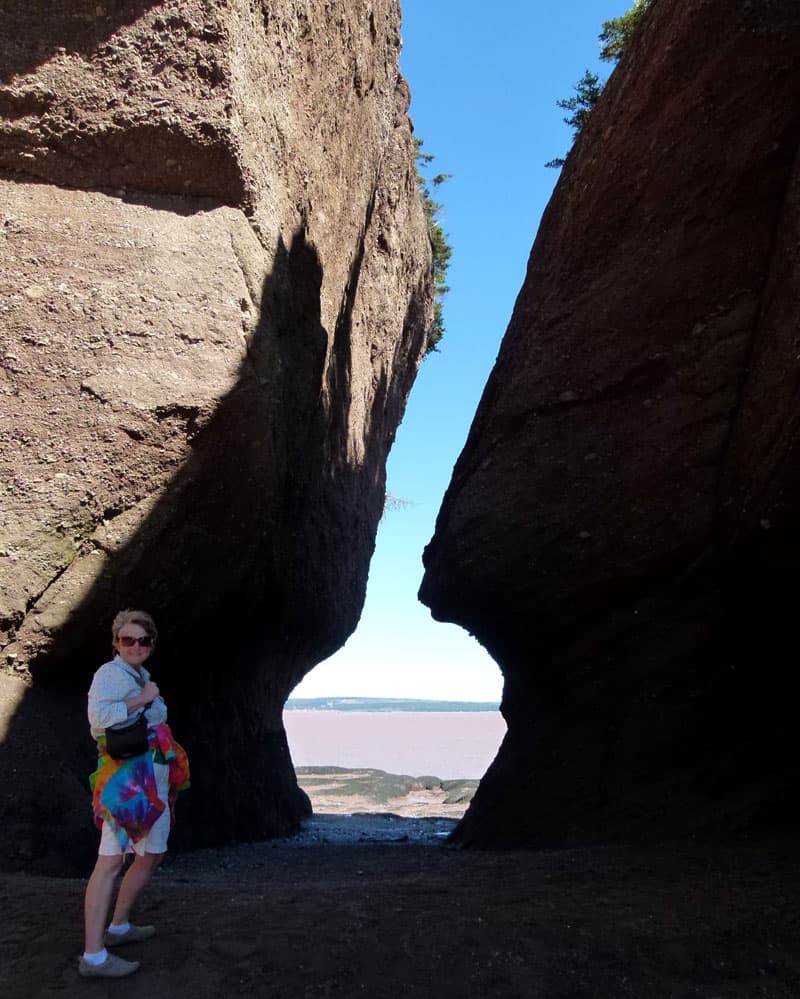 You can really see the impact of the tides on the Bay shoreline during a quick tour of Hopewell Rocks.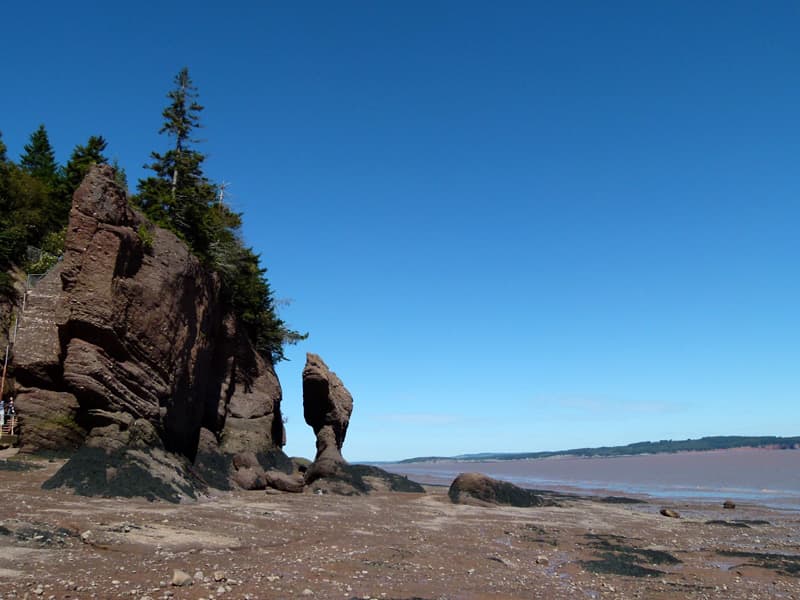 There are three front country campgrounds in the park.  We camped for several days in Chignecto North.  We chose this campground since it had large sites that permitted campfires.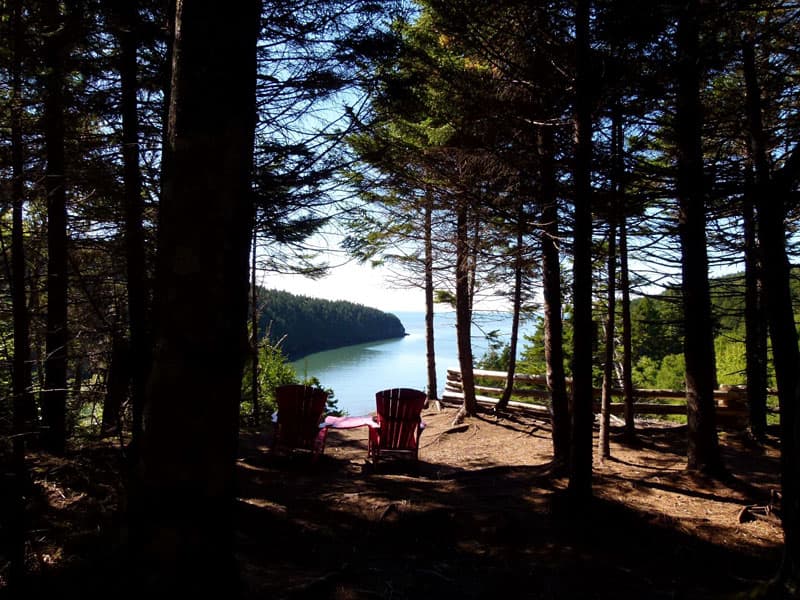 We had water and electric.  It has beautiful sites, and is private and large.  There are 29 different hiking trails in the park, ranging from easy to difficult covering distances from .5 kilometer to 18 kilometers (.3 mile to 11.3 miles).  There is a visitor center and a golf course within the park.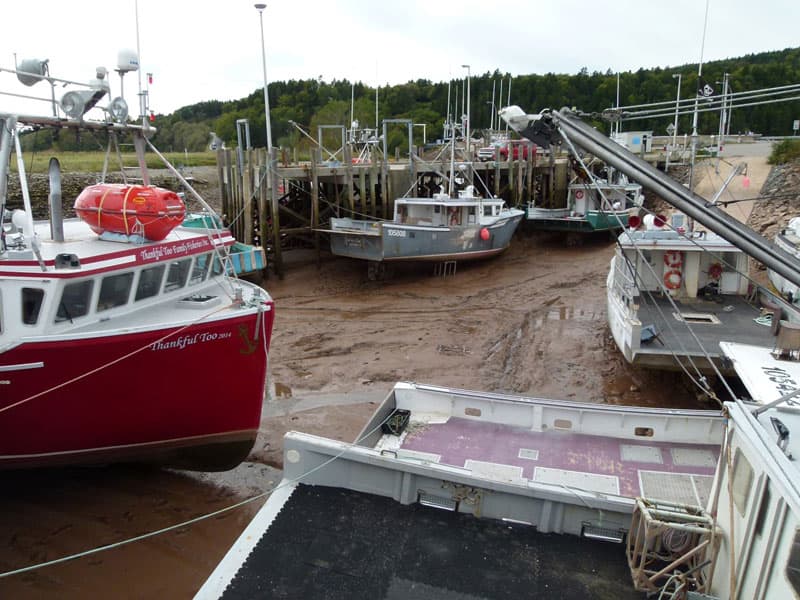 We saw a fishing fleet at low tide in Alma, New Brunswick.  The boats in the pictures are actually in the water when the tide is in.  It's hard to believe, isn't it?  If you look close in the pictures they are at dock height when they bring them in and then they wait until the tide is back in before heading back out.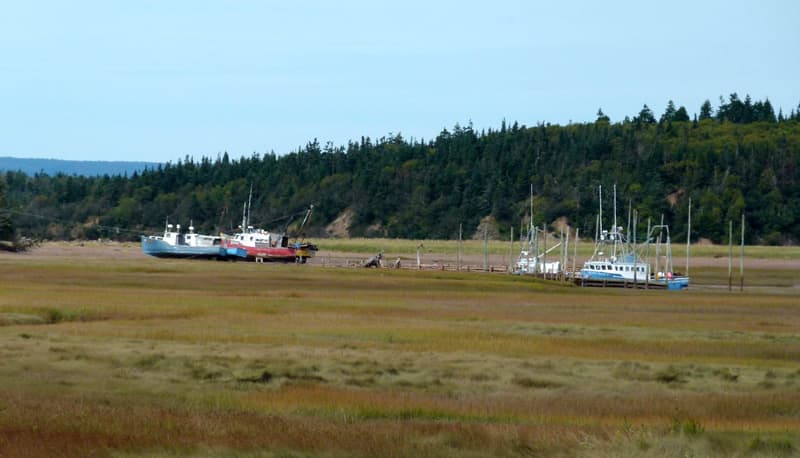 How often do you have to worry about flood conditions while driving to a hiking trail?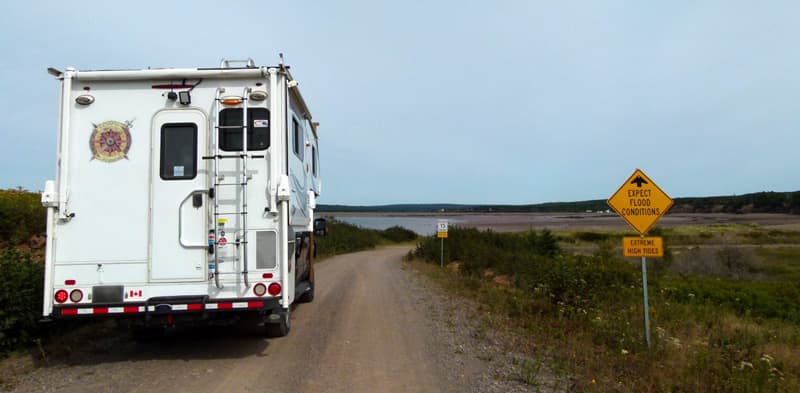 We saw the world's longest covered bridge in Hartland, New Brunswick.  We couldn't find anywhere where the bridge gave a height, so we didn't go through with our truck camper.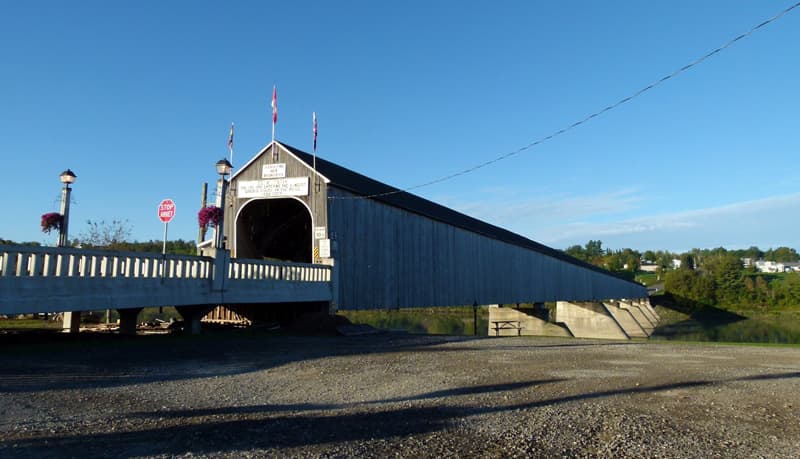 We got out and checked it out.  The center height was fine, but they had corner bracing on the entrance sides that would have been too low.
Conclusion
This was a good trip.  We traveled through a variety of landscapes.  We were exposed to intriguing, early North American history.  We enjoyed wonderful local cuisine throughout and met many interesting people.  Even though we drove a little over 8,300 kilometers (5,157 miles) and were gone seven weeks, there still wasn't enough time to experience everything that Canada's Atlantic Provinces had to offer.
Remote roadways like the Trans-Labrador Highway are a privilege to drive.  They provide access to regions that were once only reachable by air or water.  Driving the route from Northern Quebec, across Labrador to the ferry port at Blanc Sablon, Quebec is not for the unprepared.   Highway conditions at the time of our trip ranged from excellent to very poor.  Drive slowly, give truckers the right-of-way, and stay off the soft shoulders.
This is an area with very few amenities, so be prepared to boondock.  In Labrador you have to boondock, but in the other provinces there are RV parks, Provincial Parks, and National Parks where you can camp.  Some of the remote areas in Newfoundland offered little camping, so don't assume you'll find some place to camp in every village.
In another few years the Trans-Labrador Highway will be completely paved and driving it will certainly be easier, but not nearly as challenging or interesting.
Your vehicle's tires, suspension, undercarriage and body should be heavy duty and well-built for rough road travel.  Carry a spare tire, vehicle recovery and medical kits, and an emergency communication device like a DeLorme inReach, or borrow a satellite phone.
We use Rogers WIFI in Canada, which is Verizon in the USA.  Availability was pretty much restricted to Labrador City and Happy Valley/Goose Bay in Labrador.  Our mobile hotspot never worked in Labrador.  In Newfoundland, the RV parks all had WIFI.  Nova Scotia and New Brunswick had WIFI in all RV parks, but not in Provincial or National Parks.  Our mobile hotspot worked in these parks and in the more urban areas.
There is very little information on the Trans-Labrador Highway, so do your research well ahead of time.  Most of the information I obtained I got from other bloggers.  There is so much to see in a large area that you should really take lots of time.  Get online and contact the provincial tourism sites.  They will send you all kinds of maps and information.
For additional detail on road conditions, camping, attractions and activities, contact us via our website or read our blog posts about the trip dated August and September 2015.  There is also information on our vehicle modifications and upgrades.
On To Our Next Adventure!
Truck Camper Rig
Truck: 2011 Ford F350 Super Duty, 6.2l Gas, Crew Cab, 4×4, Single Rear Wheel, Short Bed
Camper: 2013 Lance 855S
Tie-Downs and Turnbuckles: Happijac and Qwik Loads
Suspension Upgrades: Supersprings SS13 (rear), Bilstein Series 5100 shock absorbers, Hellwig Bigwig Anti-sway Bar (rear), Bridgestone A/T 275/70R18 – 10+2 ply
Gear: Ranch Hand full-front grill bar, lower body panels stone guarded, crew seat removed for gear storage, Lance cabover struts, 95 Watts of Solar, Four Season Package, Rooftop boat racks, Curt cargo carrier (rear receiver), foldable Montague bikes