Dann and Helen O'Kane share their circle tour of Canada's Atlantic Provinces via the Trans-Labrador Highway including packing and planning tips, boondocking recommendations, and must-see points of interest.

Our final route selection for this summer enabled us to re-discover Canada's east coast. It had been nineteen years since we drove through the Atlantic provinces.  At that time it was only possible to explore a very small portion of the Labrador region in the provinces of Newfoundland and Labrador.  There just weren't many roads.
In 1996, we drove the traditional counter-clockwise route from southern Ontario, east through Quebec, New Brunswick, and Nova Scotia, and then ferried across to the Island of Newfoundland.  From Newfoundland's Northern Peninsula, we boarded a second ferry to Labrador and drove the short road between Red Bay, Labrador, and Blanc-Sablon in Quebec.
This time our route took us clockwise, from Ontario.  The plan was to spend a little time in Quebec, but to head north as soon as possible since it was getting late in the season and the weather would soon be changing.  Colder temperatures could be arriving soon and even snow was a possibility.
We chose to go straight to Labrador partly because of it being mid-August and because we didn't know how much time we would spend in Labrador.  Since we have been to the other provinces, it made sense to shorten the time spent in those provinces.  We wanted to leave ourselves open to the possibility of spending more time in Labrador and not be forced to move on.
We had no schedule and no reservations.  Our goal was to drive the Trans-Labrador Highway and allow an itinerary to just unfold after that.
Planning and Packing
By mid-August, we were packed and ready with spare fuel and a stocked emergency kit.  Our GPS maps were updated, the backroad map books were marked, the Delorme inReach for emergency communications was on-board, and we had the Rogers hub for Internet communication.  We had food, water, warm and cold weather clothing, bullet proof rain gear, and new mesh bug suits.
We didn't find we were lacking anything.  In fact we probably didn't even need the Delorme inReach since there was lots of traffic on the road and we wouldn't be stranded for too long.
We brought along a bug tent that we didn't use, but that was only because we didn't find any place to boondock for several days.  We were hoping to find a nice spot along a river or stream to fish but, because of the construction, those spots were no longer accessible.  Black flies can be a problem at certain times of the year in Labrador, but we only wore our bug gear once.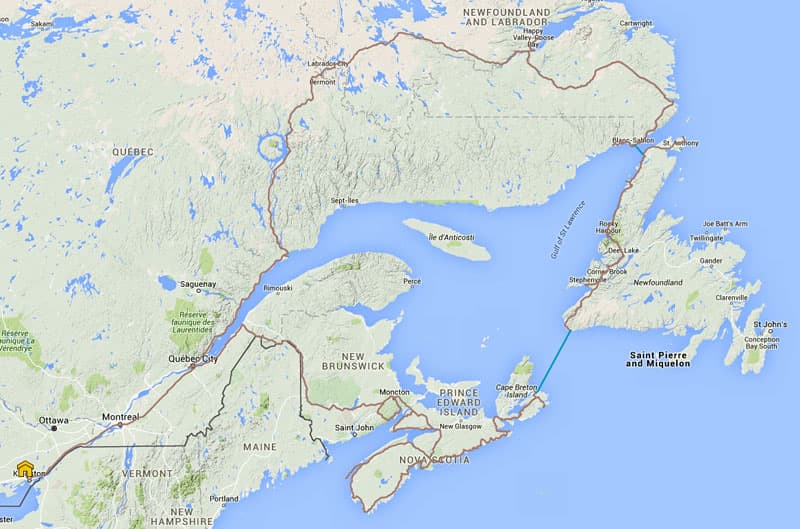 Quebec
A few hours after leaving home in Ontario, we were in the Province of Quebec.  We by-passed the busy city of Montreal and crossed over to the north shore of the St. Lawrence River.
We had decided to travel the historic Chemin du Roy, which is the King's Highway, Highway 138.  The road was completed in 1737.  At the time it was the longest road north of Mexico, and Canada's oldest.  It is a beautiful drive through historic villages and farms with lots of roadside fruit and vegetable stands.  The area is also renowned for their fromagerie, or cheese makers.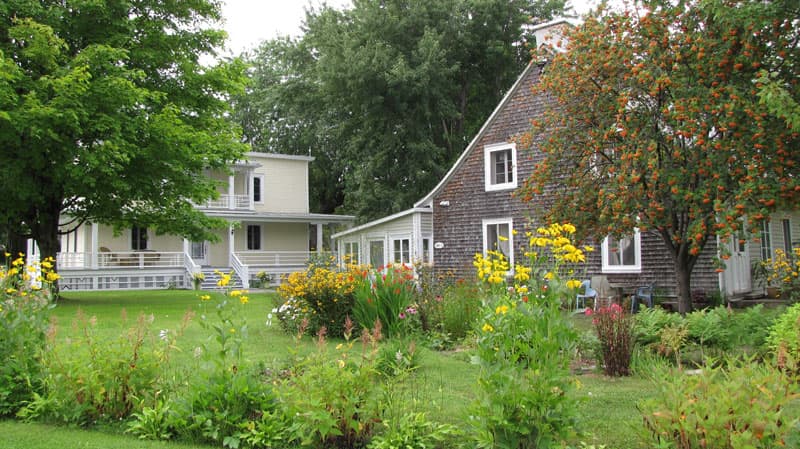 We spent a day exploring Vieux-Quebec (old Quebec City), a UNESCO World Heritage site and a National Historic Site of Canada.  The Ramparts of Quebec City are the only remaining fortified city walls in Canada or the United States.  Well preserved stone buildings with a French European architectural influence, a 400 year history, several beautiful churches, cobblestone streets, buskers, artists' rows, musicians, and a great selection of cafes and restaurants.
Decisive military engagements here were primarily responsible for the split of British North America into the two nations of Canada and the United States.
The drive from Quebec City to Tadoussac is through the Charlevoix Region of Quebec.  This is a fairly mountainous and windy highway at times with lots of grade changes and views of the St. Lawrence River shoreline.
We stopped at the sacred shrine of Sainte-Anne-de-Beaupre, a major Roman Catholic pilgrimage site that is credited with performing many miracles of curing the sick and disabled.  Visitors leave behind crutches and canes as a testament to the miracles.