Eleven fellow truck campers reveal where to go, what to see, and where to camp in the Canadian Maritime Province of Nova Scotia. The Cabot Trail, Meat Cove, Cape Breton, lighthouses, seaside towns, and sumptuous seafood and pastries! Let's go!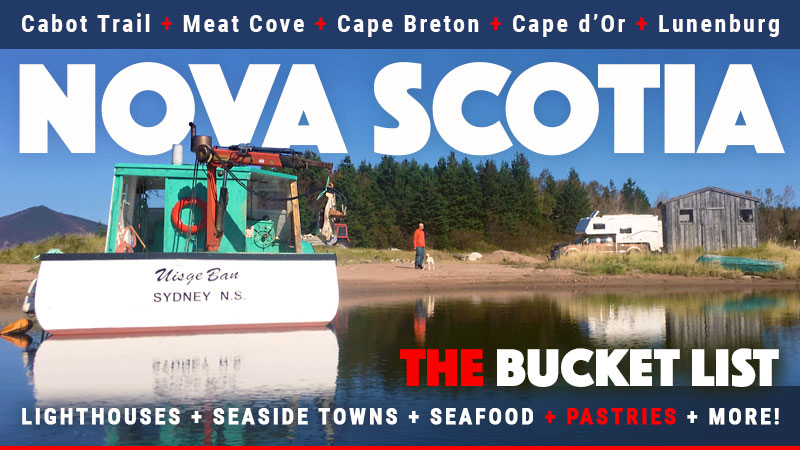 A hot topic in our house is finding new and exciting places to explore and camp during the peak heat of summer. Some examples we've enjoyed in June, July, and August include the Sawtooth Mountains of Idaho, the Bighorn Mountains in Wyoming, the Upper Peninsula of Michigan, and Canada's Quebec Province. That's not to say these locations are always comfortable in the "dog days" of summer, but you at least have a good chance of perfect t-shirt and shorts weather. You might even need a sweatshirt.
For the summer of 2022, Angela and I have Nova Scotia in our sights. We've lost count of how many fellow truck campers have recommended going, not to mention the Nova Scotia lifestyle stories, calendar entries and the legendary North-East Truck Camping Caravan trips from a few years past. Oh, and the summer weather looks spot-on perfect; typically 70 to 80-degrees Fahrenheit; 20 to 25-degrees Celsius. Yes, it can get hotter, but we're focused on positive and cooler vibes. Keep it breezy.
Now you might think that the eye-popping photography and passionate recommendations that follow are what tipped the balance in our plans, but no. Don't tell Angela, but I'm going for the scallops, lobster, and pastries. Good weather. Great campsites. And delicious food. Sign me up, especially for that last part about the pastries. Do you know what the folks who returned from the Nova Scotia Caravan talked about the most? I'll give you a hint; it wasn't the lighthouses.
Nova Scotia: The Bucket List
Celina and Brett Binns
2022 Ford F-550
2014 Arctic Fox 1150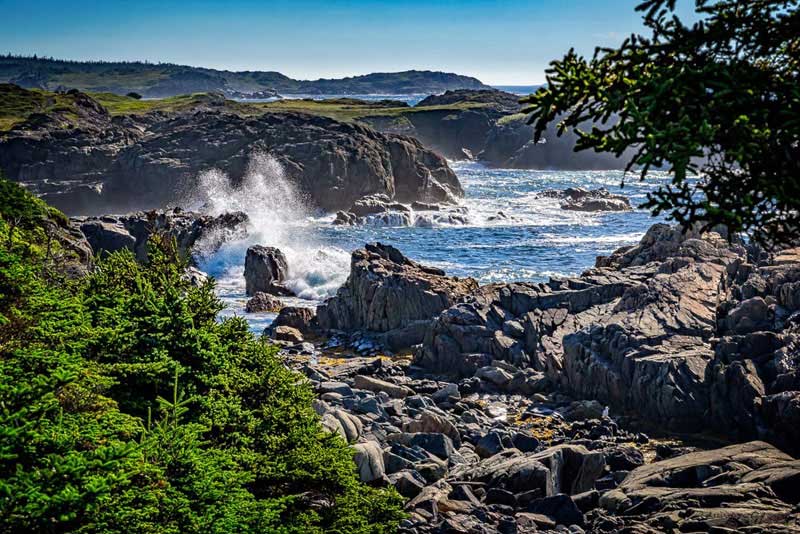 Above: View from Lighthouse Trail, Louisbourg, Cape Breton, Nova Scotia, all photos taken by Brett Binns.
It's hard to name one favorite spot. We really enjoyed Cape Breton.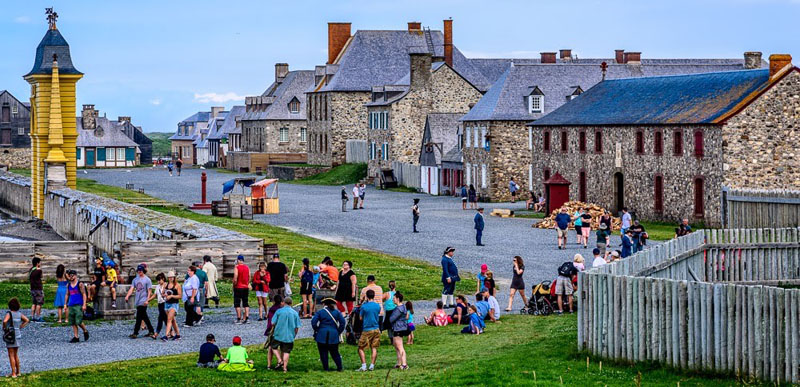 One of the highlights there is the Fortress of Louisbourg National Historic Park. The drive around Cape Breton is beautiful.
Above: Boondocking spot, Meat Cove Road Pullout overlooking Bay St. Lawrence, between Capstick and Meat Cove, Nova Scotia
Our favorite camping spot was boondocking at a pull-off along the road from Meat Cove. The spot was completely level with an incredible view.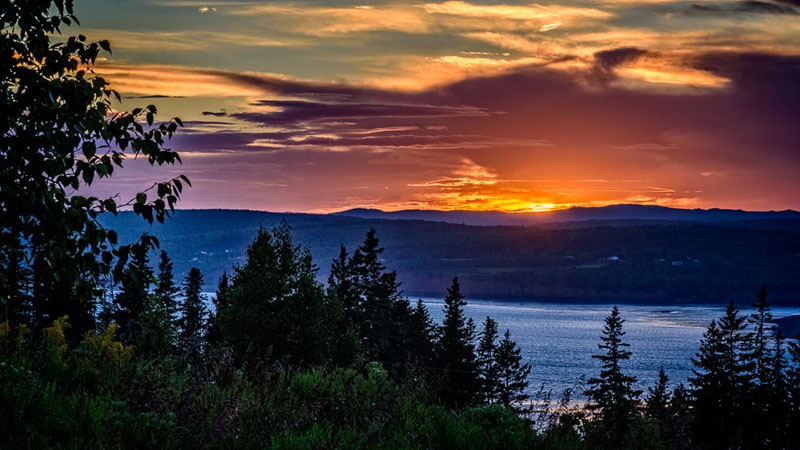 Five Islands Provincial Park was a good spot for visiting the area around Cape d'Or and Joggins Fossil Cliffs (a UNESCO World Heritage Site).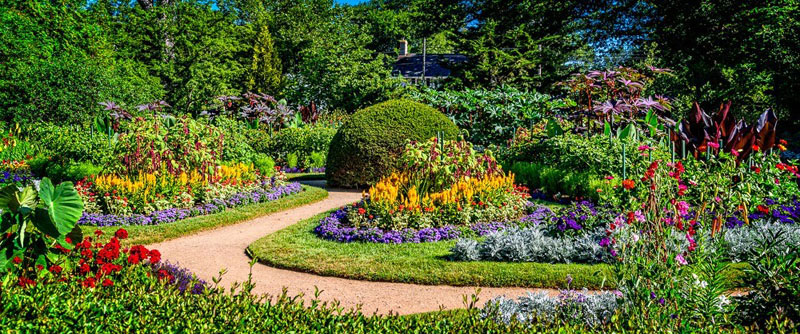 Above: Annapolis Royal Historic Gardens
We spent time on the Fundy Coast, learning about the history of my Acadian ancestors. We also had an amazing whale watching trip from Brier Island; you need to take a couple of small ferries to get there. There is no formal camping, but when we reached out to Brier Island Lodge, they let us stay in their parking lot overnight. The view from the lodge is gorgeous and the food was fantastic.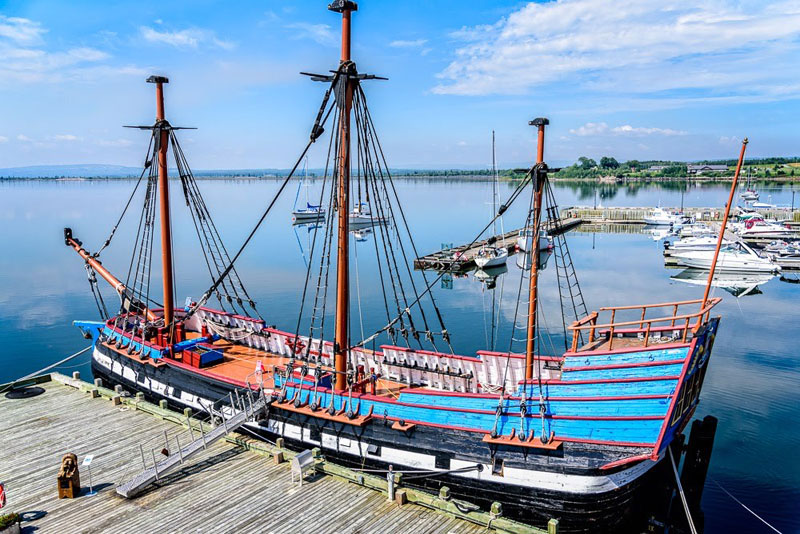 Above: Hector Heritage Quay in Pictou, Nova Scotia
Shubie Campground in Dartmouth was a great spot for visiting Halifax. We were able to take a bus and ferry to the downtown so that we did not need to move the camper each day.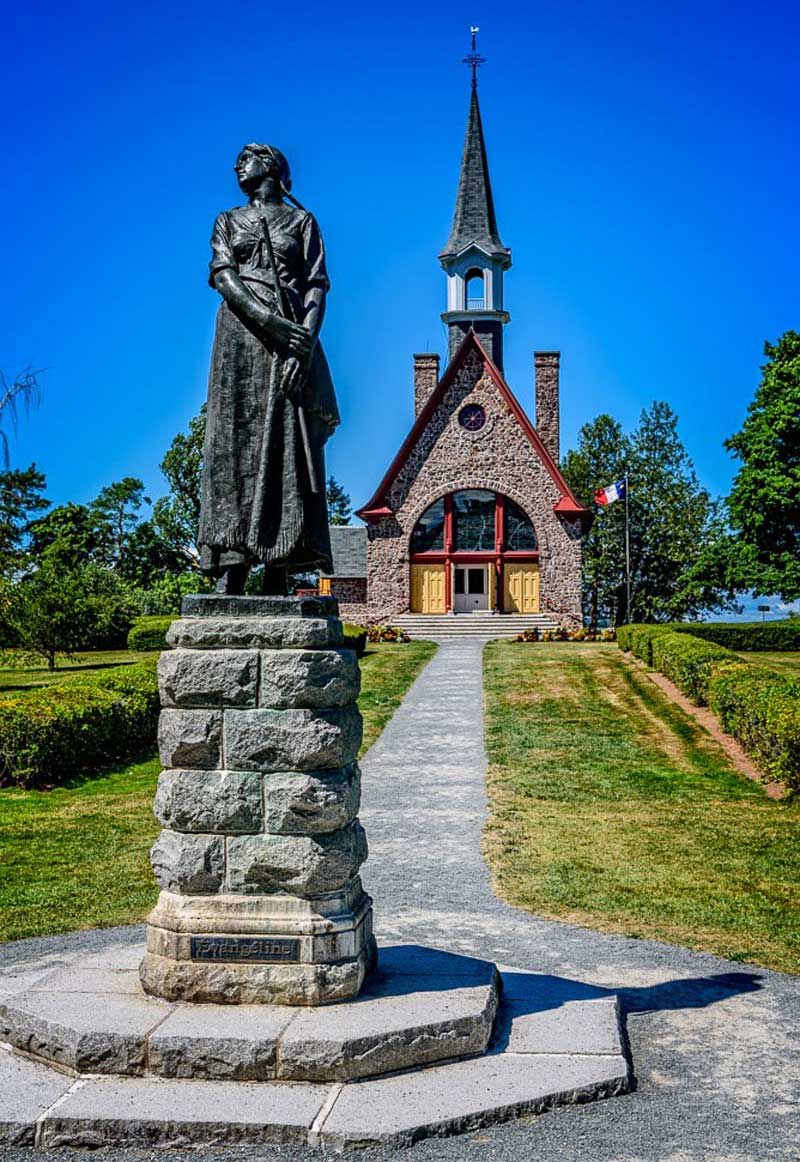 Above: Evangeline Statue And Chapel, Grande Pre, Nova Scotia
Kami Golembeski
2011 Ford F-350
2018 Northstar Igloo U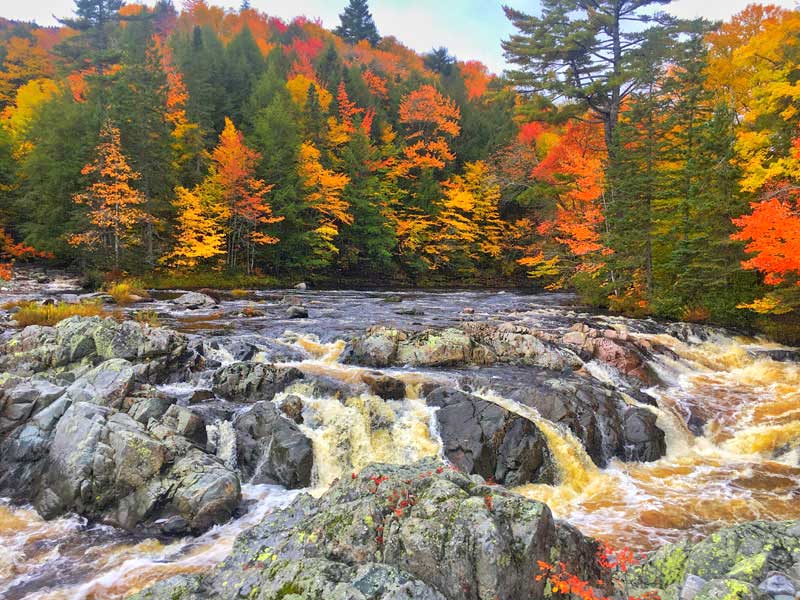 Oh my goodness! There are so many wonderful places not to miss in Nova Scotia.
We were lucky to arrive in Nova Scotia just as the Celtic Colors International Festival and events were happening. We were able to take in some music, dances, community dinners, and educational experiences with the beautiful people of the First Nations.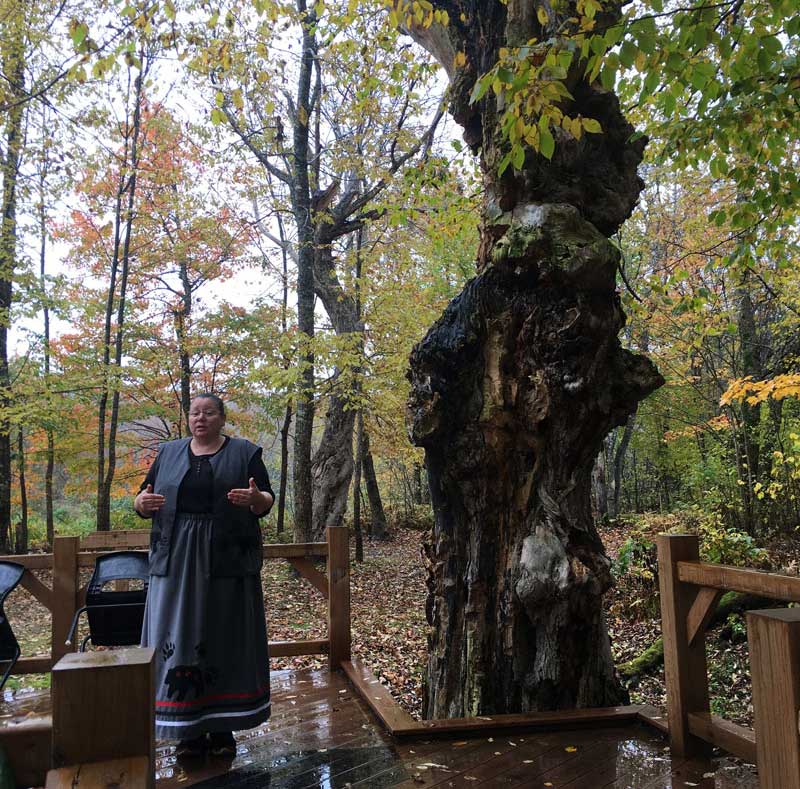 I even took a Celtic knot quilting class. The people were all so lovely and welcoming. We even had people offer their homes to us.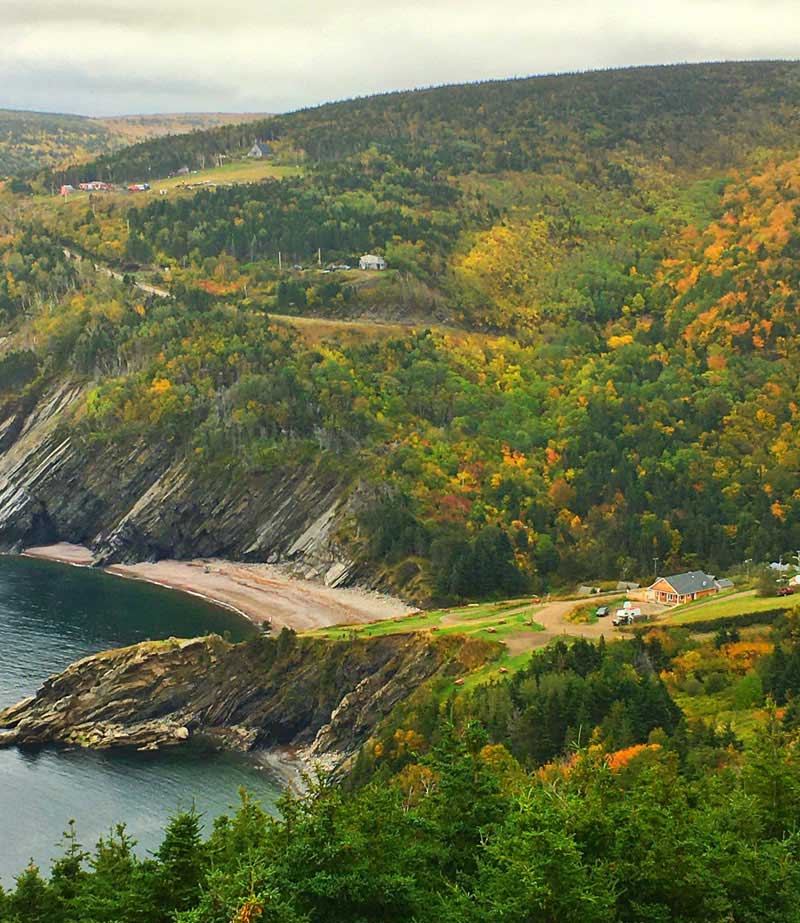 Above: Our hike in Meat Cove offered great views of the ocean, campground, and beach nearby. Can you see Rosie the Big Brown Truck from here?
Meat Cove was another amazing area. The views are stunning and there was a campground right there. It was closed when we were there in October, but we have been told it has the best chowder. The rocky beach there was so beautiful and the sound of the waves moving the rocks was music. The cliffs of Meat Cove are so high that the eagles that were flying around were flying at eye level.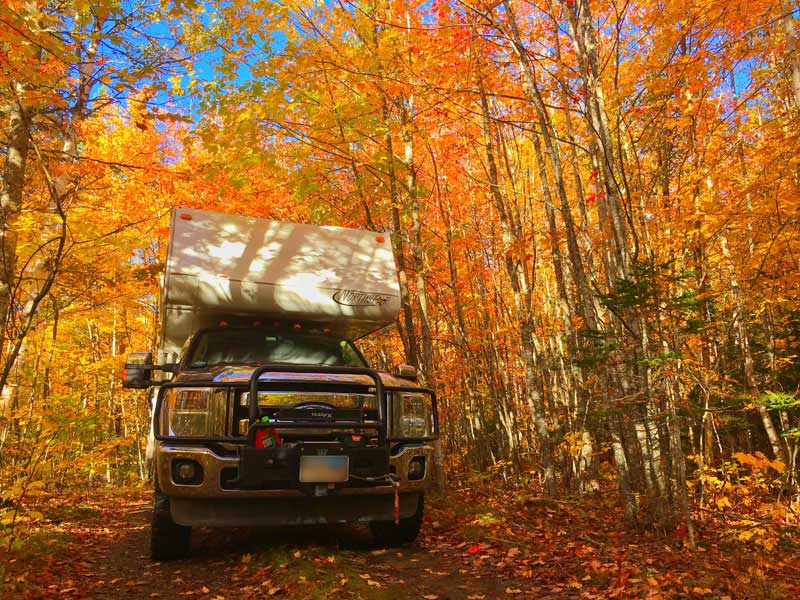 Living in Vermont, we love the fall colors. However, Nova Scotia's fall colors rival that of Vermont. I could go on for pages.
A hidden gem we found is Cloud Lake. There is a great boondocking location only available after September. It's a beautiful spot on an interior lake. There are lots of little islands and interesting places to kayak (pictured above). There were even geocaches on some of the islands. Of course, I had to go find them.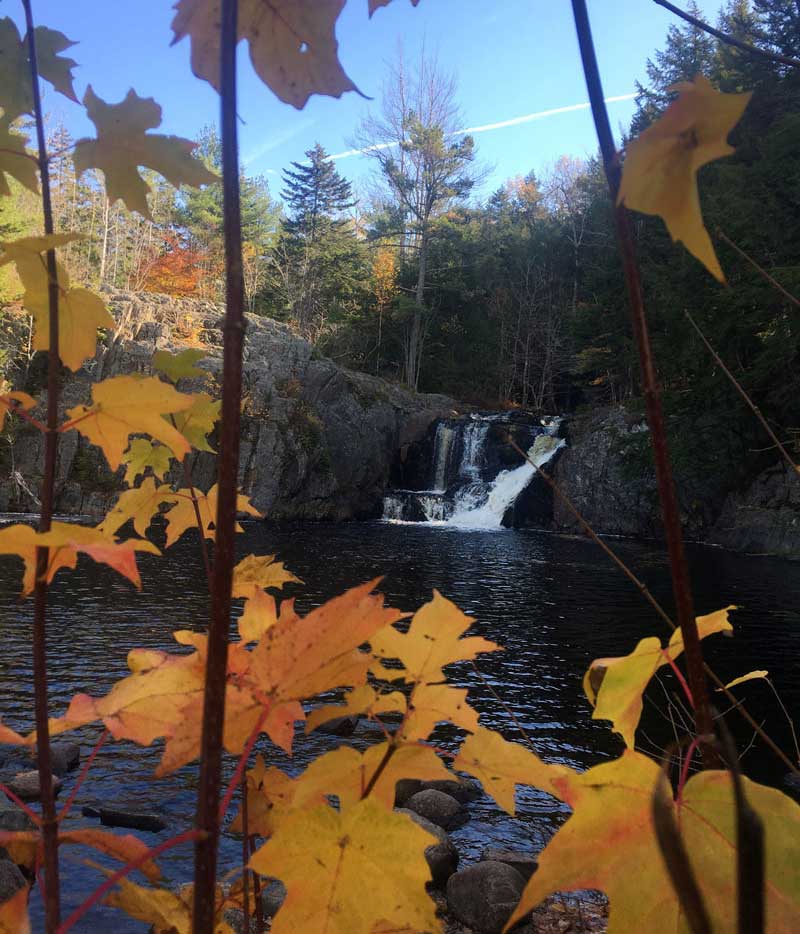 Above: This waterfall was on the way to Cloud Lake. I can't remember exactly where, but isn't it amazing. The hike to it was so much fun. You had to cross the river by walking across a log!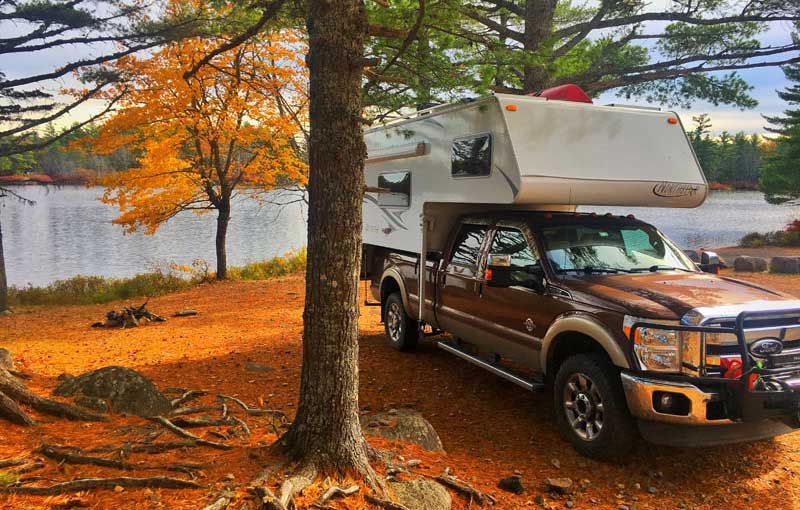 Above: A local told us that this area of Cloud Lake was not available during the months of July and August.  I'm not sure why.  In October, we had it all to ourselves. We stayed here for four nights and only saw two other cars that drove in, looked around, and then left. The lake is small with lots of little islands. It was an amazing place to kayak. I paddled so much that I almost got lost! There are probably a dozen or more geocaches that you can kayak to on these little islands.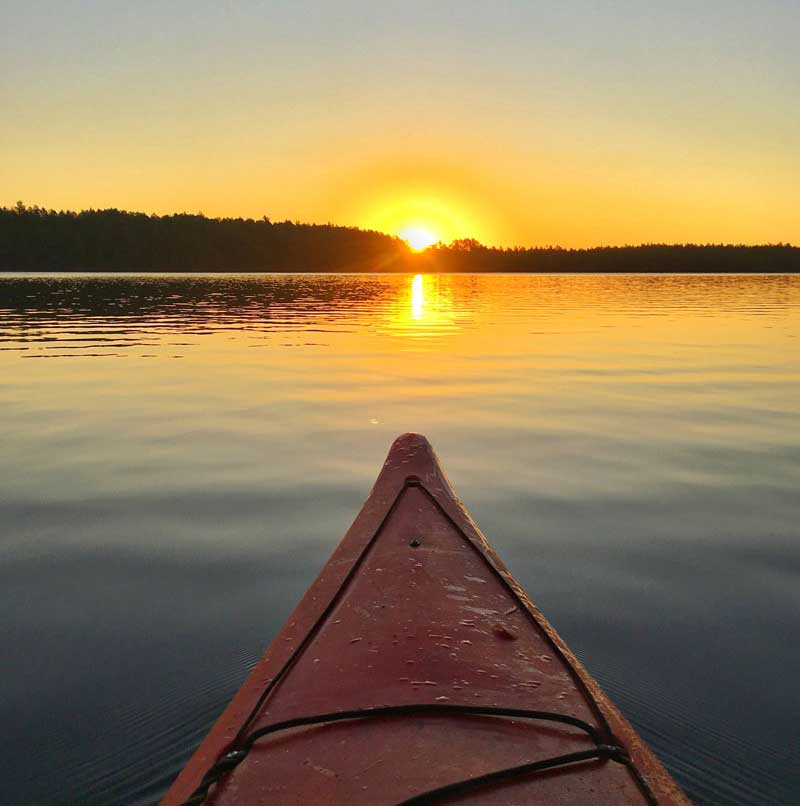 On our way to Cloud Lake, we stopped at a cheese shop that was just before we turned off the paved road. I just can't remember the name of the shop.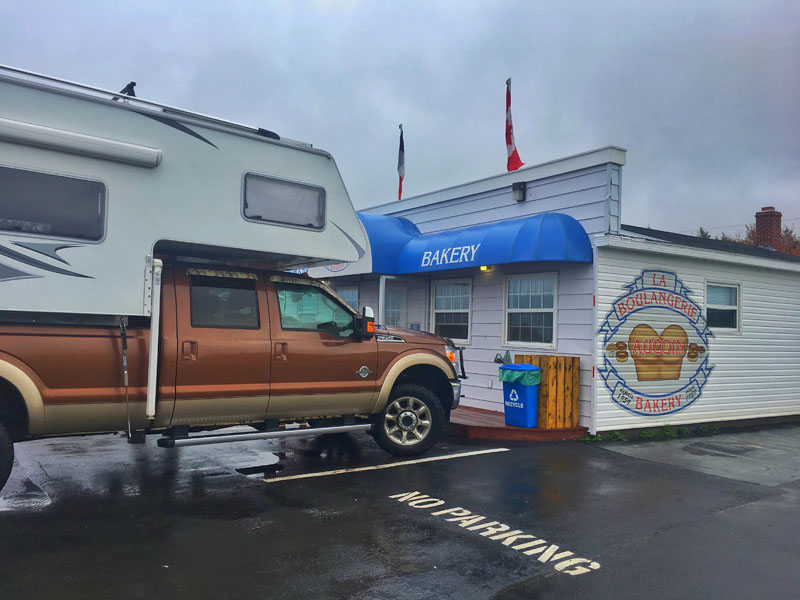 Above: Cheticamp, Nova Scotia is a wonderful little town and area to explore. It's off of the Cabot Trail; a beautiful scenic road traveling through Cape Breton Island. We camped right on the ocean.  This bakery had the best bread I have ever had in my life! I still dream about it and it's been 2.5 years!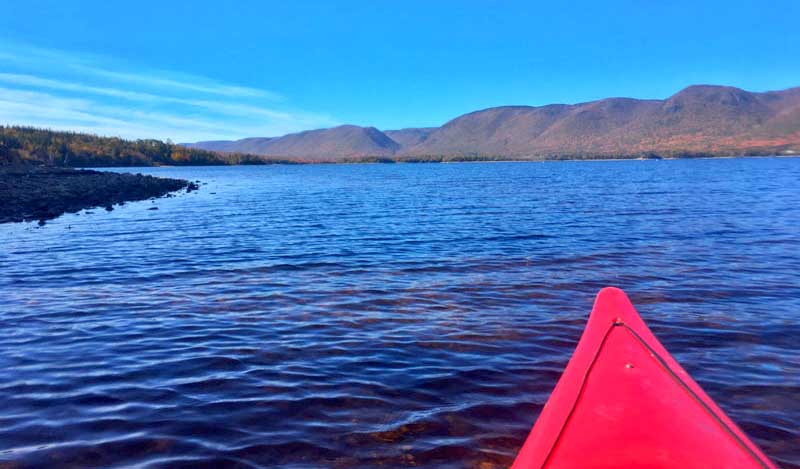 Above: Public access to Deadman's Pond was easy to find and I enjoyed about 2.5 hours of kayaking. Watch the weather, it can turn from being beautiful like this to windy and rough fairly quickly.
We boondocked the whole time we were in Nova Scotia and we were there for a month. We cried when we left.
The iOverlander app was very helpful in finding spots to stay. We also found spots when we were looking for geocaches, like the one in Sainte Marguerite Village. There was an amazing view of the ocean and bay.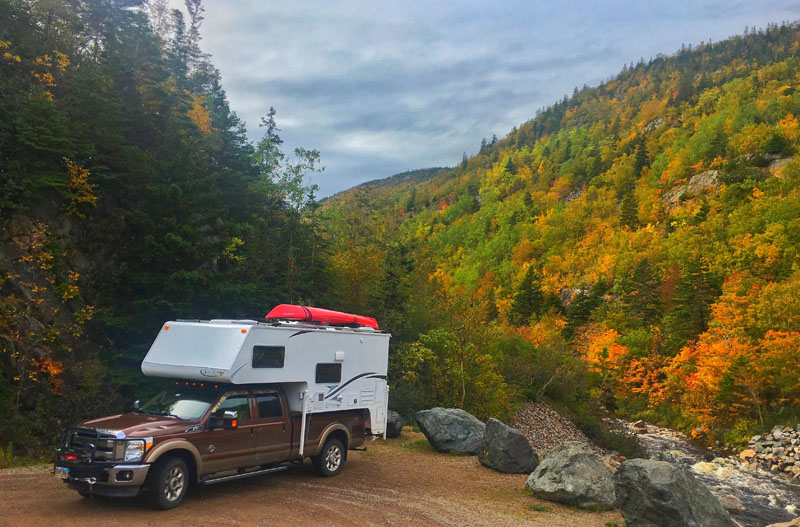 Above: There are not enough adjectives in the world to describe how beautiful the drive on the Cabot Trail was. When we entered Nova Scotia we went counterclockwise around Cape Breton Island. We went to Cheticamp first and then to Meat Cove, Dingwall, and then around to Baddock. We stopped to take in the view and go for hikes. There are so many great hikes!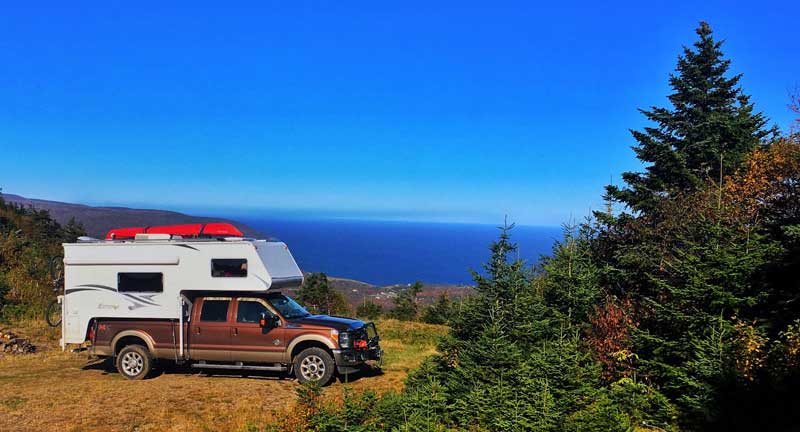 We had locals offer to let us stay on their property and fill our tank when we needed water. Our solar system worked well and we didn't need to use our generator, which we hate doing. We do remember that the fall days are short and grey. We were very conservative with our power usage.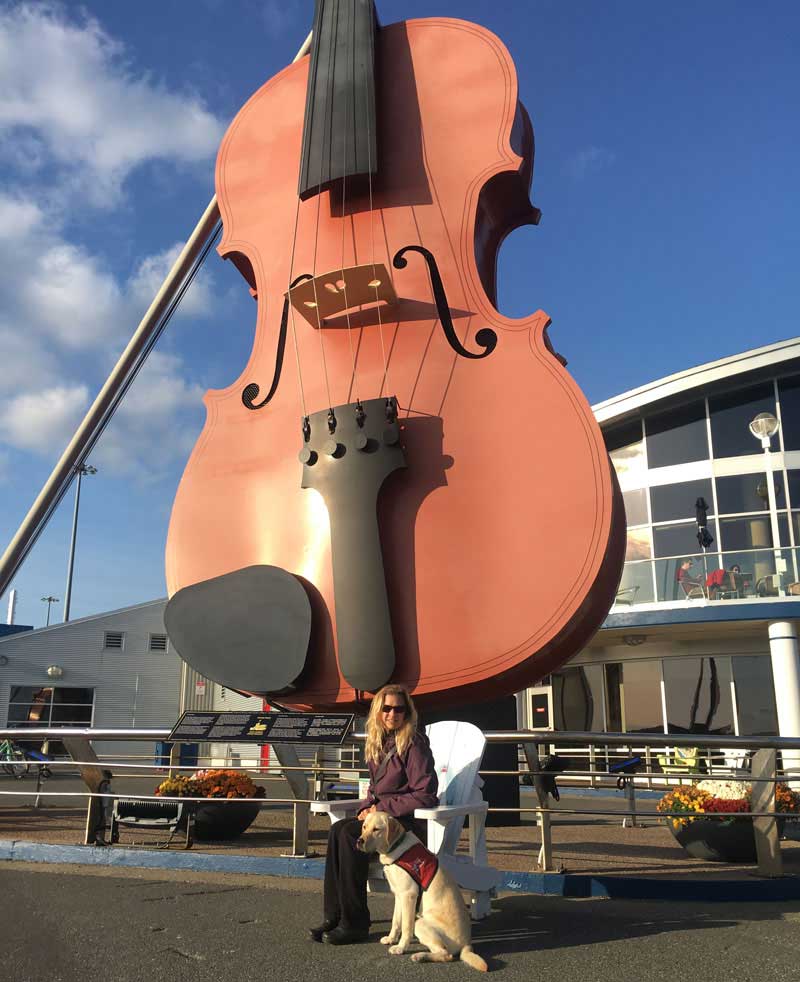 Above: We spent a few days in Sydney, Nova Scotia to restock our food supplies and get an oil change.  We enjoyed some more great Celtic colors music and dancing. This is the world's largest fiddle. The waterfront is worth a stop and walk through.
Drive to Nova Scotia through New Brunswick if you have the time. New Brunswick is another beautiful beautiful area to explore and deserves its own article.
Thomas Schaaf
2010 Ford F-150
2009 Northstar TC800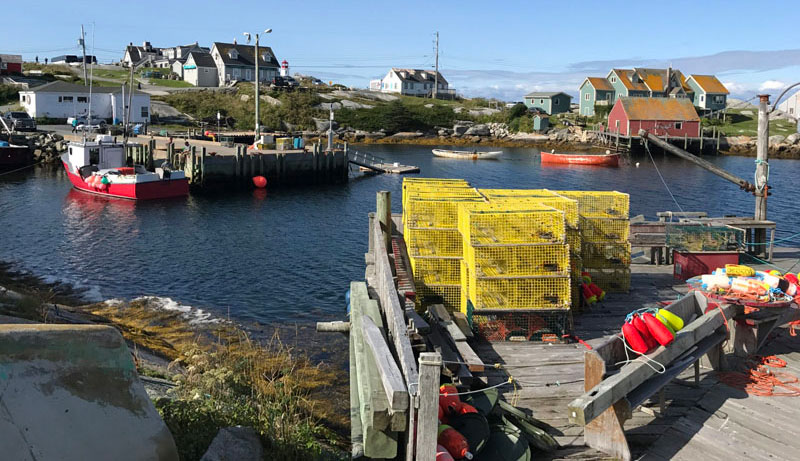 Above: Peggy's Cove, Nova Scotia
Peggy's Cove is a beautiful location on the eastern shore of Nova Scotia about 25-miles southwest of Halifax. Its inhabitants still fish for lobster, and the community maintains a rustic undeveloped appearance.
Peggy's Cove was a great place to take some amazing photos. Get there early in the day because it is a popular spot and can become busy by late morning.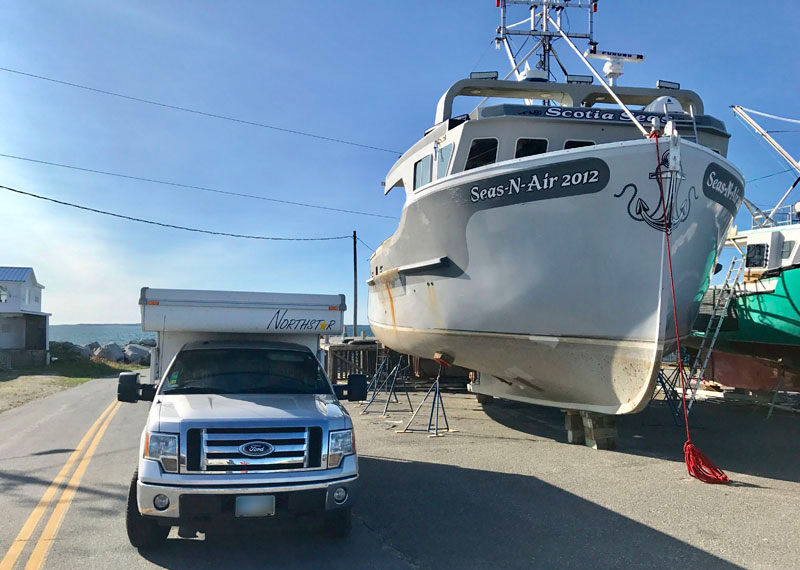 Cape Breton Island and the shore drive are wonderful. The island contains beautiful vistas, historical sites such as the Alexander Graham Bell Museum in Baddeck, hikes such as the Skyline Trail in Cape Breton Highlands National Park, and the renovated Fortress of Louisbourg.
The town of Lunenburg is a UNESCO World Heritage Site. There is a rich history of the town's place in Canadian history and historical buildings.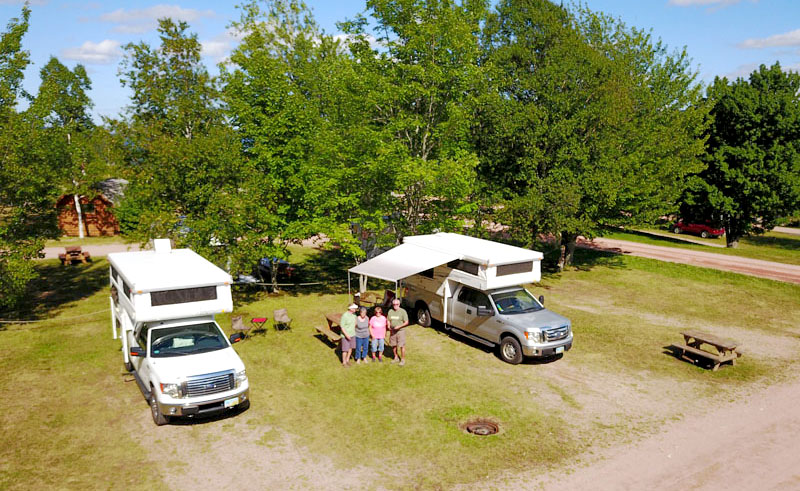 We camped in Victoria and Lunenburg in organized campgrounds. The campgrounds were not as commercial as what we often find in the United States but provided the basic necessities for people who like to camp.
Although the information above focuses on Nova Scotia, we utilized the ferries between the Canadian provinces either by choice or as a practical choice.  We went on seven separate ferry crossings during our travels.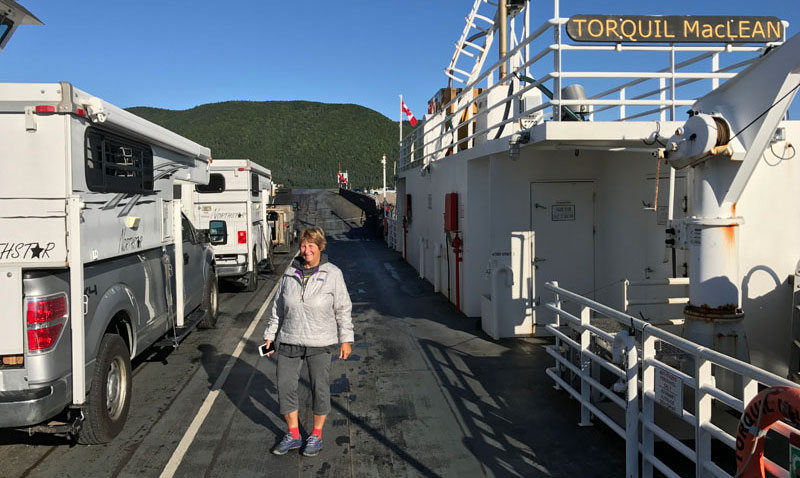 Above: The Torquil MacLean Ferry provides a means of accessing the Cabot Trail in Cape Breton across the head of Saint Ann's Bay.
Two of the ferry trips we took were overnight.  Leaving Nova Scotia for Newfoundland and the return trip were overnight. On those trips, we did not have a cabin but choose to sleep in the lounge areas of the ships, which were quite large.  These trips required reservations. For our truck and camper and two passengers, it was approximately $375 USD in 2017.
The port in Nova Scotia was North Sydney, both departing and returning. However, we landed at Port aux Basques and departed from Argentia on Newfoundland because it was about the same price to leave from Argentia from the return crossings as driving the miles back to Port aux Basques.
On the ferries, the length of your vehicle with the camper determines the price.  We actually removed our expandable steps to keep our overall length under 21-feet. That saved us about $75!
Other ferry crossings were very short but saved many miles of driving.
Most of those were simply driving to the landing and waiting our turn for the ferry for ones that were very short, less than fifteen minutes.  Others required a time reservation, but payment was not required in advance.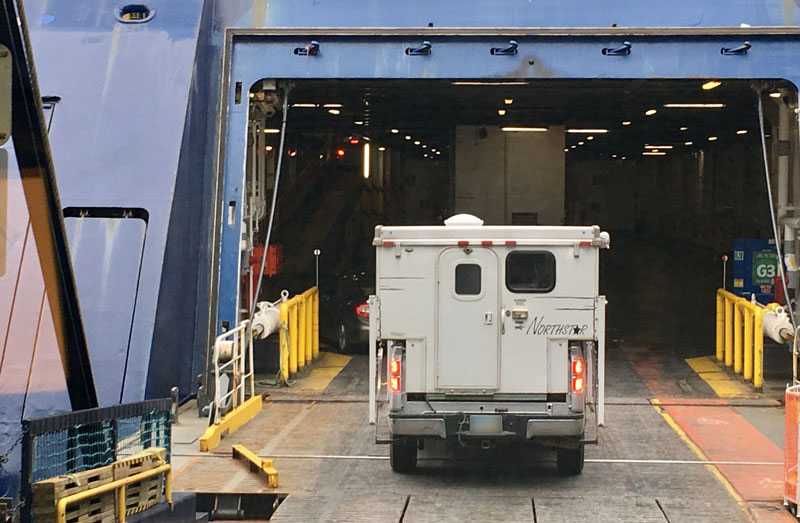 We met many people on the ferries in the Maritime Provinces that gave us some excellent advice and ideas of places to go and things to see.  We find that the natives are often the best tour guides.  One such suggestion came from an individual who was an air traffic controller for the North Atlantic and recommended we visit the museum in Gander, Newfoundland.  It was the site of all flights in the air over the Atlantic on September 11, 2001!
Tim Cooper
2016 RAM 3500
2009 Bigfoot 25C9.4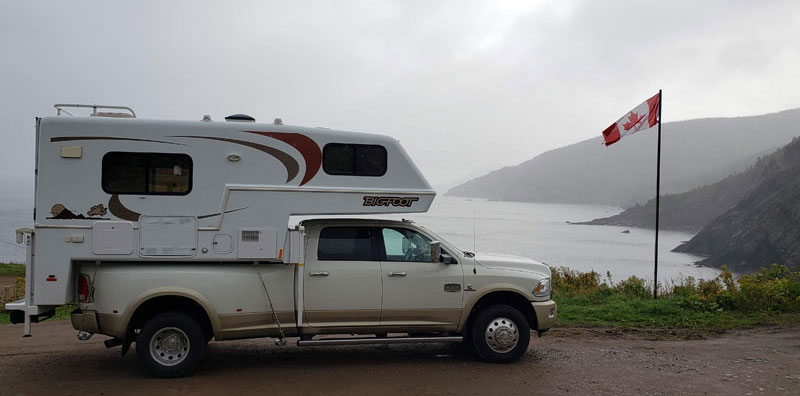 Above and below: Meat Cove, Nova Scotia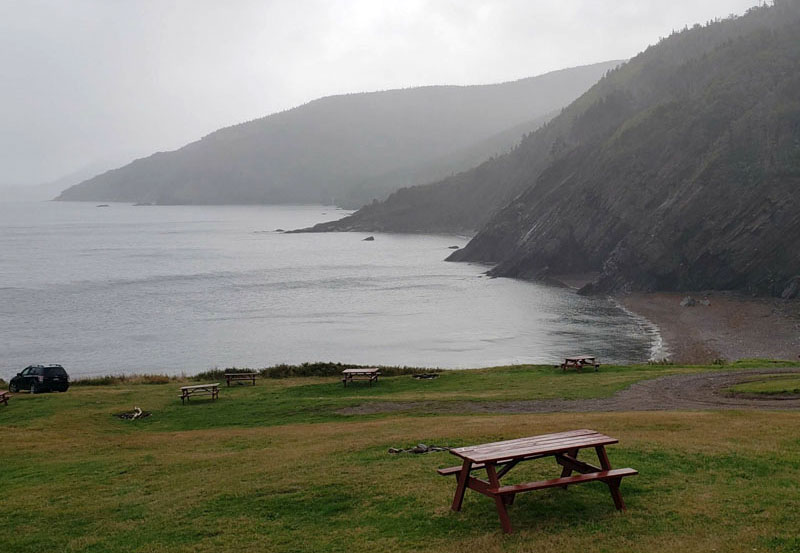 Our favorite spot in Nova Scotia was the absolutely beautiful Meat Cove. There was a campground there right on the edge of the cliff with no fencing.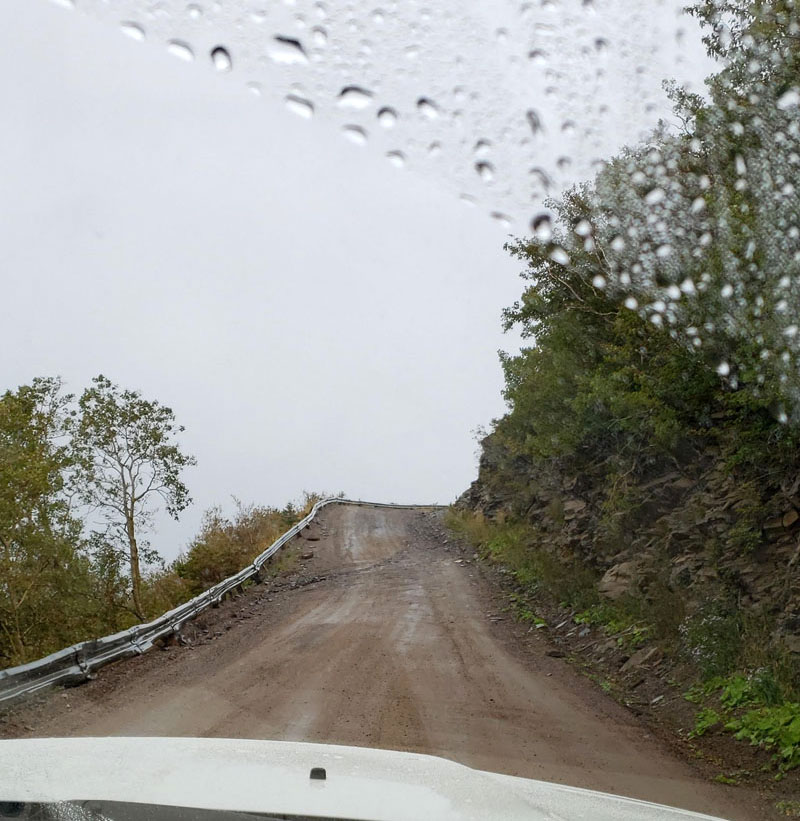 As you can see by the picture above, the narrow five-mile road in and out was full of potholes and not great in the rain.

I also enjoyed going to Glenora Distillery on the way to Cape Breton Highlands National Park. We went on the tour and I enjoyed the samples.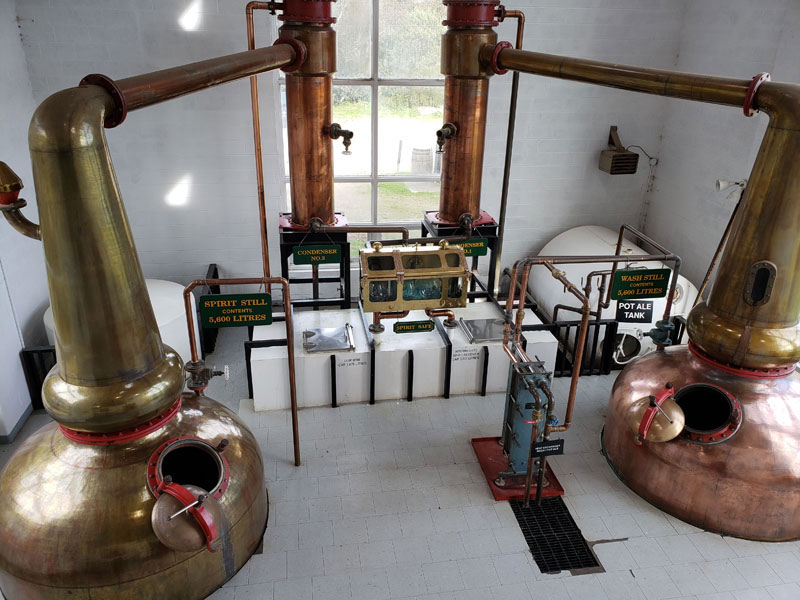 Above: The Glenora Distillery inside
In 2019, Eagle River Campground in Street Harbor (pictured below) was $35 per night with electric and water.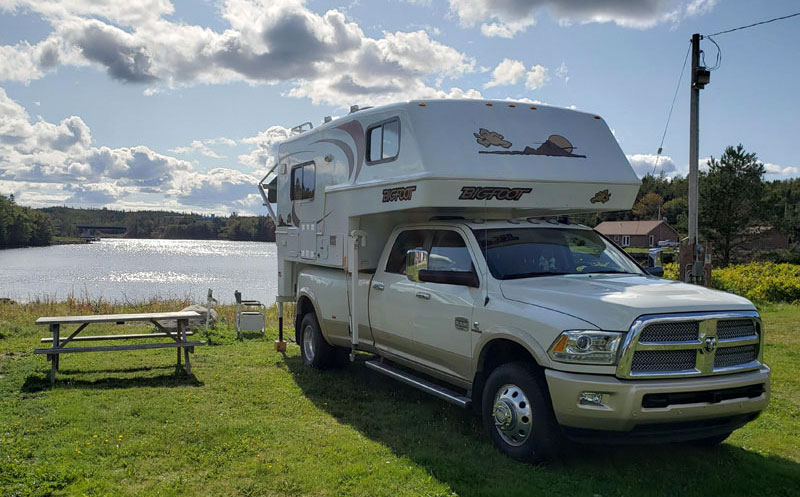 Our favorite was Macintosh Brook Campground in Cape Breton Highlands National Park. It was was $21.50 per night.  We had the whole place to ourselves with a small creek outside our back door (pictured below).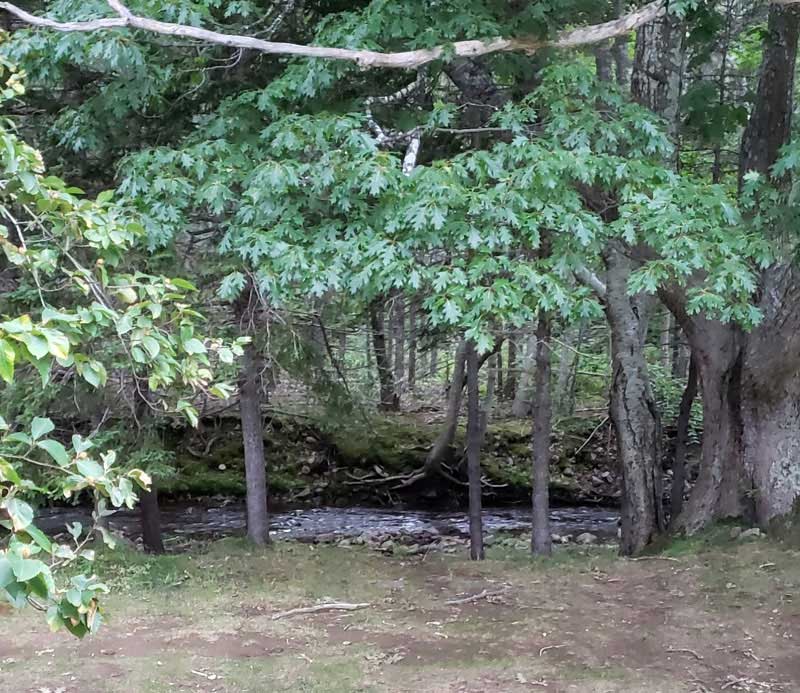 We stayed at the Hank Snow Museum in Liverpool. It included electric for a donation. We found that spot on freecampsites.net.
Arm of Gold Campground in Cape Breton was $35 for electric and water. It was the night before we took the ferry to Newfoundland.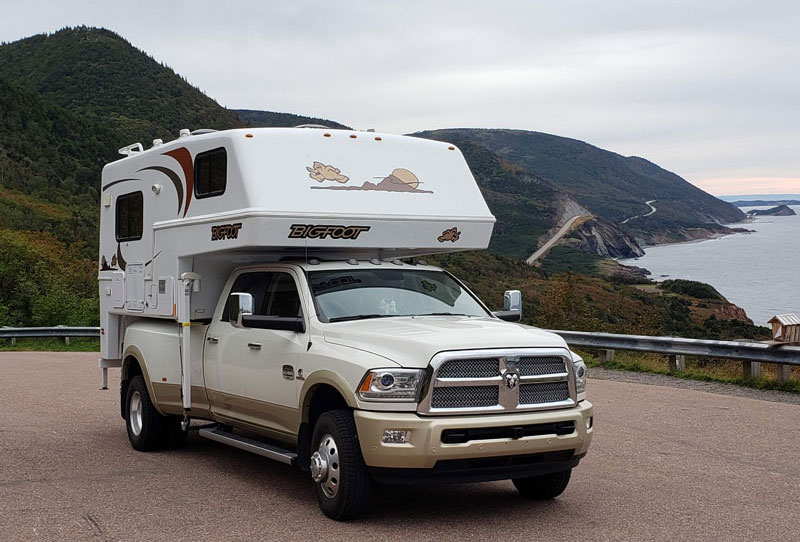 Above: The camper on The Cabot Trail
We camped for four nights in Nova Scotia. A hurricane had gone through a couple of days earlier and most places were just getting their power back.
Pat Bickel Jones
2006 GMC 3500
2017 Host Mammoth
We crossed into Nova Scotia from New Brunswick on the Trans-Canada to Amherst. From there we veered north to the Northumberland Highway, which we followed all along the northern coast.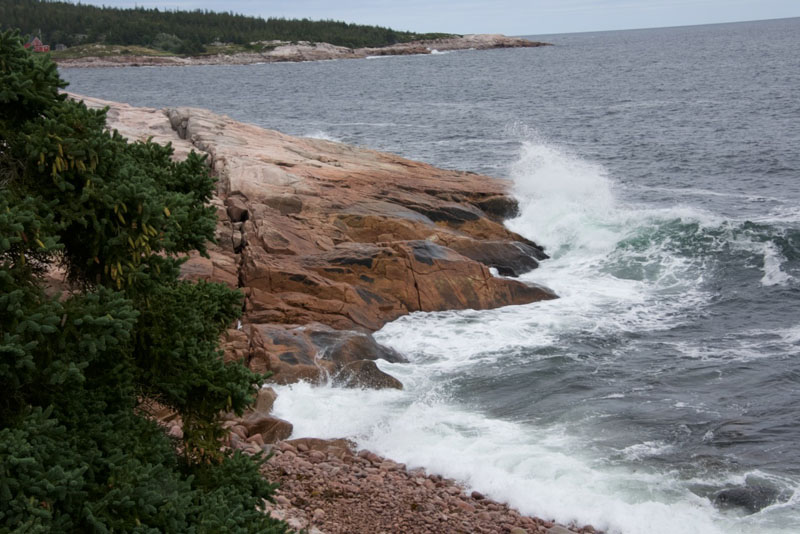 The coastal roads of Nova Scotia are so lovely. The main roads are tree-lined corridors and great for covering miles quickly, but they're definitely not scenic.
The Northumberland Shore borders the strait of the same name and supports fishing for lobster, crab, and herring. Oddly enough the water off the Northumberland coast was warmish and delightful for swimming. Being from Colorado, I was convinced that all water north of the tropics in a river, a lake, or coming from the sky must be cold.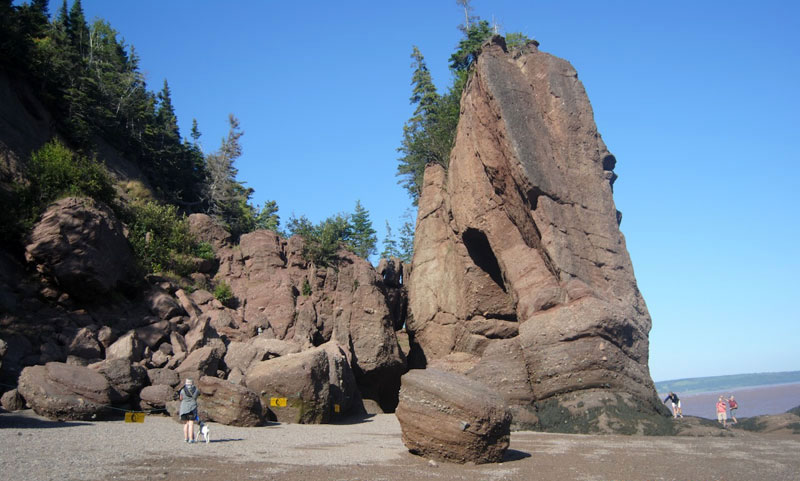 The southern shore of that same peninsula borders the Bay of Fundy with its unique challenges of living and farming with a record of 52-feet between high and low tides.
People in the country communities were great. Twice when we pulled to the side to take photographs, locals stopped to see if we needed help. We were told Cape Breton was a must-see, and we had already heard about the Cabot Trail.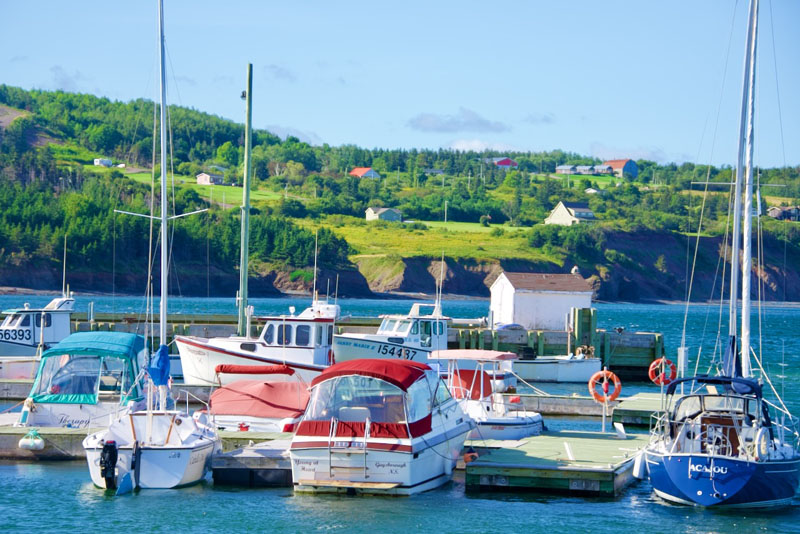 As we were traveling along the coast through all these small towns, we knew it was time to try the famous fish and chips and seafood chowder. Both were absolute perfection. The fish was generously battered and deep-fried perfectly. The chowder was rich and creamy with huge chunks of scallops, haddock, and shrimp.
Tiny flavor-bursting wild blueberries, picked-ripe real strawberries, genuine maple syrup, smoked whitefish, and salmon, plus lobster are other delightful treats of the area.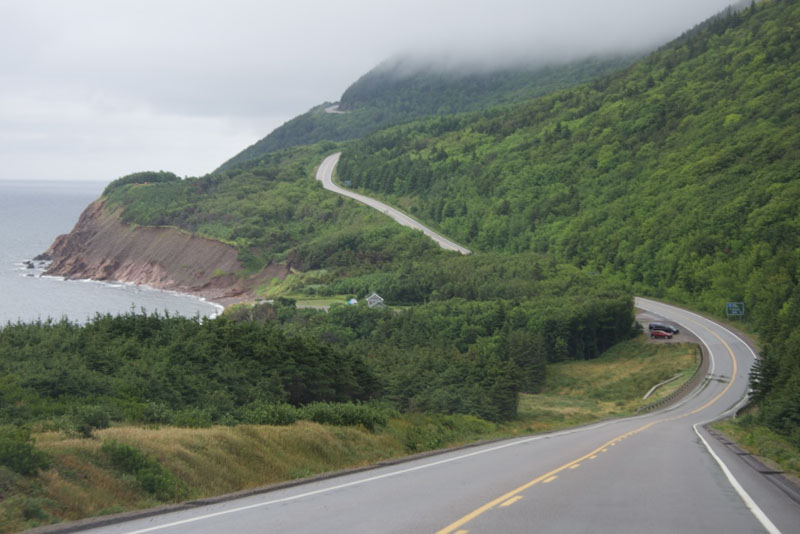 The Cabot Trail is a path that circles Cape Breton through small Scottish and Acadian communities and continues along most of the coast and through the Margaree Valley. The highlands of the National Park truly are the highlands with an especially remote, rugged coastline of spruce forests on mountains tall enough to have some rocky treeless tundra at the top. The valleys hold hardwood maples.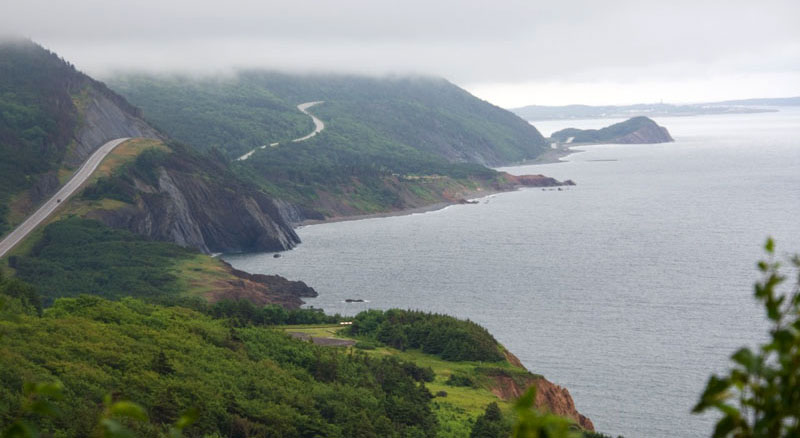 We both would have enjoyed a Puffin boat tour but, being there in early September, we were too late in the season. We actually arrived in shoulder season between all the summer activities and the fall color. I feel the weather was quite good, but Mike remembers mostly cloudy days.
On the one rainy day we had, we visited museums. There were no crowds, and parking with the rig was generally not a problem. Nova Scotia was pretty stress free.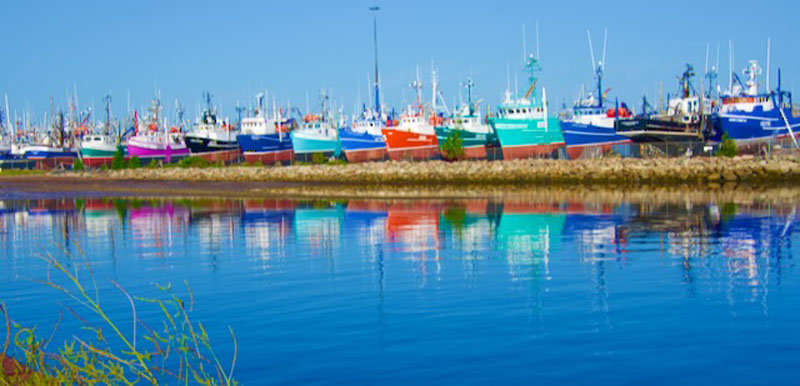 The drive with the views of the coastline were worth many pictures. The wide variety of farms, houses, and churches added to our enjoyment.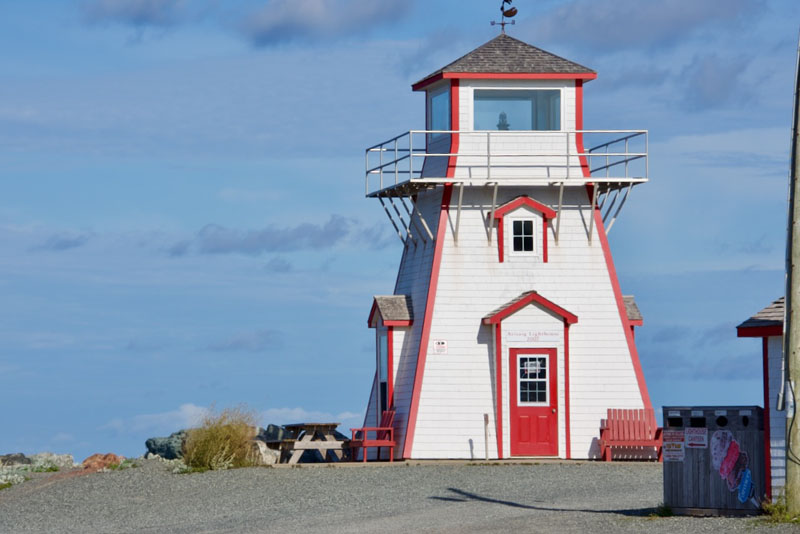 Theoretically, a lot of wildlife abounds in these mountains, but we saw almost none. Mike was disappointed that even the local birds had already migrated and others already passed through for the season. No moose or bear, but a deer and her young, a coyote, a red fox, and many Canadian Geese were about the total.
After visiting a local museum at Cape North, we pulled into the delightful town of Baddeck. Baddeck was the summer residence of Scotsman, Alexander Graham Bell and his wife Mabel. The museum at the Alexander Graham Bell National Historic Site was quite interesting with a lovingly recreated Silver Dart airplane in the museum, along with a cigar-shaped hydrofoil that sped across the bay at 70 miles per hour, a speed record that stood for ten years.
We were in Baddeck headed for Halifax when we learned of Hurricane Dorian. The locals were taking the storm warnings seriously. Sailors in Baddeck Harbor were moving their boats into protected coves. Nearly a week before we planned to leave Nova Scotia, we felt we should move on. From Baddeck we reluctantly headed west on TransCanada 104, through Truro and Amherst, and back to New Brunswick.
Joe Zecca
Chevy 3500
Arctic Fox 1140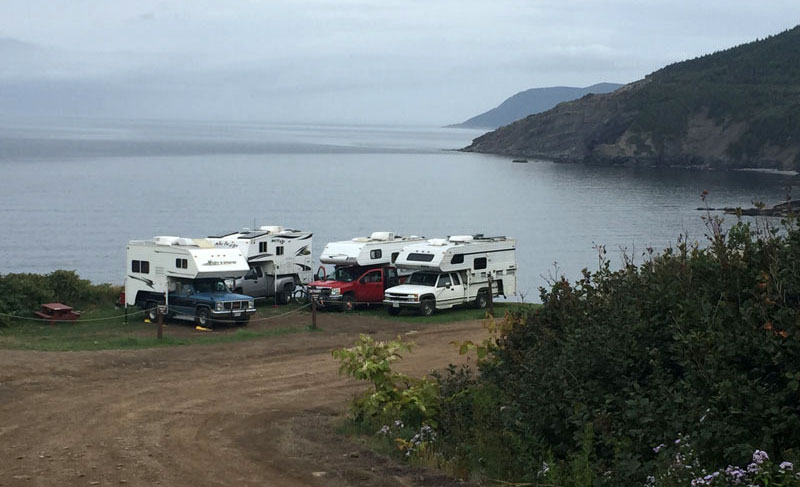 Meat Cove is the best, most dramatic location for truck campers. We stayed at the edge of a cliff.  All the other RVs had to camp on the other side of the road, away from the cliff.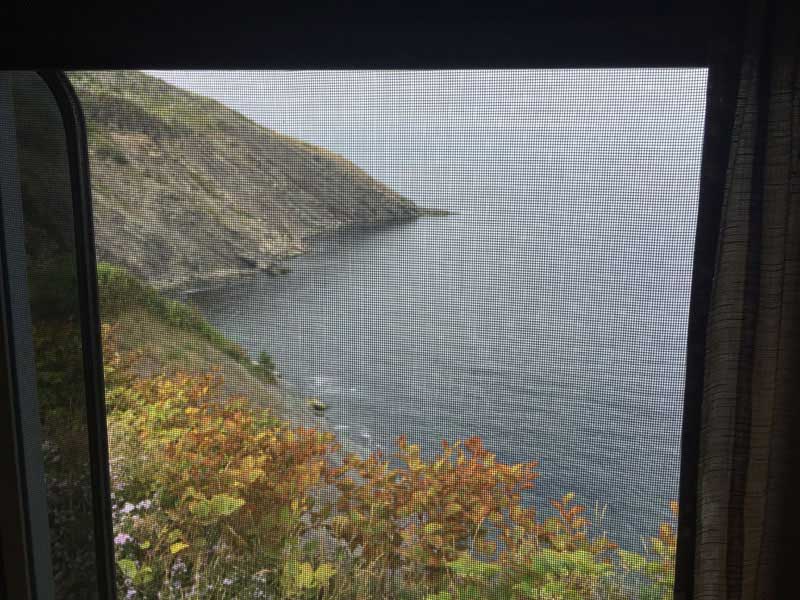 The pictures above and below of Meat Cove show the view out the window from my camper and the drop from the cliff to the water.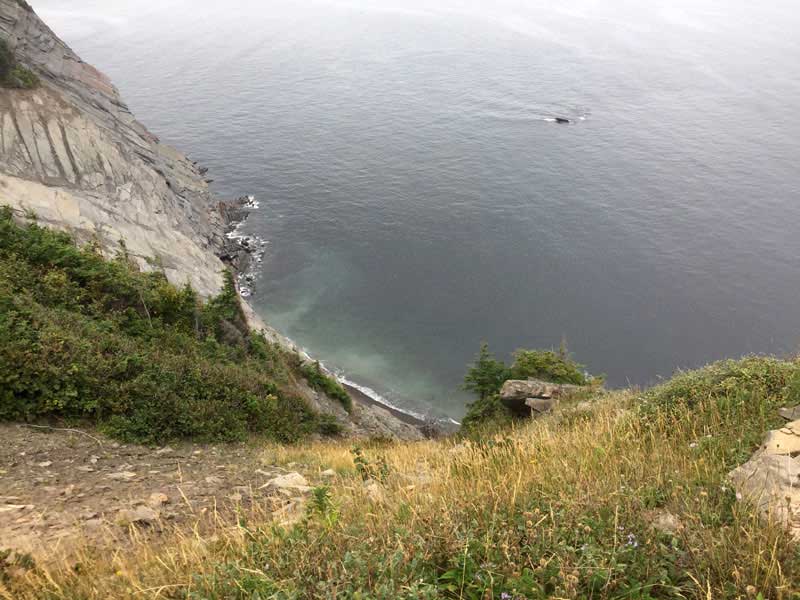 My email was supposed to say, "Fundy Tides" (not Funny Tides) but autocorrect jumped in and I can't correct it without starting over.  Anyway, we checked the tide tables and waited for the world-famous Fundy Tidal Bore.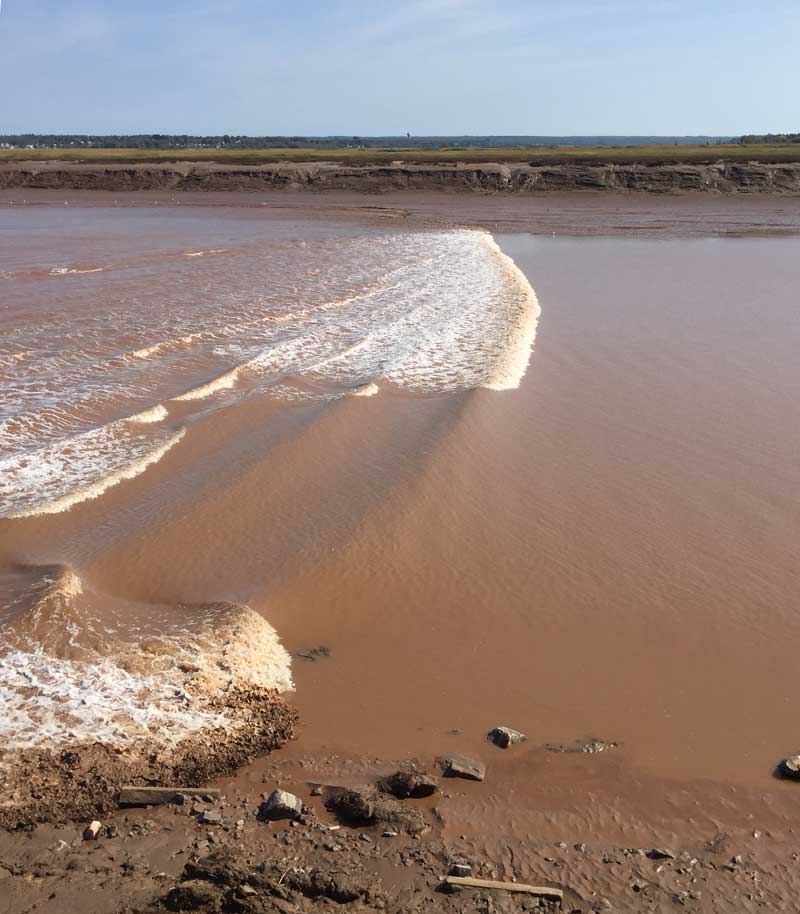 We knew we were in the right place because there were signs that said so. There was a masonry grandstand so that multitudes could watch the Bore.  However, the photos show what we got.  Maybe the Bore had a day off, and Funny Tides was right after all.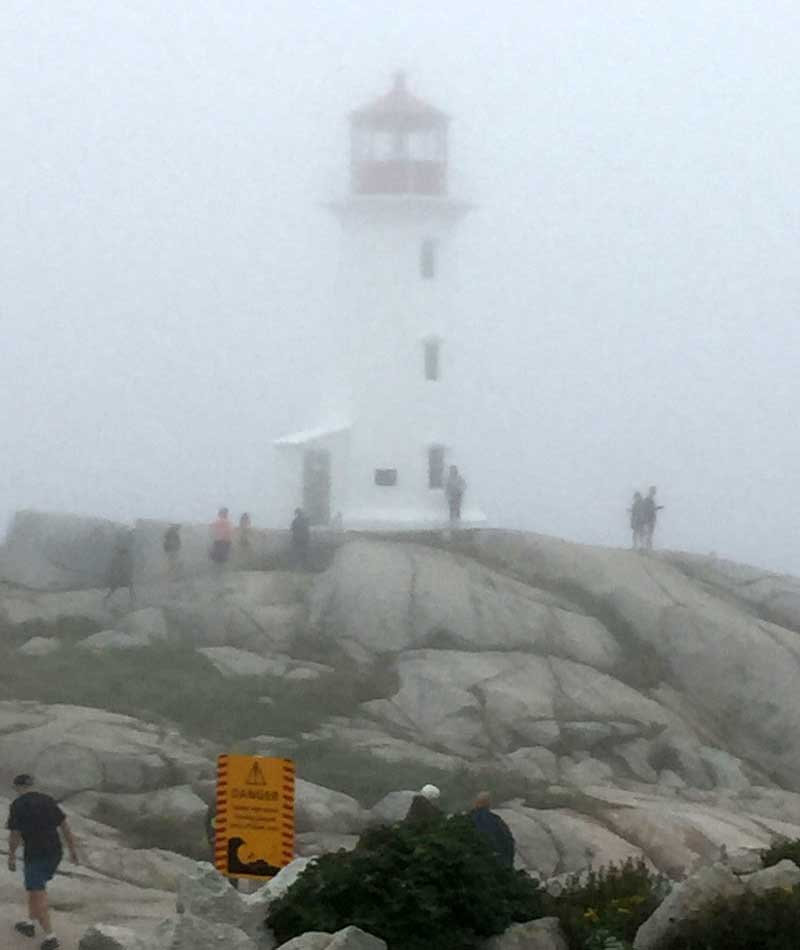 Peggy's Cove is a great site for that real maritime feel.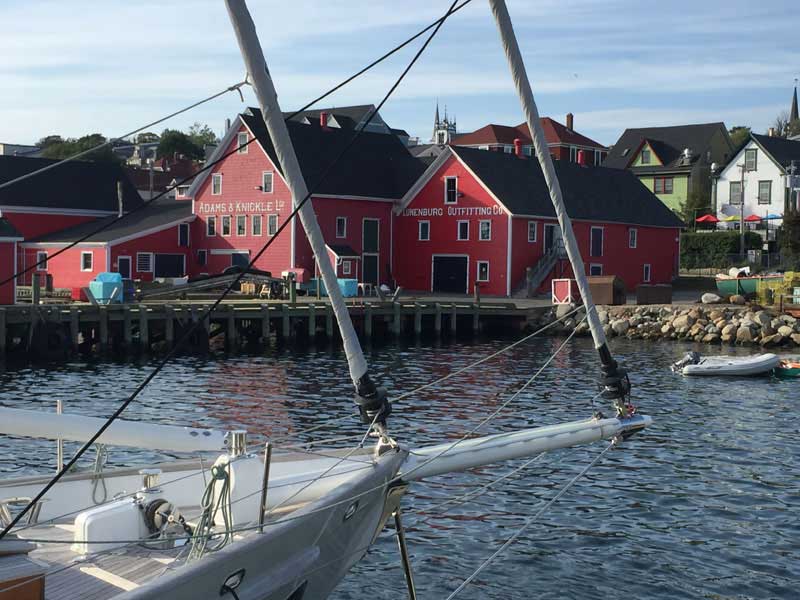 Lunenburg is a great area to walk around, see nautical stuff and get a good meal. You can take a horse carriage ride. It sounds touristy, but the ride good and informative. This is the home port for the barque Picton Castle.  You can take a 16-month round-the-world sail on the Picton Castle, serving as a sea man/sea woman trainee.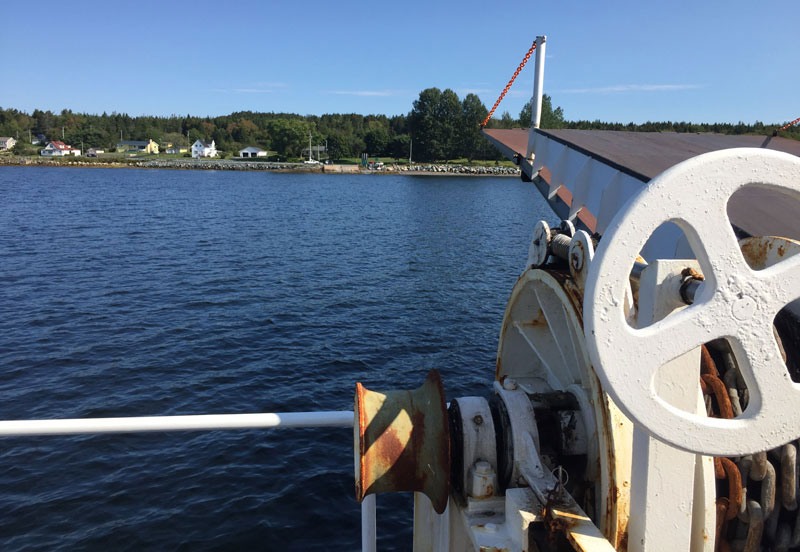 Nova Scotia has many ferries.  We took one from St. John on the mainland to Nova Scotia.  You need a reservation, and the fare is based on the length of your vehicle.

The ferry was great, with food service, lounges, and even a theatre.  In Nova Scotia, there are many regional ferries to cut down on the trip across the inlets.  Pictured is one such ferry, showing the loading ramp and the ferry.  They get across by using a cable anchored on both sides.  The ferry pulls itself along the cable. Very cool.
Sylvain Robin
2015 Ford F-450
2018 Lance 1172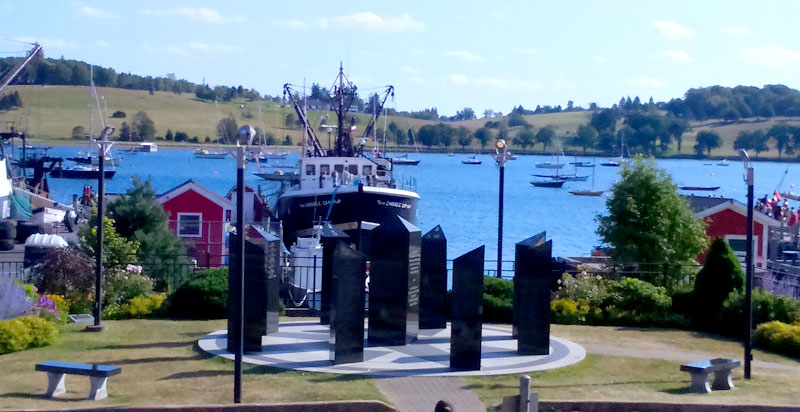 We recommend a visit to the Bluenose II in Lunenburg. The Bluenose II is a 1963 replica of the undefeated racing schooner, Bluenose. The Canadian Mint celebrated the 100th anniversary of the Bluenose with a 10-coin featuring the schooner in 2021.
Lunenburg has nice restaurants and a distillery right on the sea. The Lunenburg RV Park and the tourist information center is a five-minute walk to the activities.
Another place not to miss is the Fortress of Louisbourg because it's very historic.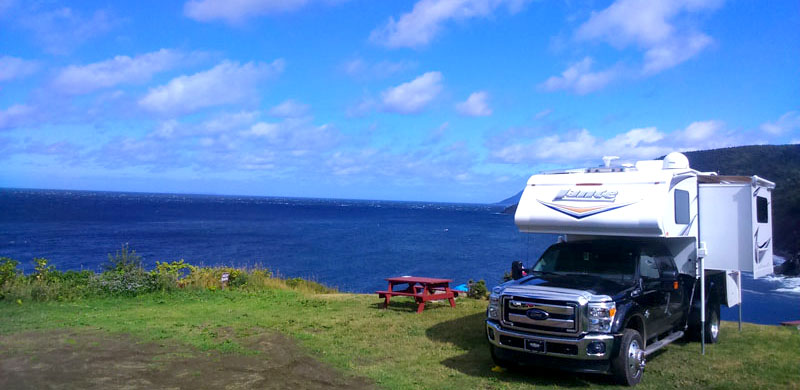 Above: Meat Cove Campground
Meat Cove Campground on the Cabot Trail is perfect to relax near the ocean. It's a beautiful place with hiking available. Access to Meat Cove is on a dirt road for about four miles. The campground is a first-come, first-serve dry camping spot for $40 Canadian.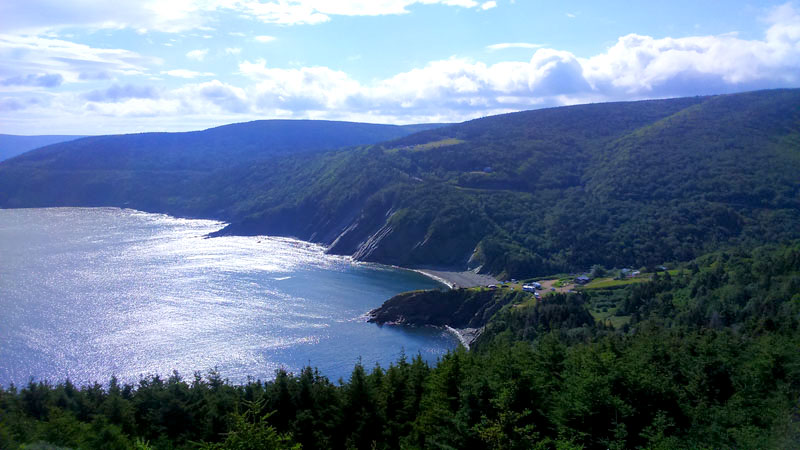 My recommendation is to arrive early in the morning. We got a place in August and we didn't make a reservation.
Scott Henry
2016 Ford F-350
2016 Four Wheel Hawk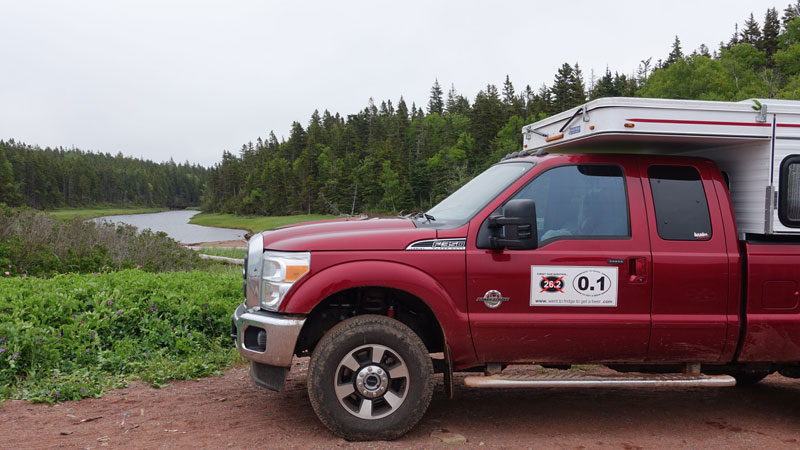 Above: One of the many small inlets on the West Coast
I highly recommend taking the ferry to Digby, Nova Scotia from St John, New Brunswick.
Kejimkujik National Park offers amazing kayaking opportunities. You can camp inside the park at Jeremy's Bay Campground and enjoy hiking and fishing.
I also recommend you go toward Cape d'Or Coastal Park in Advocate Harbour. There are beautiful coastal cliff views and The Lighthouse on Cape d'Or.
There are lots of far-off dirt and gravel roads around. I boondocked a few times. It was very remote at certain times. I also used Boondockers Welcome for overnight stays. There are nice people in Nova Scotia.
After you explore Nova Scotia, you can drive back around to New Brunswick.
Mike Sands
2015 GMC Sierra
2014 Travel Lite 800SBX
Our favorite place in Nova Scotia was Spencer's Island on the Bay of Fundy. It was an out-of-the-way place beyond the tourist areas. We just loved it. There were places for hiking and fossil exploring for area attractions. For us, the campground we stayed at was the adventure.
The Old Shipyard Beach Campground had a full-service site. The cost was about $40 a night. There were also small cabins to rent there and the owners were very nice people. This was in September 2021 during Covid, so the washroom was not available to us but that was okay since we are self-contained.
The road leading into this area from Truro was paved but had some rough sections. Since we were just doing our truck camper touring, we took our time in those areas.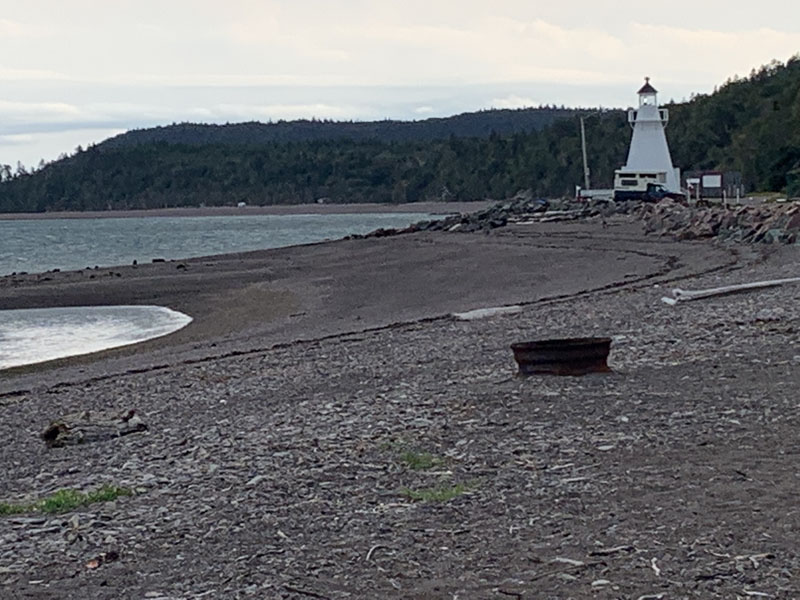 We were there for two nights. As usual, I unloaded the camper so we could tour around easier. We actually never left the campsite to venture around the area as it was a great experience just staying there.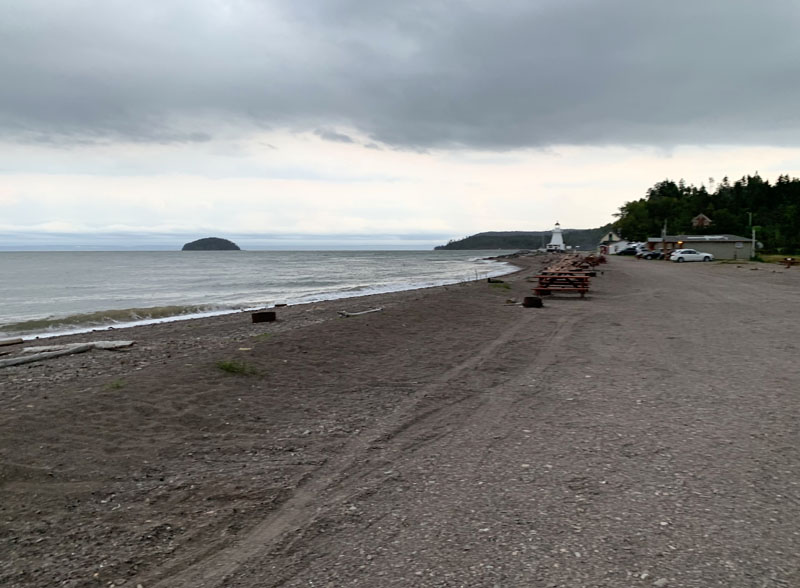 Our campsite was on the water's edge at high tide (as all campsites were) and we could hear the waves crashing into the break wall 50-feet away. The water actually wrapped itself around and behind our site. We were basically on a peninsula. At low tide, we walked out a great distance on gravel texture ocean floor as the stream flowed down the slope to the water's edge. It truly was a great place to visit and to enjoy the Bay of Fundy tides.
Sarah Bencze
2012 Ford F-350
2016 Wolf Creek 840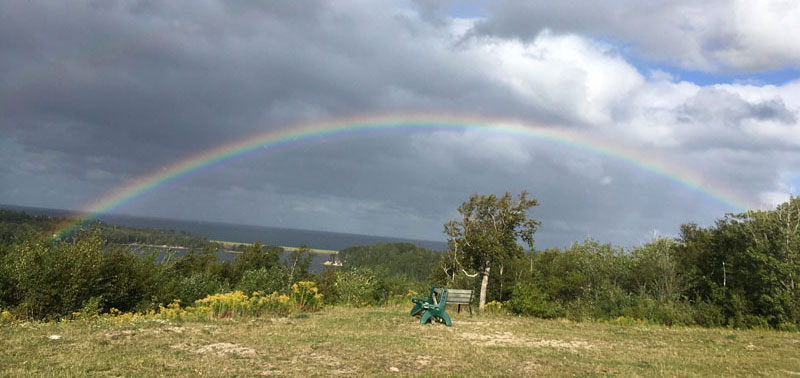 Above: South Harbor, Nova Scotia
On the Cabot Trail, we drove counterclockwise. The first night we stayed at Baddeck Cabot Trail Campground. The following day we hiked Frangy Mountain, which is a very nice hike with gorgeous views.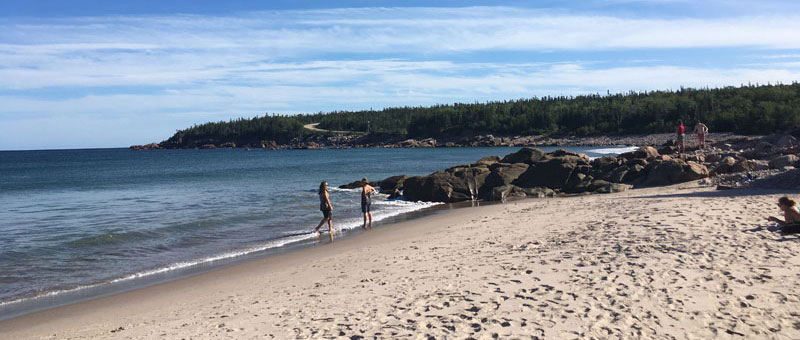 We stopped at Black Brook Beach (pictured above) and swam there. It is so beautiful and peaceful.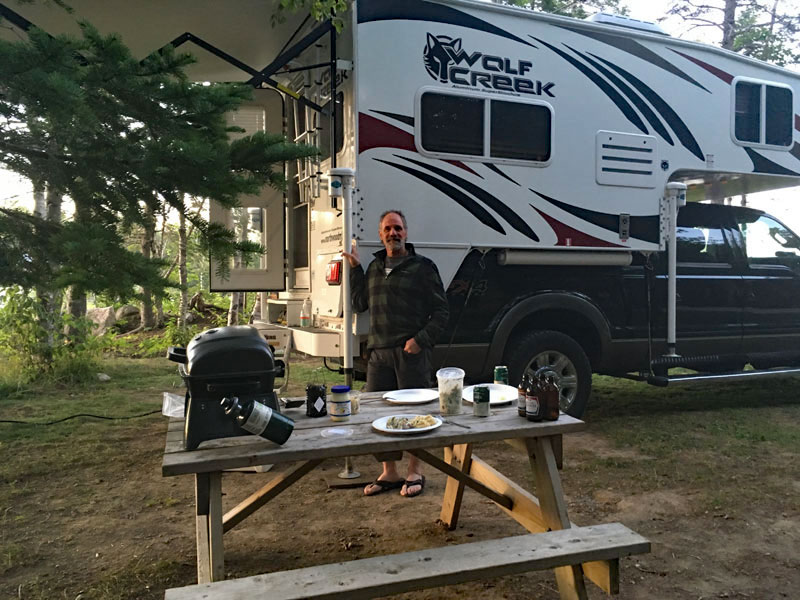 From there we journeyed to Hide Away Campground (pictured above). It's a wonderful campground with beautiful views. We spent the day swimming and exploring South Harbor beach.
Not to be missed is a drive up to Meat Cove. It is an interesting drive up a steep gravel road. There is a campground, store, and restaurant there. We did not camp there but spoke to other truck campers who had spent the night. It is breathtaking and definitely worth the drive.
Our journey continued along the Cabot Trail, stopping to hike the famous Skyline Drive hike. That was a really nice hike with more gorgeous views. The entire drive along the Cabot Trail was spectacular.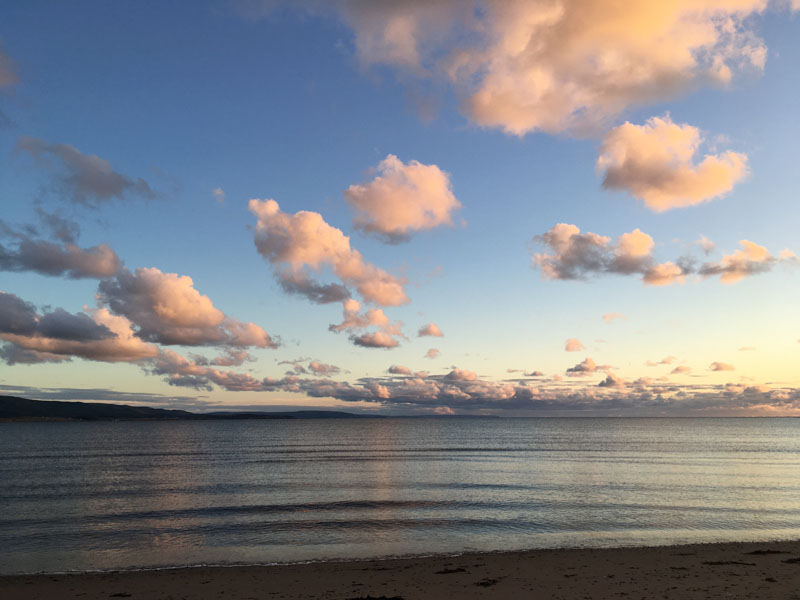 We stopped in Cheticamp and had an amazing dinner. The perfect ending to this drive was camping at Plage St. Pierre Campground in Cheticamp (pictured above). We had a short walk to the beach where we sat and enjoyed the sunset. The beauty of the truck camper is that it is easy to pull off into a parking area, beach, etc. When we found a beach, we could change right in the camper. We always have everything we need right with us. We were there in September and it was perfect for swimming.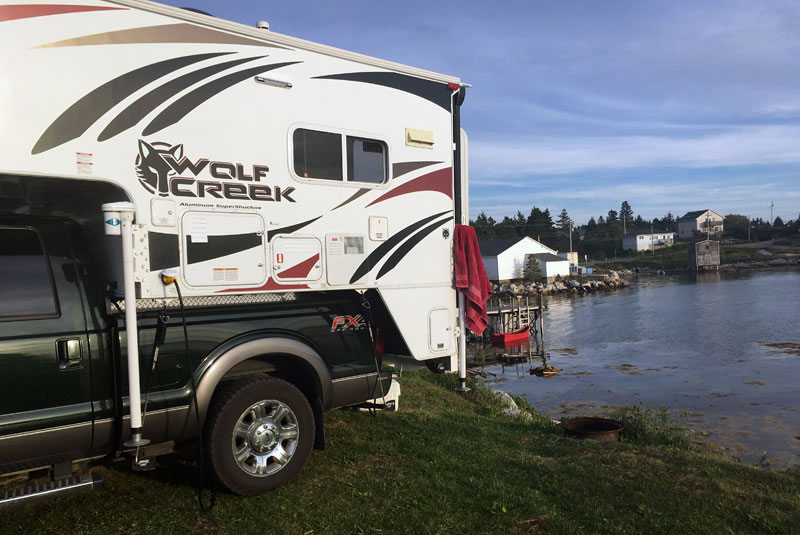 King Neptune Campground (pictured above) in Indian Harbor is a beautiful campground right on the water. The sunset was spectacular. We were very close to Peggy's Cove which is something not to be missed. Get up early and head over there before the crowds.
The Campers Haven Campground in Yarmouth is located about three miles from the ferry dock in Yarmouth. It is very easy to get to after a five-hour ferry ride from Portland, Maine. Electric and water hook ups are available.
I had requested a guide from Nova Scotia, which listed specific campgrounds. I only made a reservation for the first night due to the late arrival off of the ferry. At every campground, we met someone who directed us to the next campground. They were all very easy to get to.
Alan Edwards
2016 Chevrolet 3500
2018 Eagle Cap 960
The drive around Cape Breton is very special with breathtaking views of the ocean far below. We were there in the last week of June and the weather was gorgeous. The tourist season had not begun. The entrance booth was not even manned and it wasn't crowded at all. We also had some good seafood on the loop.
Digby, known as the scallop capital of the world, has scallops at the dock. We took the ferry from Digby back to New Brunswick and cooked our scallops that night in the parking lot at Arcadia National Park visitor center.
We had been there for six hours, so I decided we were cool to boondock in place. Not so, we got rousted (for the first and only time) at 11:00pm and told to move to the campground (which all signs said was full). Getting relocated after going to bed was not fun, but the memory of those perfectly seared, sweet scallops will not fade.
We were allowed to boondock at the visitor center in Baddeck, Nova Scotia. That was special because it was located in the middle of everything in this small town. Baddeck is home to the Alexander Graham Bell museum. An interesting guy was Alexander.
We camped in Cape Breton Highlands and Kemjimkujik National Parks.
We drove to Halifax, Nova Scotia but it was like deciding to go to Houston or Dallas; heavy traffic, low clearance bridges, etc. I can't recommend Halifax in a truck camper.
We boondocked behind a billboard the first night soon after crossing over from New Brunswick. We also went to Newfoundland for five days. You should do that if you go, but schedule more than five days.
Firman Schiebout
2017 Ford F-350
2013 Northstar 9.5 Igloo U
My favorite place was the scenic Cabot Trail. It has beautiful scenery, quaint villages, and very friendly people. Also, we enjoyed the historic Fortress in Louisbourg and the Maritime Museum in Halifax with displays from the sinking of the Titanic.
We realize that everyone has limited time but, if you are going this far, it makes sense to consider taking the ferry from Nova Scotia to Newfoundland and Labrador. The trip to Prince Edward Island (PEI) is also worthwhile. If you have traveled all the way to get to Nova Scotia at least consider Newfoundland and PEI.
If you're a gun owner, be aware that you will need to leave your long gun at the border and pick it up on your way back out of Canada. This requires returning to the United States on the same border crossing that you entered Canada from. Of course, as most RVers know, handguns in Canada are not permitted.
Also, pay close attention to tourist attraction schedules. Some years back, some did not open until June 15.
There are also helpful comments about traveling to Nova Scotia on our Facebook page.