To celebrate Canada's 150th Anniversary, Steve and Mary Leonard embarked on an ambitious two-part, two-year trip to visit every province in the Great White North.  The big twist and important lesson in their travel plan; it's all about the people.

Through Truck Camper Magazine, we have been incredibly fortunate to talk with hundreds of travelers from all over the world.  The one common piece of wisdom from these interactions is this; in the end, the best part of traveling are the incredible people you meet.  Not the places.  The people.
Steve and Mary Leonard deeply understand this perspective.  Having extensively traveled throughout Canada, United States and Mexico for the past three and a half decades, they decided to take a very different trip.  While they would still seek out new places and experiences, the real goal was to meet the many indigenous peoples of Canada and learn about their cultures.
Along the way the Leonards had their assumptions challenged, viewpoints expanded, and comfort zones pushed.  They discovered rich histories and cuisines.  As you're about to see, they also explored amazing new places and had new and exciting experiences.
Prepare to open your mind about the possibilities of travel.  If you're ready for something different, something rewarding, something that will bring you new friends and create incredible memories, follow in the Leonard's path and make people the plan.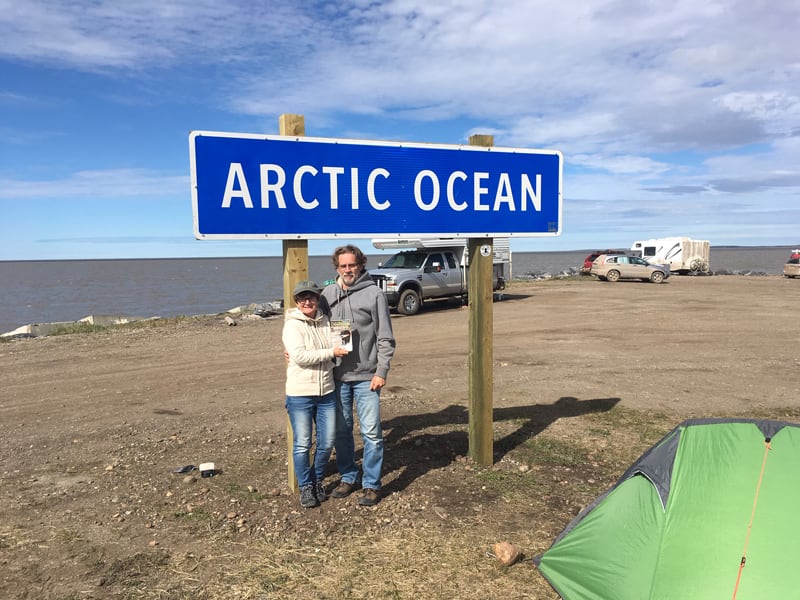 Above: Mary and Steve reached the Arctic Ocean in Tuktoyuktuk
Where did the idea for your trip come from?
Steve: Our original goal was to drive the Dempster and Alaska Highways and swim in the Arctic Ocean. As we were planning the trip, the Inuvik-Tuktoyaktuk Highway was scheduled to open. That morphed into, "Let's explore all of Canada's provinces and territories for the 150th anniversary."
Mary: There were national and provincial parks in our own country that we had not explored. More importantly, we wanted to meet people and be more aware of different lifestyles around Canada.
Steve timed our trip so that we were getting to places when indigenous festivals were going on. We also made sure that we went to a campground that was owned by indigenous people.
We talked with them and listened to their stories. It opened our eyes to a great deal of misinformation and erroneous prejudices. It was a big learning curve for us and changed how we saw our fellow Canadians.
Steve: We purposely went to small villages to talk to people and learn. What is it like to live in the Yukon or on the Campbell Highway where few people visit?
We've been camping for 35-years and have already traveled across Canada, Mexico, and the United States. By traveling you meet so many interesting people who have different perspectives. That is why we changed the goal of this trip.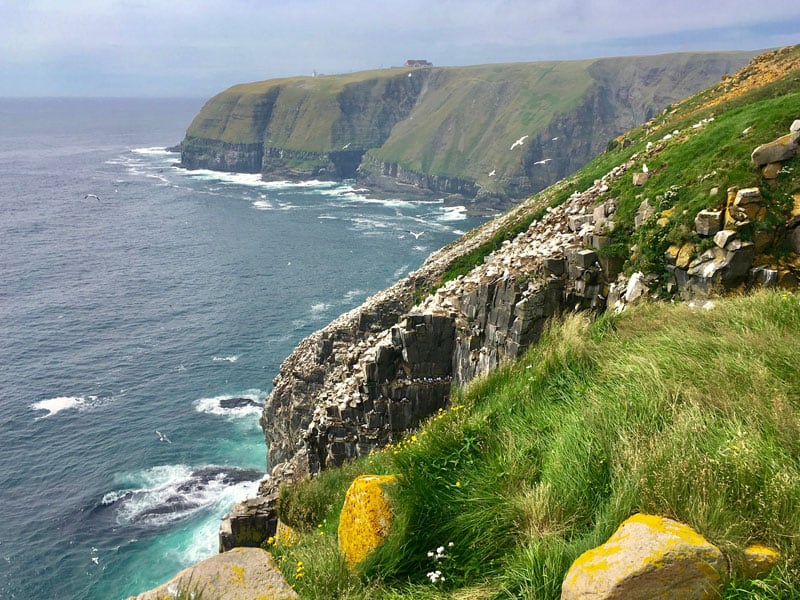 Above: View of a Northern Gannet nesting colony, Newfoundland
That's a wonderful goal. How did you go about creating an itinerary for this ambitious adventure?
Steve: Labrador has one road and Newfoundland has one main highway, so planning those provinces was pretty straight forward.
On the western trip we had specific times to be there because we had booked ferry rides. We also met up with friends in Vancouver and my mother and sister in Victoria. Those were preplanned.
After that we had a general direction. Once we got to Tuk (on the Arctic Ocean), we ended up constantly changing our plans. For example, we were going to go across the prairie provinces along the United States border, but it was so hot that we changed our route. We went back east as far north as we could travel.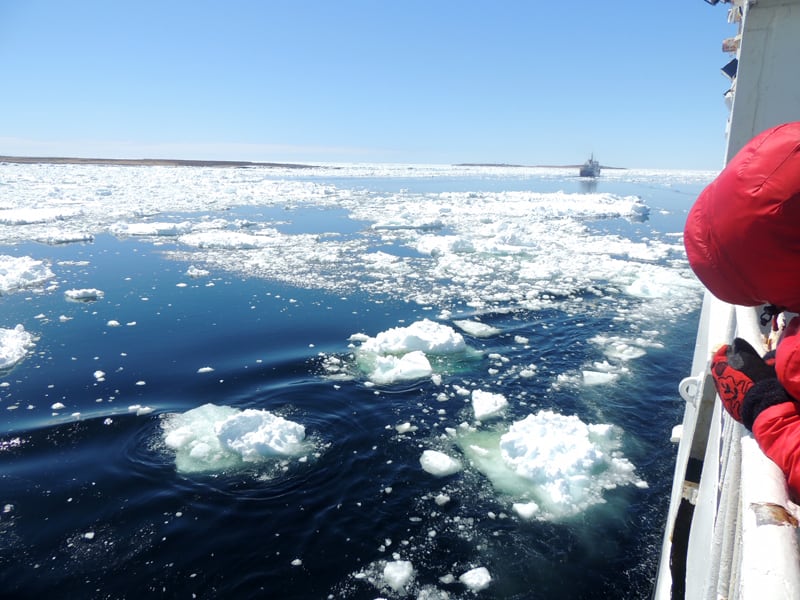 What were the various free and paid ferry rides like throughout Canada?
Steve: The highlight of our trip through Labrador was certainly the ferry crossing to the island of Newfoundland. The ferry normally takes less than two hours to cover the short distance, but we found ourselves in anything but a normal situation.
When we were driving along the coast close to the ferry terminal, we could see pack ice extending out to the horizon. The pack ice normally comes each year, but is usually restricted to short periods in February and March, not the end of May.
There are two crossings each day in both directions using the single ferry. The pack ice slowed crossing times to four to six hours. As a result, there was only one crossing per day – and that was not guaranteed.
With the computer reservation system down, it was a bit chaotic. We were able to get across within 24-hours of arriving. It wasn't much of a wait. We found a small picnic site beside a river where we walked the beach and did some bird watching while waiting for the ferry.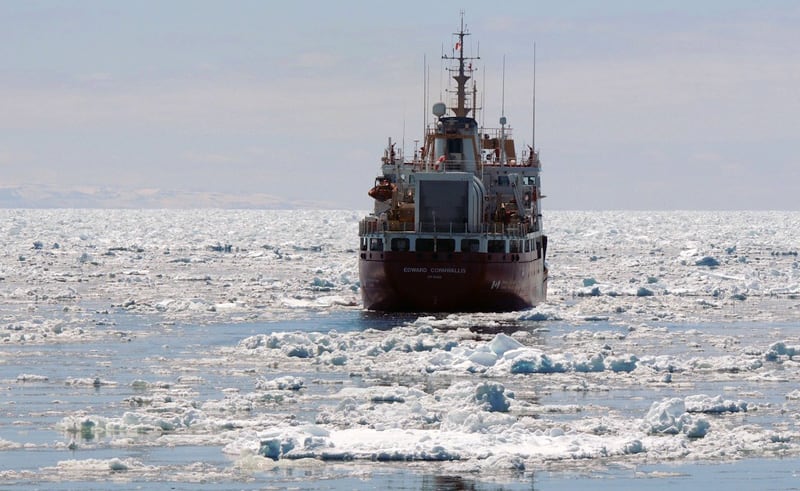 After sitting outside on deck in the cold but sunny weather, we spent the rest of our 4-hour crossing sitting in the forward lounge captivated as we all watched our ice breaker escort weaving through the ice finding the best route through. This was done at a pace that you or I could walk. It was a thrilling end to the Labrador portion of our trip and we did not have to pay extra for the experience.
Mary: We would recommend getting a cabin on the longer ferry rides, like the one from Newfoundland to Nova Scotia. It makes the voyage so much more relaxed. It's a quiet place you can be before driving. The cabin also comes with beds and a shower.
Steve: The other long ferry we went on was the one to Haida Gwaii off the coast of British Columbia. That's an 8-hour ferry ride. Getting on and off is easy with your pickup camper. We have done it with a 32-foot fifth wheel and not had a problem. Haida Gwaii is a fascinating laid back place with interesting communities to visit, and is rich in history.
There were other shorter and mostly free ferries. You just drive on and off, and they run back and forth all day. The ferries are all truck camper friendly.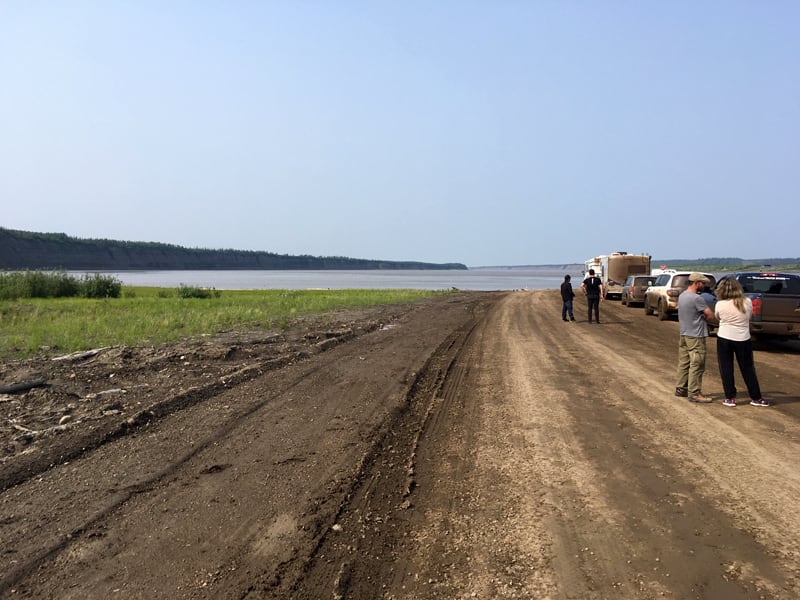 Above: Waiting for the free ferry at the MacKenzie Delta River Crossing, Northwest Territories
Mary: You do not have to book the MacKenzie Delta ferry, but you should book the paid ferries well in advance. We booked the Haida Gwaii ferry five months in advance so we could get the crossing date and time we wanted. We also take food with us that we can nibble onboard because the food is not that great on the ferries.
Steve: The other issue with long ferries is pets. We have a small dog. The long ferries have kennels, but you are better leaving them in your rig.
Mary: On the ferry to Newfoundland, you are not allowed to visit your pet. You can get a sticker and the staff will check on them. If they have concerns, they will let you come down and calm your dog.
Our dog just slept. It was not cold or hot in our rig because of the time of year we went, so our dog was fine. We know people who have had dogs that have gotten quite upset in the kennels. It's something to be aware of if you're traveling with pets.
The longer ferries, such as the 6-hour crossing between Newfoundland and Nova Scotia will cost at a minimum of $500 for two passengers and a truck camper. A cabin is extra.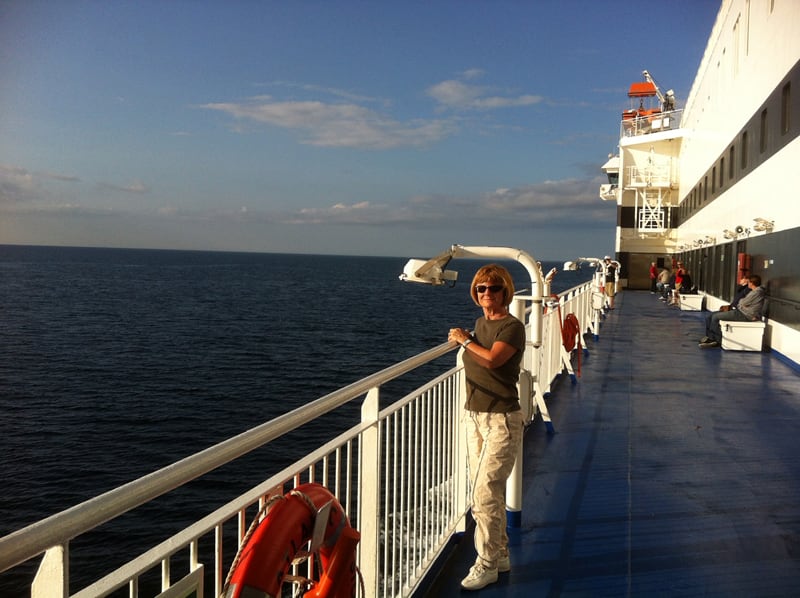 Above: There is a 6-hour crossing between Newfoundland and Nova Scotia
Did you have to turn your propane off on the ferries?
Steve: Yes. Wait until the last minute to turn your propane off, and then turn your refrigerator off. Everything in the freezer was still frozen after our eight hour ferry ride. As long as the refrigerator and freezer doors stay closed, your food stays cold. We have been on ferries many times with no problems.
Mary: If it's an overnight ferry that is 14 to 15 hours long, that strategy might not work.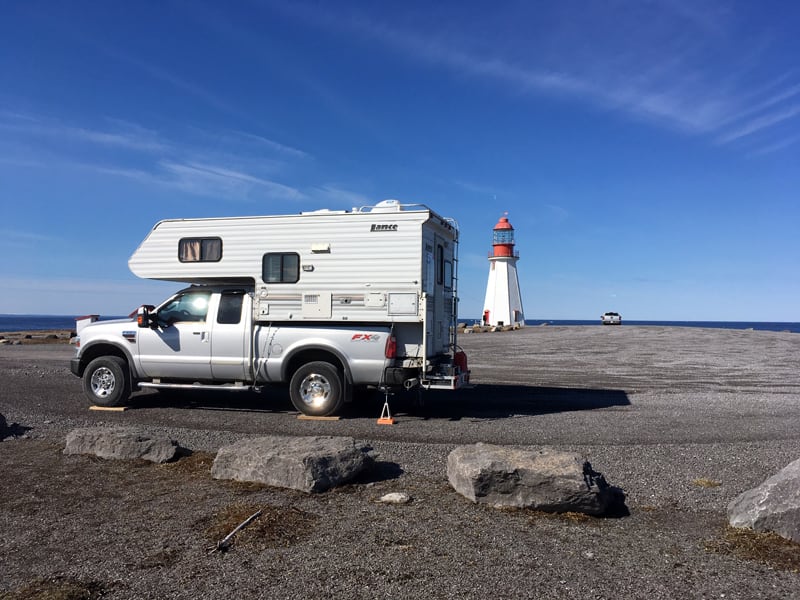 Above: Point Riche Lighthouse, Newfoundland was one of their free dry camping locations
You said in one of your emails, "We spent most nights boondocking in some very picturesque, quiet and private spots." How did you find those locations?
Mary: When it comes to boondocking, each province is different. Don't try boondocking in Ontario. They want you in their campgrounds which are the most expensive in Canada. In Newfoundland you can boondock anywhere.

Steve: I am the planner and look for places to camp. On the western trip I searched ahead on Google to look for places. There are also quite a few camping ideas in Truck Camper Magazine.
Often it's what we happen to come across that day. We boondocked overnight at quarries, boat ramps and at the ends of the roads.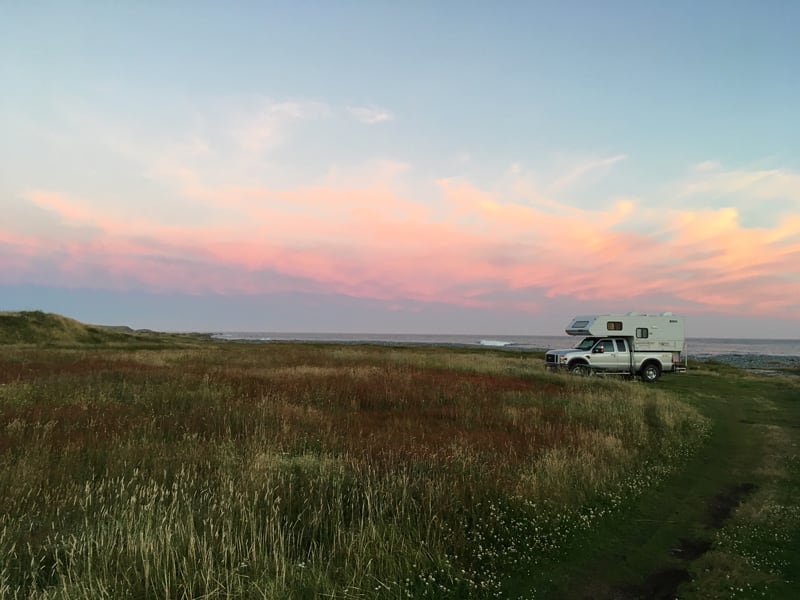 Above: 14-kilometers south of the town of Portugal Cove South in Newfoundland – another free dry camping location
Mary: It wasn't always perfect. Some days we couldn't find anything and we would keep driving. Some weren't ideal, like the one at a fork in the road next to rural mail boxes. No one bothered us, but we weren't sure. I think we were only asked to move once when we were in Reykjavik, Manitoba. If signs say, "No Camping" we don't stay.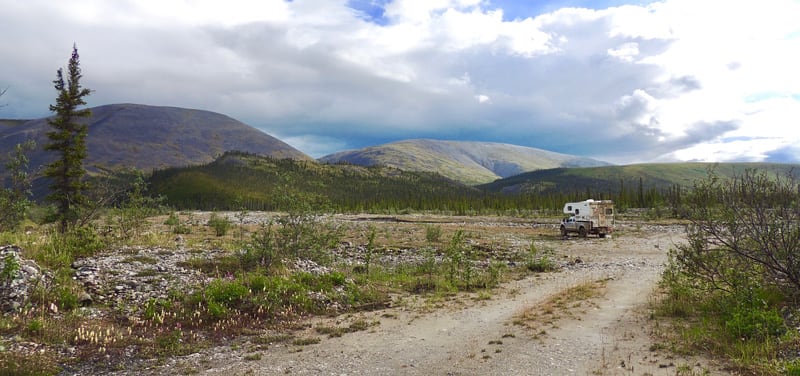 Above: Typical free campsite on the Dempster
Steve: Each day, later in the day, I'll pull up three places I found online. We'll try the first one and, if that doesn't work, then the second the one. The farther north you go, the easier it is to find places. There are so many old gravel pits and boat ramps that it's hard not to find a spot in the more remote parts of Canada.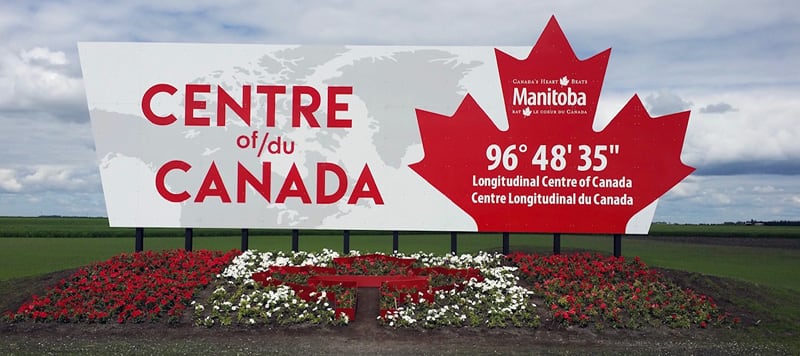 Above: 29 kilometers east of Winnipeg on the Trans-Canada Highway
What happened in Reykjavik, Manitoba?
Steve: My son and daughter-in-law went to Reykjavik, Iceland on their honeymoon. So, we wanted to go to Reykjavik, Manitoba. We drove down a long dead end road about 15-kilometers. We looked for a place to pull off and stay for the night. We got to the end of the road, couldn't find a place, and turned around.
On the way back the shoulder of the road widened out at a corner. There was enough space to pull off. So, we started making dinner. A pickup truck came screeching up, slammed on the brakes, and hit the horn for three seconds. An angry woman came out with a camera and took pictures of our license plate and started yelling at us.
She owned a ranch in the area and had a problem with poachers shooting black bear. She was afraid for her cattle. I explained why we were there, and she still didn't calm down. So we finished up our dinner and moved on. That was the only time in 27,000-kilometers that we had an issue. She was agitated to put it mildly.
She might not get a Christmas card this year. Were some provinces easier for free camping than others?
Mary: Ontario is a big problem. We didn't notice it before because we live here. We were coming back and crossed from Manitoba into Ontario. We suddenly realized that there were, "No Overnight Parking" signs everywhere, even at boat ramps. Everywhere we went, it was no.
Campgrounds were $45 a night, so we weren't going to do that. On the last night of our trip, we went on a side road by the railway tracks on the edge of a reservation. Nobody bothered us, but it was frustrating. We didn't feel welcome in our own province.
Steve: It's much easier to boondock when you are away from major tourist areas. People are more relaxed and don't care.

Mary: If we were going to go to a campground each night on a three month trip for $30 a night, that would be $2,700. Campground fees add up on a long trip.
Steve: For boondocking to continue, we need to all boondock with the attitude that we are not going to bother people and to throw your garbage out. No barking dogs. And no generators.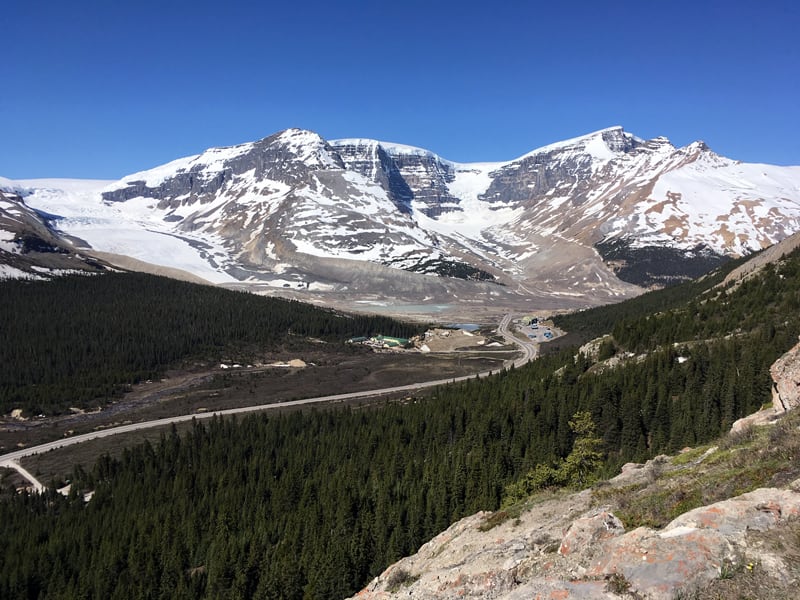 Above: Columbia Icefields Discovery Center Area, Canadian Rockies, Alberta
Amen to that. Whether at a gravel pit in Alaska or a Walmart lot in Alabama, boondockers need to be respectful – or it could be eliminated. What were some other challenges on your trip?
Steve: The availability of free dump stations and potable water was not a struggle until we got to the Dempster Highway. When traveling through the Yukon and Northwest Territories, you have to plan your dump stations and potable water opportunities.
Mary: We conserved water and never paid to dump. Another challenge was laundromats. Good luck finding them in rural Newfoundland. They exist but there aren't many because everyone there has a washing machine. We asked the folks in town and they told us to go to the marina where they have a laundromat for boaters.
Steve: On the road you can go to a great laundromat and then you can hit a crummy one. There may only be one in a small town. Mary does a lot of hand washing in the shower.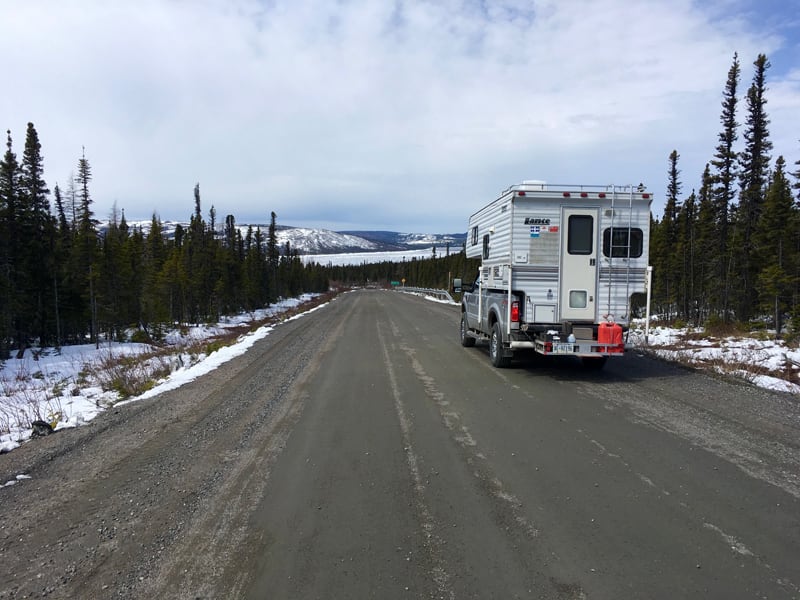 Above: Near Highway 513 and Highway 510 in Labrador
Timing your arrival in certain areas was probably important. For example, we have heard the black flies can be bad certain months in Labrador. How did you plan when you went where?
Steve: In the Yukon and the Northwest Territories, there will be bugs in July. You can go in August, but you might get rain. In late August and September you'll get the fall foliage, but it will be colder.
If you go north into the Yukon during the summer, it doesn't get dark until at least 11:00pm. We barely used the lights in our camper.
Mary: I wanted to see the Northern Lights, but didn't because it doesn't really get dark. Steve made blackout shades for all the windows so we could sleep.
Steve: The shades are made from silver bubble insulation sheets. They worked well. During the day we stored them under the mattress.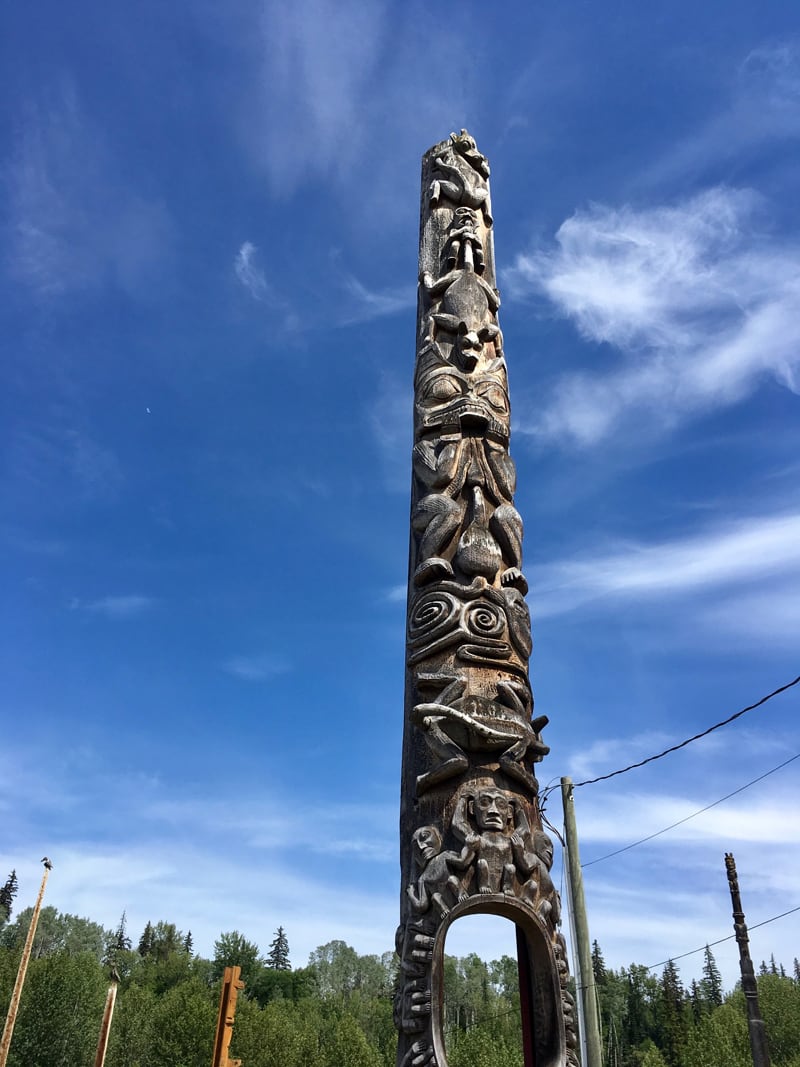 Above: Totem Pole in the Gitanyow Village, British Columbia
Most of the festivals in western Canada were in July and August. If you want to go to festivals, be there in July and August.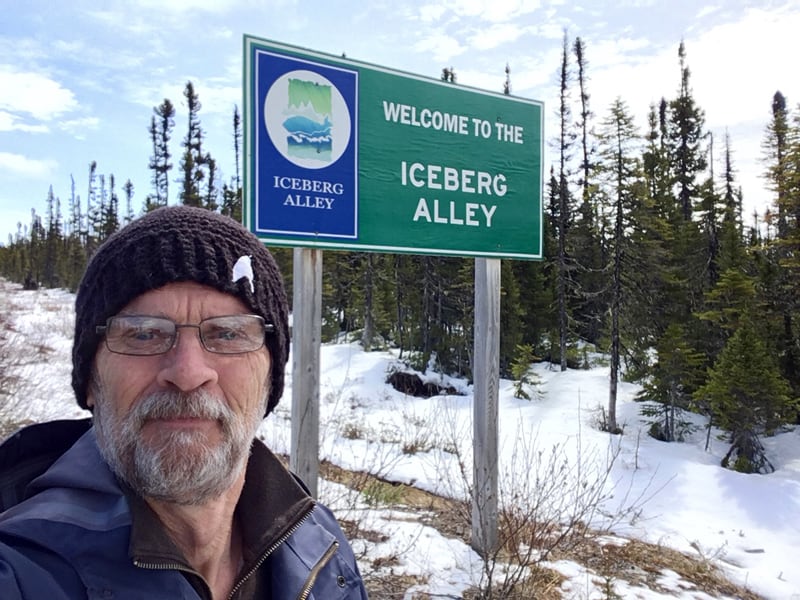 Above: St Lewis, Labrador is an excellent place to view icebergs
In Newfoundland there are times when you want to be there to see specific things. If you want to see icebergs, visit in May or June. If you want to be there for lobster season when it is $5 a pound, visit at the end of June. Visit the first week of July if you want to see the whales. There's also berry picking in September.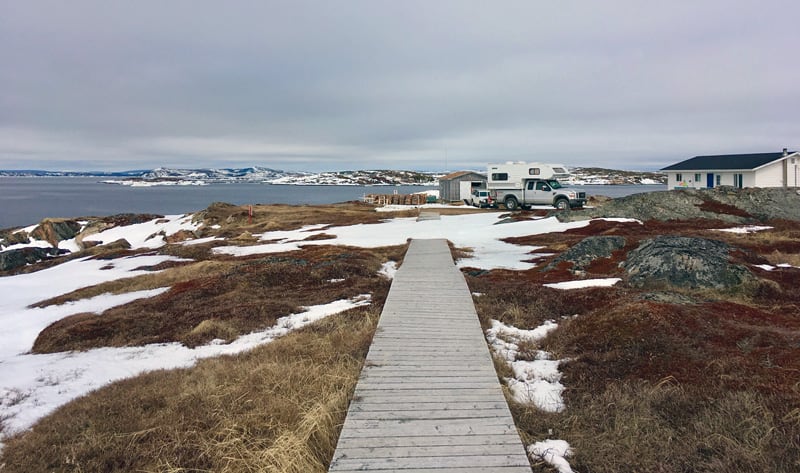 Above: Village of St Lewis, the most easterly permanent community on the North America mainland
When you get into Labrador City you can get a satellite phone for free. You can keep it until you get to the ferry, and then you hand it back to them. If you have any problems along the Labrador Highway you have a satellite phone. We never needed it, but it was nice to have.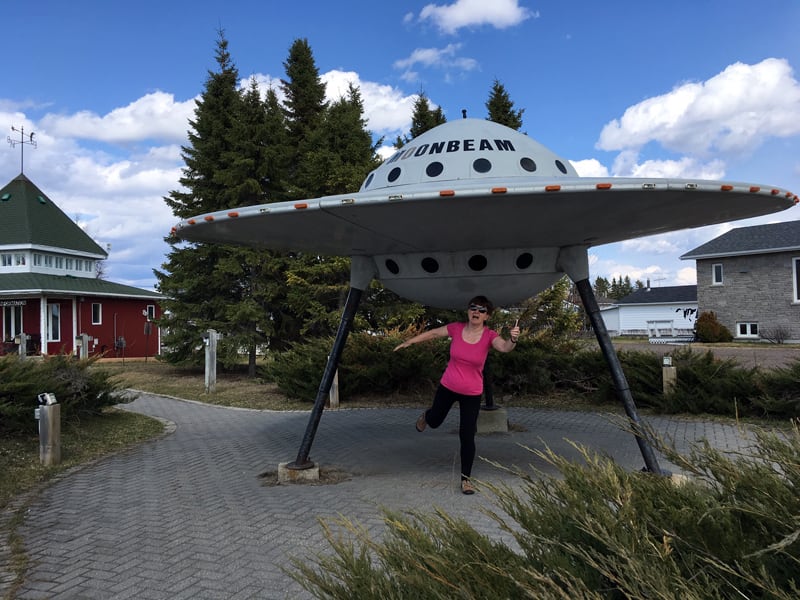 Above: Moonbeam Visitor Center in Ontario
Looking at your photographs, you have seen some unique sights along the way including the Ukrainian-style Easter Egg in Alberta, Moonbeam Visitor Center in Ontario, Alticane crooked trees in Saskatchewan, and the West Edmonton Mall in Alberta. How did you find these places?
Steve: I was searching on Google for places to stop and that's when I found the Moonbeam Visitor Center.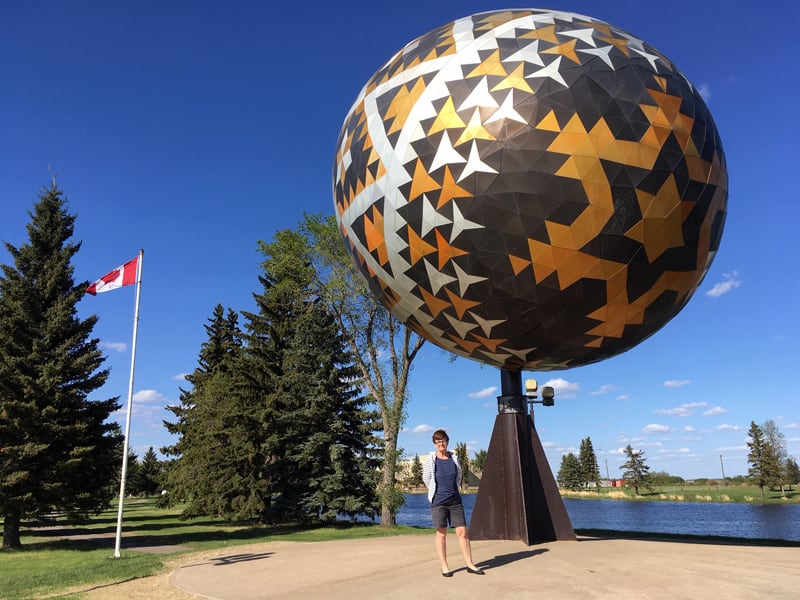 Above: Vegreville Pysanka is a very large Ukrainian style Easter Egg
We just happened to find the Easter Egg in Alberta when we pulled off the highway.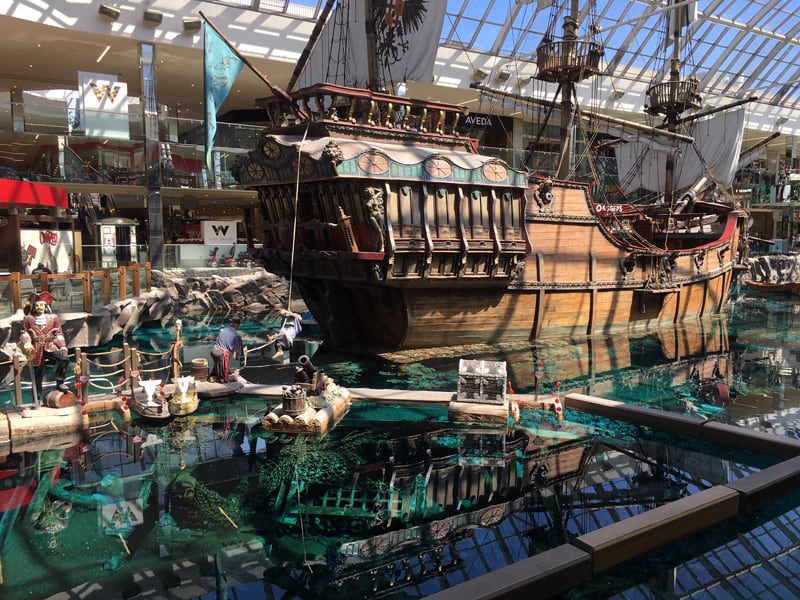 Mary: The West Edmonton Mall experience was something on my bucket list, as it is for a lot of Canadians. We were in a laundromat reading a Canadian Geographic and saw a piece about the Alticane Crooked Trees, so we decided to go there.
Steve: A lot of places we stopped at because of the research we did ahead of time, but some we just happened upon during our trip.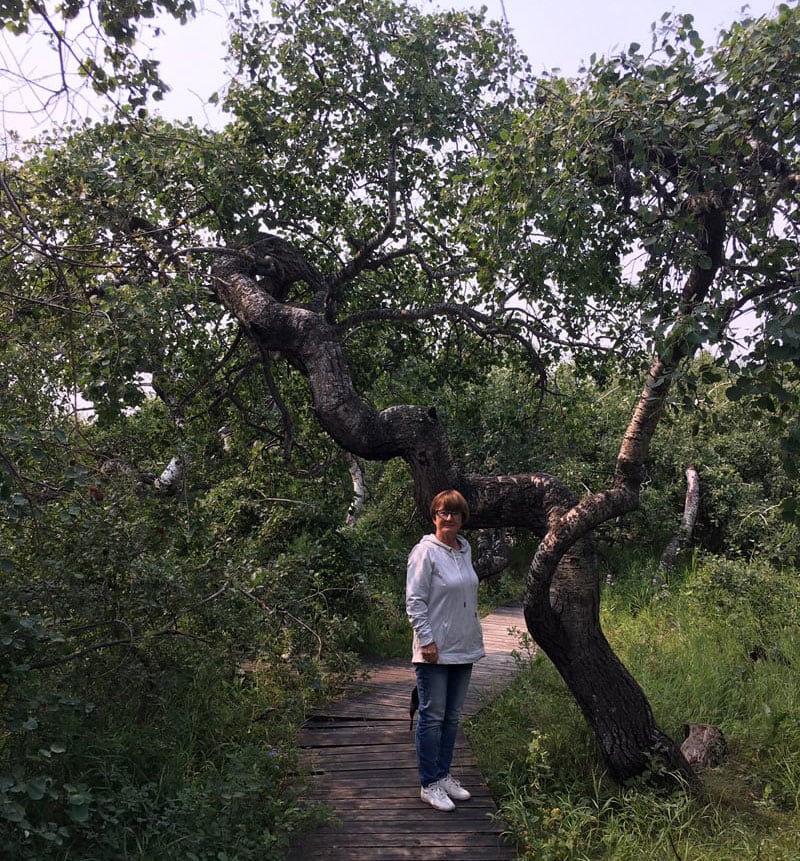 Above: Alticane Crooked Trees in Saskatchewan
Mary: The visitor centers along the Alaska Highway have booklets. You get a stamp when you visit each attraction in the book. That drew us to places that we hadn't considered.
We ended up at the oldest post office in Canada that's still in use. People collect the stamps and keep the book as a souvenir. When you finish your trip you can put your name and contact information in to win gold. It's a brilliant strategy for tourists to go on side trips. That came from the tourism bureau.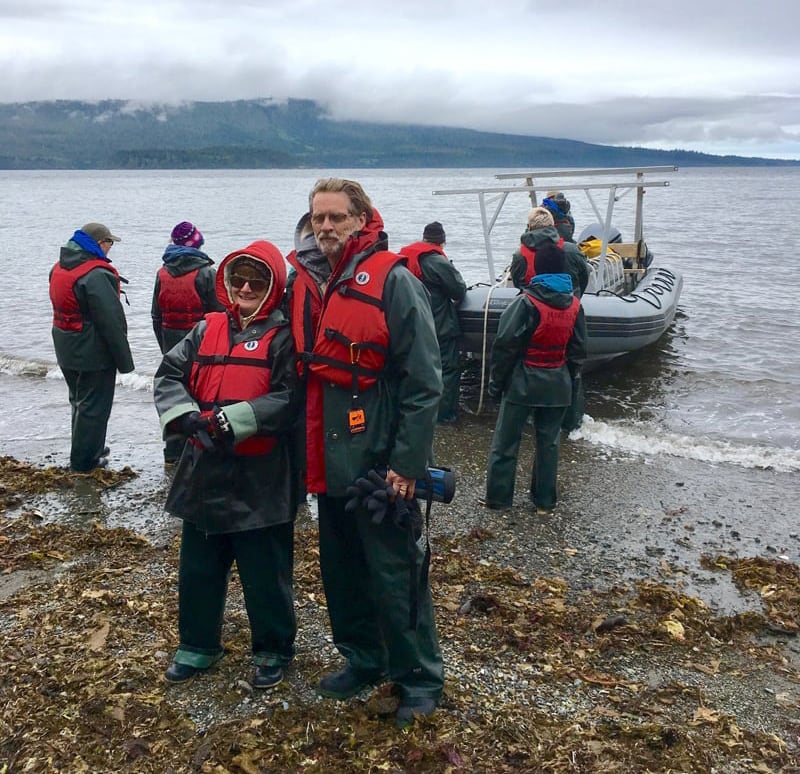 Above: Mary and Steve in Haida Gwaii, Louis Island, British Columbia
You mentioned Haida Gwaii when you talked about your ferry experiences. Were you able to take your camper there?
Steve: We were able to take our camper. There are several British Columbia recreational sites that are free with no services. They are gorgeous and accessible by the logging roads.
There are also two Provincial Parks. Agate Beach is gorgeous. All the campsites back up to the beach. They have water taps and bathrooms, but there are no showers or dumps, which can make it a challenge.
You have to book the ferry well in advance. It was a really calm eight hour ferry ride. There are not that many crossings , so it's limited the amount of people who come across. We don't know how busy it is in July or August, but in June we hardly saw anyone at the British Columbia recreational sites.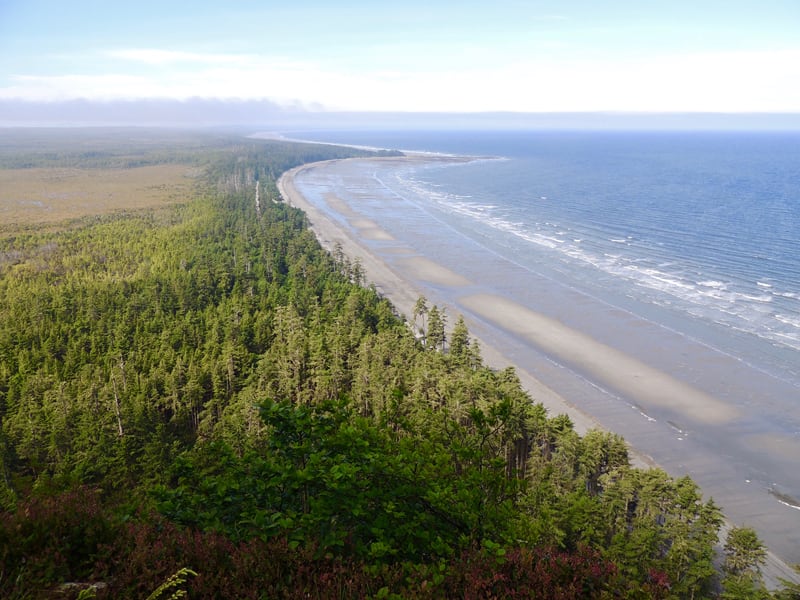 Mary: Agate beach was busy, but we think it was people who spend their summer there. It was $18 a night, but no one ever came to collect the fee.
The islands used to be the Queen Charlotte Islands. They reverted back to the original name; Haida Gwaii. It's where the Haida lived until small pox wiped many of them out. Others fled.
We went on a day trip by boat to an abandoned village. We learned about totem poles and their meanings. The people taught us so much about their history. It is a place of tranquility and views. Definitely put Haida Gwaii on your bucket list.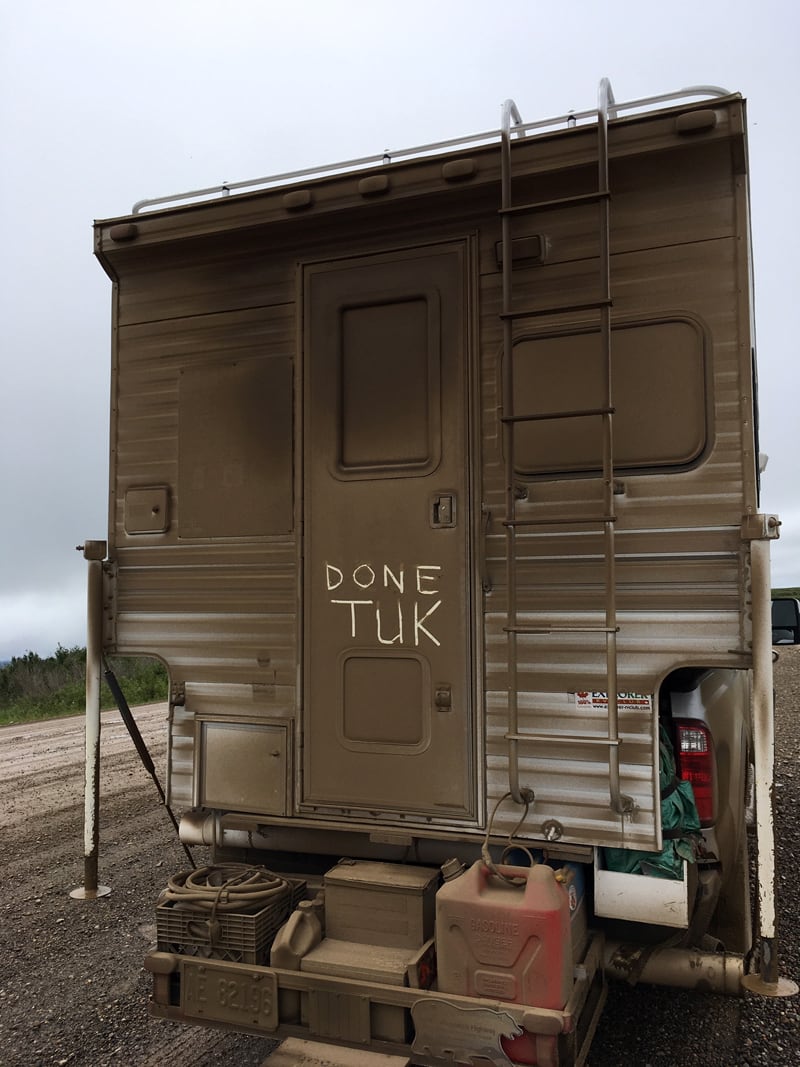 Above: Dempster Highway 10 kilometers south of the Peel River ferry crossing
Do you have any tips for fellow truck campers that are considering a trip across Canada?
Mary: If you are going to go north you need to have a spare tire.
Steve: We ended up with one flat. Before you leave, have your tires, brakes and your entire rig checked. It's important to be mechanically ready. I might bring two spare tires next time.
Places like the Yukon and Northwest Territories have small populations spread out over huge geographic areas, so basic services are also spread out. Preparation for the remote roads is paramount. The Dempster Highway is 737 kilometers of wilderness, and the first gas station is in Eagle Plains, 350 kilometers from the south end of the highway. It is expensive to get towed if you break down.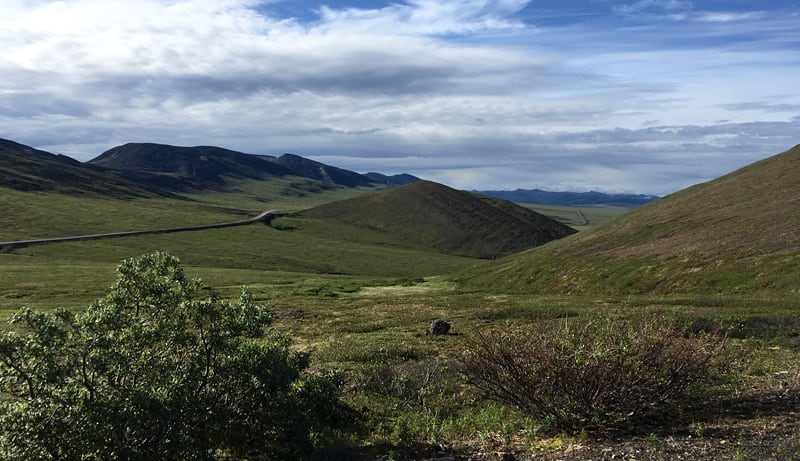 Above: Dempster Highway just south of the Yukon and Northwest Territory border
Mary: I would also recommend connecting with family through a SPOT Satellite GPS Messenger. We told family that if they didn't see us move for seven days, call somebody. With the SPOT, they could watch us as we were traveling. They knew where we were at all times.
Steve: The SPOT service was useful because of the lack of cell service. You only get cell service in the Yukon and Northwest Territories in the far flung communities. The SPOT is good for nervous family members at home. In southern Canada you can get cell service almost everywhere.
Mary: We were also concerned about access to fresh vegetables and fruits in the remote areas. Our daughter-in-law gave us a dehydrator for vegetables and fruits, which made taking fruits and vegetables easier. The dehydrated fruit and vegetables were light and easy to rehydrate.
Steve: For power, we have one 75-watt solar panel and one Group 31 battery. We were only plugged in one night out for the entire trip. For our power needs, the single solar panel and battery were perfect, particularly given you eventually get 24 hours of daylight.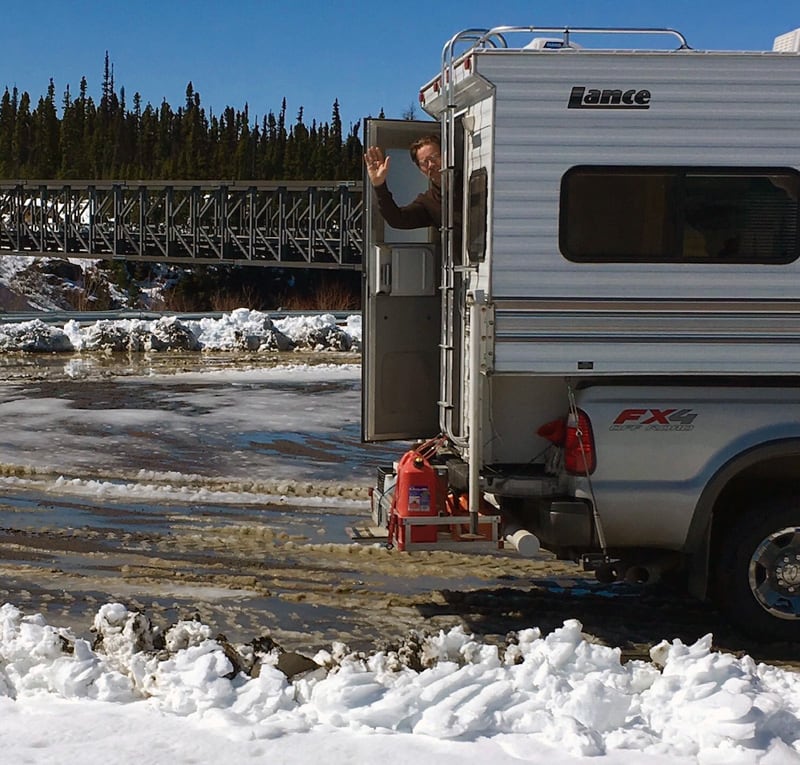 Your adventure has put quite a few new destinations on our bucket list. Is there anything else you would like to add?
Mary: Get out there and do it while you can.
Steve: Do some planning ahead of time and be flexible. Leave yourself lots of time to do the exploring you want. We were lucky to have three and a half months on the westerly part of the trip, so we didn't rush. We lived in the moment.
Mary: There were so many great moments. We would go around a corner and be so glad we took a road. The most memorable place in the Yukon was the town of Faro. We had no idea that it would be such an interesting spot. We stayed three days in the tiny town instead of driving straight through. It was different from anything we had seen. Faro is a small ex-mining town striving to come back.
Steve: Those unexpected things are such a treat. We are so lucky that we've had the opportunity to travel.
Steve and Mary's Rig
Truck: 2008 Ford F-250, extended cab, short bed, diesel, four wheel drive
Camper: 1999 Lance 815
Tie-Downs/Turnbuckles: Torklift Tie-Downs and XL Turnbuckles
Suspension: Firestone Airbags