To celebrate Canada's 150th Anniversary, Steve and Mary Leonard embarked on an ambitious two-part, two-year trip to visit every province in the Great White North.  The big twist and important lesson in their travel plan; it's all about the people.

Through Truck Camper Magazine, we have been incredibly fortunate to talk with hundreds of travelers from all over the world.  The one common piece of wisdom from these interactions is this; in the end, the best part of traveling are the incredible people you meet.  Not the places.  The people.
Steve and Mary Leonard deeply understand this perspective.  Having extensively traveled throughout Canada, United States and Mexico for the past three and a half decades, they decided to take a very different trip.  While they would still seek out new places and experiences, the real goal was to meet the many indigenous peoples of Canada and learn about their cultures.
Along the way the Leonards had their assumptions challenged, viewpoints expanded, and comfort zones pushed.  They discovered rich histories and cuisines.  As you're about to see, they also explored amazing new places and had new and exciting experiences.
Prepare to open your mind about the possibilities of travel.  If you're ready for something different, something rewarding, something that will bring you new friends and create incredible memories, follow in the Leonard's path and make people the plan.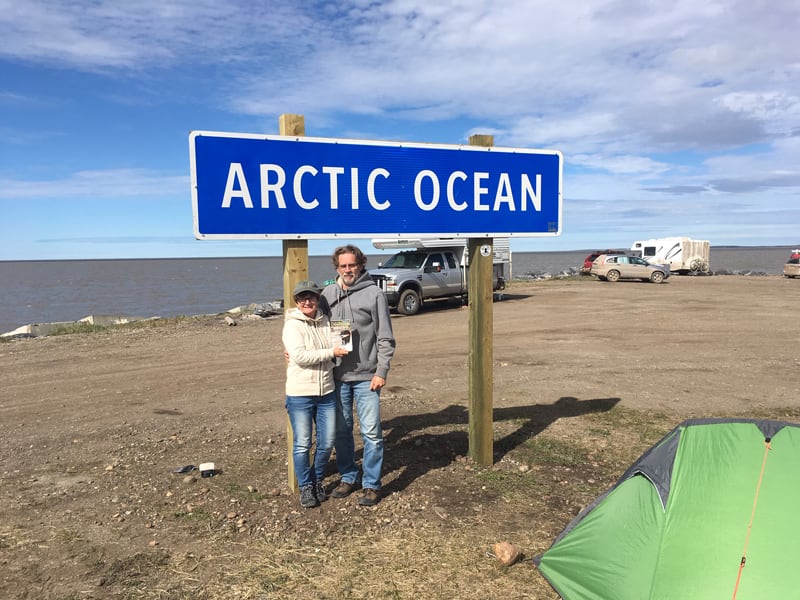 Above: Mary and Steve reached the Arctic Ocean in Tuktoyuktuk
Where did the idea for your trip come from?
Steve: Our original goal was to drive the Dempster and Alaska Highways and swim in the Arctic Ocean. As we were planning the trip, the Inuvik-Tuktoyaktuk Highway was scheduled to open. That morphed into, "Let's explore all of Canada's provinces and territories for the 150th anniversary."
Mary: There were national and provincial parks in our own country that we had not explored. More importantly, we wanted to meet people and be more aware of different lifestyles around Canada.
Steve timed our trip so that we were getting to places when indigenous festivals were going on. We also made sure that we went to a campground that was owned by indigenous people.
We talked with them and listened to their stories. It opened our eyes to a great deal of misinformation and erroneous prejudices. It was a big learning curve for us and changed how we saw our fellow Canadians.
Steve: We purposely went to small villages to talk to people and learn. What is it like to live in the Yukon or on the Campbell Highway where few people visit?
We've been camping for 35-years and have already traveled across Canada, Mexico, and the United States. By traveling you meet so many interesting people who have different perspectives. That is why we changed the goal of this trip.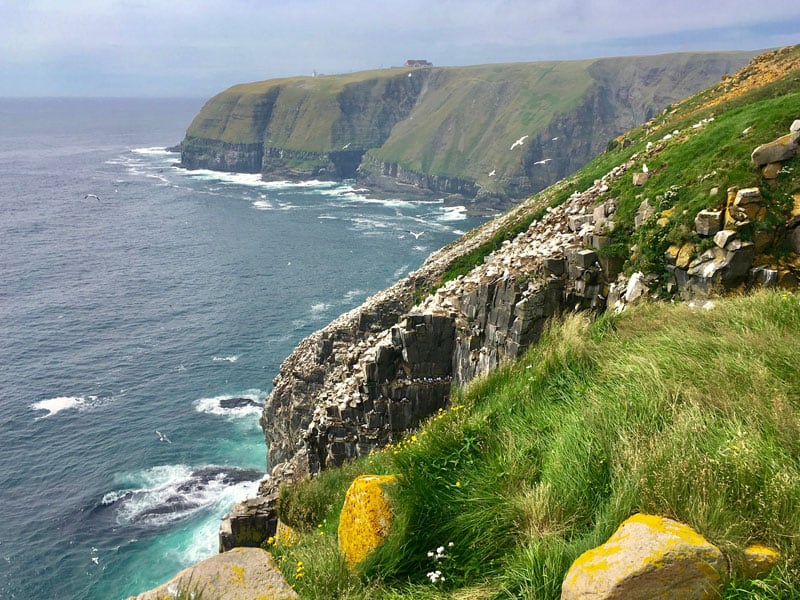 Above: View of a Northern Gannet nesting colony, Newfoundland
That's a wonderful goal. How did you go about creating an itinerary for this ambitious adventure?
Steve: Labrador has one road and Newfoundland has one main highway, so planning those provinces was pretty straight forward.
On the western trip we had specific times to be there because we had booked ferry rides. We also met up with friends in Vancouver and my mother and sister in Victoria. Those were preplanned.