TCM: Tell us about your adventure.  Where did you go?  What did you see?
Day 1: We drove to Tsawwassen, which is the ferry terminal thirty miles from Fraserway RV.  When we got there we had to wait for the next ferry.  It was probably about twenty minutes to half an hour.  We got on the ferry and it was about an hour and a half ride to Vancouver Island.  The scenery, even on the ferry trip, was so beautiful.  We were so taken with the ferry trip.  We went past the Gulf Islands and everything was so green and beautiful.  We even saw some whales during the trip.
Once we arrived on Vancouver Island, we headed to Fort Victoria RV Park, about thirty miles from the ferry.  We checked in and then went to a nearby grocery store to stock up with food and supplies.  Afterwards we went back to the RV park and had dinner at a cute restaurant not too far from the RV park.
Day 2: We had reservations on the second night at Black Creek, British Columbia, about three-quarters of the way up Vancouver Island, just south of Campbell River.  We left Fort Victoria and headed north on the Trans-Canada Highway.
The first place we stopped was a viewpoint at Malahat.  When we got there, we stopped, took pictures, and enjoyed the view.  We left Malahat, continued up the island, and stopped at a bank ATM in Duncan to get some Canadian cash.  I made sure to go to the bank that's associated with our bank in the United States.  Per your advice, Angela, I called my bank before we left on our trip and told them that we were traveling.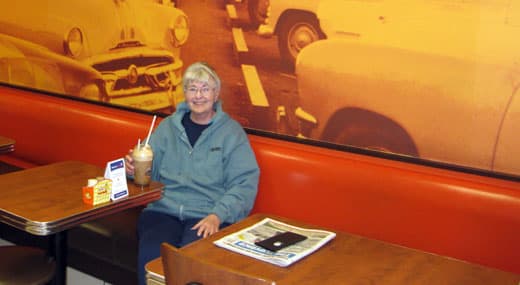 Cash in hand, we continued up the east side of Vancouver Island.  At lunchtime we wondering where we could stop and happened to see an A&W Root Beer restaurant in the middle of nowhere.  We stopped, got a root beer float, and made chicken sandwiches in the camper.
By late afternoon we got into Black Creek and arrived at Pacific Playgrounds RV Park right on the Saratoga beach.  We got situated and went out to the beach and took pictures.  We even drove the camper out by the beach.
Day 3: We knew we had reservations that night on the mainland at Powell River.  We drove back south about twenty miles to Comox, where the ferry terminal was.  We left fairly early because the ferries there didn't run that often.  I wanted to get the morning ferry that would get us over about check-in time to our next campground.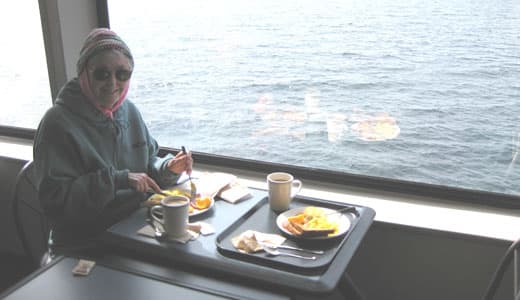 On the ferry we found they served breakfast, so we ordered a breakfast and had a nice window seat where we could sit and watch the ocean as we were traveling across to Powell River.  When we arrived, we got off the ferry and drove around a little to see what the town was like and found a viewpoint where it overlooked the water.  They had First Nation totem poles at the viewpoint, which overlooked an ancient shore area that dated back a thousand years.
From there we went to Willingdon Beach Campsite where we had reservations.  We checked in and were really pleased that our campsite was right on the water.  When we got there it was low tide so we went out and explored the rock beach.  We walked around and beach combed.  When the tide came in that evening we could hear the water lapping and it started raining.  Between the rain and the water hitting the shore, it was like music.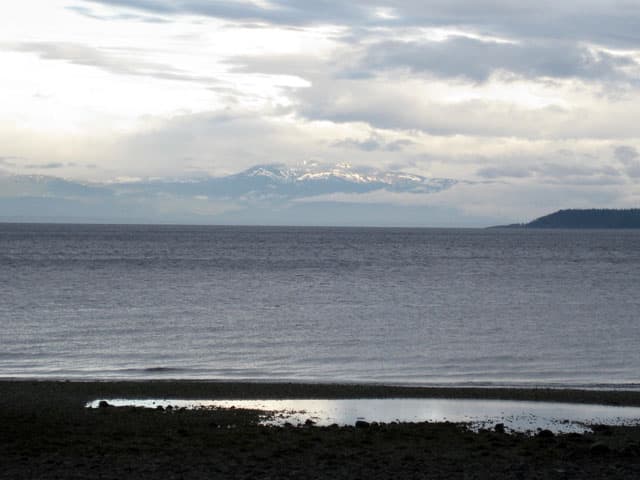 We could even see Mount Washington on Vancouver Island from where we were.  It was a snow capped mountain even though it was June.
Day 4: We had reservations that evening for Paradise Valley Campground in Squamish.  That was quite a ways from where we were and we had two ferry trips ahead of us to get there.  We left early that morning and drove to Saltery Bay where we caught the ferry.  That was a very scenic ferry trip.  Driving down there was pretty, too.  I think it was about twenty miles from Powell River.  The road went through pristine forests where we'd catch glimpses of the water.  There was a misty rain that day and low hanging clouds over the mountains.  It was pretty.
When we arrived in Saltery Bay, we boarded the ferry.  The ferry went through Jervis Inlet and around the Gulf Islands to Earl's Cove.  During the trip there was a place where we could see a waterfall in the distance.  Then we headed down the Sunshine Highway and caught a second ferry in Langdale to Horseshoe Bay.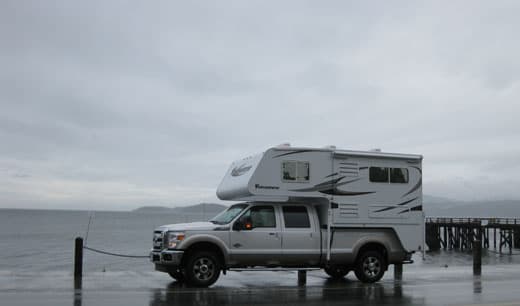 Above: Stopping for lunch at Davis Bay, British Columbia
As we were driving between Earl's Cove and Langdale we stopped at Davis Bay right along the water to eat lunch along the ocean.  It was raining at the time.  After lunch we continued on towards Langdale.  It was a beautiful drive all the way.
One interesting thing is that there were a lot of artists along the Sunshine Highway.  They live back in the forest and put a sign along the highway with their specialty so people will stop and buy their art.