TCM: How did you pack for a truck camping trip that started with a plane flight?  From experience, we know that can be a challenge.
Jack: We wanted to make everything as simple as possible.  We limited ourselves to carry-on baggage; essentially a carry-on suitcase that met the dimensions for the airline.  We didn't take a whole lot of extra clothes.  Joann had a big purse type bag that she put stuff in and I had a computer bag that I put maps and miscellaneous items in.  We managed to get everything packed.  Best of all, we never said, "I wish I would have brought this or that" while we were on the trip.
Candice emailed me a list of the supplies provided with the camper and a picture of the truck and camper we were going to get for the week.  Fraserway RV provided all the bedding, dishes, silverware, pots and pans, coffee pot, glasses, and everything you need for eating in the camper.   It also came with a dump hose, fresh water hose, towels, folding chairs, chemicals for the holding tank, and a bucket and sponge for washing the unit.  The rental truck camper was completely outfitted.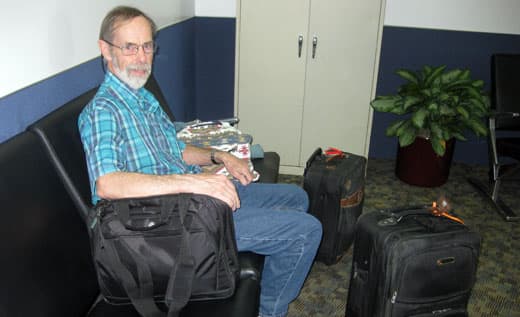 Above: Jack in Burbank, California all packed and ready to go!
TCM: You flew from Burbank, California to Vancouver, Canada.  When you landed, what happened?  How did you get to Fraserway RV?
Jack: The flight from Burbank landed in Seattle where we changed planes and flew to Vancouver.  We arrived in Vancouver at almost midnight.  It was 95 degrees when we left home in California.  That night in Vancouver there was a misty rain and the outside temperature was cool.  It was a different world, and it was so great.
Since our flight got in late, Torklift International got us a room at a Sheraton Four Points Hotel near the airport.  As soon as we got through customs at Vancouver, I called the front desk at the hotel and they came with a shuttle and got us checked in.  The following morning I called Fraserway RV and told them that we were there.  The Fraserway RV shuttle came by at 10:00am to pick us up and take us to their facility.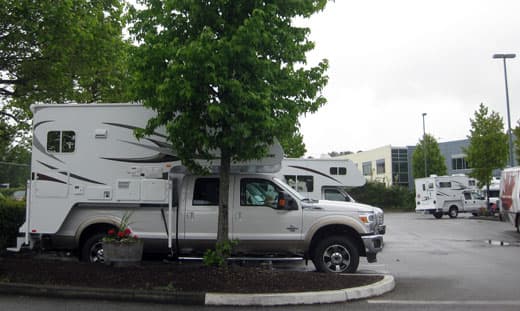 Above: The Ford F-350 and Adventurer 86SBS waiting for the Purdys at Fraserway RV
TCM: What did you do once you got to Fraserway RV?
Jack: There were several other couples on the shuttle that Fraserway RV had picked up at other points around Vancouver.  When we got to Fraserway RV, they showed us which truck camper rig we were going to have.  Then we put our luggage in the camper and went into the lobby to the rental desk.
Fraserway RV went through the paperwork and had us fill out some forms.  After that was complete, Fraserway RV had a rental agent take us to our camper to do a complete walk around and explanation of the operation of the truck and the camper.  Then we were off on our own.
TCM: Before we ask you about your adventure, tell us about the truck and camper Fraserway RV provided.
Jack: They gave us a 2012 Ford F-350 Super Duty Lariat, 4×4, diesel.  Oh man.  I had never driven a diesel truck, and a brand new one at that.  I just loved that truck.  It was a dream!  After driving it, I wanted one.  It was so cool!
The camper we had was an Adventurer 86SBS with a dinette slide-out.  It was a brand new unit, really fantastic.  The truck camper also had Torklift International Fastgun turnbuckles and frame-mounted tie-downs.
TCM: You have a 1969 Ford F-250 and a 1970 Roll-A-Long camper.  What did you think of using another camper?
Jack: This truck and camper were completely opposite from what we have now.  It was like going from a horse and buggy to a jet plane.  Everything in the truck was high tech and had almost every feature you could imagine.  It was such an easy unit to drive.
We never used the four wheel drive, but it had a tow/haul position on the transmission that I used when we were going up and down hills.  We did that on the Sunshine Coast's winding two lane roads.  It was like another gear that gives you better torque going up, and going down activates the exhaust brake on the engine.  That was a neat feature.
Our Roll-A-Long truck camper only has a porta-potti.  The bath they had in the Adventurer was a major step-up including a flush toilet.  It's difficult for Joann to get into our Roll-A-Long camper's bed.  Now when we take our camper out, she sleeps in the dinette bed.  With the Adventurer, there was a step-up in front of the bed that was higher than the floor.  It was a high enough step that she could get into the bed with no problem.  Fraserway RV also gave us an extra step stool.  We used it outside on the ground to enter the camper.  We were living in style.  It was so great.