Jack and Joann Purdy won the Torklift International Treasure Hunt grand prize; a seven day truck camping vacation in Canada.  Here's their lucky story.

It's fairly safe to say that Torklift International created the biggest, most amazing truck camper themed contest in the history of planet earth when they launched the Torklift International Treasure Hunt last year.  When they announced that the grand prize winner would win a seven day all-expenses paid truck camping vacation in British Columbia, including food, fuel, and a rental Adventurer truck camper from Fraserway RV, we almost entered our cat.  Maybe they wouldn't notice it was Harley, and we would go with him as his "friends".  With a grand prize like that, you can't blame us for trying.
So who did finally end up winning the Torklift International Treasure Hunt grand prize?  None other than long time TCM reader Jack Purdy and his wife, Joann.  You may recall Jack and Joann's stunning vintage truck and camper rig from their calendar winning cover photograph in 2011.  It seems Jack and Joann know how to win a contest, or two!  The following story is about how they won the Treasure Hunt, and what happened on their grand prize adventure in British Columbia.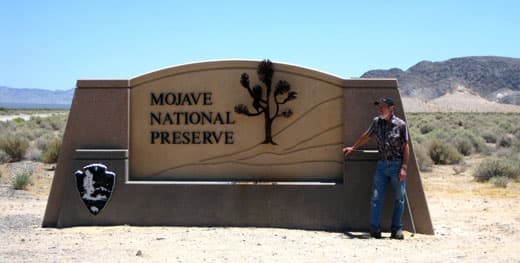 Above: Jack's first treasure hunt clue that he submitted to Torklift was Mojave National Preserve
TCM: You were the winners of the Torklift International Treasure Hunt last year.  Tell us how the Treasure Hunt worked and how you won.
Jack: Torklift International put out a series of clues for their annual Treasure Hunt in June, July, and August of last year.  They were clues to different locations.
The first clue I looked at was Mojave National Preserve, which is not too far from where we live.  I drove to that location and took pictures at the entrance sign.  Then I emailed the pictures to Candice Boutilier, Marketing Director for Torklift International.  Soon thereafter, Candice notified me that I was the winner for that clue.
In July and August, Torklift had more clues.  I also solved one of the location clues as Yosemite National Park.  Joann and I happened to be up in that area because we were house sitting for my daughter.  I went to Yosemite and had my picture taken there in front of the park entrance sign.  I was a winner for that clue as well.
At the end of the contest, Torklift International had a drawing from all the clue winners to award the grand prize, a seven day truck camping vacation in British Columbia, all expenses paid including airfare and the use of an Adventurer truck camper and Ford Super Duty truck from Fraserway RV.  We were totally blown away when we got the notification that we had won the grand prize.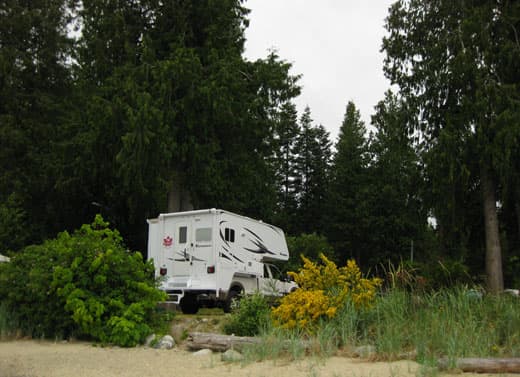 Above: The camper at Willingdon campground, one of the stops on Jack and Joann's trip
TCM: Congratulations on winning the Treasure Hunt!  What happened after you won?
Jack: The trip was originally scheduled for September.  At the last minute, we had to reschedule and Torklift International agreed to reschedule the trip for the following June.
Candice asked if we had any preferences for where we went on the trip.  I wasn't familiar with British Columbia, but told her that we enjoyed the coast.  She came up with a coastal tour which went from Vancouver to Vancouver Island, back across the mainland, and down the Sunshine Coast.
I had heard of the Sea to Sky Highway and, as an afterthought, I asked if that was possible.  Candice graciously added the Sea to Sky Highway to our route.  From there, Candice planned all of the RV parks we would stay at and where we would go.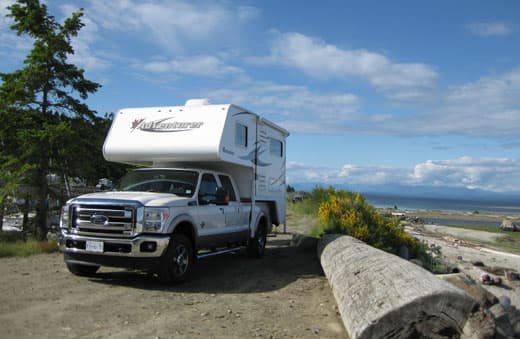 Above: Another great stop on their trip was Saratoga Beach on Vancouver Island
I ordered some backroad maps of Vancouver Island and mainland of British Columbia.  I went over the whole route ahead of time and figured everything we would want to see.  Candice truly planned the whole trip.  All of the details were taken into account.  We are grateful to Candice and Torkift International for allowing us to change the schedule and go on a wonderful trip.