Jack and Joann Purdy won the Torklift International Treasure Hunt grand prize; a seven day truck camping vacation in Canada.  Here's their lucky story.

It's fairly safe to say that Torklift International created the biggest, most amazing truck camper themed contest in the history of planet earth when they launched the Torklift International Treasure Hunt last year.  When they announced that the grand prize winner would win a seven day all-expenses paid truck camping vacation in British Columbia, including food, fuel, and a rental Adventurer truck camper from Fraserway RV, we almost entered our cat.  Maybe they wouldn't notice it was Harley, and we would go with him as his "friends".  With a grand prize like that, you can't blame us for trying.
So who did finally end up winning the Torklift International Treasure Hunt grand prize?  None other than long time TCM reader Jack Purdy and his wife, Joann.  You may recall Jack and Joann's stunning vintage truck and camper rig from their calendar winning cover photograph in 2011.  It seems Jack and Joann know how to win a contest, or two!  The following story is about how they won the Treasure Hunt, and what happened on their grand prize adventure in British Columbia.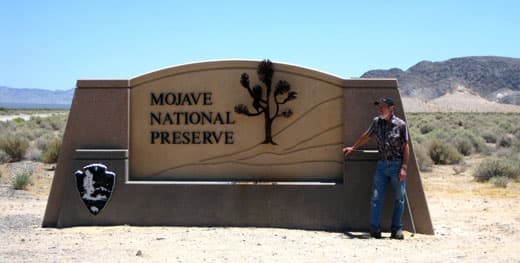 Above: Jack's first treasure hunt clue that he submitted to Torklift was Mojave National Preserve
TCM: You were the winners of the Torklift International Treasure Hunt last year.  Tell us how the Treasure Hunt worked and how you won.
Jack: Torklift International put out a series of clues for their annual Treasure Hunt in June, July, and August of last year.  They were clues to different locations.
The first clue I looked at was Mojave National Preserve, which is not too far from where we live.  I drove to that location and took pictures at the entrance sign.  Then I emailed the pictures to Candice Boutilier, Marketing Director for Torklift International.  Soon thereafter, Candice notified me that I was the winner for that clue.
In July and August, Torklift had more clues.  I also solved one of the location clues as Yosemite National Park.  Joann and I happened to be up in that area because we were house sitting for my daughter.  I went to Yosemite and had my picture taken there in front of the park entrance sign.  I was a winner for that clue as well.
At the end of the contest, Torklift International had a drawing from all the clue winners to award the grand prize, a seven day truck camping vacation in British Columbia, all expenses paid including airfare and the use of an Adventurer truck camper and Ford Super Duty truck from Fraserway RV.  We were totally blown away when we got the notification that we had won the grand prize.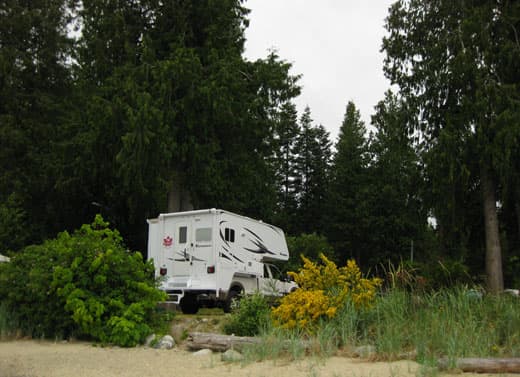 Above: The camper at Willingdon campground, one of the stops on Jack and Joann's trip
TCM: Congratulations on winning the Treasure Hunt!  What happened after you won?
Jack: The trip was originally scheduled for September.  At the last minute, we had to reschedule and Torklift International agreed to reschedule the trip for the following June.
Candice asked if we had any preferences for where we went on the trip.  I wasn't familiar with British Columbia, but told her that we enjoyed the coast.  She came up with a coastal tour which went from Vancouver to Vancouver Island, back across the mainland, and down the Sunshine Coast.
I had heard of the Sea to Sky Highway and, as an afterthought, I asked if that was possible.  Candice graciously added the Sea to Sky Highway to our route.  From there, Candice planned all of the RV parks we would stay at and where we would go.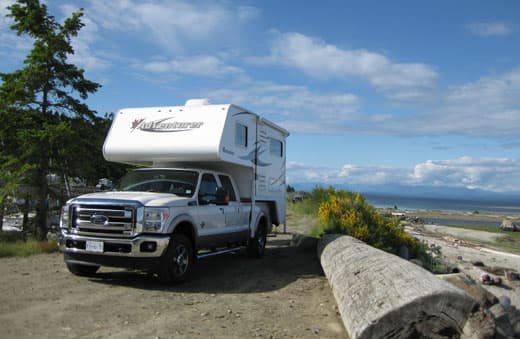 Above: Another great stop on their trip was Saratoga Beach on Vancouver Island
I ordered some backroad maps of Vancouver Island and mainland of British Columbia.  I went over the whole route ahead of time and figured everything we would want to see.  Candice truly planned the whole trip.  All of the details were taken into account.  We are grateful to Candice and Torkift International for allowing us to change the schedule and go on a wonderful trip.
TCM: How did you pack for a truck camping trip that started with a plane flight?  From experience, we know that can be a challenge.
Jack: We wanted to make everything as simple as possible.  We limited ourselves to carry-on baggage; essentially a carry-on suitcase that met the dimensions for the airline.  We didn't take a whole lot of extra clothes.  Joann had a big purse type bag that she put stuff in and I had a computer bag that I put maps and miscellaneous items in.  We managed to get everything packed.  Best of all, we never said, "I wish I would have brought this or that" while we were on the trip.
Candice emailed me a list of the supplies provided with the camper and a picture of the truck and camper we were going to get for the week.  Fraserway RV provided all the bedding, dishes, silverware, pots and pans, coffee pot, glasses, and everything you need for eating in the camper.   It also came with a dump hose, fresh water hose, towels, folding chairs, chemicals for the holding tank, and a bucket and sponge for washing the unit.  The rental truck camper was completely outfitted.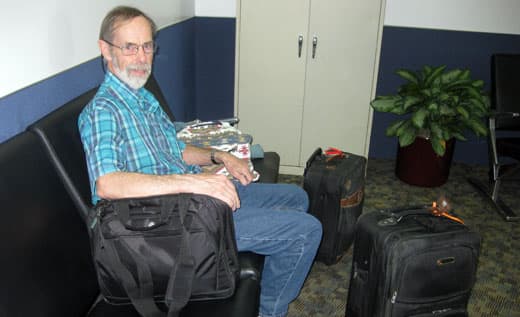 Above: Jack in Burbank, California all packed and ready to go!
TCM: You flew from Burbank, California to Vancouver, Canada.  When you landed, what happened?  How did you get to Fraserway RV?
Jack: The flight from Burbank landed in Seattle where we changed planes and flew to Vancouver.  We arrived in Vancouver at almost midnight.  It was 95 degrees when we left home in California.  That night in Vancouver there was a misty rain and the outside temperature was cool.  It was a different world, and it was so great.
Since our flight got in late, Torklift International got us a room at a Sheraton Four Points Hotel near the airport.  As soon as we got through customs at Vancouver, I called the front desk at the hotel and they came with a shuttle and got us checked in.  The following morning I called Fraserway RV and told them that we were there.  The Fraserway RV shuttle came by at 10:00am to pick us up and take us to their facility.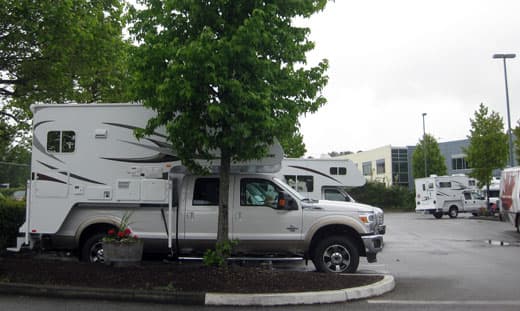 Above: The Ford F-350 and Adventurer 86SBS waiting for the Purdys at Fraserway RV
TCM: What did you do once you got to Fraserway RV?
Jack: There were several other couples on the shuttle that Fraserway RV had picked up at other points around Vancouver.  When we got to Fraserway RV, they showed us which truck camper rig we were going to have.  Then we put our luggage in the camper and went into the lobby to the rental desk.
Fraserway RV went through the paperwork and had us fill out some forms.  After that was complete, Fraserway RV had a rental agent take us to our camper to do a complete walk around and explanation of the operation of the truck and the camper.  Then we were off on our own.
TCM: Before we ask you about your adventure, tell us about the truck and camper Fraserway RV provided.
Jack: They gave us a 2012 Ford F-350 Super Duty Lariat, 4×4, diesel.  Oh man.  I had never driven a diesel truck, and a brand new one at that.  I just loved that truck.  It was a dream!  After driving it, I wanted one.  It was so cool!
The camper we had was an Adventurer 86SBS with a dinette slide-out.  It was a brand new unit, really fantastic.  The truck camper also had Torklift International Fastgun turnbuckles and frame-mounted tie-downs.
TCM: You have a 1969 Ford F-250 and a 1970 Roll-A-Long camper.  What did you think of using another camper?
Jack: This truck and camper were completely opposite from what we have now.  It was like going from a horse and buggy to a jet plane.  Everything in the truck was high tech and had almost every feature you could imagine.  It was such an easy unit to drive.
We never used the four wheel drive, but it had a tow/haul position on the transmission that I used when we were going up and down hills.  We did that on the Sunshine Coast's winding two lane roads.  It was like another gear that gives you better torque going up, and going down activates the exhaust brake on the engine.  That was a neat feature.
Our Roll-A-Long truck camper only has a porta-potti.  The bath they had in the Adventurer was a major step-up including a flush toilet.  It's difficult for Joann to get into our Roll-A-Long camper's bed.  Now when we take our camper out, she sleeps in the dinette bed.  With the Adventurer, there was a step-up in front of the bed that was higher than the floor.  It was a high enough step that she could get into the bed with no problem.  Fraserway RV also gave us an extra step stool.  We used it outside on the ground to enter the camper.  We were living in style.  It was so great.
TCM: Tell us about your adventure.  Where did you go?  What did you see?
Day 1: We drove to Tsawwassen, which is the ferry terminal thirty miles from Fraserway RV.  When we got there we had to wait for the next ferry.  It was probably about twenty minutes to half an hour.  We got on the ferry and it was about an hour and a half ride to Vancouver Island.  The scenery, even on the ferry trip, was so beautiful.  We were so taken with the ferry trip.  We went past the Gulf Islands and everything was so green and beautiful.  We even saw some whales during the trip.
Once we arrived on Vancouver Island, we headed to Fort Victoria RV Park, about thirty miles from the ferry.  We checked in and then went to a nearby grocery store to stock up with food and supplies.  Afterwards we went back to the RV park and had dinner at a cute restaurant not too far from the RV park.
Day 2: We had reservations on the second night at Black Creek, British Columbia, about three-quarters of the way up Vancouver Island, just south of Campbell River.  We left Fort Victoria and headed north on the Trans-Canada Highway.
The first place we stopped was a viewpoint at Malahat.  When we got there, we stopped, took pictures, and enjoyed the view.  We left Malahat, continued up the island, and stopped at a bank ATM in Duncan to get some Canadian cash.  I made sure to go to the bank that's associated with our bank in the United States.  Per your advice, Angela, I called my bank before we left on our trip and told them that we were traveling.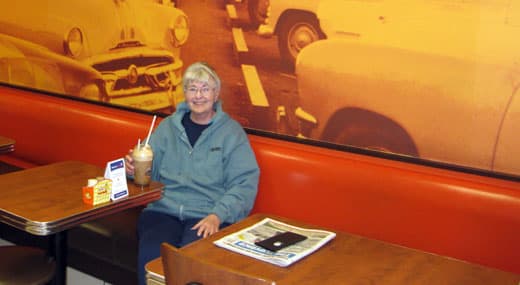 Cash in hand, we continued up the east side of Vancouver Island.  At lunchtime we wondering where we could stop and happened to see an A&W Root Beer restaurant in the middle of nowhere.  We stopped, got a root beer float, and made chicken sandwiches in the camper.
By late afternoon we got into Black Creek and arrived at Pacific Playgrounds RV Park right on the Saratoga beach.  We got situated and went out to the beach and took pictures.  We even drove the camper out by the beach.
Day 3: We knew we had reservations that night on the mainland at Powell River.  We drove back south about twenty miles to Comox, where the ferry terminal was.  We left fairly early because the ferries there didn't run that often.  I wanted to get the morning ferry that would get us over about check-in time to our next campground.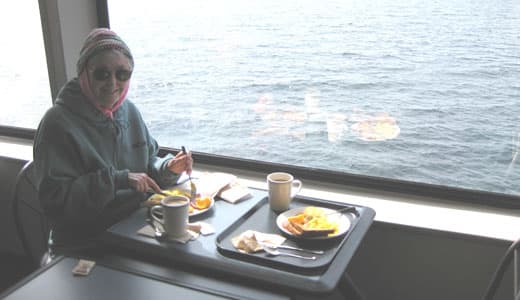 On the ferry we found they served breakfast, so we ordered a breakfast and had a nice window seat where we could sit and watch the ocean as we were traveling across to Powell River.  When we arrived, we got off the ferry and drove around a little to see what the town was like and found a viewpoint where it overlooked the water.  They had First Nation totem poles at the viewpoint, which overlooked an ancient shore area that dated back a thousand years.
From there we went to Willingdon Beach Campsite where we had reservations.  We checked in and were really pleased that our campsite was right on the water.  When we got there it was low tide so we went out and explored the rock beach.  We walked around and beach combed.  When the tide came in that evening we could hear the water lapping and it started raining.  Between the rain and the water hitting the shore, it was like music.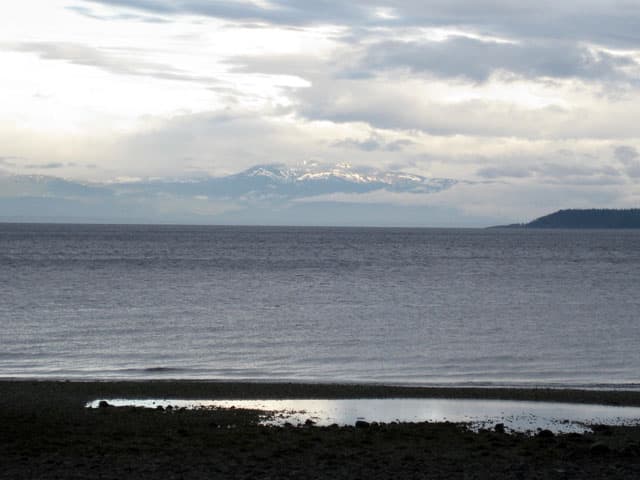 We could even see Mount Washington on Vancouver Island from where we were.  It was a snow capped mountain even though it was June.
Day 4: We had reservations that evening for Paradise Valley Campground in Squamish.  That was quite a ways from where we were and we had two ferry trips ahead of us to get there.  We left early that morning and drove to Saltery Bay where we caught the ferry.  That was a very scenic ferry trip.  Driving down there was pretty, too.  I think it was about twenty miles from Powell River.  The road went through pristine forests where we'd catch glimpses of the water.  There was a misty rain that day and low hanging clouds over the mountains.  It was pretty.
When we arrived in Saltery Bay, we boarded the ferry.  The ferry went through Jervis Inlet and around the Gulf Islands to Earl's Cove.  During the trip there was a place where we could see a waterfall in the distance.  Then we headed down the Sunshine Highway and caught a second ferry in Langdale to Horseshoe Bay.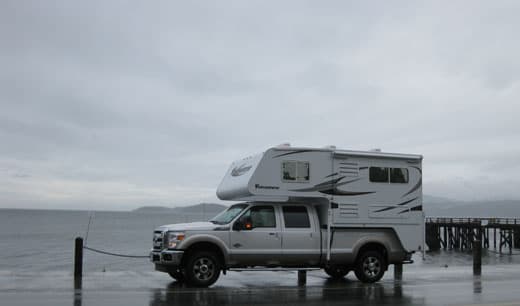 Above: Stopping for lunch at Davis Bay, British Columbia
As we were driving between Earl's Cove and Langdale we stopped at Davis Bay right along the water to eat lunch along the ocean.  It was raining at the time.  After lunch we continued on towards Langdale.  It was a beautiful drive all the way.
One interesting thing is that there were a lot of artists along the Sunshine Highway.  They live back in the forest and put a sign along the highway with their specialty so people will stop and buy their art.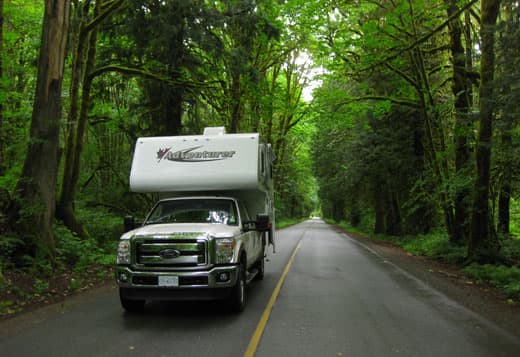 The Sea to Sky Highway started off foggy with more misty rain.  As we drove, we left the fog and the rain let up.  We passed a raging river and took Paradise Valley Road, a route that had us driving under a canopy of trees.  We got to the campground and it was like we were in a rainforest.
There were ferns and tall trees.  That night there was a light gentle rain which made it easy to sleep.
Days 5 and 6: We left Squamish and headed to Whistler where we had reservations at Riverside Resort.  It was about an hour's drive to Whistler.  Again, it was a completely different environment, like an alpine ski village.  We felt like we were in Switzerland.
The campground was luxurious with cabins in addition to the RV park.  Our campsite was pretty.  The first day we got there we were relaxed because we had been on the go everyday.  We were there for two nights.  The next day we drove into Whistler Village.  They had a place where we could park and walk through the village area.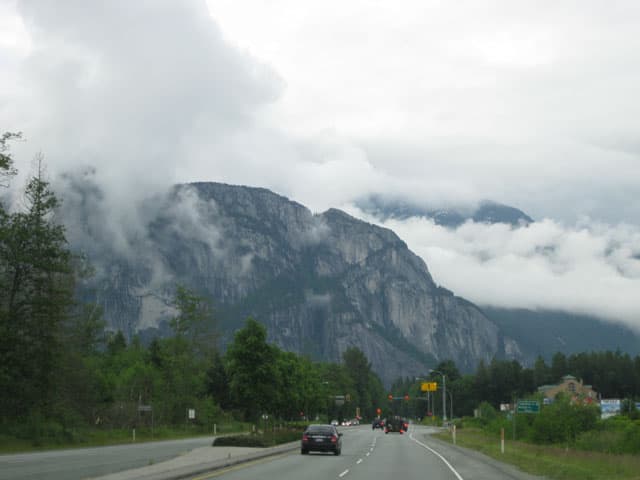 Above: Stawmus Chief Mountain, Squamish, British Columbia on the return trip back to Fraserway

TCM: It sounds like an amazing trip.  How did the trip end?
Jack: The last day we had to drive back to Vancouver and Fraserway RV.  We left early from Whistler because we wanted to get checked in and had to get to the airport for the flight back.
We drove back down the Sea to Sky Highway.  Along the way, there were several viewpoints where we stopped and took photos.  We got to Vancouver at the tail end of rush hour.  There were several other people who were checking in at Fraserway RV that had to go to the airport as well.
We got checked in and took the shuttle back to the airport for a flight to Portland, and then another flight back to Burbank.  We got to Burbank about 10:00pm.
TCM: From your story, the ferry trips made a big impression.  How did they work?
Jack: This trip was the first time we had been on a big ferry where you drive the vehicle onto it.  We didn't have any reservations for the ferries before our arrival.  I printed out a schedule of departures from the ferry website at each ferry location.  You pay by how many people are in the vehicle, then you pay a vehicle fee, and then we had an oversized fee.  Our camper was twenty-three feet long and considered oversized.  After we paid, they told us which lane to get into.  Before you get onto the ferry, you have to turn the propane off and they give you a tag to put on the tank so they know it's been turned off.
When the ferry arrives, all the departing cars get off and you stay in the lane you're in until you're directed.  Once you're on the ferry, you leave your vehicle and go to the upper decks where they have seats.  They announced when they wanted us to get back to our vehicle.  Then we drove off lane by lane.  On the website they stated if reservations were suggested, but none of them that we were going on needed reservations.  If you get there at least half an hour in advance, there is no problem.
Torklift International paid for everything.  They paid for groceries, fuel, the campground reservations, plane tickets, the hotel, and ferry rides.  The only things we paid for on our own were meals out or extra things we purchased.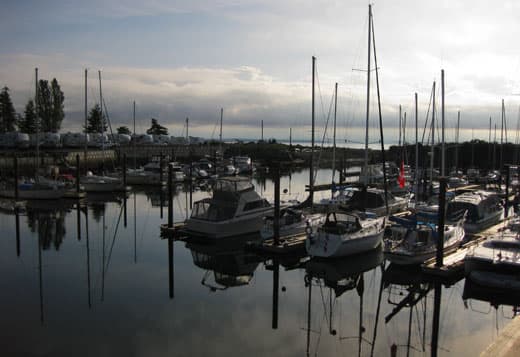 TCM: That's fantastic!  What were some of the favorite places you visited in British Columbia that you would recommend to other truck camper owners?
Jack: One of my favorite places was Pacific Playgrounds, which had a boat marina and rolling hills and farms leading to the campground.  The other place we really liked was Powell River at Willingdon Beach.  It was a rocky beach, but you could walk way out there.  We were picking up lots of different color seashells and rocks.  The next favorite was Paradise Valley Campground.
On the drive from Victoria up to Black Creek there are two routes we could take, the faster Trans-Canada highway and a slower coastal route.  Originally I thought we wanted to take the coastal route because it would be more scenic, but it went through small towns and we had a fair drive to get to Black Creek to make our campground reservations.  We went back to the main Trans-Canada highway.  If we go back, we'll take our time and enjoy the coastal route.
Another route that was on our original trip was to go over to the west side of Vancouver Island to Tofino.  We'd like to go see that.  We would like to explore more of northern Vancouver Island.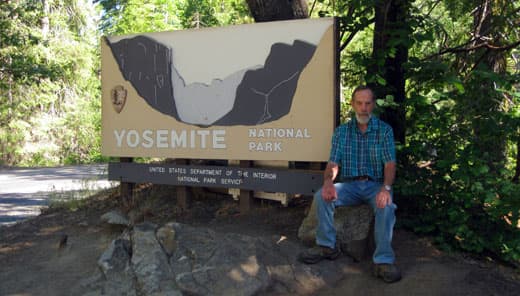 TCM: Torklift International is having another Treasure Hunt right now.  Any suggestions on how to win for our readers?
Jack: A lot of the clues can be figured out by going on the internet.  If a location is near your home or on your vacation route, go there, take a picture of yourself at the entrance sign, and send it in to Candice.  You're not limited to how many places you can enter.  You can enter more than once, like we did.
The trip was a once in a lifetime experience for us and we were just so thankful to Torklift International and Candice for allowing us to experience this.  It was like an ultimate vacation.  It opened us up to travel in a different country.  It was a new experience.  We were just so taken with Canada.  The roads were beautiful, well engineered, and well marked.  It's a beautiful country.
We saw a lot in the short time we were there.  We wished for more time to see more, but we got a great overview of British Columbia.  Now we're trying to figure out how to go in our Roll-A-Long camper back to Canada.