Tim and Kim Cooper share their epic adventure to Nova Scotia, Newfoundland, and Labrador.  Here's what they discovered, where they camped and what they recommend to fellow truck campers.  It all started with a Glassic Egg Scramble!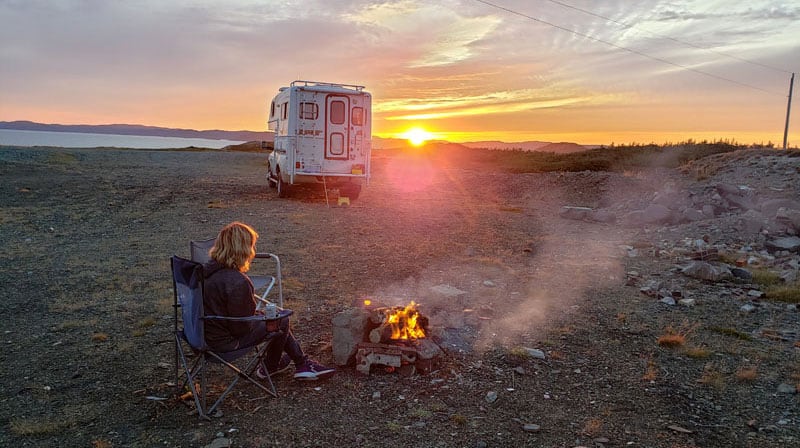 Above: Boondocking in English Harbour, Newfoundland
Newfoundland was our main truck camping destination last fall.  It was our first time visiting the island and the Newfoundland and Labrador Province.  The previous summer we went to the Yukon, British Columbia, and Alaska.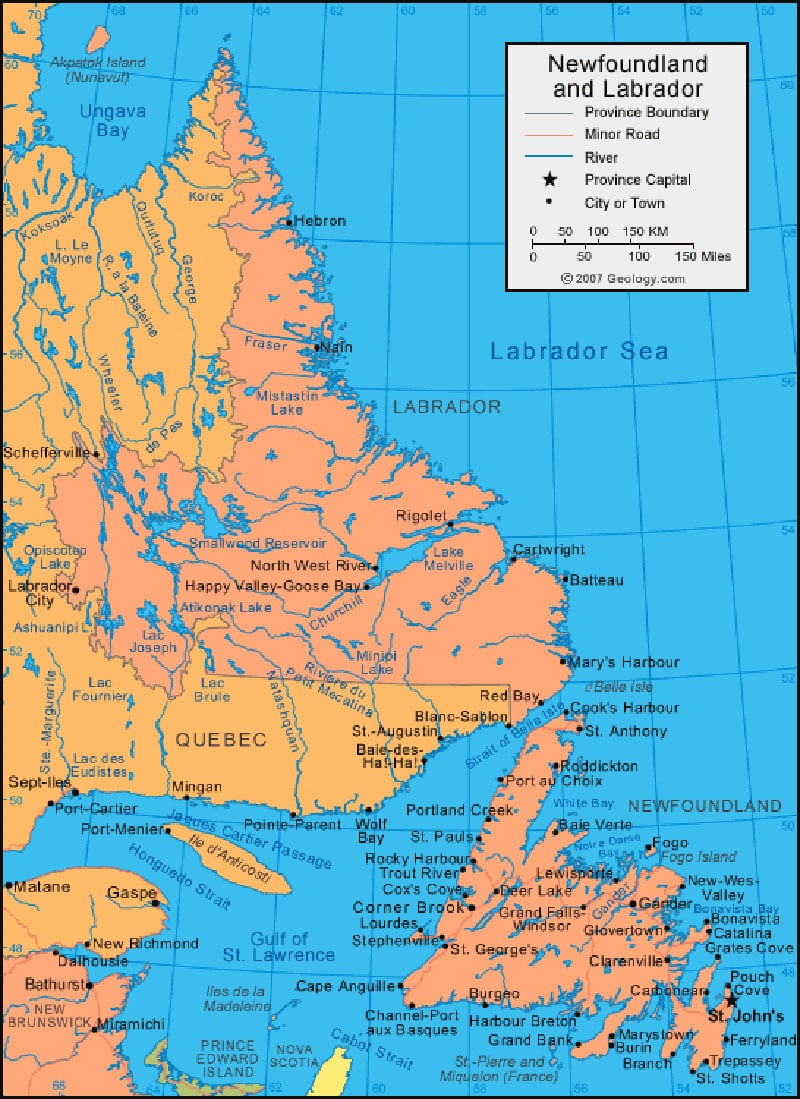 Above: The main part of their trip was to the Newfoundland and Labrador Province, map courtesy of Geology.com
Our trip north was five weeks, which was not long enough.  If we had to do it again, we would plan for at least seven to eight weeks.  It was such a long distance to get there, and once we were there it was a long way between places.  At our furthest point east, we were over 3,000-miles from our house in Michigan.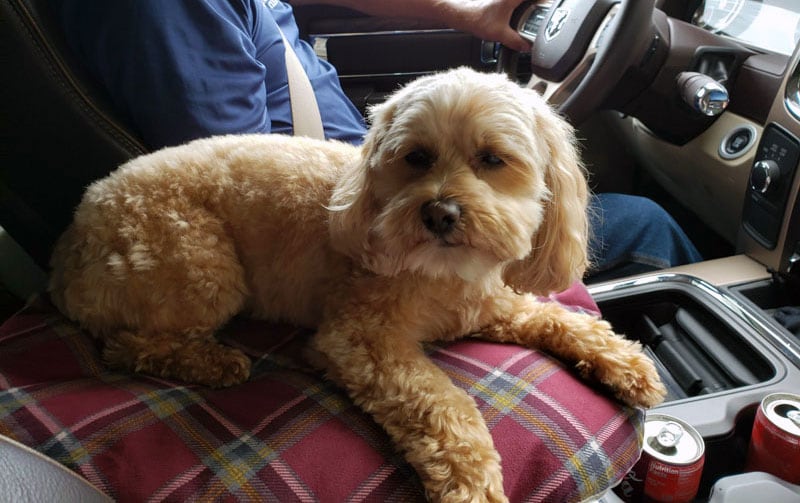 Above: Their travel companion, Macy
The Algonac Glassic Egg Scramble
We started our journey at the 8th Annual Algonac Glassic Egg Scramble, a fiberglass trailer gathering at Algonac State Park in Michigan.  We were invited to the event and didn't realize it was primarily for fiberglass trailers.  We were the unicorn in our Bigfoot fiberglass truck camper.  Everyone had to see our camper.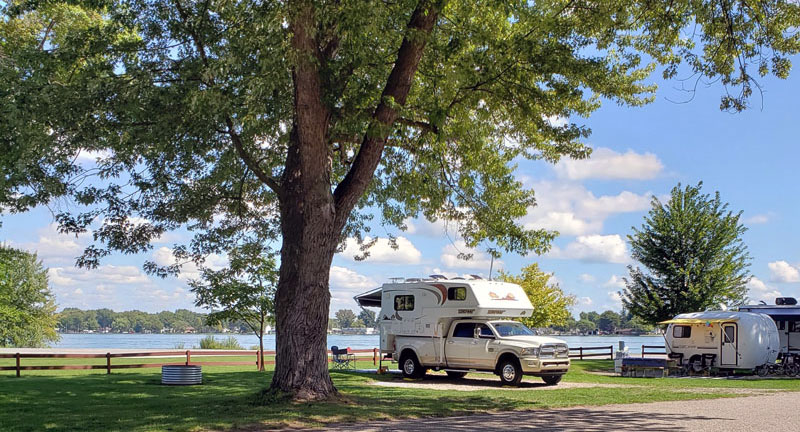 Above: Camping at the Algonac Glassic Egg Scramble
We were at the gathering for four days and then crossed into Brockville, Ontario.  That night we stayed in the Brockville Walmart parking lot.  The next day we headed east into upper Vermont and New Hampshire.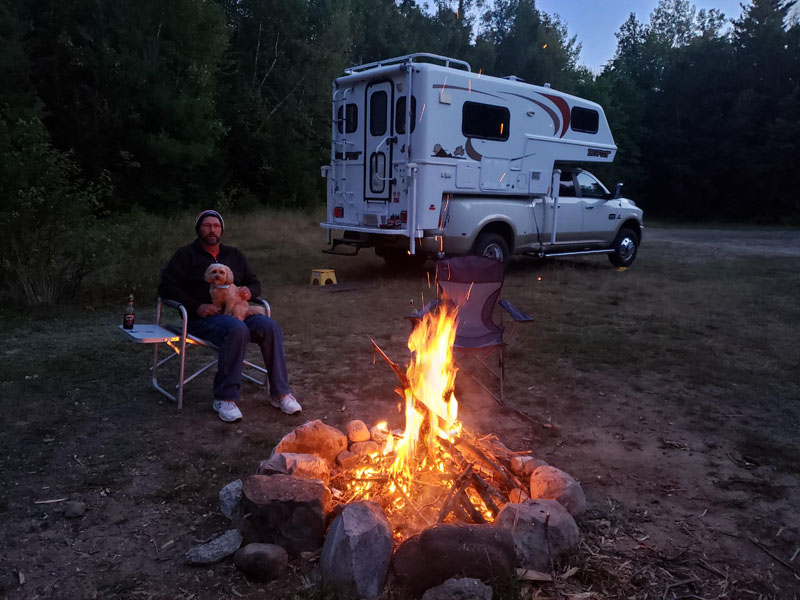 We boondocked in the Jefferson Notch State Forest (pictured above).  It was beautiful there.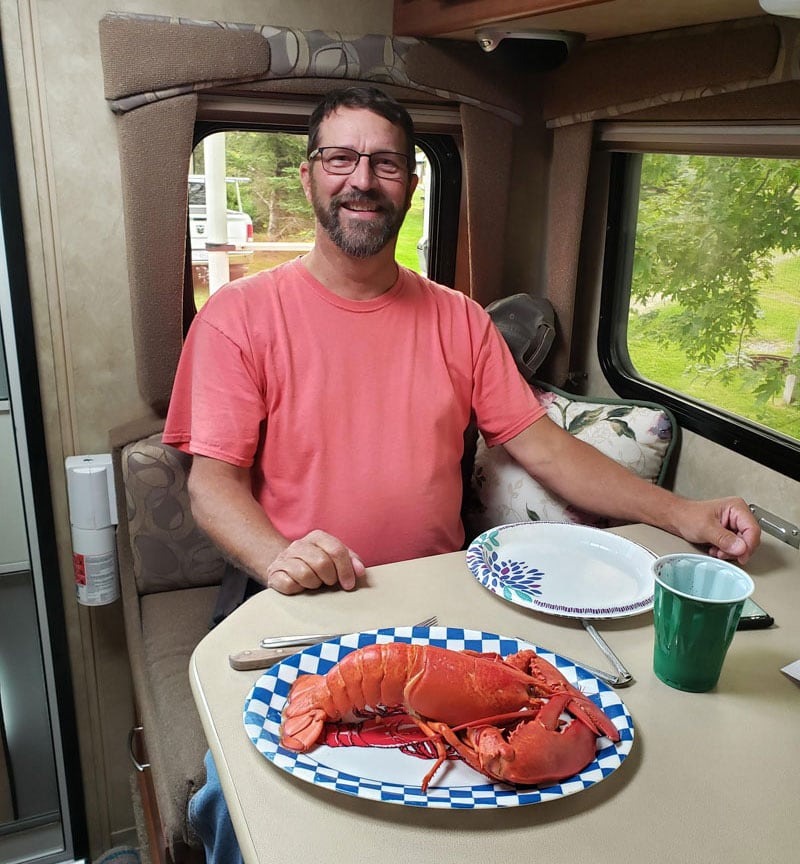 Above: Sunset Point RV Park, Maine, where they bring lobsters to your campsite
In Maine we stayed at an awesome campground in Harrington called Sunset Point RV Park for $38.15 USD.  It was right on the ocean.  They literally brought fresh lobsters to our camper!  That probably explains why it's so popular.  Even though we went after Labor Day, there were only a few sites left.  We also stayed at this particular campground since they had laundry facilities.
From there we went to the reversing falls in St John, New Brunswick.  We spent the night in the parking lot of the Reversing Falls.  As an added bonus, the parking lot is right down the street from the ferry to Nova Scotia.
New Brunswick Ferry to Nova Scotia
The next morning we got up early and boarded the ferry to Nova Scotia.  We crossed the Bay of Fundy on the Fundy Rose ferry which took about two-hours and forty-five minutes.  For our 22-foot Ram and Bigfoot 25C9.4 rig the price was $209 Canadian.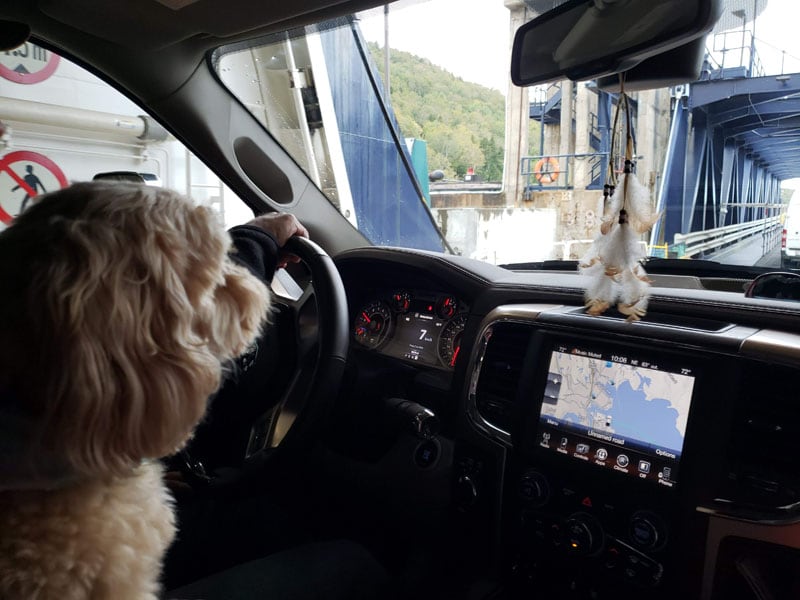 Above: Ferry to Nova Scotia from New Brunswick
Once we arrived in Nova Scotia, we headed to Liverpool and spent the night there at the Hank Snow Home Town Museum.  RVs are allowed to camp there with a donation.  Amazingly, they also have electric.
We were just a few days behind Hurricane Dorian when we arrived in Halifax.  There were trees down at Eagle River Campground in Street Harbor where we spent the night for $40.25 Canadian.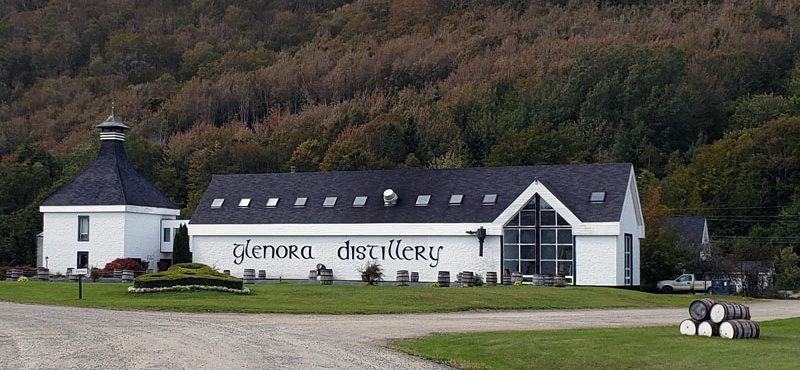 Above: Glenora Distillery, North America's first single malt whisky distillery
Our next goal was to visit Cape Breton Island and take the ferry north to Newfoundland and Labrador.  On our way north, we visited Glenora Distillery, North America's first single malt whisky distillery.  Glenora produces a Scottish-style single malt whiskey called Glen Renton Rare.  We enjoyed the stop, and then explored the Cabot Trail.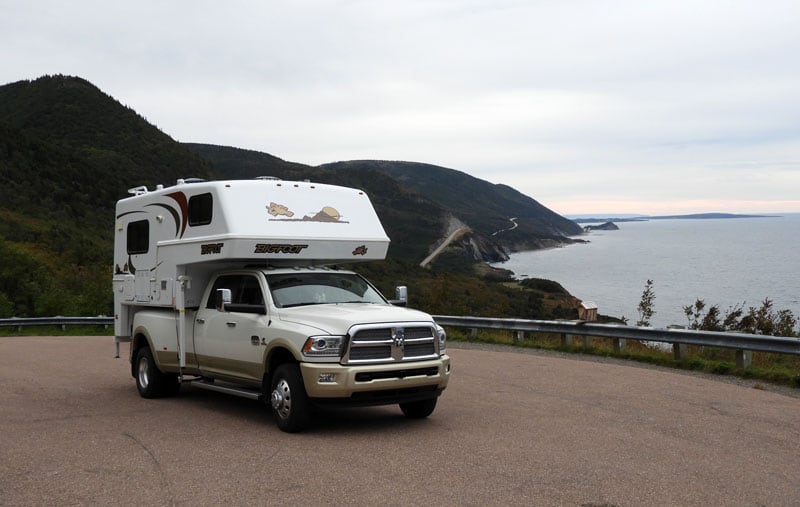 Above: Traveling on the Cabot Trail, Nova Scotia
We were hoping to get to Meat Cove that night, but as the sun was starting to go down we found the Macintosh Brook rest area in Cape Breton National Park.  You are welcome to set up camp and use the facilities.  There are envelopes to register and pay the $21.50 Canadian.  We were camped right next to a nice creek.
Meat Cove is at the top of Cape Breton.  There is a campground on a grassy knoll at the top of a hill with picnic tables.  The roads we drove were one way traffic only.  It was paved, and then dirt up and over.
When we arrived we saw Class C motorhomes on the edge of the cliff.  The campground was full in the middle of September . It was beautiful.  We would have stayed there, but I was concerned that my dog might fall off the cliff.  Instead we drove to Sydney and stayed at the Arm of Gold Campground for $41.95 Canadian.  It is located near the ferry terminal.
Ferry To Newfoundland
The ferry from Sydney, Nova Scotia to Channel-Port aux Basques, Newfoundland was a lot longer than the one we took to Nova Scotia.  The price for this crossing was $271.38 Canadian.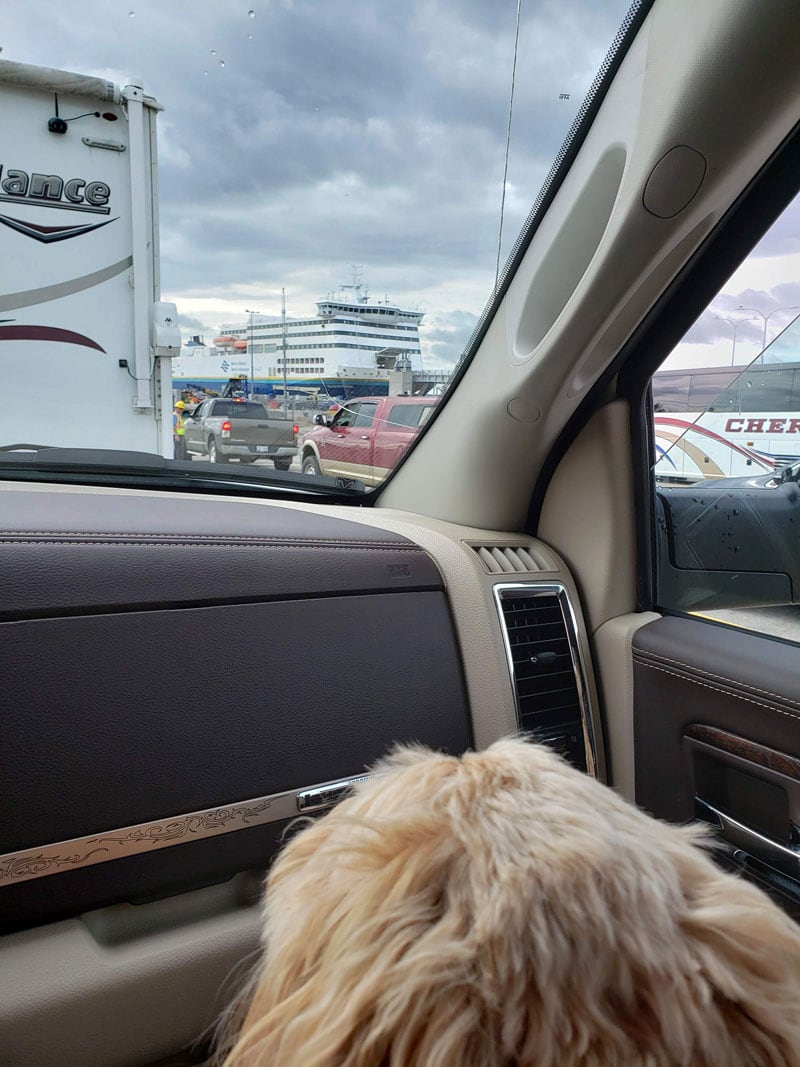 Above: Waiting to get on the ferry to Newfoundland from North Sydney, Nova Scotia
From the time we parked our truck on the ferry to the time we got back to truck was 10.5-hours.  Our little dog, Macy, had to stay in the camper the whole time.  You can't go down to your camper once you leave the port.
There is a kennel on the ferry where people put their dogs in a crate.  If you opt for the kennel, dog owners can visit their dogs throughout the ferry ride.  Knowing my dog, I knew if I went to visit her in a room and then leave again she would have a fit.  It was easier that she didn't see me until we were done.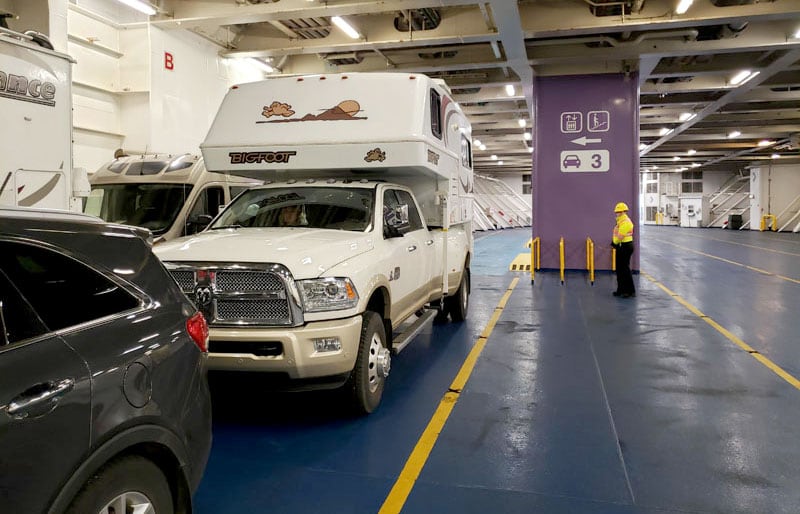 The journey across the Gulf of Saint Lawrence is only 8.5-hours, but the time away from your vehicle is more.  During the ferry ride, we turned everything off including the refrigerator and freezer, and there were no issues.
Arriving in Newfoundland
We stopped at the first welcome center we encountered.  They had a traveler's guide published by Marine Atlantic that was helpful.  It was like a smaller Milepost with attractions, campgrounds, and more.
I used the Marine Atlantic guide and the included big map a lot.  We also used a few apps that listed free campsites where we could boondock.  I'm a nervous boondocker, but if someone writes a review that's encouraging, I'll try it.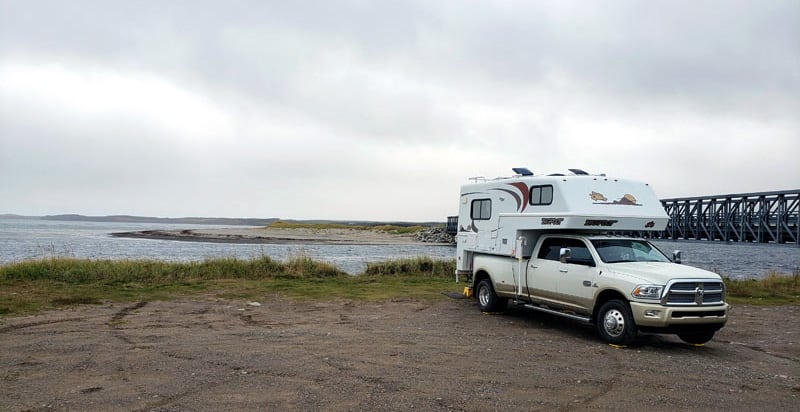 Above: Boondocking at The Gut inlet, Newfoundland
When we arrived in Newfoundland, it was dark and rainy.  We didn't travel far that night because it was 7:30pm.  We drove a half hour and found a place to boondock called The Gut at Searston Beach, Newfoundland.
The next morning we went to Stephenville to visit the Ernest Harmon Air Force Base from the World War II era.  There's also an Air Force Base in Gander.  Gander is where thirty-eight commercial and four military planes were grounded on 9/11.
When we are on a longer trip, we stop somewhere about once a week to dump our holding tanks, fill with fresh water, do laundry and resupply.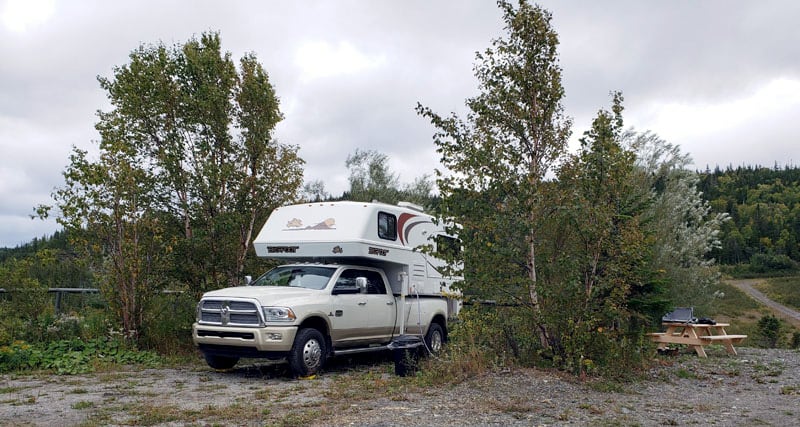 Above: Appalachian RV Park in Corner Brook, Newfoundland
With that mission in mind, we stayed in a RV park in Corner Brook called Appalachian Chalets and RV Park for $35 Canadian.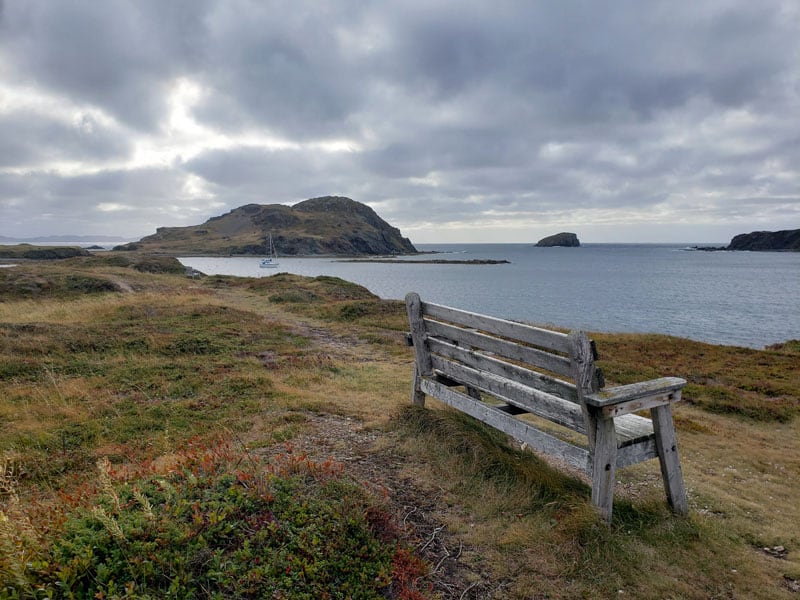 Above: Twillingate, Newfoundland
Fully stocked, we drove to Twillingate and spent the night at Peyton's Woods RV Park for $34.50 Canadian.  The campground was one of the only places to stay in the area.  It is across from the ocean and beautiful. We watched the sunset that evening.
The next day we went to Long Point Lighthouse (pictured above).
Above: View from Long Point Lighthouse, Twillingate
During our time in Newfoundland, we did a lot of driving to see the countryside.  Then, we'd drive the roads along the coast.  We'd take the next arm and check that area out.  The arms in Newfoundland are peninsulas that go up into the ocean.  If you look at a map you can see that there are many of these arms in Newfoundland.
Highway 1 is really nice.  Anytime we would get off Highway 1 and onto a side or secondary road, the roads were bumpy, rough and generally awful.  One of the bumps we hit was like a frost heave in Alaska, but ten times worse.  You will see signs that say, "Warning pot holes ahead".  Take the signs seriously!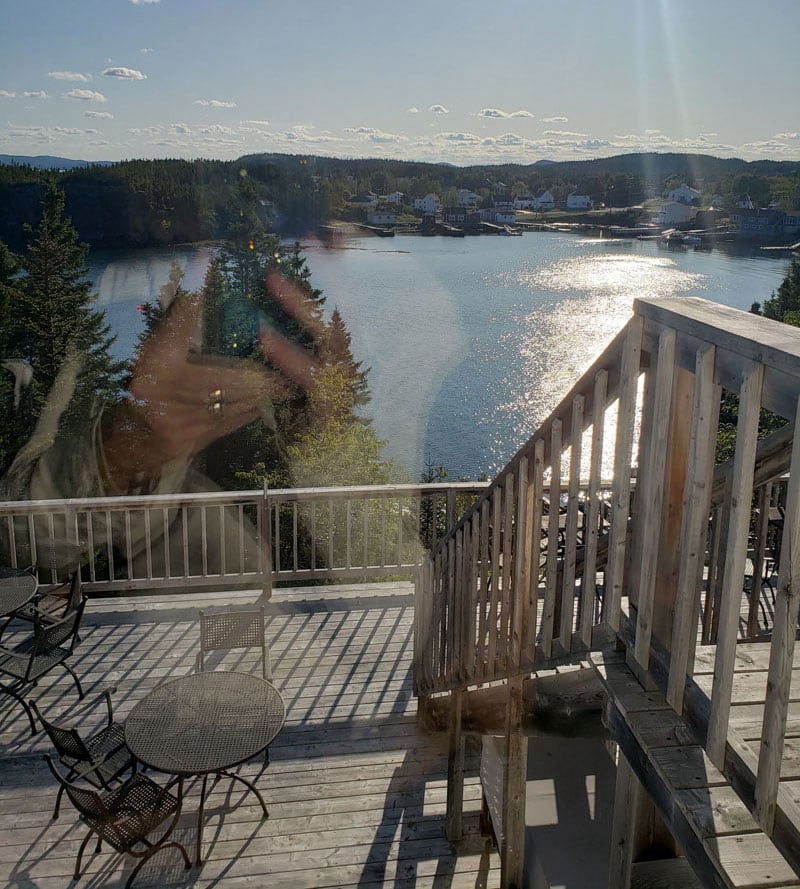 Above: View from Chucky's Seafood and Wildgame Restaurant in Happy Adventure, Newfoundland
After not finding a seafood restaurant recommended by friends, we discovered a place called Chucky's Seafood and Wildgame Restaurant in Happy Adventure, Newfoundland.  Tim got the snow crab and I got a moose steak.  It was great!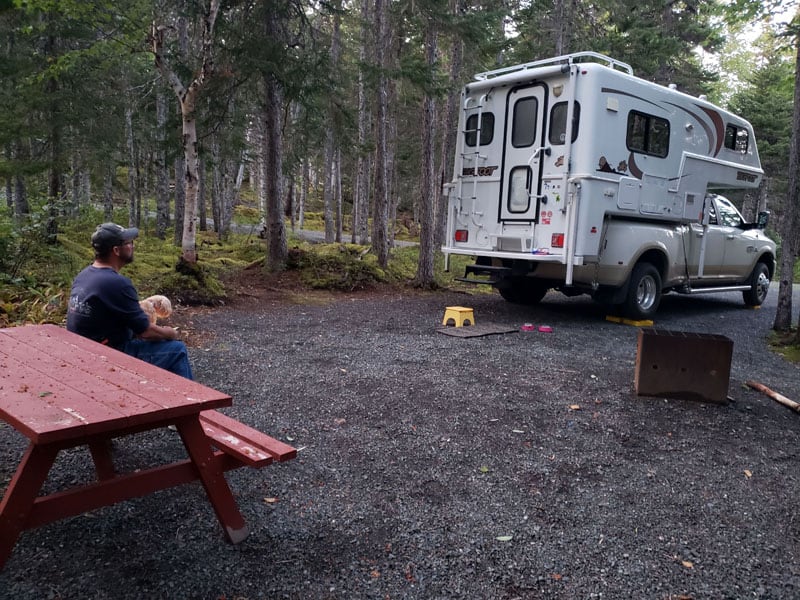 Above: Camping At Terra Nova National Park, Newfoundland
The restaurant was just north of Terra Nova National Park where we stayed for $16 Canadian.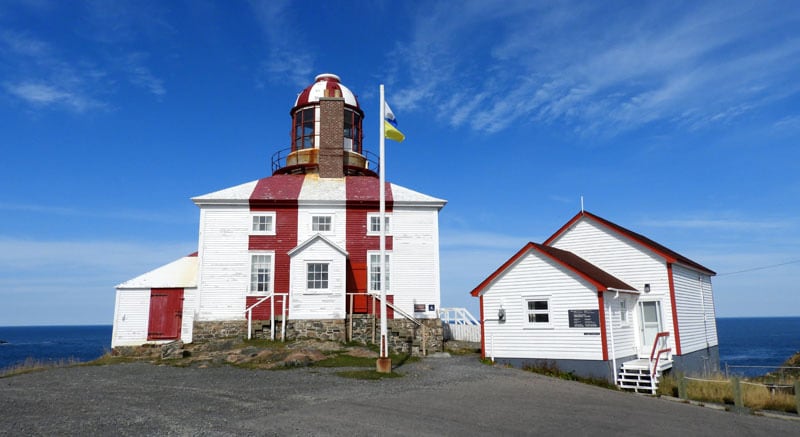 Above: A glorious sunny day at Cape Bona Vista Lighthouse
The next day we went to the Cape Bona Vista Lighthouse and had gorgeous weather.  We actually had really good weather on the northern part of the island.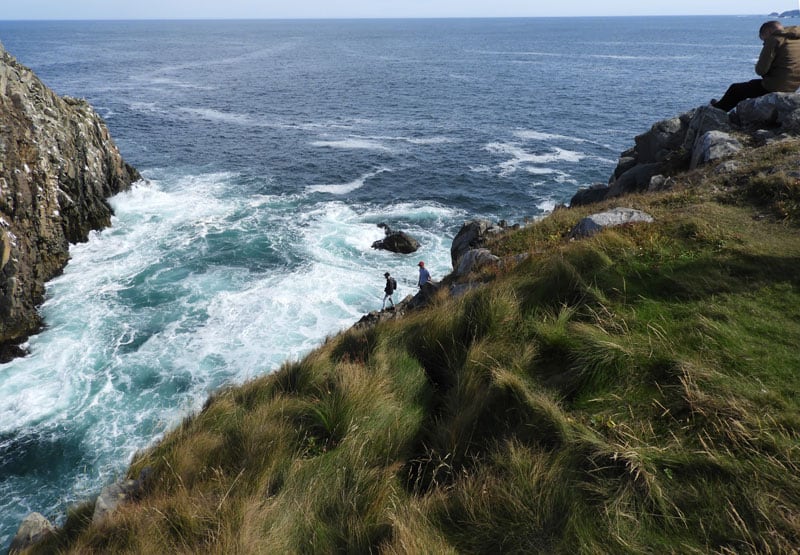 Above: Cape Bona Vista
On the way south, we found a place to boondock that was across street from a drop-off to the ocean.  It was beautiful!
We woke up in the morning and could feel the wind pushing our rig.  When we were driving towards Saint John's, it was so windy and rainy that we got off highway.  We took a video where the wind was shaking our camper so hard that the towel on the oven's handle was shaking.

Arriving in Saint John's, we found a place there called Pippy Park Campground that was $46.82 Canadian to stay for the night.  That was another laundry stop, and we had pizza delivered right to our camper.  It is a large, wooded campground right in town!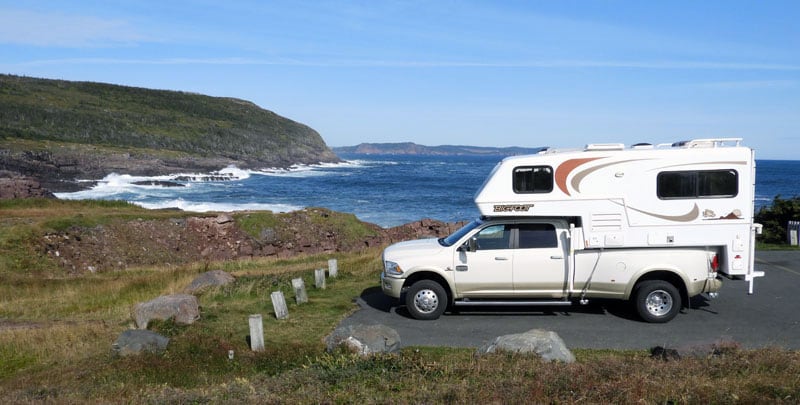 Above: Cape Spear, Newfoundland, easternmost point in Canada and North America, excluding Greenland
The next day we drove out and headed up to Cape Spear Lighthouse National Historic Site.  It was hard to believe that, at this most easterly point in North America, we were closer to Ireland than to our home in Michigan.  We were 3,200 miles from home.
From Cape Spear we drove a bit farther south to Petty Harbor where we went to Chafe's Landing restaurant.  We had the best fish and chips there.  We have had fish and chips in Alaska, Florida and many other places, but these were the best fish and chips ever.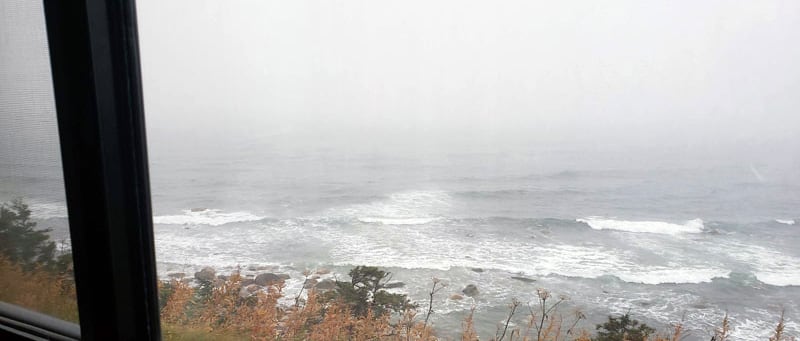 Above: The view of the St Lawrence River, Three Mile Point, Newfoundland
From there we continued on Highway 1 to Newfoundland's most westerly peninsula.   There we explored Gros Morne National Park.   There is lots of hiking there, but it was raining.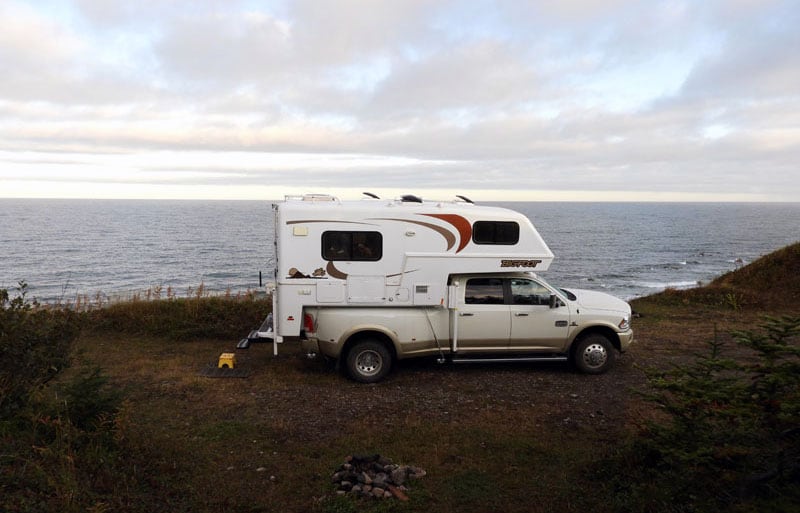 Above: St Lawrence Gulf Near Three Mile Point, Newfoundland
We stayed on the Three Mile Rock turnout on the Saint Lawrence Gulf in the town of Parson's Pond.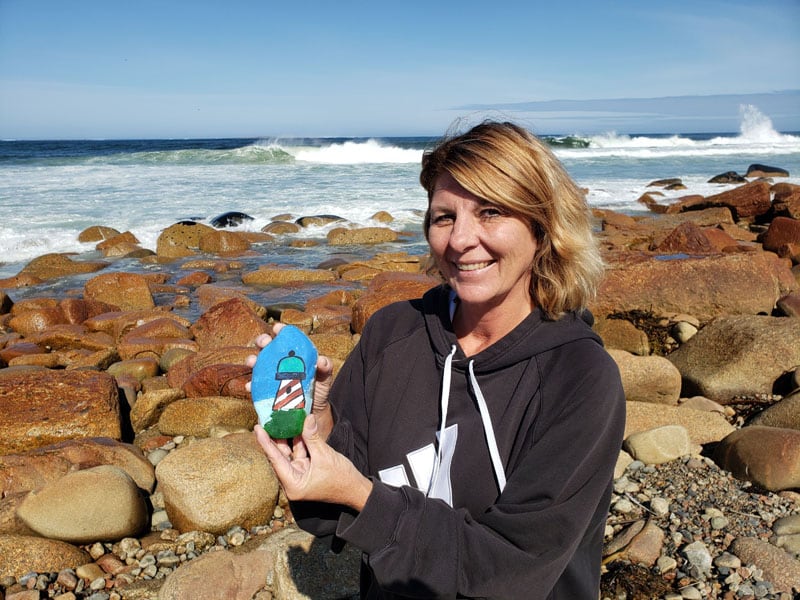 Side Note: Newfoundland people like to paint and hide rocks.  On the back of the rock it might ask you to post a picture of the rock on their Facebook group page.  We found two rocks on the beaches in Newfoundland.  When we were at the Three Mile Rock turnout, we found another one.  They're big into hiding painted rocks everywhere.
Ferry to Labrador/Trans-Labrador Highway
At this point we were getting ready to catch the ferry to Labrador, which is a one hour and forty-five minute ride at a cost of $55 Canadian.  After arriving that night, we stayed at Northern Light Campground for $34.50 Canadian which was a couple of miles from the ferry landing.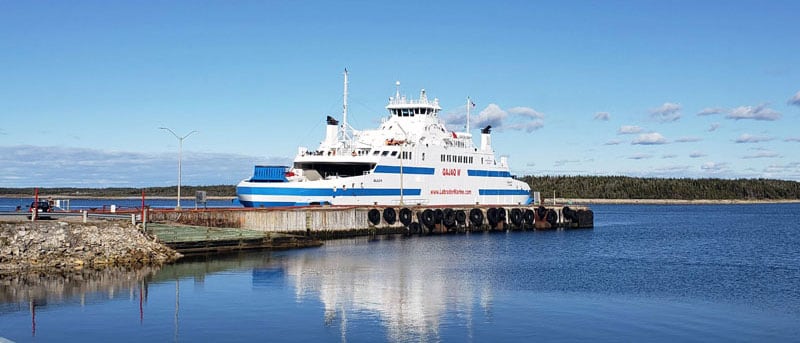 Above: Ferry from Newfoundland to Labrador
When you drive the Trans-Labrador Highway in Labrador, you can get a free satellite phone to use on your drive because there is no cell service for 200-kilometers.  You pick it up where we stayed and drop it off in Happy Valley, Labrador at a hotel at the end of the highway.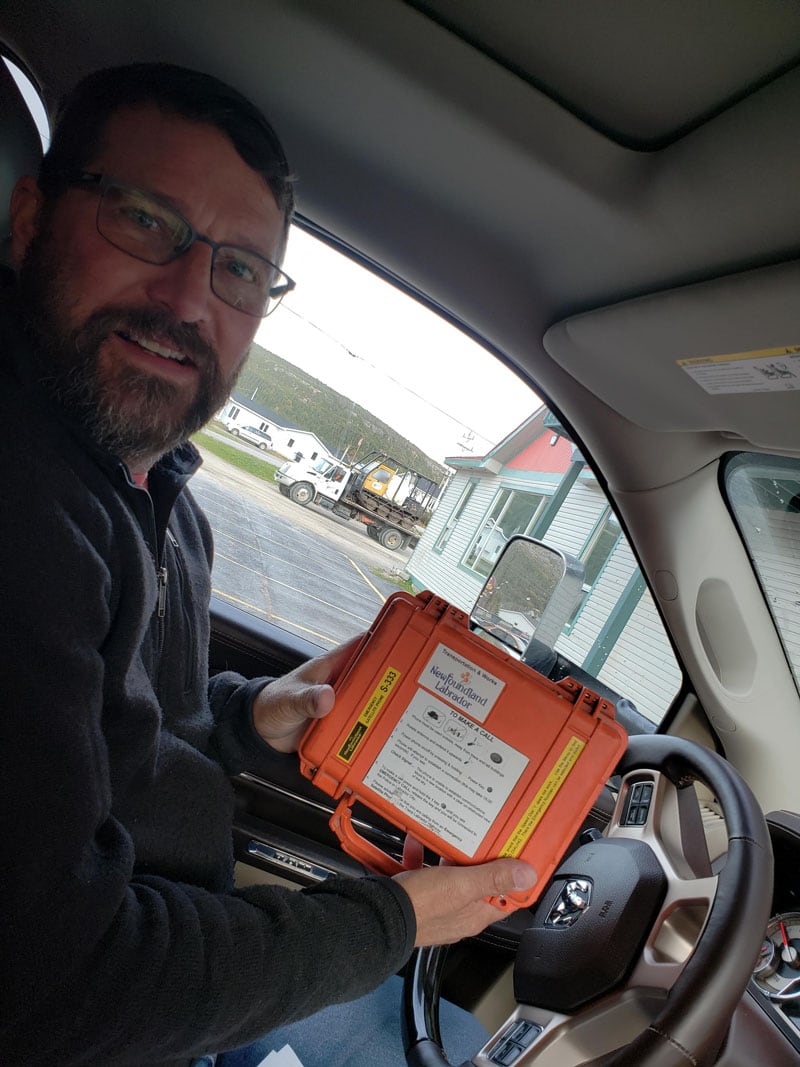 Above: Free satellite phone for the Trans-Labrador Highway
The Trans-Labrador Highway was mostly gravel, but they have blacktopped a big chunk of it.  Another area now is getting blacktop.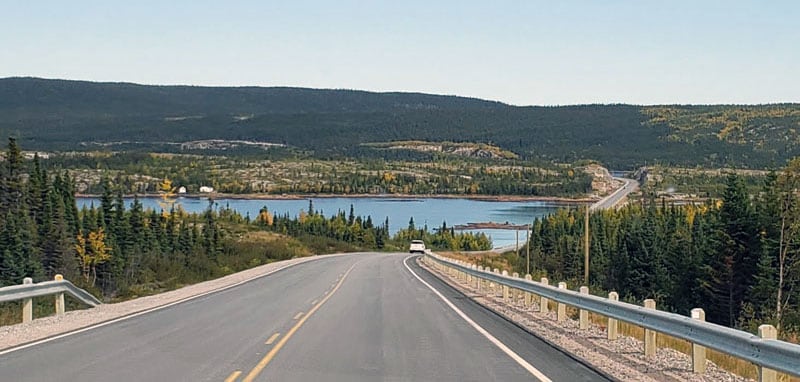 As you drive, you see lots of rock.  Inland it's all pine forests.  They are not forests like what we have in Michigan.  They are more like a shrubby pine.  Labrador is not a hospitable environment.  It's green, but it's more like the tundra in Alaska.  We drove for a long time without seeing anybody.
Labrador City and then into Quebec
After spending on a night along the "under construction" highway and then a night at the Welcome Center in Labrador City it was on to the Province of Quebec.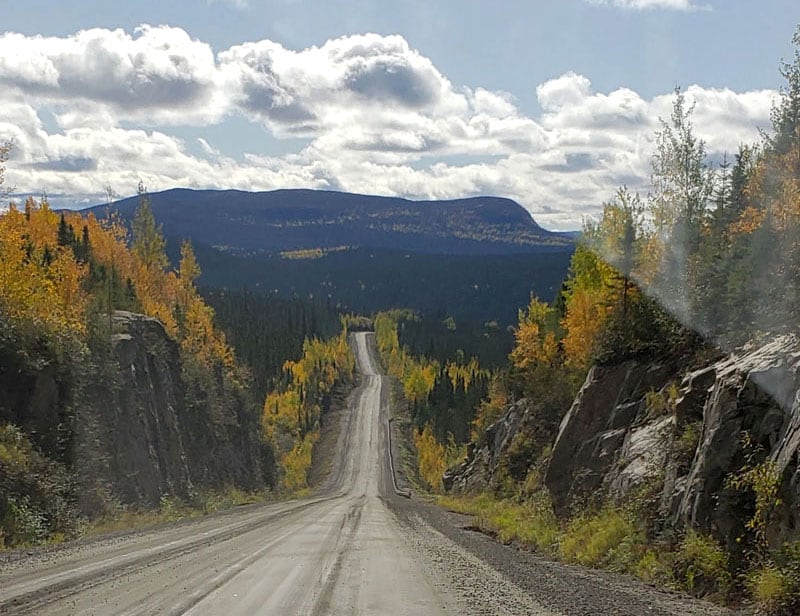 Above: Traveling Highway 389 in Quebec
Once you are in Quebec you are in a mining area with no cell service.  We could have used a satellite phone there.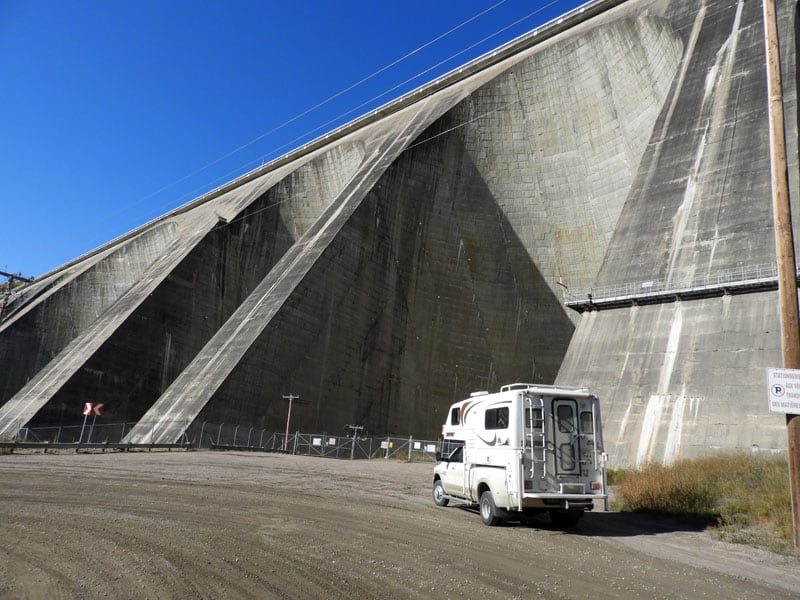 That's where we saw the Manic 5 hydroelectric dam (pictured above).
When we were driving on Highway 389, we noticed curbs and turnouts and thought there should be a town there.  Once we had cell service, we Googled it and found that the city of Gagnon used to be there.  The city was founded in 1960 following the discovery of iron ore in the region.  The city rapidly grew in size.
Infrastructure such as a hospital, airport, churches, primary and secondary schools and other businesses were quickly built to make life easier for new residents.  At its peak, the city had about 4,000 inhabitants.
In the 1970s, steel production fell across North America as a result of the 1973–1975 recession.  Its effect lasted well into the 80s.  By the mid-1980s, the mines were no longer turning profit, and it was decided that the mines were closed.  The city was evacuated, but instead of leaving the existing buildings intact, the entire town was razed to the ground in 1985.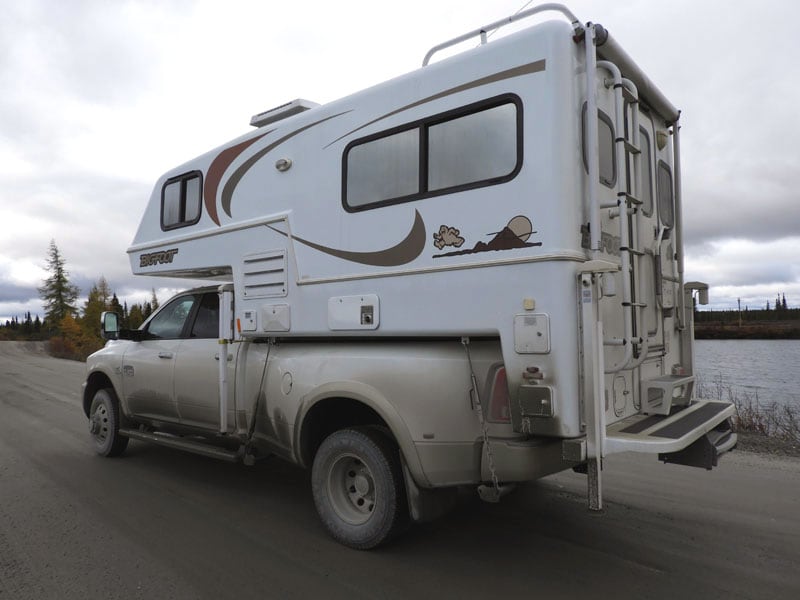 Above: After 360-miles of driving on gravel, Quebec
After touring the Manic 5 dam we ended up driving Route 389 to Baie-Comeau.  Now the end of September, it was dark.  That night we stayed in a hotel.  It was the only night of our trip we didn't stay in our camper.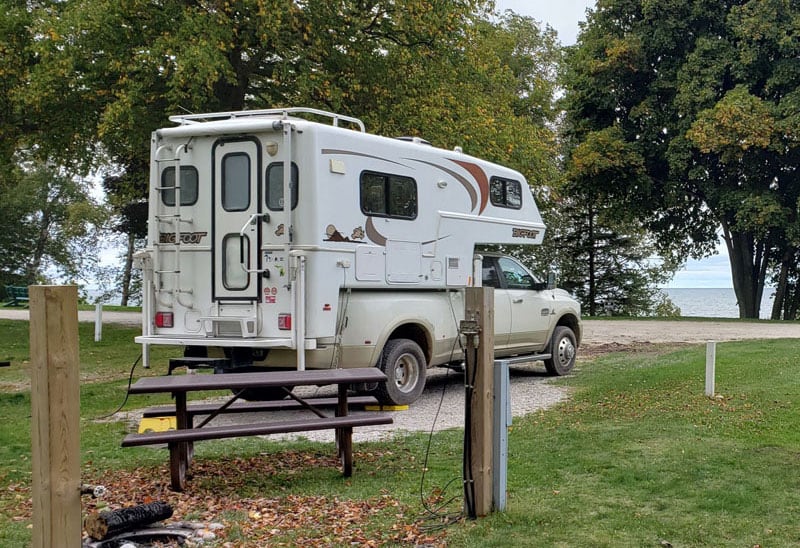 Above: Grand Marais Campground, Upper Peninsula, Michigan
We drove south to another ferry to Saguenay.  Then we took Highway 170 and went up around Lake Saint Jean, and took Highway 167 through Chibougamau.  Afterwards we drove through Ontario.  We came across the border at Sault Ste. Marie, went to Grand Marais, and then to Trout Lake in the Upper Peninsula of Michigan.  The next day we crossed the Mackinac Bridge and we were home again.
Newfoundland Travel Tips
We decided to leave for our Newfoundland trip with no reservations ahead of time.  We set out in September knowing that the kids would be back in school and it would be less crowded.  Pretty much everywhere we went we didn't require reservations or accepted reservations the night before.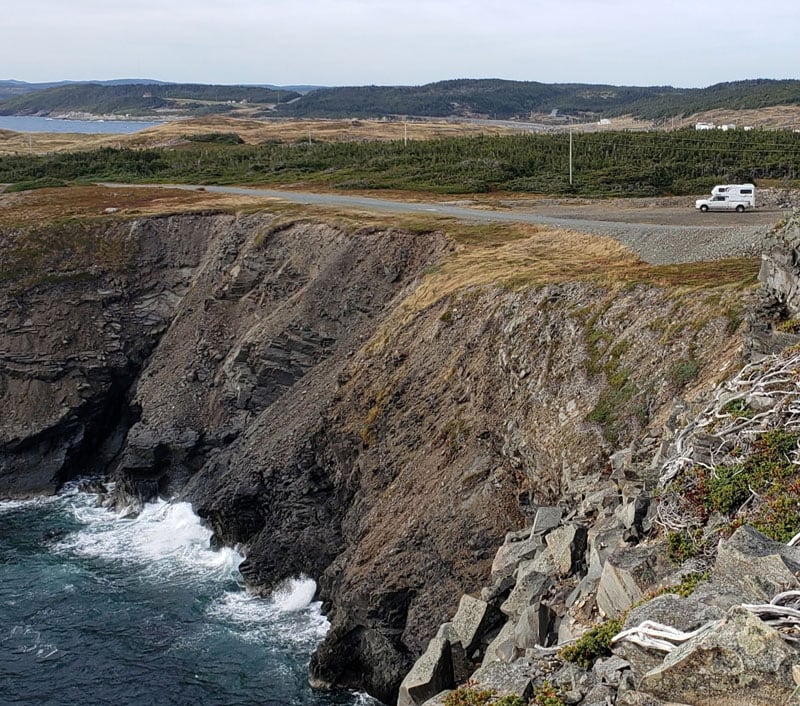 Above: Boondocking on a bluff in English Harbour, Newfoundland
If we do this trip again, we will go during warmer weather so we can do more hiking.  It was cloudy, overcast, and rainy most of the time we were there.  After seeing how remote it is, it's unlikely to get a huge summer crowd.
Newfoundlanders like to camp, but even in September, many of the campgrounds were already closed for the year.  We boondocked most of the time and the provincial parks were still open with only a handful of campers.  We basically had the whole place to ourselves.
Editor's Note: We recently spoke with fellow truck camper, Roy Garland, who traveled to Newfoundland last summer. According to Roy, even during peak season, campground reservations are rarely needed in Newfoundland.
We met a couple from Saint John's, Newfoundland on the ferry that shared lots of places we should go to next time.  One was Bell Island on Conception Bay which is an iron ore mine under the Atlantic Ocean.  You descend 800-feet in an elevator and see a city mining iron.
Fogo Island is a fishing town that you need to take a ferry to visit.  It's near Twillingate, but we didn't make it there.
The entire trip was interesting in that we didn't see any form of wildlife; not even road kill.  They say watch out for the moose.  Well, we talked to a guy who told us that he has lived there his whole life and has only seen five moose.
We're still glad we visited Labrador to see what total wilderness is, but it was day after day forests and forests, and lakes and lakes.
We played the whole trip by the seat of our pants.  We couldn't do a lot of touristy things like whale watching and seeing the puffins because we were not there in season.  Art galleries and stores were closed. After Labor Day a lot shuts down.  That's what we found out on this trip.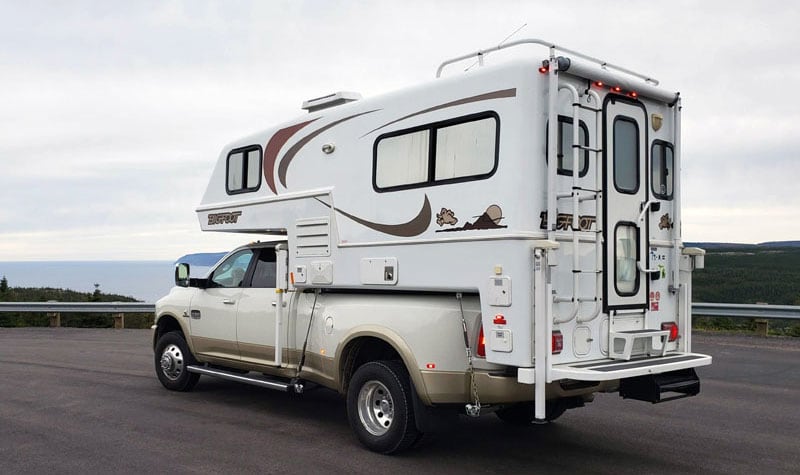 Above: Nova Scotia on the way south from Meat Cove
The coast line and lighthouses were gorgeous, and I wouldn't trade any of that.  Being from Michigan, I love the water.  When we go again, we will explore the southern part of Newfoundland that we didn't get to explore.
We have more articles about Newfoundland, Labrador, Nova Scotia, and the other Canadian Provinces in our Touring Canada section.  Check it out!