Then Hallmark showed us how to use the cassette toilet, coached us on cold weather camping, told us what to watch out for including what could freeze and what would not freeze, and they explained how to properly operate the pop-up roof system.  It took two hours to go from one end of the camper to the other.
Pat: The Hallmark owners manual is very good, and it's in order.  During our walkthrough, Hallmark also showed us where stuff was in the manual.  When we don't know what we're doing we can pull out the manual.
TCM: Why did you opt for the Coosa composite cabinetry and support material?
Brian: We are really impressed with the Coosa.  We chose it for its light weight and high strength.  I'm amazed at how it can have that much strength for the weight and dimensions it is.  We are glad we went with Coosa.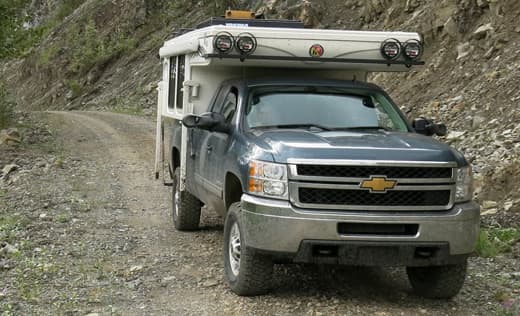 Above: The custom light bar with Warn remote control off-road lights, road to West Lake, Yukon
TCM: You said that you modified the truck and camper for "roads less traveled".  How have you modified your rig?
Brian: The most obvious modification is a custom light bar that we had Hallmark install on the front cabover.  When Hallmark installed it, I didn't yet have the Warn remote control lights yet.  The bar was prewired for the lights which were added later.  We wanted the lights because we've been stuck in the dark once too often.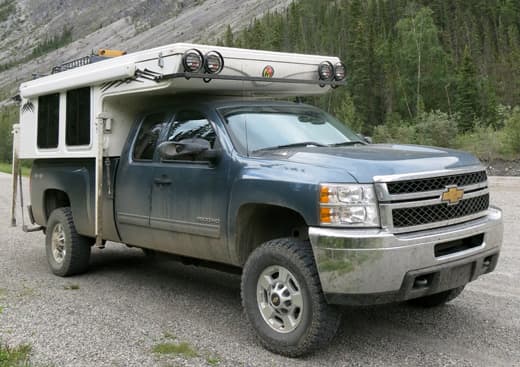 Above: Alaska Highway, northern British Columbia – Note the 33" Dick Cepek tires
I also have a two inch lift on the truck because I wanted 33" Dick Cepek tires and better ground clearance.  The Cepek tires are aggressive radial tires that I have used on other four-wheel drive vehicles.  They are noisy, but I have reached 70,000 kilometers on a set and I wanted their aggressive grip.
I installed a leveling kit that brings the nose of the truck up another inch.  I removed some of the air dams on the front of the truck to get better clearance.  Finally, I have the skid plate package throughout the under carriage.  Lastly we up fitted the rear springs with Firestone air bags, with remote control option and onboard air compressor to level out the ride height.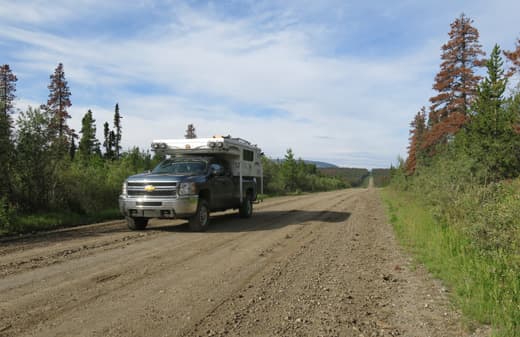 Above: Traveling on the Old Alaska Highway, northern British Columbia
TCM: What's your truck camping lifestyle like?
Pat: I teach so I have summers off and Brian has six weeks of vacation.  During the summer we go on two week stints to the backcountry of British Columbia and Alberta.
We live in foothills of Rocky Mountains.  There are back roads all over to go out exploring on.  When we are working, we'll go out on the weekends.  After an hour and half drive, we're in the back country.
Brian: We always look for a road that ends at a lake, gold mine, or ghost town.  That way we get more out of the journey.  We have been on trips and never reached the destination because we're having too much fun on the journey.  Then we have to head back because we still work.
Above left and middle: Summit Lake Campsite, northern British Columbia, Right: Lizard River, northern British Columbia
TCM: How do you navigate in the Canadian backcountry?