TCM: With you living in Alberta, how did you go about ordering your factory direct Hallmark in Denver?
Brian: After the Expo, I communicated with Hallmark by phone calls but mostly via email.  Pat and I already knew what features we wanted in the camper, but we still needed to work through our interior fabric choices and what specific style of roof rack we would get.
We got all of these details squared away via emailed messages and pictures from Hallmark.  Once our shopping list was complete, Hallmark gave us a time frame for our build, and they met it.
TCM: Tell us about picking up your camper.
Brian: I have to give kudos to Hallmark as they got the camper ready for camping and installed the day we arrived from Alberta.  They really made the whole process painless because everything was prepared ahead of time.  The camper worked well right from day one.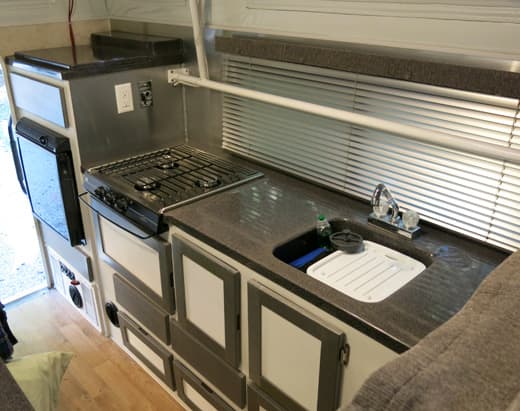 Above: Pat and Brian requested Coosa composite cabinetry
TCM: You told us that you knew what you wanted on your camper.  What specifically did you order?
Pat: We bought a 2012 Hallmark K2.  Hallmark was willing to work with our requested changes.  For example, the camper we saw at the Overland Expo had a different cabinet style than the norm.  Hallmark told us this was a custom unit, one off for the Expo.  We were looking for a more industrial look, just like this custom work we saw at the Expo.  When we asked if they could do it again for us they said not a problem and were able to do that for us.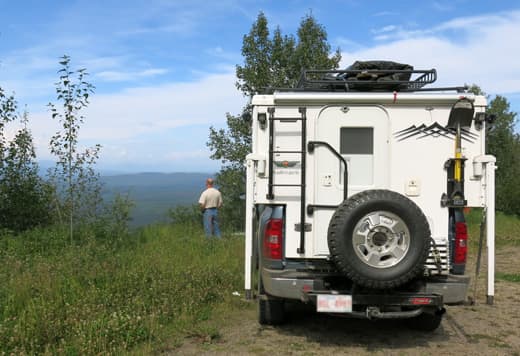 Above: The Pilats had an expedition shovel and roof rack installed, Old Alaska Highway, northern British Columbia
We also changed the refrigerator.  We wanted a refrigerator that could work off-level and exclusively on solar power.  Again they helped us match a large solar panel system to an efficient 12-volt refrigerator to make that request a reality.
Brian: We eliminated the grey water tank from our build.  Instead we have a larger forty gallon fresh water tank.  Our grey water goes into an outside pail, which we dump before leaving our campsite.  We also requested a thinner, better foam on the bed.  This allows us to leave things on the bed when the pop-up roof is closed.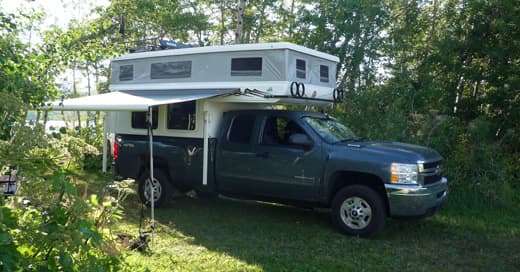 Above: Using the side awning at a campsite
We also had Hallmark install awnings on the passenger's side and over the rear door.  We weren't anticipating using the awnings but, for a little extra cost and weight, we thought they would be nice to have.  Already we have used the awnings more than we thought we would.  We're glad we have them.
TCM: Another interesting feature you requested was a Creek Fill toilet.  Tell us about this toilet system and why you chose it.
Brian: With the Creek Fill and cassette unit, we are able to top up the flush water from anywhere with any quality of water.  The cassette allows for dumping anywhere and anytime at our convenience.  It has worked flawlessly, and we like that everything is accessed from the outside of the camper.
TCM: How was the transition from tent camping to truck camping?  Did it take you long to learn how to use your new truck camper?
Brian: The initial walkthrough at Hallmark really helped with that.  Hallmark showed us how to load the camper and then made me do it twice to make sure that I knew what I was doing.