Pat and Brian Pilat take their Hallmark K2 deep into Canada's wilderness searching for gold mines, ghost towns, and more.  Get lost, and find what you're looking for.

Down a rural road, way out in the country, just in back of the sticks, and a few miles beyond the boonies, there's the backcountry.  Some call it the outback, the wilderness, or the bush.  Whatever you call it, it's a place far from the day-to-day reaches of mankind, where the nature is pristine, and the landscapes are untouched.
The very idea of being in such a place is enough to scare the living daylights out of most of us.  But, for a very select few, the concept of being in the backcountry, beyond reach of our hectic culture, is heaven on Earth.  No media, no phone, no shopping malls – no problem.  You can have your civilization.  They'll take the backcountry.
Two years ago, Pat and Brian Pilat ordered a custom Hallmark K2 for the exact purpose of exploring some of Canada's most remote regions.  The tent was out, the camper was in, and the journey was at least as important as the destination.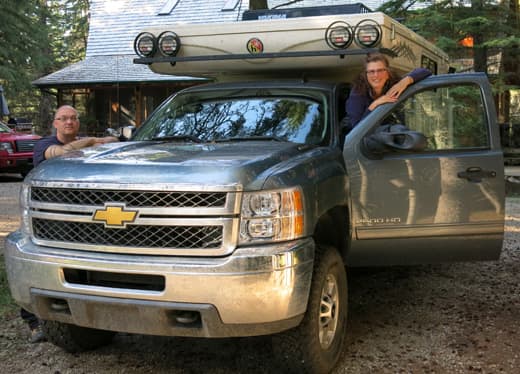 Above: Brian and Pat Pilat, their 2012 Chevy Silverado 2500, and 2012 Hallmark K2
TCM: How did you get into truck camping?
Pat: My husband and I started out as tent campers.  Three years ago we went on a two week tent camping trip where it rained almost the entire time.  During that experience I said to Brian, "We need to get off the ground and into something that's not a tent if we're going to keep doing this".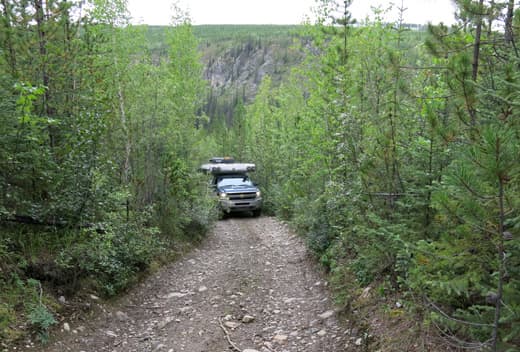 Above: Pat and Brian can still reach their favorite tent camping spots, road out of West Lake, Yukon
Soon after I started looking for another camping solution.  We still wanted to go off-road, so a travel trailer or fifth wheel wasn't going to work.  Then we looked at four wheel drive vans and truck campers at the 2012 Overland Expo.  At the Expo, it became clear that truck campers were a better fit for us.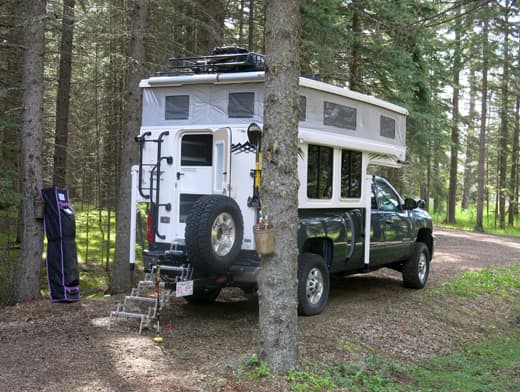 Above: Brian and Pat really like the tall entry door and large windows
TCM: What led you to a Hallmark pop-up truck camper?
Pat: Hallmark offers a 100% composite and molded fiberglass truck camper and designs their structure to allow the camper to flex during off-road travel.  We really liked that approach to material and extreme off-road worthiness.
Brian is over six feet tall, so the entry door in some of the pop-up campers was an issue.  Of the makes and models we were considering, Hallmark has the tallest pop-up door.
I also love the windows in the Hallmark because they are big and let in a lot of light.  The storage under the bed is equally impressive.  I can fit a minimum of two weeks of clothes in the under bed storage compartment.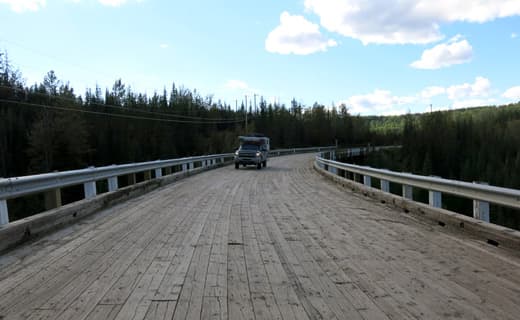 Above: Last wooden truss bridge on the highway that's still in active use, Old Alaska Highway, northern British Columbia