Pat and Brian Pilat take their Hallmark K2 deep into Canada's wilderness searching for gold mines, ghost towns, and more.  Get lost, and find what you're looking for.

Down a rural road, way out in the country, just in back of the sticks, and a few miles beyond the boonies, there's the backcountry.  Some call it the outback, the wilderness, or the bush.  Whatever you call it, it's a place far from the day-to-day reaches of mankind, where the nature is pristine, and the landscapes are untouched.
The very idea of being in such a place is enough to scare the living daylights out of most of us.  But, for a very select few, the concept of being in the backcountry, beyond reach of our hectic culture, is heaven on Earth.  No media, no phone, no shopping malls – no problem.  You can have your civilization.  They'll take the backcountry.
Two years ago, Pat and Brian Pilat ordered a custom Hallmark K2 for the exact purpose of exploring some of Canada's most remote regions.  The tent was out, the camper was in, and the journey was at least as important as the destination.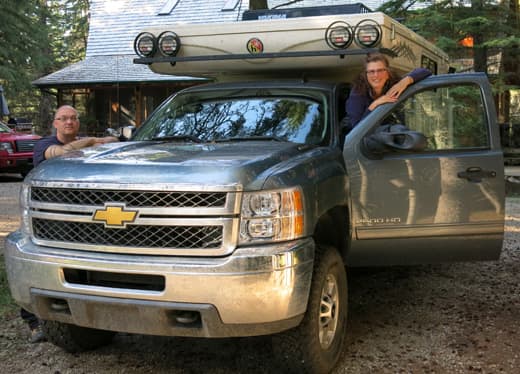 Above: Brian and Pat Pilat, their Chevy Silverado 2500 and Hallmark K2
How did you get into truck camping?
Pat: My husband and I started out as tent campers.  Three years ago we went on a two week tent camping trip where it rained almost the entire time.  During that experience I said to Brian, "We need to get off the ground and into something that's not a tent if we're going to keep doing this".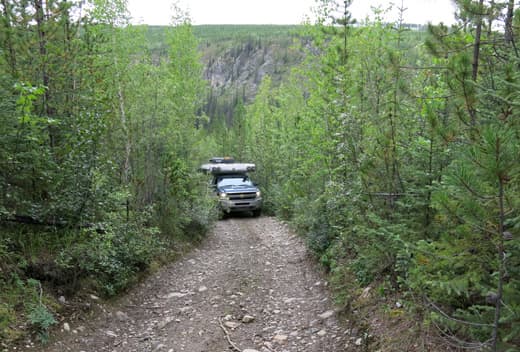 Above: Pat and Brian can still reach their favorite tent camping spots, road out of West Lake, Yukon
Soon after I started looking for another camping solution.  We still wanted to go off-road, so a travel trailer or fifth wheel wasn't going to work.  Then we looked at four wheel drive vans and truck campers at the 2012 Overland Expo.  At the Expo, it became clear that truck campers were a better fit for us.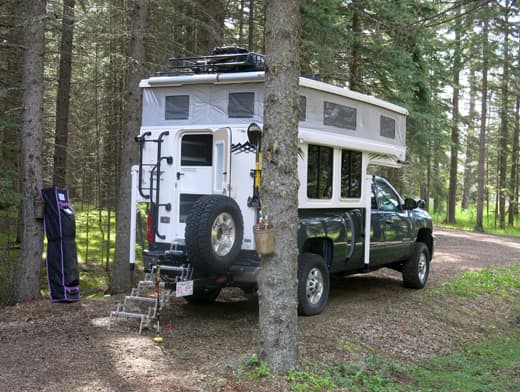 Above: Brian and Pat really like the tall entry door and large windows
What led you to a Hallmark pop-up truck camper?
Pat: Hallmark offers a 100% composite and molded fiberglass truck camper and designs their structure to allow the camper to flex during off-road travel.  We really liked that approach to material and extreme off-road worthiness.
Brian is over six feet tall, so the entry door in some of the pop-up campers was an issue.  Of the makes and models we were considering, Hallmark has the tallest pop-up door.
I also love the windows in the Hallmark because they are big and let in a lot of light.  The storage under the bed is equally impressive.  I can fit a minimum of two weeks of clothes in the under bed storage compartment.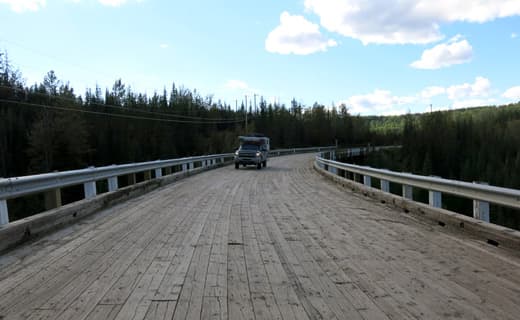 Above: Last wooden truss bridge on the highway that's still in active use, Old Alaska Highway, northern British Columbia
With you living in Alberta, how did you go about ordering your factory direct Hallmark in Denver?
Brian: I communicated with Hallmark by phone calls but mostly via email.  Pat and I already knew what features we wanted in the camper, but we still needed to work through our interior fabric choices and what specific style of roof rack we would get.
We got all of these details squared away via emailed messages and pictures from Hallmark.  Once our shopping list was complete, Hallmark gave us a time frame for our build, and they met it.
Tell us about picking up your camper.
Brian: I have to give kudos to Hallmark as they got the camper ready for camping and installed the day we arrived from Alberta.  They really made the whole process painless because everything was prepared ahead of time.  The camper worked well right from day one.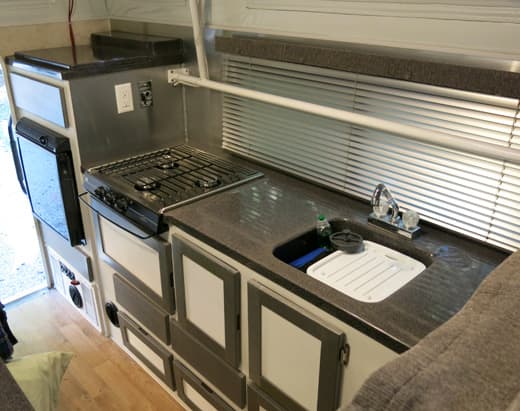 Above: Pat and Brian requested Coosa composite cabinetry
You told us that you knew what you wanted on your camper.  What specifically did you order?
Pat: We bought a Hallmark K2.  Hallmark was willing to work with our requested changes.  For example, the camper we saw at the Overland Expo had a different cabinet style than the norm.  Hallmark told us this was a custom unit, one off for the Expo.  We were looking for a more industrial look, just like this custom work we saw at the Expo.  When we asked if they could do it again for us they said not a problem and were able to do that for us.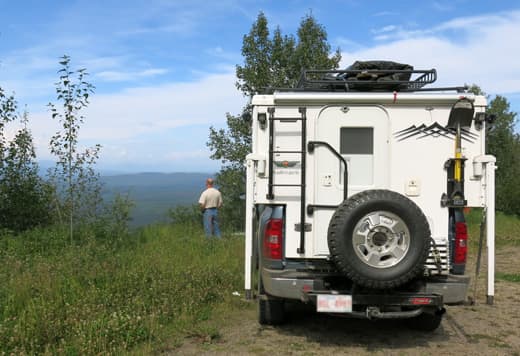 Above: The Pilats had an expedition shovel and roof rack installed, Old Alaska Highway, northern British Columbia
We also changed the refrigerator.  We wanted a refrigerator that could work off-level and exclusively on solar power.  Again they helped us match a large solar panel system to an efficient 12-volt refrigerator to make that request a reality.
Brian: We eliminated the grey water tank from our build.  Instead we have a larger forty gallon fresh water tank.  Our grey water goes into an outside pail, which we dump before leaving our campsite.  We also requested a thinner, better foam on the bed.  This allows us to leave things on the bed when the pop-up roof is closed.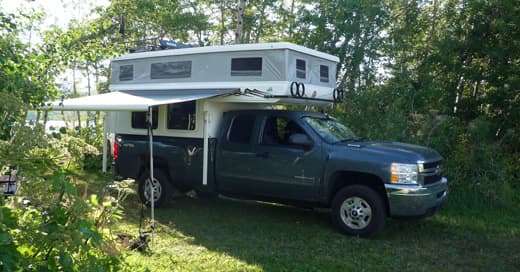 Above: Using the side awning at a campsite
We also had Hallmark install awnings on the passenger's side and over the rear door.  We weren't anticipating using the awnings but, for a little extra cost and weight, we thought they would be nice to have.  Already we have used the awnings more than we thought we would.  We're glad we have them.
Another interesting feature you requested was a Creek Fill toilet.  Tell us about this toilet system and why you chose it.
Brian: With the Creek Fill and cassette unit, we are able to top up the flush water from anywhere with any quality of water.  The cassette allows for dumping anywhere and anytime at our convenience.  It has worked flawlessly, and we like that everything is accessed from the outside of the camper.
How was the transition from tent camping to truck camping?  Did it take you long to learn how to use your new truck camper?
Brian: The initial walkthrough at Hallmark really helped with that.  Hallmark showed us how to load the camper and then made me do it twice to make sure that I knew what I was doing.
Then Hallmark showed us how to use the cassette toilet, coached us on cold weather camping, told us what to watch out for including what could freeze and what would not freeze, and they explained how to properly operate the pop-up roof system.  It took two hours to go from one end of the camper to the other.
Pat: The Hallmark owners manual is very good, and it's in order.  During our walkthrough, Hallmark also showed us where stuff was in the manual.  When we don't know what we're doing we can pull out the manual.
Why did you opt for the Coosa composite cabinetry and support material?
Brian: We are really impressed with the Coosa.  We chose it for its light weight and high strength.  I'm amazed at how it can have that much strength for the weight and dimensions it is.  We are glad we went with Coosa.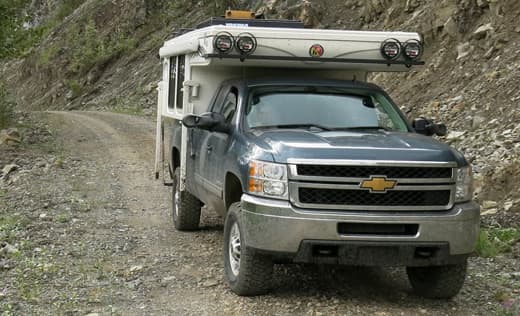 Above: The custom light bar with Warn remote control off-road lights, road to West Lake, Yukon
You said that you modified the truck and camper for "roads less traveled".  How have you modified your rig?
Brian: The most obvious modification is a custom light bar that we had Hallmark install on the front cabover.  When Hallmark installed it, I didn't yet have the Warn remote control lights yet.  The bar was pre-wired for the lights which were added later.  We wanted the lights because we've been stuck in the dark once too often.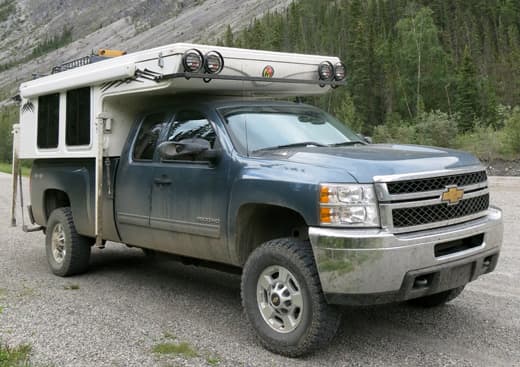 Above: Alaska Highway, northern British Columbia – Note the 33" Dick Cepek tires
I also have a two inch lift on the truck because I wanted 33" Dick Cepek tires and better ground clearance.  The Cepek tires are aggressive radial tires that I have used on other four-wheel drive vehicles.  They are noisy, but I have reached 70,000 kilometers on a set and I wanted their aggressive grip.
I installed a leveling kit that brings the nose of the truck up another inch.  I removed some of the air dams on the front of the truck to get better clearance.  Finally, I have the skid plate package throughout the under carriage.  Lastly we up fitted the rear springs with Firestone air bags, with remote control option and onboard air compressor to level out the ride height.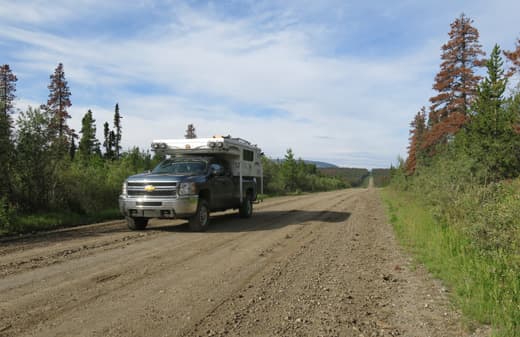 Above: Traveling on the Old Alaska Highway, northern British Columbia
What's your truck camping lifestyle like?
Pat: I teach so I have summers off and Brian has six weeks of vacation.  During the summer we go on two week stints to the backcountry of British Columbia and Alberta.
We live in foothills of Rocky Mountains.  There are back roads all over to go out exploring on.  When we are working, we'll go out on the weekends.  After an hour and half drive, we're in the back country.
Brian: We always look for a road that ends at a lake, gold mine, or ghost town.  That way we get more out of the journey.  We have been on trips and never reached the destination because we're having too much fun on the journey.  Then we have to head back because we still work.
Above left and middle: Summit Lake Campsite, northern British Columbia, Right: Lizard River, northern British Columbia
How do you navigate in the Canadian backcountry?
Pat: We use a backroads map book.  We have one for British Columbia and one for Alberta.  All of the roads are in those books including gravel roads.  There are also symbols for lakes, gold mines, ghost towns, and mining areas.  There are recreation sites with one camping space that is used or maintained or tent camping spaces with tables.  We look for those places.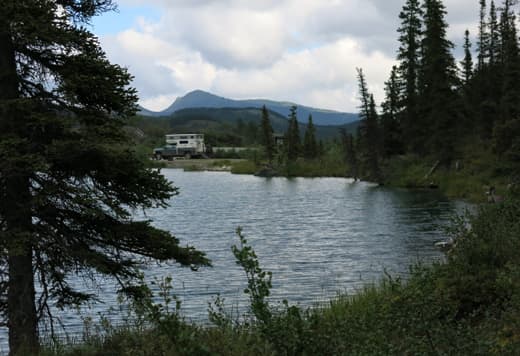 Above: Summit Lake, northern British Columbia
The books are called the Backroads Map Book Outdoor Recreation Guide, backroadmapbooks.com.  We use these books extensively.  Sometimes we do get lost and that's the way it goes.  Sometimes we find the best things when we get lost.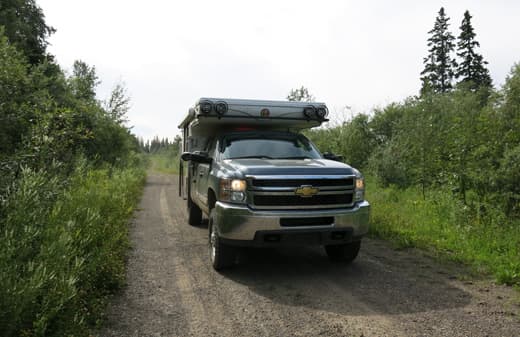 Above: Old Alaska Highway, northern British Columbia
Being that you're mostly off-road, have you ever gotten to a place that was impassable?
Brian: Yes, we have not made our destination because mother nature interceded.  We mostly travel alone and do not have a winch on our truck, so we err on the side of caution.  If we are with another party, we might be more adventurous.  The trail will be there another day, and we'll go back.
Pat: This past trip was to the Yukon and West Lake.  We were driving on a gravel road that was very muddy.  A truck camper coming out passed us and we stopped to talk.  We told him that we were going to West Lake and he recommended that we should have chains to get down and back up the hill.
When we got there, we walked the hill first.  It was steep and rocky, and we decided to go with it.  We made it down and it was beautiful.  We were the only people camping next to the lake.
Initially we were going to stay there for two nights, but we decided on the second day as clouds started to gather at 4:00pm to go back up the hill.  If it had rained, we might not have been able to get back up.  I walked up to make sure no one was coming down.  Brian put the pedal to the metal and made it up.  For the rest of the night we camped on side of the road at the top of the hill.
Brian: It did rain that night and we knew it would have been tough to get up that hill in the morning.  It was a good call.  Since we travel alone, we have to be smart about  where we go.
Pat: We found an abandoned air strip from World War II that was kind of neat.  To go twenty-five miles to the site took us an hour and a half.  It was slow going.
What's next?
Brian: We are going out to Newfoundland.  I've been there, but Pat has not.  I want her to stand on the most easternmost place in North America.  That will be a three to four week trip.
Pat: We also want to travel down the coasts of Washington, Oregon, and California.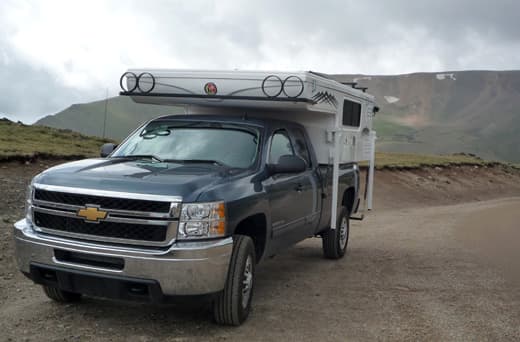 Above: Exploring Trail Ridge Road, Colorado
Brian: Our goal is to keep the truck and camper as an overland vehicle here in North America.  It's set up for trips to Alaska, Newfoundland, Florida, and Southern California.  It is our plan to hit everything in between in the coming years.
Our trips closer to home are typically over the weekend with an extra day tacked on to ensure we are fully fulfilled before returning to work.  We plan to continue extending our durations eventually going up to three months away from our home base.
Pat: I can't get over having a sink and stove wherever we go.  We don't use our stove that often because we do most of our cooking outside, but it sure is nice to have when we are camping in the morning when it's freezing outside.  I also enjoy flicking a switch to turn the furnace on.  In ten minutes, we are cozy warm.  It's awesome.  I love truck camping!
Brian: The camper is our next progression into the camping overland lifestyle.  And we can still go down those side roads.  That's why we didn't go with big camper.  An eight foot pop-up truck camper is what we wanted.  The Hallmark is perfect for us.
Truck: 2012 Chevy Silverado 2500, extended cab, SRW, long bed, 4×4, gas
Camper: 2012 Hallmark K2
Tie-downs/Turnbuckles: Happijac
Suspension: Firestone Airbags
Gear: Roof rack inflatable boat, solar panels, two twenty liter fuel cans, optional tray for steps, shovel and ax combination from Aluminess, light bar on front of camper, two inch lift for taller tires, onboard air compressor for supplementary air bags and to inflate and deflate tires and a boat