From the comfort of their Travel Lite pop-up truck camper, Anne and David Veres explore the freedom and possibilities of the open road, and make a living doing it.
Life has a way of putting us into stressful boxes full to the brim with endless work, obligations, and other seemingly impossible to escape urgent and stressful realities.  Sometimes these boxes are both necessary and unavoidable, but it can make those of us who hunger for adventure and the open road a little crazy.
Enter into your consciousness the concept of a truck camper; go anywhere, camp anywhere, tow anything.  The endless possibilities of the open road.  An exciting life, out of the box, and within reach.  Now add to that dream the idea of making a living, on the road.
If you're going out of your mind just thinking about this, the following story may just push you over the edge.  Yes, after reading the story of Anne and David Veres, you may finally tell your boss to shove it, buy a truck and camper, and hit the road.  The Anne and David are an inspiration, and a delicious temptation to attempt the possible.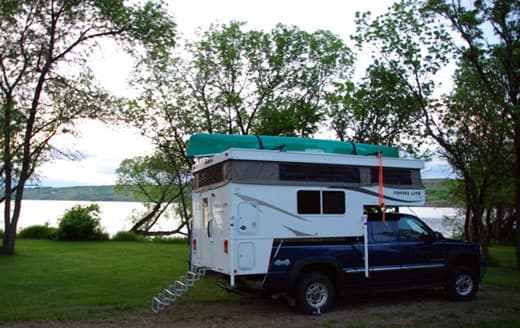 Above: Anne and David's Travel Lite 875PSBR at Buffalo Pound campground near Beaver Mines Lake, Pincher Creek, Alberta
TCM: How did you get into truck camping?
Anne: In 1998 we had a camper van that we eventually outgrew.  Dave had wanted to get a truck camper.  He did the research online and found our Travel Lite camper.  It was a good price because it was last year's model.
After just being able to sleep our camperized van, and not being able to stand up inside it, the Travel Lite was really nice.  With our Travel Lite, when it's raining, cold, or there are too many bugs, we have a nice shelter that we can hang out in.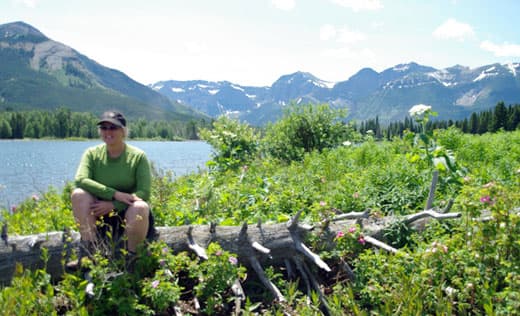 Above: Anne at Beaver Mines Lake, Alberta
TCM: How do you and your husband plan for trips?
Anne: We plan our trips together, even though our route is usually pretty easy as we stay on the major highways.  I'll look for neat places to stop for a picnic and to walk the dog.  I organize the food and do most of the cooking.  I have even made crepes with fresh fruit.  We probably eat better on the road than at home as it becomes a main part of our day.
Dave and I are really partners in our traveling.  It is our first year with the camper, I haven't driven it yet.  Dave and I have been together half our life.  We've worked together and owned an art gallery together.  We are with each other a lot and we love it.  Our border collie, Sok is with us too.  The three of us are really close.  While we're on the road, we brainstorm ideas about our business and I take notes and keep a journal.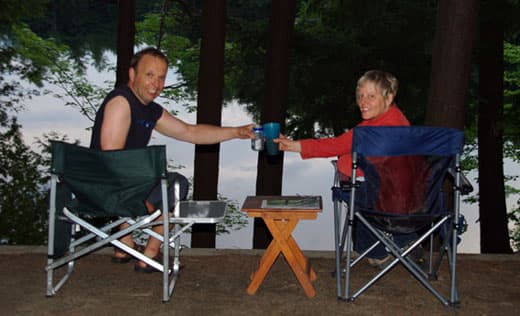 Above: David and Anne at Oastler Lake, Ontario
TCM: We do that too.  We're always talking about TCM as we travel and writing ideas for future stories or how to make improvements.  What do you do?
Anne: People always ask how we can afford being on the road.  We do a mixture of things; we don't have nine to five jobs.  I am a certified hypnotherapist and handwriting expert.  I also do some public speaking on how handwriting shows your personality traits.
Right now Dave is designing sports related accessories and products.  We are shareholders and partners in a golf product and accessories company.  We have an NHL license so we are able to logo our products with NHL hockey team logos.  I work along with Dave with the administrative end of it.  On our trip, we saw the Winnipeg Jets and the Toronto Maple Leafs.  They have seen our products and will now be clients of ours.  That business will provide us with some passive income from royalties on Dave's product designs.  Dave is also a working artist www.davidjveres.com.  He's been painting all of his life and on a full time basis for the last ten years and sells his art in Alberta art galleries.