Chuck and Joyce Webb have driven to Alaska and back three times; twice with their Alaskan truck camper.  Here are the routes they have taken and what they learned along the way.  If you're driving to Alaska, this is a must-read.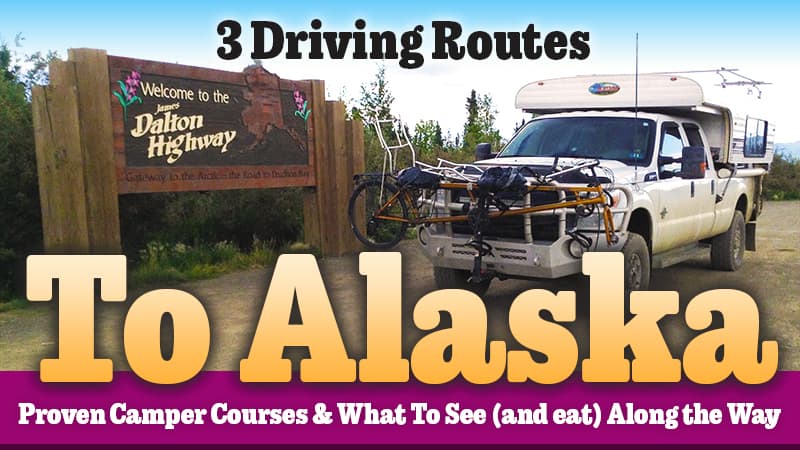 If you choose to drive to Alaska, there are basically three ways to travel.  First is the Alaskan Highway all the way starting in Dawson Creek, British Columbia, and ending in Delta Junction, Alaska.
Second, starting on the Alaskan Highway in Dawson Creek, British Columbia, detour via the Klondike Highway at Whitehorse to Dawson City, Yukon and then take the Top of the World Highway to Alaska.
The third and least common route is through British Columbia on Canadian 16 west through Prince George, then north on Highway 37 to Watson Lake, and then pick up the Alaskan Highway.  From Watson Lake, you can stay west on the Alaskan, or northwest on The Campbell Highway to hook up with the Klondike to Dawson City.
If you can, travel there and back in a loop so that you experience different roads, scenery, and opportunities.  Don't forget that Canada is the second-largest country in land mass in the world, so the drive is long.
What follows is a detailed look at each of these three route options and what to see and do along the way.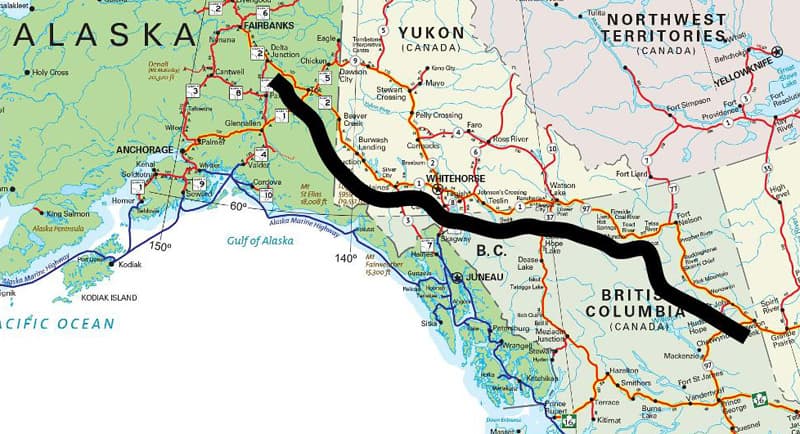 Route 1: The Alaskan Highway All The Way
The start of the Alaskan Highway is in Dawson Creek, British Columbia.  The first 613-miles / 987-kilometers of the Alaska Highway are in British Columbia, where it is designated as BC Highway 97 North.  The highway travels in a northwesterly direction to the Yukon border near Watson Lake (Historical Mile 635).
From there it continues as Yukon Highway 1, crossing 577-miles / 929-kilometers of Yukon to Port Alcan on the Alaska border.  The road is two lanes and paved the entire length, but construction is possible at any point, meaning there are some stretches of gravel.  The road is open all year round.
As with all roads in the area, wildlife abounds and can appear at any time.  Bison wander wild along the road, as do moose, bear, and varieties of sheep and goats.
From Dawson Creek to Watson Lake there are several Provincial Parks to choose from, and all are beautiful.  Toad River is a fuel stop just before Liard Hot Springs Park, and a great place to stop and stretch.  At Toad River, you'll discover awesome made-from-scratch cinnamon buns.  Buns are a northwest Canadian thing, and everyone tries to claim theirs are the best.  Sample often and judge for yourself.
Above: Now that's a cinnamon bun!
A stop at Liard Hot Springs is a must.  A short stroll from the large campground via a boardwalk takes you to a developed geothermal pool with changing areas and bathrooms.  Liard is very popular so try to arrive before 3:00 pm.  It may be difficult to find a spot in the campground after that.  Reservations were not possible when we passed through, but that may have changed.  There is an overflow camping area across the street from the campground, but it is just a parking lot.
Watson Lake in the Yukon Territory is one hub on the spoke of highway options to Alaska.  Watson Lake has a commercial campground with laundry and dump facilities.  Fuel and most repairs are available, as well as a couple of grocery options.  Another campground is west of town about ten miles at the junction of Route 37.
A must-see is the Sign Post Forest, which was initiated by a US Army Soldier during the original construction of the Alaskan Highway in 1942.  Now, over 80,000 signs of all kinds are maintained by the city.  If you're a mayor or city manager anywhere in the world wondering what happened to your welcome sign, it's probably in the Signpost Forest at Watson Lake.  The same goes for street signs.  You will find something familiar no matter where you're from. There is a great visitor's center at the Sign Post Forest that has current road and weather conditions.
Across from the Sign Post Forest is the Northern Lights Museum, which exposes you to the culture of the Yukon and the north.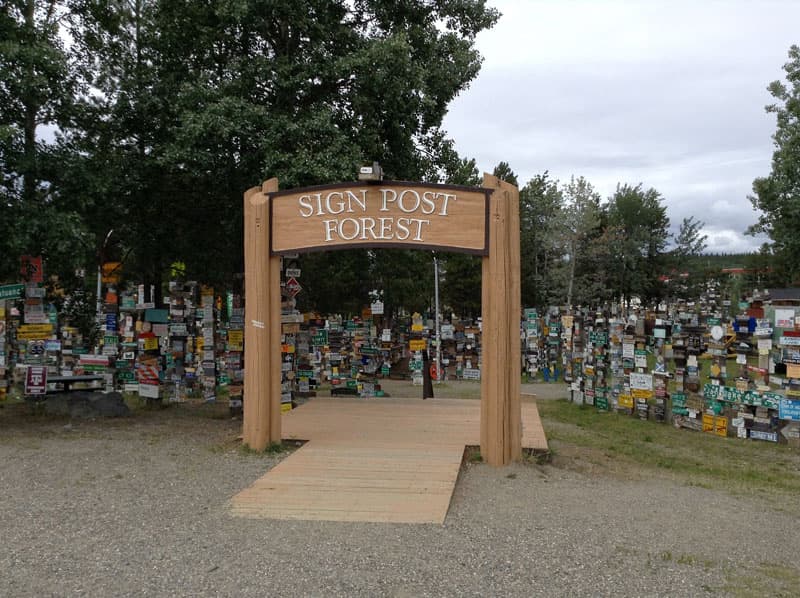 If you need to stock up for a while, you should go west from Watson Lake on the Alaskan Highway to Whitehorse.  Just before arriving in Whitehorse, however, you have the option at Jake's Corner to turn south and visit Skagway, Alaska.  We spent over a week in and around Skagway.
Several campgrounds are found in Whitehorse, and the Walmart looks like an RV park.  People really take advantage, and the management tries to limit stays.  Give them a break and stay at one of the local campgrounds.
Days can be spent in Whitehorse sightseeing and enjoying a variety of museums and restaurants.  Be sure to visit the riverboat downtown and the fish ladder around the dam south of town.
Whitehorse is a mecca for mountain biking and there are paved bike and walking trails by the Yukon River that run through the downtown.  Canoe rentals and outfitters can arrange backcountry and downriver trips.
The Alaskan Highway after Whitehorse offers some fantastic wilderness views. At Haines Junction, Yukon Territory, you can opt for another side trip down to Haines, Alaska.  The Yukon's parks along the route provide free, split firewood in the campgrounds.
You will enter Alaska just after the small town of Beaver Creek, Yukon Territory.
Route 2: Taking Klondike Highway to Dawson City and Top of the World Highway
If you choose route number two (which is literally Highway 2) you leave the Alaskan Highway in Whitehorse and go north.
During this part of the trip, we developed a condition called 'Awesome Overload' from just seeing one beautiful river, lake, and mountain range after another, and neglected to keep snapping photos.
If you take the Klondike Highway and Top of the World Highway from Whitehorse to Little Gold, Yukon/Poker Creek, Alaska (population 3) at the border of Canada and Alaska, it is a trip of 639-kilometers / 400-miles.
When you start on the Klondike Highway just north of Whitehorse, the road conditions are paved and two lanes, but subject to construction with gravel stretches.  The Klondike Highway is open year-round, but you must check conditions in the winter.
There are several territorial parks and a few small towns along the route.  Again, don't forget to sample the cinnamon buns, where you can.
The Klondike Highway follows the Yukon River and crosses several other rivers.  In the small town of Carmacks, you'll find a campground next to the Yukon River with a small restaurant boasting the 'Best Hamburger in the World!'.  It's a bold claim, indeed, but support them and judge for yourself.
Side Trip: Campbell Highway
If, at Watson Lake you decided to bypass Whitehorse and drive the Campbell Highway, to reach the Klondike Highway, you won't be disappointed.  There are lots of lakes and territorial parks to see.
The town of Faro has one of the best museums we've ever seen.  Faro is also the home to rare Fannin sheep and was once home to the world's largest zinc mine.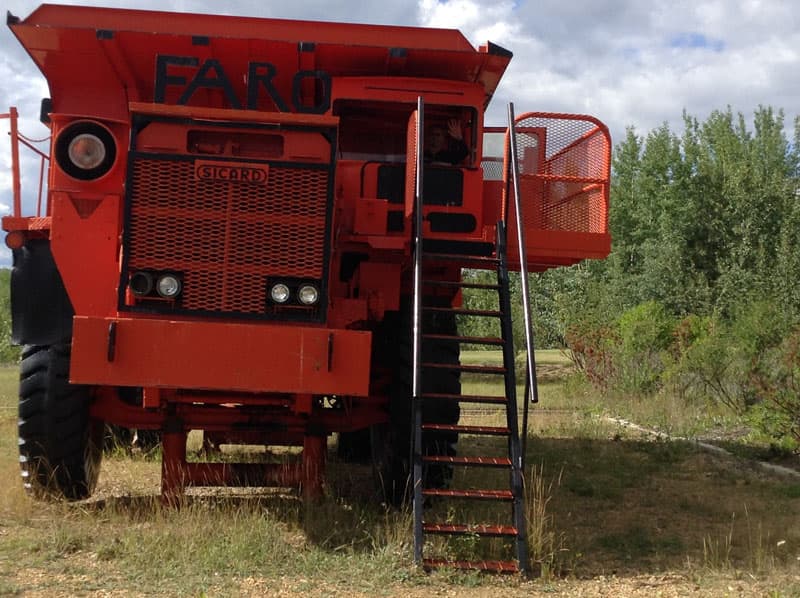 The Campbell Highway is split between gravel and pavement with ongoing construction.  After heavy rains, the conditions can be slick, and sometimes the road gets closed.  Check conditions in Watson Lake on the eastern end and at Carmacks on the western end at the intersection with the Klondike Highway.
On the Klondike Highway toward Dawson City, at Stewart's Crossing, you will see a sign toward Keno and Mayo on the Silver Highway.  Take it.  You won't be sorry.  There's boondocking and some territorial park camping along the way.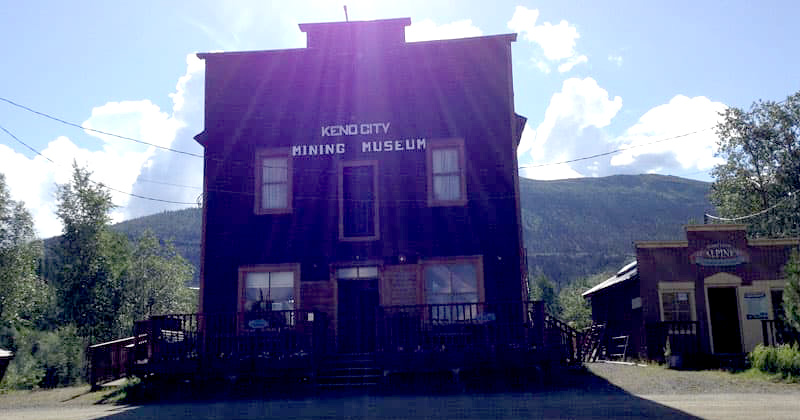 Above: Keno Mining Museum
About sixty-miles up the Silver Highway you reach the silver mining town of Keno City.  The mining museum in Keno is awesome and, across the street, there's a great pizza shop.
Let the owner of the pizza shop know you are going to the top of the mountain and he'll have a great pizza pie waiting on your return.  It's about a 12-mile round trip on a gravel road which is ideal for a truck camper.  You could stay at the top overnight, but remember you put in a pizza order.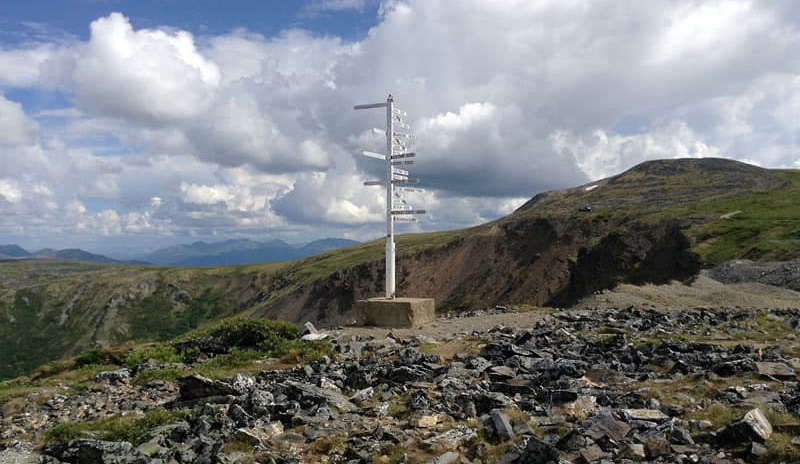 Above: Keno's signpost
Keno has its own signpost.  All you see is total wilderness in every direction.  The city does have a small RV parking area, but no facilities.  Take a walking tour of the town to see some really weird architecture.
Back down the Silver Highway onto the Klondike and you again have a choice just before Dawson City to go right on the Dempster Highway all the way to Tuktoyaktuk (Tuk) or on to Dawson City.  We'll go to Tuktoyaktuk first.
Side Trip: Dempster Highway all the way to Tuktoyaktuk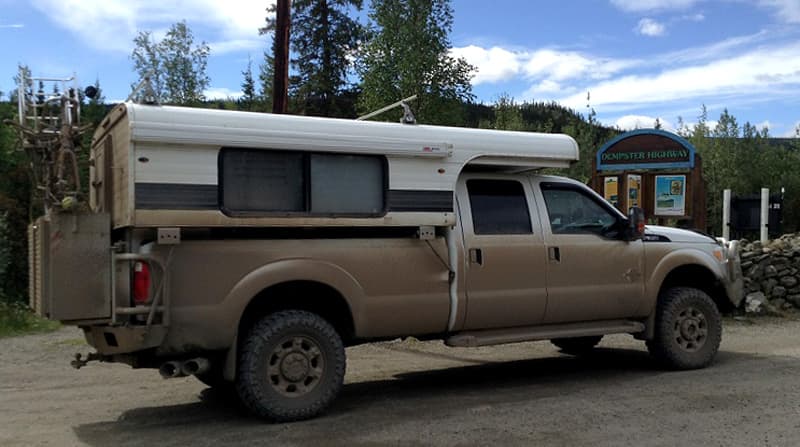 Above: Dempster Highway dirt on their Ford F350 and Alaskan Camper
The first stop on the Dempster should be Tombstone National Park.  There is great camping and plenty of trails heading out from the visitor's center.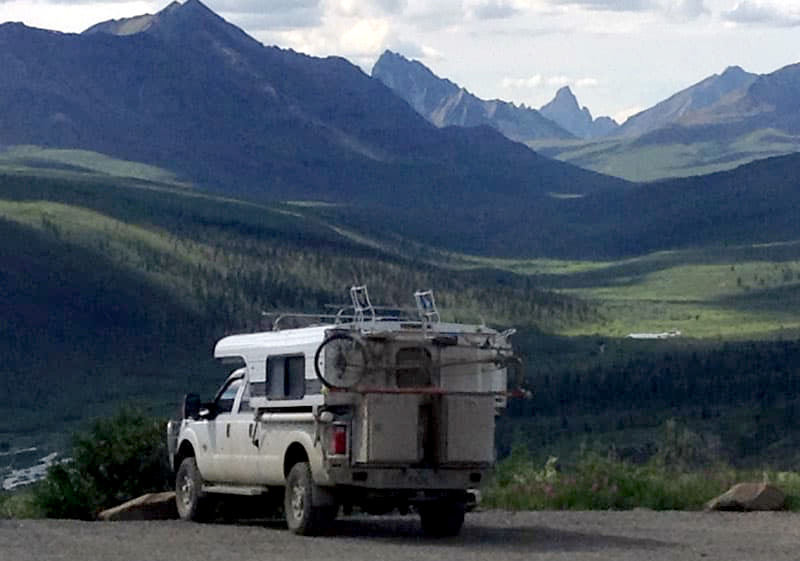 Above: Tombstone National Park, Yukon
As in most places, be aware of bears and bring bear spray.  Several interpretive walks are available by Rangers emphasizing plants, mushrooms, and birds.  North on the Dempster there are plenty of parks and boondocking.  Depending on the time of year, you may also need some bug protection.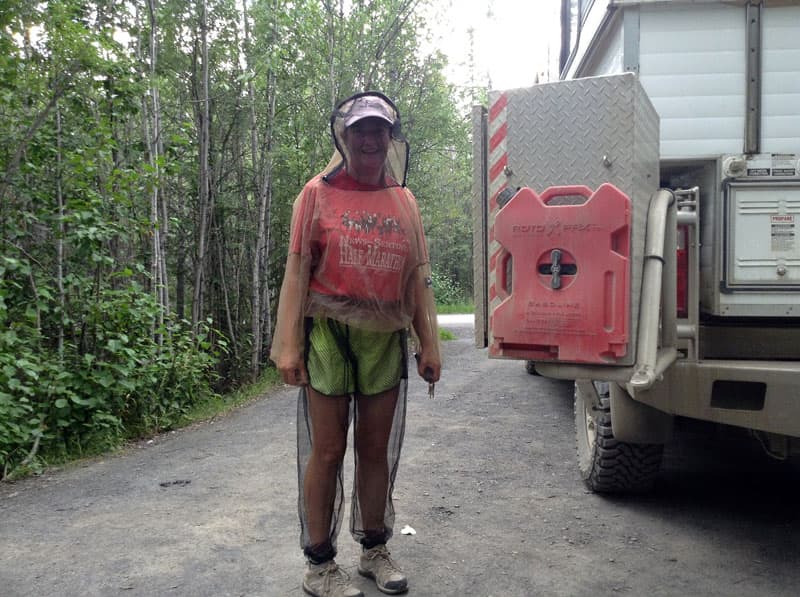 Above: A Yukon jogging suit
Eagle Plains is a logical overnight, with fuel, a restaurant, and a small RV park.  Electricity is generated locally.  With a full campground, you could experience some brown-outs.  Be gentle with electric appliances.
The next fuel stop and probable stay over is at the end of the Dempster in the town of Inuvik.  Inuvik is a modern city with amenities.  After Inuvik, you press on to the new Inuvik-Tuk Highway (ITH).
The road was actually completed and opened in late 2017, so the summer of 2018 was the first tourist season of use.  Lots of curious adventurers headed north in all sorts of means – Class Bs, truck campers, pull behinds, passenger cars, motorcycles, and even bicycles.  A lot of folks pulling trailers opt for dropping them in Inuvik and take a day trip to Tuk and back.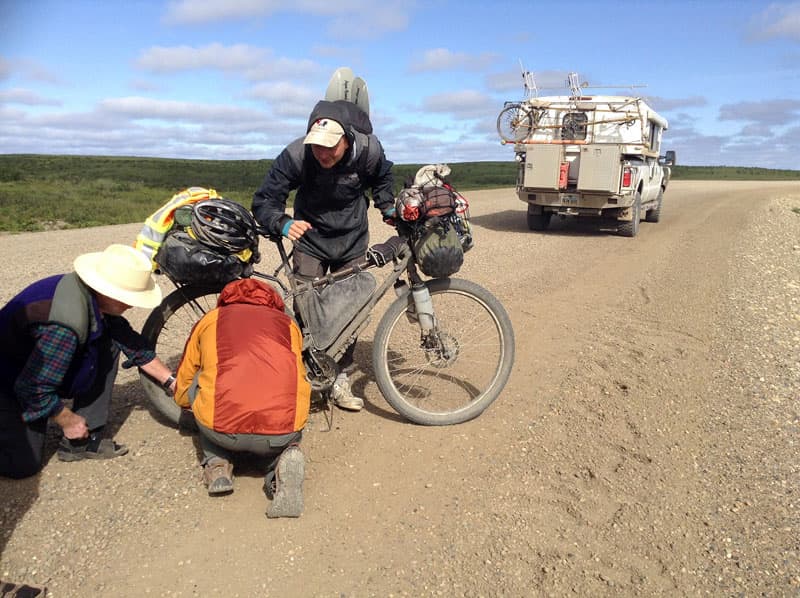 Above: Biker with a busted chain just outside of Tuk.  It took about 10-minutes to get him going.  Those are not wings on his back, but paddles for a raft he had on his bike.  This lad had peddled from northern California.
Closer to Tuk you'll start to see small hills, known as Pingoes.  Pingoes are formed by ice pushing up the soil into mounds.  Some can gain heights of several hundred feet, over hundreds of years, before eventually collapsing and melting away.  Natives still use the high points to scout for game.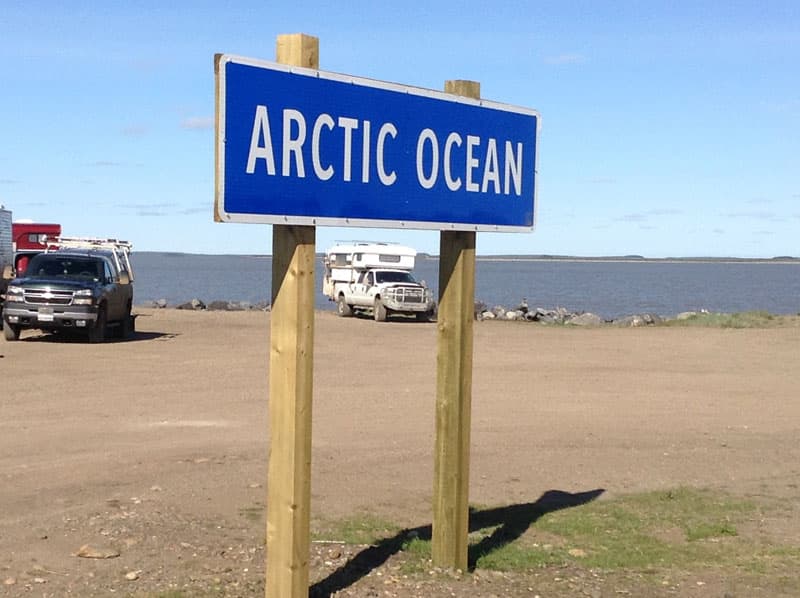 Camping at land ends in Tuk.  There are rumors of the town building a more permanent campground as they are still a little taken aback at the number of arriving tourists.  There are amenities in Tuk, so there should be no worries over fuel and food.
We stayed in Tuk for five days and never ran out of things to do.  There were craft shows and plenty of sightseeing all around town.
Another reason for our extended stay was to meet up with some fellow truck campers who were completing a paddle all the way down the MacKenzie River from Great Slave Lake.  That's a distance of over 1,000-miles.  They were having their truck camper delivered to Tuk by relatives in order to drive home.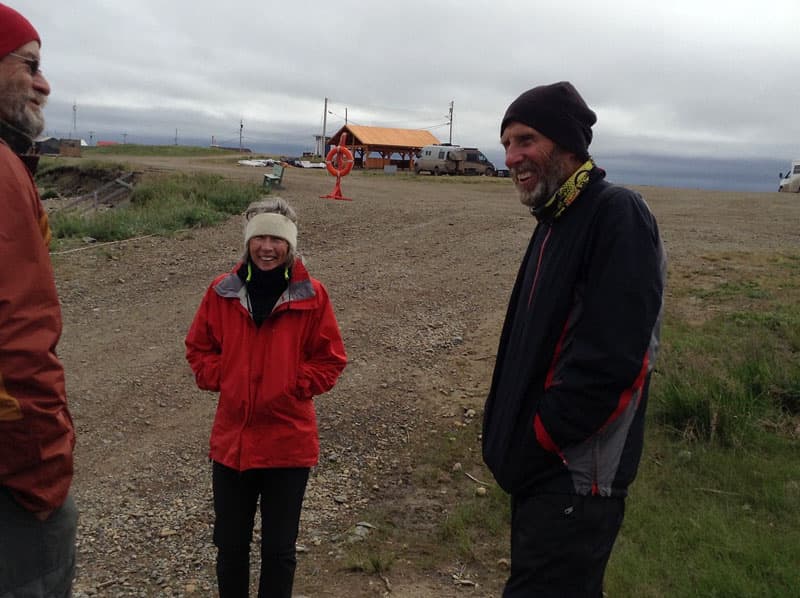 Above: Bob Stairs and Shelley Ross after six-weeks paddling on the MacKenzie River to Tuk.
We'd met the couple while boondocking in Lake Mead, Nevada, some eight months prior to this rendezvous.  So, this proves that you can actually paddle to Tuk, as well as drive there.
Above: Bob and Shelley's kayaks
The beauty of driving up and back on the same route is that you have a second chance to re-visit great spots or stop at the ones you drove past.
Back To The Klondike Highway Again
Dawson City was the hub in the 1890's Klondike Gold Rush.  There is lots of history in and around Dawson City – Jack London's home, museums, mining dredges, and some very colorful architecture.
There's one territorial park about ten miles east of Dawson City, several RV parks in town, and one territorial park just on the other side of the Yukon River accessible by a free ferry.  If you decide to take the Top of the World Highway, you'll use this ferry.   Yukon Territorial Parks provide free split firewood at various spots in campgrounds.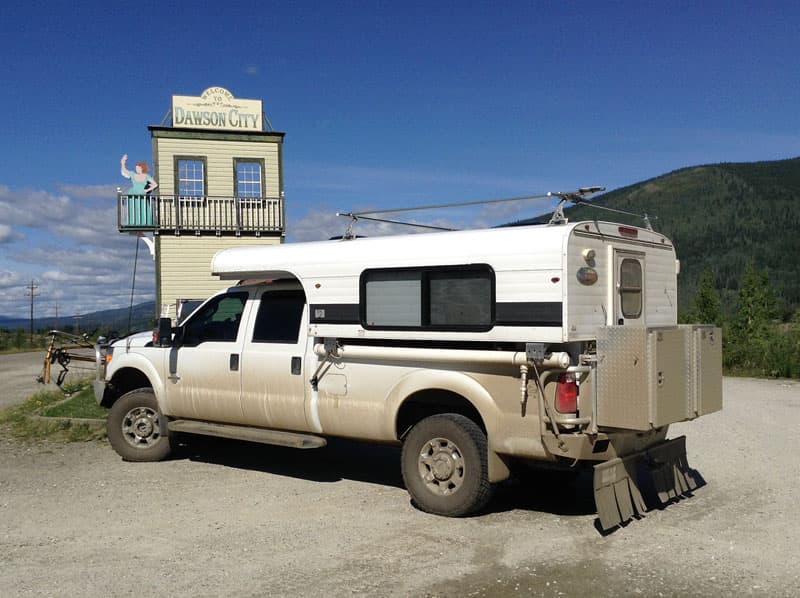 We've been to Dawson City several times and always had a great time.  The first time we were surprised by a music festival sponsored by the city.  There's a tent area requiring tickets to attend, but the city also has a central gazebo near the waterfront, where groups also play for free, with lawn seating.
The second time we visited Dawson City was to specifically go to the music festival.  In even years, you'll also be treated to a First Nation (Native) festival just down the Yukon River, at Moosehide.  Access to Moosehide is via small boats operated by locals, as there is no road access to Moosehide.

Above: The music festival gazebo in Dawson City
On Saturdays, there is also a farmer's market with fresh vegetables and crafts on the grounds.  If you buy fresh veggies and are continuing on the Alaska, be sure to get a 'Grown in the Yukon' sticker, or it could be confiscated at the border.
Dawson City has a challenge of building on permafrost.  Over the years, they have figured it out.  Early on, however, buildings took on shapes of their own, as the ground thawed and froze.  The streets in Dawson City are not paved, and it gets a little messy after rain.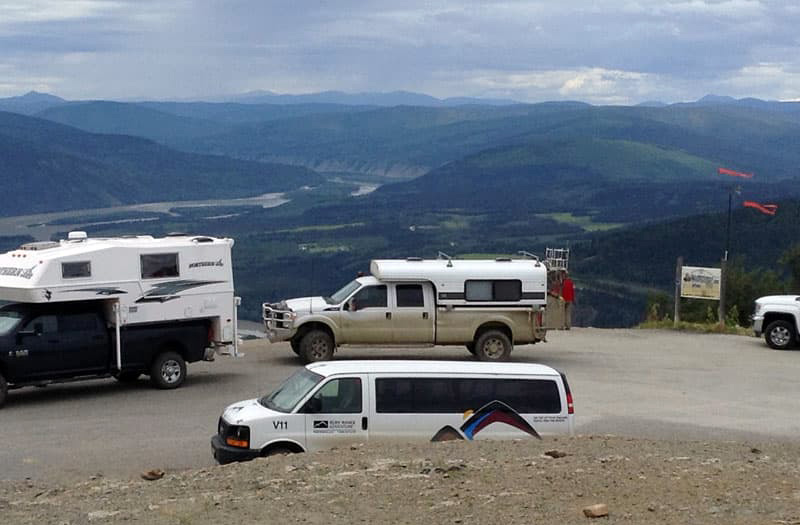 Above: The Midnight Dome above Dawson City is where the Yukon and Klondike Rivers converge. The Top of the World Highway to Alaska is in the distance.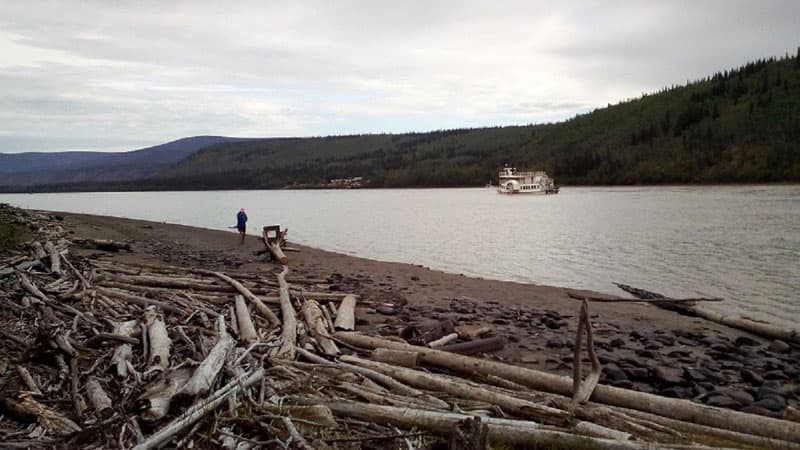 We recommend that you cross the Yukon River by ferry and stay at the territorial park for a night or two and enjoy the river.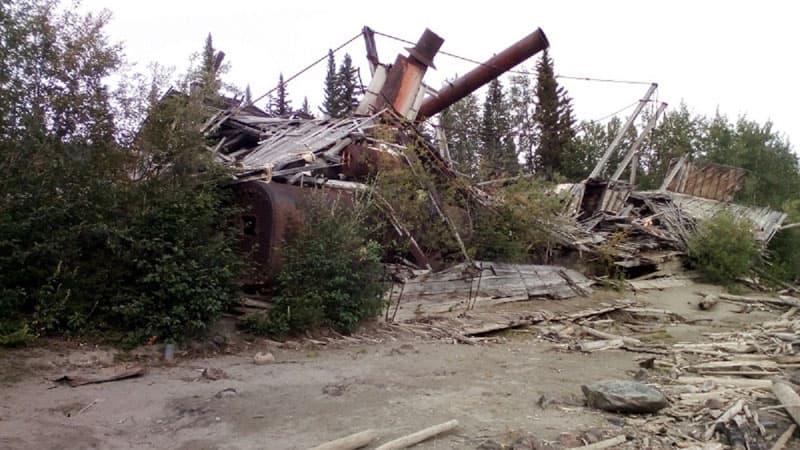 Just downstream from the park, walk along the river bank for about a quarter of a mile, and you'll discover some old wrecks of riverboats (pictured above).  Dawson City still operates a riverboat trip up and down a section of the river.
Why Travel On Top of the World Highway?
The Top of the World Highway should not be missed.  The unique feature of this road is implied by its name.  Instead of following the contours around mountainsides, it follows the ridgeline giving extraordinary views of the whole length of the road.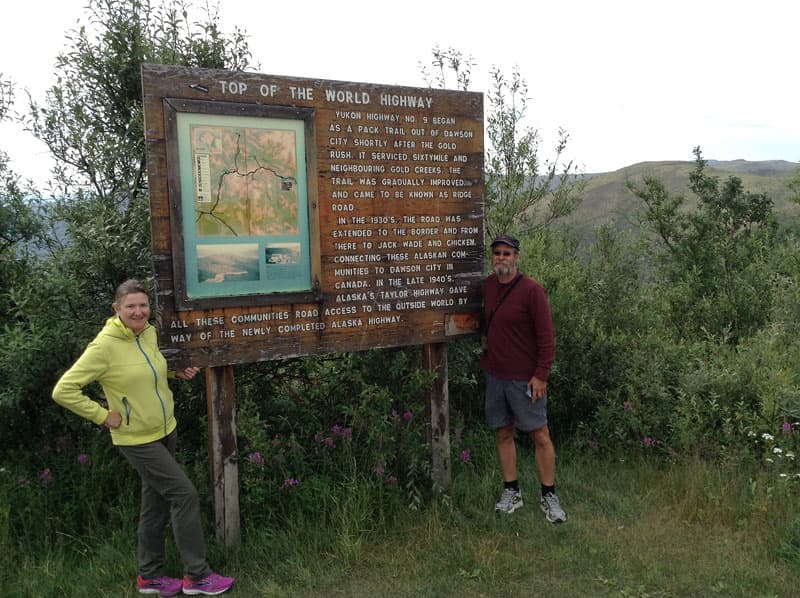 We recommend that you take it on a loop trip to or from Alaska.  The Top of the World Highway is gravel and there are no amenities or fuel, so stock up and top off your tank before driving.  This is in the range of some large caribou herds, so keep a sharp eye on the road and off the road.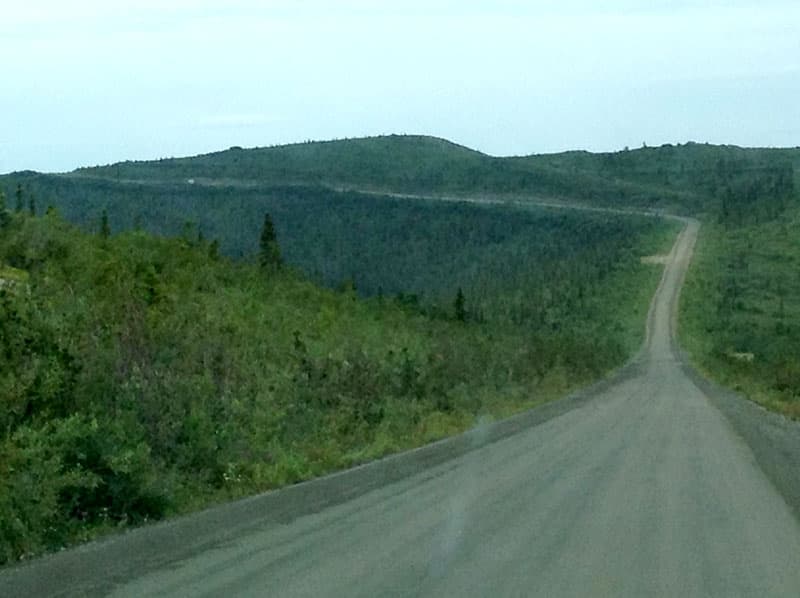 You'll be dumped directly into the wilderness of Alaska about 60 miles west of Dawson City.  There are lots of boondocking opportunities and campgrounds in big forests.
The first decision you have to make after crossing into Alaska is, "Do we go straight to Chicken, Alaska, or turn right and go to Eagle?"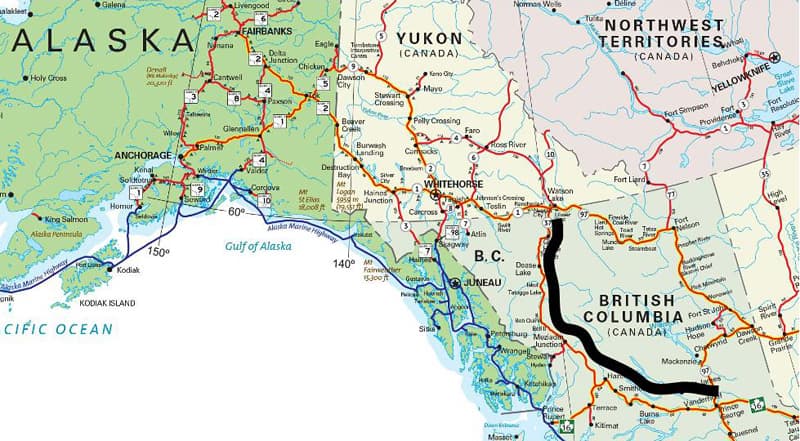 Route 3: British Columbia through Prince George to Watson Lake
Start in British Columbia on Highway 16 West, and then go north on Highway 37 to the Alaskan Highway.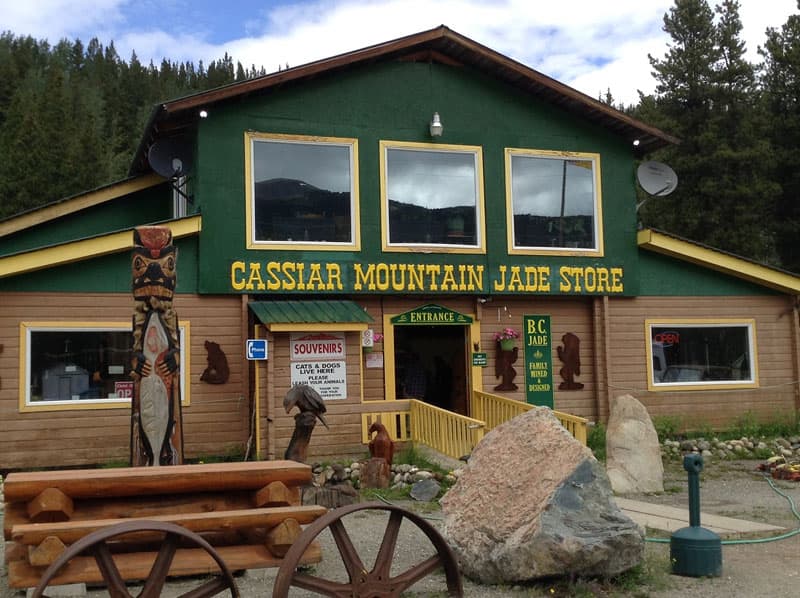 Above: Highway BC 37 Jade City.  Jade City is a nice break for travelers with a huge gem museum and shop.  You'll see almost any kind of transportation at the stop.  Lots of great BC parks along the route.
This route intersects the Alaskan Highway just west of Watson Lake and offers an alternative to reach the Alaskan Highway, from the south.  Along 16, west of Prince George, British Columbia are several BC Provincial Parks and lakes worth exploring.  North from Kitwanga on paved Route 37 offers some wilderness opportunities for boondocking or camping at BC Parks.
At Meziadin Junction turn west on paved route 37A for a short trip to Stewart, British Columbia, and Hyder, Alaska.  Just before Stewart is Bear Glacier Park.  There are awesome views of this hanging glacier and surrounding mountains.
Stewart is a shipping center for central BC and is actually the end of The Portland Canal, a fjord that flows to the Pacific Ocean.  There is a campground in town.
From Stewart, you can cross the border into Hyder, Alaska.  Just north of town is the United States Fish and Wildlife Service attraction at Fish Creek.  During the salmon run, a large number of both Grizzly and Black Bears feed on the abundant fish population.

Above: The grizzly shot above is from Denali National Park, Alaska
For protection, the USFWS has built a 600-foot raised platform in the woods for viewing.  There was a small charge of around $5 at the time we were there.  Officers with bear spray patrol the parking lot and the platform for everyone's safety.
We saw several Black Bears feeding at the time we were there, but no Grizzlies.  Earlier in the day, an officer had spotted a female wolf and three pups feeding on some of the bear's leftovers.
Continuing north from Fish Creek, approximately 20-miles on a decent gravel road, you'll start seeing a huge glacier on the left.  Further up, the Salmon Glacier makes its appearance from out of the BC coastal range.  Great place to boondock!
After a couple of days, backtrack to Route 37 and enjoy more BC Parks all the way to Watson Lake.   Then, choose Route 1 or 2 above to continue to Alaska.
Click here to read more Canada travel and Alaska travel articles in Truck Camper Magazine.