Above: Bear were on the side of the road
On our way north we went through Banff and Jasper National Parks.  That was a beautiful drive.  We stayed at Jasper National Park and saw a bear, cub, and elk going through our campsite.
Above: Bear, moose, and a golden eagle from their trip – click to enlarge
From Jasper we headed to Grand Prairie, Alberta.  That's where we really started to see the animals.  We saw bear, elk, mountain goats, bighorn sheep, caribou, and moose on the side of the road every day.  We also saw several buffalo.  Most of the time the bears were in the ditches feeding on the grass, flowers, and berries.
Above: The Signpost Forest in Watson Lake – click to enlarge
Next we went to Dawson Creek, where the Alaska Highway (also known as the Alcan or Alaska-Canada Highway) starts.  One of our first stops on the Alaska Highway was Watson Lake.  Watson Lake features the famous Signpost Forest.  We put three things up; one for the Oklahoma City Thunder, an Elvis sign, and an Oklahoma license plate.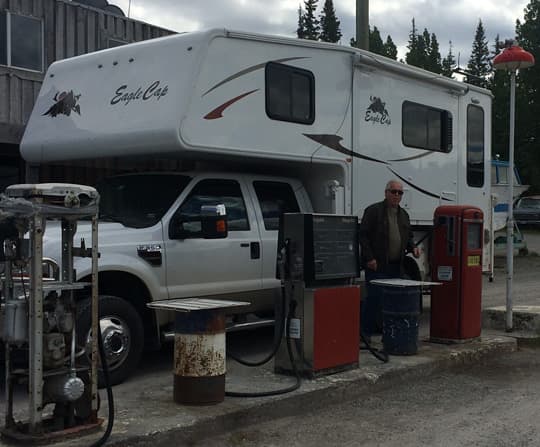 Above: Gene filling up their Ford F350 dually
Then we made our way into Alaska and saw lots and lots of RVs.  I refueled when our tank got to half-full, and there was always a fuel station available.  I would say that there was no more than fifty miles between fuel stops.  I did take an extra five gallon can of diesel just in case.  I never did use it.
Through Canada, we stopped at convenience stores that make sour dough bread and cinnamon buns.  We ate a lot of those.
There was another couple with a forty-two foot diesel pusher who caravanned with us.  I had to drive into some campgrounds first to see if he could fit the big motorhome.  Once again, size was an advantage of the truck camper.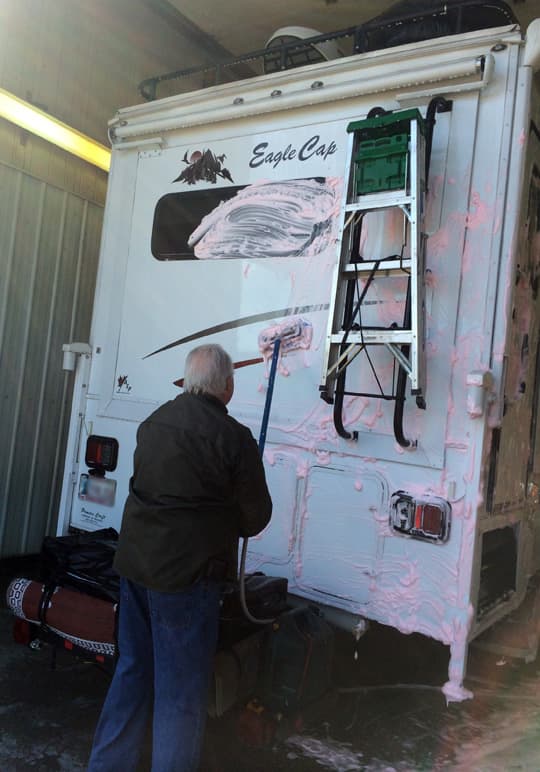 Above: Gene and Donna stopped and washed the rig several times during their trip
The Alcan Highway was paved except where they were doing construction.  They have to dig up the road because of the permafrost heaves, so there was a lot of mud.  There was also a misty rain, so our rig would be black and so dirty.  We had to stop and wash the rig several times.  A lot of towns and RV parks had washes.  The big problem was in Canada.  If you didn't wash your rig, it would get really nasty.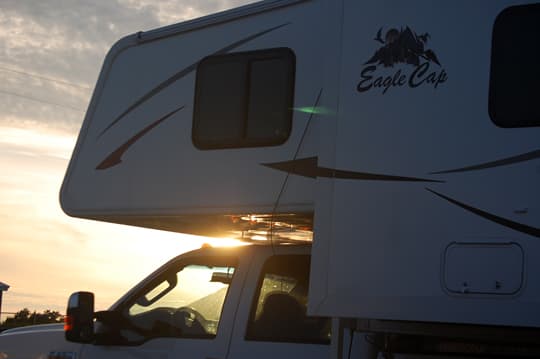 Above: Enjoying twenty-two hours of sunlight in Alaska
TCM: How did you cope with the extended daylight hours in Alaska?
Gene: We left Oklahoma on May 29th and got to Alaska on June 24th.  There were twenty-two hours of light, but it didn't bother us.  We went to bed at 10:30pm and got up around 6:30am.  It never really did get dark.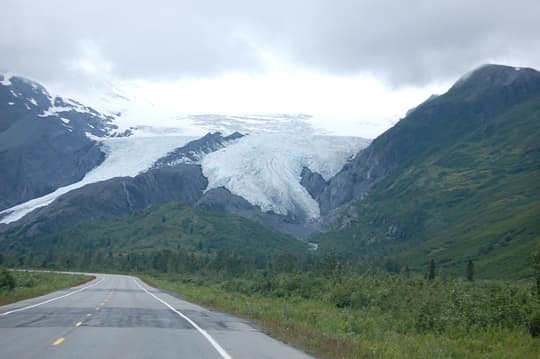 Above: Highway 1, Glenn Highway, going from Palmer to Valdez, Alaska