On July 25th, 2014, we celebrated our 50th wedding anniversary.  We wanted to go to Alaska because we didn't want our kids giving us a party.  The only people who come to 50th wedding anniversaries are old people.  We didn't want that, so we went to Alaska.
TCM: That's one way to get out of a party.  What did you do to plan for Alaska?
Gene: I went online and ordered a lot of literature from the tourism department in Alaska.  I went on Amazon.com and ordered several books that other travelers had written about their experiences.  We ordered The Milepost.  We also talked to other RVers who made the trip and got their input.
Then, we started plotting out how we wanted to do the trip.  We wanted to travel one month through Canada, one month in Alaska, and one month coming back home.  It worked out just like that.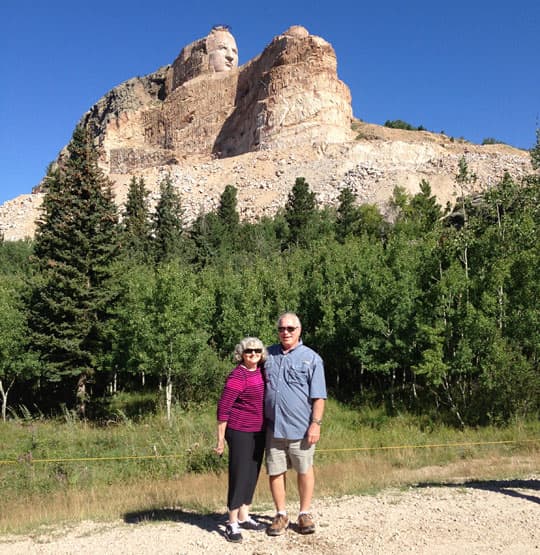 Above: Donna and Gene with the Crazy Horse Memorial in the background, South Dakota
TCM: Breaking up the trip into thirds was a great idea.  What route did you take to Alaska?
Gene: We started in Oklahoma City, and drove through Kansas, Nebraska, South Dakota, and North Dakota.  One surprise was Williston, North Dakota.  It was unbelievable.
I had heard of the oil boom, but didn't comprehend what that meant.  90,000 men had temporary housing there.  The highways were brand new and brand new towns had sprung up.  I had no idea.  There were lots of hotels, motels, fast food restaurants, and Walmarts.  It was a boom town, a modern time boom town.
I would not have gone that way because the oil field traffic was so heavy.  It was like a downtown metro area somewhere in North Dakota.  There was a traffic jam in the middle of nowhere.  It took us a whole day to go 100 miles.  Looking back, I am glad we took that route for the experience of seeing it.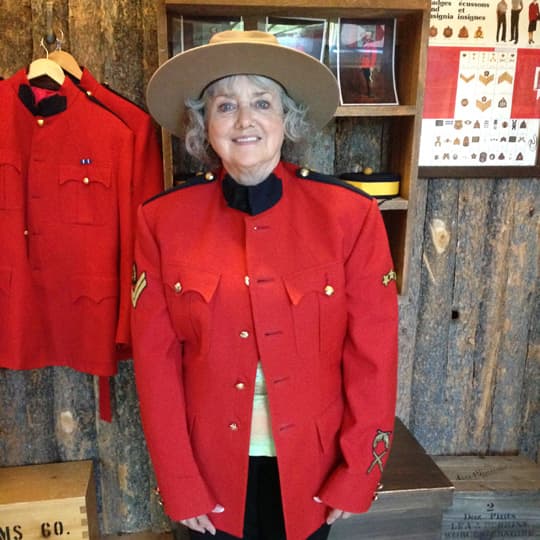 Above: Donna in Mountie attire at Fort Calgary in Calgary, Canada
TCM: We had a similar reaction when we saw the booming oil fields near Farmington, New Mexico, northern Colorado, and western Pennsylvania.  It's something you have to see to truly appreciate.  Where did you go from South Dakota?
Gene: We drove up to Montana and went into Canada.  I knew that Wyoming and Montana had mountains.  I thought Canada would have the mountains, but it was farmland going west for several days until we got to Calgary, where we hit the Canadian Rockies.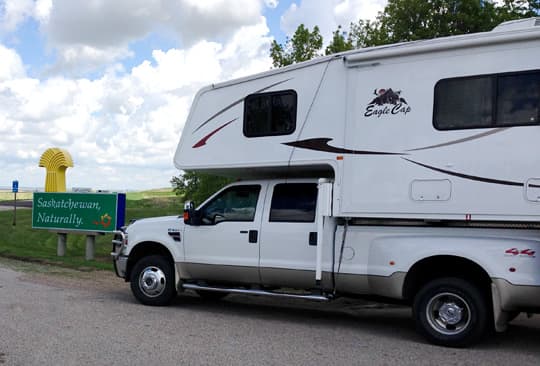 Above: Traveling through Saskatchewan on the way to Alaska
From Calgary we traveled to Moose Jaw in south-central Saskatchewan.  There was a tunnel retreat for Al Capone under the city.  The fireplace in his office rotated and he could go through there.  We took a tour of the tunnel.  Chinese workers worked and lived in those tunnels as indentured servants.
TCM: How did you find out about the tunnels in Moose Jaw?
Gene: Anytime we pull into an RV park, we look at the brochures in the office and ask what there is to see in the area.  That's how we found out about the tunnels.  We could have spent an entire day or two at the tunnels.  That was a highlight.