To celebrate their 50th anniversary, and avoid the obligatory party, Gene and Donna Miller sold their Class A and took their triple-slide to Alaska.

Class A diesel-pusher motorhomes are often considered the top dogs of the RV world.  For those who are unfamiliar with the possibilities and realities of the road, this perception makes sense.  Class A motorhomes often look like rockstar tour buses, with the size and amenities to match.
Unfortunately, the size of a Class A takes many amazing places to see and visit off the menu.  Owners end up watching interesting stores, restaurants, and views pass by because there are no places to park their humongous rigs.  Many national, state, and private campgrounds can't accommodate their size either, and they have to resort to big highway truck stop stations for refueling.
Naturally, none of these facts are in the Class A brochures, or brought to the attention of consumers who are mesmerized by the big, beautiful, and expensive Class A motorhomes in front of them.
Gene and Donna Miller are nodding their heads as they read those first two paragraphs.  They lived this experience, and made the decision to downsize to a truck camper.  In their triple-slide Eagle Cap 1165 rig, they managed to maintain much of their Class-A luxury, but in a much smaller and more nimble package.  What is lost in living space and storage they gained in opportunity, adventure, and lifestyle.  When their limiting diesel pusher was gone, Alaska, Canada, and the West Coast beaconed.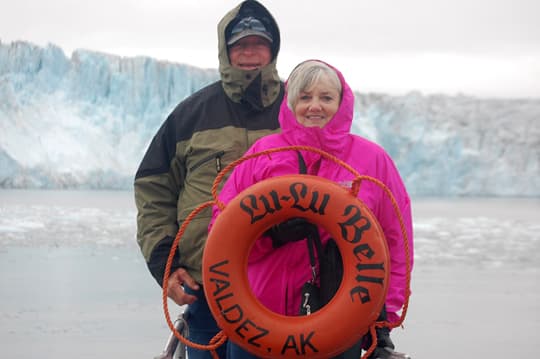 Above: Gene and Donna Miller in Valdez, Alaska

TCM: Was this the first time you've been to Alaska?
Gene: This was actually our third trip to Alaska, but it was the first time we drove.  The first time we went to Alaska on a cruise and took side excursions.  The second time we flew to Alaska with another couple and rented a Class C motorhome.  This time we took our truck camper.
I retired August 26, 2013, so we took the trip in 2014.  It's hard to do a three month trip while you're working, so we waited until we were both retired.
Before we bought our truck camper we owned four different types of RVs; a tent trailer, Class C motorhome, fifth wheel, and, most recently, a forty-foot Class A diesel pusher.  I hated traveling in the Class A and having to refuel where the big rig semi trucks go.  All too often we couldn't find places to stop when we saw something we wanted to see.  We would have to just keep driving, so sad.
In December of 2012, I finally told my wife that we were selling the Class A and buying a truck camper.  She said, "What?"
TCM: I bet she was surprised.  What led to you to choose a truck camper?
Gene: When I looked on the internet, I saw that truck campers were not what I remembered them to be.  From our home in Oklahoma, we traveled to Princess Craft Campers in Round Rock, Texas because they have many different manufacturers and had about a sixty or more different truck campers on their lot.  At the time I didn't know much about truck campers and wanted to see the different brands and floor plans.
At Princess Craft we decided on the Eagle Cap 1165 triple-slide.  Princess Craft told me that I couldn't use my three-quarter ton with the 1165, so I bought the one ton dually I have now.
Since then we have thoroughly enjoyed truck camping.  Now I can go anywhere a pickup truck can go, except for the height.  This is for us.  We love it!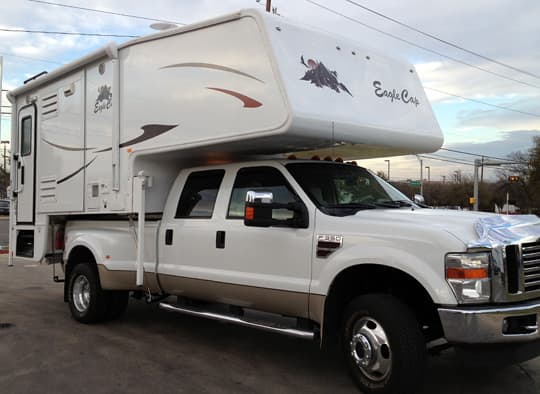 Above: Gene and Donna's Eagle Cap 1165 and Ford F350
TCM: When did you decide to take your truck and camper rig to Alaska?
Gene: We bought the Eagle Cap 1165 in January of 2013, and started planning for the Alaska trip then.  That was about a year and a half before we left.
On July 25th, 2014, we celebrated our 50th wedding anniversary.  We wanted to go to Alaska because we didn't want our kids giving us a party.  The only people who come to 50th wedding anniversaries are old people.  We didn't want that, so we went to Alaska.
TCM: That's one way to get out of a party.  What did you do to plan for Alaska?
Gene: I went online and ordered a lot of literature from the tourism department in Alaska.  I went on Amazon.com and ordered several books that other travelers had written about their experiences.  We ordered The Milepost.  We also talked to other RVers who made the trip and got their input.
Then, we started plotting out how we wanted to do the trip.  We wanted to travel one month through Canada, one month in Alaska, and one month coming back home.  It worked out just like that.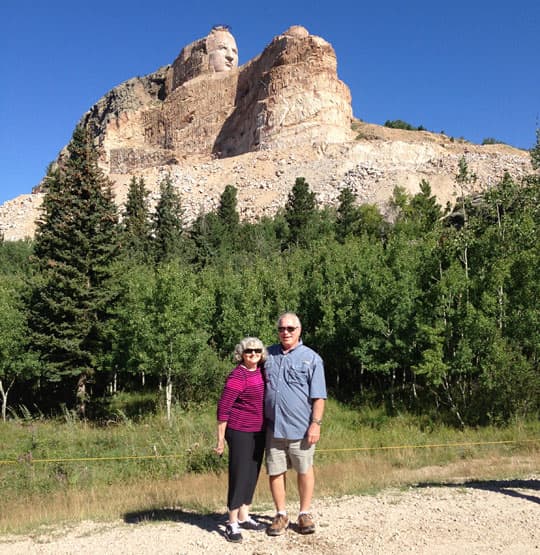 Above: Donna and Gene with the Crazy Horse Memorial in the background, South Dakota
TCM: Breaking up the trip into thirds was a great idea.  What route did you take to Alaska?
Gene: We started in Oklahoma City, and drove through Kansas, Nebraska, South Dakota, and North Dakota.  One surprise was Williston, North Dakota.  It was unbelievable.
I had heard of the oil boom, but didn't comprehend what that meant.  90,000 men had temporary housing there.  The highways were brand new and brand new towns had sprung up.  I had no idea.  There were lots of hotels, motels, fast food restaurants, and Walmarts.  It was a boom town, a modern time boom town.
I would not have gone that way because the oil field traffic was so heavy.  It was like a downtown metro area somewhere in North Dakota.  There was a traffic jam in the middle of nowhere.  It took us a whole day to go 100 miles.  Looking back, I am glad we took that route for the experience of seeing it.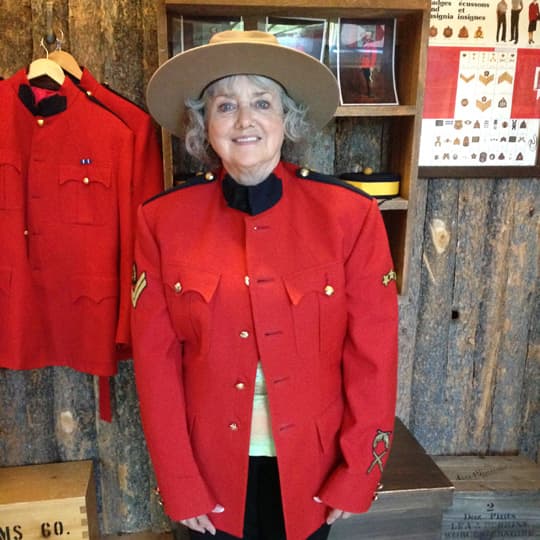 Above: Donna in Mountie attire at Fort Calgary in Calgary, Canada
TCM: We had a similar reaction when we saw the booming oil fields near Farmington, New Mexico, northern Colorado, and western Pennsylvania.  It's something you have to see to truly appreciate.  Where did you go from South Dakota?
Gene: We drove up to Montana and went into Canada.  I knew that Wyoming and Montana had mountains.  I thought Canada would have the mountains, but it was farmland going west for several days until we got to Calgary, where we hit the Canadian Rockies.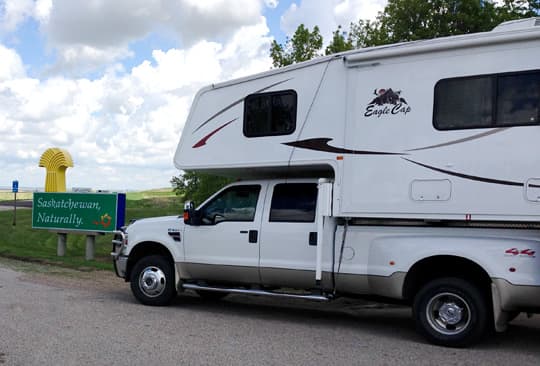 Above: Traveling through Saskatchewan on the way to Alaska
From Calgary we traveled to Moose Jaw in south-central Saskatchewan.  There was a tunnel retreat for Al Capone under the city.  The fireplace in his office rotated and he could go through there.  We took a tour of the tunnel.  Chinese workers worked and lived in those tunnels as indentured servants.
TCM: How did you find out about the tunnels in Moose Jaw?
Gene: Anytime we pull into an RV park, we look at the brochures in the office and ask what there is to see in the area.  That's how we found out about the tunnels.  We could have spent an entire day or two at the tunnels.  That was a highlight.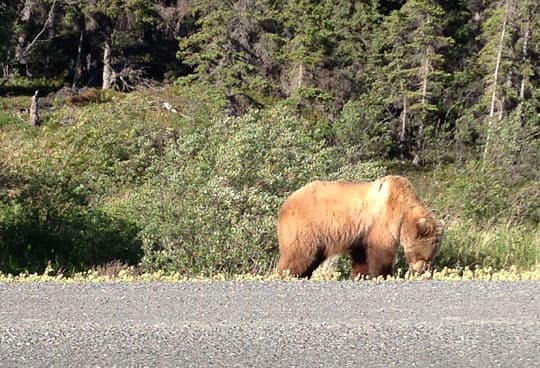 Above: Bear were on the side of the road
On our way north we went through Banff and Jasper National Parks.  That was a beautiful drive.  We stayed at Jasper National Park and saw a bear, cub, and elk going through our campsite.
Above: Bear, moose, and a golden eagle from their trip – click to enlarge
From Jasper we headed to Grand Prairie, Alberta.  That's where we really started to see the animals.  We saw bear, elk, mountain goats, bighorn sheep, caribou, and moose on the side of the road every day.  We also saw several buffalo.  Most of the time the bears were in the ditches feeding on the grass, flowers, and berries.
Above: The Signpost Forest in Watson Lake – click to enlarge
Next we went to Dawson Creek, where the Alaska Highway (also known as the Alcan or Alaska-Canada Highway) starts.  One of our first stops on the Alaska Highway was Watson Lake.  Watson Lake features the famous Signpost Forest.  We put three things up; one for the Oklahoma City Thunder, an Elvis sign, and an Oklahoma license plate.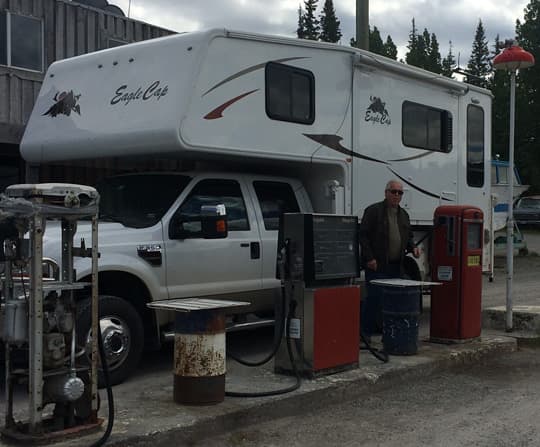 Above: Gene filling up their Ford F350 dually
Then we made our way into Alaska and saw lots and lots of RVs.  I refueled when our tank got to half-full, and there was always a fuel station available.  I would say that there was no more than fifty miles between fuel stops.  I did take an extra five gallon can of diesel just in case.  I never did use it.
Through Canada, we stopped at convenience stores that make sour dough bread and cinnamon buns.  We ate a lot of those.
There was another couple with a forty-two foot diesel pusher who caravanned with us.  I had to drive into some campgrounds first to see if he could fit the big motorhome.  Once again, size was an advantage of the truck camper.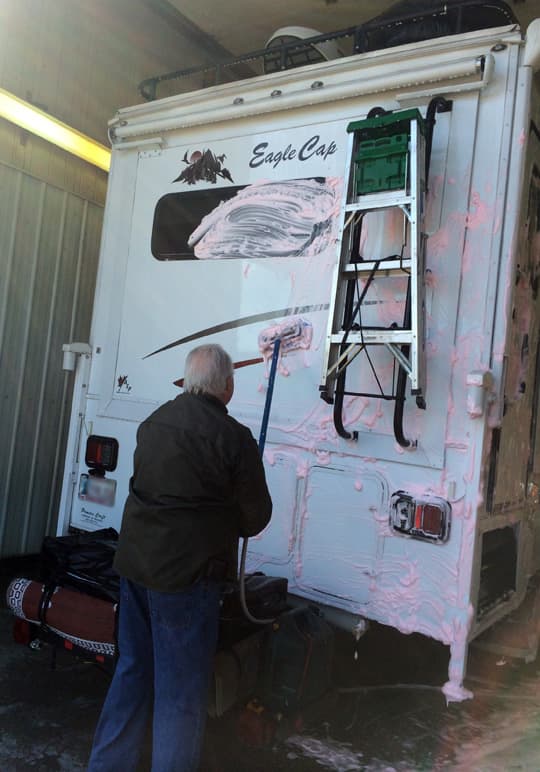 Above: Gene and Donna stopped and washed the rig several times during their trip
The Alcan Highway was paved except where they were doing construction.  They have to dig up the road because of the permafrost heaves, so there was a lot of mud.  There was also a misty rain, so our rig would be black and so dirty.  We had to stop and wash the rig several times.  A lot of towns and RV parks had washes.  The big problem was in Canada.  If you didn't wash your rig, it would get really nasty.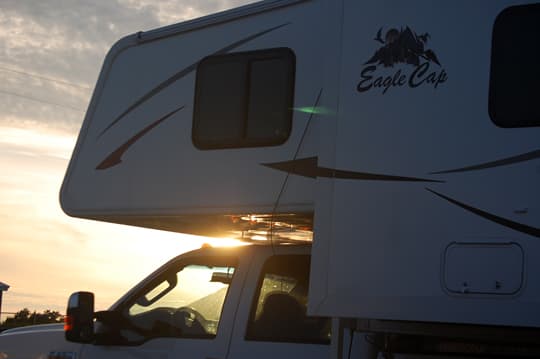 Above: Enjoying twenty-two hours of sunlight in Alaska
TCM: How did you cope with the extended daylight hours in Alaska?
Gene: We left Oklahoma on May 29th and got to Alaska on June 24th.  There were twenty-two hours of light, but it didn't bother us.  We went to bed at 10:30pm and got up around 6:30am.  It never really did get dark.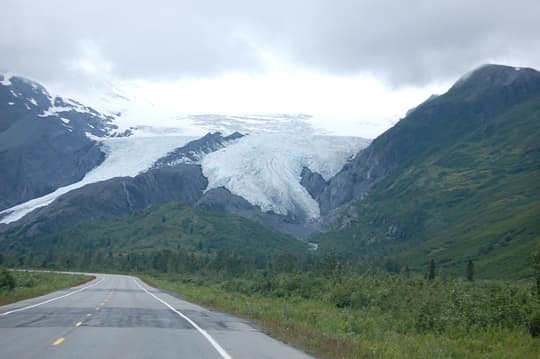 Above: Highway 1, Glenn Highway, going from Palmer to Valdez, Alaska
The weather in Alaska can be quite varied.  The first time we went to Alaska it was sunny and 80 degrees.  The second time it rained and was cold.  This time it was raining, but we also had pretty days and the temperature was in the 60s.  I wore shorts one day when it was in the 60s, but most of the time it was jeans and T-shirt weather.  We had great weather, but it's a good idea to prepare for anything.
Above: The Lulu Belle took Gene and Donna to an icefield in Valdez – click to enlarge
TCM: What were some of the highlights from your Alaska adventure?
Gene: Here are some highlights from our trip.
1. We took a boat trip on the Lulu Belle in Valdez.  It was a private husband and wife boat.  He is the pilot and narrator.  They took us to an icefield.  It was unbelievable.  We saw whales, seals, sea lions, and otters.  That was a great trip!   We have taken other sightseeing trips, but nothing like this one.  We also loaded up on salmon in Valdez.  It's is a great place to fish.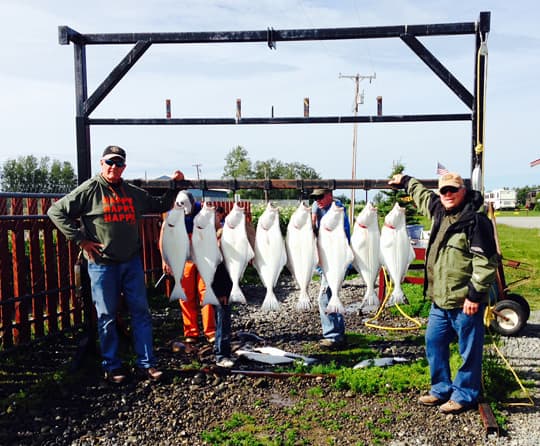 Above: This fish catch was in Ninilchick, Alaska
2. Go to Homer, as far south as you can drive.  That is a great place to be.  We went fishing there.  If you are going, go to the Salty Dog Bar.  It's been there for 200 years.  It was like half way underground.  Old Russian fisherman used to go there and hang out.  Everyone leaves souvenirs and dollar bills on the wall.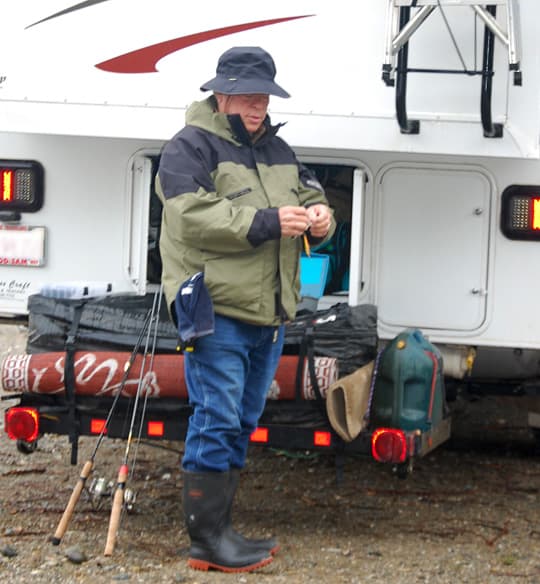 Above: Getting fishing gear ready south of Fairbanks at a state trout stocked pond
3. Seward is where we went to a huge aquarium.  They nurse sea life so they can release them back into the ocean.
4. Milichick was where we saw an old Russian Orthodox church with a graveyard.  It's been there for a couple hundred years.  It's still a functioning church.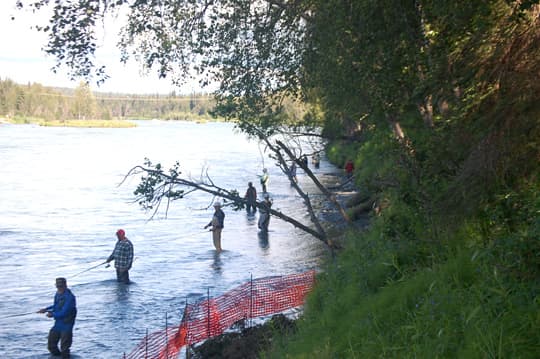 5. We stopped and fished on the Russian River and the Kenai River in Soldotna, which is where the combat fishing takes place.  They line up elbow to elbow, so you squeeze in, and fish.
6. In Whittier, we took a cruise and saw twenty to thirty glaciers.  Once again we found out about this attraction from a brochure.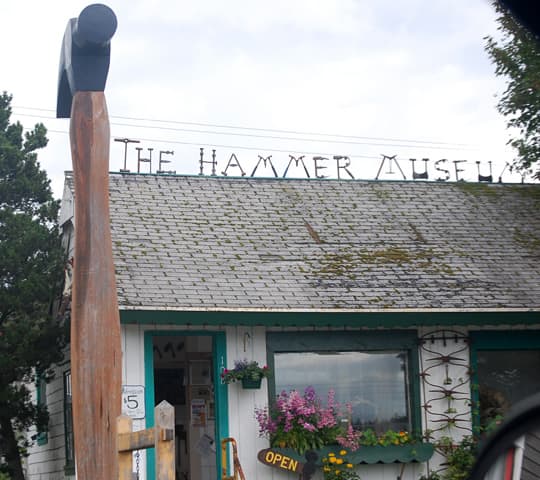 7. The Hammer Museum was in Haines.  Who would think that Donna would enjoy going into a hammer museum?  It was quite interesting and the guy who started it was there.  He was a carpenter and his wife told him that he was not bringing one more hammer home.  So, he started this not-for-profit museum.  I didn't know there were so many hammers for different things.  Some there were 2,000 years old.  There's a hammer for everything.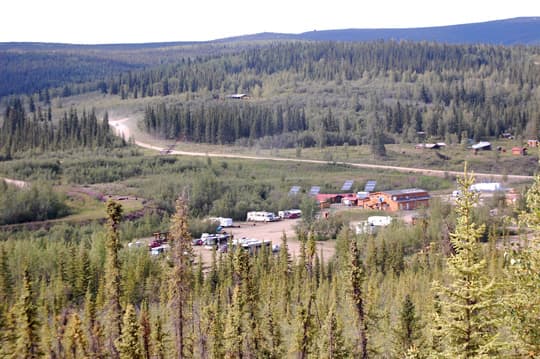 Above: Chicken, Alaska is an extremely small town during the winter months
8. In Chicken, Alaska, there is a population of three in the winter; the Post mistress, her daughter, and husband.  Everyone else is there just in the summer.  There is nothing there, so they have no way to financially survive without the tourists.
9. One of our favorite places to eat was the roadhouse in Talketna.  The first time we went, we kept standing there waiting for people to go sit.  Well, that's not the way you do it.  You just go sit in the empty chairs next to other people.  It's a hostel and a roadhouse.  You meet a lot of interesting people there.  It was a lot of fun!
10. We saw Denali.  We saw the whole thing.  This time we didn't go in the national park because we went the last time we went to Alaska.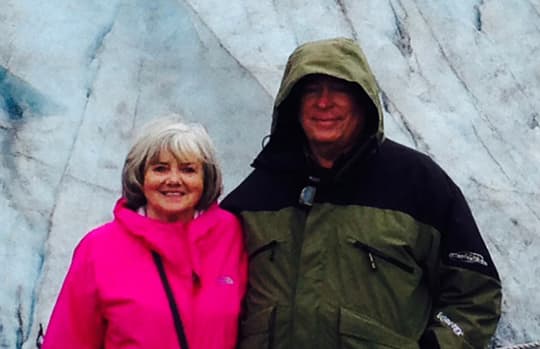 Above: Donna and Gene in Kenai Fjords National Park in Alaska
We went on a lot of hikes.  I sent in a picture of me and Donna with a glacier wall behind us.  That was a pretty two to three mile hike each way.  It was really cold next to that big block of ice.  This was located in Kenai Fjords National Park in Alaska.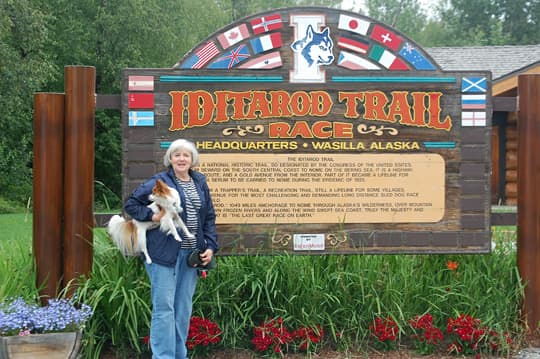 Above: Donna and Patches at the Iditarod Trail Race headquarters in Wasilla, Alaska
TCM: Where did you typically camp in Alaska?
Gene: We had hoped to camp in some of the state and national parks, or on the side of the road.  In reality, we wound up going to a RV park 90% of the time because our motorhome friends were caravanning with us.  Had it been just us, we would have boondocked more.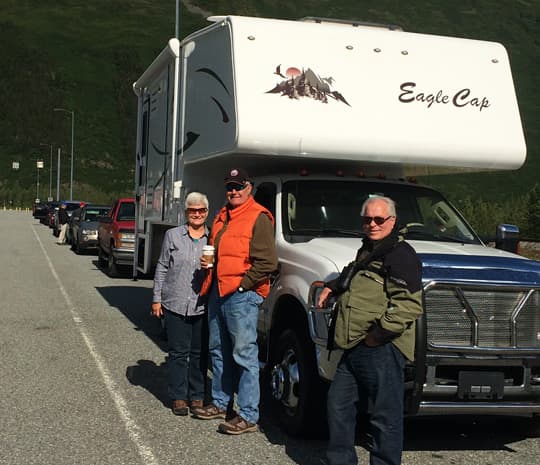 Above: Donna and Gene's friends who caravanned with them, Dennis and Sandy Wishon
TCM: Were there any problems getting into campgrounds in Alaska?
Gene: You have to stop early.  They did have a tendency to fill up at the end of the day.  The prices were about the same as they are in the Lower 48.
The only electricity in some campgrounds was a generator, so the max you could have was 30 amps.  A lot of campgrounds had 15 amps.  But, we didn't need an air conditioner up there, so we didn't need more than 15 amps.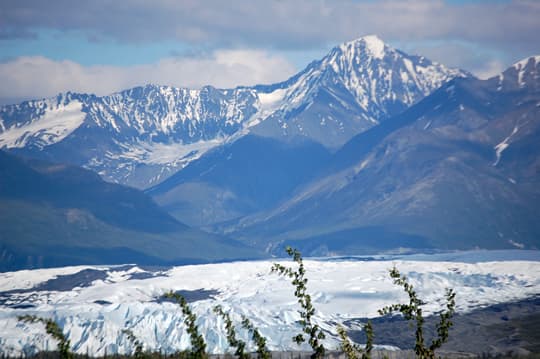 Above: Highway 1, Glenn Highway, going from Palmer to Valdez, Alaska
We met a lot of people who were also exploring Alaska.  We would see the same people at different sights and stops, sometimes even at the next RV park.  All of the RVers were all having fun because they were on an adventure.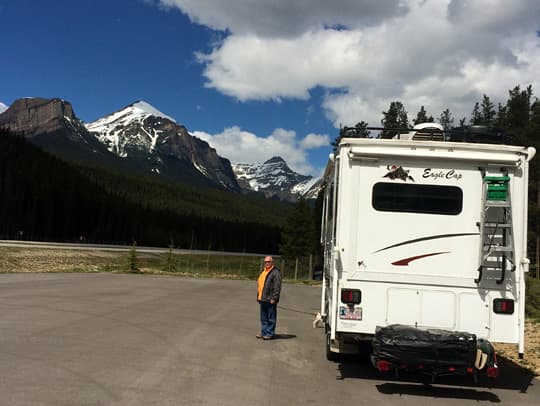 Above: Eagle Cap 1165 with mountains in Banff National Park, Canada
TCM: How did your Eagle Cap 1165 rig work out in Alaska?
Gene: Our Eagle Cap 1165 has three slides.  You know how big it is.  I don't think there was one RV park we stayed at, going-up or coming-down, that people didn't show up at our door wanting to see our camper.  They'd be outside and just stand there, looking at it and talking about it.  I'd step out the door and, before we knew it, they were in our camper.  They had not seen anything like this.
We even had other truck campers come over to see it.  They were all impressed with the recliners.  At the end of the day, that's the one thing that truck camper people said they missed, a place to recline and relax in their camper.
TCM: How would you explain Alaska to someone who hasn't been there?
Gene: There is no way to give it justice.  You can't describe how big it is and you only see a small portion of it.  It's unbelievable.  It's still unpopulated and in a natural state.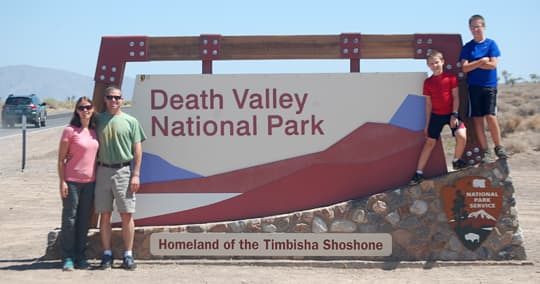 Above: Their son, Greg, daughter-in-law, Amy, and grandsons, Alexander and Ethan, joined them as they drove down the Pacific Coast
TCM: I love that your family joined you for the last three weeks of your trip.  Tell us about that.
Gene: My son, daughter-in-law, and grandsons flew in from Maryland and joined us in Seattle on August 3rd.  There was only one condition since our pickup camper does not sleep six people.  They had to sleep in a tent.  But all six of us used the bathroom and ate together.  We had to do a lot inside because a lot of the West Coast was rainy.   Our dog, Patches, and the six of us fit in the truck.
They loved Olympic National Park.  It looked like a place leprechauns should live.  We saw the redwoods, and took lots of photos of the ocean.  From there we went to San Francisco, Yosemite National Park, Death Valley National Park, Durango, the Grand Canyon National Park, and back home.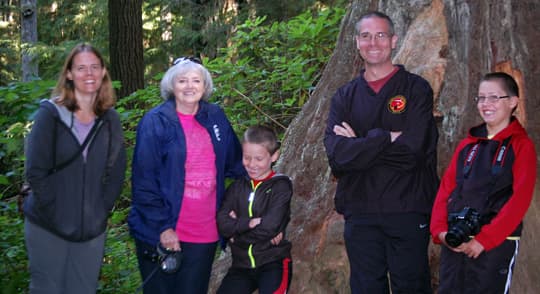 Above: The family in Redwood National Park, northern California
TCM: Those are some lucky grandkids.  Will you go back to Alaska?
Gene: You'd think three months was a lot of time on the road.  With only one month out of three in Alaska, we really had to budget our time.  We could have spent more time there.  One month was not enough.  I would love to go back.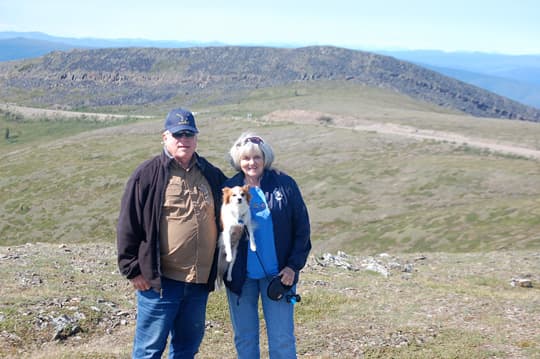 Above: Gene, Donna, and Patches on the Top of the World Highway
TCM: Would you do anything differently?
Gene: One silly thing I did was put gasoline in my diesel truck.  I had to go get repairs done in Wasilla, and then made it to Tok for more repairs.  We stayed in Whitehorse four to five days until it was fixed.  Here the diesel pumps are green, but not in Canada and Alaska.  They are different colors, so we never knew, and I wasn't paying attention.  I wouldn't do that again.
We would take half the amount of clothes.  We took too much.  Always take a rain coat, water proof shoes, a rain hat, and a light jacket.  And always layer.
I took extra tubes of toothpaste.  You can buy that stuff anywhere.  I don't know what I was thinking.  I wasn't in the wilderness.  Even though it's remote, there were still stores.  I took extra food and it just took up space.  We took dried food so we could just add water.  We didn't need all that.  It just wasn't that remote.
We were not ready to come back.  Every day was so pleasant.  There were lots of museums and forts.  Just driving down the road and seeing animals and mountain ranges, we'd pull over.   It was all very relaxed.
Truck: 2008 Ford F350, crew cab, dually, long bed, 4×4, diesel
Camper: 2012 Eagle Cap 1165
Jacks: Rieco-Titan
Tie-Downs/Turnbuckles: Torklift
Suspension: Air bags, Torklift Upper StableLoads
Gear: Brush Guard