To celebrate their 50th anniversary, and avoid the obligatory party, Gene and Donna Miller sold their Class A and took their triple-slide to Alaska.

Class A diesel-pusher motorhomes are often considered the top dogs of the RV world.  For those who are unfamiliar with the possibilities and realities of the road, this perception makes sense.  Class A motorhomes often look like rockstar tour buses, with the size and amenities to match.
Unfortunately, the size of a Class A takes many amazing places to see and visit off the menu.  Owners end up watching interesting stores, restaurants, and views pass by because there are no places to park their humongous rigs.  Many national, state, and private campgrounds can't accommodate their size either, and they have to resort to big highway truck stop stations for refueling.
Naturally, none of these facts are in the Class A brochures, or brought to the attention of consumers who are mesmerized by the big, beautiful, and expensive Class A motorhomes in front of them.
Gene and Donna Miller are nodding their heads as they read those first two paragraphs.  They lived this experience, and made the decision to downsize to a truck camper.  In their triple-slide Eagle Cap 1165 rig, they managed to maintain much of their Class-A luxury, but in a much smaller and more nimble package.  What is lost in living space and storage they gained in opportunity, adventure, and lifestyle.  When their limiting diesel pusher was gone, Alaska, Canada, and the West Coast beaconed.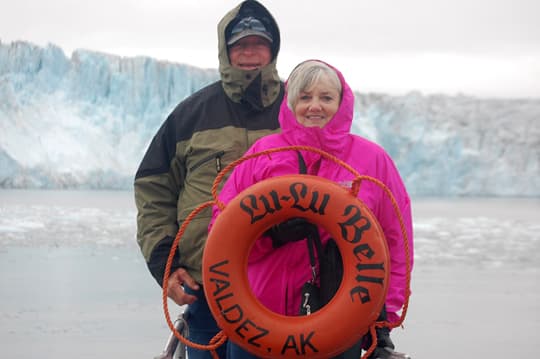 Above: Gene and Donna Miller in Valdez, Alaska

TCM: Was this the first time you've been to Alaska?
Gene: This was actually our third trip to Alaska, but it was the first time we drove.  The first time we went to Alaska on a cruise and took side excursions.  The second time we flew to Alaska with another couple and rented a Class C motorhome.  This time we took our truck camper.
I retired August 26, 2013, so we took the trip in 2014.  It's hard to do a three month trip while you're working, so we waited until we were both retired.
Before we bought our truck camper we owned four different types of RVs; a tent trailer, Class C motorhome, fifth wheel, and, most recently, a forty-foot Class A diesel pusher.  I hated traveling in the Class A and having to refuel where the big rig semi trucks go.  All too often we couldn't find places to stop when we saw something we wanted to see.  We would have to just keep driving, so sad.
In December of 2012, I finally told my wife that we were selling the Class A and buying a truck camper.  She said, "What?"
TCM: I bet she was surprised.  What led to you to choose a truck camper?
Gene: When I looked on the internet, I saw that truck campers were not what I remembered them to be.  From our home in Oklahoma, we traveled to Princess Craft Campers in Round Rock, Texas because they have many different manufacturers and had about a sixty or more different truck campers on their lot.  At the time I didn't know much about truck campers and wanted to see the different brands and floor plans.
At Princess Craft we decided on the Eagle Cap 1165 triple-slide.  Princess Craft told me that I couldn't use my three-quarter ton with the 1165, so I bought the one ton dually I have now.
Since then we have thoroughly enjoyed truck camping.  Now I can go anywhere a pickup truck can go, except for the height.  This is for us.  We love it!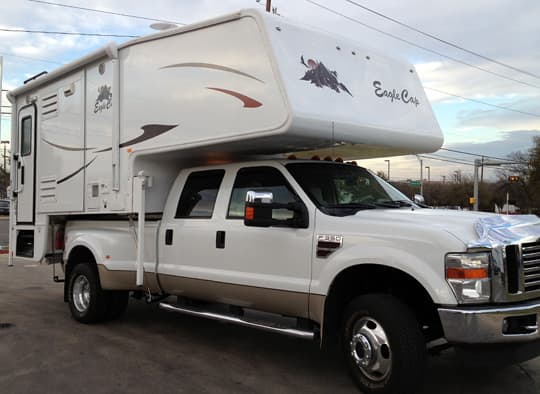 Above: Gene and Donna's Eagle Cap 1165 and Ford F350
TCM: When did you decide to take your truck and camper rig to Alaska?
Gene: We bought the Eagle Cap 1165 in January of 2013, and started planning for the Alaska trip then.  That was about a year and a half before we left.