TIP: The road to Clinton Creek is not well traveled and there are very few amenities.  Be sure you have everything you need before setting out (food, fuel, etc.).
TIP: Also make sure you are well provisioned before you leave Tok and be sure to fill up with fuel in Chicken, Alaska.  The next station is a long way after that.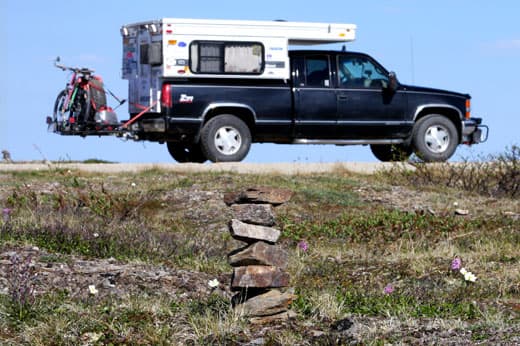 Above: Mark's monument for all truck campers on the Top of the World Highway
The rock monument on the Top of the World Highway was built by me; it's a monument for all truck campers that travel to route!
4. Valdez Harbor

The trip out of McCarthy on the McCarthy Road, also known as Thomas Edgerton Highway, and then west on the Richardson Highway to Valdez, is amazing.
I managed to drive it in bright sunshine and blue skies.  People who have lived in Alaska their whole lives and driven to Valdez dozens of times said they had never seen that kind of weather.  I was very lucky.
When you get to Valdez, the harbor is a spectacular site.  The harbor pictures were taken at 6:00am and show the sun on the mountains overlooking a very calm harbor.  If you look closely in the third harbor picture, you will see the large oil tanker, which is dwarfed by the oil tanks, which is then dwarfed by the mountains.  What a sight!
The trip to Valdez and the harbor itself is worth the trip.  Then you can take the ferry to Whittier where you get to drive through a mountain on your way to either Homer, Seward, or Anchorage, depending on your next destination.
5. Denali National Park / Teklanika Campground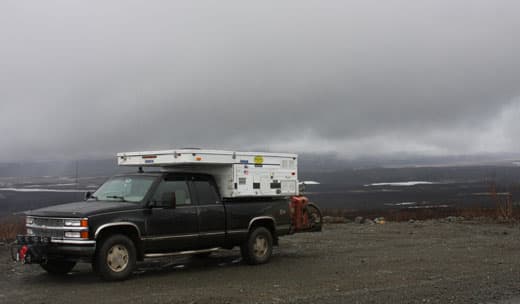 Above: Denali Highway
If you get to Denali National Park, you will not be disappointed.  Denali National Park is all about the scenery, the animals, the campground, and the people you meet there.  It's a great destination.
Teklanika Campground is a boondocking site.  You can run your generator for a couple of hours each morning and in the evening.  Other than that it is quiet.  They have very clean outhouses, a spot to drain water, and a tap with water.
There are no dump stations and no showers.  The dump station is at the station where you confirm your reservation and get your sticker that allows you to get to Teklanika.  All I can say is that it is worth your time to stay there
TIP: Check online and make your Teklanika Campground reservations months in advance.  You will not be able to drive up to the front gate and get a spot.  I stayed two different times on my trip for three nights each and the reservations were made in the middle of the previous December.
TIP: Teklanika Campground is also the last spot for a shower.  Depending on your camper's amenities, you may want to take advantage.  Showers run three or five dollars.  It was definitely worth it, especially on the way out after three days.
TIP: In the picture with me in front of the campground sign, notice the bear spray.  It is necessary to carry it in the park.  Also learn about bears if you plan on hiking.