Kris Valencia, The MILEPOST's Managing Editor, and Claire Torgerson, Assistant Editor, share their truck camping reports from Alaska to the Northwest Territories.

The MILEPOST Goes Truck Camping in Alaska and Canada
by MILEPOST Managing Editor Kris Valencia and Assistant Editor Claire Torgerson
Field editors for The MILEPOST travel guide to Alaska have driven a variety of vehicles while exploring the highways and byways of the North, from a VW Eurovan to a thirty foot motorhome.  This year, after much discussion, we ended up with a leased truck and a used camper to take out on the road.  We've found the truck camper combination to be a great choice for driving the North for The MILEPOST, and are already planning to upgrade next year.  The truck camper is not too big or too long for the narrow side roads we explore, and yet it offers us room to sleep and work while on the road.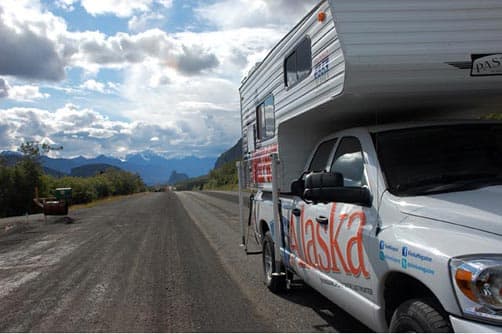 Above: Waiting for road construction on the Glenn Highway (taken by Kris Valencia)
The MILEPOST truck camper has been up and down the Alaska Highway twice this summer and has been on just about every highway we cover in Alaska, as well as routes in Yukon, British Columbia, Alberta and Northwest Territories.  Here are our reports from our summer on the road.
Driving the Alaska Highway in a Truck Camper
We flew down and picked up the truck and camper in Seattle, Washington, and drove back to Anchorage, Alaska, via the West Access Route and Alaska Highway.  This trip never gets boring, even for those of us who have driven it many times.  You can always count on the scenery changing with the seasons and with the weather.  We drove out of Fort St. John, British Columbia, in sleet and snow on June 3rd; a few days before residents said they had been sweltering in the heat!
Above: Alaska Highway at Fort St John in a surprise snow (taken by Kris Valencia)
The snow didn't last, of course, but the cool weather and rain continued as we made our way North (another reason we were glad to be in a truck camper and not tenting it, as some of us have done in the past).  We didn't let the weather interfere with our sightseeing plans, though.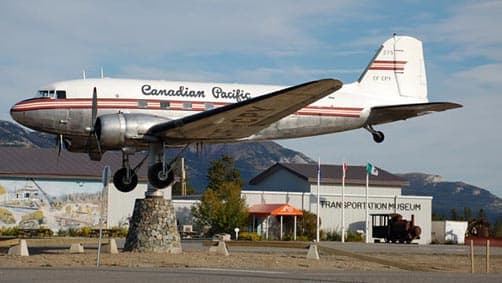 Above: The DC-3 weathervane that is in front of the Yukon Transportation Museum in Whitehorse  (taken by Judy Nadon)
We always stop in Fort Nelson, British Columbia, to visit with Marl Brown, founder and curator of the Fort Nelson Museum.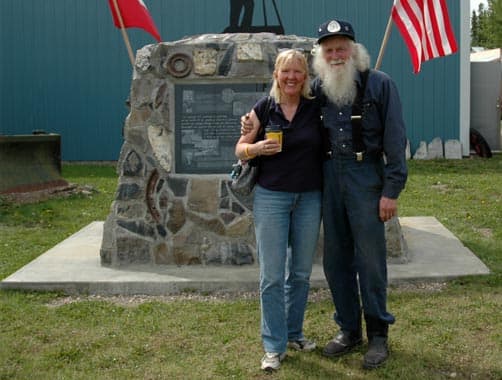 Above: Managing Editor Kris Valencia with Marl Brown, curator of Fort Nelson Museum
In June 2008, Marl and his wife, Mavis, drove a 1908 Model 10 McLaughlin Buick 600 miles from Fort Nelson to Whitehorse, Yukon, to celebrate the 100th birthday of this wonderful antique car he restored.  It took them four and a half days to reach Whitehorse and four full days on the return to their home in Fort Nelson.
On this trip it took us a day to drive from Fort Nelson to Whitehorse in the truck camper.