Kris Valencia, The MILEPOST's Managing Editor, and Claire Torgerson, Assistant Editor, share their truck camping reports from Alaska to the Northwest Territories.

The MILEPOST Goes Truck Camping in Alaska and Canada
by MILEPOST Managing Editor Kris Valencia and Assistant Editor Claire Torgerson
Field editors for The MILEPOST travel guide to Alaska have driven a variety of vehicles while exploring the highways and byways of the North, from a VW Eurovan to a thirty foot motorhome.  This year, after much discussion, we ended up with a leased truck and a used camper to take out on the road.  We've found the truck camper combination to be a great choice for driving the North for The MILEPOST, and are already planning to upgrade next year.  The truck camper is not too big or too long for the narrow side roads we explore, and yet it offers us room to sleep and work while on the road.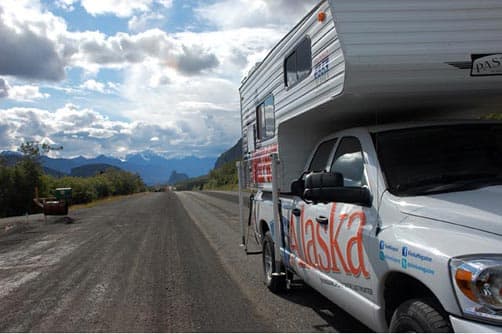 Above: Waiting for road construction on the Glenn Highway (taken by Kris Valencia)
The MILEPOST truck camper has been up and down the Alaska Highway twice this summer and has been on just about every highway we cover in Alaska, as well as routes in Yukon, British Columbia, Alberta and Northwest Territories.  Here are our reports from our summer on the road.
Driving the Alaska Highway in a Truck Camper
We flew down and picked up the truck and camper in Seattle, Washington, and drove back to Anchorage, Alaska, via the West Access Route and Alaska Highway.  This trip never gets boring, even for those of us who have driven it many times.  You can always count on the scenery changing with the seasons and with the weather.  We drove out of Fort St. John, British Columbia, in sleet and snow on June 3rd; a few days before residents said they had been sweltering in the heat!
Above: Alaska Highway at Fort St John in a surprise snow (taken by Kris Valencia)
The snow didn't last, of course, but the cool weather and rain continued as we made our way North (another reason we were glad to be in a truck camper and not tenting it, as some of us have done in the past).  We didn't let the weather interfere with our sightseeing plans, though.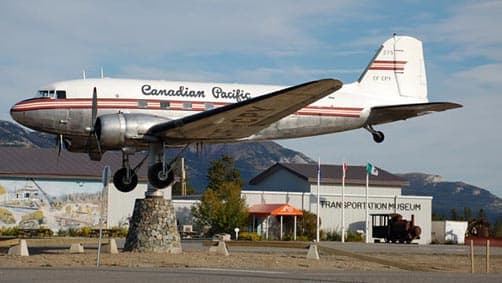 Above: The DC-3 weathervane that is in front of the Yukon Transportation Museum in Whitehorse  (taken by Judy Nadon)
We always stop in Fort Nelson, British Columbia, to visit with Marl Brown, founder and curator of the Fort Nelson Museum.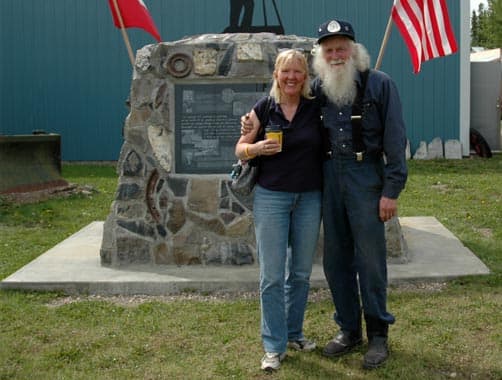 Above: Managing Editor Kris Valencia with Marl Brown, curator of Fort Nelson Museum
In June 2008, Marl and his wife, Mavis, drove a 1908 Model 10 McLaughlin Buick 600 miles from Fort Nelson to Whitehorse, Yukon, to celebrate the 100th birthday of this wonderful antique car he restored.  It took them four and a half days to reach Whitehorse and four full days on the return to their home in Fort Nelson.
On this trip it took us a day to drive from Fort Nelson to Whitehorse in the truck camper.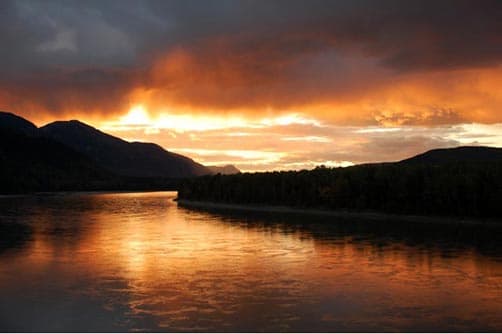 Above: Liard River sunset, taken from Allen's lookout at historical mile 570 on the Alaska Highway, 74 miles south of Liard Hot Springs (taken by Earl Brown)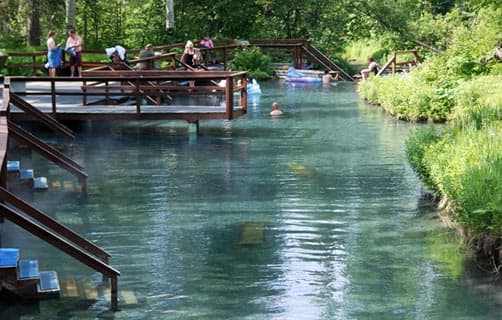 Above: Liard Hot Springs, Mile 496 on the Alaska Highway (taken by Sharon Nault)
Normally we take more time on this stretch, staying overnight in Watson Lake or Teslin or in between, and stopping to sight see the Watson Lake Signpost Forest, or take a soak in Liard Hot Springs.  But the real object of this particular trip was to get the truck and camper back to Anchorage and branded with our MILEPOST signage so we could get back out on the road.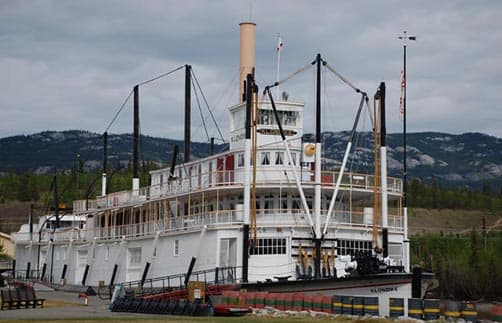 Above: SS Klondike, Whitehorse, Alaska (taken by Kris Valencia)
We did stop in Whitehorse, where we always thrill to the landmark DC-3 weathervane and usually tour the many museums.  We also highly recommend the Canada Parks tour of the SS Klondike, which is permanently displayed alongside the Yukon River.
Two of the most frequently-asked questions we get from travelers are: "Is the Alaska Highway paved?" and "What are road conditions like?"  The short answers are "yes" and "mostly good."   The last section of original gravel road on the Alaska Highway was paved by 1992.  That being said, you will still come across "gravel breaks" that are anywhere from a few feet to a few miles long, where road repairs are under way.  Road construction is a fact of life here in the summer, although delays are usually minimal.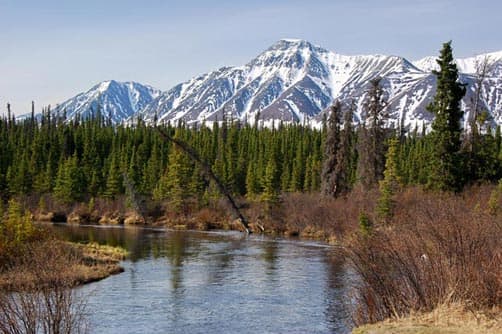 Above: Jarvis River rest stop, Alaska Highway (taken by Sharon Nault)
The 100-mile stretch of road from Whitehorse to Haines Junction was in fair shape, with some bumps and frost heaves starting to show.  The next 200 driving miles, from Haines Junction to the Alaska border, consisted of a long stretch of improved highway through the Kluane Lake area, followed by a long, bumpy stretch of frost heaved road and damaged pavement through the Shakwak Valley between Destruction Bay and the Alaska border.  Happily, this section of the Alaska Highway steadily improved over the summer as construction crews and equipment got to work.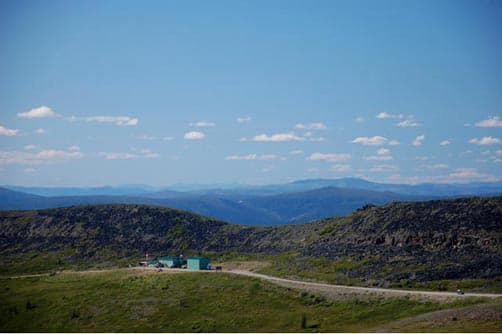 Above: Customs on Top of the World Highway (taken by Kris Valencia)
We just as often drive the alternate Klondike Loop route, turning off the Alaska Highway just north of Whitehorse and driving north to Dawson City then across the Top of the World Highway and back down to the Alaska Highway via the Taylor Highway through Chicken.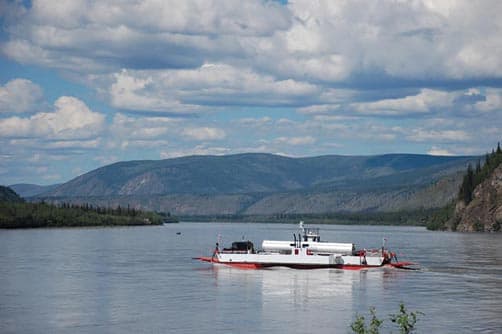 Above: The ferry is crossing the Yukon River between Dawson City and Top of the World Highway, which is part of the Klondike Loop (taken by Kris Valencia)
Truck campers are well suited for this route, which includes winding, narrow gravel road between Dawson City, Yukon, and Chicken, Alaska.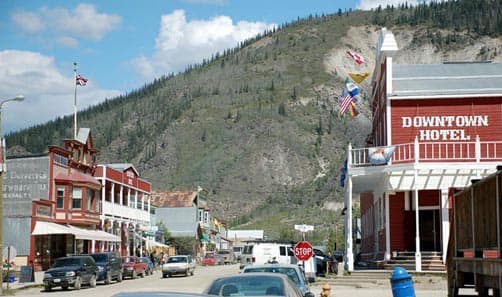 Above: Downtown Dawson City (taken by Kris Valencia)
There are many attractions that make this an attractive itinerary, not least of which is the well-preserved Gold Rush town of Dawson City.
Logging Alaska Roads
When The MILEPOST field editors go out on the road to "log," it means we are driving and taking notes and photos.  We use GPS units to track mileages against physical mileposts and kilometre posts, and either take written notes and/or record our observations of everything from rest areas to campgrounds to gas stations to what birds are in roadside ponds.
Once back in Alaska we quickly got back out on the road in the truck camper and logged parts of the Parks, Glenn, Richardson and Edgerton Highways (including McCarthy Road).  The Parks Highway always means a stop at Denali National Park to see what's new inside the Park and just outside the Park in the Nenana Canyon area, where most of the commercial enterprises offering food, gas, lodging and other services are located.
We had made reservations online for two nights at Riley Creek Campground, the Denali National Park campground nearest the Parks Highway.  It was full both nights we were there, a reminder that reservations are usually a must at Denali National Park.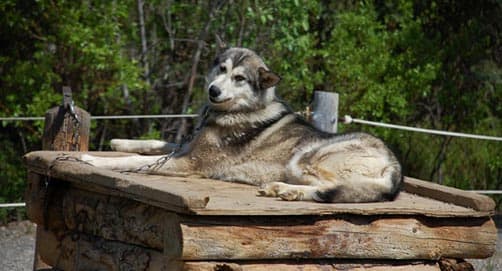 Above: Denali Park dog kennel tour (taken by Kris Valencia)
While visiting Denali National Park we took the tour of the Park's dog kennels, always a fun free activity, especially if you are short on time.  We also arranged to take the shortest of the Park's bus tours, the six-hour Toklat tour, so named because it stops and turns around at the Toklat River contact station.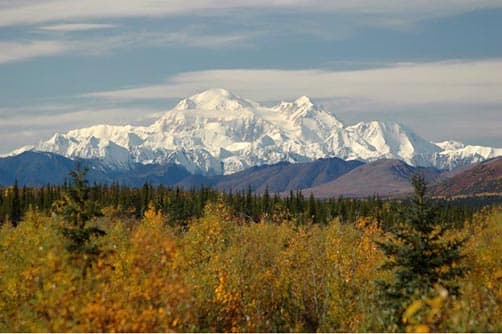 Above: Denali's Mount McKinley on a clear day (taken by Sharon Nault)
Clouds obscured Denali/Mount McKinley, and rain and mud obscured the bus windows, but we still enjoyed seeing this amazing landscape and saw some Dall sheep (but no bears).
The Glenn Highway and Tok Cutoff had a couple of construction projects under way this summer, which meant stopping and chatting with fellow travelers while waiting for the pilot vehicle to take us through the construction.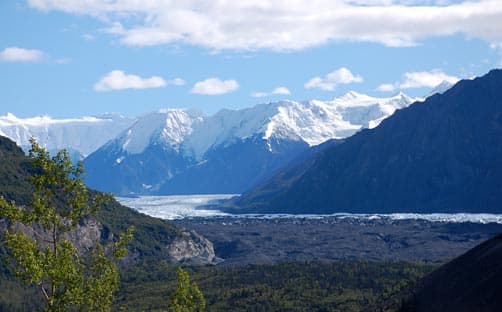 Above: View of Matanuska Glacier and Chugach Mountains from Glenn Highway (taken by Kris Valencia)
The Glenn offers some wonderful scenery and stops, like Matanuska Glacier and the Musk Ox Farm near Palmer.  It is also in good condition, although drivers should be prepared for about twenty-five miles of narrow, winding road from approximately Milepost 92 to Milepost 66 (those mileposts indicate distance from Anchorage).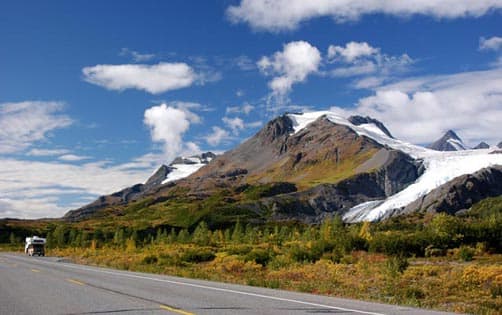 Above: A glacier on Richardson Highway (taken by Sharon Nault)
We camped at Northern Nights RV Park in Glennallen and stocked up on food at Omni Parks Place supermarket there.  After breakfast at the Caribou Hotel restaurant the next morning, we headed south on the Richardson Highway, stopping at the Wrangell-St. Elias National Park Visitor Center.  On a clear day, there is a great view from here of the Wrangell Mountains.  We continued our leisurely drive down the Richardson Highway, stopping for lunch at the historic Copper Center Lodge and walking down to the Klutina River to watch the fishermen.  We made another stop just south of Copper Center at the Alyeska Pipeline Interpretive area, which allows you great close-up photos of the Alaska pipeline.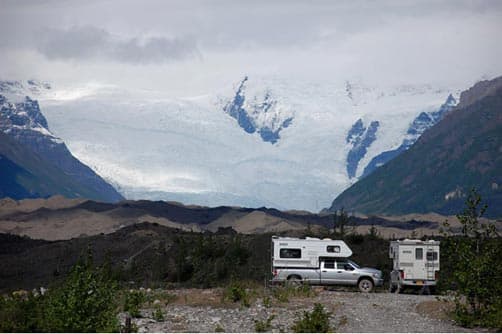 Above: McCarthy Road camping, view of Kennicott Glacier (taken by Kelley Barker)
This logging trip included driving the Edgerton Highway to Chitina and then the McCarthy Road to Kennicott McCarthy.  There is a tremendous amount to see in this area, from dipnet fishermen on the Copper River at Chitina to the old Kennecott Mill in Kennicott.  We took a break for refreshments at Gilpatrick's Hotel Chitina before starting out on the McCarthy Road.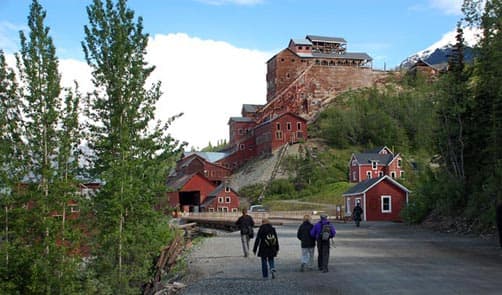 Above: Touring Kennicott (taken by Kris Valencia)
The McCarthy Road is not for everyone.  It is narrow, winding gravel, but the truck camper is a good choice for this Alaskan road.  McCarthy Road ends at the Kennicott River, where visitors use a pedestrian bridge to cross the river, then walk the road to McCarthy, which is less than a mile away. (There's van service from both McCarthy and the bridge to Kennicott.)  Visitors can camp at road end or arrange to stay in lodges in either McCarthy or Kennicott.
On our way back out the McCarthy Road, we had a flat tire, a common occurrence on the McCarthy Road no matter what kind of vehicle you are driving.  Fortunately it was near a pull-out and two Division of Forestry workers stopped to help us get the spare out and on the truck.  The jack we had with us was fine for the truck, but not for a truck with a camper.  Another lesson learned.
After stopping for dinner at Tonsina River Lodge at Mile 79 Richardson Highway, we drove south over Thompson Pass and down into Valdez.  In fine weather, this can be an absolutely spectacular drive that includes Worthington Glacier and Horsetail Falls and Bridal Veil Falls in Keystone Canyon.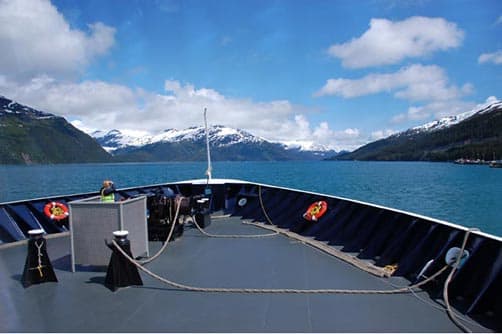 Above: Approaching Whittier on the state ferry (taken by Kris Valencia)
We made our way back to Anchorage from Valdez by taking an early morning Alaska State Ferry to Whittier.  Lucky us, the weather was clear and the icebergs from Columbia Glacier were glowing blue in the sunlight on Prince William Sound.  Glacier cruises are available out of Valdez and Whittier that offer close-up views of Columbia Glacier and the wildlife of Prince William Sound.
The ferry arrived in Whittier at 1:45 p.m. and if the timing works (it did), we always stop for fresh, hand-battered halibut at Varly's Swiftwater Café on the "Triangle" adjacent the harbor.  After eating and then doing some souvenir shopping, we headed for the staging area to enter Anton Anderson Tunnel.  At 2.5-miles in length, this is the longest tunnel in North America and also perhaps the most unique, with its alternating directional use for cars and trains.  We were lucky to hit the green light as we drove up, and did not have to wait.  (Coming the other way, you have to stop and pay a toll to use the tunnel.)  Once out of the tunnel we continued out to the Seward Highway.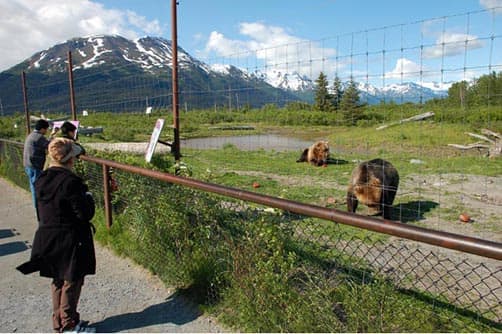 Above: Alaska Wildlife Conservation Center (taken by Kris Valencia)
The Alaska Conservation Center is located on the Seward Highway, very near the Whittier turnoff, so it was hard not to stop at this outdoor wildlife park on a beautiful sunny day.  We may have not seen any grizzly bears at Denali, but we saw them here!
Exploring Western Canada
Assistant Editor Claire Torgerson took the MILEPOST truck camper back down the Alaska and Cassiar highways to catch British Columbia Ferries out of Prince Rupert to Port Hardy on Vancouver Island.
She then logged the Central Access Route through British Columbia's Okanagan and the Deh Cho Route through Northwest Territories, before making her way back home via the Alaska Highway.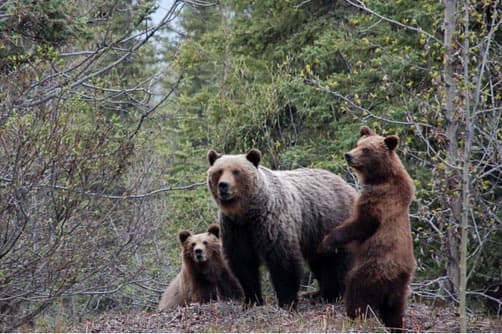 Above: Grizzly family at turnout at kmp 373 on the Cassiar Highway (taken by Kris Valencia)
Here's her report:
The Cassiar Highway is an all-season route with beautiful scenery and often amazing wildlife viewing.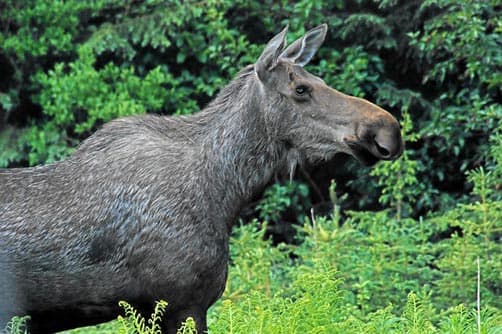 Above: Watch for moose grazing alongside the road, or crossing the road (taken by Sharon Nault)
A stop in at Jade City (producers of a million pounds of jade each year), led to conversations with fellow travelers eager to talk to the MILEPOST.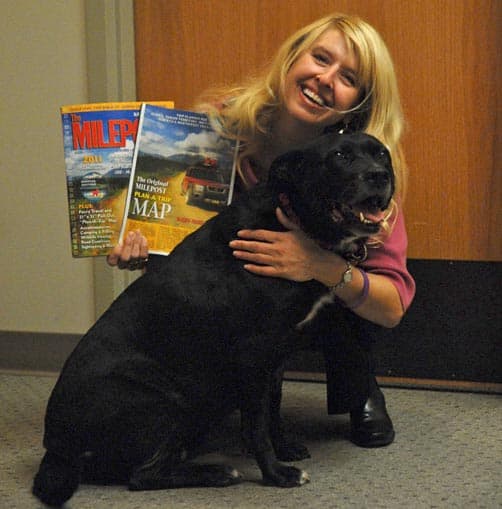 Above: Claire Torgerson, Assistant Editor and her English Lab, Trudy
My English Lab, Trudy, who had her inquisitive nose poked out the passenger-side club cab window, was labeled my 'assistant' by one canine aficionado.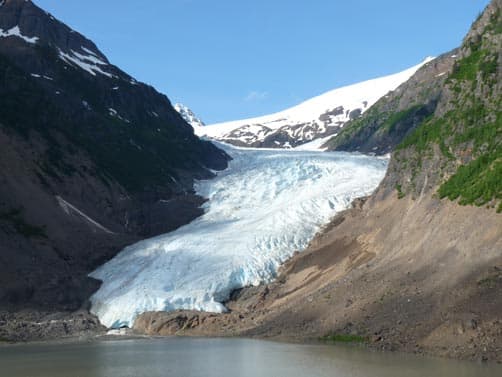 Above: Bear Glacier (taken by Claire Torgerson)
Always a highlight on this drive is a trip out the Stewart-Hyder access road with its incredible Bear Glacier views.
Trudy and I continued south to the Yellowhead Highway and turned west for Prince Rupert, stopping east of the city to spend the night at Prudhomme Lake Provincial Park.  (A reminder to travelers: It isn't uncommon for provincial parks to have a closed gate at 11 P.M. that doesn't open again till 7 A.M.)
Next morning it was on to Prince Rupert, with a side trip to Port Edward's North Pacific Cannery, to catch B.C. Ferries' Northern Expedition to Port Hardy.  This all-day sailing trip was packed with travelers, many of whom were from Germany.
From Port Hardy, our trip continued south into Vancouver, then by ferry to the mainland and down I-5 to Seattle, then east on I-90 to begin the Central Access Route at Ellensburg.  This MILEPOST itinerary takes you through the Okanagan and up past Wells Grey Provincial Park (don't miss the waterfalls!) to the Yellowhead Highway.  Just across the Washington–British Columbia border on Highway 97, Osoyoos has a lovely visitor centre to assist you with wine country tours and show you the location of local fruit stands.  Along the road to Penticton, there is a string of provincial parks for day-use and camping (you may be able to reserve ahead), with many of them offering long sandy beaches.
At Tete Jaune Cache, the end of the Central Access Route, we turned east on the Yellowhead Highway to Hinton, then north up the Bighorn Route to Grande Prairie, in order to connect with the Deh Cho Route to Northwest Territories.  Our final destination on this route was Yellowknife. While en route, the wind removed a vent covering from the exterior of the camper, necessitating a quick trip into Peace River to Thomas Homes & R.V. Center, where a genius fabricator on staff altered a vent cover from another camper model to fit ours.  Then we were back on the road!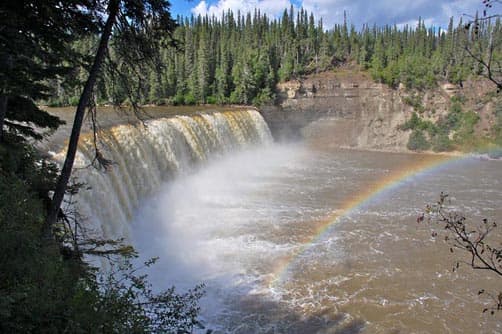 Above: Lady Evelyn Falls, Deh Cho Route (taken by Judy Nadon)
Three hundred miles later we crossed the border into Northwest Territories via the Waterfalls Route. Here the long miles of empty Northern landscape are interrupted by some amazing waterfalls—Alexandra, Louise, Lady Evelyn, Coral—all accessible from NWT Territorial Parks. Most of these government parks offer camping; just make sure you have cash to pay the fee, since the nearest ATM might be 200-plus miles away.
Thank goodness for screens on the camper windows!  The bugs can be unbelievably bad during Northern summers, as they were for me on this July trip.  It was also warm, so the vents and windows had to be open for comfort. We had a mixture of heat, rain and storms. Pulling into the Fred Henne Territorial Park in Yellowknife meant racing across the parking lot with an umbrella to arrange for a space to park.  That evening's thunderstorm was quite lively, and it was a relief to know we were up on rubber tires and safe from the elements.
During these twenty-three days of travel, there were many miles without communities or services, which made us even more grateful for the spacious refrigerator and cupboard space that extended our ability to be outside of city areas.  That first hot cup of coffee brewed each morning on our gas stove seemed more delicious than any coffee shop offering.
Truck Campers on Northern Roads
We probably see more motorhomes touring Alaska in the summer than any other RV, but truck campers are a close second and we enjoyed ours (although the MILEPOST editor has a folder of articles from TCM to help her choose her next truck camper).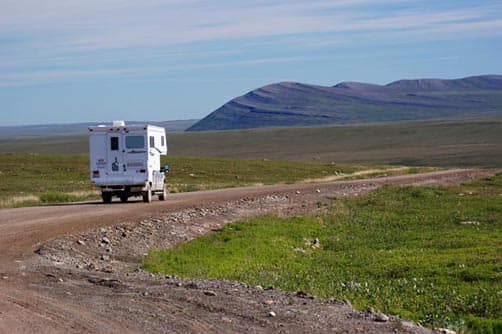 Above: A truck camper on the Dalton Highway (taken by Sharon Nault)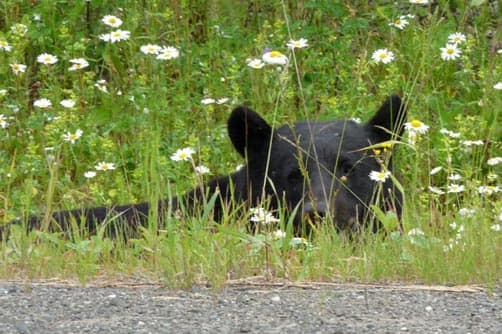 Above: Black bears are frequently seen on Northern highways (taken by Claire Torgerson)
For remote gravel roads like the Dalton Highway to Prudhoe Bay or the Dempster Highway to Inuvik, and even the Denali Highway between Cantwell and Paxson, truck campers are a sensible choice.  They have higher clearance than motorhomes or passenger vehicles; usually offer a 4-wheel-drive option, which can come in handy; and are able to negotiate narrow, winding roads with less chance of putting a wheel into the soft shoulder.
Whatever you are driving, we hope you have a copy of The MILEPOST with you!  And if you see our branded MILEPOST truck camper, be sure to wave or stop and chat with us about your travels!  You can also visit us online at www.themilepost.com.
The MILEPOST's Top Ten Alaska Destinations
1. Kennecott Mill Tour, Kennicott: (yes, 2 different spellings!) St. Elias Alpine Guides leads tours inside historic Kennecott mill building.  A rare opportunity, lots of stairs (watch your head!). The Park Service offers free programs at the Kennecott Visitor Center, but does not include inside mill tours.
2. Fountainhead Antique Auto Museum, Fairbanks: Entrance fee charged, but you can spend as long as you like enjoying this collection of pre-WWII cars and vintage fashion. Entertaining archival footage of early-day autos on Alaska's first roads.
3. Alaska Wildlife Conservation Center, Seward Highway: There are many opportunities to see wildlife in Alaska, but the AWCC makes it easy at their drive-thru animal park.  Minimal fee charged, which helps support AWCC's work rehabilitating orphaned and injured wildlife.  The Alaska Zoo in Anchorage also takes in orphaned wildlife, and is a great place to see wildlife.
4. Riverboat Discovery, Fairbanks: This is a popular tourist activity, and with good reason – they've been offering informative cruises on the Chena and Tanana rivers since 1950!
5. The Musk Ox Farm, Palmer: Your entrance fee helps support this non-profit agricultural project where shaggy musk ox are raised for their qiviut.  These prehistoric beasts can also be seen in Fairbanks at the University's Large Animal Research Station.
6. Take a Glacier and Wildlife Cruise: It's impossible to pick one, so here's three different places to go: Prince William Sound (cruises depart from Valdez and Whittier), Kenai Fjords (cruises depart from Seward), and Tracy Arm (cruises depart from Juneau).
7. Ride the White Pass and Yukon Route Railway, Skagway: You don't get many chances to ride a narrow-gauge railway, so don't miss this one!
8. Alaska Native Heritage Center, Anchorage: A great introduction to Alaska's Native people.  Ask about the Alaska Culture Pass, which gets you into both the Heritage Center and the Anchorage Museum.
9. Rika's Roadhouse, Big Delta State Historical Park: Located just west of Delta Junction, Rika's was built in 1910 and served travelers as a roadhouse into the late 1940s. Fee for parking, but you can tour the historic structures for free.
10. See the Trans-Alaska pipeline, various locations: There's a popular viewpoint on the Steese Expressway near Fairbanks, and three other good viewpoints on the Richardson Highway.