We arrived at the Alaska border 3,465 miles from home.  Coming to the Tetlin Welcome Center, we left the Alaskan Highway and turned onto the Tok Cut-Off Highway, Alaska Highway 1.
We then went east out of Slana towards Nabesna into the Wrangell-St. Elias National Park and Preserve and missed the sign that said something about checking with the locals for road conditions.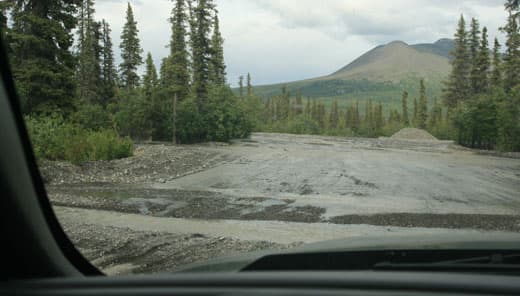 We made it to mile thirty-one where the road was washed out with three or four streams of water crossing the road.  The Ford pickup that had passed us at one of our stops was nowhere around so I know he made it through but, with a fully loaded truck and no real destination on the other side other than wildlife watching, we turned around.  The only wildlife we saw that day was a grouse with six chicks.  Still, it was beautiful, wide open country.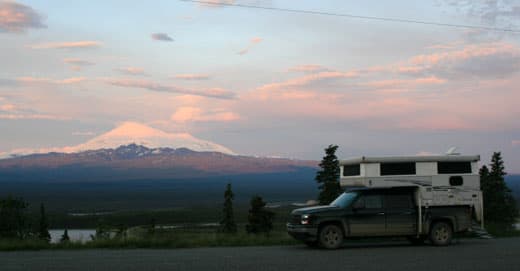 Above: Tok Cutoff, Highway 1, mile 56, Slana, Alaska
It's hard to tell someone just how big it seems in Alaska.  Back on Highway 1, we stopped just south of Slana for the night at a wide spot in the road.  It might have been made for a scenic overlook, or just a place to put construction equipment.  Once again, we enjoyed the feeling of just being free.
Day eight came and we made it to Seward where our only real plan was to go out on a boat to see the whales.  We went down to the docks and made reservations for the next day.  It would be a seven hour or so boat ride.  The main campground was full so we had to back track and found the little Seward Public Campground, which was all we needed.
On the boat we saw eagles, sea otters, humpback whales, sea lions, porpoises, and many, many birds.  They also took us to a glacier and fed us a great meal.  Talking to our table mates, we heard about Exit Glacier that was just outside of Seward.  After a short hike, you can get as close to the glacier as it is safe to do.  We later stopped around Eagle River at Chugach State Park.
The next day it was on to Wasilla where we got our engine oil changed, washed the truck and laundry, and took a shower at the laundromat.  Then it was north on Highway 3 toward Denali Park.
We stopped at one lookout to see if we could see Mt. McKinley and all it said on the signs was Mt. Denali so we thought we needed to keep going.  It seems the Alaskan people already had the mountain named Denali, which means the big one, before some newspaper reporter called it Mt. McKinley.  Either way, the mountain was covered with clouds so we moved on.
Next Stop, Denali!  
Later that day we arrived at Denali National Park.  They only let you drive in about fifteen miles on the ninety-five mile long road inside the park.  If you want to go further, you need to take the bus tour.
Again we saw a sign for Mt. Denali and stopped.  At this point we were about seventy-five miles away from the mountain and the clouds parted.  If we read the sign right, we got to see it.  A few miles in, we saw the only caribou of the trip.
Leaving Denali, we could go up to Fairbanks, or take the Denali Highway.  The Denali Highway is Highway 8 in Alaska, 134 miles of gravel road.  We took the Denali Highway.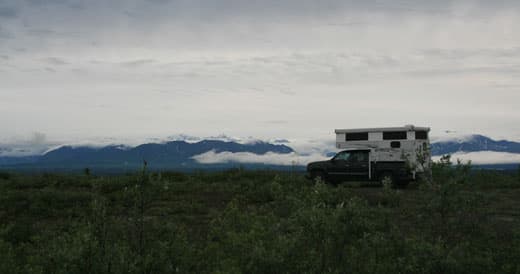 Above: Denali Highway, Highway 8, Mile 91, Alaska
Night ten of our trip was spent twenty yards off a dirt highway at mile 91.  Only five vehicles went by while we were there.  The rest of the time we were the only people on the planet.  That's people, not mosquitoes.
When we awoke, it was forty-two degrees outside.  There was a fast moving cow moose and calf down by the lake.