If one of us saw some thing we wanted to see, we would stop.  If we saw a wild animal, we would stop and try to get pictures.  We had no real time table and no reservations.  We were free.  At North Battleford, we stopped at a farm equipment museum.  There I saw a twenty bottom plow for the first time in my life.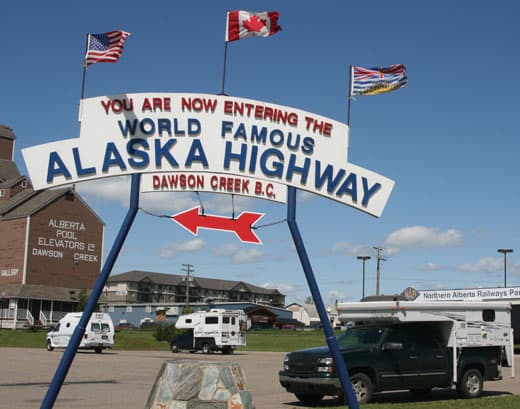 On day four of our trip we reached the start of the Alaskan highway at Dawson Creek, British Columbia.  We toured the museum, took pictures and ate lunch.  We can actually sit in our camper with the top down and eat lunch.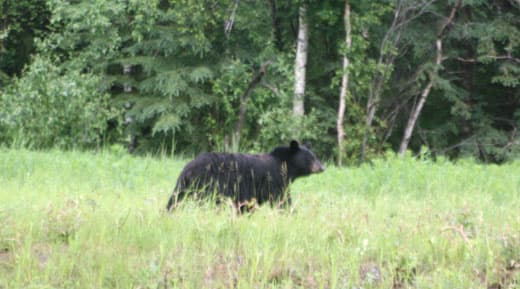 About 400 miles later we saw our first black bear of the trip.  After thirty pictures, we were on our way.  Cheryl told me, "Yes, it is a digital camera, but there will be more to take pictures of".
We made it to Fort Nelson that night.  The next morning was June 22nd.  The temperature outside reached forty-five degrees.  Still in British Columbia, we saw moose, stone sheep, rock slides, water falls, and a herd of thirty-five woodland bison.  It was beautiful country.
Later that day we saw a little sign for Smith River Falls.  After a kilometer and half down what became a two track road, we found three or four campsites with a view of the falls.  We would have stayed, but it was the middle of the day.  We saw more black bear, one with two cubs, Bison, and Rancheria Falls before stopping for the night at the Continental Divide campground in the Yukon Territory.
The next day we got our first pictures of a Moose, a cow eating in a pond, and stopped at the George Johnston Museum.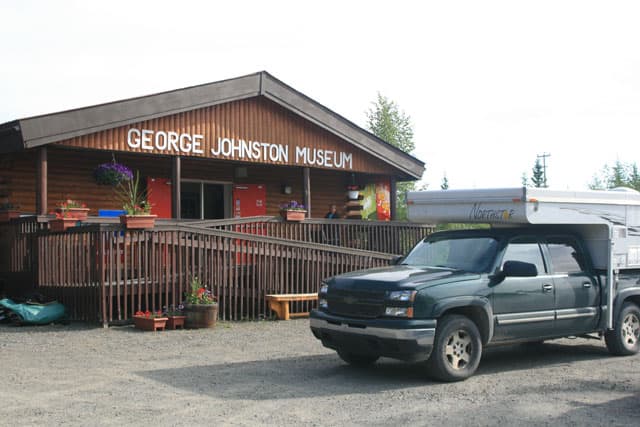 George Johnston had the first car in the area.  In the summer, he had five miles of roads to drive.  In the winter, he had seventy-two miles of lake ice to drive.  George taught himself photography and recorded the life of his indigenous people before the Alaskan Highway was built.
We had lunch at the Yukon River Dam, made it through Whitehorse, and then took a side trip to the Tekheli Hot Springs that we read about in Truck Camper Magazine.  We really enjoyed the hot springs and felt great the next day.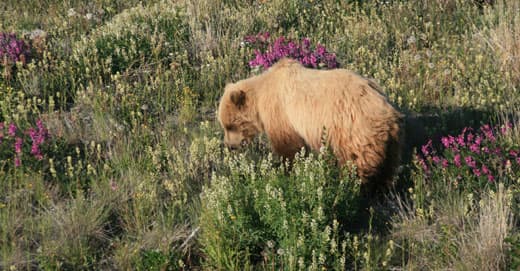 We saw our first Grizzly Bear near Kluane Lake.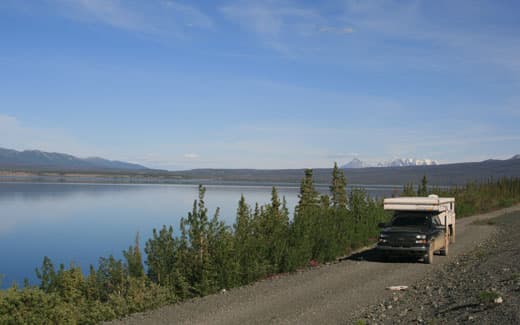 Above: Alaskan Highway, Kluane Lake, Yukon Territory, Canada
Later we stopped at the White River Campgrounds.  They had to open the gate to let us in as it was late.
The next morning we spent some time visiting with the campground owners and looking at all the old army trucks and equipment they have that were used to build the Alaskan Highway.  The owner told us to go down the air strip to the flag.  In the hole there we could see permafrost.  They had all kinds of animal mounts and some artifacts dug out of the permafrost.
He made the comment that they didn't see the traffic they once did and that more people were flying to Alaska and renting campers.  I would not have wanted to miss seeing what we saw in Canada.  To see even more wildlife, he told us to drive into the Wrangell National Preserve once we got into Alaska.  He also mentioned that, with our rig, we could camp anywhere in the Yukon and Alaska.
3,465 Miles Later, Alaska!