Starting in Michigan, Matt and Cheryl Reinker set out in their Chevy 1500 and Northstar TC650 on a 8,872 mile, 21 day cannonball run to Alaska, and back.

It all started when Cheryl's parents went to Alaska in a pickup camper.  We always thought we would do the same when we retired.
We actually went camping on our honeymoon.  We took the back seat out of a 1971 Blazer and went up north to the Upper Peninsula of Michigan.  Well, I guess that just about dates us.  I also went on a couple hunting trips with Cheryl's Dad in his pickup camper.  Since then, work, farm, and family kept us from going camping again.
Then Cheryl got the chance to go to Alaska with her cousin.  They stayed in hotels.  About half way through the trip, she told me that we should get a pickup camper.  They had trouble finding accommodations when they were ready to stop for the night and a truck camper would have been a much better solution.  After that, it was game on to find a truck camper.
Early on in my research I came across Truck Camper Magazine and started learning about matching a camper to a truck.  We already had a 2006 Chevy 1500 quad cab with a five foot eight inch box.  Clearly I needed a camper with a short center of gravity that would but the center of gravity in front of our rear wheels.
Soon after, I saw a used 2007 Northstar TC650 on the internet.  After visiting the Northstar website, I learned that the TC650 had a twenty-two inch center of gravity, a good match for our truck.  I made an appointment to see the camper and was surprised that it was a lot nicer than most of the campers we had in mind.  I bought the camper.
The Plan: Three Weeks to Alaska, and Back!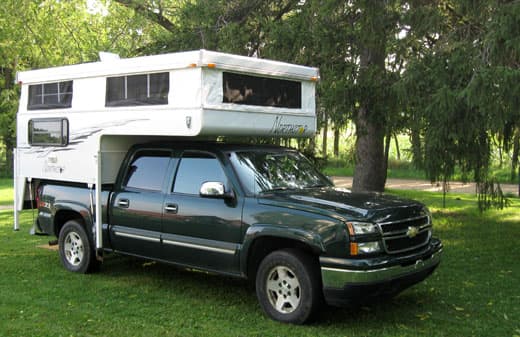 Above: Matt and Cheryl's 2006 Chevy 1500 and Northstar TC650
Would my work let me have three weeks off in a row?  We had planned on taking a few weekend trips before the Alaskan adventure, but the farm didn't let us.  Our very first camping trip would be an 8,872 mile three week journey to Alaska.  We jumped in with both feet after sleeping one night in our camper, in the front yard.
Prior to the trip, Cheryl injured her shoulder and had to have surgery.  That only gave her a month to recover before we left on our trip.  The camper has a north-south queen size bed.  The only way up was to step on the bench that runs the width of the front of the camper floor area.  Now the problem was getting into the cabover bed without hurting the shoulder since no stretching or weight type lifting activity was allowed.
As a solution, I built a wooden ladder similar to a bunk bed ladder that rested on the floor and hooked over the rail that runs the pop up mechanism.  It worked like a charm.  It can be left in place while going down the road with no problem and stored up on the bed during meals so it's not in the way of using the refrigerator.
Ready, Set… Go!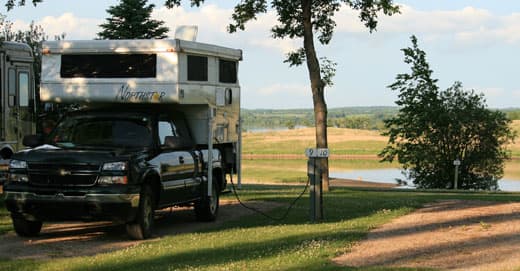 On our first day of driving we put in about twelve and a half hours and 773 miles to Ashby, Minnesota.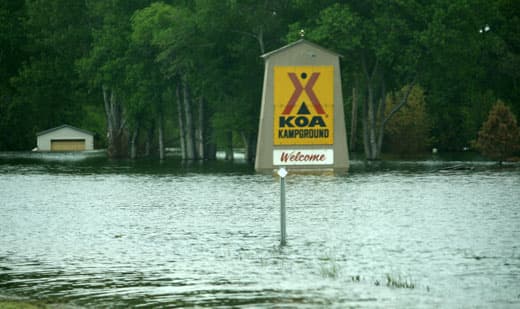 The next day we went up through Minot, North Dakota and saw one KOA under about four feet of water.  All the way up into Canada there was flooding and some places had four foot sand bags next to the road.  We were blessed that it did not keep us from making Regina, Saskatchewan that night.