Starting in Michigan, Matt and Cheryl Reinker set out in their Chevy 1500 and Northstar TC650 on a 8,872 mile, 21 day cannonball run to Alaska, and back.

It all started when Cheryl's parents went to Alaska in a pickup camper.  We always thought we would do the same when we retired.
We actually went camping on our honeymoon.  We took the back seat out of a 1971 Blazer and went up north to the Upper Peninsula of Michigan.  Well, I guess that just about dates us.  I also went on a couple hunting trips with Cheryl's Dad in his pickup camper.  Since then, work, farm, and family kept us from going camping again.
Then Cheryl got the chance to go to Alaska with her cousin.  They stayed in hotels.  About half way through the trip, she told me that we should get a pickup camper.  They had trouble finding accommodations when they were ready to stop for the night and a truck camper would have been a much better solution.  After that, it was game on to find a truck camper.
Early on in my research I came across Truck Camper Magazine and started learning about matching a camper to a truck.  We already had a 2006 Chevy 1500 quad cab with a five foot eight inch box.  Clearly I needed a camper with a short center of gravity that would but the center of gravity in front of our rear wheels.
Soon after, I saw a used 2007 Northstar TC650 on the internet.  After visiting the Northstar website, I learned that the TC650 had a twenty-two inch center of gravity, a good match for our truck.  I made an appointment to see the camper and was surprised that it was a lot nicer than most of the campers we had in mind.  I bought the camper.
The Plan: Three Weeks to Alaska, and Back!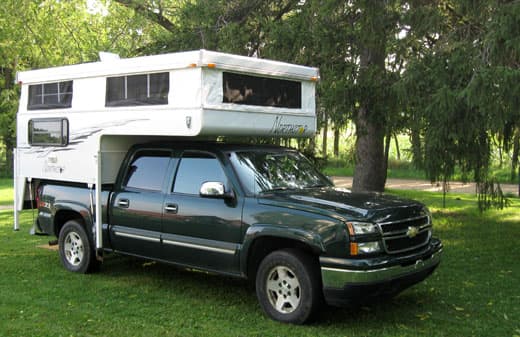 Above: Matt and Cheryl's 2006 Chevy 1500 and Northstar TC650
Would my work let me have three weeks off in a row?  We had planned on taking a few weekend trips before the Alaskan adventure, but the farm didn't let us.  Our very first camping trip would be an 8,872 mile three week journey to Alaska.  We jumped in with both feet after sleeping one night in our camper, in the front yard.
Prior to the trip, Cheryl injured her shoulder and had to have surgery.  That only gave her a month to recover before we left on our trip.  The camper has a north-south queen size bed.  The only way up was to step on the bench that runs the width of the front of the camper floor area.  Now the problem was getting into the cabover bed without hurting the shoulder since no stretching or weight type lifting activity was allowed.
As a solution, I built a wooden ladder similar to a bunk bed ladder that rested on the floor and hooked over the rail that runs the pop up mechanism.  It worked like a charm.  It can be left in place while going down the road with no problem and stored up on the bed during meals so it's not in the way of using the refrigerator.
Ready, Set… Go!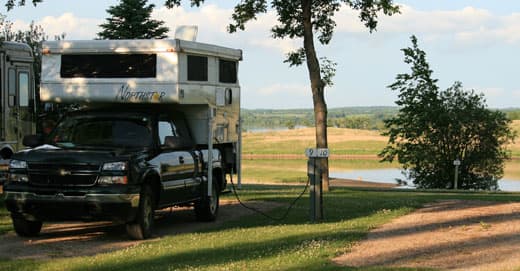 On our first day of driving we put in about twelve and a half hours and 773 miles to Ashby, Minnesota.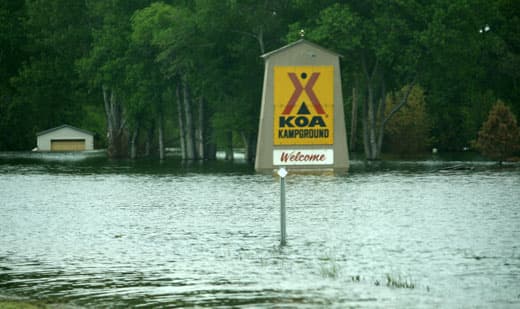 The next day we went up through Minot, North Dakota and saw one KOA under about four feet of water.  All the way up into Canada there was flooding and some places had four foot sand bags next to the road.  We were blessed that it did not keep us from making Regina, Saskatchewan that night.
If one of us saw some thing we wanted to see, we would stop.  If we saw a wild animal, we would stop and try to get pictures.  We had no real time table and no reservations.  We were free.  At North Battleford, we stopped at a farm equipment museum.  There I saw a twenty bottom plow for the first time in my life.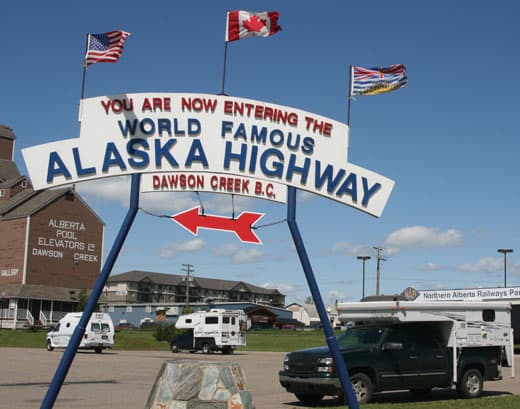 On day four of our trip we reached the start of the Alaskan highway at Dawson Creek, British Columbia.  We toured the museum, took pictures and ate lunch.  We can actually sit in our camper with the top down and eat lunch.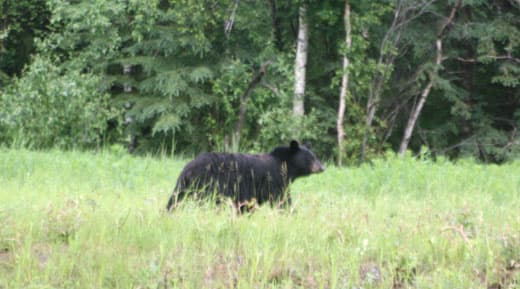 About 400 miles later we saw our first black bear of the trip.  After thirty pictures, we were on our way.  Cheryl told me, "Yes, it is a digital camera, but there will be more to take pictures of".
We made it to Fort Nelson that night.  The next morning was June 22nd.  The temperature outside reached forty-five degrees.  Still in British Columbia, we saw moose, stone sheep, rock slides, water falls, and a herd of thirty-five woodland bison.  It was beautiful country.
Later that day we saw a little sign for Smith River Falls.  After a kilometer and half down what became a two track road, we found three or four campsites with a view of the falls.  We would have stayed, but it was the middle of the day.  We saw more black bear, one with two cubs, Bison, and Rancheria Falls before stopping for the night at the Continental Divide campground in the Yukon Territory.
The next day we got our first pictures of a Moose, a cow eating in a pond, and stopped at the George Johnston Museum.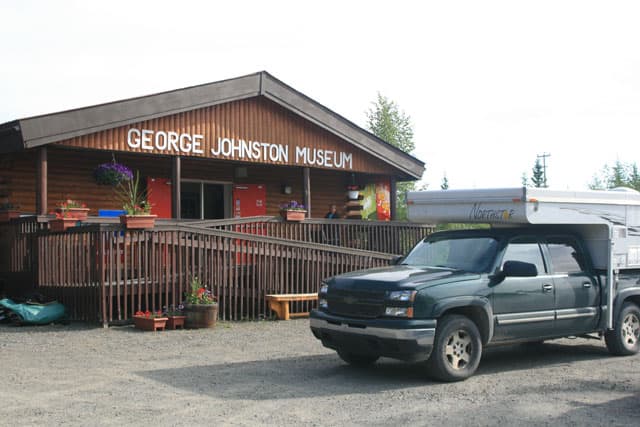 George Johnston had the first car in the area.  In the summer, he had five miles of roads to drive.  In the winter, he had seventy-two miles of lake ice to drive.  George taught himself photography and recorded the life of his indigenous people before the Alaskan Highway was built.
We had lunch at the Yukon River Dam, made it through Whitehorse, and then took a side trip to the Tekheli Hot Springs that we read about in Truck Camper Magazine.  We really enjoyed the hot springs and felt great the next day.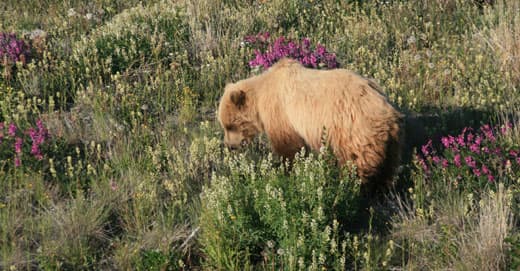 We saw our first Grizzly Bear near Kluane Lake.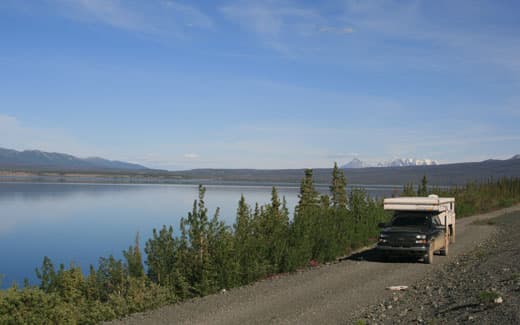 Above: Alaskan Highway, Kluane Lake, Yukon Territory, Canada
Later we stopped at the White River Campgrounds.  They had to open the gate to let us in as it was late.
The next morning we spent some time visiting with the campground owners and looking at all the old army trucks and equipment they have that were used to build the Alaskan Highway.  The owner told us to go down the air strip to the flag.  In the hole there we could see permafrost.  They had all kinds of animal mounts and some artifacts dug out of the permafrost.
He made the comment that they didn't see the traffic they once did and that more people were flying to Alaska and renting campers.  I would not have wanted to miss seeing what we saw in Canada.  To see even more wildlife, he told us to drive into the Wrangell National Preserve once we got into Alaska.  He also mentioned that, with our rig, we could camp anywhere in the Yukon and Alaska.
3,465 Miles Later, Alaska!
We arrived at the Alaska border 3,465 miles from home.  Coming to the Tetlin Welcome Center, we left the Alaskan Highway and turned onto the Tok Cut-Off Highway, Alaska Highway 1.
We then went east out of Slana towards Nabesna into the Wrangell-St. Elias National Park and Preserve and missed the sign that said something about checking with the locals for road conditions.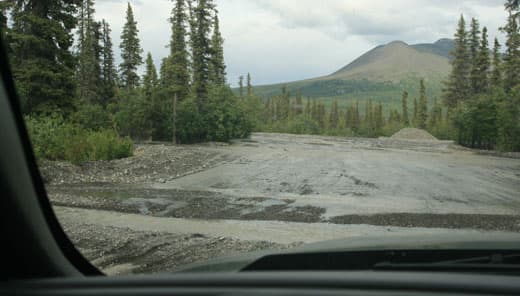 We made it to mile thirty-one where the road was washed out with three or four streams of water crossing the road.  The Ford pickup that had passed us at one of our stops was nowhere around so I know he made it through but, with a fully loaded truck and no real destination on the other side other than wildlife watching, we turned around.  The only wildlife we saw that day was a grouse with six chicks.  Still, it was beautiful, wide open country.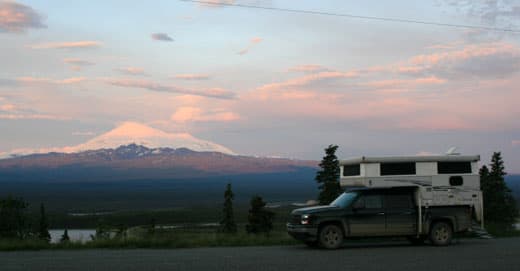 Above: Tok Cutoff, Highway 1, mile 56, Slana, Alaska
It's hard to tell someone just how big it seems in Alaska.  Back on Highway 1, we stopped just south of Slana for the night at a wide spot in the road.  It might have been made for a scenic overlook, or just a place to put construction equipment.  Once again, we enjoyed the feeling of just being free.
Day eight came and we made it to Seward where our only real plan was to go out on a boat to see the whales.  We went down to the docks and made reservations for the next day.  It would be a seven hour or so boat ride.  The main campground was full so we had to back track and found the little Seward Public Campground, which was all we needed.
On the boat we saw eagles, sea otters, humpback whales, sea lions, porpoises, and many, many birds.  They also took us to a glacier and fed us a great meal.  Talking to our table mates, we heard about Exit Glacier that was just outside of Seward.  After a short hike, you can get as close to the glacier as it is safe to do.  We later stopped around Eagle River at Chugach State Park.
The next day it was on to Wasilla where we got our engine oil changed, washed the truck and laundry, and took a shower at the laundromat.  Then it was north on Highway 3 toward Denali Park.
We stopped at one lookout to see if we could see Mt. McKinley and all it said on the signs was Mt. Denali so we thought we needed to keep going.  It seems the Alaskan people already had the mountain named Denali, which means the big one, before some newspaper reporter called it Mt. McKinley.  Either way, the mountain was covered with clouds so we moved on.
Next Stop, Denali!  
Later that day we arrived at Denali National Park.  They only let you drive in about fifteen miles on the ninety-five mile long road inside the park.  If you want to go further, you need to take the bus tour.
Again we saw a sign for Mt. Denali and stopped.  At this point we were about seventy-five miles away from the mountain and the clouds parted.  If we read the sign right, we got to see it.  A few miles in, we saw the only caribou of the trip.
Leaving Denali, we could go up to Fairbanks, or take the Denali Highway.  The Denali Highway is Highway 8 in Alaska, 134 miles of gravel road.  We took the Denali Highway.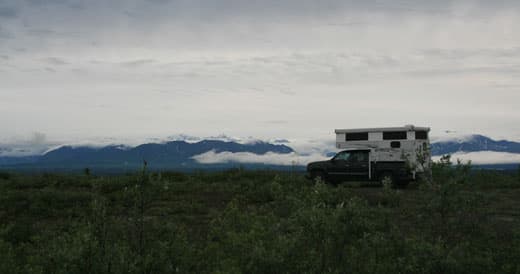 Above: Denali Highway, Highway 8, Mile 91, Alaska
Night ten of our trip was spent twenty yards off a dirt highway at mile 91.  Only five vehicles went by while we were there.  The rest of the time we were the only people on the planet.  That's people, not mosquitoes.
When we awoke, it was forty-two degrees outside.  There was a fast moving cow moose and calf down by the lake.
At Maclaren Pass, we came across a young couple in a VW camper van in need of a jump start.  They had spent the night with a dead battery.
At mile 35, I couldn't resist the urge to jump out of the truck and throw a snowball.  Reaching the end of Denali Highway, we turned north up Highway 4 to Delta Junction so we could travel the rest of the Alaskan Highway on the way back.  We got to see the Alaskan pipeline on this stretch.
The Return Trip Back to Michigan by way of the Canadian Rockies
For night eleven we were back in Canada at the Klaune River rest area.  For this part of the trip, we were back tracking on the Alaskan Highway as road choices are limited and so was our time.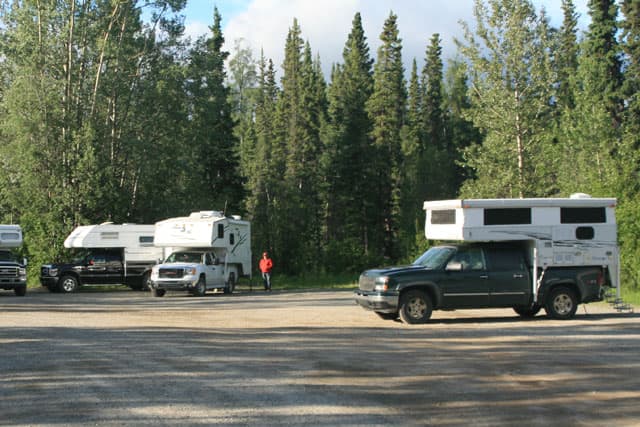 Above: Beaver Dam rest area, Highway 37
We turned south on Highway 37 at Nugget City and headed for Jasper National Park in Canada where we wanted to spend a couple of days.  We camped at the Beaver Dam rest area where we gave a bicyclist a couple of bottles of water.  He did not make as many miles as he thought he would that day.  Not sure I would take a bike since we saw bears not too far from there, but more power to him for doing his thing.
We turned east on Highway 16 making it to Hazleton for the night.  The next morning, we past Vanderhoof around kilometer 840 and we saw a small sign for an ancient cedar forest.  So we turned around and went for a hike.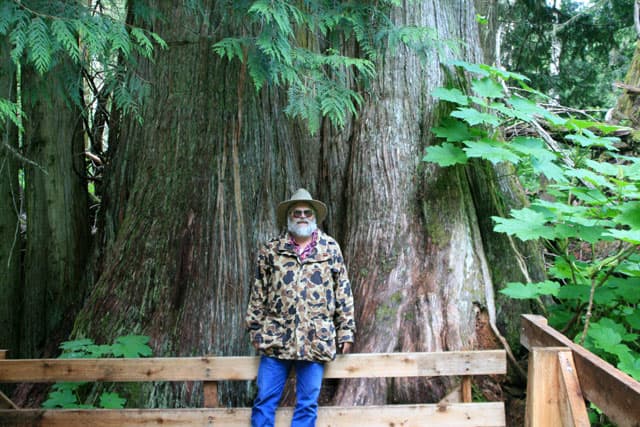 I guess because of the hill it was on, they had never cut these trees.  About half way through the hike we came to this cedar tree that was sixteen feet in diameter and estimated to be 2,000 years old.  They still had a lot of work to do on the trail, but it was worth the hike.
Heading Home, Through Jasper!
It was July 4th weekend and we were in Jasper Park.  We got to see a Crown Royal Bull Elk, a couple of black bears, waterfalls, hanging glaciers, mountain goats, and the Columbia Icefield.
We spent the night in the overflow camping area.  It was a paved parking lot that was not flat at all, but what a view we had.  Out the front window was the Columbia Icefield with the Athabasca Glacier coming off it.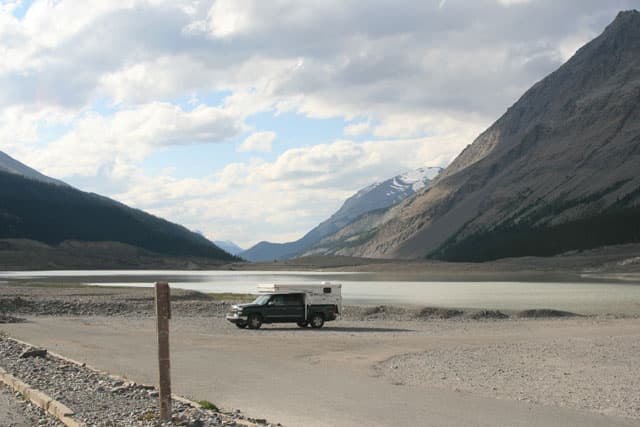 Next we went down through the Banff National Park.  Leaving the mountains we went through rocky range land with small planted areas and pastures.  We stopped at the Kinbrook Island Provincial Park in Brooks, Saskatchewan.  The following day drove about 500 miles to Elkhorn Community Campground.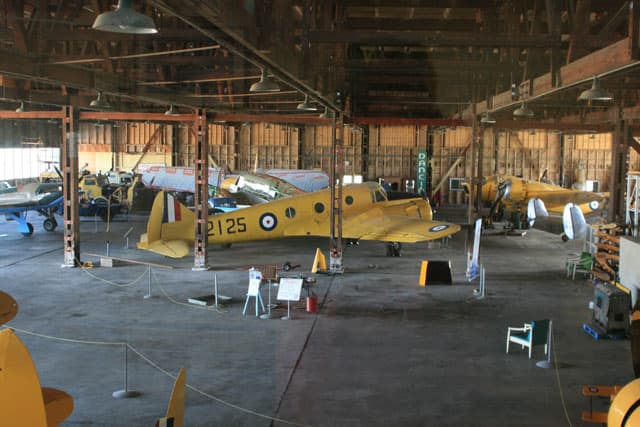 The next day we stopped at Brandon, Manitoba to visit the Commonwealth Air Training Flight Museum.  Brandon is where England and Canada trained pilots for World War II.  Some US pilots trained there before the United States got into the war.  A big thanks to all who serve!
Taking Highway 10, we turned south toward the States.  We got invited into the garage at the border and had our refrigerator inspected for wild game, or maybe just fish.  I'm not sure.  I just let them do their job and we were on our way.  Route 10 turned into 281 and then we turned east on Highway 2 and waited too long to start looking for a place to camp.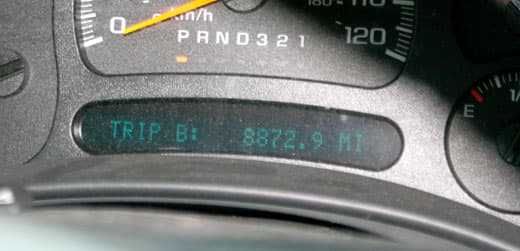 We finally found a place in Warba, Minnesota, with a population of 183.  The next day we made it to Cheryl's folks in the Upper Peninsula of Michigan.  After staying with them two days, we headed home finishing what we hope was the first of our Alaska adventures.  We traveled over the 8,870 miles and averaged fourteen miles per gallon.
No Sleep, Until Alaska
The motto for our trip was, "No missed turns, only unplanned side trips".  Basically we stopped, ate, and went to bed.  Then we got up and drove most of the next day.  It was hard to know when to stop because it never really got dark.  There just might be a moose or bear around the next bend.
On our next trip, we hope to stay in an area and camp for a couple of days at a time, have a few campfires, and relax more.  We may even read a book, or at least research our next destination better.  We're thinking maybe Yellowstone.
MATT AND CHERYL REINKER'S TRUCK CAMPER RIG
TRUCK: 2006 Chevy 1500, crew cab, single rear wheel, short bed, 4×4, 5.3 V8 gas
CAMPER: 2007 Northstar TC650
JACKS: Happijac
TIE-DOWNS/TURNBUCKLES: Home made truck frame attachments with Torklift Fastguns
SUSPENSION: Firestone Sport Rite 2320 Air Bags
GEAR: NAPA front Rotors and Pads, Goodyear Wrangler ST M+S P265/70R17 Tires, Torklift A7504 Glow Step, Home made bed ladder, Fia GS900 Summer Bug Screen, CIPA 10800 Towing Mirrors