Life long traveler and adventurer Skip Bosley shares his Alaskan dream, campfire stories, and ten tips for taking a truck camper to The Last Frontier.

I have always been interested in fly fishing, but had never taken much time to do it.  For years I've had several old bamboo fly rods and some raggedy dry flies which I'd barely wetted.  When Linda agreed to set the course for Alaska the summer of 2004, I began to dream of fly casting to the "big'uns" I'd read about.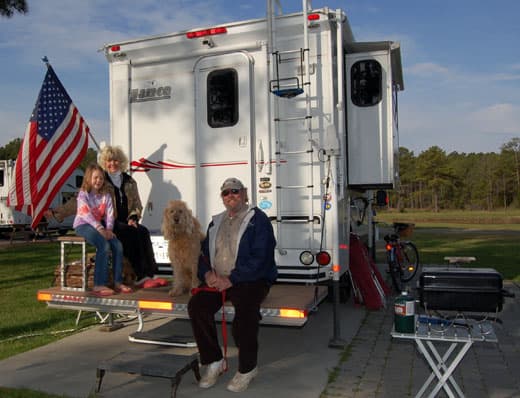 Above left to right: Cassie Anna, their granddaughter, Linda, Marley, and Skip Bosley
Someone had told me of Lynn Schooler's book, "The Blue Bear".  As an Alaskan wildlife guide primarily taking wildlife photographers into the bush, Lynn's life story was wonderful.  He had guided Michio Hoshino, reputed to be one of the foremost photographers of wildlife ever.
Lynn described his meeting with the Alaskans who had chosen "subsistence living". When this lifestyle is chosen, an Alaskan citizen can build a house in any remote spot on public land.  They may live there for life but can not pass the property on.  Every Alaskan gets a stipend from the oil industry and the subsistence livers get additional money from the State.  They can hunt and fish the year round, but only to feed themselves.  Most are solitary, hermit like, figures.
Schooler has spent much of his life in the deep woods and knows many of the subsistence folks.  He tells the tale of one fellow who would bum coffee and swap stories when Lynn and Michio would anchor in a cove near his cabin.  One of his stories was about how he came up to Alaska from Washington State during the last gold rush.  He came up with two friends in a leaky old rowboat.  The drill was one rowed, one bailed, and the third screamed for help.
I have also read some of the best authors of fly fishing technique, Lefty Kreh being the most prominent.  Lefty has never written of Alaskan fishing, but an old pal of ours and follower of Lefty's, Rocky Stump, also a Master, had fished many rivers and streams in Alaska.  When Rocky heard of our plans he came by and offered reams of maps, directions, and methods to catch fish with a fly rod in the North Country.  Rocky also suggested we stop on our way west at the Cabela's in South Dakota on I-90.  The manager of the fishing department was a foremost expert on fishing Alaska and would be a big help.
Skip's Tip #1: Fishing licenses are required.  They can be had for reduced rates for short periods.  There is no substitute for local knowledge, so ask questions on how and where to fish. We were able to get lots of information from many sources, mostly from fishing gear stores.  Be sure to use fresh fly line, leaders and tippets as the fish are bigger and stronger than most of the places we've fished in the lower lands.
We pulled onto the very large grounds of the Cabela's in Mitchell, South Dakota late on a Friday evening.  The fishing guy, we were told, had just left to go fishing.  We were welcome to spend the weekend in our truck camper, in their parking lot, at no charge, until he returned on Monday.  We did.
The Cabela's had kennels for dogs, corrals for horses, a cafeteria, and an amazing variety of stuff for all forms of outdoor activity.  As former sailors and deep sea fisherman, we were kept in the thick of a busy boat show all weekend.
On Monday our man arrived and looked over our gear.  He said that if we were to get to Summit Lake on the way to Seward on the Kenai Peninsula, we would have a chance at some of the largest rainbow trout on the planet.  He sold me a heavy rod and reel, some stout line, leaders, and tippets, and showed me a collection of flies, all of the same pattern ranging in size from three inches ($15.00), one and a half inches ($7.50) , three-quarters of an inch ($5.00) and so on.  He said some of these fish were the size of barracuda.  I bought a half dozen of the one and a half inch $7.50 size.
Skip's Tip #2: Along with the free stop at Cabela's, we often stayed at Walmart lots.  They are very convenient for quick stops and early starts.  We bought the Walmart Road Atlas.  In addition to being a complete atlas, the Walmart Road Atlas gives the locations of all the stores as well as the zip codes that are needed to tune in the satellite dish.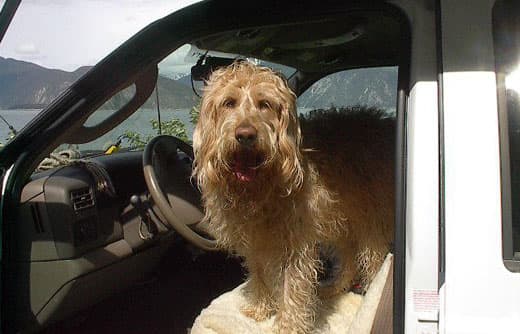 Above: Marley, their dog, ready to explore Alaska
 In mid-May, we arrived at our oldest and dearest friends home, Ferdinand and Claire's, in Clyde Hill, Washington.  Ferd had introduced us when we were young teens.  They had been living in Washington for years and had traveled to Alaska frequently for both business and pleasure.  Ferd had convinced us to use the Alaska Marine Highway, the Ferry System also known as  the "Blue Canoe", instead of driving the ALCAN Highway.  The trip would be four nights on the Inside Passage, a mostly protected body of water.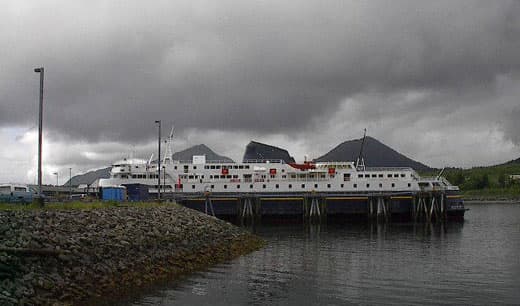 Above: The M/V Columbia docked in Ketchikan, Alaska
We boarded the M/V Columbia, a 700 foot ship, in Bellingham, Washington.  We were required to shut off our propane for the duration of the voyage.  To keep our food from spoiling, we loaded some dry ice into the freezer from a nearby ice house.  We also got two collapsible coolers to take our refrigerated food to our cabin.  Ice machines were around as any hotel would provide.
Skip's Tip #3: We avoid making reservations as much as possible, preferring the "zen" method.  We visualize our needs in advance and thereby cause our needs to be fulfilled.  It has worked, mostly.  But, for the Alaska Marine Highway ferry in the Spring, on the way north, I recommend making reservations at least a month in advance.  We did meet someone in a truck camper who camped in the ferry parking lot for two days and got on when someone cancelled.  We did not need reservations for the south bound trip.
For the Alaska Marine Highway, they measured our rig and charged us by the foot.  It was about $1,400 for the camper and $600 for the cabin.  We later learned about a deal called, "sleeping on deck".  In large covered spaces, people pitched tents and air mattresses or used plastic chaise lounges provided for no charge, other than the fee for the vehicle. The spaces are heated and showers and laundry machines are available.