Life long traveler and adventurer Skip Bosley shares his Alaskan dream, campfire stories, and ten tips for taking a truck camper to The Last Frontier.

I have always been interested in fly fishing, but had never taken much time to do it.  For years I've had several old bamboo fly rods and some raggedy dry flies which I'd barely wetted.  When Linda agreed to set the course for Alaska the summer of 2004, I began to dream of fly casting to the "big'uns" I'd read about.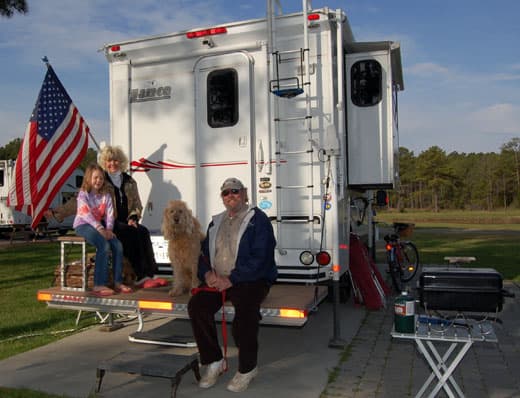 Above left to right: Cassie Anna, their granddaughter, Linda, Marley, and Skip Bosley
Someone had told me of Lynn Schooler's book, "The Blue Bear".  As an Alaskan wildlife guide primarily taking wildlife photographers into the bush, Lynn's life story was wonderful.  He had guided Michio Hoshino, reputed to be one of the foremost photographers of wildlife ever.
Lynn described his meeting with the Alaskans who had chosen "subsistence living". When this lifestyle is chosen, an Alaskan citizen can build a house in any remote spot on public land.  They may live there for life but can not pass the property on.  Every Alaskan gets a stipend from the oil industry and the subsistence livers get additional money from the State.  They can hunt and fish the year round, but only to feed themselves.  Most are solitary, hermit like, figures.
Schooler has spent much of his life in the deep woods and knows many of the subsistence folks.  He tells the tale of one fellow who would bum coffee and swap stories when Lynn and Michio would anchor in a cove near his cabin.  One of his stories was about how he came up to Alaska from Washington State during the last gold rush.  He came up with two friends in a leaky old rowboat.  The drill was one rowed, one bailed, and the third screamed for help.
I have also read some of the best authors of fly fishing technique, Lefty Kreh being the most prominent.  Lefty has never written of Alaskan fishing, but an old pal of ours and follower of Lefty's, Rocky Stump, also a Master, had fished many rivers and streams in Alaska.  When Rocky heard of our plans he came by and offered reams of maps, directions, and methods to catch fish with a fly rod in the North Country.  Rocky also suggested we stop on our way west at the Cabela's in South Dakota on I-90.  The manager of the fishing department was a foremost expert on fishing Alaska and would be a big help.
Skip's Tip #1: Fishing licenses are required.  They can be had for reduced rates for short periods.  There is no substitute for local knowledge, so ask questions on how and where to fish. We were able to get lots of information from many sources, mostly from fishing gear stores.  Be sure to use fresh fly line, leaders and tippets as the fish are bigger and stronger than most of the places we've fished in the lower lands.
We pulled onto the very large grounds of the Cabela's in Mitchell, South Dakota late on a Friday evening.  The fishing guy, we were told, had just left to go fishing.  We were welcome to spend the weekend in our truck camper, in their parking lot, at no charge, until he returned on Monday.  We did.
The Cabela's had kennels for dogs, corrals for horses, a cafeteria, and an amazing variety of stuff for all forms of outdoor activity.  As former sailors and deep sea fisherman, we were kept in the thick of a busy boat show all weekend.
On Monday our man arrived and looked over our gear.  He said that if we were to get to Summit Lake on the way to Seward on the Kenai Peninsula, we would have a chance at some of the largest rainbow trout on the planet.  He sold me a heavy rod and reel, some stout line, leaders, and tippets, and showed me a collection of flies, all of the same pattern ranging in size from three inches ($15.00), one and a half inches ($7.50) , three-quarters of an inch ($5.00) and so on.  He said some of these fish were the size of barracuda.  I bought a half dozen of the one and a half inch $7.50 size.
Skip's Tip #2: Along with the free stop at Cabela's, we often stayed at Walmart lots.  They are very convenient for quick stops and early starts.  We bought the Walmart Road Atlas.  In addition to being a complete atlas, the Walmart Road Atlas gives the locations of all the stores as well as the zip codes that are needed to tune in the satellite dish.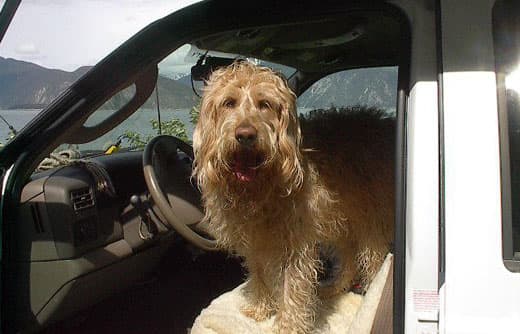 Above: Marley, their dog, ready to explore Alaska
 In mid-May, we arrived at our oldest and dearest friends home, Ferdinand and Claire's, in Clyde Hill, Washington.  Ferd had introduced us when we were young teens.  They had been living in Washington for years and had traveled to Alaska frequently for both business and pleasure.  Ferd had convinced us to use the Alaska Marine Highway, the Ferry System also known as  the "Blue Canoe", instead of driving the ALCAN Highway.  The trip would be four nights on the Inside Passage, a mostly protected body of water.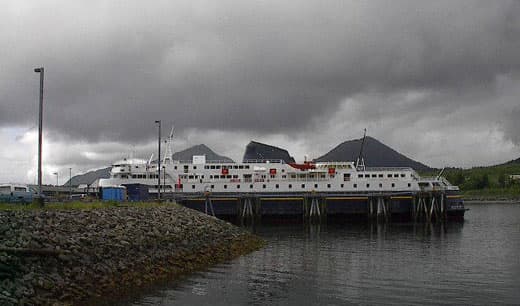 Above: The M/V Columbia docked in Ketchikan, Alaska
We boarded the M/V Columbia, a 700 foot ship, in Bellingham, Washington.  We were required to shut off our propane for the duration of the voyage.  To keep our food from spoiling, we loaded some dry ice into the freezer from a nearby ice house.  We also got two collapsible coolers to take our refrigerated food to our cabin.  Ice machines were around as any hotel would provide.
Skip's Tip #3: We avoid making reservations as much as possible, preferring the "zen" method.  We visualize our needs in advance and thereby cause our needs to be fulfilled.  It has worked, mostly.  But, for the Alaska Marine Highway ferry in the Spring, on the way north, I recommend making reservations at least a month in advance.  We did meet someone in a truck camper who camped in the ferry parking lot for two days and got on when someone cancelled.  We did not need reservations for the south bound trip.
For the Alaska Marine Highway, they measured our rig and charged us by the foot.  It was about $1,400 for the camper and $600 for the cabin.  We later learned about a deal called, "sleeping on deck".  In large covered spaces, people pitched tents and air mattresses or used plastic chaise lounges provided for no charge, other than the fee for the vehicle. The spaces are heated and showers and laundry machines are available.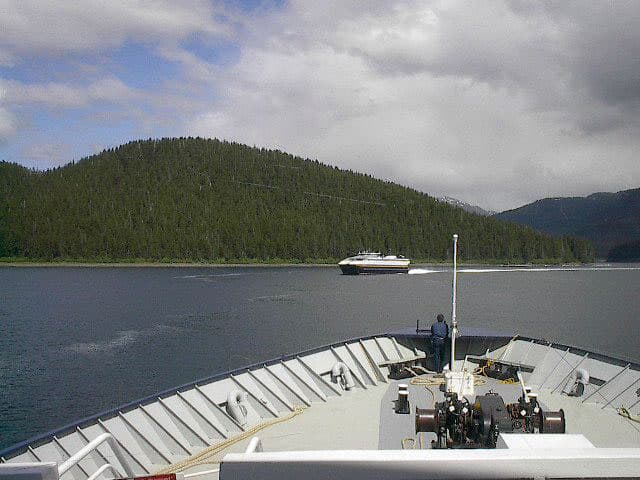 Above: The Alaska Marine Highway looking over the bow of the ship
The passage was wonderful!  And it was even better there was no wear and tear on the rig.  Fuel prices had spiked so the ferry was probably a draw with driving time and cost.
Each morning we would all gather in the forward observation lounge, a large theater like space just below the bridge.  With coffee in our hand, National Forest Service Rangers gave lectures on the history of Alaska, the native peoples, and the flora and fauna.  In the evening, we came to the forward observation lounge with cocktails to meet and greet our fellow passengers.  The food was served cafeteria style with lots of fresh seafood.  There were some limited cooking facilities for anyone who wanted to cook their own meals.
Above: Their sleeping quarters while traveling on the Alaska Marine Highway
Because of Marley's status as a "service dog" she stayed in our cabin.  Other dogs stayed in their vehicles and were allowed to come out several times during the day.  Each dog owner was given a roll of towels and a spray bottle.  The dogs were to use the steel deck.  Naturally the dogs were having a difficult time adjusting.  There was a lovely oriental lady with a poodle.  She had a bag of lawn cuttings and he passed me a hand full.  I gave Marley a sniff and wooosh, results.
In all of our years at sea, we had never been on a ship.  In fact, we were almost always the Captain or First Mate on most of the vessels.  Linda also has US Coast Guard issued Captain's Papers.  We were out of sorts, accustomed to having knowledge of the depth of water, the numbers on the buoys, the courses, and the route details.
Linda had mentioned this situation to the Purser, the person on a ship responsible for the handling of money, administration, and supplies.  As we made our way along a passage way, a call came over the intercom, "Will the Captains Bosley, please report to the bridge?"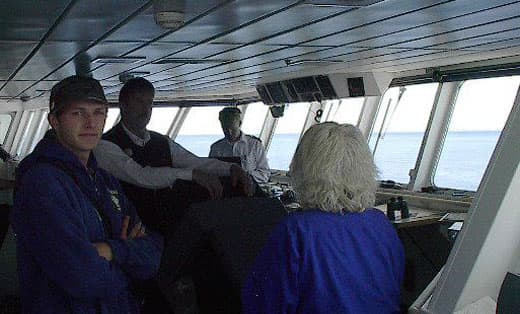 As we stepped off the elevator into the wheelhouse, the young Captain turned from the helm and said, in a very familiar dialect, "Bout time y'all come up here t'hep us steer her along,".  The Captain was from Chincoteague Island, Virginia, a fishing village just south of Ocean City.  I had fished with his father.  Linda and I both took a short trick on the wheel.  It was just like sniffing lawn cuttings!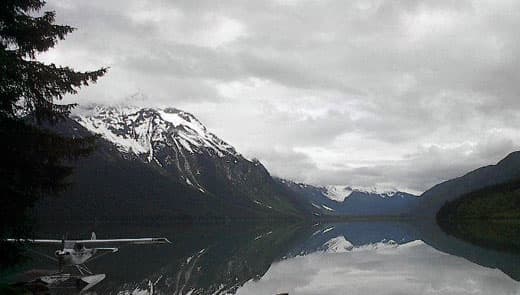 The ride up on the ferry was a major part of our Alaskan adventure.  You are able to schedule side trips to the many villages along the route.  A ferry travels north and south each day so visiting Sitka or Ketchikan or other remote villages is possible.  The voyage ended in Haines, Alaska.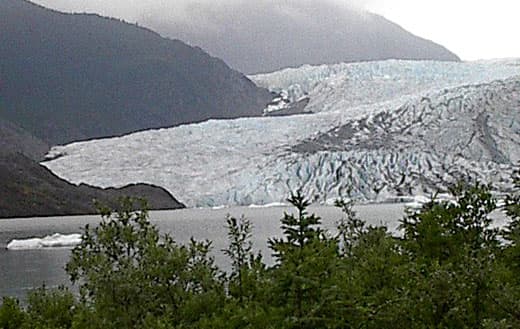 Skip's Tip #4: Some of the island villages along the ferry route are very interesting.  Sitka is a restored Russian town with lots to see and do.  Ketchikan is a beautiful fishing village.  We were met with wonderful hospitality there.  Juneau, the capitol of Alaska, has one of the most impressive glaciers, The Mendenhall, which is getting smaller by the day.  Wm Spear Design at 174 S. Franklin makes the most wonderful enamel pins we've ever seen.  The pins are great gifts and mementos, taking up little space.  We slipped out of town and stayed in a pull-off for a couple of days with no problem.
Skip's Tip #5-A: We were able to get the satellite television reception in all of the islands of the Inside Passage.  The satellite dish looked like it was pointed at the ground because the satellite was so low on the horizon.
Skip's Tip #5-B: Cell phones were available in most of the villages.  It was a pleasant surprise how good cell coverage was.  I use a Wilson Truckers antenna, available from many truck stops.  You have get the pigtail for your phone.  It was a big help extending our cell service as well as our broadband device for internet connection.  North of Anchorage, our satellite dish no longer had reception, but we got a few local stations with our antenna.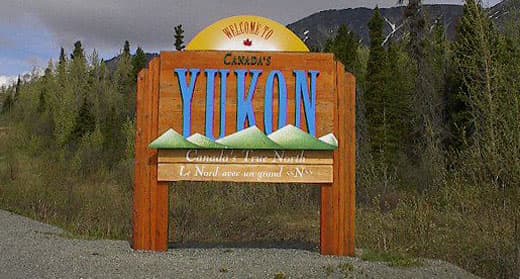 We had to drive steadily through the Yukon Territory into eastern Alaska.  We made a quick stopover in Tok, Alaska at Linda's cousins home (I'll recount the details in a bit).  We were on a mission to get to Anchorage to pick up our Grandson Noah, who we flew in from Daytona Beach, Florida, and thence to hot foot it south west down the Kenai Peninsula in time for the King Salmon runs on the Russian and Kenai Rivers.
Skip's Tip #6: Parking is tight in all of the little Alaskan towns.  Many have signs sending RVs to a local campground, with a shuttle to town for sightseeing and shopping.  We drove right into the towns with our camper and were never bothered or shooed.  They seemed to realize we are just a pickup with a load.
After picking up Noah from the Anchorage airport, we stopped at Summit Lake to have at the legendary Rainbow Trout.  The lake creates a very beautiful scene.  The road runs along its northern shore.  Just off the road is a large log lodge which serves as a popular restaurant.  Across the lake on the south shore, well away from the road, is a rustic Forest Service campground.
Skip's Tip #7: In Alaska, we stayed often overnight in pull-offs at the water's edge as well as many road side gravel pits.  These pull-offs offer great views and no fees.  We sometimes used  the National Forest Service campgrounds.  The fee was $5.00 per night on the honor system.  They are rustic campsites with few amenities, often sharing a dump station between several locations.  Many of the larger RVs don't fit it these tight sites.  Truck campers are perfect!
We arrived mid-week, early in the season, and business was slow.  A smiling man came out of the building to greet us.  I naturally began to ask questions about the trout.  He was in his comfort zone and very interested and helpful.  He asked to see my tackle, of which he sort of approved.  He suggested we go to the far end of the lake in our little boat.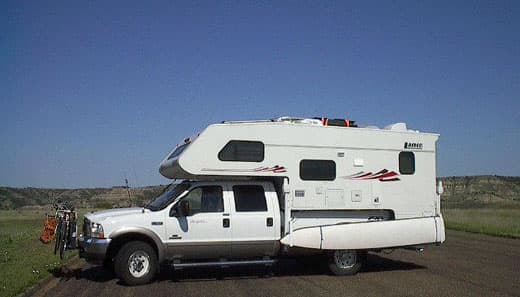 We carry a twelve foot Porta-Bote alongside of our truck camper.  When folded it looks like a surfboard.  It opens to be a little runabout, powered with a five horsepower motor.  It'll carry me at twenty miles per hour.
Evidently there had been an avalanche that brought trees into the water and the big fish were in among the fallen trees.  "You'll need polarized glasses to see the fish," he said.  "You can't catch 'em if you don't see 'em.  Get there early.  Sun up is 3:30 am.  The best times are early or late in the evening".  We moved on to set up camp.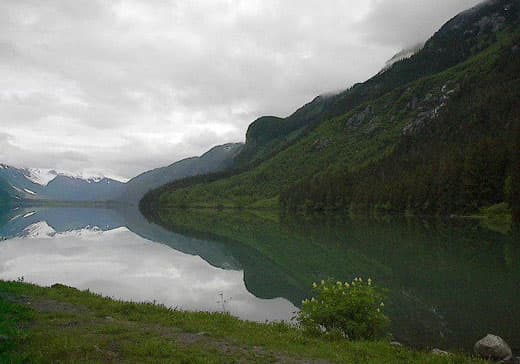 Skip's Tip #8: During the summer months in Alaska, it can be full daylight at 11:00pm.  With all of the brightness late into the evening, the day/night curtains are a real benefit in darkening the truck camper to aid in going to sleep.  If one does not have day/night blinds, I recommend making some window coverings with silver insulation or even cardboard to darken the interior to make easy to sleep.  It is also cool at night so bring warm sleep wear.
 Our grandson Noah wanted to sleep in.  He would do the late shift.  Up early, I was at the spot as the sun, which was only just below the horizon for several hours, traveling around us not over us, slowly filled in light.  I anchored just a short cast from the downed trees.  The fly rod was rigged with the $7.50 fly.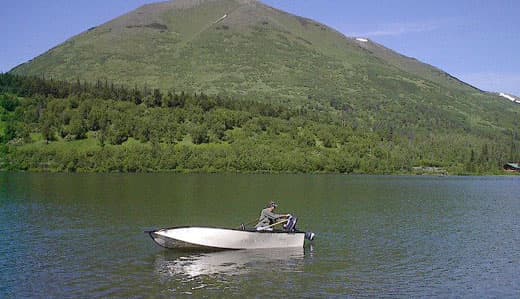 I could see a huge trout.  It did almost approach a reef barracuda in size.  It was certainly the biggest trout I'd ever seen.  A very lucky cast dropped the fly right in front of the fish.  Except for his gills opening and closing rhythmically, he was motionless.  I jiggled the bug, nothing.  Again and again with no response.  I retrieved the fly.  It was time for plan "B".
I began to tie on a second fly right on top the other, a kind of matinee, a larger target.  As I was doing this, I turned to look at the shoreline fifty feet behind me.  The brush came right to the waterline, no beach.  There, sticking out of the brush, was the head of a very large bear, watching me.  I was somewhat twisted and turned all the way round to get a better view.  The bear was gone!  It was an amazing event.
While sitting still for a few minutes, he reappeared above the brush, on a ridge, strolling on.  It was a Kodiak or Brown bear, the NFL of bears, grizzles, evolved to huge size from eons of feeding on spawning salmon.  I was thrilled, but finished tying on the extra fly and tried several casts.
Skip's Tip #9: Bears and moose are ever present in Alaska.  The locals we met were more concerned with the moose as a bad actor.  We were armed with hornet spray and a short barreled slug pump shogun.  The woodsmen we met all carried heavy weapons if going long distances in the bush.  We did not meet anyone who had been attacked, but there had been a bear mauling during the King Salmon run on the Russian River the previous year.  The victim had an arm load of salmon while on the trail back to his campsite and survived with major injuries.  Be careful!
The big fish ignored my efforts.  I rigged one of the light fly rods and drifted along the edges with small streamers and released eight or so three or or four pounders.  It was the best day of fly fishing ever.  Later, Noah too released a passel of trout.
That evening, we crossed the lake to the restaurant for dinner.  The fellow who had advised us came over and asked how we had done.  I told him of the bear sighting,  "Oh, that's ole…" (he gave a Native name) "He's on his way to the Russian River for the King Salmon run.  He recently got up from his winters nap.  He always stops by the lake to see about the big trout.  He can't get 'em but he figures that the fisherman can and he can get 'em from the fisherman.  But he got a look at your little flies and knew there was no hope, so he just went on.."
They say that, from a boat, is the safest way to view bears.
Skip's Tip #10: In my opinion, it is far more dangerous to drive through many of our major metropolitan areas than to poke around in the backwoods of Alaska.