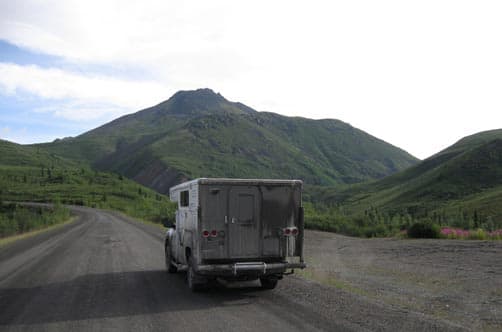 ABOVE: Dempster Highway, Yukon
TCM: Tell us about how you took your pop up to Alaska.
Roger: The trip to Alaska was in the planning stages for almost a year.  We had friends and family take the trip before us so we had lots of information to sort through.  It's one thing to plan a week or two and another to plan out two months.  Plus, with the internet, you can easily get into information overload.
The biggest help was the bible of Alaska travel, "The Milepost".  Don't leave home without it.  As a matter of fact, start your research a year early.  We knew there were some things on the list that required reservations.  But we also wanted to be spontaneous so we built in a lot of free days.   Truck washes, laundry, and side trips all went into free days.
Our original plan was to hit a motel every week or so, but that just never happened.  The pop-up truck camper worked out very well once we got our routines down.  Plus, most RV camps had nice showers.  Wi-Fi is also available so we took our laptop which was a nice way to keep in touch.
I really didn't want to take our fifth wheel to Alaska.  I wanted to go anywhere and camp anywhere.  Bertha needed a lot of room to turn around.  I have places I still want to go with the Hallmark out in Utah like the White Rim trail in Moab once it is fixed.  We also plan to go to Grand Staircase of the Escalante.
TCM: Those places are on our list too.  What were some of the highlights from your Alaska trip?
Roger: Going up in the Yukon to Keno driving the Silver Trail was well worth the trip.  We played tourist at the Chena Hot Springs Resort which is forty to fifty miles out of Fairbanks.  Back in Fairbanks, we visited the University museum, toured on the Riverboat Discovery, and drove to the North Pole to mail cards to the kids.
Denali National Park is a must.  We never saw the top due to clouds, but we saw lots of wildlife.  We would recommend at least a shuttle bus ride to the Eielson Visitor Center and a drive to the Savage River, which is as far as they let you drive your own rig.
We spent some time in Soldotna, Kenai, and Stewart on the peninsula.   There are lots of things to do, so you won't get bored.  We camped for about three days in Portage Valley, at the end of Turnagain Arm, while we explored that side.  Watch out for black bear along the nature trails there.
Another highlight was driving the Nabesna Road on the north side of the Wrangell-St Elias National Park.  We crossed a couple streams to get to the end of the road and then hiked up to the Rambler and Nabesna mines.  We wouldn't have done that pulling a fifth wheel.  With our truck camper, we could stop and do what we wanted to do.  For the size of the state, there really aren't a lot of roads.