Char: I realized he had traveled my way for ten years so I decided to try it his way for a while.  At first, I was thinking a truck camper might be claustrophobic.
Roger: I thought about keeping our fifth wheel for that reason, but I didn't need the maintenance issues and sold the fifth wheel after a few trips in the truck camper.
TCM: So you bought a Hallmark pop-up.  Let's talk about how that happened.  Char, what was it about the Hallmark that make you think, "I could camp in this"?  That's quite an adjustment going from a fifth wheel to a pop-up truck camper.
Char: The quality of the Hallmark campers convinced me.  I was comfortable.  I think a woman helped designed the Hallmark interiors.  I liked the food preparation area near the sink and the large windows.  They also have a memory foam bed, which is nice.  The vanity above the refrigerator has a big mirror to do your hair.  I really like the way Hallmark campers are designed.
Roger: Bill Ward, the Owner of Hallmark RV, told me that the wives at Hallmark have influence on the designs.  I like that the dinette seating is face to face.  We aren't facing the stove when we sit together.  The quality of the construction really impressed me too.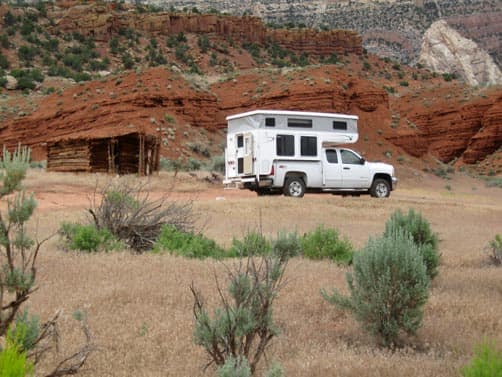 ABOVE: Dinosaur National Monument, Colorado

TCM: What was it like to buy a truck camper direct from a manufacturer that was over 1,200 miles away?  How did that process work?
Roger: Two years ago, we went to a RV show in Salem, Oregon.  We didn't even know that Hallmark was going to be there and weren't familiar with them.  We fell in love with the Hallmark campers right away.  We talked with Bill for about an hour at the show and told him we wanted a Hallmark and would be in touch.
In the meantime, we found a great deal on a four-wheel drive Chevy truck and bought it.  Once we had the truck, we started talking with Matt Ward about pricing.  At the end of the year, we came to a deal and arranged to pick up the camper in the Spring.  Earlier that year we had visited the factory in our fifth wheel.  While we were there we finalized fabric choices and things like that.  We said, "Give us a date and we'll be back!".
In the Spring, we drove our truck down to Colorado and they loaded the camper.  After that, we hit the backcountry right away.  We drove back to Oregon on the back roads.
TCM: In an email to us, you said that you named your fifth wheel "Bertha" and called your previous Dodge diesel truck, "The Beast".  Have you named your Hallmark?
Roger: Yes.  We call it Popeye, because it's a pop-up.  We didn't name our Winnebago truck camper.  We were kids then.  What did we know?
TCM: Tell us about the transition of traveling highways in the fifth wheel to traveling backcountry and back roads in the truck camper.
Roger: We've both backpacked.  If you can spend a week in the Grand Canyon with what you need on your back, it's a luxury to be in a pop-up camper.  This was a change from the fifth wheel, but we were looking forward to it.  Now we have our routines down and it's second nature.
After we left the Hallmark factory, we drove the northern route in Colorado by the Cache La Poudre River.  The back road we drove on our second day is probably the worst road I've ever driven in my entire life.   It is called Monument Valley Road and it is in northern Colorado.  That was a white knuckled drive.
We also went to Dinosaur National Monument in Colorado and to Leslie Gulch and the Pillars of Rome in southeast Oregon on our way back home.