Above: Campground along Tutshi Lake, South Klondike Highway
6. Skagway and Klondike Highway: The Skagway and Klondike Highway navigates through a moonscape of recently glaciated regions and then drops down through coastal mountains to the quaint town.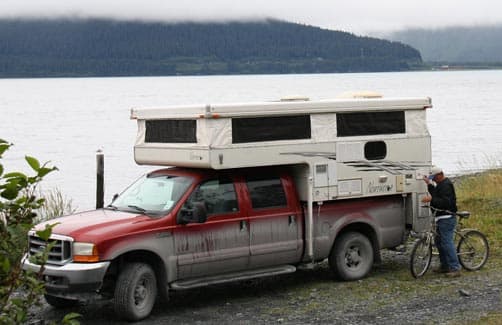 Above: Their dirty camper in Seward, Alaska
7. Seward and SeaLife Center: Seward is a clean and colorful city along Resurrection Bay offering bayside camping adjacent to bike trails and close observations of Alaska's sea life and educational exhibits at the SeaLife Center.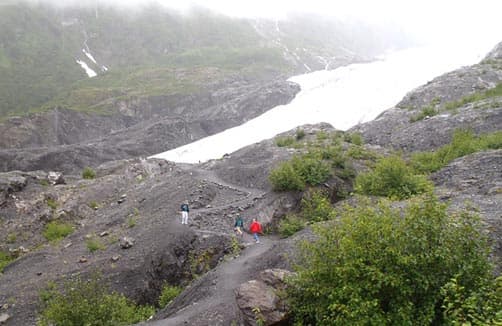 Above: The Exit Glacier Trail
8. Exit Glacier: Exit Glacier is part of the Kenai Fjords National Park near Seward.  The walking trail allows up close sights and sounds of a living glacier.
9. Hyder: The National Forest Service's Fish Creek Wildlife Observation Site has a bridge for viewing bears fishing for salmon.  There is an access road from Cassiar Highway that has a close view of Bear Glacier and then continues through Bear River Canyon to Stewart, British Columbia adjacent to Hyder, Alaska, the state's most southern tip.
10. The Alaska Highway and Cassiar Highway: The Alaska Highway and Cassiar Highway offer beautiful, memorable journeys.