Pack the fishing rods and coffee.  For part two of Alaska Week, Linda Hanney goes combat fishing on the Kenai and Russian rivers.  Run salmon, run!

We knew we had to interview Linda Hanney after reading her Alaska trip summary from her blog:
"We left on July 6th driving a 2001 Ford three-quarter ton diesel pickup with 182,099 miles on it.  Our camper was a Northstar 850SC pop-up pickup camper.  We returned on August 17th after thirty-nine days.  We drove 10,002 miles and used 666.725 gallons of fuel.  We averaged 15.001 miles per gallon and paid, on average, $4.522 per gallon of diesel.  Our total fuel costs were $3,015.
I guess the reason I found these figures interesting is because I saved $3,000 for the trip.  With higher fuel prices, I figured that amount would probably only pay for the fuel.  Right on there!  Bottom line, it took close to $4,000 for this trip.  

Hopefully, this information will encourage others thinking about a similar trip.  There are other options including cruises, flying in, and renting an RV or car.  Still, there wasn't any part of this trip that I would leave out.  The road trip across Canada is beautiful.  If you have time, do it all.  Or, do as much as you can.  It's worth every cent you will spend."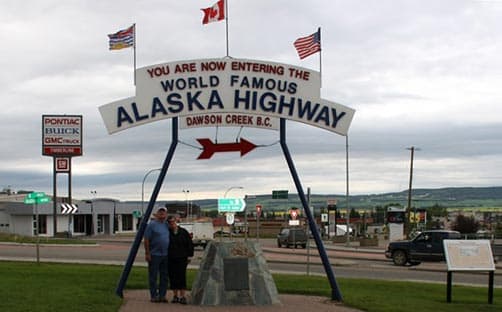 Above: Linda and Dan starting the Alaska Highway
TCM: How did you get into truck camping?
Linda: Before we bought out truck camper, we had a Class B Roadtrek.  We decided it was not feasible to own a vehicle just for travel, so we sold it and bought a pick-up truck.  We live in a rural area and use our pick-up for upkeep and hauling.  That's how we decided to go with a pick-up camper.  In the early 1970s we traveled to California using a pick-up camper.  Over the years, we've owned all types of RVs but have decided that the pick-up camper makes the most sense.  So, I guess we've come full circle.
TCM: What made you decide to get a Northstar pop-up camper?
Linda: We like the Northstar because of the cassette toilet.  For us, finding a dump station is such a hassle.  The cassette toilet can be dumped in any outhouse.  We also like the way the Northstar camper is so open.  When we crank up the top and open all the windows it feels like we're outside.

  We have camped off the grid in beautiful settings.  We open all the windows and it is like we have a panoramic view or we can open the see-through coverings and it feels like we are in a screened in porch.  We could have had some more insulation some nights, but we just piled on the blankets.  It is a good, affordable way to camp.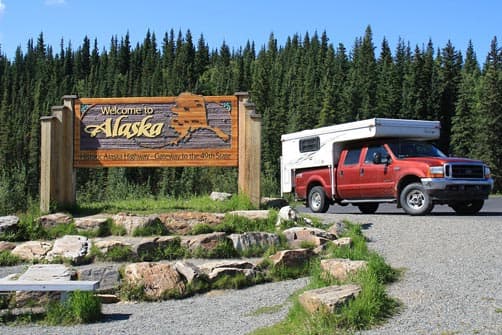 Above: Linda's Northstar 850SC in Alaska
TCM: Why did you choose a pop-up truck camper to go to Alaska?
Linda: The Roadtrek was seventeen feet long, but the living space was really small.  We both decided the Roadtrek was not the vehicle we wanted to take for that long of a trip, but we wanted to retain the one-vehicle way of traveling.  We wanted something we would feel comfortable in for the trip to Alaska and other longer road trips we plan to take now that we're both retired.  It's easy to load for the spur of the moment short trips we love to take.

  The Northstar 850SC suits our needs for living in a space.  It feels better to us than the cramped van conversion.  We especially like that the top comes down.  It helps with fuel mileage and is compact.  It just travels so well even in high winds.

  We are also forever turning around because we miss a turn or, more likely, I want to take a picture.  We needed something maneuverable, and not too bulky.  We also like having four wheel drive.
TCM: Have you ever used four wheel drive while truck camping?
Linda: Yes, we have used it two or three times on Alaska backroads.  We would have been in a bad situation had we been in the Roadtrek, but the four wheel drive truck got us out.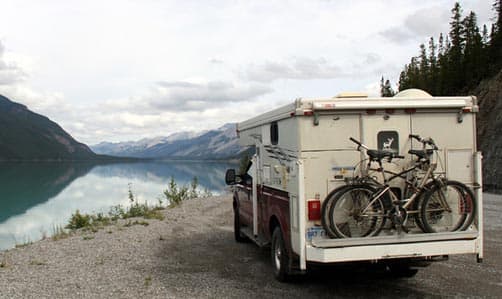 Above: Klunane Lake, Yukon Territory
TCM: How did you plan for your trip to Alaska?