TCM: What did it feel like to arrive in Alaska after all of your planning and driving?
John: It was almost unreal, like a dream, like it wasn't happening.  It was so beautiful that it just took our breath away and the air was so fresh.  We were up in the mountains and we could see for miles.  It was June and all the wildflowers were beginning to bloom on the sides of the roads and on the mountains. One of the prettiest flowers is the Fireweed.  It is a beautiful hot pink flower that grows everywhere.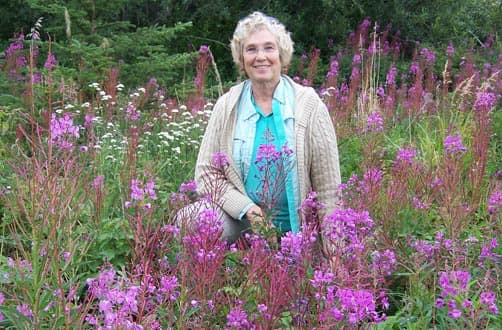 Above: Linda and the Fireweed
Linda: When Fireweed grows, the blooms start at the bottom of the stalk and gradually grows all the way to the top as the summer moves along.  When the blooms get to the top, the Alaskans say it will be six weeks to the first snow fall.  They also say, "When Fireweed turns to cotton, summer is soon forgotten".  When we were in Haines at the end of August, we saw the Fireweed as cotton.
TCM: How was the weather in Alaska?
Linda: Our June and July weather was good.  Temperatures were sometimes as high as the eighties in Fairbanks.  There was no humidity like there is on the coast on North Carolina.  It was great!  Probably the average temperatures in June and July were around seventy.  We had a couple of nights with rain.  August had more drizzly weather. We were in Seward, Valdez, and Haines in August and the temperature was around fifty.  June and July are usually the two best months.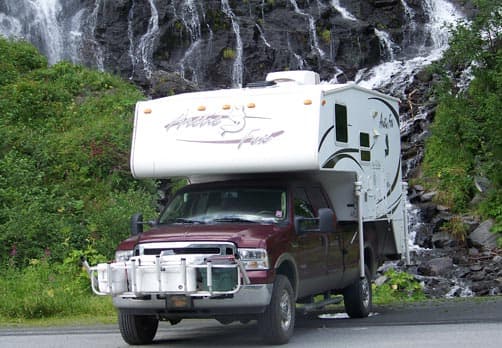 Above: Horsetail Falls enroute to Valdez
John: The roads were also good.  We didn't have problems with fuel.  You can camp anywhere, which is the beauty of a truck camper.  We could have probably not paid to stay anywhere the entire time we were in Alaska.  That's how many places there were to camp.  Alaska has state parks that are ten to fifteen dollars a night.  They don't have full hook-ups, but they do have water, and some have dump stations.
We also stayed at Fred Meyers, which is like the Alaskan equivalent of Walmart.  At most locations, they allow you to stay in the parking lot overnight.  While we were at Fred Meyers one night, I got on top of the camper, and counted more than ninety RVs in the parking lot.
TCM: Did you have any trouble with the bugs?
John: In Eureka and Manley Hot Springs, about 150 north of Fairbanks, we went out on four wheelers.  There were mosquitoes there.  Throughout our trip, we carried bug spray and head nets with us, but really didn't use them.
TCM: Did you see many truck campers in Alaska?
John: I remember when you took the tour across America and told us that you were waving to all the truck campers you saw.  You'd be waving all day in Alaska.  It's truck camper after truck camper after truck camper.  We also saw numerous truck camper rentals.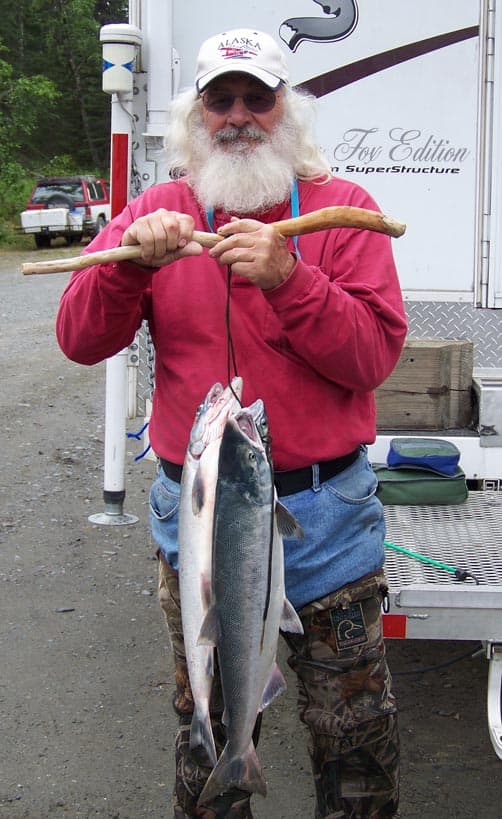 TCM: Tell us about your fishing experience in Alaska.
John: Thousands of people salmon fish in Soldotna and they call it combat fishing.  We met many people who live there who were very helpful in teaching us how to catch the salmon.  Thanks to them we were soon catching our limit every day.
We would be talking in the evenings, and I would ask, "Are you going fishing tomorrow?" and they'd say back, "How many times do we have to tell you, it's fishing in lower forty-eight.  Up here you go catching."  In Haines and Valdez, we were at the end of salmon run, and they were still thick in the water.  It was easier to catch than to not catch a fish.
Linda: We shipped 150 pounds of fish home, had 40 pounds with us in the camper, and gave our son 15 pounds.  We caught plenty of fish.  Our niece told us not to send any more fish home because we filled the freezer.