Tom Warren takes his Eagle Cap 1160 double slide ice fishing in Alaska.  Fire up the snow machine and grab the propane ice auger.  It's time to fish!

A good number of truck camper owners are more or less fair weather campers.  If it's too hot or too cold, they stay home.  This doesn't mean their truck campers can't handle temperature extremes (they can), but these folks would prefer not to camp in that kind of weather.  We fit into this category ourselves.
In direct contrast, other truck camper owners bought their campers specifically because they allow them to camp in the pressing heat and/or freezing cold.  They researched motorhomes and trailers and determined those RV types would not be nearly as weather and temperature versatile as a four-wheel drive truck and truck camper. And they were right.
Tom Warren is firmly in this second camp.  Living in Big Lake, Alaska just north of Anchorage, Tom loves ice fishing on remote Alaskan lakes for rainbow trout, arctic char, land locked salmon, arctic grayling, burbot and lake trout.  As long as temperatures stay above 5 degrees, he takes his Eagle Cap 1160, snow machine, propane-powered ice auger, and ice fishing shelter – and goes fishing!
Just thinking about this probably sent chills through the majority of Truck Camper Magazine's readership.  And you thought you were hearty!
We contacted Tom to find out how he prepares his rig (and himself) to endure these punishing conditions, and to dig into what motivates him to do so.  Here's a hint: Tom loves ice fishing!
How did you first get into ice fishing?
I grew up in Northern Michigan where ice fishing is a popular past time. I also lived in the Upper Peninsula for eight years while stationed at K.I. Sawyer AFB in the Air Force. Ice fishing is very popular up there as well. After Michigan and some overseas and southern stateside assignments, we moved in 1999 to Alaska.
My father and grandfather were really into ice fishing. In fact, my grandfather created his own version of the ice fishing tip-up device that allows ice fisherman to fish unmanned holes.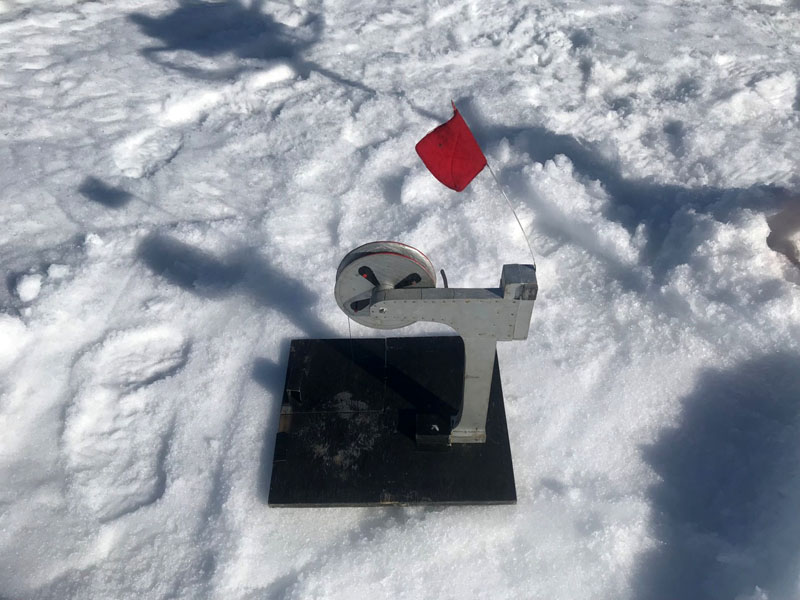 Above: Ice fishing tip-up indicating a fish was caught
The tip-up device is essentially a flexible flagpole that's a lot like a dip stick from a vehicle. Attached to it is a red or orange flag. When a fish takes the bait, it turns the reel and makes the flag pop up.
In some places you can fish multiple lines. We are allowed five lines up here in Alaska for northern pike. With my grandfather's tip-up, I can have four unmanned holes and actively fish in one.
That's neat. How do you make the holes in the ice?
I use an auger that drills down into the ice. They are mostly motorized and 10-inches is about the maximum size.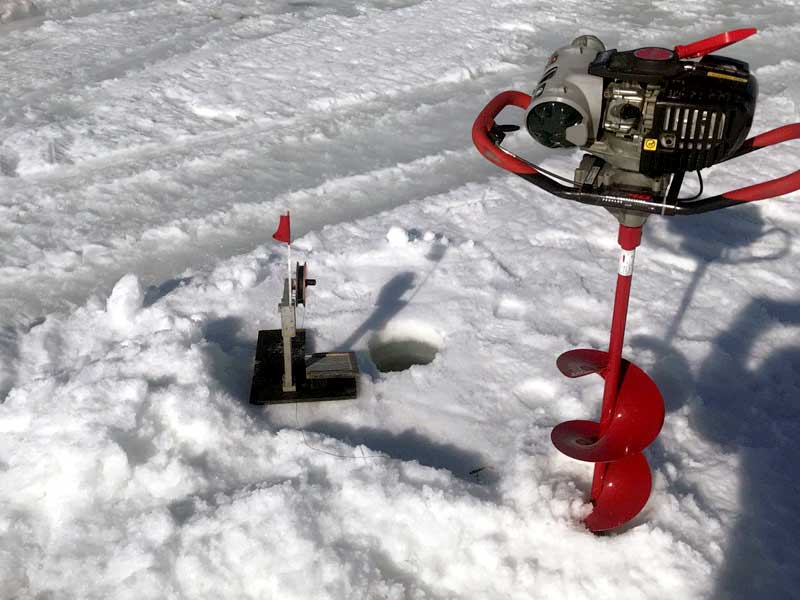 Above: The Eskimo propane auger (right) makes a 10-inch diameter hole (center)
There is a motor up top, handle bars, and a thumb throttle. I have owned a motorized auger for 15 years. Prior to that, I used a hand crank.