Bruce: The blue canister is a propane container made of translucent fiberglass.  If you shake it a little, you can see how much fuel you have left.  Everyone who sees it says they've got to get one.  The fact that you can see the fuel is a real benefit.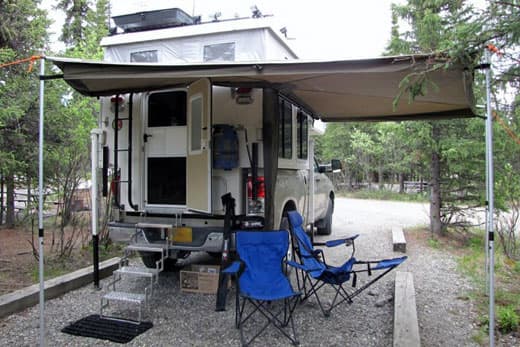 Above: Foxwing Awning set-up while camping
Bruce: I also have the Foxwing awning.  It's been fabulous and literally doubles your living space.  The fiberglass propane tank and Foxwing are just two examples of how Hallmark stays on the leading edge of innovative products.
TCM: Why do you keep the tailgate of your truck on with your camper?
Bruce: The pictures that show the tailgate on the truck are from our drive home to Alaska.  Normally we remove the tailgate and it's not on the truck with the camper.
Eventually I want to get a motorsailer boat.  I'm moving to Homer, Alaska, which is right on the ocean.  I don't want anything to interfere with towing.  The Nepal sticks out about two inches from the tailgate and will be perfect.
TCM: Has your Hallmark Nepal fulfilled your vision for a camper that can accommodate you, your wife, and one of your children?
Bruce: Yes, the camper is perfect for three people.  We can lower the dining room table and sleep feet to feet.  The Nepal could actually sleep four.  It would be nice if we could do that again.  If it's three of us, it's easy.  We even leave the table up.
TCM: Looks like you took quite the trip from Denver back to Alaska.  Tell us about it.
Bruce: The downside of my children growing up in Alaska is they miss the lower 48.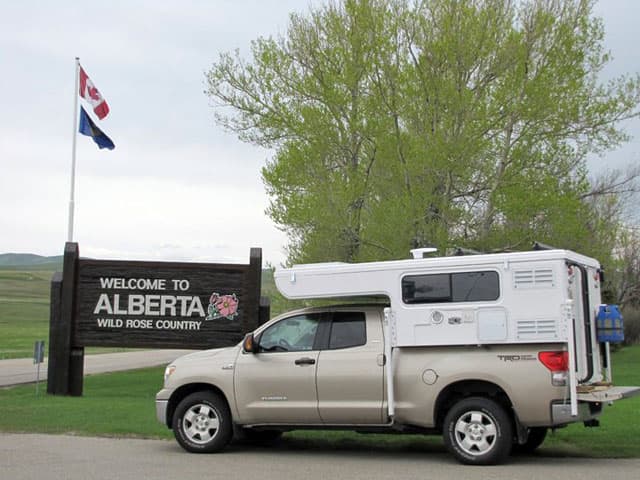 Bruce: On our way back from Denver, my son and I went to Grand Teton National Park, Yellowstone National Park, Glacier National Park, Banff National Park, Waterton Lakes National Park, Jasper National Park, then on to the Alcan Highway to Alaska.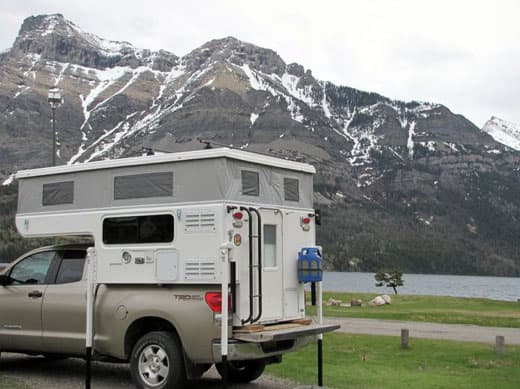 Bruce: We traveled 4,000 miles, and we took three weeks to get back.  It was a wonderful trip for the two of us.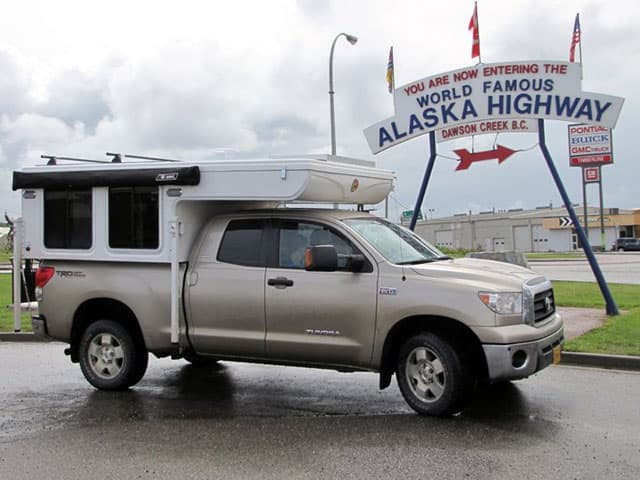 TCM: That sounds like a amazing trip that you and your son will remember for the rest of your lives.  How did your Hallmark camper do on the roads going back and into Alaska?
Bruce: We have things called frost heaves here in Alaska.  In the winter, ice builds up and the roads elevate as much as a foot.  The result is these big rolling bumps on the dirt and asphalt.  Some of the newer better highways don't get frost heaves as much.  You have to have pretty good road engineering to take care of it.
There's a good three to six months of bumpiness up here from these frost heaves.  It's not like a pot hole, they'll go up maybe six to twelve inches for six to twelve feet.  If you're hitting them at high speeds, you could almost go airborne.
Near the border of Canada and Alaska, all of the roads are subject to frost heaves.  I thank Matt every time I drive over them.  Between the airbags and the low center of gravity, it handles amazingly well.  Last year I took the rig out for the first snow.  With the low temperatures and rainy weather, it was fabulous.  With the airbags and having only 1500 pounds of camper, it handles our roads and frost heaves amazingly well.