Bruce: A pop-up truck camper is much lighter than a hard side.  They are also more aerodynamic when driving and the weight distribution is better.  Hallmark puts their water tank front and center.  I've done enough off-roading to know that you want the weight low and centered.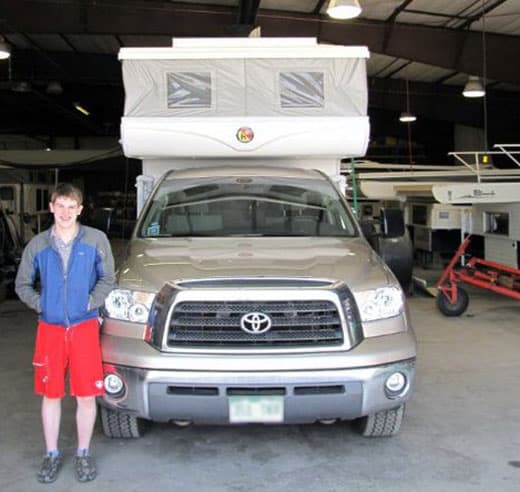 Above: Bruce's son – picking up the Hallmark Nepal at the Hallmark factory in Fort Lupton, Colorado
TCM: You live in Alaska.  You bought a camper in Denver.  How did that work?
Bruce: I had seen a handful of Hallmark truck campers wandering in Alaska.  When I decided that I wanted more information about Hallmark truck campers, I contacted the company and talked with Matt Ward.  They are really friendly at Hallmark.  We went back and forth with email and phone conversations talking about features and soon had most of the camper figured out.
The following Spring Break I was hitting the papers in Denver looking for a new truck.  The 2007 Tundra had a beefier frame.  I got the off-road package.  I flew to Denver for Spring break, purchased the Tundra in Denver, drove it to the Hallmark factory, and finally met Matt and the Hallmark team in person.
Matt and I went through the whole camper selection process and picked out all the features I wanted.  After we were done and had designed the camper stem to stern, I rented a vehicle for our remaining time in Denver and left the truck at their facility.
As soon as school was out, my son and I flew to Denver.  Matt picked us up at the airport and took us to the factory.   The truck and camper were ready to go.  Matt ran us through the manual and operating procedures.  Then we drove out and started our voyage back home to Alaska.  That was a year ago, last summer.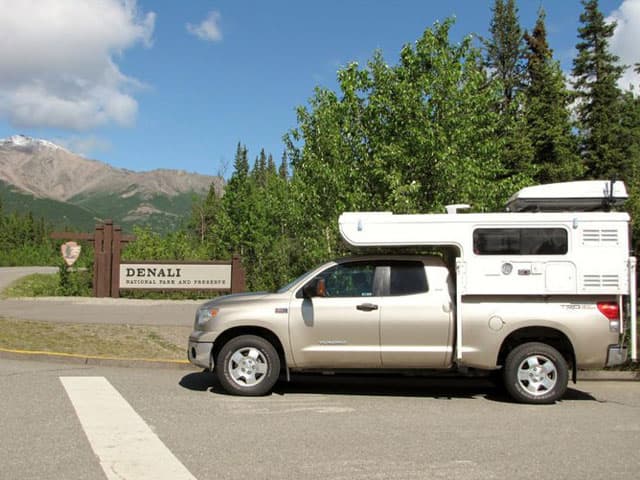 Above: Denali National Park, Alaska

TCM: Are you concerned about animals with a soft top in Alaska?
Bruce: I don't worry about the animals that much.  We use common sense.  We put trash in the trash receptacles and lock our food.  It would be a motivated bear to get up into our camper.
Savage Campground in Denali does periodically have bear alerts and mandates.  They will say that there is no tent camping or tent campers.  Even with these warnings, we have felt very comfortable in the Hallmark.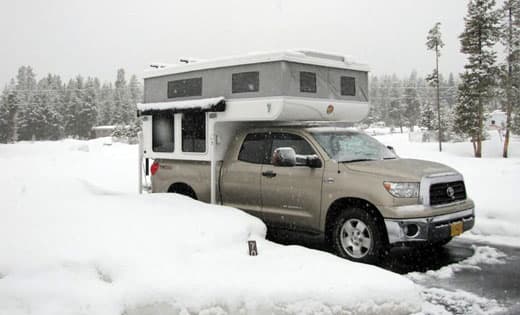 Above: Cold weather has been no problem for Bruce
TCM: What about the cold weather in Alaska?  Does the Hallmark keep you warm?
Bruce: Last year my Hallmark, with its insulated soft sides, proved itself in spades.  We went through all the national parks and experienced freezing temperatures and snow in Yellowstone.  There was three inches of snow on the camper and we were toasty warm inside.  People travel the Alcan Highway in the winter, and I fully believe this camper will do it.  So far the heater and the insulated fabric have proven themselves.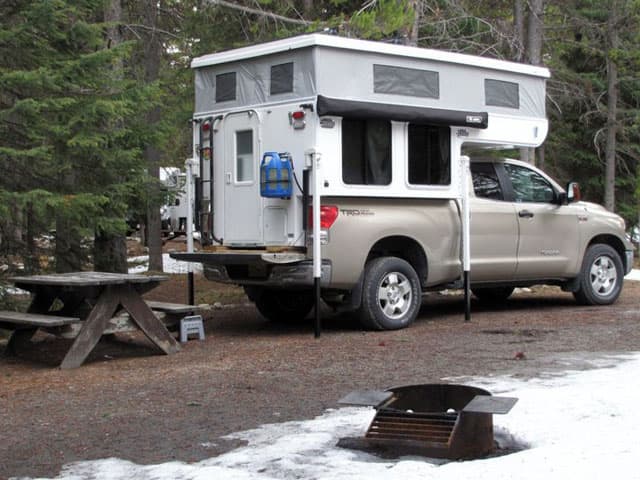 Above: Note the blue propane canister on the back of the Hallmark
TCM: What's in the blue canister on the back of your rig?