This is the story of Bruce Rife, a man from Alaska who discovered his dream camper in Denver and ended up in a Hallmark Nepal.

It's amazing how important the internet is to the truck camper industry and community.  Just fifteen years ago, people were lucky to have access to truck campers.  Maybe you had a parent, relative, or friend who introduced you to the truck camping lifestyle.  Maybe you lived near a truck camper manufacturer or dealership.  Perhaps a local RV show featured truck campers and allowed you the opportunity to discover truck campers and the possibilities of the truck camping lifestyle.  Lucky you.
In reality, large areas of the United States and Canada, including most of the East Coast, were in truck camper deserts with little to no access to truck campers or truck camper information.  The best they could do is catch the rare printed truck camper article or advertisement in a magazine, or pick up a copy of John Steinbeck's Travels With Charley.  Thank you Mr. Steinbeck.
Today the entire truck camper industry and the vibrant truck camping community is at your fingertips via the internet.  Whether you're in Alabama, Alaska, Australia, or Africa, people from all over the world can now discover truck campers and the go anywhere, camp anywhere, tow anything truck camping lifestyle.
This readily available presence has led to interest, demand, and availability in places where truck campers were once as common as the Loch Ness Monster.  Truck campers are still a challenge to find for far too many, but through the internet, that's changing.
The above three paragraphs raced through my mind as I learned about Bruce Rife and his Hallmark Nepal.  He was the perfect candidate for a truck camper, but lived in on the Kenai Peninsula in Alaska.  Through the internet, he connected with Hallmark RV, and began a journey that has opened up new possibilities of fun and adventure for his family.
As the publishers of Truck Camper Magazine, we are very excited to be part of this story and thrilled that we helped Bruce discover truck camping.  This is what TCM is all about.  Go Bruce go.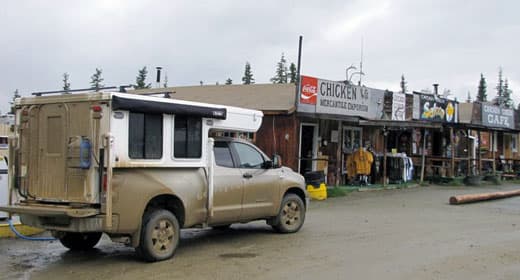 Above: Bruce's Hallmark Nepal in Chicken, Alaska
TCM: How did you get into truck camping?
Bruce: My wife and I lived in western Colorado for ten years.  I was a logger and forester and always had a four wheel drive vehicle.  During that time, we were backpackers and camped everywhere.  We especially liked Colorado's high country including Ouray, Silverton, Telluride, and all the national parks nearby.
Sixteen years ago we moved to Alaska.  We love it here in Alaska, but it can be very wet and tent camping is not ideal.  We bought a Coleman tent camper because we wanted a dry space for the kids and amenities like a heater and sink.  I added a 60-watt solar panel which extended the dry camping time of the Coleman, but the tent camper did not allow us to go off-road.  We really missed the opportunity of getting off-road.
Now our daughter is at the University of Alaska in Fairbanks and our son is a senior in high school.  It was time to start looking for something my wife and I and an occasional kid could enjoy.  I wanted to get off-road and back into the slick rock area of Utah and the high country of Colorado as well as travel to some rough roads in Alaska.  That's when we started looking at truck campers.
TCM: How did you chose the Hallmark Nepal?
Bruce: The Hallmark Nepal was featured in Truck Camper Magazine.  From there I noticed Hallmark had a Facebook page and a website showcasing the many possible options available.  I had become used to comfort amenities including solar power and I wanted all that.
The Hallmark Nepal is very lightweight and would work with my Tundra.  The Nepal also has excellent use of space and features a flush toilet under a seat.  We just remove a cushion and it's there.  I was also appreciative that Hallmark had a fiberglass composite roof, that and their four season soft wall fabric is high quality, and the large windows with their bug screens, have been really nice.
Hallmark made the modifications I wanted them to do.  They added a hundred watt solar panel and a Yakima roof rack.  From a Truck Camper Magazine article I saw that we could put our mountain bikes on the back of the camper.  We had Hallmark install the same bike rack so we could hang two bikes on the back of our Nepal.
The heater is wonderful!  We chose to not have a hot water heater because we decided it was a waste of space.  It's easier to heat water on the stove for dishes or cooking than to have a permanent hot water tank.  Hallmark does offer instant hot water units, but I have not missed having one.
TCM: Why did you get a pop-up camper?