In 1971, Dan Daddieco drove to Alaska in a VW Beetle.  45 years later, Dan returned to Alaska with his wife, Sheri.  For this trip, Dan brought something a little more robust and luxurious.

In 1971, thousands of RVers went to Alaska.  Not one of them brought a cell phone or a GPS.  They relied on research gleamed from printed books and magazine articles, stopped at their local AAA for information, made long distance phone calls to Alaska tourism offices asking for brochures, and studied huge folded paper maps.  If they were lucky, they had friends that had gone before who shared their tips and experience.
If I double-dog-dared folks to take a trip to Alaska without a cell phone, GPS, or internet service in 2017, they would tell me I'm nuts.
That would be too dangerous!  What would you do if you broke down, were attacked by wild bears, or – heavens to betsy – got lost?  Most folks can't go to the bathroom without their smartphone, much less Alaska.
Of course nobody thought this way in 1971.  No one worried about not having a cell phone or GPS.  They didn't exist, and they had the aforementioned maps, knew how to use them, and the faith that fellow travelers would stop and help – if needed.
To the best of our knowledge, most of the 1971 Alaska-bound RVers made it, had fun, and came back unscathed.  Maybe one or two were eaten by bears, but that would have happened anyway.
For those who are struggling with the idea of not traveling with a cell phone or GPS, let's up the ante.  Not only do you not have a cell phone or GPS, but your trusty vehicle is none other than a Volkswagen Beetle.
What!  Alaska in a VW Beetle?  You might as well walk there up hill, both ways, in the snow!  No one could possibly survive such a completely insane and irresponsible journey.
This is all news to Dan Daddieco.  Not only did Dan go to Alaska in a Volkswagen Beetle in 1971, but he sure as heck didn't have a cell phone or GPS.  And, as you're about to read, he lived to tell the tale.
As big adventures tend to do in your twenties, Dan's Alaska adventure made a profound impression – so much in fact that he long dreamed of returning, this time with his wife.
After forty five years of hard work, saving, and planning, Dan and Sheri drove to Alaska in his 70's Beetle tracks.  Only this time they were in something a bit more robust and luxurious than Dan's VW.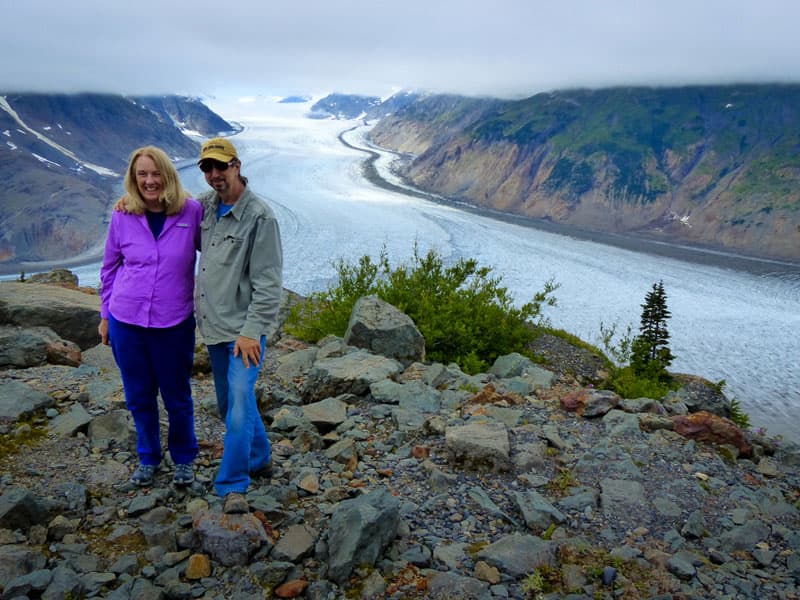 Above: Sheri and Dan in Hyder at Salmon Glacier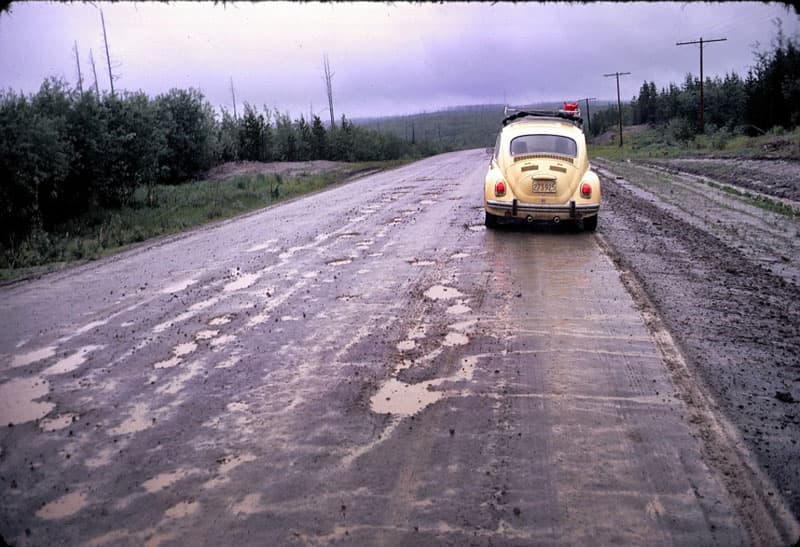 Above: Dan's VW Beetle in Alaska
TCM: Take us back in time to 45 years ago and tell us the story of how you came to drive up to Alaska in a VW Beetle.
Dan: It was 1971 and I was 21 years old.  I had just gotten married to my first wife after I graduated from college.  The Beetle is the car that I was driving as a student, so it was a very cheap form of transportation.  Knowing that we wanted to take a cross-country trip ending up in Fairbanks, we outfitted it to survive the Alaska Highway, which back then was 1200 miles of dirt, dust, mud and endless potholes.
The Alaska Highway is completely paved now, but it does have construction areas.  Frost heaves destroy the asphalt, so they are always repairing the road.  Anybody who goes to Alaska should expect to be on gravel one or more miles at a time here and there.  It's not a big deal.