Jerry Caldwell shares his top ten tips on exploring Alaska on a budget including how to save on food, fuel, camping, internet, and more.  Get your coupon book!

This article is the culmination of everything we learned on how to take a truck camping trip to Alaska on a budget.  It is our hope that others are inspired to follow in our tire tracks and enjoy the wonders of Alaska, without breaking the bank.  It is possible to go to Alaska on a budget.  Here's how we did it; budget tips, destinations, and more.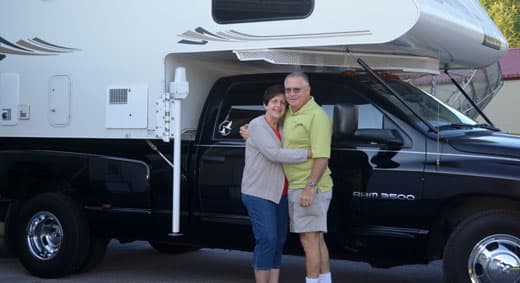 Above: Jerry and Reta Caldwell and their 2005 Lance 1181 and 2003 Dodge 3500
Budget Tip 1: Get the Alaska Tour Saver Coupon Book
We must give credit for part of these savings to the Alaska Tour Saver Coupon Book.  This coupon book contains a variety of buy-one get-one free coupon deals for tours and attractions throughout Alaska.  Based upon positive feedback from others, we purchased one early on at Safeway in North Pole, Alaska.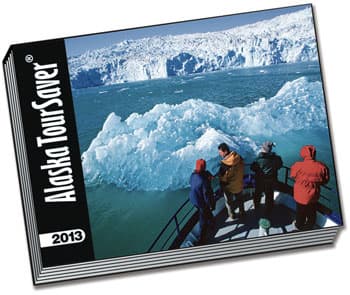 In June of 2012, the cost for the Alaska Tour Saver Coupon Book was $100.  You can also purchase the Alaska Tour Saver Coupon Book online.  We saved more than enough on one of the glacier trips to pay for the coupon book.
Alaska Tour Saver Coupon Example A
We used a coupon from the Alaska Tour Saver coupon book to take a riverboat trip on the Chena River and a raft trip on the Kenai River.  Both trips were well worth the money and, on the raft trip, we had a close encounter with a grizzly bear.  That was not necessarily a good thing.
Alaska Tour Saver Coupon Example B
We also used the the coupon book for the Major Marine Fjords Tour, which was great and the food on the trip was excellent and well worth the money.  We saw glaciers, icebergs, and whales breeching.  In my opinion that was the best value excursion we went on.  The length of the tour was seven and a half hours long.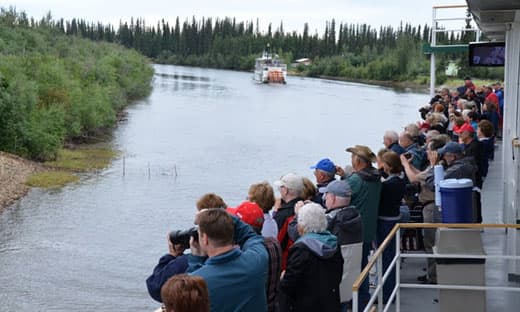 Alaska Tour Saver Coupon Example C
While in Fairbanks, we enjoyed the Discovery Riverboat Tour on the Chena River.  While in the gift shop there, we met Lance Mackey, four-time Iditarod winner.  Mackey is the only person that has won both the Iditarod (1,049 miles) and the Yukon Quest (1,000 miles) in the same year, and he has accomplished this feat twice.  By the way, the Riverboat tour is also in the tour saver coupon book.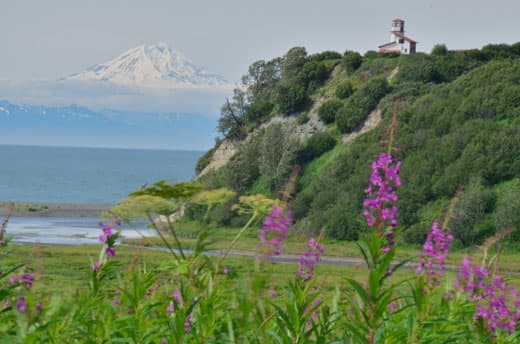 Above: On the drive from Homer to Seward along Cook's Inlet
Alaska Tour Saver Coupon Example D
In Seward, we used another one of our Tour Saver coupons to visit the Alaska Sea Life Center.  Exit Glacier (that's the name of the glacier) is a short drive outside Seward and well worth the stop.  You can walk right up to Exit Glacier and there is no charge.  We also enjoyed the drive from Homer to Seward along Cook's Inlet.  This gave us a good view of the beauty across the inlet.
Budget Tip 2: Drive Direct
To save time and fuel, drive as direct as possible.  We left from Tennessee and went through Illinois, Minnesota, over to Roosevelt National Park in North Dakota, Montana, and then crossed the border in Sweet Grass, Montana.  This was the most direct route with the least amount of driving in Canada.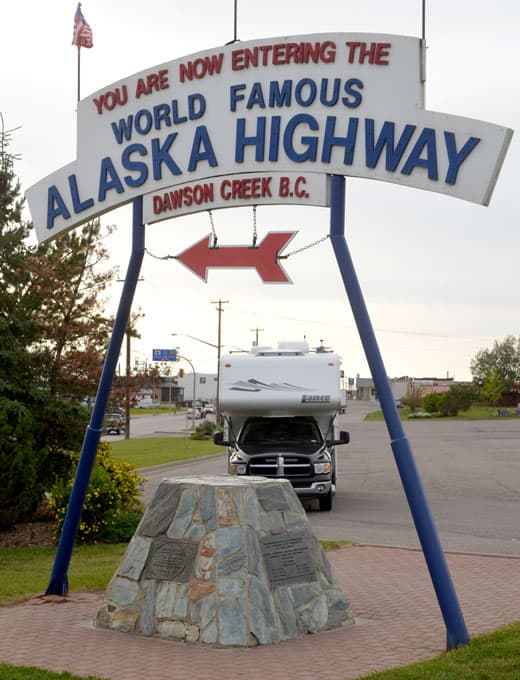 The Alaska Highway starts in Dawson Creek, British Columbia.  We were so excited when we arrived in Dawson Creek.  We knew then for sure that we were on the way to Alaska!  From Dawson Creek, it was approximately 1,540 miles to the end of the highway at Delta Junction, Alaska.
Driving the Alaska Highway was relaxing, and most of the time there was very little traffic.  On the road, we could literally back up or stand in the road and take a picture.   We dry camped for free at several beautiful places along the way.
Budget Tip 3: Save On Fuel in Alaska and Canada
As you're traveling through Canada and Alaska, make sure to get fuel in the larger towns.  It will be cheaper.  You can also save money on food and supplies by waiting until you're in the larger towns.  For example, Whitehorse, the largest town on the Alaskan Highway, is a good place to stop for food and supplies.
Another fuel tip is to look for grocery stores that offer fuel discounts when you shop for groceries at their store.  Fred Meyer, Safeway, and Krogers offer a deal.  When you buy groceries in their store, you get gas at a discounted price.  If you are a member, Flying J also offers six cents off a gallon of fuel.  When it comes to fuel, every penny counts.
Budget Tip 4: Free Camping Opportunities Abound in Alaska
Boondocking, or dry camping, is a great way to save money while you're traveling in Alaska.  There are literally thousands of free dry camping spots throughout Alaska.  It is easy to dry camp in Alaska since many of the fuel stations have sewer dumps and water fills.  We have a generator and solar panel on our Lance 1181 which makes it even easier to dry camp.  Our 40 gallon fresh water tank allows us to go several days without needing to fill with water.
Alaska Boondock Spot Example A
One of our overnight boondocking spots was Walmart in Whitehorse.  There were over fifty RVs when we stayed there.  They even have fresh water fill and a dump station nearby as well as free WIFI at the nearby McDonalds.
There were other Walmarts in Alaska where we spent the night.  Those were in Wasilla, Kenai, and Ketchikan.  There is a Walmart in Anchorage but we did not spend the night there.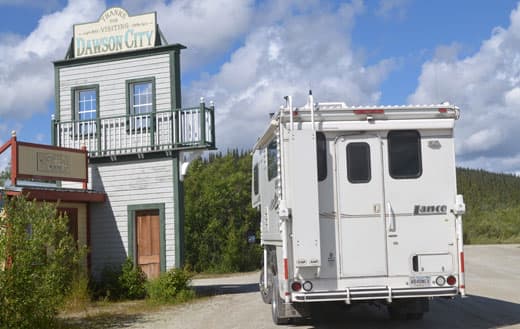 Alaska Boondock Spot Example B
Diamond Tooth Gertie's is Dawson City's world famous non-profit gambling hall.  It is named after bona fide dance hall queen Diamond Tooth Gertie.  During the Gold Rush of 1898, she distinguished herself from numerous Klondike kings and queens.  It was worth a visit and we parked in their parking lot overnight along with some trucks and other RVs.
We spent two nights in Dawson City spending one of the nights in a parking area across from the library.  I think this is a school parking area when school is in session.
Alaska Boondock Spot Example C
We used the Walmart in Fairbanks as a base camp.  We would stay there at night, take short side trips during the day, and then head back to Walmart base camp for the night.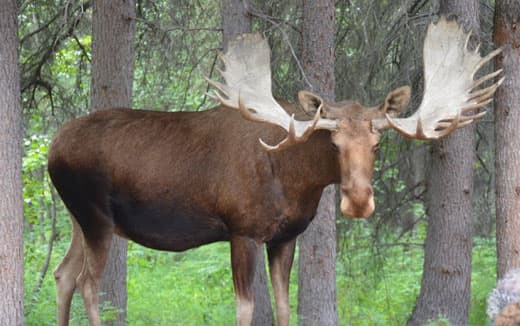 Above: This moose stopped by to see Jerry and Rita near Chena Hot Springs
Our day trips in Fairbanks included the Museum of the North and Chena Hot Springs.  Chena Hot Springs was a beautiful place and very interesting because they actually make their own electricity from the hot springs.
In addition to their beautiful hot springs, they have a fantastic ice sculpture museum.  The ice museum temperature is maintained in the mid twenties and the cooling is somehow produced by the hot springs water.  Don't ask me how this is done.  The museum tour was well worth the $15 to see all the ice sculptures.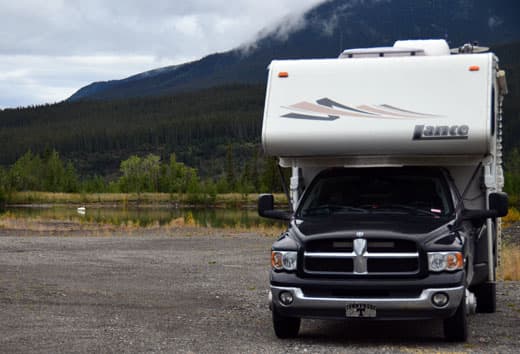 Alaska Boondock Spot Example D
Another great free boondocking spot was just north of Haines on the way to Haines Junction.  There is a beautiful lake with a gravel pit on the side of the road.  We parked there and spent the night with the swans on the lake.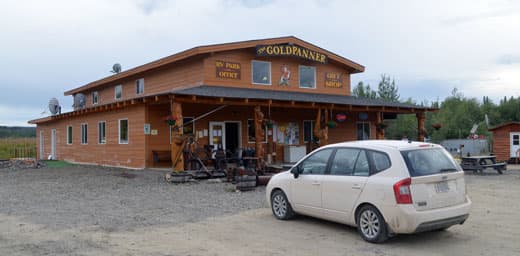 Alaska Boondock Spot Example E
Chicken, Alaska is a small community on the south end of the Taylor Highway not far from where we entered the Alaska Highway again.  In Chicken, Alaska, if you fill up with fuel next to the Gold Panner gift shop, you can dry camp there for free.
Budget Tip 5: Camp Cheap if you Can't Camp For Free
Free camping spots are not always available.  We did, however, find some great camping deals on our trip.
Cheap Campground Example A
Liard Hot Springs Provincial Park in Canada is $10 to dry camp for the night.  We really enjoyed the Hot Springs, but be aware that renegade bear killed several people there at the hot springs a few years ago.  Take your bear spray!
Cheap Campground Example B
In Seward, we stayed at a city campground called Resurrection Bay with water and electric that was $30 per night.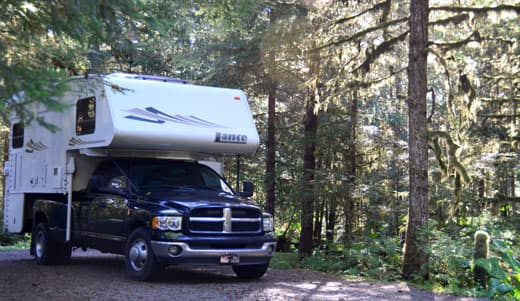 Cheap Campground Example C
Ohmer Creek in the Tongass National Forest in Petersburg was $3 a night (with our Senior Pass), and we were the only ones in the campground.  It was beautiful!
Cheap Campground Example D
At the Icefields Center in the Canadian Rockies, you can stay in the parking lot campground for $15.70 per night.  Payment is on the honor system.
It's not always easy to find cheap campgrounds in Canada and Alaska, but they are there if you do your homework.
Budget Tip 6: Saving Money On the National Parks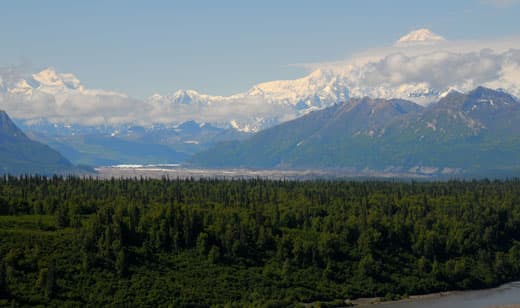 If you stay at the Teklanika River Campground in Denali, it's $9 per night (with a $10 lifetime National Park Senior Pass), plus a one-time reservation fee of $4.
They also offer a Tek Pass ($33.50 a person) that pays for the shuttle bus to Wonder Lake or Kantishna at the far end of the park road.  The Tek Pass also gives you access to the other buses while you're in the park.  The Tek Pass may seem expensive, however I highly recommend it for your stay at Teklanika River Campground and Denali.
It is a twenty-nine mile drive inside the park and then you can use the buses.
Link: http://www.nps.gov/dena/planyourvisit/campground-tek.htm#CP_JUMP_229169
The National Parks pass will save you a lot of money if you visit multiple National Parks within a given year.  The National Parks Passes are free for US Military, $10 for folks 62 and older (Senior Pass), and $80 a year for everyone else.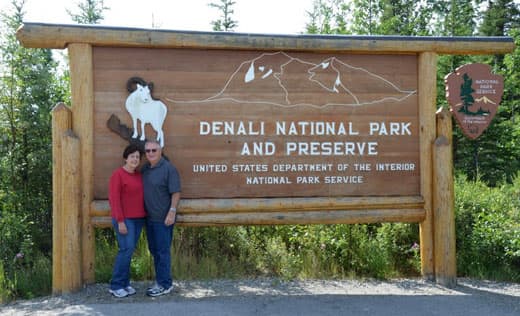 With a National Parks Pass you can get into as many national parks and federal recreation sites you want for the year term of your pass.  The one year term starts the day you buy the pass.  If you visit a lot of parks, the savings can really add up.  The cost of getting into the national parks and recreation areas varies.  The fee for Denali National Park is $10 per person for one week.
Budget Tip 7: Modern Amenities Are Available In Alaska
Before the trip, I had preconceptions of Alaska that changed after our trip.  First, I thought Alaska would all be mostly unpopulated barren country.  Much of Alaska is unpopulated barren country, but the areas we visited had many more towns than I had expected.
We saw more big box chain stores than we thought we would see.  Stores like Home Depot, Lowes, Safeway, and Walmart are established in Alaska, just to name a few.  Overall, Alaska seemed more modern than I had expected before the trip.
Budget Tip 8: Free Wireless Internet
Most of us need internet on the road.  Along our route in Canada and in Alaska we found free wireless internet (WIFI) at Lowes, Home Depot, McDonalds, Tim Horton's, and some Safeways.
Budget Tip 9: Cheap Black Out Shade Mod
We made another change to our camper after we saw the light in Alaska, literally.  We had hoped that the day-night shades in our Lance Camper would block enough of the midnight light in Alaska to let us sleep.  Well, we were wrong.  The midnight sun was so strong that it lit up our camper, even with the day-night shades drawn.  To compensate, we put black trash bags over the windows and hatch.  This mod isn't going to win the mod contest, but it got the job done and let us sleep.
Budget Tip 10: Fill Your Freezer, With Taco Salad!
Reta prepares the base ingredients for taco salads and fills our camper freezer before we leave home. The fresh ingredients and other items for the salad can be purchased along the route.  We have found this maximizes the use of our freezer.  We were prepared when we left home for long stretches of travel without the opportunity to go to a grocery store.
Bonus Budget Tip: The Sign Post Forest is Free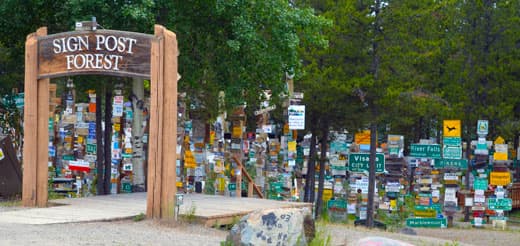 A really fascinating and free place to visit is the Sign Post Forest of Watson Lake.  The Sign Post Forest is full signs that have been added by people from all over the world showing where they are from, among other things.
We added our sign to the forest.  I am a ham radio operator and added my call sign tag with our names to Sign Post Forest.  They even have hammer and nails that you can use if you need them.
Alaska By the Numbers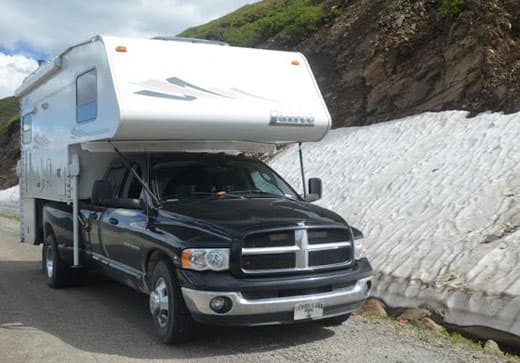 During our truck camping trips we always keep a daily log of activities and expenses.  After the Alaska trip, we put our expenses into an Excel spreadsheet.
Here are the highlights:
We spent forty nights in campgrounds and forty-one nights boondocking.
On average, we spent $51.40 per day on fuel and campgrounds.
The highest fuel price we encountered was $6.10 a gallon for diesel in Dawson City.
Our average fuel milage on the 11,070 mile trip was 14.4 miles per gallon.
We used a total of 771.5 gallons of diesel for a total fuel cost of $3,178.97.
The total miscellaneous expenses were $2,487 including museums, the Alaska Marine Highway, excursions, and tours.
Alaska On a Budget: It's Possible!
When we returned from our nearly three-month truck camping trip to Alaska, we were pleasantly surprised to discover that we had managed to stay under our projected budget.  It had always been our dream to take a road trip to Alaska, and we were delighted that we were able to make it happen without breaking the bank.
Now our job is to figure out when we can return to the last frontier.