Deb Herzfelt and her husband, Mike, share their 102 day, 17,223 mile adventure trip of a lifetime from Wisconsin to Alaska, and many amazing places in between.

Two years ago, my husband and I experienced a camping trip to Canada and Alaska that surpassed all of our expectations.  Mike is a planner and, since he was retired and I was still working, he planned the entire trip.  For months he read many publications about camping in Alaska.  All of the research certainly paid off.
Our vehicle, a 2011 Chevy Silverado 3500, crew cab, long box, dually diesel, easily carried our 2005 Arctic Fox 990 along even the worst roads that Alaska and Canada had to offer.  The Arctic Fox is our third truck camper and our first with a slide-out, a feature which has given us a lot more room than our previous campers.
Preparing for Alaska
Because we planned on being gone for an extended period of time, we had to carry a lot of essentials.  For example, Summer, Fall and Winter clothes needed to be packed.  To help accommodate all of our clothing, Mike rigged up a clothes rod that hung over the table next to the window suspended from the upper bunk brackets.
On both dinette seats he put a double drawer plastic storage unit that fit perfectly and left plenty of room for each of us to sit at the table across from each other.  These units held underwear, make-up, jewelry, socks, and whatever else we could fit into the drawers, enabling us to use the closets alongside the bed for paper products, extra dishes, and food.  In two of the camper closets he put stackable bins for canned goods.
During the trip, we bought family packs of meat, grilled it up all at once, and then froze individual meals for later use.  After the grill was cleaned and cool, Mike placed it back in the truck so that bears or other animals wouldn't be attracted.  The camper stove and microwave enabled us to make whatever type of meals we wanted if we weren't grilling.  The refrigerator and freezer had ample room for anything that needed to be kept cool or frozen.
Mike removed the back seat from our truck and built a platform with storage above and below.  He had a box of tools, a fishing tackle box and fishing poles, a spare water pump for the camper, a small cooler for water and lunch food, the gas grill that attached to the back of the camper, maps, literature, two patio chairs, extra bottled water, soda, beer, and usually a bag of snacks.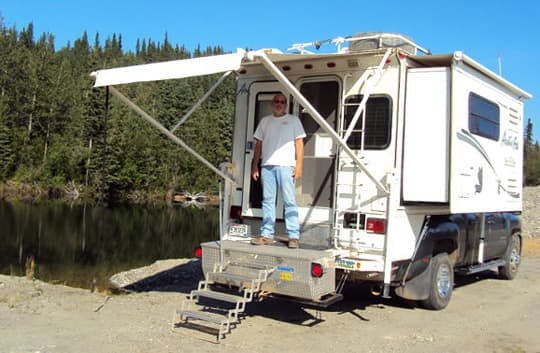 Above: Mike standing on a cargo rack that carries supplies
Behind the camper, Mike added a metal box on a cargo rack that held DEF (diesel exhaust fluid), an extra generator, gas can, shovel, ax, pail, gold panning pans, rope, spare oil and fuel filters, an external transmission filter, oil, antifreeze, and transmission fluid.
We brought along a tactical shotgun for personal protection and, even with the proper paperwork, it delayed us for about an hour when we crossed the border into Canada the first time.  We anticipated the delay, but were surprised when they took us each into separate rooms to interrogate us.  The truck and camper were also searched.
Mike also added an external Sirius XM antenna, which was needed because the camper blocks out the antenna from the truck, a CB and antenna, a tire pressure monitor system, a 1,000 watt inverter, and an extra spare tire tied down to the roof of the camper.  We found that we rarely used the radio, only used the CB a couple of times, and, luckily, never needed to change a tire.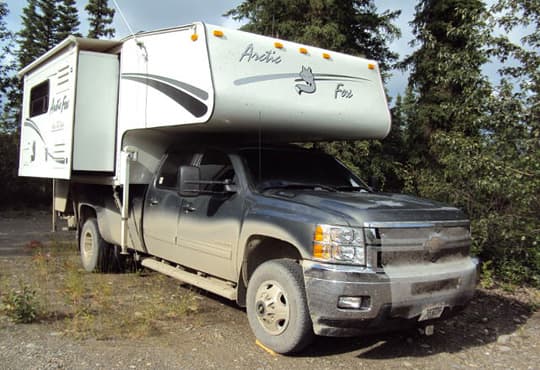 Above: Screen across the front of their 2011 Chevy Silverado 3500
He put a screen across the grill in front of the truck and a clear plastic protective lens over the headlights.  These precautions were safeguards against gravel and stones that can get be kicked up by the large trucks on the unpaved Canadian and Alaskan highways.  The only damage occurred when when a stone cracked our windshield.  When that happened, Mike smiled and said, "Now we have an Alaska windshield!"
We carried six two-by-six wood leveling blocks which we used every night of the trip.  We never found a level surface to camp for the night, even in the Fred Meyers and Walmart parking lots which we used when we stayed in some of the larger cities.
The heater in our camper was awesome.  We didn't need it for the first half of the trip but, toward the end of August, the nights were getting pretty cool.
Probably one of the best purchases Mike made was The Milepost.  It is a mile-by-mile highway log for thirty major routes and side trips.  It contains over a hundred maps.  It's called the Bible of North Country Travel and includes Alaska, Yukon Territory, British Columbia, Alberta, and the Northwest Territories.  It includes ferry travel, accommodations, camping and fishing, wildlife viewing, road conditions, sightseeing and interesting bits of information all along the way.