Deb Herzfelt and her husband, Mike, share their 102 day, 17,223 mile adventure trip of a lifetime from Wisconsin to Alaska, and many amazing places in between.

Two years ago, my husband and I experienced a camping trip to Canada and Alaska that surpassed all of our expectations.  Mike is a planner and, since he was retired and I was still working, he planned the entire trip.  For months he read many publications about camping in Alaska.  All of the research certainly paid off.
Our vehicle, a 2011 Chevy Silverado 3500, crew cab, long box, dually diesel, easily carried our 2005 Arctic Fox 990 along even the worst roads that Alaska and Canada had to offer.  The Arctic Fox is our third truck camper and our first with a slide-out, a feature which has given us a lot more room than our previous campers.
Preparing for Alaska
Because we planned on being gone for an extended period of time, we had to carry a lot of essentials.  For example, Summer, Fall and Winter clothes needed to be packed.  To help accommodate all of our clothing, Mike rigged up a clothes rod that hung over the table next to the window suspended from the upper bunk brackets.
On both dinette seats he put a double drawer plastic storage unit that fit perfectly and left plenty of room for each of us to sit at the table across from each other.  These units held underwear, make-up, jewelry, socks, and whatever else we could fit into the drawers, enabling us to use the closets alongside the bed for paper products, extra dishes, and food.  In two of the camper closets he put stackable bins for canned goods.
During the trip, we bought family packs of meat, grilled it up all at once, and then froze individual meals for later use.  After the grill was cleaned and cool, Mike placed it back in the truck so that bears or other animals wouldn't be attracted.  The camper stove and microwave enabled us to make whatever type of meals we wanted if we weren't grilling.  The refrigerator and freezer had ample room for anything that needed to be kept cool or frozen.
Mike removed the back seat from our truck and built a platform with storage above and below.  He had a box of tools, a fishing tackle box and fishing poles, a spare water pump for the camper, a small cooler for water and lunch food, the gas grill that attached to the back of the camper, maps, literature, two patio chairs, extra bottled water, soda, beer, and usually a bag of snacks.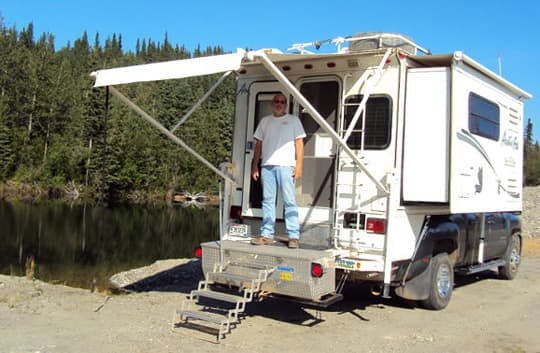 Above: Mike standing on a cargo rack that carries supplies
Behind the camper, Mike added a metal box on a cargo rack that held DEF (diesel exhaust fluid), an extra generator, gas can, shovel, ax, pail, gold panning pans, rope, spare oil and fuel filters, an external transmission filter, oil, antifreeze, and transmission fluid.
We brought along a tactical shotgun for personal protection and, even with the proper paperwork, it delayed us for about an hour when we crossed the border into Canada the first time.  We anticipated the delay, but were surprised when they took us each into separate rooms to interrogate us.  The truck and camper were also searched.
Mike also added an external Sirius XM antenna, which was needed because the camper blocks out the antenna from the truck, a CB and antenna, a tire pressure monitor system, a 1,000 watt inverter, and an extra spare tire tied down to the roof of the camper.  We found that we rarely used the radio, only used the CB a couple of times, and, luckily, never needed to change a tire.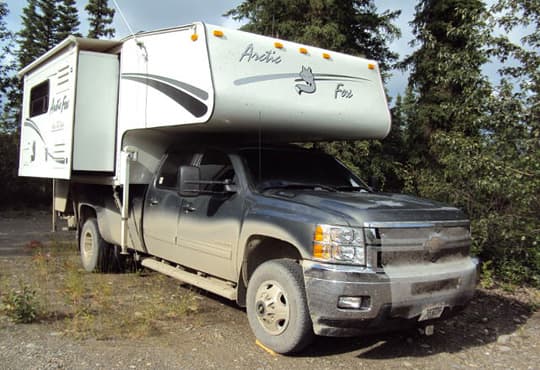 Above: Screen across the front of their 2011 Chevy Silverado 3500
He put a screen across the grill in front of the truck and a clear plastic protective lens over the headlights.  These precautions were safeguards against gravel and stones that can get be kicked up by the large trucks on the unpaved Canadian and Alaskan highways.  The only damage occurred when when a stone cracked our windshield.  When that happened, Mike smiled and said, "Now we have an Alaska windshield!"
We carried six two-by-six wood leveling blocks which we used every night of the trip.  We never found a level surface to camp for the night, even in the Fred Meyers and Walmart parking lots which we used when we stayed in some of the larger cities.
The heater in our camper was awesome.  We didn't need it for the first half of the trip but, toward the end of August, the nights were getting pretty cool.
Probably one of the best purchases Mike made was The Milepost.  It is a mile-by-mile highway log for thirty major routes and side trips.  It contains over a hundred maps.  It's called the Bible of North Country Travel and includes Alaska, Yukon Territory, British Columbia, Alberta, and the Northwest Territories.  It includes ferry travel, accommodations, camping and fishing, wildlife viewing, road conditions, sightseeing and interesting bits of information all along the way.
The Milepost also lists diesel fuel stations, places to dump and fill for free, places that offer laundry facilities, and grocery stores.  When we were in the truck, The Milepost book was always open.  We followed along mile by mile.
The Trip To Alaska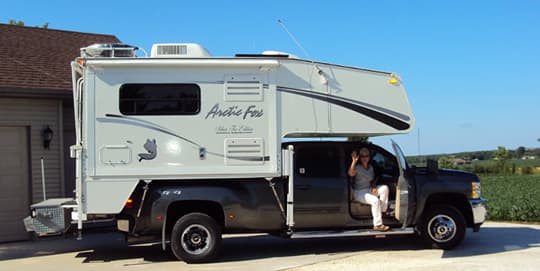 Above: Leaving Wisconsin in July
We left Manitowoc, Wisconsin, on July 10, 2012.  I had retired one month earlier so time was no longer a constraint.  We stopped in Bismarck to visit relatives and then drove straight north, crossing the border into Canada.
I was a little skeptical about boondocking, so we stayed that evening in a little campground in Nokomis, Saskatchewan.  We were the only people in the whole campground and it cost us six dollars to stay there on an honor system.  That night we were introduced to sleeping with trains passing close by.  By the end of the trip, we didn't even hear the trains any longer.  We discovered that most roads in Canada and Alaska usually follow a river in a valley and the train tracks are right alongside the road.
For the next couple of days we drove through a haze.  When we inquired about the haze, we were told that there was a huge forest fire raging in British Columbia.  We drove through the area a couple of months later and viewed the devastation and smelled the smoke that still hung in the air.
Our weather was beautiful every day for the first couple of weeks, usually with temperatures in the 80s, but we were surrounded by mosquitoes.  We discovered that the mosquitoes were getting through the screen in the roof vent above the bed.  We bought some finer screen at the next hardware store and eliminated the problem.
We visited the little town of Watson Lake on the Alaska Highway and spent some time in the Signpost Forest located on the north end of town.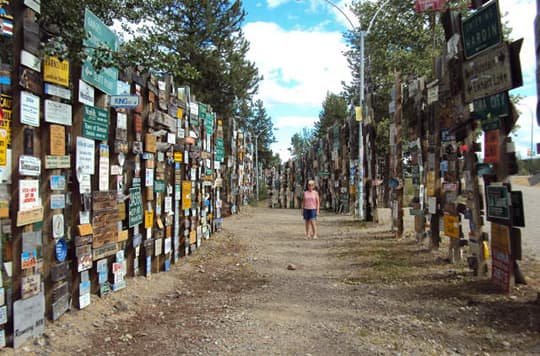 Above: Deb in the Signpost Forest
The forest was started in 1942 and signs from all over the world are still being added.  There are approximately 72,000 signs now in the collection.
From Watson Lake we turned onto the Campbell Highway.  The highway was built in 1964, and seemed like it was only updated in a few spots since then.  It started out paved, but then deteriorated into a washboard/pothole road for the next 150 miles.  We stayed the night at the confluence of the Pelly and Hoole River.  Now that was boondocking!
From that point on, we knew what to look for and how to find extraordinarily beautiful boondocking spots.  We have a picture of each spot we stayed in, minus the Walmart and Fred Meyer's parking lots.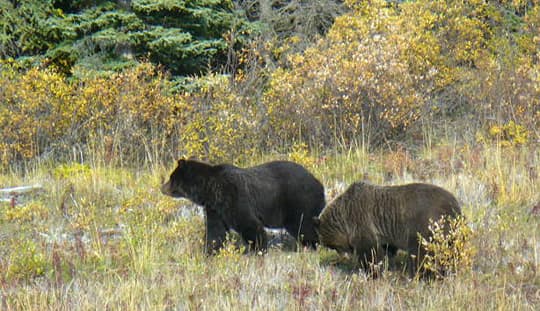 Above: Wildlife sightings were plentiful heading towards Dawson City
Heading towards Dawson City was slow going, but afforded us an experience in wildlife sightings that included caribou, sheep, porcupines, a Grizzly mom and her babies, black bears, bison and many more mosquitoes.
We stayed for several days on the Bonanza Creek outside of Dawson City.  The town is so quaint – totally a step back in time.  We even panned for gold in the creek and I have to give the pioneers a lot of credit.  Do you know how cold your fingers get after just a short time in Bonanza Creek?
The Dempster Highway
From Dawson City we took the Dempster Highway up to Inuvik, the largest Canadian community north of the Arctic Circle.  We drove for twenty-five miles through the Ogilvie River Valley, which is very beautiful, and then climbed the Seven Mile Hill.  We then followed the mountain ridge crossing the Continental Divide twice and the Arctic Circle before reaching Inuvik.
Traveling north on the Dempster meant we also had to travel south on the Dempster to get back to Dawson City.  That was okay because the landscape looks different when approaching it from another direction.
In the Yukon and in Alaska, there are pit toilets and bear bins every few hours of driving.  We used many of these toilets throughout the trip.  They were usually fairly clean and stocked with paper.  The bear bins (our name for the dumpsters) were never overflowing.  These bins have a special opener that bears can't figure out because they can't get their paws in deep enough to release the latch.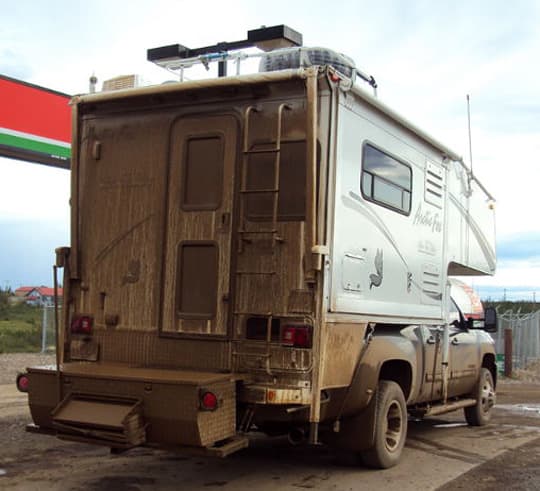 Above: Mud from the Dempster Highway
Our truck and camper rig had to be power washed several times during the trip.  Sometimes it was so full of mud that it was hardly recognizable.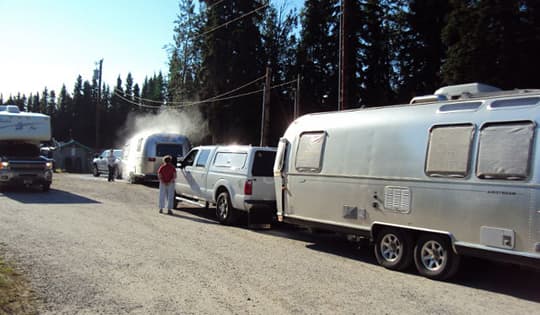 Above: The immaculate Airstreams in Dawson
A caravan of thirty-six Airstream campers came into Dawson while we were there.  We crossed paths with them in Chicken and again in Fairbanks.  Their campers were always immaculate.  As we drove into a campground one night, one of the Airstream owners said, "I'm sure glad we didn't go where you've been!"
From Dawson we ferried across the Yukon River and traveled the Top of the World Highway.  We crossed customs into Alaska with no problem at 4,419 miles into our journey.
The Road to Eagle
Then we turned off onto Taylor Highway to reach Eagle.  Of all the roads we traveled, this one rates pretty close to the top of my list for scary rides.  Most of the time the road, carved out of the side of the mountain, was only wide enough for our truck.  Every mile or so the road would widen for two vehicles to pass.  Luckily, we never met another vehicle.
The road had no guardrails!  If Mike got over too far it was hundreds of feet down.  Several times I told Mike to slow down.  This meant that he had to go from fifteen miles per hour down to seven or eight.  However, I can't tell you how many times I gripped the door handle with white knuckles, pressed imaginary brake pedals (there were two on my side of the truck) until we finally reached Eagle, one of my favorite cities on the whole trip.
Coming back from Eagle was not nearly so frightening because I had the mountain next to me and Mike had the edge.  As it turned out, we traveled many more roads just like this one and I never overcame my fear.  My imaginary brake pedals were used often.
Doing the Dalton with the Porcupine Herd
Left to right above: Dalton Highway, north of Fairbanks, and near Prudhoe Bay – click to enlarge
Our next destinations were Chicken, Tok, Delta Junction, the North Pole and then on to Fairbanks.  From Fairbanks we did the Dalton.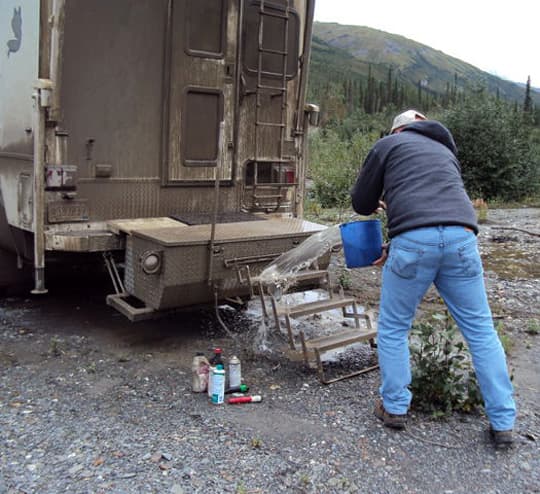 Above: Cleaning off Dalton Highway mud
The Dalton is the road from Fairbanks to Prudhoe Bay going over Atigun Pass (of Ice Road Trucker fame).  The Dalton was about 900 miles round trip of rough, unpaved road.  Returning from Prudhoe Bay, and as we were traveling through the Tundra, the Dalton was in much worse condition than it had been a couple of days before.  Rain had fallen and turned the road into a muddy path.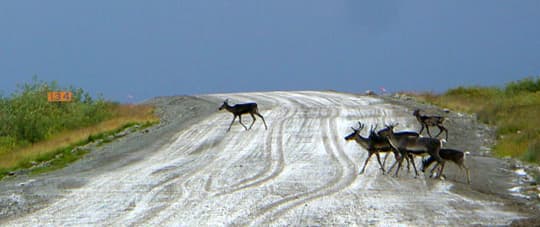 Above: The Porcupine Herd of Caribou on the Dalton Highway
That's when we experienced a once in a lifetime event.  The Porcupine Herd consisting of about 1,000 Caribou were traveling alongside the road on their southerly migration.  While were stopped waiting for a pilot car to take us through construction, a portion of the herd ran across the road just behind our truck to reach the other side.  What a thrill!
Traveling Around Alaska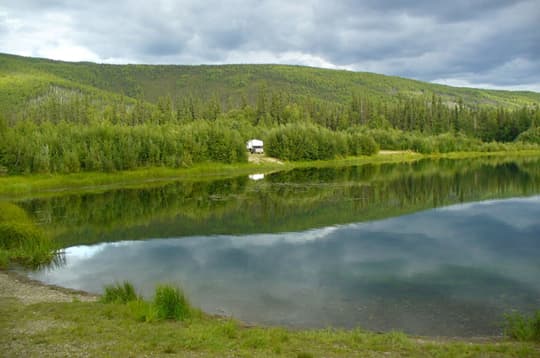 Above: Boondocking spot near Chena Hot Springs
After returning to Fairbanks, we drove up to Chena Hot Springs enjoying the area for a couple of days.  Our boondocking site was one of the most beautiful of all.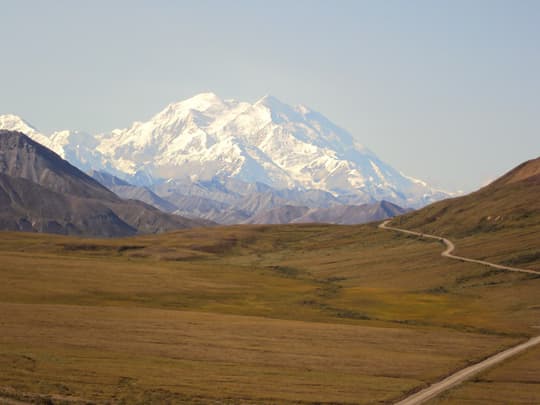 Above: Denali National Park
We then drove to the Denali National Park area.  While visiting there for several days, we boondocked off the Old Denali Highway about half an hour south of the park.  The full day bus trip in the park was worth every penny.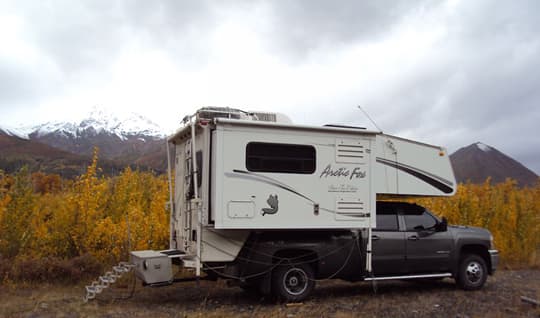 Above: Dry camping off the Old Denali Highway
From Denali, our next destination was Anchorage with stops at Talkeetna and Wasilla.   We passed through Anchorage twice, spending about a week total staying in Fred Meyer's parking lots and enjoying many of the things to see and do in Alaska's largest city.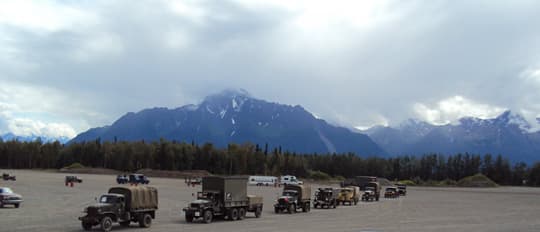 Above: A convoy of restored World War II vehicles in Palmer
One day we drove to Palmer to see a convoy of restored World War II vehicles which were traveling the Alcan Highway commemorating the seventieth anniversary of its construction.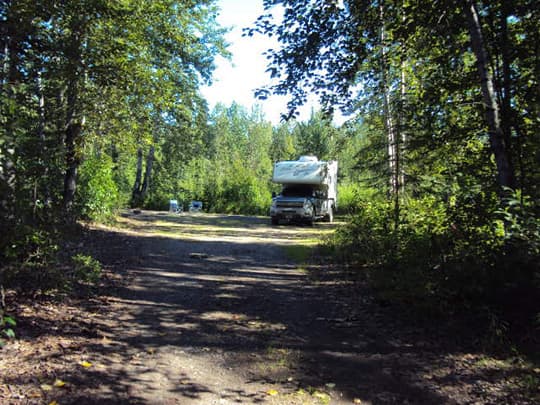 Above: Dry camping between Whittier and Seward
From Anchorage we headed towards the Kenai Peninsula with a stop in Whittier.  We spent ten days in the Kenai sightseeing, fishing, and visiting the towns of Soldotna, Homer, Seward, and many smaller towns.  From Seward we took a full day boat cruise to see more glaciers, whales, and wildlife.  It was the last long cruise of the season.  Winter was right around the corner!
Heading back north from the Kenai, we took the Glenn Highway across to Glenallen and then turned south on the Richardson to Valdez.  From Valdez we had to head north again in order to go south.  The town of Tok was our northern point and we took some wonderful side trips reaching that destination.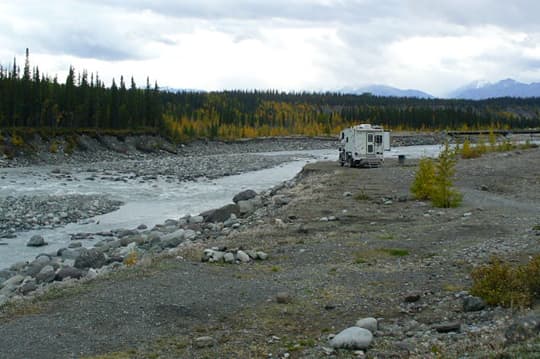 Above: Dry camping near McCarthy
One side trip was into Wrangell St. Elias National Park to visit the town of McCarthy and the Kennecott Mines.  Another was up Highway 4 and onto the west end of The Old Denali Highway to get to the top of Hatcher Pass, which is the second highest pass in Alaska.  Then we took another drive into Wrangell St. Elias National Park along the Nabesna Road to the small town of Nabesna.   We spent a night with a low temperature of 22 degrees before we headed south on the Alcan Highway to Haines Junction and then down to the town of Haines.
The Alaska Marine Highway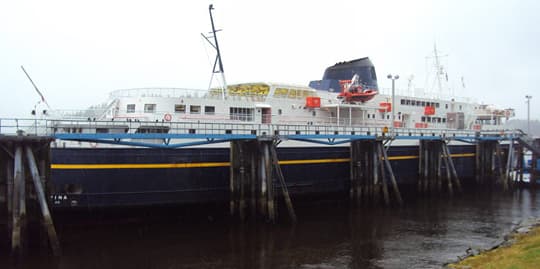 Above: Ferry taken from Haines to Juneau and back
From Haines we ferried the truck and camper to Juneau, the Capital of Alaska and only reachable by air or water.  We spent a couple of days sightseeing the city and were able to boondock just north of Juneau.   We ferried back to Haines, and again drove north to be able to go south with Whitehorse and Skagway, our next two major stops.
Those last few weeks took us back and forth into Canada a few more times with no border crossing problems.  The shotgun permit had to be renewed once but was no problem.  We just had to pay the fee.
Above: Dry-camping along the Cassiar-Highway and north of Skagway – click to enlarge
From Skagway, it was back up to the Alaskan Highway east to the Stewart-Cassiar Highway heading south.  We made one more stop in Alaska in Hyder where we drove twenty-three miles up to the 8,800 foot top of the mountain to view the Salmon Glacier down below us.  This road, in my opinion, was the scariest!
The glacier is purported to be the fourth largest in the world.  We stayed along this spur road near Bear Glacier for the night and then proceeded back down the Cassiar.
Leaving Alaska
It was now Sunday, September 23rd, and our Alaska adventure was over.  However, we had another month of touring as we drove south through British Columbia, visiting such places as Prince Rupert, Terrace, Kitwanga, and Prince George, all on the Yellowhead Highway.
After driving on Highway 97, we turned off on Highway 26 to visit Barkerville, a historic town from 1862.  There are 128 restored original buildings and we could have spent a couple of days there.  Following the Fraser River through more magnificent scenery brought us down to Chilliwack, British Columbia where we spent the night.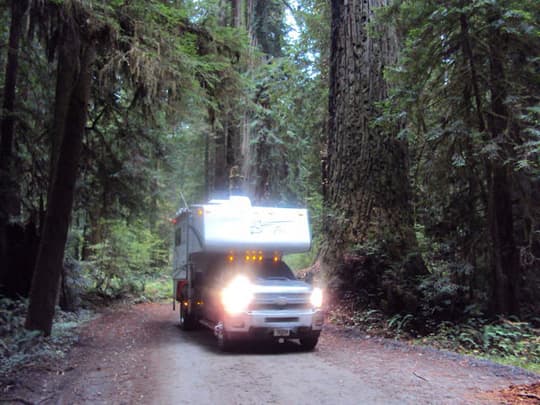 Above: Redwood National Forest, California
We continued on to Vancouver, then to Whistler where the 2010 Winter Olympics were held, ferried to Bainbridge Island to visit friends, visited Seattle, Mount Rainier, Victoria Island, British Columbia, and then continued down the coast through Washington, visited relatives in Oregon, and friends in Fresno, California before turning east in Bakersfield to head towards home.
Final Thoughts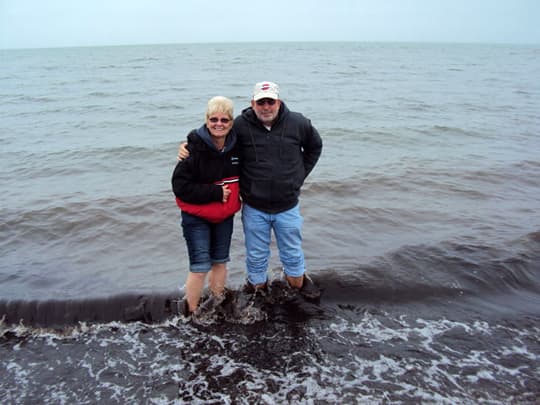 Above: Deb and Mike in the cold Arctic Ocean
Our 102 day, 17,223 mile adventure was the trip of a lifetime.  The time of year worked out perfectly.  We had about one month of serious mosquitoes before they faded to nothing.  We saw what is called Termination Snow in the Alaska mountains which means summer is gone and winter is coming.  We experienced twenty-two degrees one night and got to drive in some light snow before heading south.
Our drive south out of Alaska and Canada rewarded us with the magnificence of autumn colors everywhere we looked.  The brilliant yellow, orange, and gold leaves stood out against the dark green of the Lodgepole Pines and Spruce trees.  No matter where we looked, the views were awesome!
The truck worked flawlessly and we only had a couple of minor issues with the Arctic Fox camper.  Considering we drove on approximately 2,500 miles of unpaved, sometimes very rough and muddy roads, often requiring four-wheel drive, the camper performed very well giving credit to the excellent construction of Arctic Fox campers.
Alaska and Canada offered us so many beautiful options to boondock.  We spent about ten nights in campgrounds which varied from rustic to very nice sites on military bases.  We spent about fifteen nights in Walmart or Fred Meyers parking lots with never having a problem.  The rest of the nights we spent boondocking by ourselves, communing with nature.
Every day was an adventure and we have memories to last a lifetime.   Would we do it again?  Yes, in a heartbeat!

Have you traveled gone on a trip of a lifetime with your truck camper?  Please share your story about traveling to Alaska.