Ten fellow truck campers with Starlink share their experiences using the satellite internet systems on the road. Is Starlink the game changer it's been promised to be, or does it get lost in the woods?
Over the past sixteen years of publishing Truck Camper Magazine, there have been dozens of times when we were forced to move or navigate our travels based on the availability of cellular internet. This is hardly a complaint considering the insane freedom we enjoyed during that time, but it's a fact none-the-less. If we camped a bit too far from civilization, it better be the weekend.
Seemingly out of nowhere, Starlink has completely flipped that script. Where cellular is often impossible in the deep wilds, Starlink is as available as the open sky, and fast. In contrast, Starlink slows as you approach the more populous areas, and cellular internet availability and speed become nearly ubiquitous. Between the two, the once impossible dream of working from anywhere online without compromise is here and now. Expensive? Yes, that's what it takes to achieve this incredible freedom.
To get deeper into the woods, we asked fellow truck campers with Starlink systems to check in with their experiences. Rumor has it, much of this content came from the middle of nowhere, bounced off a Starlink satellite, and landed on your phone, tablet, or phone. We live in extraordinary times.
Starlink Story 1: Mike and Linda Tumchewics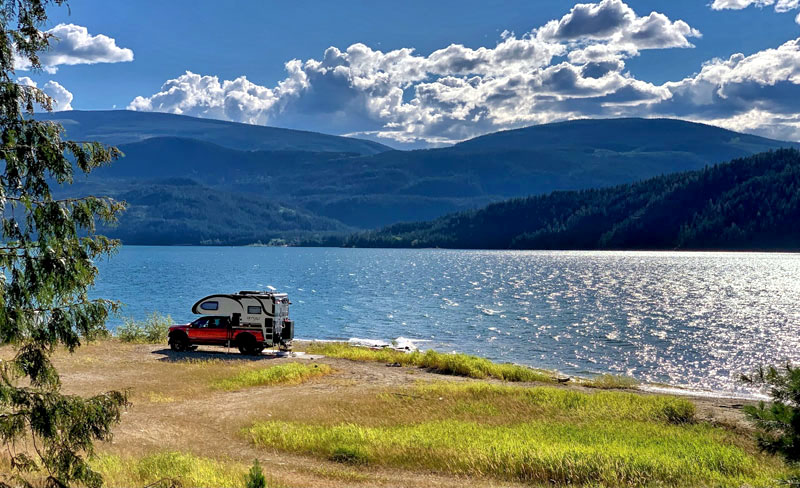 "We do not use a permanently fixed location for our Starlink dish as the system is dependent on an unobstructed view of the sky. To accommodate this requirement, we use the portable mount that comes with the dish.
If we're parked in a clearing (no shade from trees) we place the dish on our Cirrus 820 roof and secure it to the roof rack. If parked under shade, we place the dish on the ground in an area where it has an unobstructed view.
The dish comes with approximately 75-feet of cable, so placement away from our camper – in an unobstructed location – hasn't been an issue.
The Starlink router sits on our dinette table and is powered by our 2,400-watt inverter through a dedicated 110-volt outlet. We route the cable through the small passthrough window between the camper and the cab of the truck. There's no permanent mounting for any of it.
Starlink works as advertised. Signal strength and speed has been excellent. So far we haven't had any issues because we have always been able to move the dish to a location with an unobstructed view of the sky.
If we are in a heavily treed location, we might get some interruptions. These interruptions are only noticeable if we are streaming a movie or during a video-type call like FaceTime.
We found current draw was not an issue (sorry no hard data). Then again, we do not leave the Starlink system on continuously.
We prefer to go off-grid and to remote locations with no cellular service. With Starlink, we can get an email message out or use VOIP to call for help; on our phone, if need be. Starlink has given us a much better sense of safety should an emergency situation occur.
There is also the bonus of cuddling up while watching a good movie on Netflix out in the middle of nowhere. It's well worth the expense!" – Mike and Linda Tumchewics, 2020 Ford F350, 2021 Cirrus 820
Starlink Story 2: David Humphrey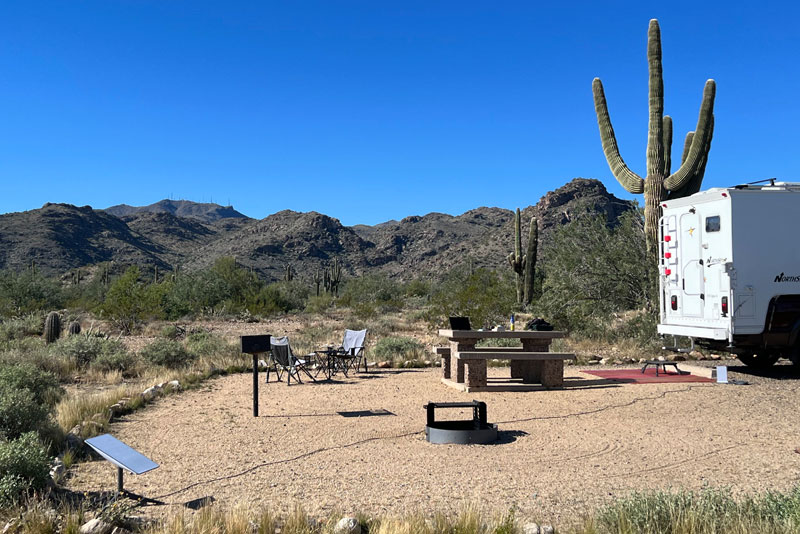 "We haven't mounted our Starlink dish. Sometimes we set it up on the ground away from the camper a bit. The dish has a 75-foot cord. Sometimes we set it up on the roof of the camper using our skylight access. When we do that, we can either run the cord inside through the skylight, in which case the skylight is open a tiny bit, or we can run the cord down the outside of the camper to the wifi router base.
We've seen others use the 20-foot Harbor Freight telescoping flagpole with an adapter available through Etsy so that the dish is secure. This could certainly get the dish above some trees and other potential blockers. So far we have not needed to go that route.
We see an approximate draw of around 50-watts from the Starlink system. We use our camper battery most of the time. Our Bluetti power station also gives us a good amount of hours. Since we use Starlink only intermittently, this has worked fine without creating any energy management issues.
We don't download or upload any huge files, so we have not experienced issues there. We've noticed that when we are in or near larger population centers, sometimes the connectivity is challenging. When that's the case we go back to using our personal hotspots on our phones.
Cindy needs connectivity at least two days a week for her mental health counseling business. We used to have to plan our travels around always being in cell service range for at least those two days. We no longer have to do that. We have been in places with absolutely zero cell service and she has been able to work using Starlink. That is a game-changer for us.
Just give Elon Musk your money and get over it. This is a tool that will open up more areas for us to travel to and make our travel schedule much easier to manage." – David Humphrey, 2015 Ford F-350, 2021 Northstar Igloo U 9.5
Starlink Story 3: Darin Leveraus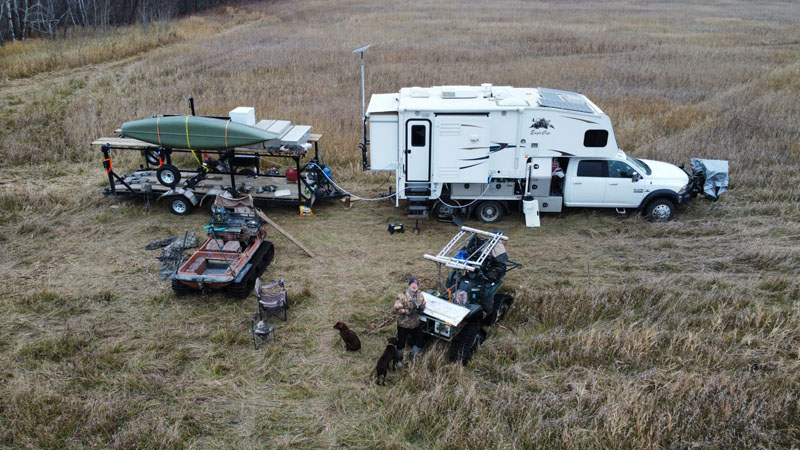 "For my Starlink dish installation, I used a telescoping flagpole and made my own mount to attach to the ladder.
The Starlink internet speeds have been mostly good. I did have some outages and slower times, but I believe that it was due to being in heavy tree areas at times. The speeds varied a fair amount, but even slow internet is better than none. The tree canopy has been my biggest issue.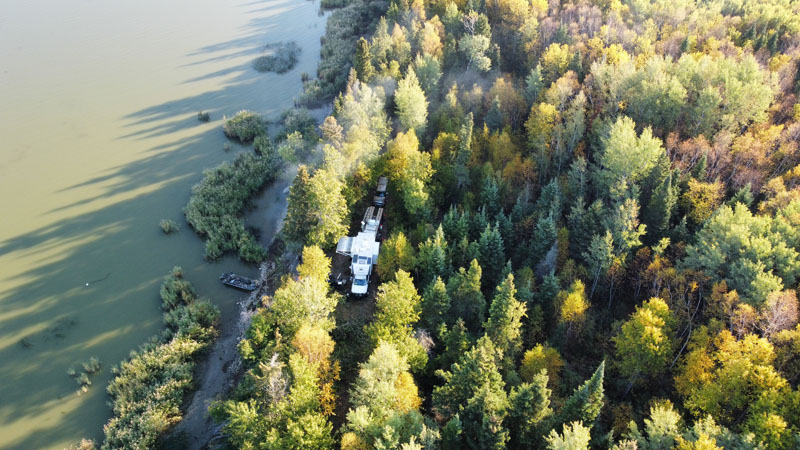 Starlink has not impacted my work as I'm retired. It's just a luxury.
My advice is to figure out the mounting first." – Darin Leveraus, 2017 Ram 4500, 2017 Eagle Cap 1165
Starlink Story 4: Cami Harris
"Most of the time, I just set the Starlink dish on the ground. The only thing that can screw it up is a big @$% tree. I've been known to climb up and put the Starlink dish up on top of my truck camper, or on the hood of my truck on a yoga mat, or on top of the dog crate, or a picnic table.
Trees are the only enemy. Shaded sites are usually the hot spot, but Starlink folks will be competing for the open sunny spot. I'd say 90% of the time I could set up my satellite in a spot that was clear enough. Forests are hard.
Starlink is adding more satellites which is supposed to help. I'm seriously considering adding a telescoping pole and would love to see if anyone else has done this.
I worked full-time last summer while I was on the road for three months, 12,000 miles and Starlink saved me. I started with unlimited cellular internet and a cell booster and ended up in the same boat. I was on top of a hill looking at the gorgeous Black Hills at a site that Campendium reviews claim there was a cell signal and had to leave. That's when I ordered Starlink.
My hybrid truck powers everything on my camper including my router. I just plug the router in my outdoor outlet and set it on the bumper where the license plate well is located. That way it's under my truck camper overhang.
As for the speed, it works great! I'd just say your Zoom meeting might need to be without video on occasion. It was sort of all or nothing. If I had a clear northern sky with no trees, I was good for speed. If a tree was right up the middle of that northern sky, I'd disconnect every few minutes even though the speed was good while connected.
During my 12,000 mile adventure, I spent time in South Dakota, North Dakota, Idaho, Montana, Wyoming, and Washington. The only problem I ever had was trees or occasionally the sheer side of a canyon wall blocking the northern sky.
I'm so much freer with Starlink. I dumped my pricey unlimited cellular internet in my second week of travel. Think about it. Remote locations are not going to have cellular. But way up on a mountain somewhere, the satellite will be stellar. Now I look for sunny spots. Thickly wooded forests I avoid.
Don't mess with cellular internet. It just wastes time as you wait for your friend to ship the Starlink to your location on the road." – Cami Harris, 2022 Ford F-150, 2022 Capri Retreat
Starlink Story 5: Dain Landis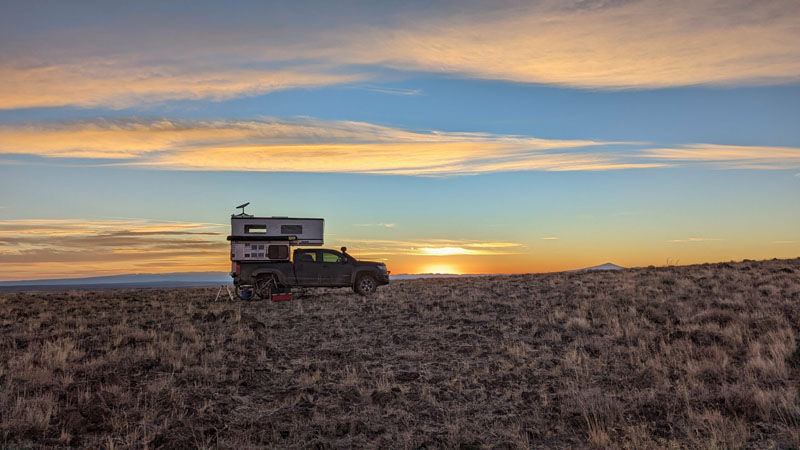 "I use the base mount that was provided with Starlink and modified the aluminum roof rack on the Four Wheel Camper with two additional pieces of aluminum to secure it.
I remove the dish while driving. It is a simple click to put it on when I get to camp. In addition, I modified the provided cable with a Neutrik NE8FDX-P6-W and a Neutrik etherCON Cat 6a connector to easily be able to connect the dish to the camper.
I feel Starlink works as advertised. I have used the service for the last two months 100-percent of the time for remote work all over the western United States. Ninety-five percent of the time I was boondocking with only solar and onboard batteries.
I found remote areas worked best where I would get 100+ Mbps download speed and 20+ Mbps upload speed. If I was in a populated area where the Starlink map showed I would have reduced service, speeds were pretty poor during peak hours. However, those challenges were generally between 5:00 and 10:00pm, which are outside of my working hours. They had no impact on me.
Typically I see 40 to 50-watts (3 to 4-amp draw), so my solar panels and battery bank have no issues keeping up with it. Typically, from the point I power the system on to having service is less than ten minutes.
The only challenge with speed is if I'm in an over-provisioned highly populated area, which is rare in The West. Also, typical problems happen if you have obstructions. The app is easy to use to pre-check a location before set up.
Overall, I found the service to be game-changing for me. It allows me to not worry about having to be in a cell area, or about cell speed. I can work freely from the road without any challenges in calls, screen shares, etc. Before, it was hard work if I needed to have a high-speed connection. I'm very happy with it.
If I went back in time, I'd tell myself, "You made a good choice!" – Dain Landis, 2018 Chevy Colorado, 2018 Four Wheel Camper Fleet
Starlink Story 6: Alan Whittern
"The Starlink dish is mounted on the outside of the roof with a mount that I created. I rebuilt the Starlink router to run off of 12-volt using a Youtube video. Both the Starlink dish, my computer, and my monitors run direct from 12-volt, so I do not need to turn on the inverter in order to surf the web or stream television.
I got my Starlink dish in January of 2022 and I've been playing the learning game the whole time. It seems that every time I think I have everything figured out, Starlink changes the way they do things.
Living in The West makes signal strength and obstructions much easier. I use roaming to change locations and always try to change my service address before I leave the previous one. Most of the places I go are remote and rarely do I run into availability issues other than returning home.
It's really nice to be able to do internet trip research anywhere. I use aerial mapping views all the time to figure out what I can do around whatever location I am in. With Starlink, you can always have current point weather forecasts no matter where you are.
Should have bought a Tesla so I could have gotten on the beta test sooner? No, there are no charging stations where I go." – Alan Whittern, 2012 GMC 3500, Outfitter Apex 9.5
Starlink Story 7: Edward Walker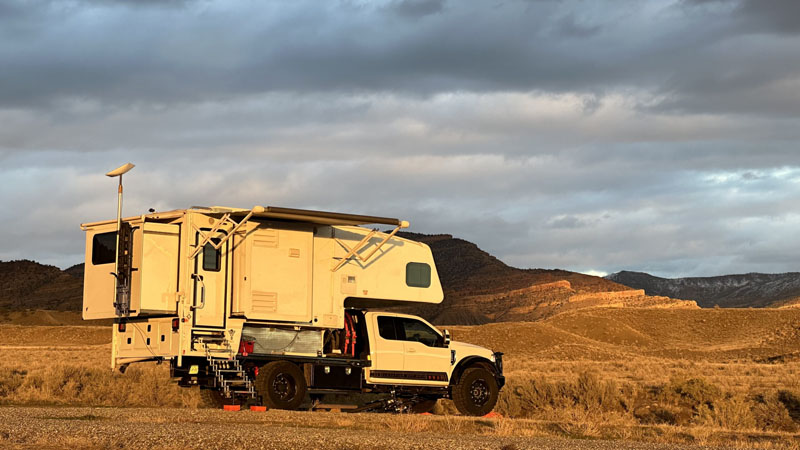 "We ordered our RV unit the day Starlink announced it and received it three days later. We mounted the dish using a flagpole buddy located off of the ladder on the passenger's side rear corner. Without the snow melt circuit running, it draws between three and five amps on 12-volts.
Starlink's evening performance has been drastically reduced due to ground station overload as popularity has increased. During the day (which is when I need it for work) we often average over 100 Mbps no matter how remote we are and we spend most of our truck camper time very remote. We've used Starlink extensively in the Colorado and Wyoming backcountry with zero issues.
Important tip: The proprietary end connectors are soft metal and are damaged much easier than one would expect. Starlink warranty replaced our dish with a refurbished unit after the (unknown) bent connector damaged the in-dish connector which is unserviceable (the dish is glue sealed).
It is disappointing that Starlink went for this proprietary connector option when ethernet cabling would have worked much better. I have re-spliced all of my new dish's wiring and converted it to RJ45 so we won't have this issue again. We've also rewired the dish to run on a 48-volt POE injector from a 120-volt to 48-volt step-up convertor. Now we don't need to run the Starlink through our inverter and can use our own router.
I'm the head of an IT department and I work 100-percent remotely. With Starlink, I've worked remotely from the mountains 30 miles south of Aspen in North Taylor Park, Colorado. It's 20 miles from the nearest 3G signal and 3-plus hours from the nearest 5G signal. I've worked remotely for a week from the banks of the Miracle Mile (North Platte River fly fishing heaven) in the middle of Wyoming; hours from any usable phone signal. We are going to spend two weeks on North Padre Island's National Seashore in December.
I've been able to attend remote Zoom meetings and conduct my workday just as if I was at my office at home. In fact, because of Starlink, we moved from a Northern Lite 10-2 camper to a triple-slide Eagle Cap so that I have more comfortable working options to conduct my workday when on the road.
Dear Self: Hurry up and sell the house before the real estate market flips in the summer of 2022 and go full-time on the road with Starlink! We missed that boat.
The connectors are soft. Protect them and check them for damage every time before you plug them in. They were never designed for RV wear and tear; setting up and taking down over and over. Etsy sells third printed end-covers." – Edward Walker, 2022 Ford F-550, 2017 Eagle Cap 1165
Starlink Story 8: Gustav Postreich
"Somewhat like you, I have withdrawals when I can't connect to the internet to publish any photos I've taken. Heretofore, Marcia and I have relied on either the Verizon phone hotspot or on our JefaTech WIFI extender used near McDonald's or other fast food establishments, Home Depot, Lowes, Staples, or hospitals when traveling. JefaTech now provides a signal to our barn apartment.
Our home internet service with AT&T high-speed broadband was the pits. Several years ago, we ordered Starlink. We had just a few days of testing prior to our summer travels. We elected to take Starlink with us. We had decent signals everywhere we traveled.
During our travels this summer, mostly east of the Mississippi and into Canada, we've always been able to connect. We've only incurred momentary dropouts. I don't think I've ever seen the 100 Mbps as seen by others. Generally, we see speeds of about 50 Mbps download and 10 Mbps upload. Marcia tells me I no longer have to optimize my pictures for uploading.
I've not checked the current draw. But, we survived boondocking for three days with two LiFePO4 100 amp batteries.  Even without a clear and unobstructed view of the sky, we were always able to receive adequate signals for our use.
Having camped with days of rainstorms in New Hampshire, most of our indoor entertainment was provided via the Starlink internet service.  I'd never ever purchase any type of satellite system for TV or the internet. Been there, done that. Starlink has been a game-changer." – Gustav Postreich, 2019 Ford F-450, 2012 Lance 1191
Starlink Story 9: Dean Plummer
"I have the Starlink RV dish mounted on a five-section flag pole attached to the back ladder. The WIFI router is located in the storage area where the dump valves are located. I also have the option of mounting the dish on a compact 5-foot speaker stand with a couple of small sandbags to weigh it down and an extra 150-foot cable to get the dish to an open area.
I also have a Goal Zero Yeti 1000X power station located in the cabinet by my bed. I ran a hidden extension cord through the kitchen cabinets and down under the bathroom back to where the router is located.
When just the television, Amazon Firestick, and Starlink dish are powered on, the Goal Zero power station displays between 10 and 11 hours until empty. One reason I put the dish on the Goal Zero was to get away from the dish having to stop and restart when power is interrupted.
This was my first season using Starlink. I camped for roughly two-and-a-half months and used it every time. It takes probably five minutes to get it set up and connected to satellites. I live in mid-west Alberta and found that it is best to have no interference from trees. The app will tell you if you have blockages after it's been running for a while.
My speeds are usually around 100 Mbps download and 10 to 20 Mbps upload. For me, this has been a huge game changer as I like to boondock. In the past, I'd have a cell phone booster to get a signal in and then use the personal hotspot off the phone to get internet. The amount I paid to do it that way was ridiculous.
The only challenge I had was when I hooked up the Starlink dish. It didn't come online for roughly a half hour as it was doing a download first. The campgrounds around our area are heavily treed. I don't think the dish would work to its full potential. Having the option to have it on the speaker stand with an extra 150-foot cable, gets the dish in more open spots which has helped me more than once.
Being on the Starlink RV dish I'm able to stop and start my subscription as I need it. You pay a little more per month for this option. Starlink lets me stay connected with my family, my office, and the outside world basically anywhere. As more satellites are launched, the range and speeds will improve over the years to come.
I'm glad I didn't spend the money on mounting a TV dish to the roof as I was planning on doing. Thanks, Elon." – Dean Plummer, 2017 GMC 3500, 2020 Arctic Fox 811
Starlink Story 10: Angie Zbornik
"Many in the Baja racing community are using Starlink. You can see what they are saying at race-dezert.com.
Our friend let us test his and it worked great out in mountains here in Southern Colorado but we aren't ready to take the plunge. We still use cell and Garmin inReach in our racing program.
This website is the latest I've seen in mounting systems. This tech is moving fast." – Angie Zbornik, 2013 Ram 3500, 2012 Northstar Escape Pod