In late September we published "Keyless Tech Warning For Truck Campers".  We wanted to inform our readers of a potential security risk after discovering that our 2018 RAM 3500 with keyless entry would unlock with the key fob from the truck camper's cabover.
Following that article, we heard from a number of readers who shared their experiences and solutions to the keyless entry situation. The responses also raised a number of other potential keyless technology concerns.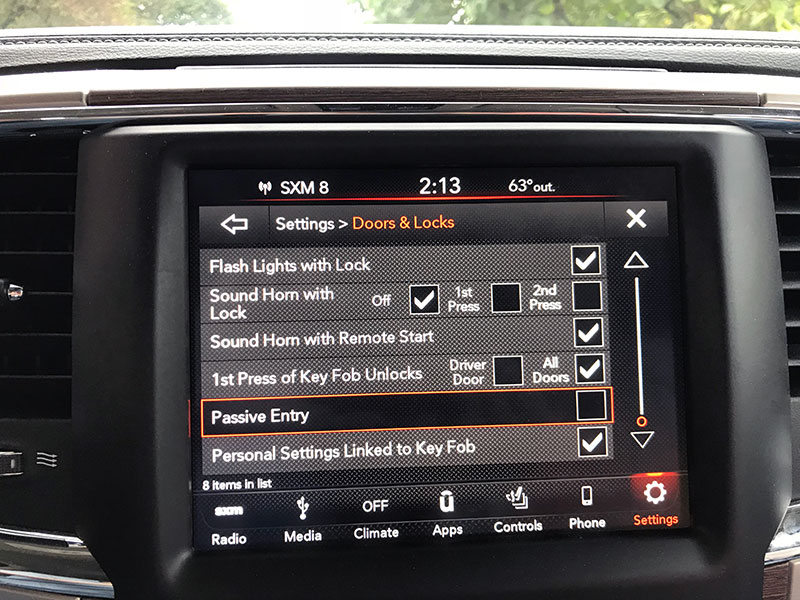 Above: The 2018 RAM uConnect screen with "Passive Entry" deactivated
We have since employed one of the solutions; turning off the keyless entry feature in the RAM uConnect system.  To do this you simply go to Settings > Doors & Locks > Passive Entry – and then deselect Passive Entry.  This instantly prevents the main key fob security issue.  Thank you, readers!
Below are the reader responses, solutions, and additional concerns.
Solution A: Turn Keyless Entry Off
"I have a Mazda car with a similar keyless capability.  I don't know the trucks, but that feature can be disabled in the settings.  I'd be surprised if there wasn't a similar setting for the truck." – Bruce Tinkler
"Toyota has several types of key fobs that vary in remote abilities.  Mine is like your key fob; keep it in your pocket to open the door, and start the engine.  My Tacoma also has a touch area on the exterior driver side handle to lock the door.
I read manuals; it's a habit.  On my Tacoma is a feature described as "Battery Saving Mode" (or something similar) to use the spare key.  A sequence of clicks shuts off the electric signal for the key fob.  Another sequence turns it back on.
I'll bet that all car makers have something similar for the keys to their vehicles.  That would stop any keyless entry or starting.
My key also has a metal manual key that slides out of the plastic case.  It looks like the clip for other keys to attach to, and it works that way.  A button releases it and it works on the door, tailgate, and glove box.
For attendant parking, the suggestion is that you lock the glove box, remove the metal key, keep it and give the electric to the attendant.  That metal part would also have the camper keys clipped to it." – Ivan Hass, Seattle, Washington
"I just read your article on the keyless entry issue and wanted to let you know on my 2015 RAM there is an option to disable the passive entry mode on the truck.  I would believe it would be the same on the 2018/2019 models.  You can find the option in the settings in your uConnect screen display.  I have done that with my truck since I felt the same way you did about security." – Greg Castaneda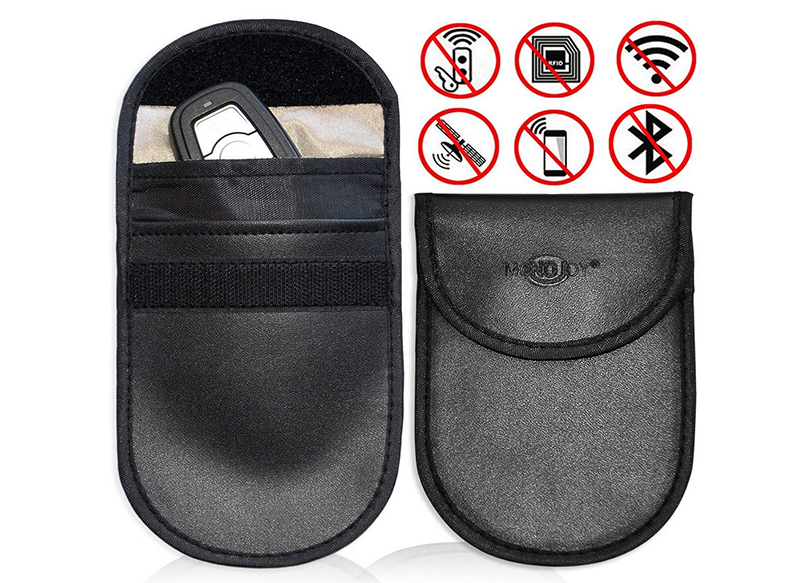 Above: This faraday shield is designed to shield key fobs from exactly the types of situations we are concerned with.  Looking for a practical holiday gift for friends and family?  This is what we're doing!
Solution B: Faraday Pouches and other Shields
"Interesting article this morning about the keyless entry dilemma.  My truck does not have the keyless entry option (I didn't want it), so it's no problem for us.
I am wondering if keeping your key fob wrapped in aluminum foil would do the trick or even in one of those old Band-Aid aluminum boxes.  Something like that might work and you'd still have it for "emergencies", too." – Bruce Allison, RAM 3500
"I saw your article on the key fob proximity concern.  A couple days after the article was published I saw an advertisement for a key fob faraday case.  I'm not sure if it would work, but it might address your concern.  Of course when your truck is 18 years old like ours you don't worry about those things." – Ed Amato
"Put the key fob in a metal container with a lid while in the cabover only taking it out to press the panic button." – Bernice and George Dougherty III
"We do not have a slide-in camper yet, but tow a trailer. We also came to the stark realization that someone could take the truck and drive off with us in the trailer.