For electronic navigation we use the Ford built-in GPS navigation system, Garmin RV 760MLT GPS, Garmin Montana 600 GPS, and an Apple iPhone 5 running Google Maps.
For paper map navigation a Canada Backroad Atlas, Canadian National Topographic Maps, Rand McNally Atlas, and USGS: USA Topographic Maps." – Dann and Helen O'Kane, 2011 Ford F350, 2013 Lance 855s
"A Garmin GPS with downloads from poifactory.com is our primary navigation means, but we have maps from states/provinces and Delorme map books for back up.  The camper's cabover does not interfere with the navigation system." – Philip Tron, 2009 Chevy 3500, 2012 Lance 1050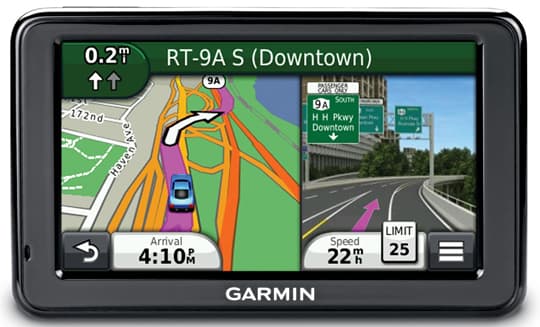 "We use a portable Garmin Nuvi 2555LMT GPS.  It covers both the Canada and the USA and has lifetime maps which gives us the ability to update the map four times a year.  The traffic functionality has only once routed us around a major traffic issue in San Antonio, Texas.  None the less, the functionality is good to have as it becomes more available across North America.
We do most of our trip planning on the computer using Microsoft Streets and Trips. Using it we can consider driving times and distances per day, look for campgrounds and use the internet see what alternatives we will have for stops in route.  Even after we have reached our trip destination, we use the GPS to find diesel for the truck, food for our tummies, and things to do and visit.
The truck camper's cabover rarely interferes with the GPS.  When heading home to Canada from Texas, it may take a little longer to find the satellites on start up." – Bill Billyard, 2000 Ram 3500, 2008 Palomino Winter Creek 115RS
"We plan to start using a GPS but, so far, we use the "Next Exit", maps, and the trucks built-in compass.  We were in a park in southern Utah when a man came running up to me.  He needed to get someplace and there was no cell service.  He did not know which way to turn when leaving the park.  I got out my map, and the problem was solved." – Philip Webster, 2004 Chevy 2500, 2004 Corsair
"We use a TomTom GPS system.  I used to have a Garmin, which seemed to be better at navigating, but the battery wore out rather quickly on the Garmin.
I also use my cell phone to plot my destination.  Waze is a good app because it constantly tells the user where the police are located, where traffic starts to slow down, and where the accidents are.  It constantly analyzes the trip, and searching for better routes.
When we travel on dirt roads not supported by the TomTom or Waze, we use DeLorme's mapping software.  This software was extremely difficult to learn and, after five years, I'm still in the beginner phase.  However, once mastered, it is the best platform for off-road travel in my opinion.
We do mostly desert travel and, due to the lack of trees, I can easily find unmarked roads, rock formations, or prospective camping areas.  It works almost as well in heavily forested areas.  There's always a break in the trees that shows up on the map which can be used to pinpoint location and possible camping areas.
The cabover used to interfere with the Garmin, but not the TomTom." – Rex N., 2005 Ford F350, 2000 Alpenlite 11.5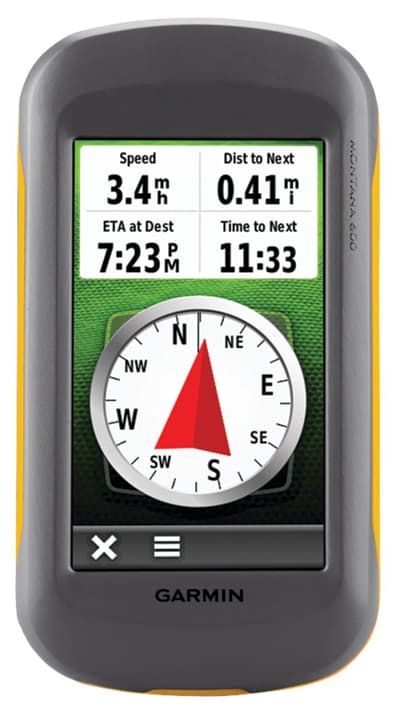 "I have a Garmin Montana 600 with Topo maps from GPS File Depot and Garmin.  I love it.  I use it also while dirt biking, ATVing, Jeeping, hiking, etc.  It's a wonderful machine.
I do not let the GPS choose my route.  I create a track on the computer from basecamp to where I want to go, then load that track into the Montana GPS and follow the pink line.  But I always carry paper Topo maps for a larger overall view!" – Oleh Melnyk, 2004 Dodge 3500, 1996 Bigfoot 2500
"On the road we are generally old school.  We use great publications like Backroads of British Columbia.  If we are in a city and need to find something, our Samsung smart phones come to the rescue.  We just use Google.  We leave the GPS units for when we are on the water in our trawler.
We don't get lost much, but we don't venture too far off decent roads.  Our unit is big and heavy and even with the four-wheel drive, I take it easy." – Wes and Denise Hargreaves, 1994 GMC 3500, 2004 Snowbird 108DS
"I still mainly rely on maps, using my Blackberry Map only in major cities or if I begin to worry that I am off track.  I find my truck's dashboard compass extremely helpful as an adjunct to my paper maps.
I use paper for several reasons. One, at my age, purposely committing routes to memory is extremely good for my long term brain health.
Two, I drive backroads as much as possible, preferring to meander somewhat and discover various surprise elements of an area – a gluten free bakery in the middle of a field, a small river at sunset on a golden plain with a tremendous bow in it, some deer grazing on the edge of a forest, etc.  The best part is the tiny villages and towns.
Trying to do this with GPS is too frustrating.  The goal of GPS is to provide the fastest and most efficient route.  Too much fiddling around is required to travel from one small town to another.
Three, feeling like I am on an adventure is the best part of travel for me; a white haired lady, a curly haired dog, and the whims of the moment.