"We use a Garmin GPS and a little common sense.  We have an additional antenna attached to the front bumper." – Catherine Tassinari
"In all my travels, I use maps as the primary navigation method.  I prefer to see the big picture, and the ability to see the relative locations of things further away.  You can see alternatives, and not blindly follow electronic directions.  I have sometimes found them to be poor or even wrong when traveling on business.
In areas where I need more detail than my maps have, I may use the built in maps (not directions) app on my iPhone.  This is purely for more detail, and is never my primary planning tool." – Paul Berry, 1968 Dodge D200, 1968 Red Dale
"I use a portable GPS and also use Google maps." – Charlie Young, 2005 GMC 2500 HD, 2012 Whitewater 865
"I mostly use paper maps.  I will use a GPS device in an unfamiliar area.  However, paper maps will never loose satellite connection and the battery will never die.  Both methods have limitations and are not perfect." – Greg Long
"I prefer to use tho old school maps when I am traveling on a camping trip.  The map makes it feel nostalgic bringing back good childhood memories planning and traveling to a campground.  It also makes the trip feel like you are out exploring." – Mark LePage, 2008 Chevy Silverado, 1992 Jayco Sportster
"We use a standard Rand McNally road atlas and we also take along the Delorme Gazetteers for the states we are going to.
We like the road atlas because it allows us to see the greater picture.  When we look up a spot, city, or attraction, we can see very quickly what is around that area.  We also like to look at what scenic routes might be coming along that we want to take.
We use the Gazetteers because we like the detailed information on back roads and the topography they show." – Delos O'Neal, 2014 Ram 2500, 2013 CampLite 10.0
"I usually use maps because I am generally not in a hurry when I am in my truck camper.  I use a GPS in the car when time is critical." – Rag, 2003 Chevrolet Silverado, 1980 Sportsman 8ft SD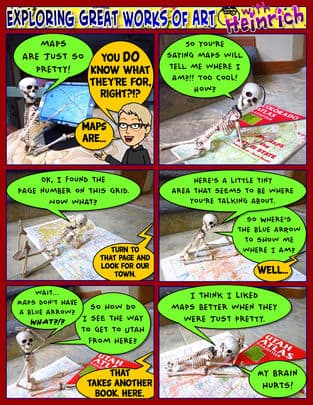 Above: Click to enlarge Tracy's comic strip
"We use all of the listed methods!  We have a navigation system in the dash of the truck that is okay (better than past ones for sure), but very finicky.  We definitely plan trips using atlases, but also include Google Earth to look for camping sites, etc.
This year we started using a Bad Elf GPS bluetooth receiver with our iPhone and iPads, which is very easy connection and use.  The reception is satellite based rather than cell tower based and the refresh rate is ten times faster for a more accurate and smoother display of our location than with our iPhones.
We use several off-line map apps to work with the Bad Elf but have found we like the scenic maps, especially for easily entering .gpx tracks and routes.  We use Pocket Earth for general use and tracking based on those imported .gpx tracks.  We mainly got the Bad Elf GPS for use in our off-road RZR, but it works great for general use as well.
In ten days we will be trying it out at the race track for Flyin' Miata Summer Camp and can't wait to see how it does providing data and maps of our laps.  Combined with the hotspot of a smartphone or WIFI, Pocket Earth has been great for finding points of interest on the fly.  Of course Google Maps is always a good standby.  As for interference by the cab over, we've seen none." – Steve and Tracy Schuster, 2015 GMC 3500HD, 2012 Lance 992
"We rely mostly on our GPS.  At this time we have a TomTom.  We sometimes use my portable Garmin GPSMap 62 for backroads.  We have downloaded backroad maps for Oregon, Alaska, British Columbia and the UK.  We have also used a Magellan in the past.  We have maps and sometimes tour books from AAA for each province and state we will travel through.  We also used the Milepost to plan our trip to Alaska, but did not use it a lot while driving.  Prior to a long trip I use Google maps or Google Earth to get a feel for where we want to go." – Eckhart Franz, 2006 Chevy 3500, 2005 Adaventurer 90FWS
"I love maps.  I always have a standard road atlas in my vehicle and separate ones for the states I am passing through.  I also have a portable Tom-Tom GPS.  It has a 4" screen and gives a lot of information along with the route picture.  However, my GPS doesn't always like the roads I pick for my trip.  When I go to New Jersey it wants me to take the George Washington Bridge which is a nightmare unless it's two in the morning. Then, it wants me to take the New Jersey Turnpike instead of the Garden State Parkway which takes me where I need to go.  I have to keep saying "No, I'm not going that way" until I get past Newark.
Also, if I have to take a detour I like to check with a paper map.  That gives me a bigger picture to figure out a new route.  I also love my GPS, but they do make mistakes sometimes.  I was going to a friend's new address.  It told me to go left and then it said I was at my destination when there was only woods on both sides of the road." – Marcia Liedigk, 2000 GMC K3500, 1996 Fleetwood Elkhorn