Truck Camper Magazine readers reveal their navigational preferences.  Here are the best maps, GPS devices, and smartphone apps.  Don't miss Janet Carter's window-tossed GPS, and Tracy Schuster's cartoon.

Time Bandits is one of my all-time favorite movies.  If you are unfamiliar with the 1981 Terry Gilliam film, it's an intensely imaginative time travel and adventure story featuring an eleven year old boy, six thieving dwarves, and an ominous Supreme Being who chases the aforementioned gaggle through history to recover his stolen map.
Anyway, there are a series of scenes in Time Bandits which immediately sprung to mind while reading the responses to this week's Question of the Week.  In the film, the Supreme Being appears as a giant menacing face bellowing the words, "Return the map!  It will bring you great danger.  Stop… Now!"
Most of us have experienced a GPS sending us to Timbuktu when you were just trying to get across town.  Or had a GPS tell us to get off the next exit, only to have us immediately get back on the highway.  My personal favorite is when our GPS shows us traveling off-road or even over water when we're on a road it doesn't know.
Perhaps the Supreme Being in Time Bandits had finally had it with his GPS, and just wanted his trusty map back.  From reading the responses, it sounds like more than a few of us have had that experience.
I also deeply appreciated the readers who resented the idea of an electronic device telling them where to go.  As I was reading these comments, I thought, "Yeah, who's the boss?  Me or my GPS?  After all, our slogan isn't, Go Anywhere, As Long As Our GPS Says It's Okay.  Would we drive off a bridge if our GPS told us too?  Heck no!"
We reserve the right to throw caution to the wind, and just explore; no map, no GPS, and no stinking smartphone.  As Jean Luc Picard used to say on Star Trek: The Next Generation, and I am paraphrasing, "Let's see what's out there.  Warp 9.  Make it so…"
Reader Responses: Best Maps, Apps, and GPS Systems
Almost everyone stated that the cabover did not interfere with their GPS reception.  These repeated comments have been omitted, unless they had a specific point, or indeed had experienced an issue with GPS reception.
This week's Question of the Week was, "What do you use to navigate when you're truck camping?"  You might want to go get a pen and paper.  There are some great ideas and specific navigational tips.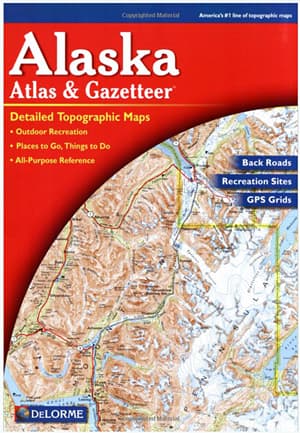 "Living in Alaska, navigation is relatively simple as there are very few roads.  But, when we are looking for something specific like a trail, or perhaps a camping location someone has referred us to, we use the Alaska Gazetteer map book.  Very seldom does someone give you a latitude-longitude coordinate.  It's usually an explanation using landmarks, or the Gazetteer.
We have a built-in navigation system in the Ram.  We use it when looking for an address in Anchorage that we are not familiar with.  I like the built-in GPS because I'm one of those who will not ask for directions.  It also cuts out the arguments on which way to go between the sweet wife and myself." – Tom Warren, 2013 Dodge Ram 3500 2013 Eagle Cap 1160
"I gave up on the GPS after it sent me the wrong way yet again.  I threw it out the window into a field.
I use the Rand McNally Road Atlas and, if needed, free state maps from tourist bureaus at state lines.  Since I'm driving alone, I have to be my own navigator.  I scribble down the day's itinerary with exit numbers and mileages.  This paper sits beside me on the front seat with the atlas." – Janet Carter
"We use everything available.  Before a trip we get the latest AAA maps and tour guides.  The Silverado has a WIFI hot spot, OnStar, and is GPS equipped.  We also carry the Good Sam Rand McNally.  The GPS is often all we need, but we have had instances where it led us astray.  OnStar is very helpful then.
GPS Voice Rec can be iffy on some road surfaces, or with wind, tire, and engine noises in the background, so OnStar is a nice safety net.  Using our tablet and the truck's hot spot to determine addresses and POIs is an added benefit.  Google gets a workout.
We've put 11,000 miles on our truck and camper combination since November and so far the camper has not had much effect on NAV, but it does effect satellite radio and occasionally getting connected to the GPS.  I don't recall loss of signal except where we are in the shadow of mountains to the south of our position blocking reception." – Joe Sesto, 2015 Silverado 3500 HD, 2015 Bigfoot 2500 10.6E
"I use all types of navigation devices; maps, phone apps, and a GPS.  I prefer Delorme maps.  I also use a TomTom GPS that works pretty well.  The navigator app (Verizon with Droid) on my smart phone is really good.