For the first time in the history of TCM, we go camping in a Northern Lite Special Edition truck camper.  After four days of camping and crustaceans, here's our full review.

If you clawed your way through our Lobstah Bash coverage, you already know how excited we were to finally, at long last, after more than six years of publishing TCM, actually go camping in a Northern Lite truck camper.
This excitement was compounded by our general affinity for Northern Lites.  Put bluntly, this is our kind of truck camper; non-slide, wet bath, straight kitchen, thermal windows, and a luxurious interior.  Some folks demand a slide out or three, others run at the mere mention of a wet bath, but not us.  We like our camper designs old school; yet refined.
But before Northern Lite pops the bubbly and settles in for an easy five star review, it's time for a reality check.  All of our impressions of Northern Lite Special Editions prior to this experience were made at the Northern Lite factory, at RV shows, or on dealer lots.  The campers were static, empty, and showroom perfect.
As soon as Bill Penney, Owner of Truck Camper Warehouse, had loaded the Northern Lite 9-6 Special Edition, Angela was already scheming of ways to borrow this camper for an exceptionally long test drive (think years), but how would we feel after four days of real world truck camping experience?
There's only one way to find out.  Let's camp.

Before we dive into this review, we want to call to your attention a lucky lighting strike.  The 2012 Ford F-350, single rear wheel, 6.7 diesel and a 2012 Northern Lite 9-6 Special Edition rig we borrowed was exceptionally well matched for payload and center of gravity.  As the self appointed Chief of the Weight Police, I was down right giddy about this combination.  Yes, I said giddy.
In an ideal world, we would be able to payload match the trucks and campers that we review.  In reality, finding available truck camper ready trucks can be a real challenge.  While most manufacturers and dealers have at least one truck that we can borrow, some do not, while others cannot spare their truck for an off-site review.  We can use our own truck, but that limits us to long bed campers within a few hundred miles of us.
Whether we use an industry sourced truck or our own truck, it's very likely that the truck and camper combination will not be properly payload matched.  As a magazine that takes properly matching a truck and camper very seriously, this is a frustrating dilemma.

When we opened the driver's side door on the 2012 Ford F-350 SRW 6.7 diesel Lariat I was thrilled to see a payload capacity of 3,527 pounds (center yellow sticker).  This was especially impressive given the list of heavy options this truck has including the diesel engine, four-wheel drive, and Lariat model features.  Could it be that I won't have to write myself a ticket for violating my own truck and camper guidelines?
According to our Northern Lite Buyers Guide, the 2012 Northern Lite 9-6 Special Edition has a dry weight of 2,625 pounds.  Our Buyers Guide wet weight for the 2012 Northern Lite 9-6 Special Edition is 3,553.5 pounds.  That puts this rig just 26.5 pounds over payload with a full fresh tank, full hot water heater, full propane, two batteries, and 500 pounds of stuff.  Considering that we removed the tailgate (around 50 pounds), I'd say this rig is a perfect match.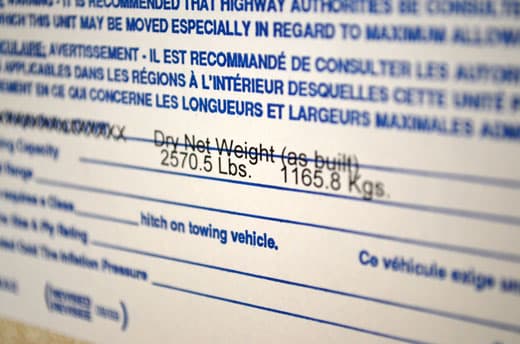 When we checked the weight sticker on the actual 2012 Northern Lite 9-6 Special Edition we were reviewing, the dry weight was 2,570.5 pounds.

Perhaps what's even more impressive is how loaded to the gills the 2012 Ford F-350 6.7 diesel Lariat was.  Even with the diesel engine, four wheel drive, and all the nice features that come with the Lariat package, this rig was payload matched.
It was all I could do to convince Angela that we shouldn't head for the border with this beautiful truck and camper and disappear into truck camping paradise.  She kept saying, "I'm not giving this back".  She was mostly kidding.
I reviewed a similar Ford F-350 Lariat that we borrowed from Lance Camper last summer for Angela's now famous, Warrior Dash story.  I'm still very impressed with how quiet and smooth the 6.7 diesel engine is and was happy to see how the interior fit, finish, and materials had seemingly improved a notch since 2011.

We were both very impressed with the Lariat electric leather seats which offered excellent support, including adjustable lumbar support.  I was able to make subtle adjustments with the electric controls to make the seats even more comfortable.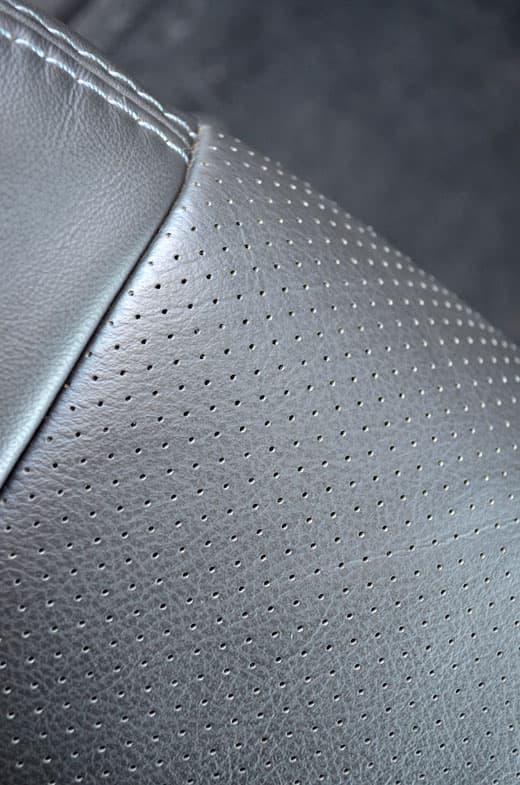 For the adventurous, the front seats are also heated and cooled.  I turned the seat air conditioning on all the way up and sure enough it starts to seriously freeze your butt.  Angela was more impressed with how the drivers seat had memory and would return to where she left it each time she got in the truck.  Unfortunately, Angela refused to try freezing her butt like I did.  Maybe next time.