For the first time in the history of TCM, we go camping in a Northern Lite Special Edition truck camper.  After four days of camping and crustaceans, here's our full review.

If you clawed your way through our Lobstah Bash coverage, you already know how excited we were to finally, at long last, after more than six years of publishing TCM, actually go camping in a Northern Lite truck camper.
This excitement was compounded by our general affinity for Northern Lites.  Put bluntly, this is our kind of truck camper; non-slide, wet bath, straight kitchen, thermal windows, and a luxurious interior.  Some folks demand a slide out or three, others run at the mere mention of a wet bath, but not us.  We like our camper designs old school; yet refined.
But before Northern Lite pops the bubbly and settles in for an easy five star review, it's time for a reality check.  All of our impressions of Northern Lite Special Editions prior to this experience were made at the Northern Lite factory, at RV shows, or on dealer lots.  The campers were static, empty, and showroom perfect.
As soon as Bill Penney, Owner of Truck Camper Warehouse, had loaded the Northern Lite 9-6 Special Edition, Angela was already scheming of ways to borrow this camper for an exceptionally long test drive (think years), but how would we feel after four days of real world truck camping experience?
There's only one way to find out.  Let's camp.

Before we dive into this review, we want to call to your attention a lucky lighting strike.  The 2012 Ford F-350, single rear wheel, 6.7 diesel and a 2012 Northern Lite 9-6 Special Edition rig we borrowed was exceptionally well matched for payload and center of gravity.  As the self appointed Chief of the Weight Police, I was down right giddy about this combination.  Yes, I said giddy.
In an ideal world, we would be able to payload match the trucks and campers that we review.  In reality, finding available truck camper ready trucks can be a real challenge.  While most manufacturers and dealers have at least one truck that we can borrow, some do not, while others cannot spare their truck for an off-site review.  We can use our own truck, but that limits us to long bed campers within a few hundred miles of us.
Whether we use an industry sourced truck or our own truck, it's very likely that the truck and camper combination will not be properly payload matched.  As a magazine that takes properly matching a truck and camper very seriously, this is a frustrating dilemma.

When we opened the driver's side door on the 2012 Ford F-350 SRW 6.7 diesel Lariat I was thrilled to see a payload capacity of 3,527 pounds (center yellow sticker).  This was especially impressive given the list of heavy options this truck has including the diesel engine, four-wheel drive, and Lariat model features.  Could it be that I won't have to write myself a ticket for violating my own truck and camper guidelines?
According to our Northern Lite Buyers Guide, the 2012 Northern Lite 9-6 Special Edition has a dry weight of 2,625 pounds.  Our Buyers Guide wet weight for the 2012 Northern Lite 9-6 Special Edition is 3,553.5 pounds.  That puts this rig just 26.5 pounds over payload with a full fresh tank, full hot water heater, full propane, two batteries, and 500 pounds of stuff.  Considering that we removed the tailgate (around 50 pounds), I'd say this rig is a perfect match.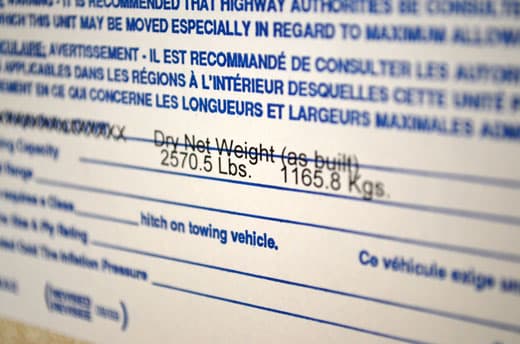 When we checked the weight sticker on the actual 2012 Northern Lite 9-6 Special Edition we were reviewing, the dry weight was 2,570.5 pounds.

Perhaps what's even more impressive is how loaded to the gills the 2012 Ford F-350 6.7 diesel Lariat was.  Even with the diesel engine, four wheel drive, and all the nice features that come with the Lariat package, this rig was payload matched.
It was all I could do to convince Angela that we shouldn't head for the border with this beautiful truck and camper and disappear into truck camping paradise.  She kept saying, "I'm not giving this back".  She was mostly kidding.
I reviewed a similar Ford F-350 Lariat that we borrowed from Lance Camper last summer for Angela's now famous, Warrior Dash story.  I'm still very impressed with how quiet and smooth the 6.7 diesel engine is and was happy to see how the interior fit, finish, and materials had seemingly improved a notch since 2011.

We were both very impressed with the Lariat electric leather seats which offered excellent support, including adjustable lumbar support.  I was able to make subtle adjustments with the electric controls to make the seats even more comfortable.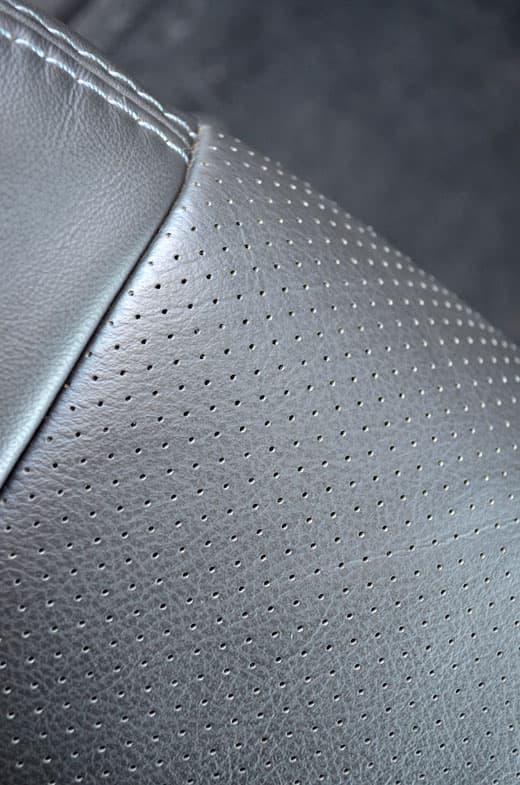 For the adventurous, the front seats are also heated and cooled.  I turned the seat air conditioning on all the way up and sure enough it starts to seriously freeze your butt.  Angela was more impressed with how the drivers seat had memory and would return to where she left it each time she got in the truck.  Unfortunately, Angela refused to try freezing her butt like I did.  Maybe next time.
2012 Northern Lite 9-6 Special Edition Review
Let's turn to the 2012 Northern Lite 9-6 Special Edition and find out how this camper stands up after an honest to goodness truck camping experience.  We'll start outside and then check out the interior.
There are essential items for truck camping that most of us would not want inside our trucks or campers including sewer hoses, water hoses, electrical cords, adaptors, gloves, and tools.  Having these items well organized and at your finger tips can really make the difference.
Northern Lite understands the importance of exterior storage and provides three primary storage areas on the 9-6 Special Edition.  First, there's a sewer hose compartment on the rear bumper that opens right next to the dump facility compartment.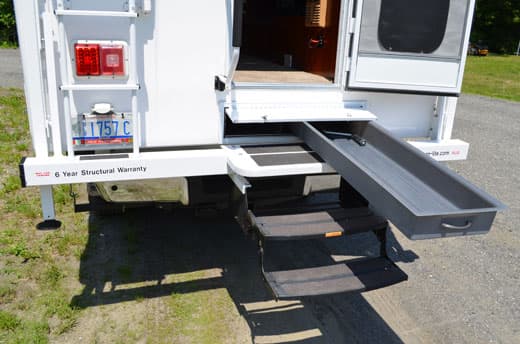 Second, there's a generous plastic slide-out tray under the rear entry steps for the water hose, electrical cord, adaptors, and tools.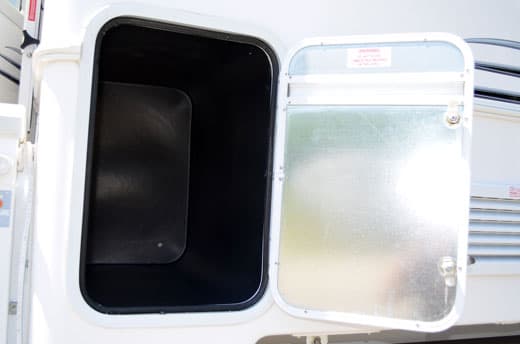 There's also a large compartment to accommodate a portable generator like a Honda eu2000i.  You couldn't run the generator in this storage location, but it's fantastic to have a dedicated place to put it.  I'm a big fan of portable generators because of their lower price point compared to built-in generators, impressive fuel efficiency, quiet operation, and versatility.  If you decide not to buy a portable generator, this compartment will provide even more exterior storage.  Well done Northern Lite.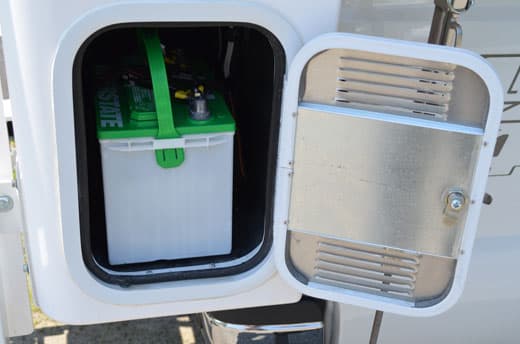 Although the above photograph only shows one battery, the passenger side skirt actually holds two.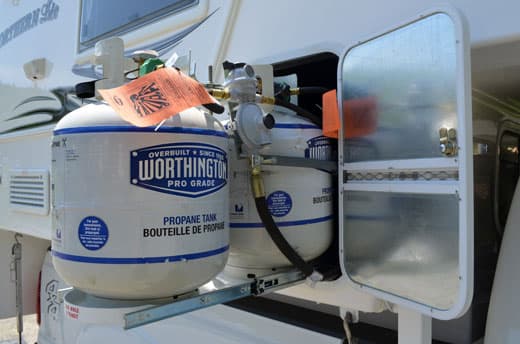 The propane compartment holds two twenty pound propane tanks that slide out on a steel tray.  While I didn't actually go through the motions of changing the propane tanks, I like this arrangement and the accessibility the slide-out tray provides.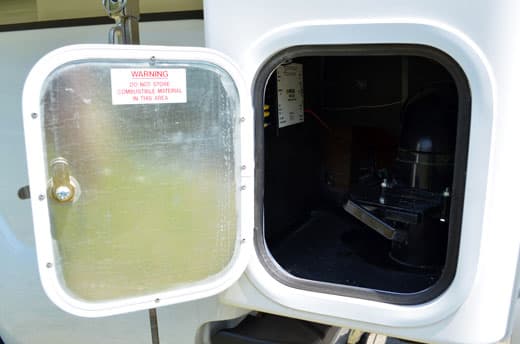 The dump valves are in the driver's side skirt and are easy to see and access.  This is also where the Happijac jack controller is located.

The rest of the external features are straight forward and well placed including the exterior shower, electrical cord, water fill, and cable connections.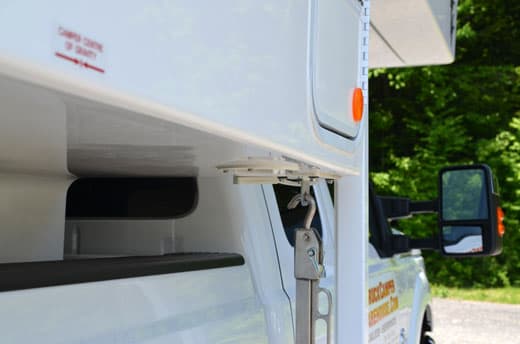 On this particular rig there was quite a gap between the top of the truck bed rails and the underside of the truck camper wing wall.  This kind of space is almost inevitable as manufacturers are forced to build one size campers to fit all the different bed rail heights, overcab heights, and bed dimensions produced by the truck manufacturers.  Northern Lite is especially susceptible to this problem because their camper bodies are dictated by expensive fiberglass molds that can cost upwards of $100,000 each.  To make molds for every different truck configuration would be cost prohibitive.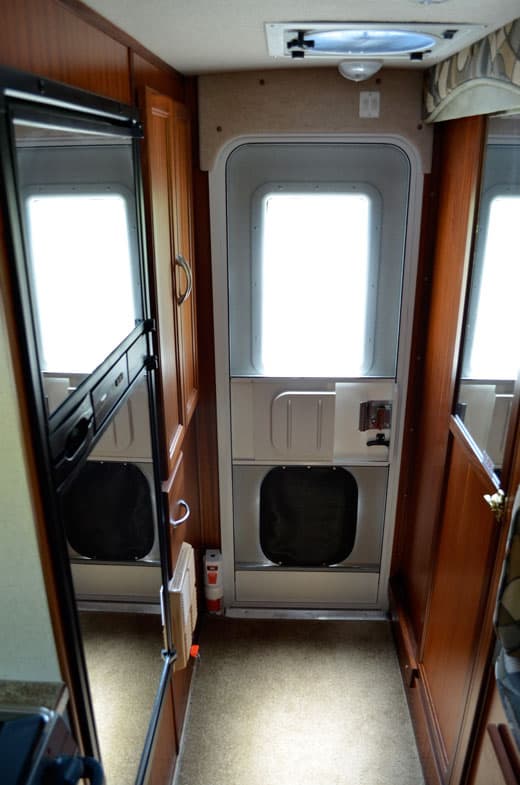 When you walk into the Northern Lite, you enter a short hallway of Sapele wood cabinetry on the passenger side and the wet bath on the drivers side.  The cabinetry features a good sized closet for coats and other hanging clothing items.  This is the closet that contains the camper weight sticker.  To have a closet in this location just inside the door makes a lot of sense.

Details in the rear interior of the camper include the heater, two light switches above the door, and a battery disconnect switch.  It's always good to see a battery disconnect switch, especially one situated at the back of the camper within reach of the rear door.
Heat in the Northern Lite is non-ducted but the camper is designed in such a way that this should not be a problem.  In fact, it's been our experience that non-ducted non-slide campers will literally boil your eyes out if you crank the heat.
As for the two switches, they're for outside lights.  Owners will quickly learn which switch does what, but I'd like to see these switches labeled.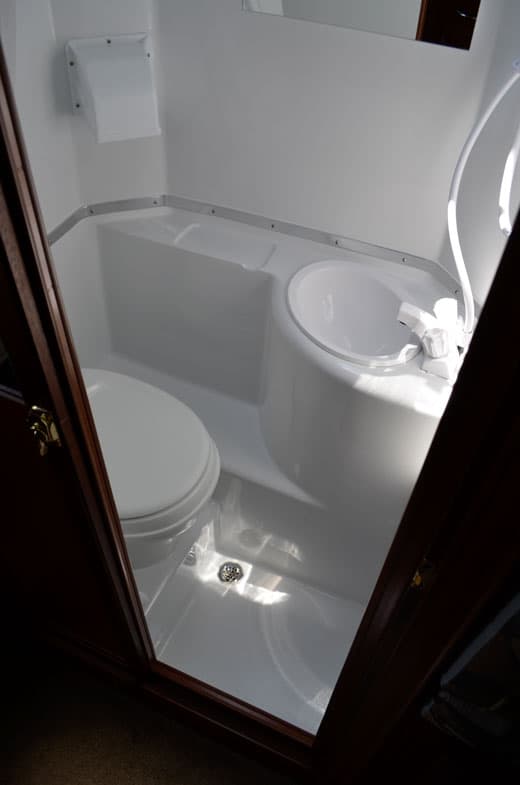 Across from the closet, the wet bath in the Northern Lite 9-6 Special Edition is relatively small but very functional.  I am 6'3″ tall and there was plenty of leg room for the toilet and I could just about stand completely upright in the bathroom.  As long as I was sitting or standing in the center of the bathroom, I was fine.  The sink location was a little too low for me which necessitated sitting on the closed toilet to brush my teeth (sorry for that image).  Naturally, height challenged people may not experience this situation.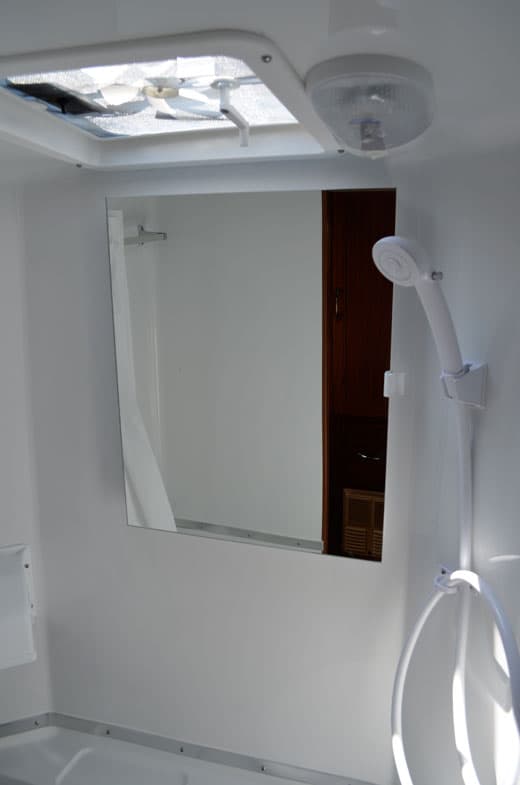 Showering in a truck camper is never a luxurious experience, but rather just enough to get clean and feel refreshed.  For that purpose, the Northern Lite 9-6 Special Edition wet bath did it's job.
I would like to see a trigger actuated shower nozzle and a much more flexible shower nozzle hose.  I really can't fault Northern Lite for this because every truck camper shower that we've experienced, dry bath or wet, has this issue.  When you're trying to conserve water, it's really annoying to feel like the shower nozzle and hose are fighting with you.
To further nit-pick, the water pump is loud when you're in the bathroom.  Maybe Northern Lite could add some vibration absorbing material around the pump or change to a quieter water pump in the future.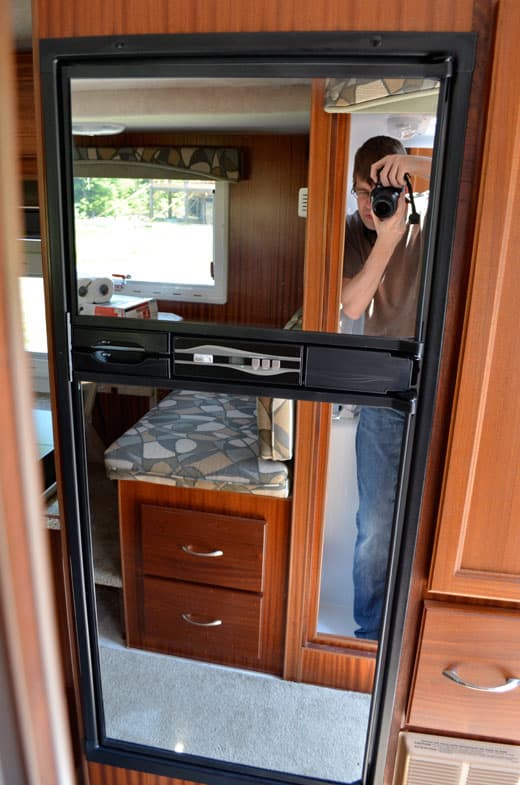 When you slide open the bathroom door you're immediately greeted by your own reflection in the mirrored refrigerator directly across from the bathroom.  While some of us may be okay with a quick flash of ourselves, others may find the experience a little jarring.  Of course this should be easy to fix by changing out the mirrored exterior on the refrigerator to stainless steel, black, or even Sapele wood.
The mirror finish on the refrigerator (and the bathroom door) do help to give the Northern Lite entry way a brighter and more open feeling.  Whether that's worth the post shower show is up to you.  Consider it free entertainment.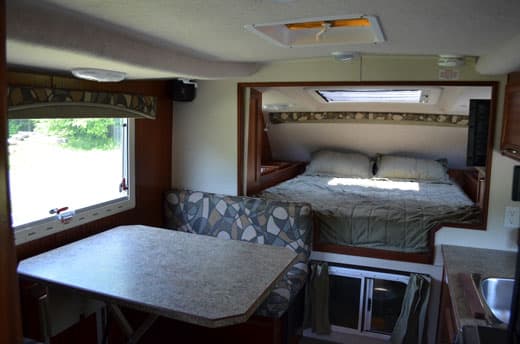 At first blush, the dinette in the Northern Lite 9-6 Special Edition appears to be a straight forward full-booth dinette.  Upon closer inspection a number of details emerge that give this dinette a range of adjustments and hidden benefits.

First, the dinette table can be moved horizontally.  This allows the table to be closer to one side of the dinette than the other.  Perhaps the person on one side of the table requires a bit more room.  Or maybe the other person prefers the table closer.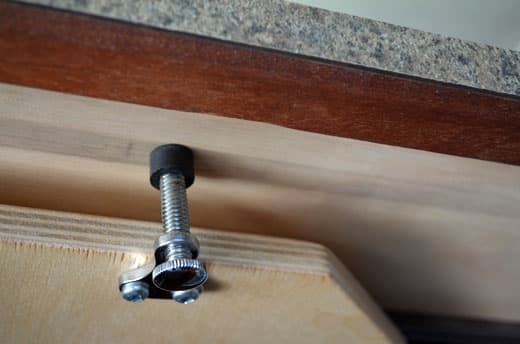 When the owners find a table position they like, they can tighten the table position in place with a threaded rubber stopper under the outside lip of the table.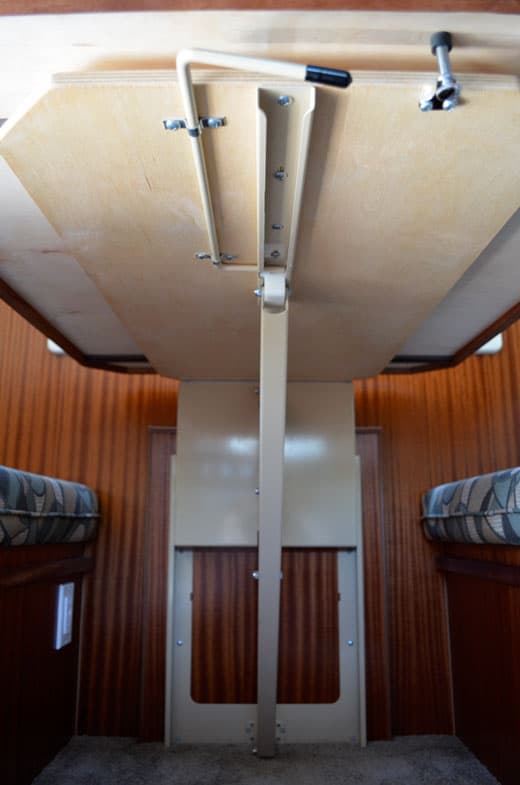 Next, the dinette table features the dream dinette system which holds the table without a center leg post.  The dream dinette system also allows the table surface to slide down vertically to change the dinette into a bed.  Overall, the dream dinette system is not quite as stable as two floor posts, but it's great to not have those posts in the way.
Truck camper dinettes are very important to us since we are often working at them.  Over the four days we used the Northern Lite 9-6 Special Edition, we definitely appreciated the size and stability of the dinette.

Another trick up the dinette's sleeve is quick and easy access to the hot water heater bypass under a removable seat panel.  This is the kind of subtle detail that will make ownership and use of this truck camper much better.
In the end, we had only two quibbles for the dinette.  The table seems to jut out about one inch too far into the main area of the camper.  Our guess is that the tables are cut to the same size as they were before they changed to the dream dinette, which brings the table out from the wall about an inch.  And that's the other quibble; the table has about a one inch gap between it and the wall.  For some reason, I kept thinking stuff would fall down in that gap, but it was probably just me.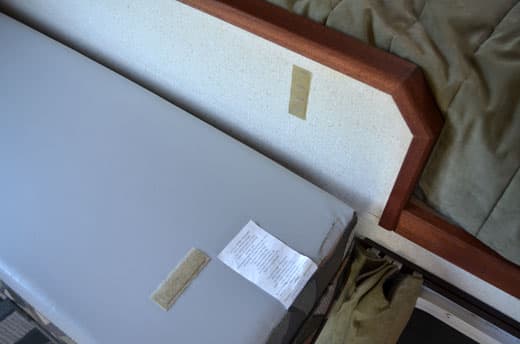 Okay, one more quibble.  I would like the dinette seat cushions to have velcro to keep them from moving.  The top cushions already have this feature and it works great.  The lower seats are loose and had a habit of moving around.  Of course that's the kind of simple modification anyone can do.
Above the dinette are stereo speakers and the television antenna.  The television antenna worked great on Thursday night and Angela got to catch the "Grey's Anatomy" finale in high definition.  It's amazing that we can often get free HDTV over the air.
The AM/FM/CD/DVD stereo is located in the kitchen on the front wall.  It's a little confusing at first but works well and includes an external input from an iPod or similar device.  The clock is another nice touch and includes a thermostat and an alarm, which we accidentally set.  That was fun.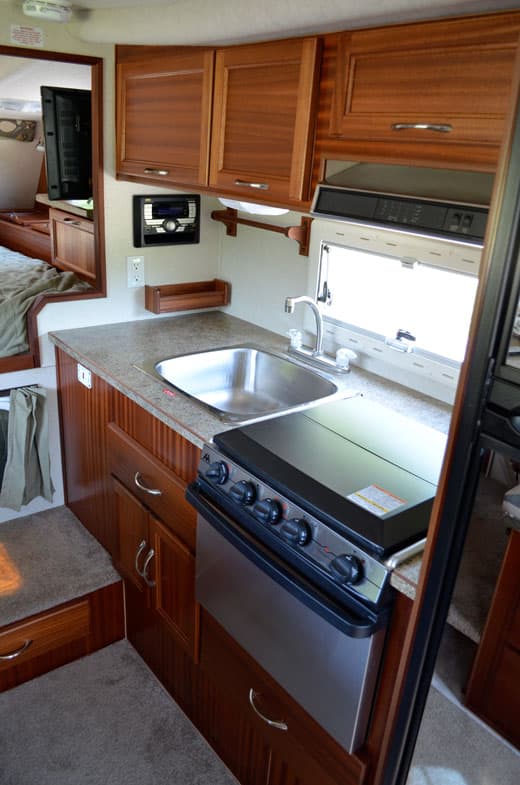 When Angela and I were first learning about truck campers, we used to draw truck camper floor plans and ask, "Why don't they design it this way, or that way?"  One of the features we wanted the most was a straight kitchen.
Since then we've seen plenty of straight kitchens in truck campers but the straight kitchens in the Northern Lite Special Editions are probably our favorites.  Not only is the design a knock out, but the sumptuous Sapele wood set against the large stainless steel sink, stainless steel faucet, stainless steel range and oven, and stainless steel range hood give the kitchen and the whole camper an added touch of high-end class.  I often tell people that the interior of a Northern Lite Special Edition feels like a luxury car.  They really do.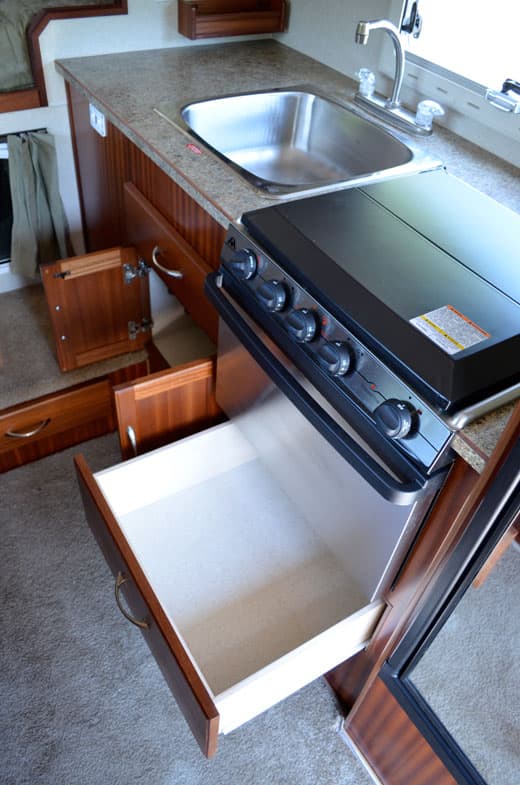 The Sapele cabinetry is not only gorgeous, but offers a good amount of storage above and below the counter tops.  The Sapele wood paper towel holder and spice rack up the ante along with the sophisticated aesthetic of the thermal pane windows.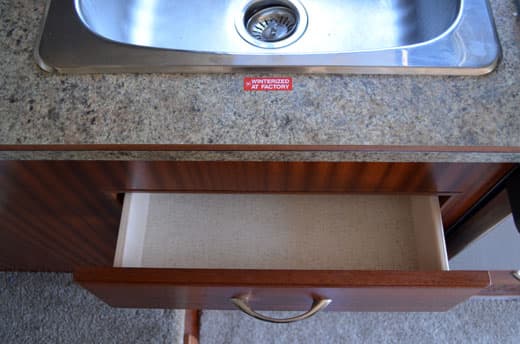 The drawer under the sink is very, very short and I always seemed pull it open too hard.  It's always good to have more storage so this is something I would quickly get used to.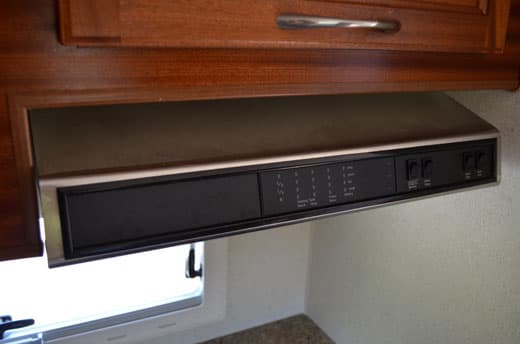 The tank monitor, battery monitor, and water pump switch are conveniently located at near eye-level on the stainless steel range hood.  Very functional, and elegant.
Under the kitchen counter top are switches to turn on the hot water heater.  This particular Northern Lite 9-6 Special Edition had been ordered with the optional gas and electric hot water heater.  All Special Editions come with a gas water heater standard.  We used the electric heater element while plugged in at the campground and it worked very well.  This option would save propane if you were regularly plugged in.

The drawer under the front wall step into the overcab bedroom has dividers for use as a utensil drawer.  Angela and I really struggled with this as we would not want our silverware that close to the floor.  We would also prefer the dividers not be there so we could decide how to use the drawer.  When we go camping, we normally use a removable plastic utensil tray, which we can wash.  What we did like is how the right side of the step is removable giving more access to plumbing and wiring.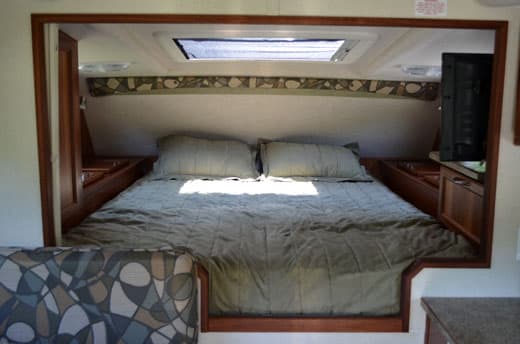 Truck campers are for couples.  Sure you can take a family truck camping, but most of us are just two people and a pet or two.  It's the nature of the size and purpose of the product.
That said, why is it often so difficult for manufacturers to realize the importance of equal storage on both sides of the bed?  In some campers the person sleeping on the right side gets a hamper and a huge closet while the person sleeping on the left gets a little night table and a open shelf.  This is the kind of thing that can cause serious domestic trouble.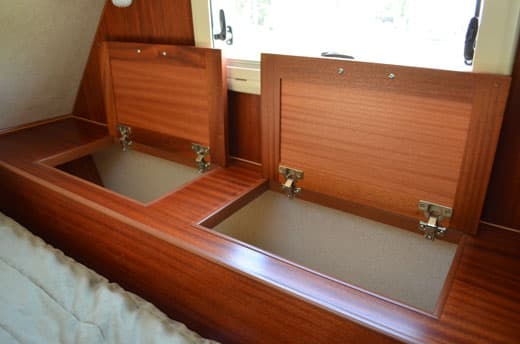 Again Northern Lite gets it.  On both sides of the bed are two large hampers and a larger storage cabinet.

The passenger's side gets the television and the driver's side gets a taller cabinet.  In our house that means I'm on the passenger's side and Angela's on the driver's side.  Perfect.
It's a bit trivial to complement how comfortable the mattress is, but the mattress in the Northern Lite was excellent.  Some companies try to get away with cheap mattresses and it can really ruin a camping trip when your back begins to hurt on the first night.  With the mattress in the Northern Lite, we both slept well.
I'd like to see gas struts to hold the side hampers up as they had a habit of falling shut by themselves.  And if we owned a Northern Lite we would have to find a better way to sit up in bed for watching television or reading.  The angle of the front nose is great for wind resistance and possibly fuel economy, but it's murder for trying to sit up in bed.  Maybe some kind of wedge pillow would help.  Again, that's the kind of modification an owner would pursue.
LED lighting is the future.  It's almost ten-times more efficient and generates almost no heat.  More importantly, the LED lighting solutions are getting better and cheaper every few months.  Soon every truck camper will have LED lights inside and out standard.  The days of incandescents, at least in the energy critical world of truck campers, are numbered.
Northern Lite is well ahead of the LED light curve and provides 100% LED lighting inside and out for their Special Edition models.  In the overcab bedroom area, Northern Lite has double fixtures that can be turned on with either one or both sides effectively doubling the light output.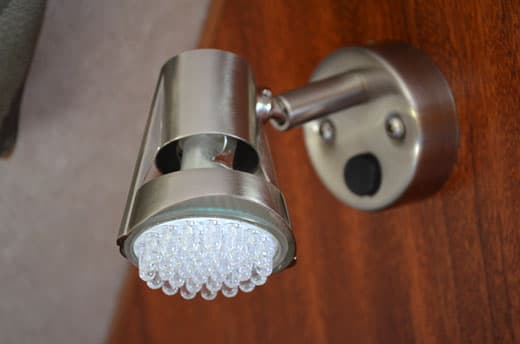 Even the reading lights in the Northern Lite are LED.  I really liked these lights for their brightness, directionality, and for the fact that they stay cool.  Too many reading lights attempt to light your hair on fire, and not in a good way.
Wrap It Up
Let there be no doubt about it.  Angela still didn't want to give this truck and camper rig back to Bill Penney.  "How about Mexico?" she'd hint.  "I hear Canada is really nice this time of year".  What can I say?  Angela loves trucks and campers and she especially loves Northern Lites.
I'm a lot more difficult than that.  With my Publisher hat on, my job is to objectively evaluate truck campers from top to bottom and tell you exactly what I think.  With a camper as refined as the 2012 Northern Lite 9-6 Special Edition, this job gets challenging as the nit-picks are often in the details, not in the overall design, materials, or execution.  In those categories, Northern Lite hits the ball out of the park.
So what's my final verdict?  Do I still think Northern Lite is the top of the non-slide, wet bath truck camper game?  Well, yes and no.  Yes, I could live with a Northern Lite Special Edition and make a few modifications that would make this camper darn near perfect for what we do.  Then again, I don't want Northern Lite resting on their Sapele laurels.  Keep pushing, keep innovating, keep refining what is already an amazing product.  I look forward to what the Canadian Geese will bring us next.
Quality, Customer Service, and Long-Term Reliability
Truck Camper Magazine inspects all reviewed truck campers for design, material, and quality issues and reports what we find. However, since Truck Camper Magazine reviews only brand new truck campers, our reviews do not address long-term quality, customer service, or reliability.
To learn about a brand's long-term quality, customer service, and reliability, Truck Camper Magazine recommends talking directly with truck camper owners at truck camper rallies and online via truck camper forums and truck camper owners groups.
Please be sure to balance your gathered feedback across multiple sources including direct correspondence with the truck camper manufacturers and your closest truck camper dealers.  Click here if you are new to truck campers.
Click here to request a  Northern Lite Brochure.