The climb into bed is aided by a step cabinet between the dinette seats.
As a person of extraneous height, I enjoy a long bed with no foot-hanging requirements. The 770's bed, at 84-inches long, is a full 6 inches larger than I am tall, which is fine wiggle room.  At 57 inches wide the mattress is roomy enough for two but not so large that you need a GPS to locate your significant other.
Light for reading in bed is best designed for the person against the forward wall.  There's also a light down by one's feet but unless you have eyes there… The sole cabover bed window is on the curbside and brings in welcome light and fresh air.  Speaking for ourselves, we put the pillows against the opposite blank wall rather than crunching against the privacy shade.  It would make more sense for the factory to relocate that light to the head of the bed.
Guest accommodations in the 770 are best used for a single person.  The dinette's freestanding table breaks down into the support base for the dinette bed that's a full 84 inches wall-to-wall, but just 32 inches wide.  The bed's curbside half is wider, but doesn't do much for adding sleeping space.
Set back up as a table, the 21 x 35-inch dinette table rests on a typical tripod base and pole arrangement.  That means the table wiggles a lot, but it's also highly mobile and that allows flexibility.  We do most of our cooking outdoors so we would haul the table close to the fireside to aid our fresh air meal preparation.
A washcloth of warm water on the face and pits (preferably in that order) will do wonders for one's state of mind and sociability when a campground shower isn't available.  We heat water in a pan on the stove when tenting and that would also work in this camper.
When out of hygiene and back to meal preparation mode, it seems this camper galley should do the job nicely.  It's a pleasant surprise to see all the storage space nearby starting with two large overhead cabinets.  Below the counter a pair of small drawers and a cabinet handle hardware, and the aft wardrobe is equally useful.  It includes an 18-inch closet rod that's positioned high enough for medium-length coats.  Down below the cabinet door reveals a shallow compartment that's about deep enough for wine bottles, but not much else.
It seems small but the 9-gallon fresh water tank should fulfill most average cooking and hygiene needs for a few days' camping.  The lack of a gray water holding tank means the user needs to fasten the garden hose-sized drain line to a waste container outside the camper.
Weight and cost savings are part of the marching orders for this camper.  One way Travel Lite accomplishes that is the elastic mesh cargo screens on the curbside overhead cabinets and dinette footwell magazine-size racks.
The fabric mesh is lighter than a wood door and lets you see exactly what's in each storage area.  It's easy to stuff something into place by stretching the screen down, and it can be unhooked for complete unfettered access as needed.
It's handy to be able to reach down, while seated at the dinette, and slide reading material into its proper storage spot.  That foot well area also houses the battery cutoff switch, LP detector, and fuse box.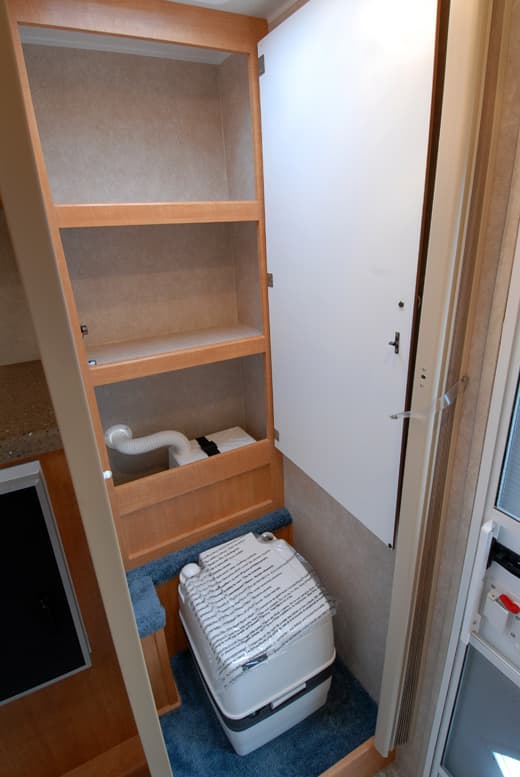 Above: The private porta-potti area in the Travel Lite 770
This camper is not self-contained due to its lack of holding tanks, fixed bathroom, and so on.  However, it has something that's a good tradeoff; a storage spot for a porta-potti. For us, it's worth its weight in gold because it eliminates the late-night or early-morning campground kybo visits.  We always haul a porta-potti with us on tenting junkets for the same reason.  The 770 has a corrugated fabric door as an enclosure for the porta-potti space, but it's not a door that allows closing the area for privacy. The door is a scant 6-inches from the front of the toilet so that's not enough space for any adult I know to use the facility.  It does, however, conceal it from view for aesthetic reasons.
At the back of the enclosure there's a storage cabinet that also houses the battery compartment.  The 770 comes with a group 24-size battery box, but there's room for a group 27 case and battery that would deliver extra amp-hours of power.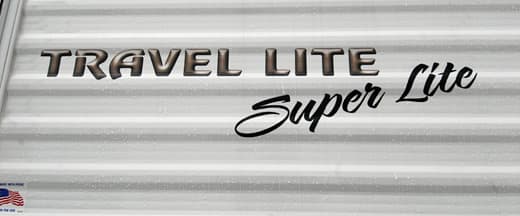 For camper fans who prefer their RVs a bit better equipped the 770 has a long list of available comfort and hardware options.  From audio or video electronic entertainment, to a gel-coat fiberglass exterior, a buyer can load this guy up to suit.  We rather appreciate it exactly as-is.  It's affordable, fairly lightweight, roomy enough for comfort, and provides the facilities needed for happy tent-free camping.  We can see this unit being a really useful RV that's a terrific first camper for someone making the leap into the contagious fun of truck camping.
Quality, Customer Service, and Long-Term Reliability
Truck Camper Magazine inspects all reviewed truck campers for design, material, and quality issues and reports what we find. However, since Truck Camper Magazine reviews only brand new truck campers, our reviews do not address long-term quality, customer service, or reliability.
To learn about a brand's long-term quality, customer service, and reliability, Truck Camper Magazine recommends talking directly with truck camper owners at truck camper rallies and online via truck camper forums and truck camper owners groups.