Yes, Virginia, there's great affordable fun to be had with a back-to-basics approach.  Meet the 2012 Travel Lite 770.  Who says four figures can't be fun?

We expect a lot in our campers these days.  Arm-length option and standard feature lists are pretty much the norm along with equally breathtaking prices.  It was a pleasant surprise to spend some time in the new 2012 Travel Lite 770 Super-Lite because it bucks this fully-packaged trend.  It's also priced at a very affordable level.
The 770's window sticker paperwork was a breath of fresh air.  Way down at the bottom line was the $9,770 MSRP as viewed, the first time in a month of Sundays we've seen a four-figure price on a new full-size camper.  Its option list included just two items, molded Granicote counter tops ($195), and bedspreads, pillows and shams ($130). That's the kind of cost a camper enthusiast on a budget can live with.
Our hosts at Lassen RV in Salem, Oregon set up a 2012 Travel Lite 770 with shore power to facilitate our look at the product.  Despite, or maybe because of, its minimalist aesthetic, we came away positively impressed.
The 770's weight sticker listed 1,335 pounds as its dry as-built weight.  With a 7'7" floor length, it's going to stick out the back of a short bed truck, but not so far that it can't be hauled by a short bed.  Almost any late model heavy-duty half-ton truck should be able to pack this guy along nicely.  Be aware that base-model trucks with the lowest-rated rear-axle GAWRs may be stressed a bit.  Some "performance" type half-tons with low-slung street-handling race suspensions, likewise, may not be up to the task.
One way that Travel Lite keeps the cost and weight down is by using inexpensive construction methods.  The so-called "stick and tin" assembly technique, which uses wood framing, corrugated aluminum skin, and fiberglass batt insulation, has been around as long as there have been RVs.  Make no mistake, though, just because it's low priced doesn't mean low quality.  Assembled with care and craftsmanship, a wood-framed RV can be a good value that delivers many years of successful service.  An EPDM rubber roof tops off the rig.
Low-key sums up the Travel Lite's exterior appearance.  This is due to a lack of amenities as well as no extra added options outside.  Bare minimum graphics decorate the expanse of white aluminum sidewalls.  Out back there's the entry door and grab handle, yellow porch light, and that's it.  The buyer needs to figure out some kind of entry stair arrangement, but that's easy, given the accessories available today.  A set of folding aluminum steps is optionally available.
Over on the right side, there's one window over the right-side dinette seat, plus a window in the cabover bed, and a battery compartment vent.  On the left, things are a bit more exciting, starting with a window over the left-side dinette seat.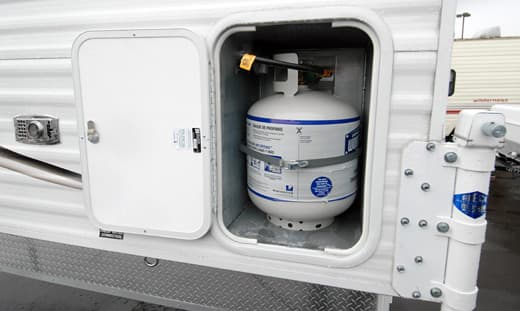 Above: The Travel Lite 770 comes with one 20 pound propane tank.
The LP-cylinder compartment, fresh water fill, furnace vent, shore power receptacle and exhaust fan vent round out the features.
You didn't miss the details about the refrigerator vent location, the water heater, black and grey tank dump coupling and the like because this camper doesn't have those features.  The fridge is optionally available, of course, but isn't on this unit.
Clean is good. We like the uncluttered look, although we'd also put up with some clutter when it keeps the rain off our heads outside, warms our bath water, and so forth.  But this camper works as-is in a functional way.
I enjoyed the looks of the unit's blue trim package.  The subdued décor nicely complements the wide-open interior floor plan with the modest galley streetside and a small closet curbside.  A facing two-person dinette abuts the forward wall adjacent to the cabover side-oriented bed.
A cursory look around inside the 770 reveals a refreshing lack of clutter.  Cabinets, upholstery, and hardware appointments are clean and functional, but not Spartan.
It's also easy to inventory the camper's modest equipment array.  To the right there's an icebox instead of the optional refrigerator and that's no problem for us because we always take an extra ice chest along on tent or RVing junkets.  The galley has a single-bowl sink and two-burner stove, no oven or microwave, but its forced-air furnace is front and center.  Curiously, the sink has both hot and cold faucets although a water heater isn't available on this camper. In the aft corner closet there's a porta-potti and storage cabinet, but no shower.  The cabover bed has just that, a bed, no cabinets or storage close by.
Being a glass-half-full kind of guy, I look at a camper like this for what it has, rather than what it's missing.  It's a matter of perspective.
For example, my wife Pam and I really enjoy tent camping (although of course we prefer a truck camper).  It's completely comfortable for us.  We do not, and never will, "rough it" when tenting or RVing.  When we hit the campsite it's not our first rodeo.  We set up, dine, tour, and do what people do when camping.  Following our beloved campfire-and-wine time, we enjoy a comfortable night's sleep.  We're experienced enough that we have our equipment well chosen, it makes us feel at home in the wild, and we know how to use it.
As experienced tent campers, virtually any RV, regardless of size or accommodations, is a huge step up in comfort and convenience.  A solid roof?  Wow. Running water?  Shazam!  Insulated walls and a furnace?  Well slap my knee and call me limpy!  Now this is living.
The climb into bed is aided by a step cabinet between the dinette seats.
As a person of extraneous height, I enjoy a long bed with no foot-hanging requirements. The 770's bed, at 84-inches long, is a full 6 inches larger than I am tall, which is fine wiggle room.  At 57 inches wide the mattress is roomy enough for two but not so large that you need a GPS to locate your significant other.
Light for reading in bed is best designed for the person against the forward wall.  There's also a light down by one's feet but unless you have eyes there… The sole cabover bed window is on the curbside and brings in welcome light and fresh air.  Speaking for ourselves, we put the pillows against the opposite blank wall rather than crunching against the privacy shade.  It would make more sense for the factory to relocate that light to the head of the bed.
Guest accommodations in the 770 are best used for a single person.  The dinette's freestanding table breaks down into the support base for the dinette bed that's a full 84 inches wall-to-wall, but just 32 inches wide.  The bed's curbside half is wider, but doesn't do much for adding sleeping space.
Set back up as a table, the 21 x 35-inch dinette table rests on a typical tripod base and pole arrangement.  That means the table wiggles a lot, but it's also highly mobile and that allows flexibility.  We do most of our cooking outdoors so we would haul the table close to the fireside to aid our fresh air meal preparation.
A washcloth of warm water on the face and pits (preferably in that order) will do wonders for one's state of mind and sociability when a campground shower isn't available.  We heat water in a pan on the stove when tenting and that would also work in this camper.
When out of hygiene and back to meal preparation mode, it seems this camper galley should do the job nicely.  It's a pleasant surprise to see all the storage space nearby starting with two large overhead cabinets.  Below the counter a pair of small drawers and a cabinet handle hardware, and the aft wardrobe is equally useful.  It includes an 18-inch closet rod that's positioned high enough for medium-length coats.  Down below the cabinet door reveals a shallow compartment that's about deep enough for wine bottles, but not much else.
It seems small but the 9-gallon fresh water tank should fulfill most average cooking and hygiene needs for a few days' camping.  The lack of a gray water holding tank means the user needs to fasten the garden hose-sized drain line to a waste container outside the camper.
Weight and cost savings are part of the marching orders for this camper.  One way Travel Lite accomplishes that is the elastic mesh cargo screens on the curbside overhead cabinets and dinette footwell magazine-size racks.
The fabric mesh is lighter than a wood door and lets you see exactly what's in each storage area.  It's easy to stuff something into place by stretching the screen down, and it can be unhooked for complete unfettered access as needed.
It's handy to be able to reach down, while seated at the dinette, and slide reading material into its proper storage spot.  That foot well area also houses the battery cutoff switch, LP detector, and fuse box.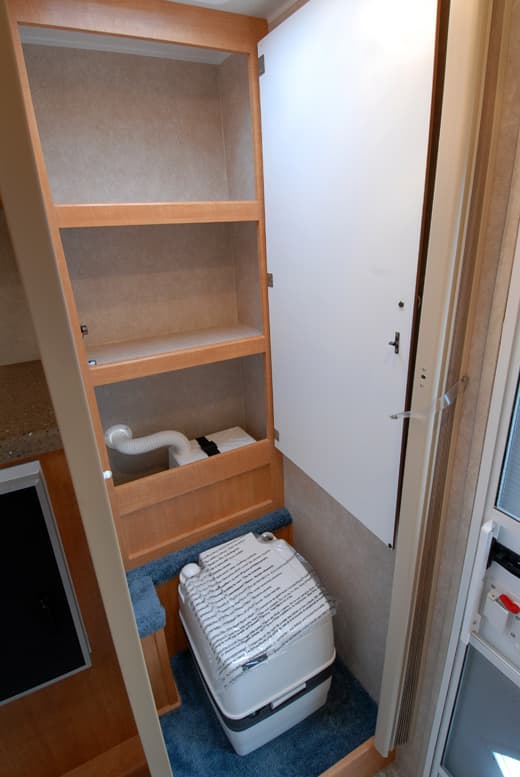 Above: The private porta-potti area in the Travel Lite 770
This camper is not self-contained due to its lack of holding tanks, fixed bathroom, and so on.  However, it has something that's a good tradeoff; a storage spot for a porta-potti. For us, it's worth its weight in gold because it eliminates the late-night or early-morning campground kybo visits.  We always haul a porta-potti with us on tenting junkets for the same reason.  The 770 has a corrugated fabric door as an enclosure for the porta-potti space, but it's not a door that allows closing the area for privacy. The door is a scant 6-inches from the front of the toilet so that's not enough space for any adult I know to use the facility.  It does, however, conceal it from view for aesthetic reasons.
At the back of the enclosure there's a storage cabinet that also houses the battery compartment.  The 770 comes with a group 24-size battery box, but there's room for a group 27 case and battery that would deliver extra amp-hours of power.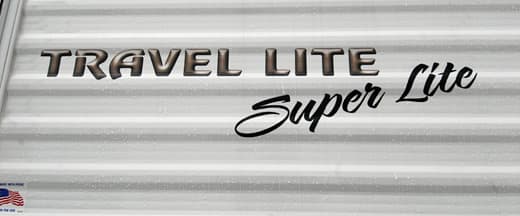 For camper fans who prefer their RVs a bit better equipped the 770 has a long list of available comfort and hardware options.  From audio or video electronic entertainment, to a gel-coat fiberglass exterior, a buyer can load this guy up to suit.  We rather appreciate it exactly as-is.  It's affordable, fairly lightweight, roomy enough for comfort, and provides the facilities needed for happy tent-free camping.  We can see this unit being a really useful RV that's a terrific first camper for someone making the leap into the contagious fun of truck camping.
Quality, Customer Service, and Long-Term Reliability
Truck Camper Magazine inspects all reviewed truck campers for design, material, and quality issues and reports what we find. However, since Truck Camper Magazine reviews only brand new truck campers, our reviews do not address long-term quality, customer service, or reliability.
To learn about a brand's long-term quality, customer service, and reliability, Truck Camper Magazine recommends talking directly with truck camper owners at truck camper rallies and online via truck camper forums and truck camper owners groups.
Please be sure to balance your gathered feedback across multiple sources including direct correspondence with the truck camper manufacturers and your closest truck camper dealers.