Truck Camper Magazine reviews a Palomino Maverick 8801 in the middle of a torrential rain storm in Albany, Oregon.  If only we had a baloney sandwich.

I love the sound of rain on an aluminum RV roof.  Listening to the sound of an Oregon coastal storm on the roof of my family's Red Ball "canned ham" trailer, parked at Beverly Beach State Park back in the 60s, was one of my favorite parts of camping.  I'm sure it brought fear to my parents as they envisioned the five of us cooped up in our fifteen-foot RV if the storm continued by day.
Flash forward a few years.  An aggressive Oregon almost-tropical storm blustered and dumped rain as I spent time inside a 2012 Maverick 8801 by Palomino RV.  The camper shimmied and shook on its legs, and the small front-wall window protected by the cabover was also getting blasted with rain, to give you an idea how the storm was progressing.  Shooting the interior photos was easy, getting outdoors for the rest would be another matter.
Our hosts for the day, Lassen RV in Albany, Oregon, had thoughtfully positioned the camper so I could shoot all four sides relatively unobstructed, but the weather was putting a damper on that part of the job for now.  Back inside, the camper's EPDM rubber roof was muffling the raindrops, but the plastic lid on the large over-bed escape hatch delivered enough rain sound to add a pleasing ambiance to the unit.
With a baloney sandwich on utterly generic white bread, lukewarm grape Kool-Aid in hand, plus the smell of a propane-fired gas lamp burning over the dinette, I could have easily been transported back to those days of youth.
Short bed, long living
Campers designed for use on short bed trucks are all the rage today.  That makes sense considering the popularity of short bed pickups among recreational users.  The 8801 from Palomino RV is an interesting and fun addition to those offerings.
The weight label on the 8801 says 2,315 pounds, not counting any added options, cargo and so on, so a heavy-duty truck, like a 2500 series or better, would be a best match for this camper.  Even without any slide-out room weight, this camper will pack on a few pounds when it's ready to go and it's never a good idea to under plan when it comes to the camper-hauling pickup selection.  According to the TCM Buyers Guide, the Palomino Maverick 8801 is 3,302 pounds wet and loaded.
A break in the rain gave me a chance to jump outside and blast a few exteriors even as the next grey wall of doom approached from the southwest.
This is one clean, smart-looking camper.  It's not excessively tall, long or wide and its smooth fiberglass skin is decorated with just the right touch of today's fashion in RV graphics.  The black and white plus greyscale graphics would be an easy match for most of the popular truck colors out there.
The unit we examined included the optional Rieco-Titan electric jacks ($1,145.50) that look good and held the camper very steady, even with my bulk thrashing about inside while the wind blasted the exterior.
Curbside details include a pair of external speakers, the refrigerator service access panel, a compartment housing dual 20-pound LP cylinders and a security light.  The optional awning ($536.50) would be a must-have option for us, as is the optional rear-wall awning ($587.25).  The compartment door in the lower wing-wall provides a pass-through means of reaching hardware behind the wing wall as opposed to accessing a storage compartment.
An optional rear bumper ($522.00) with a non-slip top surface adds a touch of impact protection to the rig.  It works in conjunction with the optional four-step entry step ($287.10) to enable camper access, and the swing-out grab handle helps add stability to the climb.  While the over-door awning isn't huge, it's enough to keep the rain off while using the entry door.
Over on the street side wall, the electric and water hookups, water fill, furnace vents, exterior shower, and water heater access panel decorate the area.
On this side, the lower wing-wall access door opens to reveal the black and grey water dump valves and sewage hose connection.  This area is completely not insulated and open to the air so use of this camper feature in extra-cold weather will be challenging at best.  The plumbing and adjacent effluvia will be frozen hard as a carp if the temperatures plunge seriously.  A few wraps of plumbing heat tape that plugs in to shore power would make this feature winter functional, but it would also tie the user to a shore-power pole in an electric hookup campsite.
In addition to helping you enter the camper, that optional rear bumper also doubles as a dump hose storage spot.  There are no exterior storage compartments for anything else on this camper so you'll need to shift for yourself in that regard.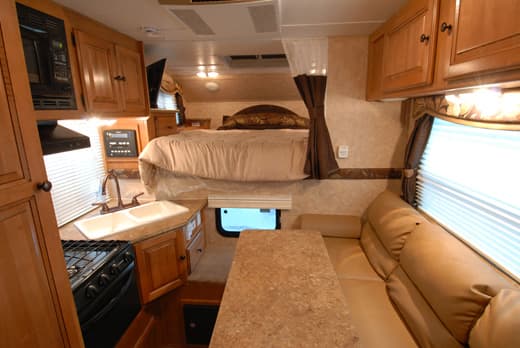 On first entering the 8801, we're standing in a small alcove between the curbside refrigerator and opposing street side wet bath.  Even without being supported by the truck bed, the floor feels really solid underfoot, and that's saying something considering the load I place on it.  The standard steel floor framing element helps with that secure sensation.  Aluminum framing along with polystyrene insulation and the laminated fiberglass exterior skin round out the bulk of the rig's construction features.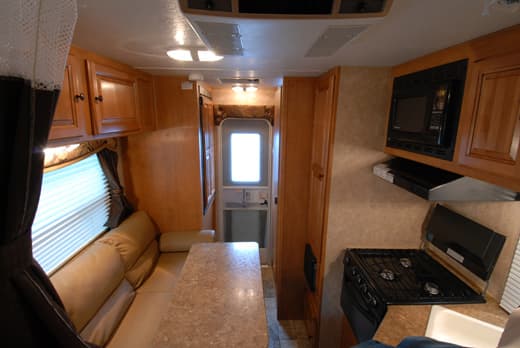 The balance of the floor plan is familiar ground, with the galley street side, main bed in the cabover, and optional sofa/dinette/bed ($224.75) curb side.  Once past that entry alcove the space seems to open up considerably.  No slide-out means what you see is what you use, and that's part of the fun and simplicity of this camper.
In the entryway we looked around for a spot where we'd hang our wet coats, store wet boots and the like.  Did I mention it rains and gets wet sometimes here in Oregon when camping?  The only wardrobe space is a sixteen-inch clothes rod at the top of the cabinet between the bath and galley, and the top shelf can be removed or moved down to accommodate longer clothing.
We would probably install a removable closet rod in the wet bath to have a space for those coats.  Likewise, down below there's a storage cabinet with the camper's floor, instead of carpet or woodwork, as its lower surface.  That area would be great for wet shoes and other semi-dirty gear.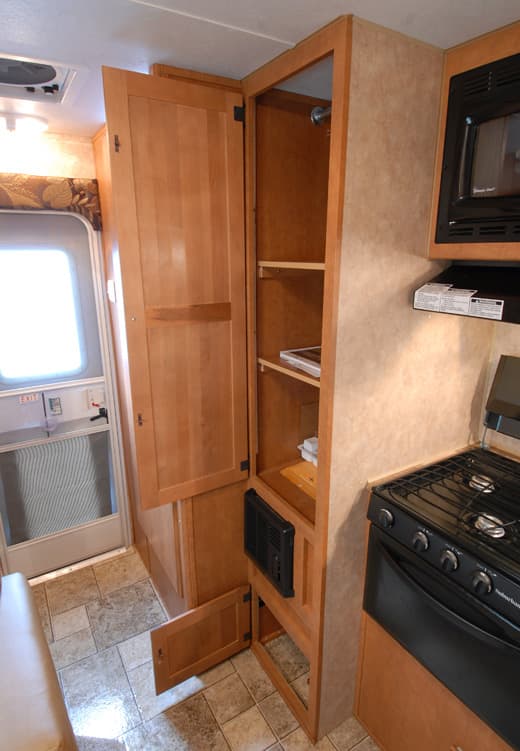 We found the medium-tone woodwork, done with optional mortise-and-tenon raised-relief cabinetry ($268.25) to be a decent color and well crafted for this application.
With the single-leg removable 19×37-inch table installed, the curb side sofa dinette is sized right for two full-dimension adults.  Not to be picky, but like most of its ilk the table is wobbly and unsteady so consuming liquid food products thereon can be a cleanliness challenge.
The seating is pretty comfortable.  Extra space above the sofa is used for a handy storage cabinet.  The only drawback to this design is that we enjoy the view out the window while dining and this setup places us facing away from the window.
Remove the table and you have a fine stretch-out relaxing spot.  This sofa is a serious step up from the usual "upholstered foam pad on a plywood base" type of furniture.
Converting the sofa into a bed is a matter of lifting the forward edge of the lower cushion and pulling it towards you, which causes the back to jackknife down and lay flat.  There isn't the commonly-seen transatlantic trench between the cushions so we didn't fall into the mattress crack.  The bed is fairly smooth and consistent side to side.  The bed measures about 41×72 inches so it can accommodate a full-size adult.
We appreciate what Palomino did with the limited space inside the wet bath.  The toilet is smartly positioned to allow for knee room which is an important detail when you don't want to make the midnight run to the campground kybo.  A removable wooden floor insert protects the fiberglass shower pan when not used as such.  There's a surprisingly large sink in the vanity counter complete with the attached handheld shower head with a stiff and curly hose that's in the way when using the sink.
A small vanity cabinet is positioned above the sink and is protected from splash water by the draw-around plastic shower curtain.  Overhead, the standard-issue domed skylight brings a welcome brightness to the area.
A pair of doors in the lower cabinet access water heater plumbing and storage spots.  My oversize hands were able to reach inside the plumbing door despite partial blockage by the toilet.  Palomino doesn't mount a TP holder anywhere, and leaves the choice of location up to the owner.  Presumably, someplace in the storage compartment is the designated spot away from the shower water.
Boondockers will want to be very careful of water use in this unit as it sports 31-, 8- and 7-gallon fresh, grey and black water capacities, respectively.  Those would be topped up in a hurry without the nearby benefit of freshwater fill or dump stations.
In honesty, we don't always use the camper's shower facility.  Standing in that two-foot-square space with the grips-like-an-anaconda plastic curtain sticking to every square inch of wet flesh while conserving all the water we can isn't always appealing.  When we're in a well-equipped campground, the choice is easy.  We opt for the campground shower with all the hot water we want in a space big enough to enjoy it.  Maybe we're just spoiled.
When I stand in front of a new camper's galley, I start asking, "Where are we going to put our stuff?" and, "Do we have room to go nuts with supplies or is it beans, rice, and string cheese this time?"  The Palomino Maverick 8801 seems to be a reasonable compromise.
A look around the L-shaped galley reveals the usual array of appliances and hardware.  The stereo is positioned for access while standing in front of the galley, although you could feasibly operate it from the bed if you're flexible and have extra eyes in your hand.  The fridge with its optional raised-panel wood door insert ($123.25) is handily close by in the entry cubby area.
An angled cabinet door and a utility drawer are positioned close to the sink.  The drawers use full-reach glides, are made from fine-grade plywood, and nicely finished.  The systems monitor panel and water heater control are likewise close by.
Overhead, a large double-door storage cabinet will be the designated popular spot for kitchen supplies, though the lower part of the wardrobe will probably be pressed into service as well.
The optional twenty-two-inch LCD TV entertainment package ($565.50) is located on the forward wall of the overhead cabinet.  The TV can be swiveled around with its articulated arm to be viewed from the sofa/dinette or kitchen, as well as the master bed, so the cook doesn't need to miss any vital TV action.
Call us traditionalists, but we enjoy a fore-and-aft camper bed arrangement.  We like being able to climb into or out of bed without disturbing our spouse.  Not that I dislike climbing over my spouse, but when she's sleeping it's best to leave well enough alone.
The bed includes a pair of double-bulb overhead fixtures so illumination for reading is in good supply.  Overhead built-in speakers route electronic entertainment where it's needed and are close to our ears.
Street side, the LCD TV is positioned above a shallow cabinet with drawer.  Just ahead of that is one of the commonly-used low-profile mattress-height cabinets with a door that opens "up" to reveal a shallow storage spot.  Upfront there's a modest-size nightstand with a handy 120-volt shore-power plug.
Curbside there's another nightstand, plug, and low-profile storage spot, but these abut a taller cabinet with a lower drawer and upper enclosed compartment.  All told, there's a fair amount of space for our odds and ends near the bed.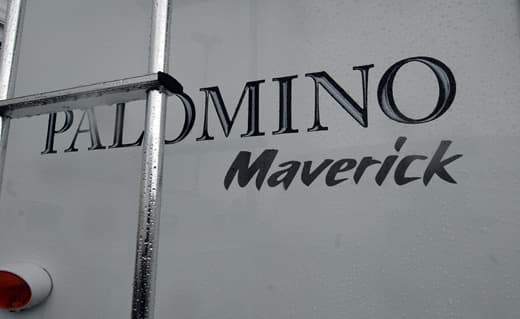 The model Palomino Maverick 8801 carries a $16,705.45 base price that's bumped to $23,902 with options.  That's about what we expect these days in a fully self-contained, well-built camper of this size and type.
On looking over the standards and options list, though, it seems Palomino RV has joined the ranks of RV manufacturers who seem a bit confused about the definition of the words "mandatory" and "optional".  For example, the Palomino truck camper brochure that includes the 8801 lists "Carbon Monoxide and LP Gas Detectors (Mandatory option)" under the "Options" category in the "Standards & Options" list.  "Mandatory" and "Optional" are completely opposite in definition, so something can't be both, not even in the fantasy world of RV marketing.  If it's mandatory, it's a standard feature.  RV manufacturers would do a service to their customers by avoiding this kind of ridiculous retail price game-playing.
Option list oddness aside, the Palomino Maverick 8801 is an interesting, functional addition to the available short bed camper market.  With the right storm, it may bring back memories for other customers, too.
Quality, Customer Service, and Long-Term Reliability
Truck Camper Magazine inspects all reviewed truck campers for design, material, and quality issues and reports what we find. However, since Truck Camper Magazine reviews only brand new truck campers, our reviews do not address long-term quality, customer service, or reliability.
To learn about a brand's long-term quality, customer service, and reliability, Truck Camper Magazine recommends talking directly with truck camper owners at truck camper rallies and online via truck camper forums and truck camper owners groups.
Please be sure to balance your gathered feedback across multiple sources including direct correspondence with the truck camper manufacturers and your closest truck camper dealers.
If you are new to truck campers, start here.
Contact Palomino RV about the Palomino HS-8801.