Truck Camper Magazine reviews a Northern Lite 10-2 RR Dry Bath at the National RV Trade Show in Louisville, Kentucky. The roof is raised and the bathroom is dry. Let's check it out.

One of the most amazing facts about the truck camper marketplace is how every manufacturer builds their campers differently.  Sure, there are materials, processes, floor plans, and appliances that some manufacturers share, but there are always significant points of difference for comparison.  To be blunt, a truck camper, is not a truck camper, is not a truck camper.
Perhaps there's no better company to help illustrate this point than Northern Lite.  Based in Kelowna, British Columbia, Northern Lite essentially builds one type of product; hard side, non-slide, molded fiberglass truck campers.
Within this narrow niche, Northern Lite has come to dominate and build one of the highest-end truck campers on the planet.  When working RV shows I often challenge passers by to look into a Northern Lite 10-2 CD Special Edition and tell me if they've ever seen a Class-A motorhome with higher quality or interior finish.  Many come out of the campers and say, "It looks like a Lexus (or BMW, or Mercedes) inside".  It sure does.
Some folks would also say two particular comments that were not quite as flattering.  The taller people would say, "The ceiling is too low".  To address this common complaint, Northern Lite raised the roof on all their 10-2 and 9-6 models by three inches.  The other comment often heard was, "Where's the dry bath?"  With the 10-2 RR Dry Bath, Northern Lite has now address that complaint too.
Okay, some people also asked for a slide-out, but it will be a hot day in Kelowna in mid-February before that happens.  Northern Lite has sworn to never build a slide as it compromises the integrity of their fiberglass shell construction.  Hey, we all have our standards.
We finally had the opportunity to see a Northern Lite 10-2 RR Dry Bath in person at the annual industry only trade show in Louisville this past December.  We explored and photographed the camper from head to toe and have written a First Look report about the camper.
Northern Lite 10-2 RR Comparisons
Before we evaluate the Northern Lite 10-2 RR Dry Bath, we need to compare this model to the almost identical 10-2 RR wet bath.  For starters, the tank sizes, battery capacities, and propane tank capacities are identical between the two campers.  Both RR models have 36 gallons fresh, 40 gallons grey, 18 gallons black, two batteries, and two twenty-pound propane tanks.  They also use the same molded fiberglass shells so their exterior dimensions are exactly the same.
Obviously the main difference between these two models is the wet versus dry bath.  This mainly affects two aspects of these models; the dry weight and center of gravity.  Perhaps what's most surprising is that the 10-2 RR Dry Bath only weighs 15 pounds more than the wet bath coming in having at a dry weight of 2,440 pounds.  To put this weight in context, the 2012 Northern Lite 10-2 RR Dry Bath is the lightest weight dry bath truck camper currently on the market by no less than 350 hundred pounds.  Wow.
Compared to the 10-2 RR (wet bath) the center of gravity moves four inches to the rear on the 10-2 RR Dry Bath to 46 inches.  Unless a truck and camper are improperly matched, the difference in center of gravity should be a non-issue.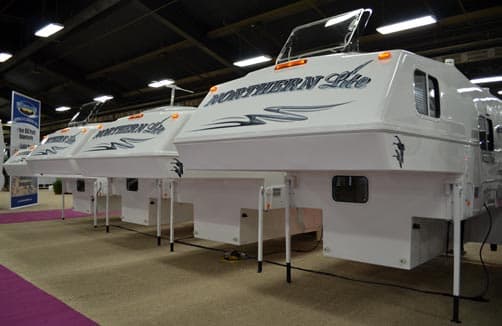 There's no mistaking the bright white, high gloss, molded fiberglass exterior of a Northern Lite.  Let's just say that if Northern Lite truck campers were criminals, they wouldn't make it past their first line up.  "Yeah, that's him.  The bright white one with the birds.  He did it."
In 2011, Northern Lite debuted a three inch taller fiberglass mold allowing the tall (6'3") and slightly handsome (at least a 6) Publisher of this fine publication to avoid a header on the centrally located optional air conditioner.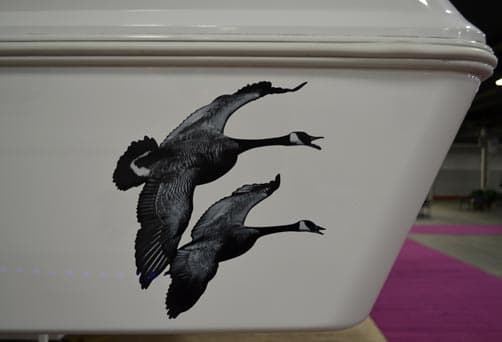 For 2012, Northern Lite has also changed their exterior decal package (that's deh-cull in Canadian, not dee-cal for you Americans).  Even the Geese have been goosed with a more detailed and 3-D aesthetic.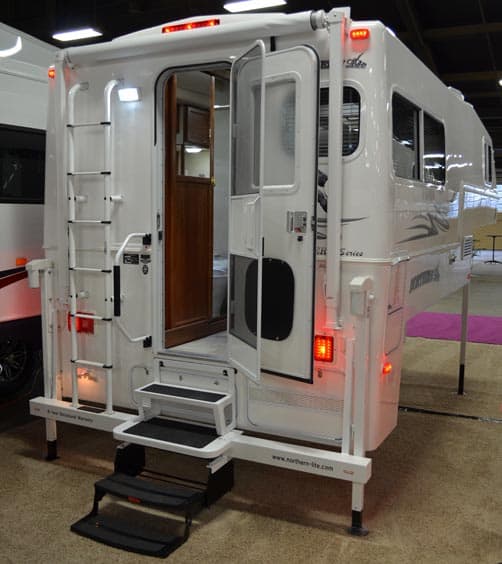 The rear of the 2012 Northern Lite 10-2 RR Dry Bath on display at Louisville had the standard all-LED exterior lights, roof ladder, electric remote Happijac camper jacks, and an optional large rear awning.  You should also notice the lower window on the door which allows the driver to use the truck's rear view mirror to see through the camper to what's behind the rig.  In the picture the lower door window is covered by a black-out privacy shade.
It may seem odd that such a relatively small window could provide rear visibility, but it does.  During the day you can see if there are vehicles behind the rig and at night you can see the headlights to see if there are vehicles behind the rig.  This lower door window is a minor detail that could be overlooked during truck camper research, but it makes a huge difference when you're driving a truck camper and you can see the vehicles behind you.  Back up cameras can also provide this capability, but it's not as natural as seeing through the rear window.
The 10-2 RR Dry Bath comes with an external generator compartment that's pre-wired from the factory.  Based on our 2012 Ultimate Truck Camper (UTC) Survey, about 40% of hard side truck camper consumers want a built-in propane generator compared to about 22% who prefer portable propane generators.
Personally, I prefer the quieter, more efficient, more flexible, and less expensive portable gas generators like the Honda eu2000i.  Of course I understand the convenience of propane versus gas and the appeal of hitting a button inside the camper to turn a built-in generator on and off.  I just can't get over how loud the built in generators can be.  I've heard that there are new, quieter, and more efficient built-in propane generators soon to be available, but for now they're like putting a running lawn mower under your sofa.
In the future, I would like to see built-in generator compartments that are designed to fit and accommodate both built-in and portable generators.  Perhaps these compartments could come pre-wired for either type.  This would give maximum flexibility to the consumer and allow someone to start with one type of generator, and change to the other should their power or preference needs change.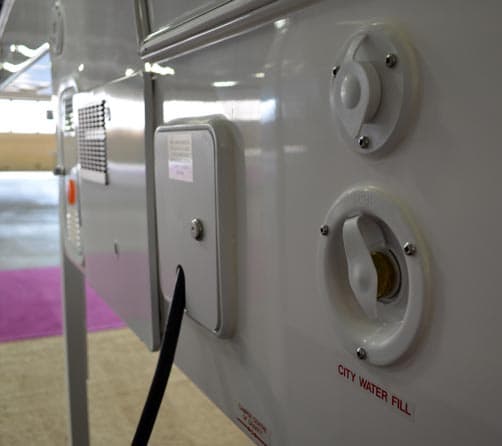 Everything was easy to find and well labeled on the outside of the Northern Lite.  With so many newbies now discovering or re-discovering truck campers, it's important to make the use of truck campers as straight forward and easy as possible.  For example, clearly labeling the fresh water fill will save lots of newbies time and make their truck camping experience more enjoyable.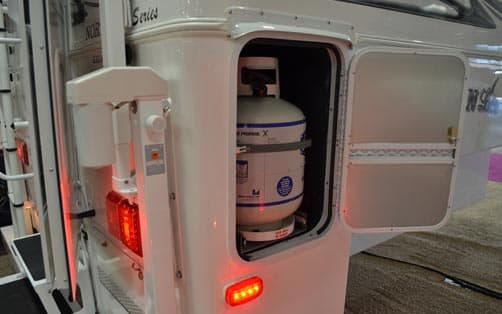 Having the dual twenty-pound propane tanks on a slide-out tray is another nice touch.  The tray safely brings the propane out of the compartment where it's easier to access at filling stations.  Filling propane can be a real pain in the neck, especially with larger thirty-pound tanks, mounted high on the camper, in cold weather.  Been there, done that.  While I've never filled propane on a Northern Lite, this looks like a good system.

We found more evidence of attention to detail and care for the user experience.  For example, the dump valve compartment has an LED light!  Not only does this make dumping after dark a better experience, but it also allowed us to better see the pink RV anti-freeze in the lines.  It's always reassuring while winterizing to see that the anti-freeze has made it throughout the camper plumbing systems.
The plumbing and wiring in these external compartments also looked clean and well sorted.  These areas are often unseen by customers until they've purchased the unit and can sometimes look disorganized and unfinished.  Not this Northern Lite.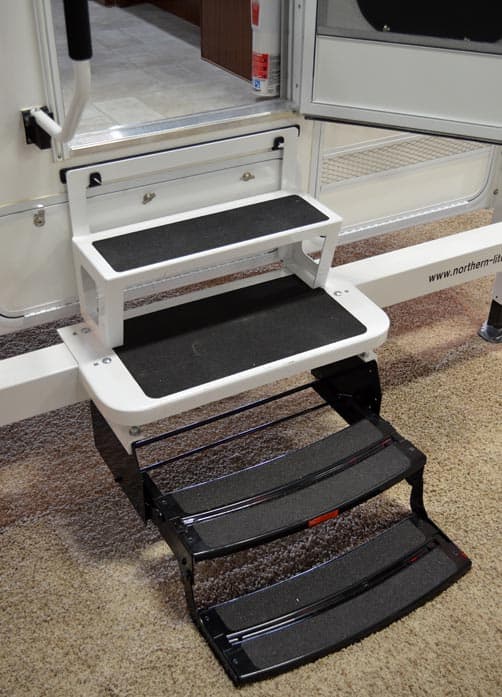 We always like to see something that resembles a residential height bumper step system on a hard side truck camper and the Northern Lite 10-2 RR Dry Bath comes through with flying colors.  Well, at least strongly contrasting black and white colors, with a hint of red on the third step down if you look closely.
Entry step systems are extremely important the largest demographic of truck camper buyers; baby boomers.  Go ahead and send me your, "Young whipper snapper" emails, but the fact is that the industry needs to make truck campers as accessible as possible as the 78 million strong 'peace and love' generation reaches their peak refinement years.  How's that for stating things delicately?
The four tier step entry step system and large assist handle go a long way to making the Northern Lite 10-2 RR Dry Bath as comfortable to enter and exit as possible.  Clearly Northern Lite gets it.  I would like to see some glow-in-the-dark elements added to the forward corners of the pitch black lower steps for visibility.  That would be groovy.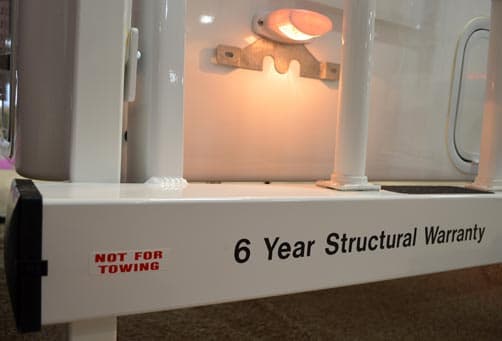 Northern Lite is so confident of their molded fiberglass shell structure that they back it up with an industry leading six year structural warranty.  When some companies only offer a one year limited warranty, this is extremely impressive.
The truth is that all truck campers should last at least a decade if the owners maintain the exterior camper seals, properly winterize, and generally maintain and care for their campers.  Add a regular exterior wax for the Northern Lite fiberglass shell and a decade is probably cutting things way too short.  I've seen decade old Northern Lite truck campers that still shine like new because the owners maintained and waxed their fiberglass shells.  Inside and out Northern Lite campers are built to last.
Northern Lite Dry Bath
It's amazing how passionate people are about the wet bath versus dry bath debate.  We're talking about a small space where we go potty, shower, and brush our teeth.  There's the old industry joke about how you can do all of those things at the same time in most truck campers because the bathrooms are so compact, but I couldn't possibly go there.
According to the 2012 UTC Survey, 48.56% want a dry bath in their hard side camper and 44.02% want a wet bath.  Essentially it's a 50/50 split when you take into consideration the 5.3% no preference voters.  Perhaps what's most important about that data is how it explains why Northern Lite has finally debuted a dry bath in the first place.  Half of the truck camper buying public wants a dry bath.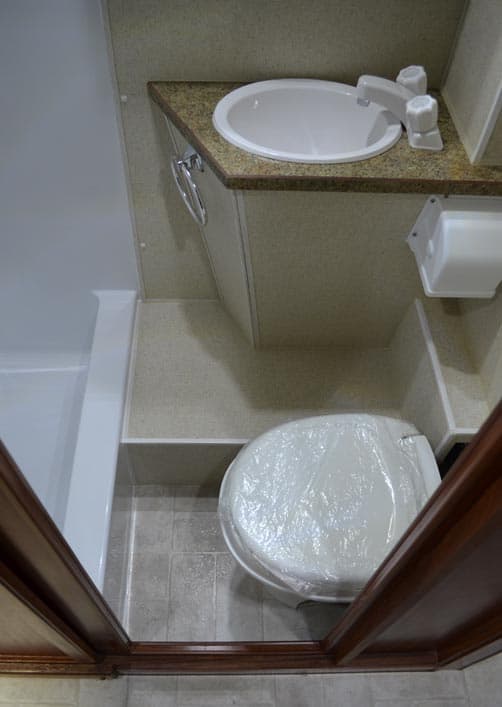 For someone who requires a dry bath, Northern Lite has delivered.  The new dry bath is well appointed with an LED light, medicine cabinet with mirror, fan, sink, covered toilet paper dispenser, hand towel ring, and towel rack.  The fit and finish are up to Northern Lite's usual extremely high level.  Overall, this is a very nice dry bath, especially when you consider that the camper is 350 pounds lighter than the nearest dry bath truck camper competition.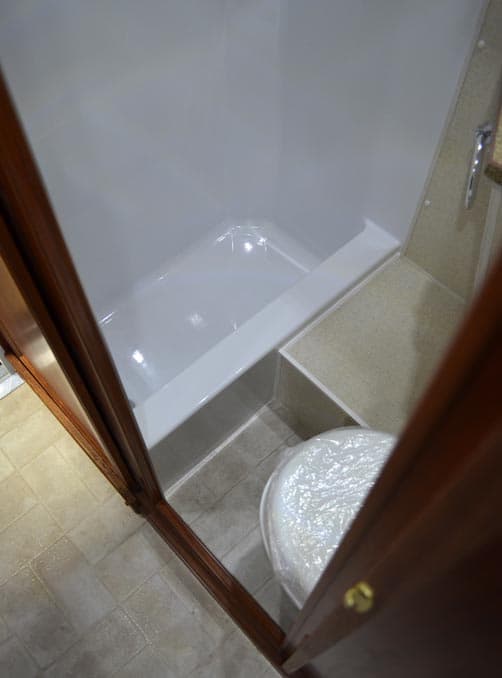 The shower stall height was a bit low for me, but again I'm 6'3".  Anyone under 6" shouldn't have any issues with the shower stall height.  And many truck camper showers are low for me.  I've spent months showering in campers with slightly low bathrooms.  You just adapt.  At 5'5", Angela didn't even notice.  Short people rejoice.
The only real criticism I could find was with the split floor.  The first thing anyone looks for in a dry bath is a dry floor that's separate from the wet shower stall area.  This is the very definition of a dry bath.  In the 2012 Northern Lite 10-2 RR Dry Bath, the dry floor is split in half with the toilet on the same floor level as the rest of the camper.  The sink is then on a riser that brings up the second half of the floor to almost even with the fiberglass tub.

I'm sure there are good structural, design, and/or code related reasons as to why the dry floor level is split, but I would have preferred to see one continuous floor.  While I'm doing my usual nit picking, I'd also like to see the sink and faucet upgraded to stainless steel to better match the aesthetics of the kitchen area.  It's only fair after the consumer has seen the beautiful stainless steel range hood and kitchen sink.  Like I said, nit pick.
Like the Special Editions and the wet bath version of the 10-2 RR, the 10-2 RR Dry Bath features a full booth dinette with a sturdy two-post table that can be adjusted horizontally.  Under the dinette seating are two large storage compartments complemented by two more large storage compartments above the dinette.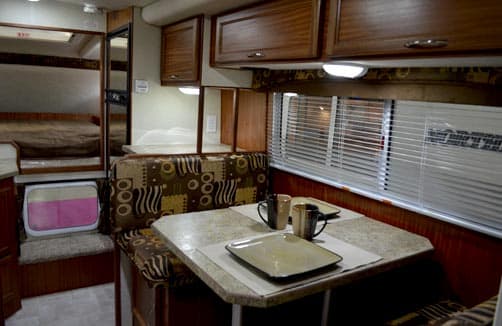 We meet a lot of folks at RV shows who swear that either (a) they could never camp in a truck camper because they're too small or (b) could never live with out a slide-out.  It's fun to take these same folks into a Northern Lite and have them sit in the full-booth dinette.  As the sit in the dinette, it's not unusual to watch their perceptions evaporate right in front of your eyes as they take in how much space, storage, and functionality a Northern Lite non-slide truck camper can offer.  Then they see Northern Lite's sumptuous Sapele wood and things get more interesting.  This is Northern Lite's top secret sales tactic; get the customer in the camper, and let the Sapele wood do the work.

Angela likes the earth tone colors of the cushion and valance fabric in the 10-2 RR Dry bath and thought the pattern worked well with the Sapele.  She said, "It's nice.  It may be bold for some, but I think it works well in the camper".  I have to agree.  While I don't think it photographed well, it looks nice in the camper.
In a perfect world, dealers would have lots of cushion covers available at their showrooms so you could find the perfect fabric for you.  In reality, the manufacturers do their best to be neutral, yet follow the prevailing trends.  The cushion and valances in the 10-2 RR Dry Bath followed these rules to the letter.  They're both neutral, and just trendy enough to not seem outdated.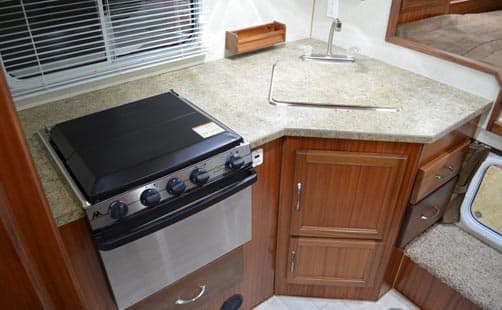 The split kitchen area in the 2012 Northern Lite 10-2 RR Dry Bath is truly exceptional.  The Sapele wood cabinetry, towel, and spice racks contrast beautifully against the stainless steel sink, range hood, range top, oven, and cabinetry hardware.  The fit and finish is top notch and the counter space is good for a camper this size.  Storage is also a strong suit with storage above and below the counters.

Facing the kitchen on the passenger side of the camper is a mirrored six cubic foot refrigerator with separate freezer and more kitchen counter space and storage.  Again we're treated to the Sapele wood cabinetry with a drawer under the refrigerator, a pull-out pantry, an overhead cabinet, two more drawers, and an LED light.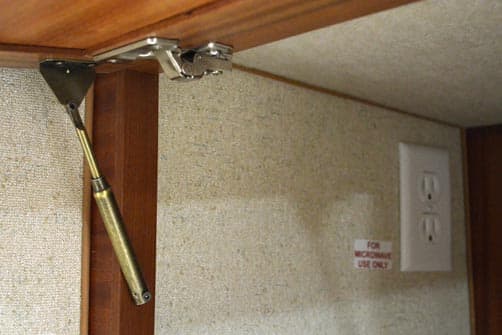 The cabinet above the counter is designed and prewired to accommodate an optional microwave.

The pull-out pantry is particularly neat.  It has a cabinet door that you open before unhinging the pantry and rolling it out.  It's a very elegant presentation for a roll out pantry.  If I were a Northern Lite dealer, this would be the kind of detail I would show off to a potential customer.

After the 2012 Ultimate Truck Camper Survey, Northern Lite may want to consider changing the single bowl stainless steel sink to a dual bowl stainless steel sink.  According to the survey, 70% of hard side truck camper buyers want a double sink.  That's almost 20% more than wanted a dry bath!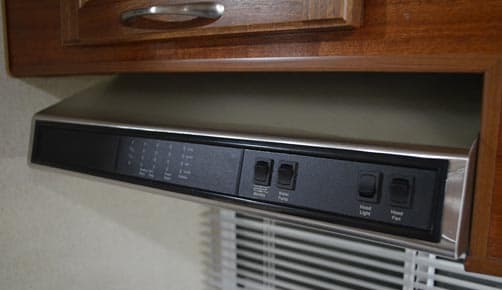 The stainless steel range hood and monitor system is fantastic.  Not only does the range hood have a modern and high-end aesthetic, but it also conveniently integrates the tank and battery level monitors, water pump switch, hood fan, and hood light.
Where other campers sometimes have a separate tank and battery monitor, and water pump switch cluttering up the walls, Northern Lite has brought them all together in one neat and attractive package.  I'm sure this range hood with integrated monitors costs more than the alternatives, but it pays off with a cleaner and classier interior.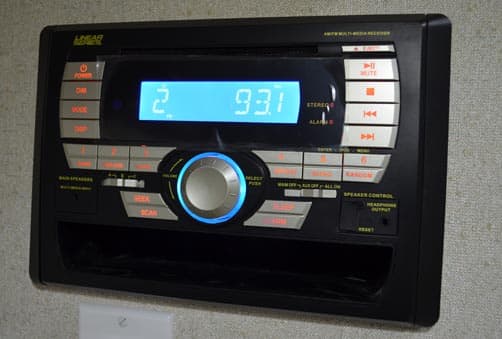 The Linear Series stereo describes itself as a AM/FM Multi-Media Receiver.  It has an 1.8" input for an iPod or other portable music device and a cubby where such a device can be placed.  There's no USB input or charging available, but the Linear Series appears to be a decent stock stereo system.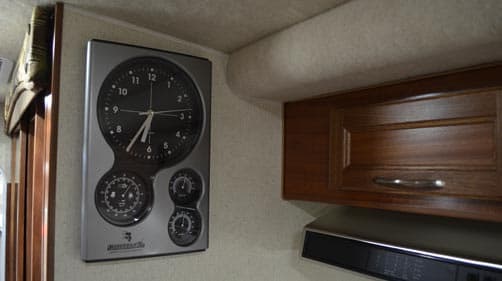 Northern Lite has, by far, the best clocks in the industry.  Not just the truck camper industry, but the whole RV industry.  For 2012 they debuted this knock out clock.  We're cuckoo over it.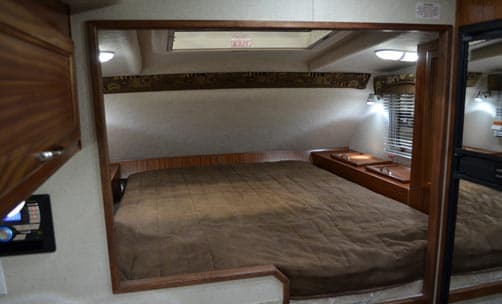 The entry way into the overcab bedroom on the 10-2 RR Dry Bath is narrower than the 10-2 CD Special Edition due to the floor plan moving the kitchen and refrigerator to the middle of the camper.  However, once you're past that entry way, the overcab bedroom is identical to that found in the Special Editions.

Each side of the bed has two Sapele wood pantries, a window, two-stage overhead LED light, directional LED reading light, and Sapele closets.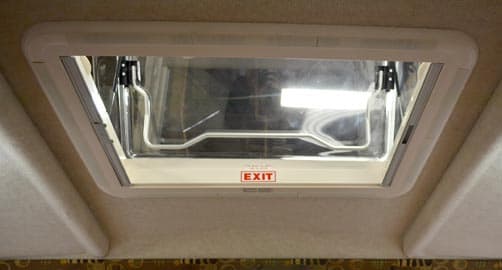 Overhead is a large Heki skylight.  The simple design and symmetry between both sides allows a couple to have ample bedroom storage.  The only thing they have to share is the bed and the Heki skylight.  If that's an issue they chose the wrong kind of RV.
Personally, I think the overcab bedroom in the Northern Lite 10-2 and Special Edition series are about as perfect as the come.  Too many manufacturers try to get creative in this critical area of the camper when tried and true is not only what works, but works well.  I'd add an optional flat panel HDTV and DVD (or Bluray) player, but that's it.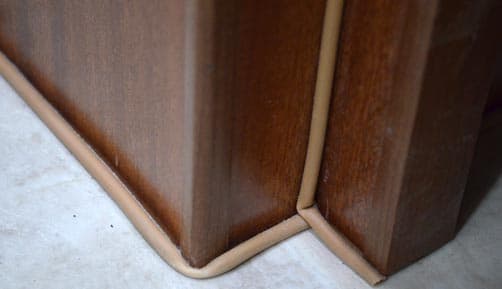 Here I go again.  I am not the biggest fan of gimp.  Okay, I hate gimp.  In 2012, the industry should be able to find ways to improve their tolerances and permanently do away with gimp.  Northern Lite has some of the finest craftsmen we've ever seen in any truck camper factory, bar none.  Please find a way to get rid of this gimp Northern Lite.  That goes for the rest of the industry too.  Tighten those tolerances.  The gimp has to go.
One Two-Piece Fiberglass Shell of a Nice Camper
Angela and I really want to take one of these Northern Lite truck campers out for an adventure.  Only then will we have the full measure of what it's like to use a Northern Lite.  In fact, every time we see Keith Donkin, General Manager of Northern Lite, we ask him how we could put together such an opportunity.  Unfortunately for us, but lucky for Keith, his answer is always the same, "I don't have any to spare right now.  We're sold out."  I know he's not kidding because both times we visited the Northern Lite factory (2007 and again in 2010) the factory was running full tilt with almost exactly the same management and production teams.
While I've had a few criticisms of the Northern Lite 10-2 RR Dry Bath, overall I'm impressed.  I think the dry bath has some refinements to be made, but the fact that Northern Lite now has a dry bath that weighs 350 pounds less than the closest competition is nothing to sneeze at.  Personally, I don't mind a wet bath and would go straight for a Special Edition, but that's my preference.  If you're one of the nearly 50% who prefer a dry bath, and you like Northern Lite's molded fiberglass construction, you may have just found the ultimate truck camper for you.
Quality, Customer Service, and Long-Term Reliability
Truck Camper Magazine inspects all reviewed truck campers for design, material, and quality issues and reports what we find. However, since Truck Camper Magazine reviews only brand new truck campers, our reviews do not address long-term quality, customer service, or reliability.
To learn about a brand's long-term quality, customer service, and reliability, Truck Camper Magazine recommends talking directly with truck camper owners at truck camper rallies and online via truck camper forums and truck camper owners groups.
Please be sure to balance your gathered feedback across multiple sources including direct correspondence with the truck camper manufacturers and your closest truck camper dealers.  Click here if you are new to truck campers.
Click here to request a Northern Lite Brochure.