Truck Camper Magazine reviews a Northern Lite 10-2 RR Dry Bath at the National RV Trade Show in Louisville, Kentucky. The roof is raised and the bathroom is dry. Let's check it out.

One of the most amazing facts about the truck camper marketplace is how every manufacturer builds their campers differently.  Sure, there are materials, processes, floor plans, and appliances that some manufacturers share, but there are always significant points of difference for comparison.  To be blunt, a truck camper, is not a truck camper, is not a truck camper.
Perhaps there's no better company to help illustrate this point than Northern Lite.  Based in Kelowna, British Columbia, Northern Lite essentially builds one type of product; hard side, non-slide, molded fiberglass truck campers.
Within this narrow niche, Northern Lite has come to dominate and build one of the highest-end truck campers on the planet.  When working RV shows I often challenge passers by to look into a Northern Lite 10-2 CD Special Edition and tell me if they've ever seen a Class-A motorhome with higher quality or interior finish.  Many come out of the campers and say, "It looks like a Lexus (or BMW, or Mercedes) inside".  It sure does.
Some folks would also say two particular comments that were not quite as flattering.  The taller people would say, "The ceiling is too low".  To address this common complaint, Northern Lite raised the roof on all their 10-2 and 9-6 models by three inches.  The other comment often heard was, "Where's the dry bath?"  With the 10-2 RR Dry Bath, Northern Lite has now address that complaint too.
Okay, some people also asked for a slide-out, but it will be a hot day in Kelowna in mid-February before that happens.  Northern Lite has sworn to never build a slide as it compromises the integrity of their fiberglass shell construction.  Hey, we all have our standards.
We finally had the opportunity to see a Northern Lite 10-2 RR Dry Bath in person at the annual industry only trade show in Louisville this past December.  We explored and photographed the camper from head to toe and have written a First Look report about the camper.
Northern Lite 10-2 RR Comparisons
Before we evaluate the Northern Lite 10-2 RR Dry Bath, we need to compare this model to the almost identical 10-2 RR wet bath.  For starters, the tank sizes, battery capacities, and propane tank capacities are identical between the two campers.  Both RR models have 36 gallons fresh, 40 gallons grey, 18 gallons black, two batteries, and two twenty-pound propane tanks.  They also use the same molded fiberglass shells so their exterior dimensions are exactly the same.
Obviously the main difference between these two models is the wet versus dry bath.  This mainly affects two aspects of these models; the dry weight and center of gravity.  Perhaps what's most surprising is that the 10-2 RR Dry Bath only weighs 15 pounds more than the wet bath coming in having at a dry weight of 2,440 pounds.  To put this weight in context, the 2012 Northern Lite 10-2 RR Dry Bath is the lightest weight dry bath truck camper currently on the market by no less than 350 hundred pounds.  Wow.
Compared to the 10-2 RR (wet bath) the center of gravity moves four inches to the rear on the 10-2 RR Dry Bath to 46 inches.  Unless a truck and camper are improperly matched, the difference in center of gravity should be a non-issue.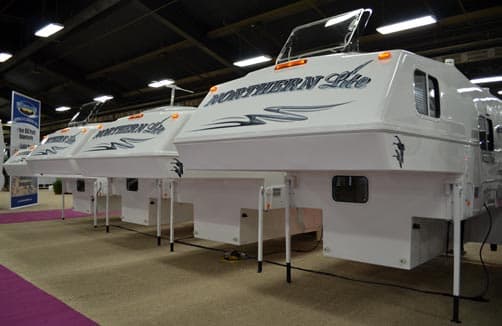 There's no mistaking the bright white, high gloss, molded fiberglass exterior of a Northern Lite.  Let's just say that if Northern Lite truck campers were criminals, they wouldn't make it past their first line up.  "Yeah, that's him.  The bright white one with the birds.  He did it."
In 2011, Northern Lite debuted a three inch taller fiberglass mold allowing the tall (6'3") and slightly handsome (at least a 6) Publisher of this fine publication to avoid a header on the centrally located optional air conditioner.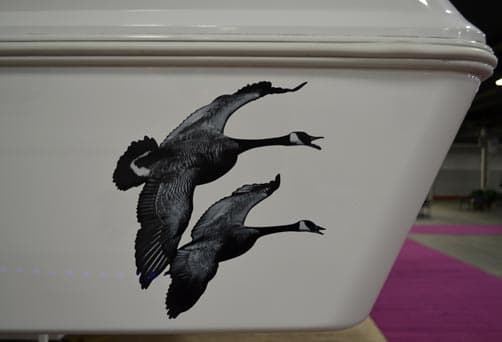 For 2012, Northern Lite has also changed their exterior decal package (that's deh-cull in Canadian, not dee-cal for you Americans).  Even the Geese have been goosed with a more detailed and 3-D aesthetic.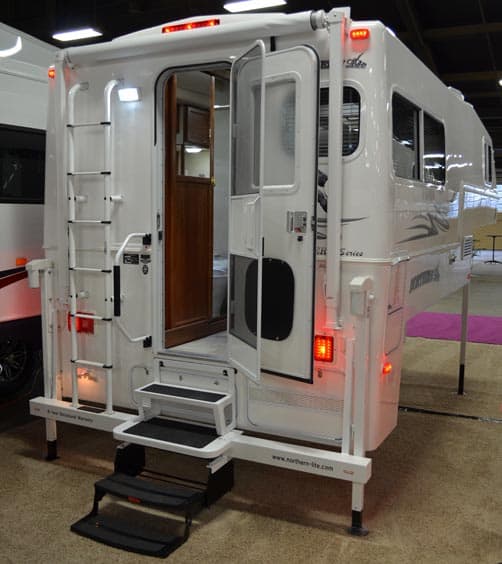 The rear of the 2012 Northern Lite 10-2 RR Dry Bath on display at Louisville had the standard all-LED exterior lights, roof ladder, electric remote Happijac camper jacks, and an optional large rear awning.  You should also notice the lower window on the door which allows the driver to use the truck's rear view mirror to see through the camper to what's behind the rig.  In the picture the lower door window is covered by a black-out privacy shade.
It may seem odd that such a relatively small window could provide rear visibility, but it does.  During the day you can see if there are vehicles behind the rig and at night you can see the headlights to see if there are vehicles behind the rig.  This lower door window is a minor detail that could be overlooked during truck camper research, but it makes a huge difference when you're driving a truck camper and you can see the vehicles behind you.  Back up cameras can also provide this capability, but it's not as natural as seeing through the rear window.