To be completely honest, I have no idea what this wire mesh box (left photo above) was in the camper.  Maybe for pet hamsters?  Perhaps to make a cock-eyed robot mouth with the heater vent eyes above it?  I can hear the robot voice now, "Take me to your dump station!"   I'm sure Greg will call me as soon as this article runs to set me straight and make me feel like a complete idiot.  Maybe he'll say, "Hamsters?  Who has hamsters in a truck camper?  It's for bunnies."  Seriously Greg, call me on this one.
Just forward of the bathroom door is the thermostat, tank, and battery monitor with water pump switch, and the hot water heater switch (center photo above).  It's great to have these controls in the center of the camper and easy to access from the overcab bed.  I can see owners turning on the hot water pump and heater from bed so the shower is ready when they get up.  Now that's a lazy luxury lifestyle to look forward to.
I'm always pleased to see an outlet in the dinette area (right photo above).  I did not however see a 12-volt outlet in the dinette.  A 12-volt outlet in this area would be a nice touch for charging cell phones and other electronics.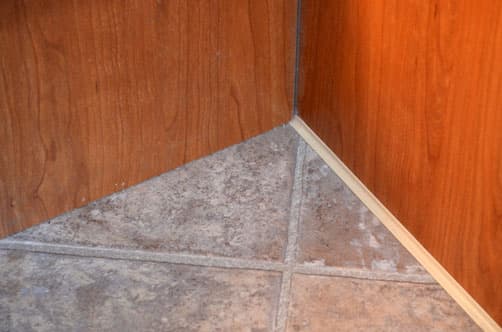 I know I already mentioned this in the kitchen remarks, but please Eagle Cap, get rid of this gimp.  Everything looks so good and then "AAH!", the dreaded gimp strikes again.  If I have to start a "Stop the Gimp" petition, I will.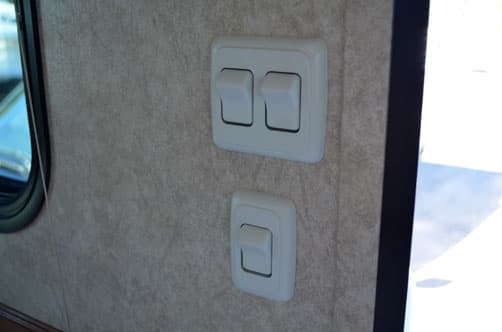 I'm probably nit picking here again but these switches need labels.  I'm sure the owners would quickly learn what switch does what, but why not properly label them?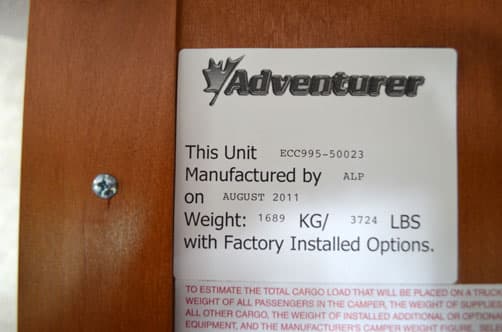 Inside every Adventurer or Eagle Cap truck camper is a weight sticker with the exact weight of that specific truck camper as it left the factory.  Essentially, this is a dry weight with options.  If you're looking at an Adventurer or Eagle Cap camper, forget the decal on the outside, pull open the cabinet door on the inside and get this weight.  Then use our Buyers Guide to add the wet weight and stuff weight to get a total.
The dry weight with options of the 2012 Eagle Cap 995 is 3,724 pounds, or 1,689 kilograms.  In other words, you need a late model one ton dually for this camper.  I would look for a truck with at least 5,000 pounds of payload to play it safe.  If you're going to tow, look for more.
This Bird Is Ready to Fly
I would not hesitate to recommend a new 2012 Eagle Cap to anyone who has been on the fence about the new Eagle Cap.  From numerous conversations at RV Shows and Rallies over the past year, I know there are a lot of you, especially on the East Coast.  If you're one of those folks, and you know who you are, I say wait to see an Eagle Cap at your closest dealer, and get ready to have your expectations met, and exceeded.
I for one am very excited about what I saw and can't wait to see where Eagle Cap is going.  Is Eagle Cap truly back?  You better believe it.  And how.
Contact Eagle Cap about the 995.