TCM checks out a 2012 Eagle Cap 995.  Lucky for us it was right next to a 2010 Eagle Cap.  It's an old bird vs. new bird showdown!
When we flew out to test a Hallmark Cuchara XL in early October, we finally got our chance to see a 2012 Eagle Cap camper.  Sitting on the dealer lot was a old-version 2010 Eagle Cap 850 and an all-new 2012 Eagle Cap 995.  Short of taking both campers out for an extended in-depth "Our Experience" style review, we couldn't ask for a better opportunity to compare the old Eagle Cap to the new Eagle Cap.
Contact Eagle Cap about the 995.
Battle of the Birds: Eagle Cap vs. Eagle Cap
Standing about fifteen feet away, I was able to photograph both campers at the same time.  At first blush, they were so similar that it would be difficult to tell the old from the new without either knowing exactly what to look for, or getting a closer look.
Although it's hard to tell in the photographs, the new 2012 Eagle Cap had an overall brighter, whiter gel coat exterior.  You would never know unless the two were right next to each other, but it was clear looking at them in person.  The Lamilux 4000 fiberglass material Adventurer is using on the new Eagle Cap sidewall lamination is very impressive.
As far as I could tell given the time constraints of our First Look, the LED lights, rear bumper, awnings, locks, latches, rear door, and Happijac camper jacks were either exactly same or better on the new Eagle Cap.  One thing I was disappointed to see missing was a rear ladder on the new Eagle Cap.
Every hard side truck camper needs a ladder so the owner can maintain the roof seals and clear snow and other debris.  I can forgive the removal of the roof rack on the new Eagle Cap (not necessary and eliminates potential leaks), but this camper needs a ladder as standard equipment.  The rear speakers are a nice touch, but don't overlook the basics.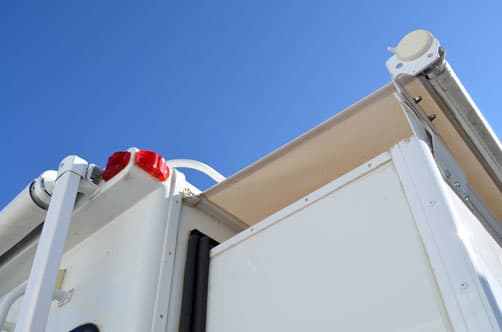 Above: 2010 Eagle Cap awning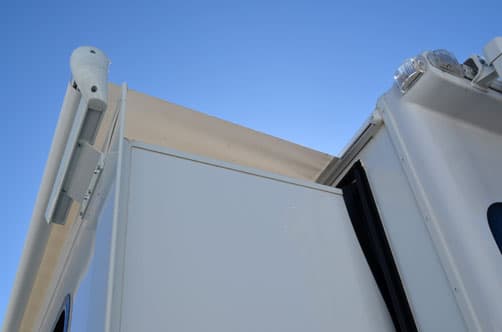 Above: 2012 Eagle Cap awning
Next I tried to find specific exterior details on both campers for direct comparison.  Both models are slide-out models and feature slide-out covers.  First of all, I'm very pleased to see slide-out covers as I have recently learned how important they are to keeping snow, rain, leaves and other problems away from the slide-out.  And second, just about everything I could see on the new Eagle Cap slide awning appeared better; better awning, better design, and better execution.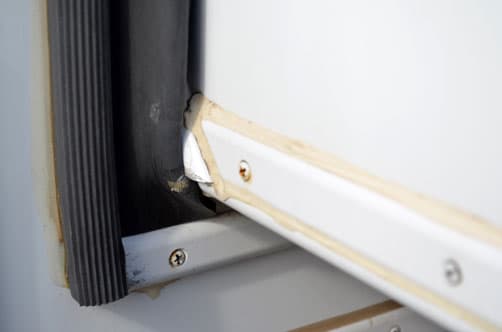 Above: 2010 Eagle Cap slide-out seals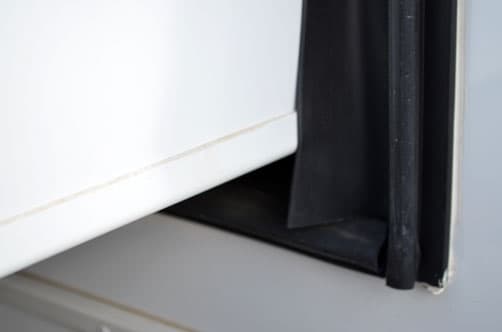 Above: 2012 Eagle Cap slide-out seals
The seals around slide-outs are vital to wicking water off the slide walls during retraction and maintaining a seal against the cold and elements while extended.  The old Eagle Cap used a bulb seal on the outside and the new Eagle Cap uses a wiper seal.  I did not peel back the layers to see the complete seal system on both campers.  Both looked up to the task, but further investigations will be necessary.  Call this a draw, for now.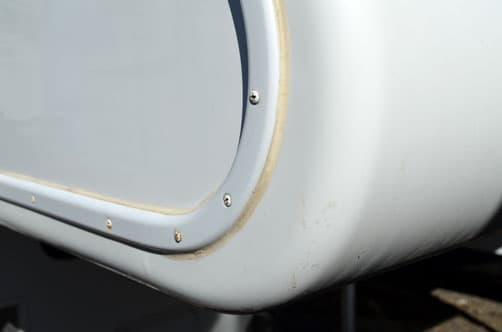 Above: 2010 Eagle Cap molded fiberglass front cap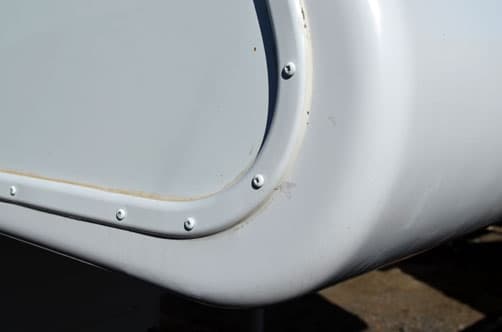 Above: 2012 Eagle Cap molded fiberglass front cap
Looking closely at the two wrap-around fiberglass front nose caps, the new Eagle Cap looked at least as good as the old.  Adventurer has locally outsourced the production of their Eagle Cap fiberglass front nose and rear end caps to Miles Fiberglass & Composites in Portland, Oregon, a company with almost five decades of fiberglass production experience.  While the old Eagle Cap fiberglass team did an excellent job, it's safe to say that Miles Fiberglass & Composites is meeting or exceeding their quality.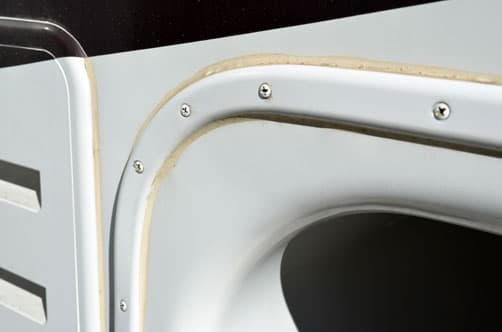 Above: 2010 Eagle Cap exterior seals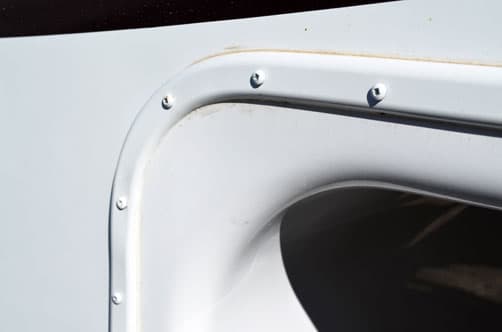 Above: 2012 Eagle Cap exterior seals
Where I would be tempted to give the nod to the old Eagle Cap is with the exterior sealing.  We visited the old Eagle Cap in 2010 and they were sealing their campers with Sikaflex 715.
Adventurer is using the exact same Sikaflex 715 to seal the new Eagle Caps, but comparing the two exterior seals reveals two very different looking seals.  Where the old Eagle Cap's seals are thick, unbroken, even, consistent, and a light tan color, the new Eagle Cap's seals are comparatively thin, have minor gaps, lack consistency, and are a brighter white color.  The differences in color are probably due to the effects of the sun and elements (and dirt), but I would like to see Adventurer improve the quality of these seals.  On balance, the old Eagle Cap was probably the best in the business in this regard.
I was going to compare the interiors of the old and new Eagle Cap campers, but it was no longer apples to apples.  The two campers are very different floor plans with different materials throughout.  Instead, I decided to allow the new 2012 Eagle Cap 995 speak for itself.  But before we get to the inside of the new Eagle Cap, let's take a look at some of the exterior features of the new bird.
2012 Eagle Cap 995 Exterior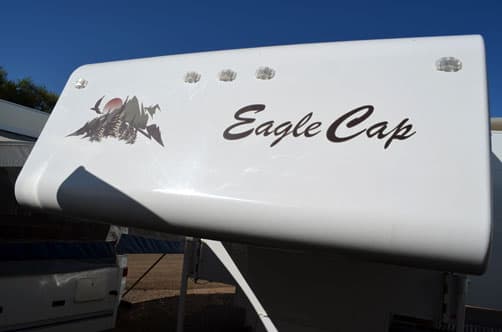 With a little contorting between campers, I was able to get a full front nose shot of the new Eagle Cap.  Throughout the exterior of the 2012 Eagle Cap, clear LED lights give the camper a clean look.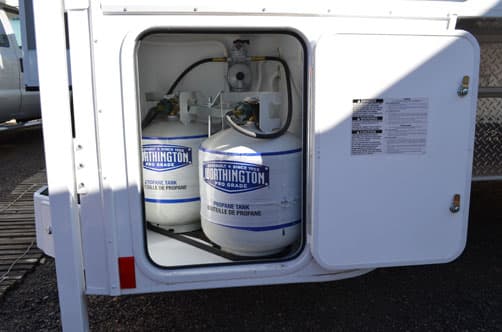 The 2012 Eagle Cap 995 has room for two twenty-pound propane tanks.  These are located in the passenger side skirt of the camper.  This location makes accessing, loading, and unloading the propane tanks extremely convenient.

The dump facilities compartment on the Eagle Cap 995 is easy to access and well labeled.  I especially appreciated the outside battery kill switch.  I'd like to see this on every truck camper.
I'd like to see more attention given to this compartment including making the seals and plumbing look as well organized and clean as possible.  Yes, I'm nit picking, but I know the Eagle Cap team can do better.
The front exterior wall of the 2012 Eagle Cap 995 features a wide compartment door that reveals access to the water pump, Happijac remote control jack controller, and holding tanks.  Not only is it good to have this kind of easy access to the camper systems, but it's also good to see the holding tanks positioned all the way forward and well insulated.  You can also see the aluminum framing stuffed with wood for additional strength.
Bravo to the new Eagle Cap team for this amazing compartment and access.  This will probably save the owner of this camper a lot of time and money over the years he or she owns the product.  Again, I would like to see more of this proactive service oriented thinking on all campers.  Well done.
2012 Eagle Cap 995 Interior
The dinette in the 2012 Eagle Cap 995 is a generously portioned full-booth dinette.  The dream dinette system gives the table a sturdy feel while giving the dinette occupants ample leg room.  The dinette seats were comfortable for the few minutes we sat in them.  Angela liked the fabric choices and I appreciated the fact they they were warm in color and fairly neutral.
The granite coat fiberglass table is gorgeous and at least as well made as the granite coat tables manufactured by the old Eagle Cap, probably better.  If we were grading this dinette, it would be a solid A.
The big window next to the dinette would make for some awesome breakfast, lunch, and dinner viewing.  I'm not wild about slider windows as they allow the rain in, but you can't argue with the size.
Under the dinette seats were two carpeted storage compartments that led directly to exterior compartment doors.  I have seen this arrangement on several full-booth dinette slide camper models (including our current Travel Lite) and wonder how items coming in from the outside don't soil the carpet.
In an ideal world, these compartments would be divided in half by a wall with the outside half having linoleum flooring and the inside half having carpet.  I can see the eyes rolling at Eagle Cap now, but how else is the owner supposed to use the outside compartments without messing up the carpet?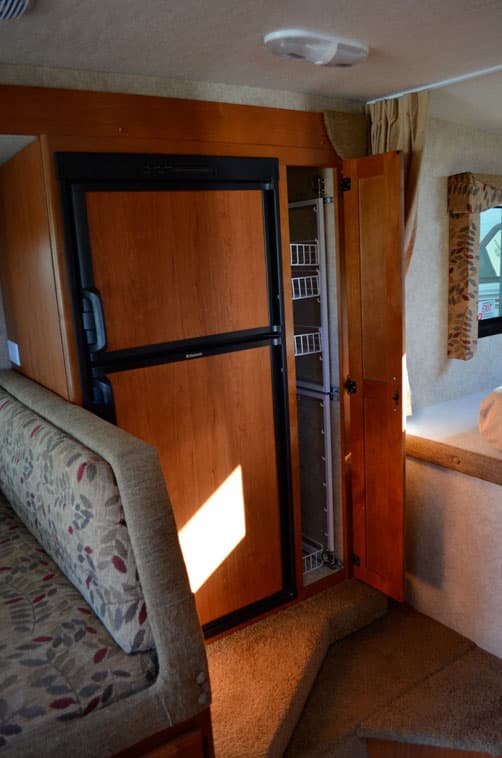 Just forward from the dinette on the full-wall slide is a six-cubic foot refrigerator and a generous double-tier pull-out pantry.  Pull-out pantries are always a favorite feature when we work RV shows and I'm sure this pantry will collect many "oohs" and "aahs".  In use, they are very convenient and work well for food storage.
The light tan granite coat fiberglass countertops, light cherry solid hardwood cabinetry, white double sink, bronze color faucet and cabinetry hardware, together with an elegant modern design make the rear kitchen in the Eagle Cap 995 a total knockout.  The black propane range and oven, range hood, microwave, and stereo only further enhance the high-end presentation.  Best of all, this kitchen looks very functional with plenty of counter space.  There's even a flip-up granite fiberglass counter extension for when you need a little more counter space.
The only drawback aesthetically is a strip of light-colored gimp running along the floor (see right photo above).  I'm sure they're working on eliminating this gimp as it's the one glaring detail keeping this kitchen from a perfect 10.  As of now, it's a 9.95 stunner.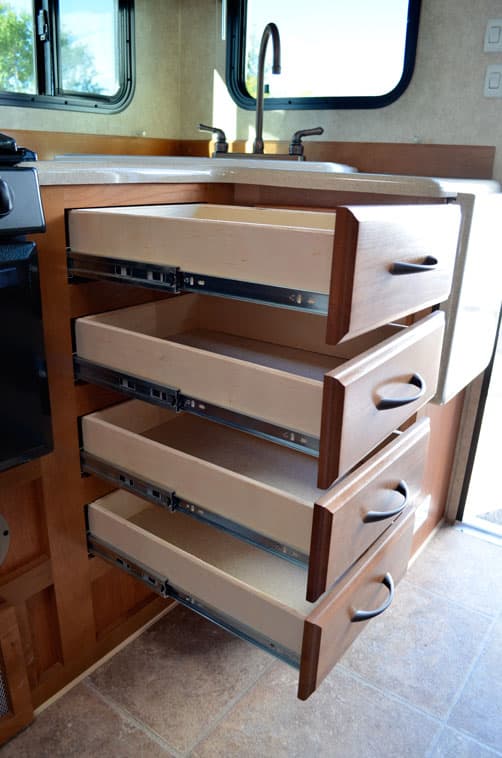 The quality of the cabinetry doesn't stop with the cabinet faces.  The full-extension steel rollers and overall build of the four drawers in the kitchen is exceptional.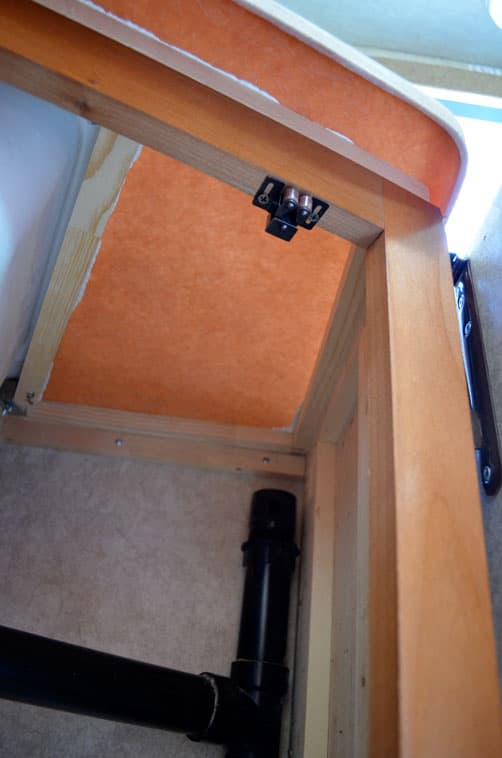 When I was doing my usual poking around, I happened to look up from under the kitchen sink area.  There I could see the sunlight coming through the counter tops!
How can this be?  Well, the counters are molded fiberglass with a granite gel coat.  Molded fiberglass does not need to be thick to be strong, and it's fiber-GLASS.  The result are counters and table tops that are relatively thin, lightweight, and strong.
The light cherry solid hardwood cabinetry throughout this camper is dreamy.  I want it in my house it's so nice.  Due to the immensely appealing look of the cabinetry, having a short wall of cabinetry right in the middle of the camper is a real visual plus.  This wall consists of two double door storage cabinets, the bathroom door, and a mid-camper spot for your thermostat, tank and battery monitors, and hot water heater switch.
One caveat here is that the storage space inside these cabinets is awkwardly shaped and could use some shelves to make the space more useful.  Or perhaps the Eagle Cap team could come up with some other creative ways to use this space.  Fireplace anyone?
The bathroom in the 2012 Eagle Cap 995 is truly incredible.  Ten years ago a bathroom like this on a truck camper would have been thought to be impossible, or nuts, but here it is.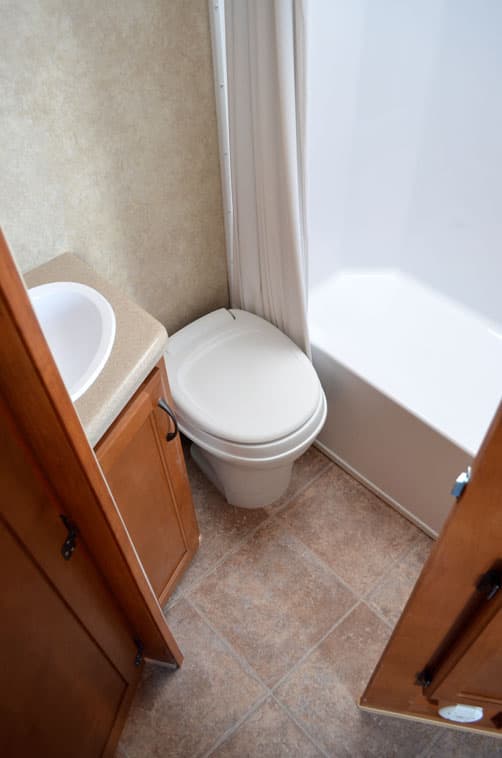 Naturally, we've seen bathrooms like this in truck campers ever since the invention of the full-wall, double, and triple-slide truck campers.  What's fantastic about this camper is that it continues the high level of material choices and fit and finish we find in the kitchen.  In short, this bathroom is down right domestic.  I've been in household bathrooms that are smaller than this.
I would however like to see the faucet switched out for a bronze faucet.  Hey Eagle Cap, you started it.  If you're going to put a nice bronze faucet in the kitchen, put one in the bathroom too.  Maybe even a porcelain toilet while you're at it.  Kick it up a notch!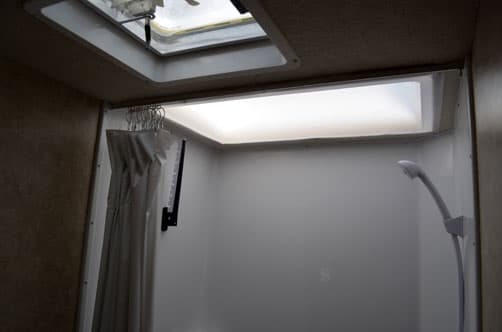 But seriously folks, the only real down side to this huge bathroom is that it takes up a lot of room in the camper.  It also makes for a funky overcab sleeping situation.  More on that next.
The overcab bedroom area features a north-south queen size bed, large Heki skylight, mirrored wardrobe, and more of that sumptuous light cherry wood.  The overcab had a bright and open feel.  You really can't fault this camper aesthetically.
Personally, I would much prefer a window on the driver's side of the camper and a more traditional storage arrangement.  The mirrored wardrobe is wonderful for that feeling of space and light, but I'm not too keen on having mirrors right next to the bed.
I'm also not sure about the entry and exit of the overcab.  The whole reason for a north-south bed is so that one person can enter or exit the overcab without disturbing the other.  That and the storage the increased overcab length allows.  With this arrangement, you seem to get neither benefit.  If the person on the passenger's side already isn't going to have a window, you might as well turn the bed and make this an east-west camper.  Then you can have more storage and everyone can sneak in or out of bed without crawling over the other.
This is really an unfair criticism as the Eagle Cap team did exactly as they promised to do and copied the old Eagle Cap 995 to the letter.  If they had changed the overcab sleeping arrangement, then people would hit them for changing the camper.  The reality is that there was nothing special in the water at the old Eagle Cap making their designs perfect.  From this point forward, the Eagle Cap team should feel free to make changes for the better.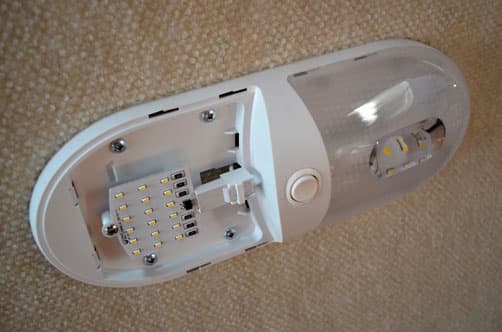 The Eagle Cap 995 features LED lighting from one end to the other.  This is fast becoming the big trend to make truck campers more efficient and I am very happy to see Eagle Cap making LED lights standard in their 2012 products.
To be completely honest, I have no idea what this wire mesh box (left photo above) was in the camper.  Maybe for pet hamsters?  Perhaps to make a cock-eyed robot mouth with the heater vent eyes above it?  I can hear the robot voice now, "Take me to your dump station!"   I'm sure Greg will call me as soon as this article runs to set me straight and make me feel like a complete idiot.  Maybe he'll say, "Hamsters?  Who has hamsters in a truck camper?  It's for bunnies."  Seriously Greg, call me on this one.
Just forward of the bathroom door is the thermostat, tank, and battery monitor with water pump switch, and the hot water heater switch (center photo above).  It's great to have these controls in the center of the camper and easy to access from the overcab bed.  I can see owners turning on the hot water pump and heater from bed so the shower is ready when they get up.  Now that's a lazy luxury lifestyle to look forward to.
I'm always pleased to see an outlet in the dinette area (right photo above).  I did not however see a 12-volt outlet in the dinette.  A 12-volt outlet in this area would be a nice touch for charging cell phones and other electronics.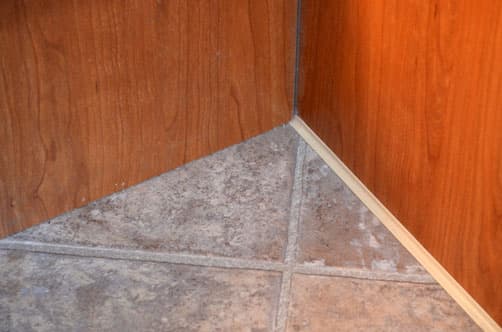 I know I already mentioned this in the kitchen remarks, but please Eagle Cap, get rid of this gimp.  Everything looks so good and then "AAH!", the dreaded gimp strikes again.  If I have to start a "Stop the Gimp" petition, I will.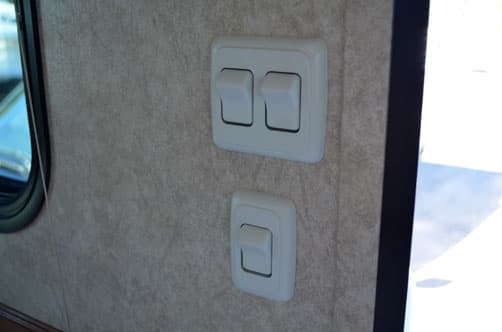 I'm probably nit picking here again but these switches need labels.  I'm sure the owners would quickly learn what switch does what, but why not properly label them?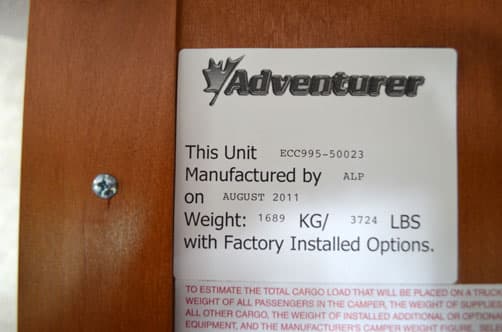 Inside every Adventurer or Eagle Cap truck camper is a weight sticker with the exact weight of that specific truck camper as it left the factory.  Essentially, this is a dry weight with options.  If you're looking at an Adventurer or Eagle Cap camper, forget the decal on the outside, pull open the cabinet door on the inside and get this weight.  Then use our Buyers Guide to add the wet weight and stuff weight to get a total.
The dry weight with options of the 2012 Eagle Cap 995 is 3,724 pounds, or 1,689 kilograms.  In other words, you need a late model one ton dually for this camper.  I would look for a truck with at least 5,000 pounds of payload to play it safe.  If you're going to tow, look for more.
This Bird Is Ready to Fly
I would not hesitate to recommend a new 2012 Eagle Cap to anyone who has been on the fence about the new Eagle Cap.  From numerous conversations at RV Shows and Rallies over the past year, I know there are a lot of you, especially on the East Coast.  If you're one of those folks, and you know who you are, I say wait to see an Eagle Cap at your closest dealer, and get ready to have your expectations met, and exceeded.
I for one am very excited about what I saw and can't wait to see where Eagle Cap is going.  Is Eagle Cap truly back?  You better believe it.  And how.
Contact Eagle Cap about the 995.