TCM checks out a 2012 Eagle Cap 995.  Lucky for us it was right next to a 2010 Eagle Cap.  It's an old bird vs. new bird showdown!
When we flew out to test a Hallmark Cuchara XL in early October, we finally got our chance to see a 2012 Eagle Cap camper.  Sitting on the dealer lot was a old-version 2010 Eagle Cap 850 and an all-new 2012 Eagle Cap 995.  Short of taking both campers out for an extended in-depth "Our Experience" style review, we couldn't ask for a better opportunity to compare the old Eagle Cap to the new Eagle Cap.
Contact Eagle Cap about the 995.
Battle of the Birds: Eagle Cap vs. Eagle Cap
Standing about fifteen feet away, I was able to photograph both campers at the same time.  At first blush, they were so similar that it would be difficult to tell the old from the new without either knowing exactly what to look for, or getting a closer look.
Although it's hard to tell in the photographs, the new 2012 Eagle Cap had an overall brighter, whiter gel coat exterior.  You would never know unless the two were right next to each other, but it was clear looking at them in person.  The Lamilux 4000 fiberglass material Adventurer is using on the new Eagle Cap sidewall lamination is very impressive.
As far as I could tell given the time constraints of our First Look, the LED lights, rear bumper, awnings, locks, latches, rear door, and Happijac camper jacks were either exactly same or better on the new Eagle Cap.  One thing I was disappointed to see missing was a rear ladder on the new Eagle Cap.
Every hard side truck camper needs a ladder so the owner can maintain the roof seals and clear snow and other debris.  I can forgive the removal of the roof rack on the new Eagle Cap (not necessary and eliminates potential leaks), but this camper needs a ladder as standard equipment.  The rear speakers are a nice touch, but don't overlook the basics.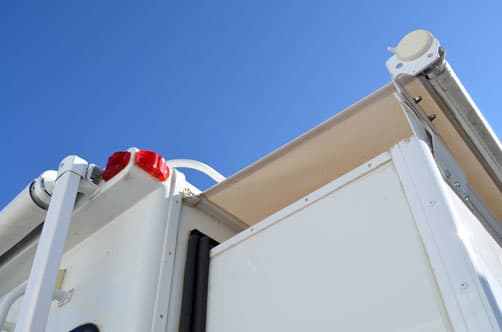 Above: 2010 Eagle Cap awning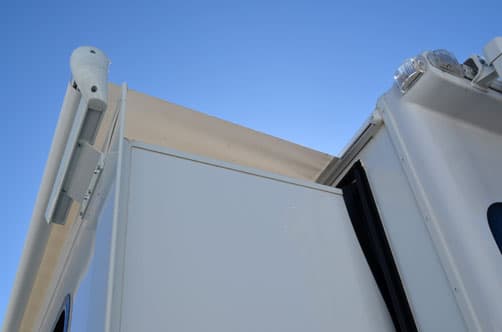 Above: 2012 Eagle Cap awning
Next I tried to find specific exterior details on both campers for direct comparison.  Both models are slide-out models and feature slide-out covers.  First of all, I'm very pleased to see slide-out covers as I have recently learned how important they are to keeping snow, rain, leaves and other problems away from the slide-out.  And second, just about everything I could see on the new Eagle Cap slide awning appeared better; better awning, better design, and better execution.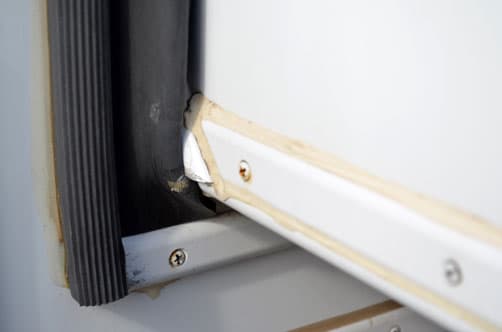 Above: 2010 Eagle Cap slide-out seals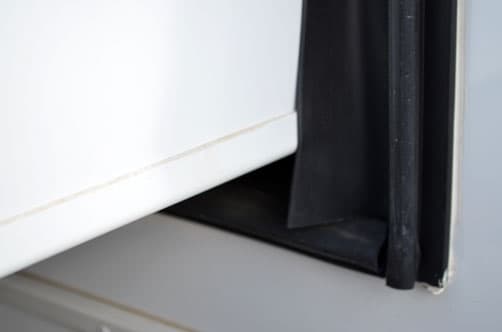 Above: 2012 Eagle Cap slide-out seals
The seals around slide-outs are vital to wicking water off the slide walls during retraction and maintaining a seal against the cold and elements while extended.  The old Eagle Cap used a bulb seal on the outside and the new Eagle Cap uses a wiper seal.  I did not peel back the layers to see the complete seal system on both campers.  Both looked up to the task, but further investigations will be necessary.  Call this a draw, for now.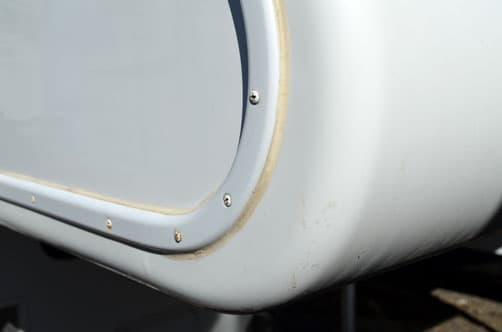 Above: 2010 Eagle Cap molded fiberglass front cap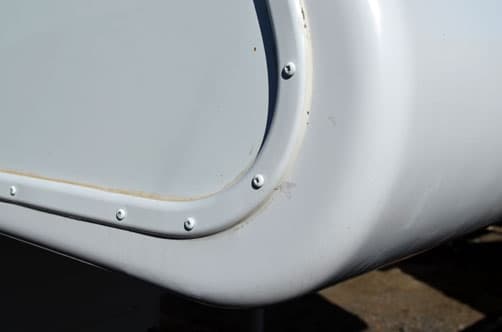 Above: 2012 Eagle Cap molded fiberglass front cap