Truck Camper Magazine reviews a 2019 Adventurer 80GS, an 8-foot hard side, single-slide, wet bath truck camper for short bed trucks.  After nine years of steady updates and upgrades, is the 80GS still a half-ton compatible contender?

Adventurer Manufacturing debuted the Adventurer 80GS in Truck Camper Magazine in November of 2009.  That's a stunning fact for two reasons.  First, models rarely survive that long in Adventurer's notoriously competitive design culture.  And second, how in the world has nine years passed without a Truck Camper Magazine review?  What a shame.
In all fairness, we didn't start publishing formal reviews for years after the 80GS debut, and newer models kept taking the review spotlight.  In the mean time, the 80GS quietly kept selling and surviving the Adventurer design team gauntlet.  Model-year-update by model-year-update, the 80GS steadily improved to become the camper we are reviewing today.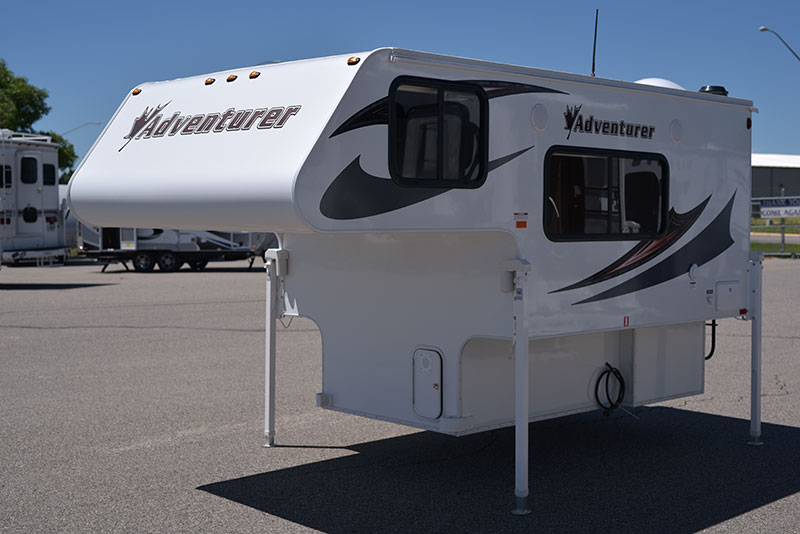 Believe it or not, the 80GS actually has its origins at a different manufacturer.  When Adventurer Manufacturing moved to Yakima, Washington in 2008, the company welcomed many management and production team members from Western Recreational Vehicles, a Yakima-based Class A, fifth wheel and truck camper manufacturer that succumbed during the Great Recession.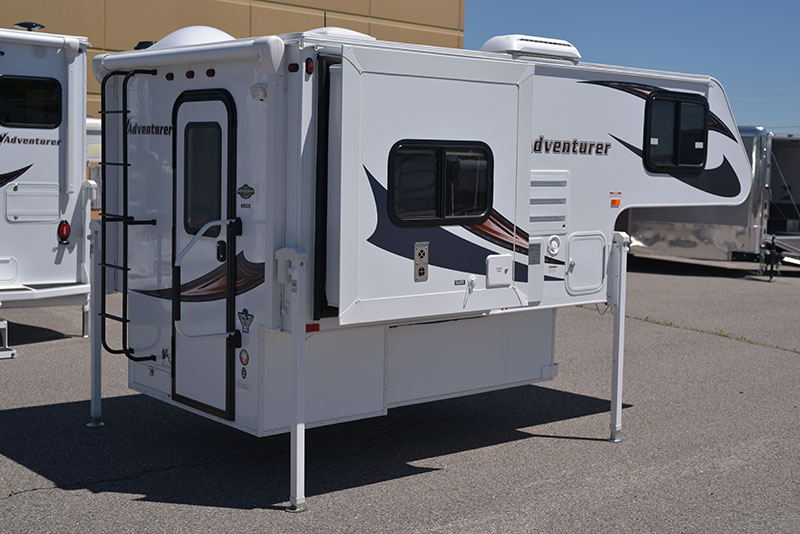 During the announcement of the 80GS in 2009, Burk Morgan, Adventurer's then Director of Sales and Marketing, spilled the 80GS origin beans.  "We had talked with the production and product development team about a lightweight camper like the 80GS when we were at Western Recreational Vehicles," he explained.  "We wanted to build a high-quality, self-contained, hard side camper that can go on lighter duty trucks.  The 80GS is that camper."
The initial 80GS prototype targeted half-ton trucks with a dry weight of 1,466-pounds.  Unfortunately, that weight required a list of convenience concessions that crippled the camper's competitiveness.  Manual jacks, an industry-first manual slide and an anemic feature list all but doomed the unit.  Ironically, Burk might have said it best in 2009; "…we want everything in the camper but we don't want it to weigh anything."
Then Adventurer did what Adventurer does best; listened to what the marketplace wanted, and built it.  Born again, the revised Adventurer 80GS got an electric slide-out, electric jacks and an updated list of standard features.  It also gained an additional 200-pounds of dry weight and a requisite price bump.  Who can we blame for the increased weight and cost?  The demanding and often contradicting truck camper buying public.  A.k.a., you and me.
Enough with the introspective history lesson.  It's time to put the hammer down on the 80GS and see exactly how it stacks up in 2019.  Nine years later, can this camper compete?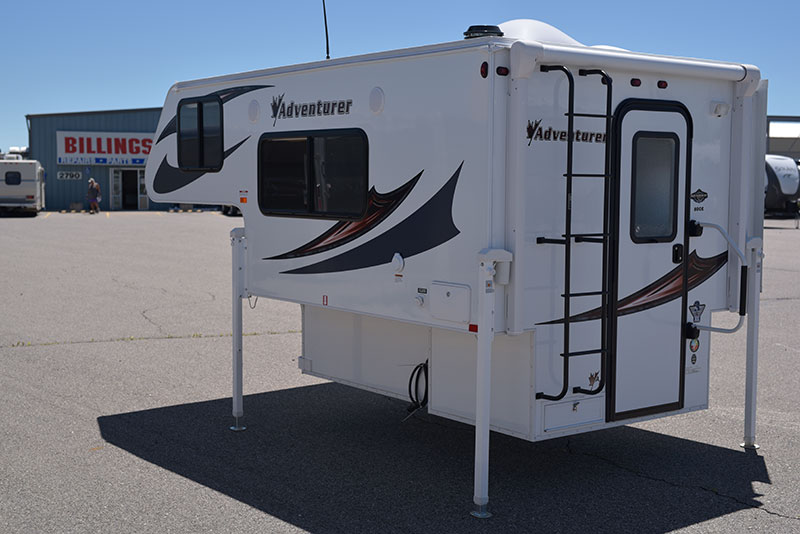 We reviewed a 2019 Adventurer 80GS at Billing RV in Billings, Montana.
Floor Plan Evaluation
We will probably never know who it was, but somebody many years ago must have told a truck camper designer, "It would be really nice to have a pouch inside the door for the jack remote."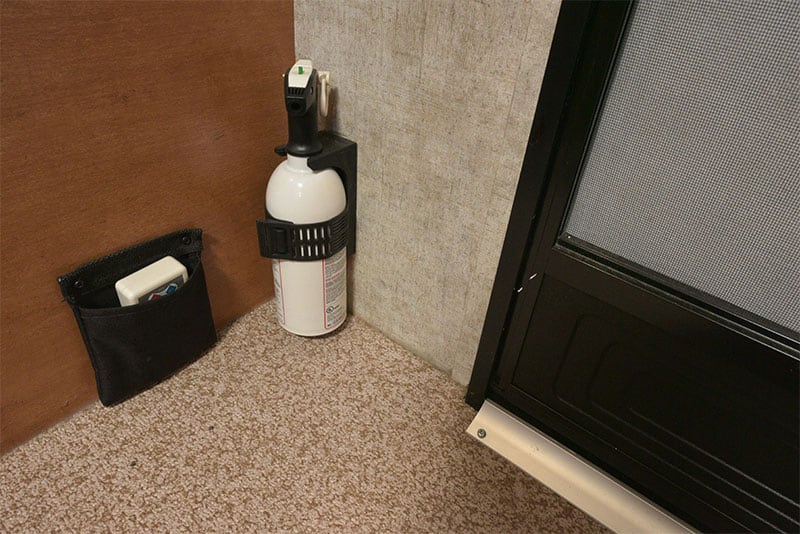 Today jack remote pouches are all but ubiquitous throughout the industry.  We found a jack remote pouch immediately inside the entry door in the 80GS.  The lesson is this; keep telling the manufacturers what you want.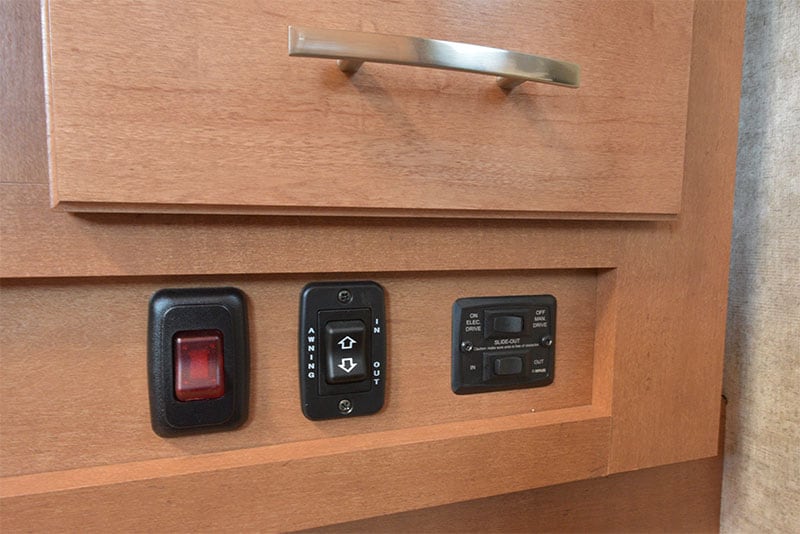 Just above the jack remote pouch are the controls for the electric slide-out and optional power awning.
The slide-out controls consist of a switch to operate the slide-out's electric drive or manual drive (top) and an in/out rocker (bottom).  In most situations, you would (1) push the top switch to electric drive and (2) push the lower rocker to move the slide in or out.  Simple as that.
When the 80GS first debuted in 2009, it had the first manual-only slide-out on a camper.  You literally had to stand outside of the camper and pull-open (and push shut) the kitchen slide.  And that brings up a funny story…
Following the debut of the 80GS, we asked Rob Rapose, then of Torklift International, to pull open the manual slide for a video we were producing.  The poor guy just happened to be in the right place at the right time, so we volunteered him to do it.
Rob did it, but it was quite comical to watch him hide how hard he had to pull.  The manual slide worked well, but it took a lot more effort than most folks were comfortable with.  As a result, Adventurer switched to an electric slide in the 80GS for the next model year.  Today, "manual drive" is available only in case the electric slide fails.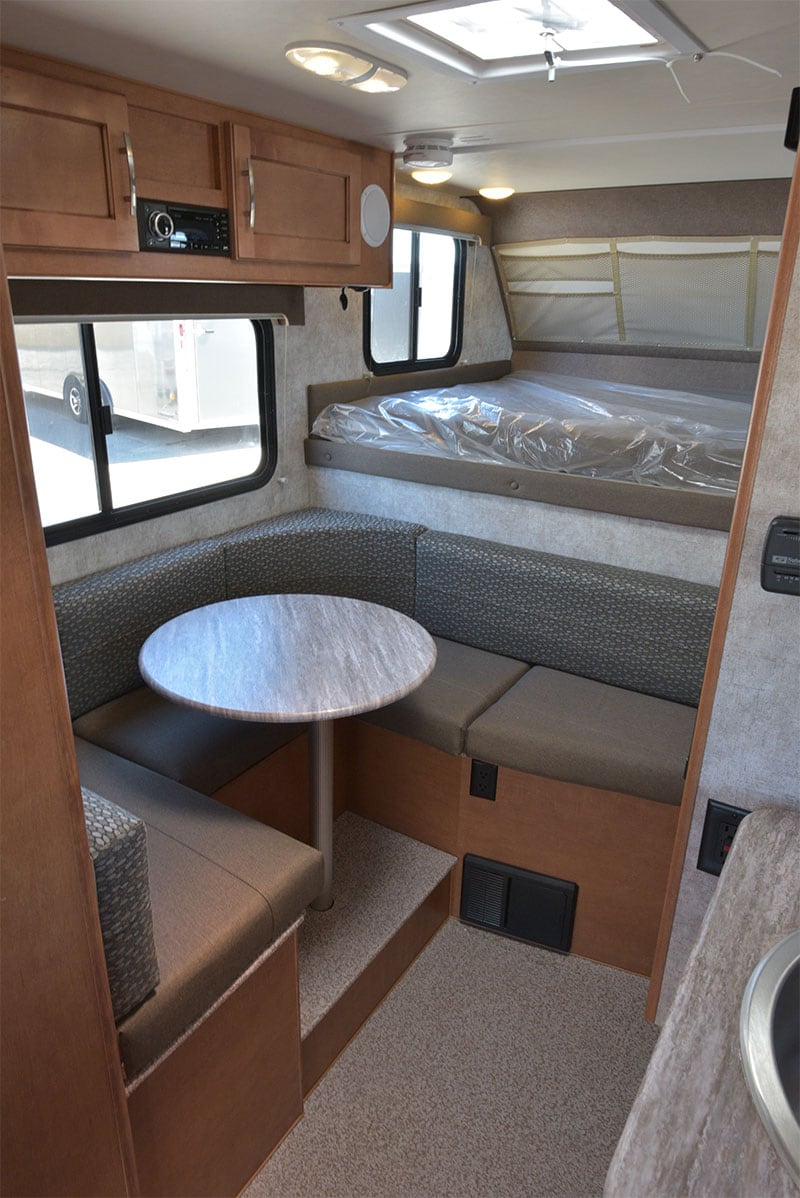 Standing at the entry way just inside the unit, the Adventurer 80GS has a bright and attractive interior.  The lighter wood tones, muted color palette, and large windows are very inviting.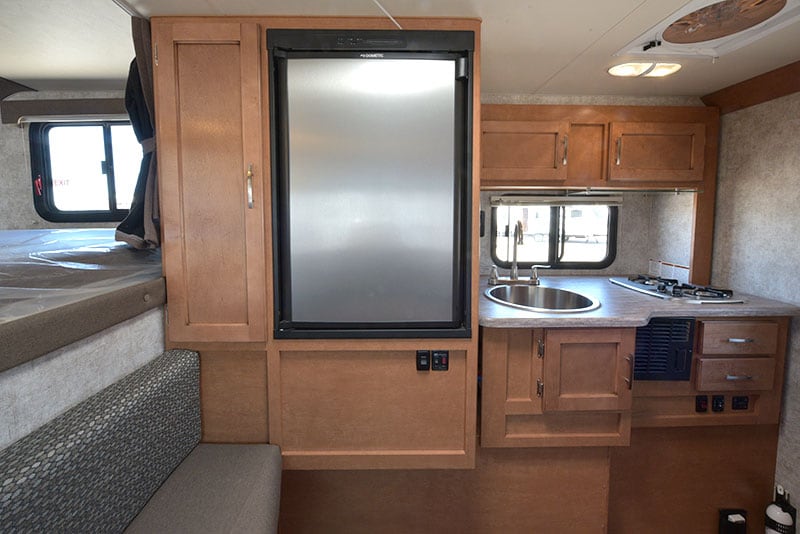 Turning to the passenger's side is the main attraction of the 80GS; a kitchen slide-out.  Well, sort of.  Look closely and you'll notice that only the lower cabinetry, countertop, and upper cabinetry actually slide-out.  Put another way, you don't actually gain any floor space with the 80GS slide-out.
What you do gain is a larger and more functional kitchen including deeper kitchen storage.  Without the slide-out the 80GS kitchen would have a smaller sink, significantly less counter space, and greatly reduced cabinetry.   The slide may not buy you any floor space, but it sure opens up the kitchen area.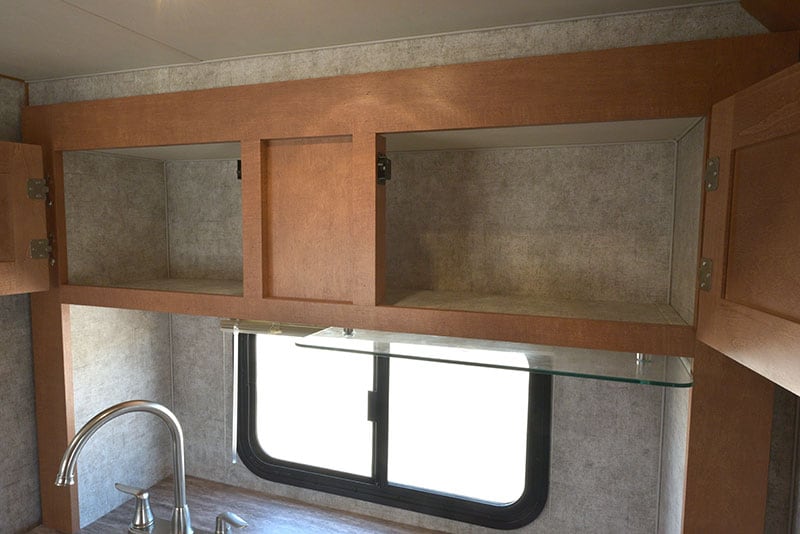 Thanks to the slide, the upper cabinets offer a useful amount of storage depth.  This is the right storage area in the right place for dry foods, cups, and dishes.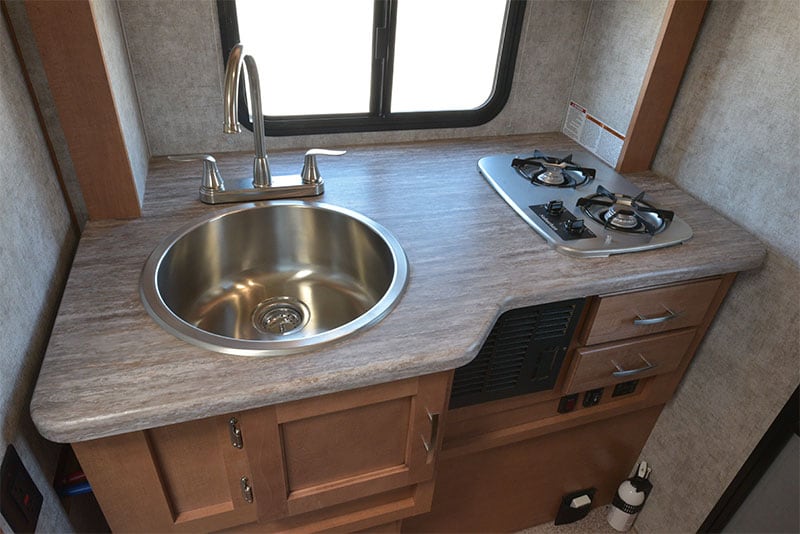 For the 2017 model year, Adventurer Manufacturing went all-in with thermal-formed one-piece MDF countertops.  These countertops are vacuum-sealed and laminated with a foil finish.
In person these countertops are attractive, but you won't likely confuse them for a true solid surface material like Corian.  They simply lack the color depth of solid surface products.
On balance, thermal-formed counters are significantly lighter in weight and lower in cost to produce than Corian.  Based on MDF, the thermal-formed counters also feel quite solid and durable.  Want your camper to be light weight, affordable and durable?  So does Adventurer Manufacturing.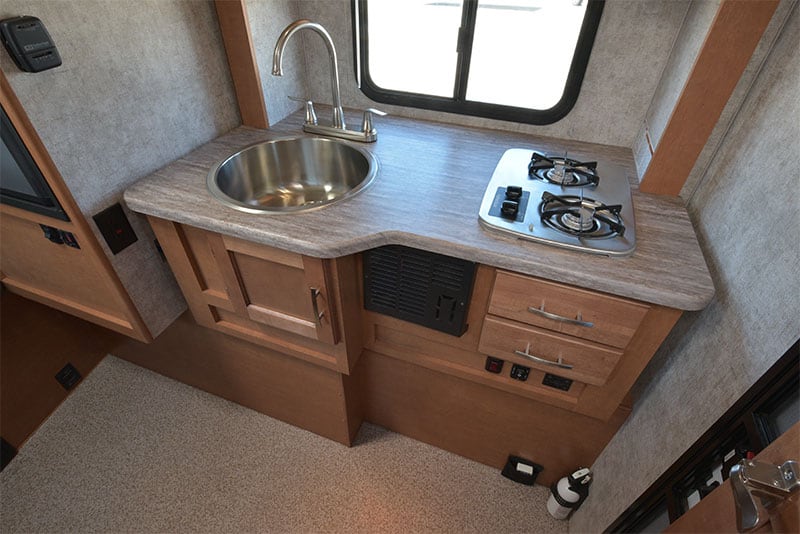 I stated earlier that the kitchen slide does not create more floor space, but that's not exactly the case.  If the kitchen cabinetry and counter space were not on a slide, the cabinetry and counters would not only be half as deep, but they would be pushing into the main entrance and living area.  That's floor space folks!
The stainless / brushed nickel single-bowl sink, tall faucet, two-burner propane cooktop and cabinetry pulls add a degree of modern sophistication to the presentation.  More importantly, there's enough counter space to prepare simple meals and wash dishes.  Just don't attempt to do both at the same time.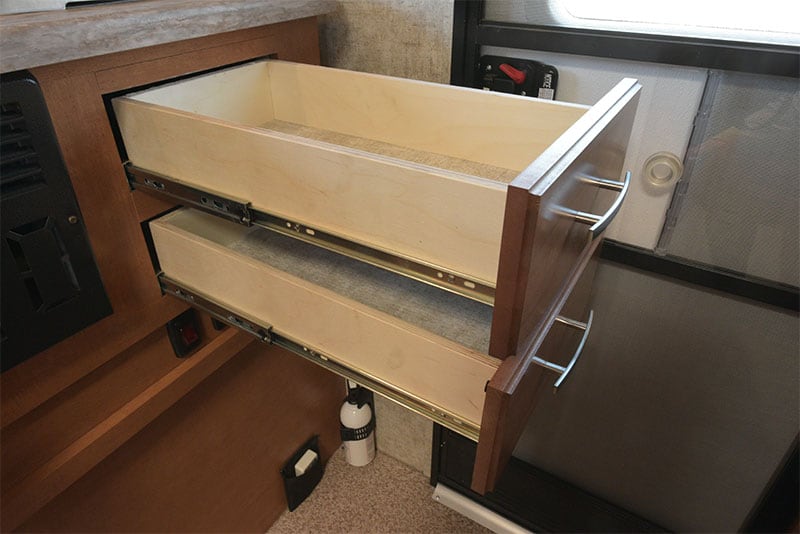 I am always pleased to discover pull-out drawers in the kitchen.  Too many campers lack this feature and leave the owner to find another location for their silverware and utensils.
It's easy to dismiss the difference that stainless steel ball bearing drawer slides have on a unit – until you don't have them.  Our project camper lacks this awesome feature and the old-school drawer guides are starting to go.  The kitchen drawers in the 80GS have the real deal; smooth, stable and built to last.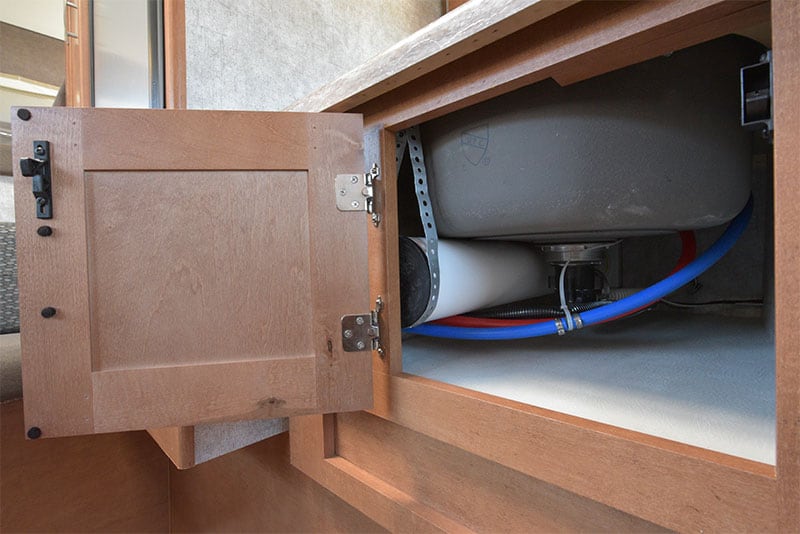 A quick peek under the sink reveals a good but not stellar level of finish.  Everything was well secured, but the metal strap holding the sewer hose tube and the plastic zip tie around the PEX plumbing appeared roughly completed.  We don't need perfection, but this could be more refined.  Of course an owner (or dealer) could address these concerns easily.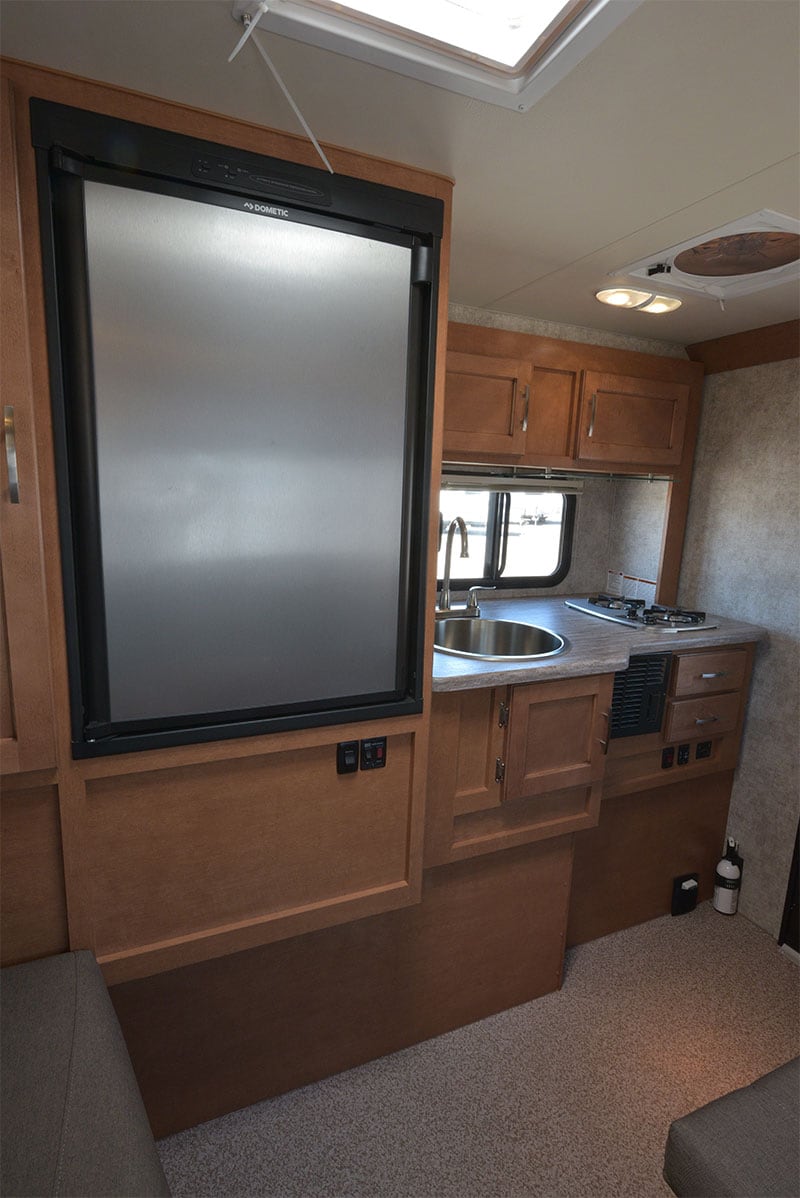 The Adventurer 80GS features a 4-cubic foot 2-way Dometic refrigerator.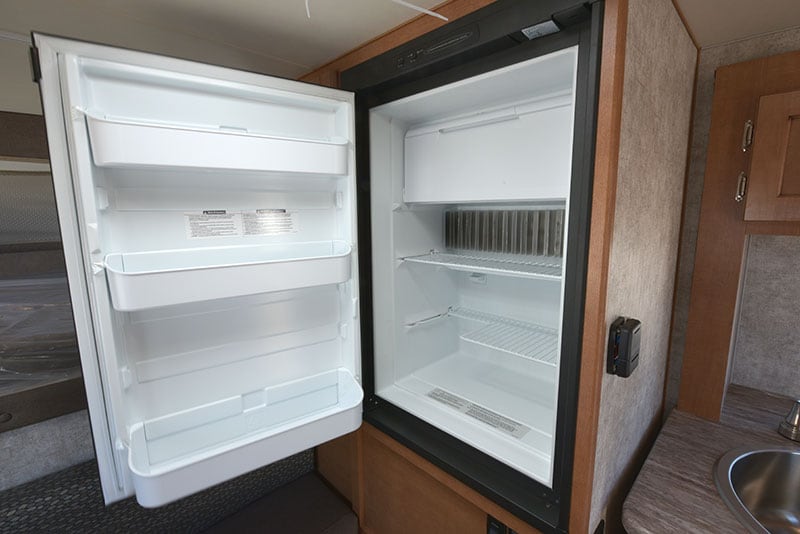 This is a good amount of refrigerator capacity for a camper this size. We often eat for a week with a 6-cubic foot refrigerator, so 4-cubic feet should hold enough food for 3 to 5 days, depending on your dietary habits.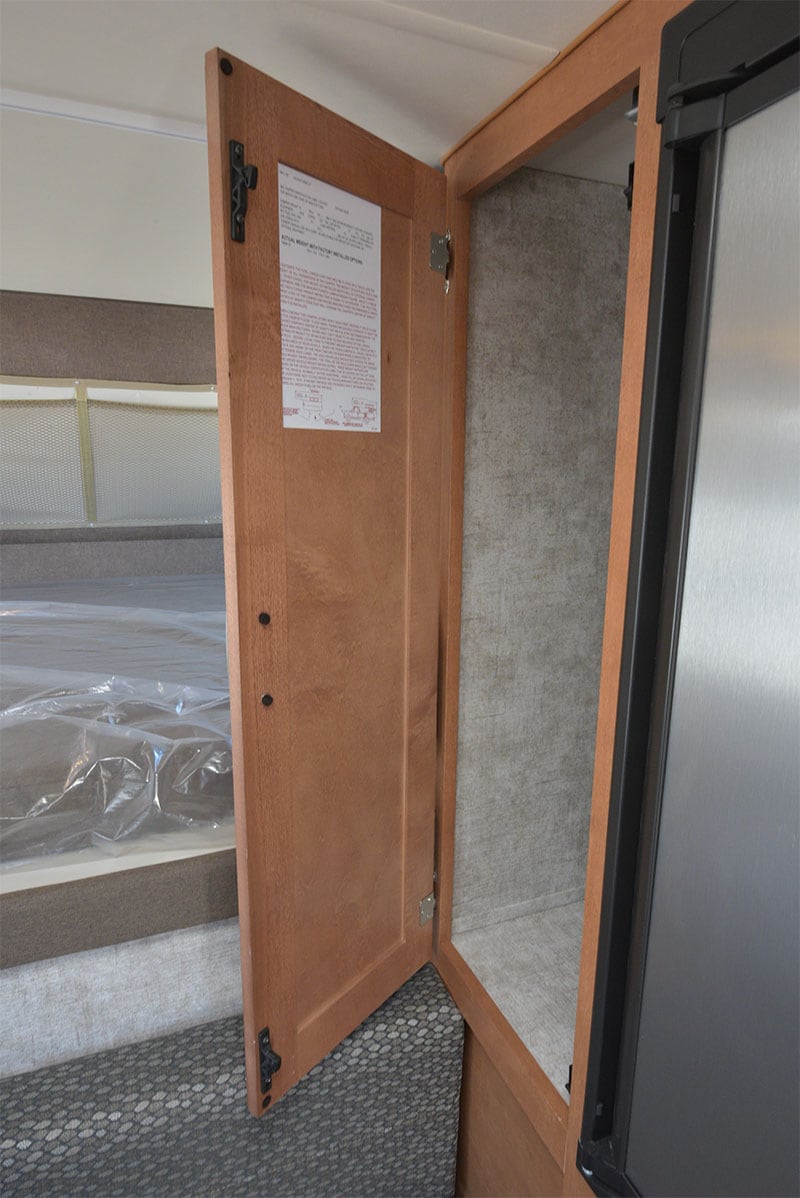 Just forward of the refrigerator is a closet with the interior weight sticker.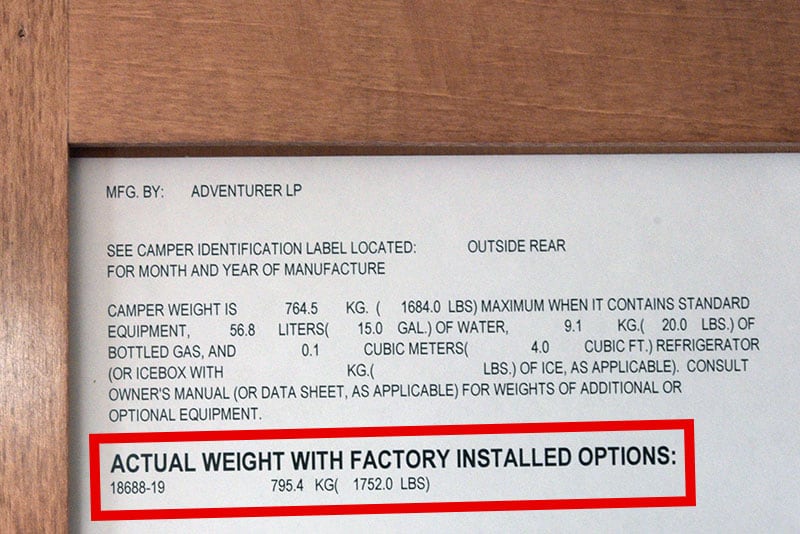 Adventurer is aces in my book for providing its customers with the most accurate dry-with-options-weight possible.  The photograph above is a close-up of the interior weight sticker of the 80GS under review.  I put a red box around what every manufacturer should have posted in their campers; ACTUAL WEIGHT WITH FACTORY INSTALLED OPTIONS.
With this weight you could calculate what this camper will weigh wet, with options, and your cargo.  That's about as up front and honest as a manufacturer can be about camper dry weight.  It's up to you to care.  Adventurer has done their part.
Under the refrigerator is the switch for the water heater and the cabover lights.  Also note the gap created by the kitchen slide-out.  Like all slide-outs, the 80GS slide creates interior living space and takes interior storage.  On balance, the interior storage is made up with the depth of the slide.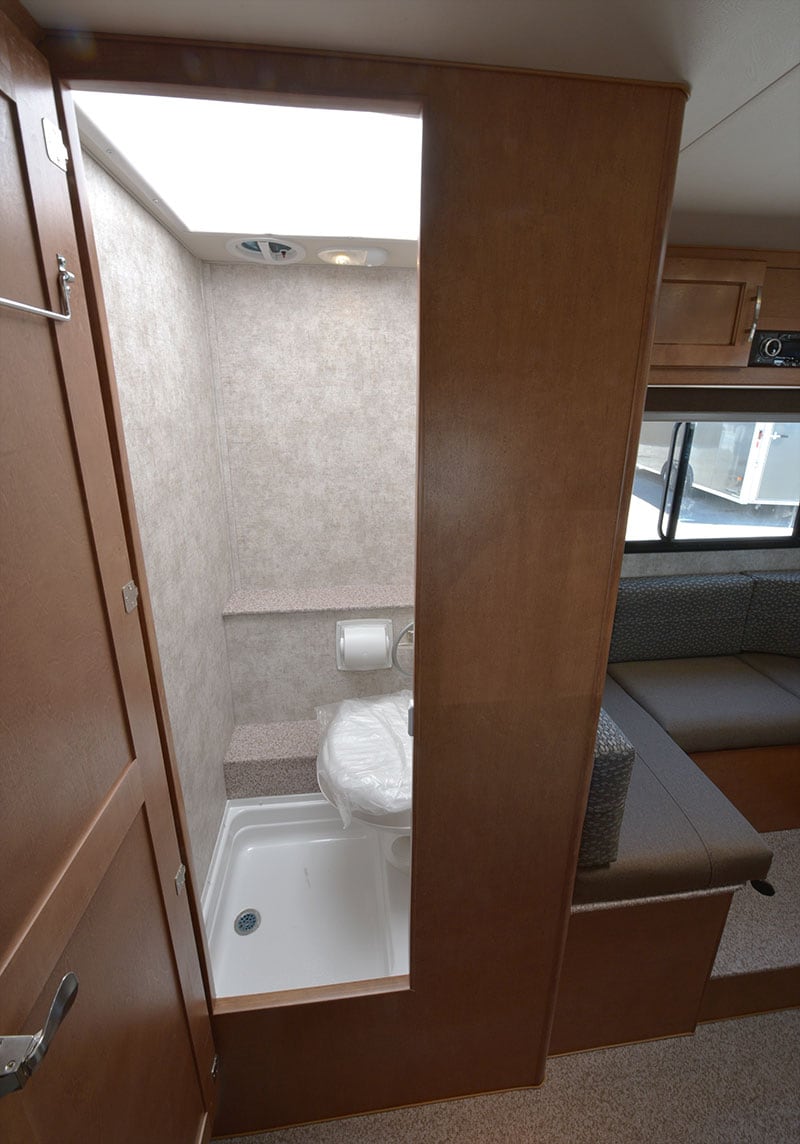 Directly across from the kitchen slide-out on the driver's side is a wet bath.  This wet bath includes a flush toilet and shower, but no sink.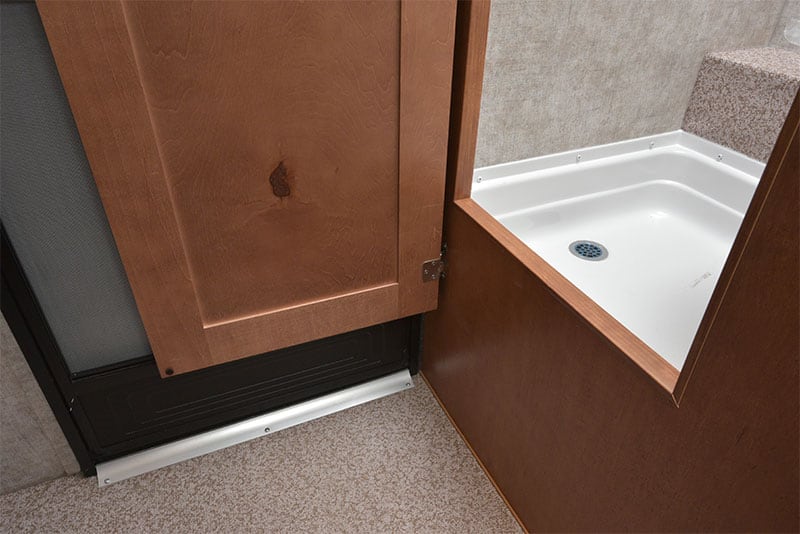 As is often the case in hard-side non-basement camper, the step up to the bathroom is quite tall.  This height likely accommodates holding tanks under the one-piece fiberglass shower pan.  Owners should get accustomed to this height quickly, but it's something to be aware of.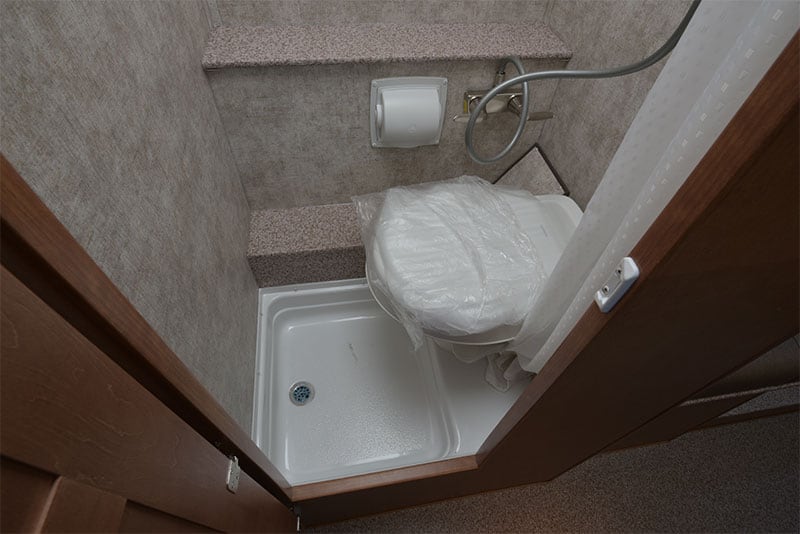 To save weight, Adventurer has eschewed a full fiberglass shower stall in favor of waterproof wallboard and the aforementioned one-piece fiberglass shower pan.
This, "right material for the job" approach is a big part of the design culture at Adventurer.  Perhaps more than any other RV manufacturer, Adventurer is agnostic about material use.  Whatever material is best for a particular application gets the nod.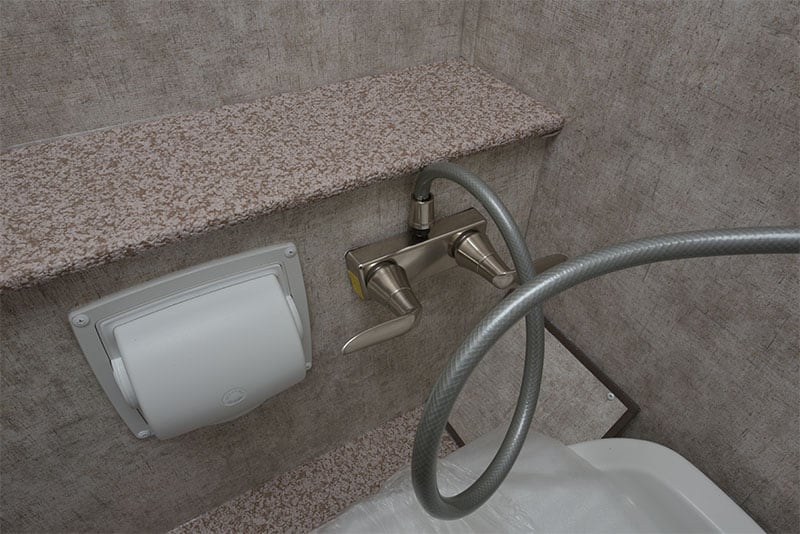 The covered toilet paper holder and brushed nickel shower controls are adjacent to the foot flush toilet.  As with any truck camper, I would strongly recommend folks sit on this toilet and check their leg space and comfort.  Then stand up and check your shower height comfort.
At 6'3" tall, sitting was a bit tight for me on the throne but, thanks to a skylight, the standing height was okay.  The bath height is helped by the 6'5" interior height of the 80GS.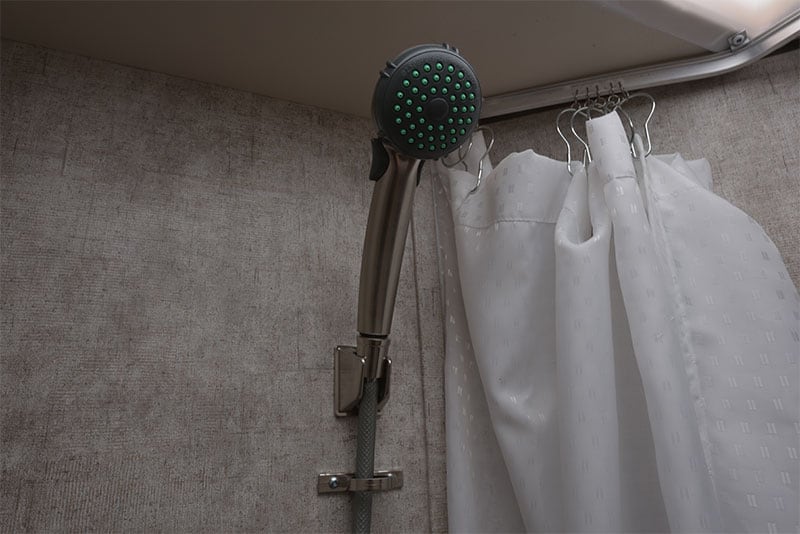 In the past I have admonished Adventurer for using premium stainless and brushed nickel components in their kitchens and white plastic components in their bathrooms.  Well, that's not a problem in the 80GS.  Even though this is a relatively entry-level unit for the Yakima, Washington manufacturer, they are using quality stainless and brushed nickel throughout the coach.  Check out the snazzy shower nozzle.  Nicely done.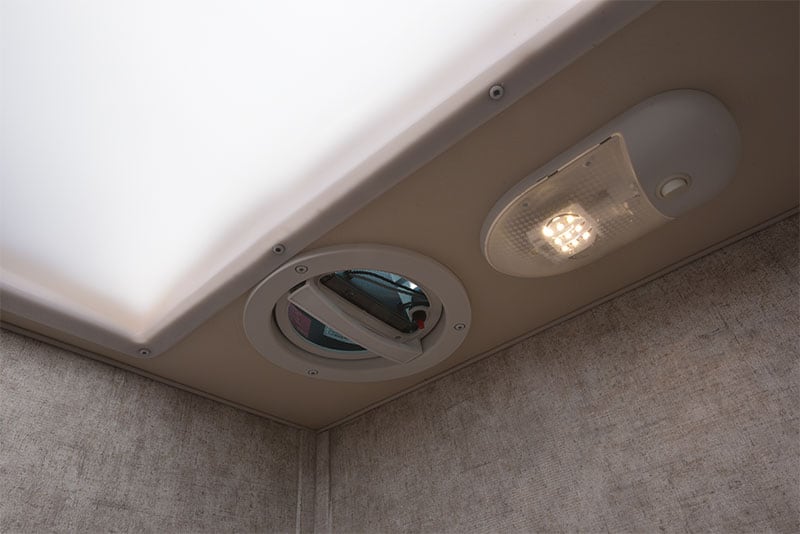 In a camper like the 80GS, every design element, material, and component must be carefully scrutinized for size and weight.  In general, the smaller and lighter the better.
The round fan in the wet bath is a good example of this effort.  Compared to a standard 12-inch ceiling fan, this round fan and vent is compact and weight efficient.  We have used these exact fans in other campers and they work well.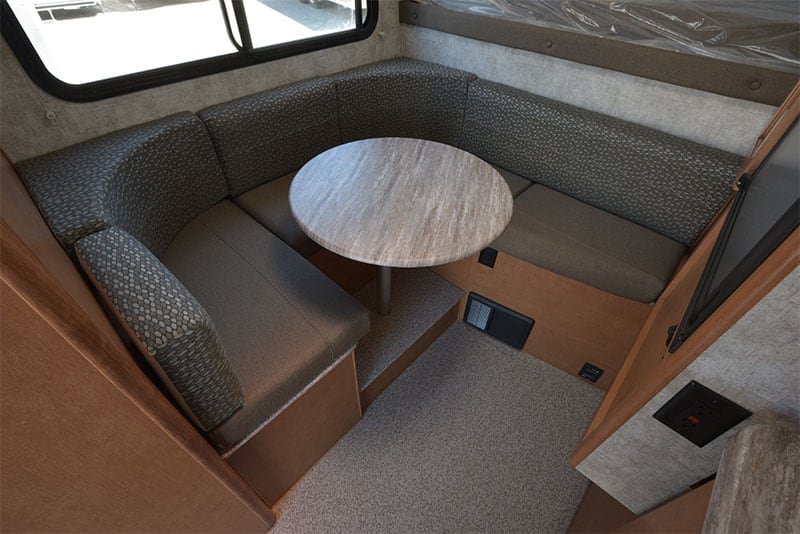 In the heart of the unit is a large U-shape dinette with a round table.  The table can be moved towards and away from the wall to create more space in the dinette or main walking area.  It's conceivable that four adults could sit at this dinette, although their table space would be limited.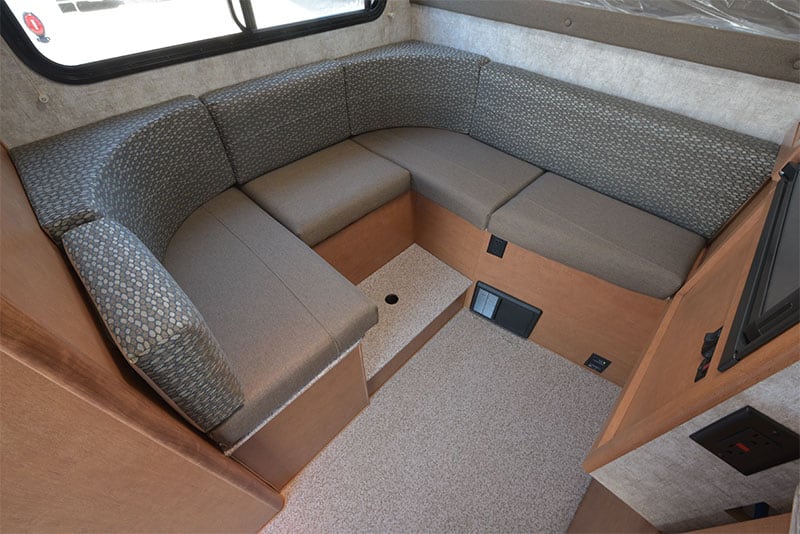 With the table removed you can see just how large this dinette sitting area presents.  This is practically a U-shape sofa.  Lounge at your leisure.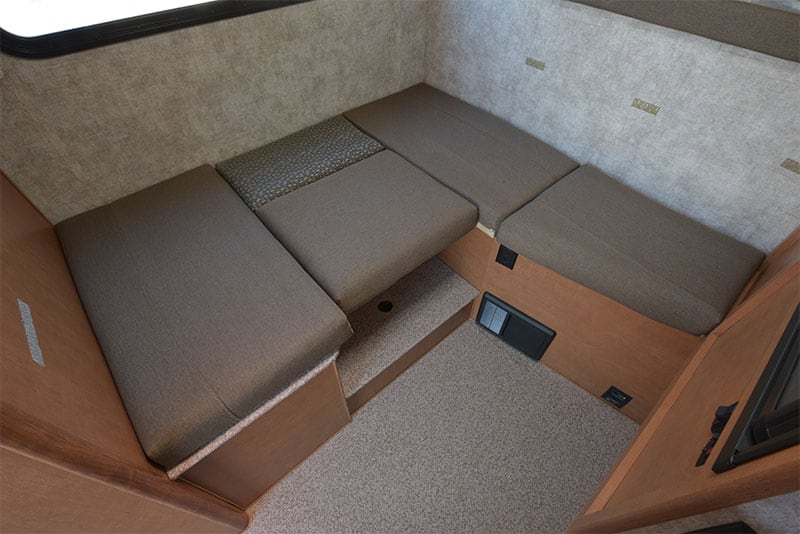 The dinette quickly makes into a 60-inch long by 30-inch wide bed.  This is perfect for kids, but is likely too short for most full-grown adults.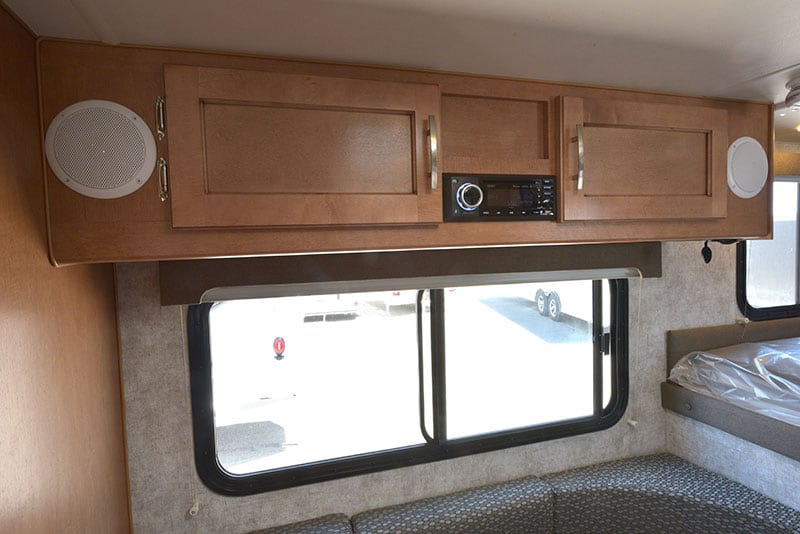 Above the dinette is a storage compartment, audio-video system and speakers.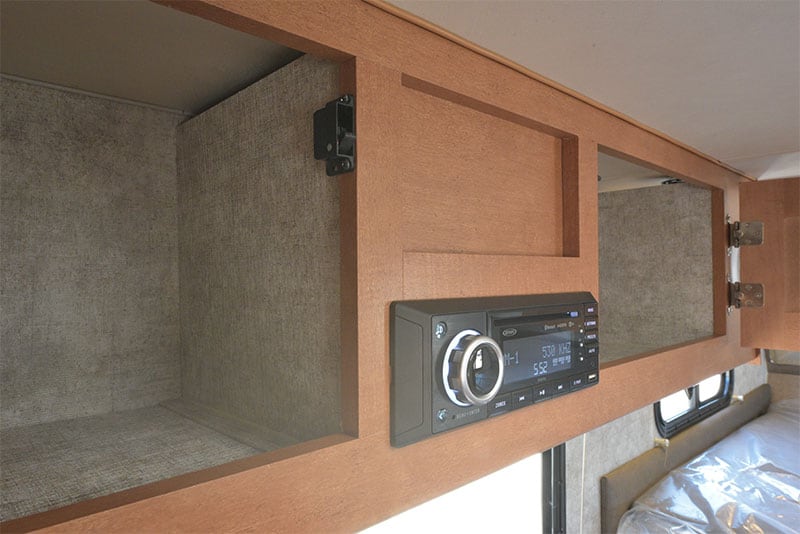 As you can see in this photo, the audio-video system and speakers take up a considerable amount of potential cabinetry storage.  I can see a time in the not-so distant future when audio-video systems are not only optional, but consist entirely of portable battery-powered Bluetooth speakers with designated camper mounts inside and out.  Why not?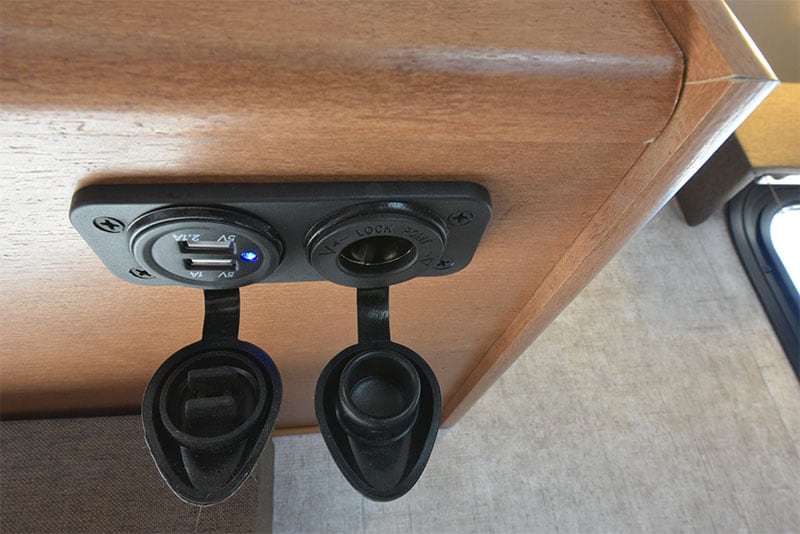 Adventurer has managed to shoehorn two 5-volt USB outlets and a 12-volt outlet under the upper cabinetry.  This is a fantastic spot for charging phones, tablets and other USB and 12-volt items in the dinette area.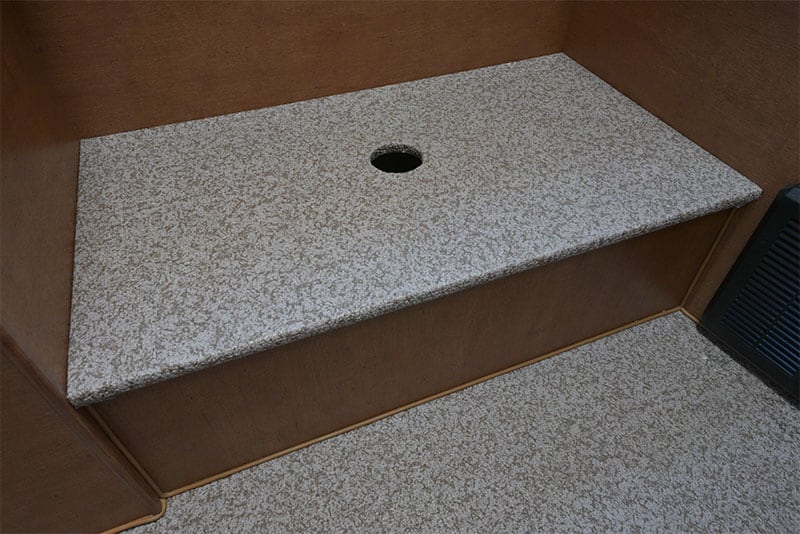 Where your feet would rest under the U-shape dinette we discovered a subfloor (removed for the photograph below) containing the table pedestal, water pump, plumbing and electrical runs.  We always celebrate when a water pump is located in an easy to access location. This most certainly qualifies.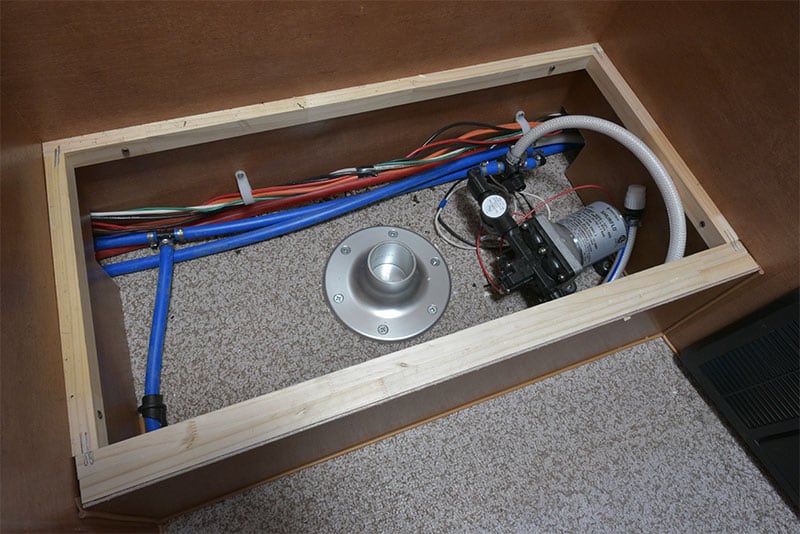 The plumbing and electrical lines are bundled and tied down.  80GS owners will want to utilize this area for storage, but care should be taken to not damage the pump or lines with moving items.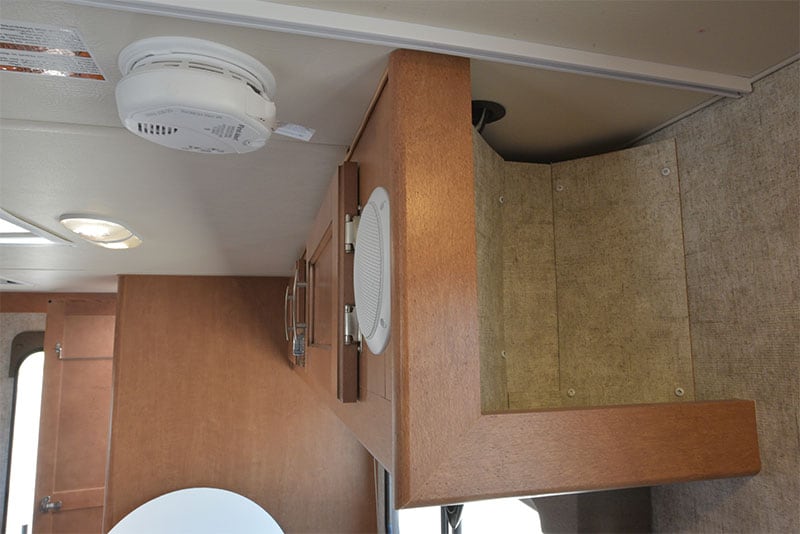 What's this?  On the cabover facing end of the upper dinette cabinetry is a clever nook.  I'm not exactly sure what this space would be used for, but it's welcome given the minimal storage otherwise available in the cabover.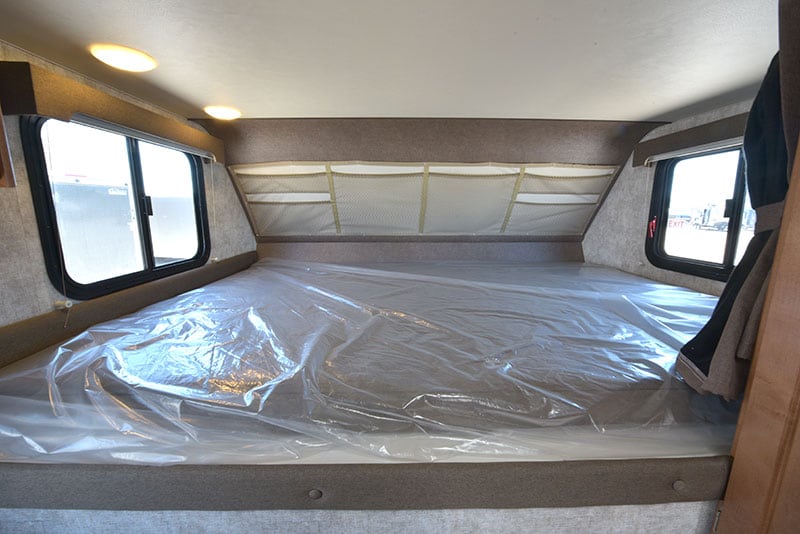 To be blunt, there's really no cabinetry storage in the 80GS cabover.  This is one more way Adventurer kept the weight of the 80GS down.  If the Adventurer team had loaded up this space with cabinetry, the resulting weight would require more truck.  It would also drive up the price.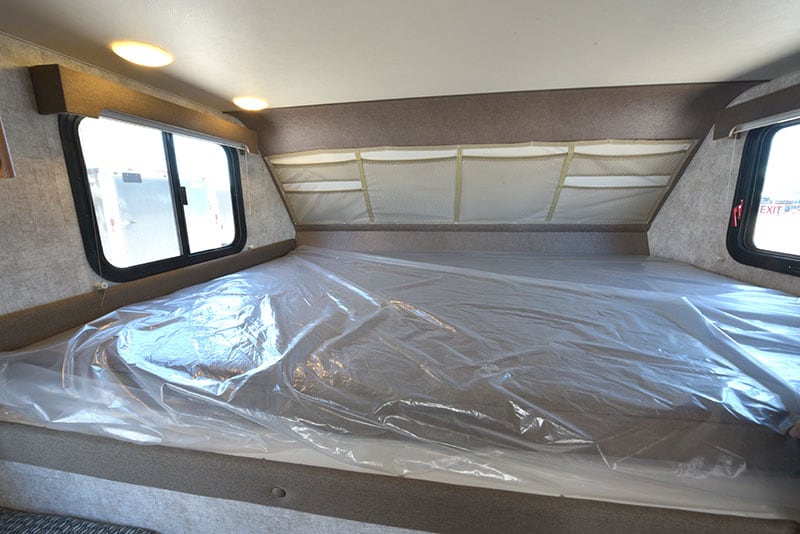 On the flip-side, the 57 by 80-inch East-West cabover in the 80GS is wide-open and spacious.  The large slider windows on both sides of the unit provide a lot of light and the opportunity for a comfortable cross-breeze.
As an East-West design, you will need to climb over your significant other and Buster the wonder mutt to get out of this cabover.  Why did Adventurer choose an East-West cabover?  Weight, weight, don't tell me.  To save weight!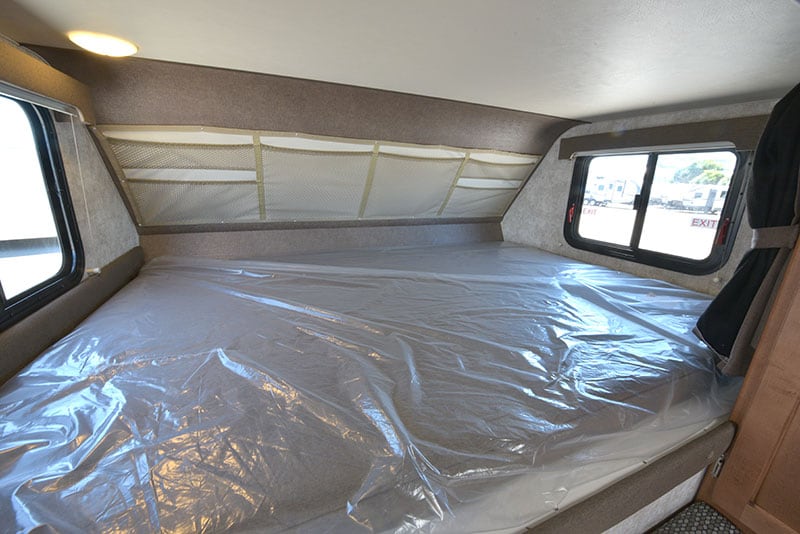 The front wall has what Adventurer calls their Camper Caddy storage pouch system.  This system could be used for a few clothing items, books, magazines, phones and tablets, and more.
In the past I have dismissed storage pouches like this, but they really are useful in day-to-day camping situations.  We are using a similar pouch system in our current camper and it's making us think wall-mounted pouches are underrated and under utilized.  We may add one or two in our project camper.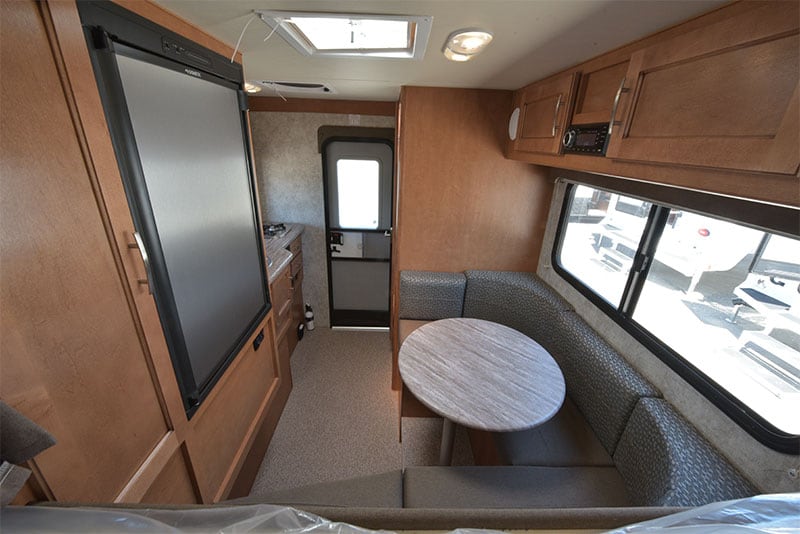 There is something really cool about waking up in a truck camper and looking from the cabover into the main living area.  I always think the same thing, "Look at all the space we have in here!"  Of course the first thing I always think in the morning is, "Where are we?", but that's besides the point.
The cabover view from the 8-foot 80GS surprised me.  This is a really attractive and open feeling unit.  Adventurer hit the mark with a smart floor plan, light color materials, and neutral fabric colors.
Specifications
| | |
| --- | --- |
| Specifications | |
| Dry Weight | 1,684 pounds |
| Wet Weight* | 2,394 pounds |
| Floor Length | 8'0″ |
| Overall Length | 13'2″ |
| Width | 84″ |
| Interior Height | 6'5″ |
| Exterior Height | 96″ |
| Center of Gravity | 39″ |
| Truck Type | Short Bed |
Adventurer Manufacturing sets the gold standard for camper weight honesty.  Not only do they weigh each and every Adventurer and Eagle Cap truck camper that leaves their factory, but they post that exact dry-with-options weight inside the unit.
As a consumer, you can take the posted dry-with-options weight right into the step-by-step instructions presented in the article, "How To Match A Truck and Camper".  From there a safe truck match is a straight forward process.  Thank you, Adventurer.
Unfortunately, you still need to ignore the exterior weight sticker on Adventurer truck campers.  The entire truck camper industry posts the lowest possible base dry weight (without options) on their exterior weight stickers.  Never go by the exterior weights posted on a truck camper.  They are almost always erroneous.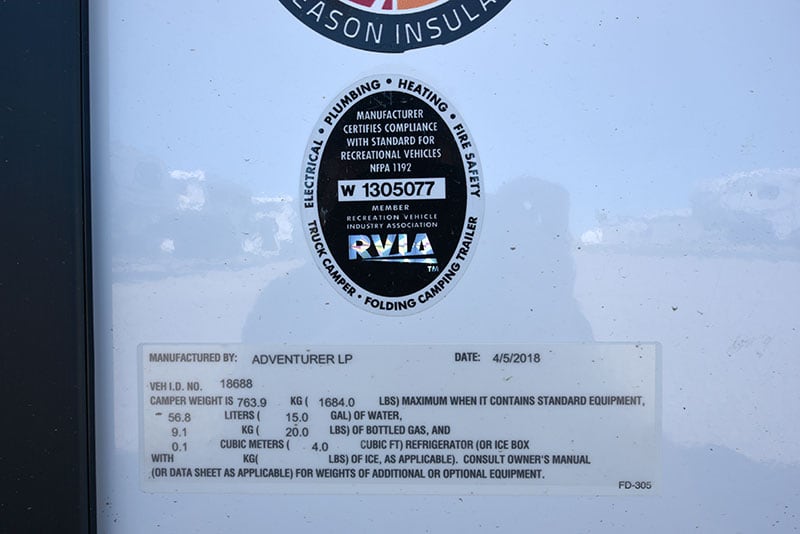 On a small value-oriented camper like the Adventurer 80GS, the discrepancy between the base dry-weight and the actual dry-with-options weight will be less than with larger and more luxury-focused models.
In this case, the 80GS exterior sticker states the dry-weight at 1,684-pounds.  The interior "ACTUAL WEIGHT WITH FACTORY INSTALLED OPTIONS" states the weight at 1,752 pounds – a difference of only 68-pounds!  That means this particular 80GS has 68-pounds of options.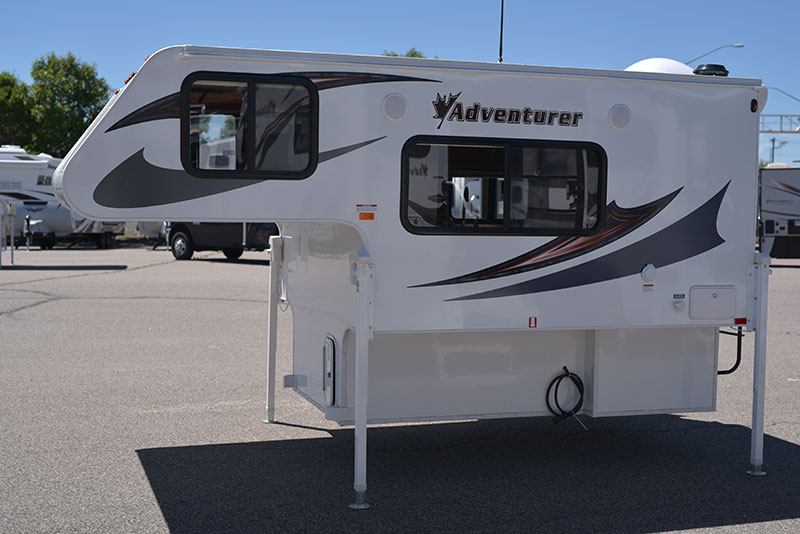 Even though it's an 8-foot floor plan, the 80GS will only fit short bed trucks; specifically 6-foot, 6.5-foot, and 6.75-foot beds.
At 84-inches wide, the 80GS is the narrowest truck camper Adventurer builds.  In contrast, the rest of their line is either 90-inches wide (80RB and 80S) or 96-inches wide (116DS, 910DB, 901SB, 89RBS, 89RB, and 86FB).  Despite this difference, the 80GS does not feel like a narrow unit in person.
Part of the reason the 80GS does not feel narrow is the 6'5" interior height.  This is actually a full 2-inches more than Adventurer's largest multi-slide model, the 116DS.  The large windows, light material colors and slide-out also help the 80GS feel spacious.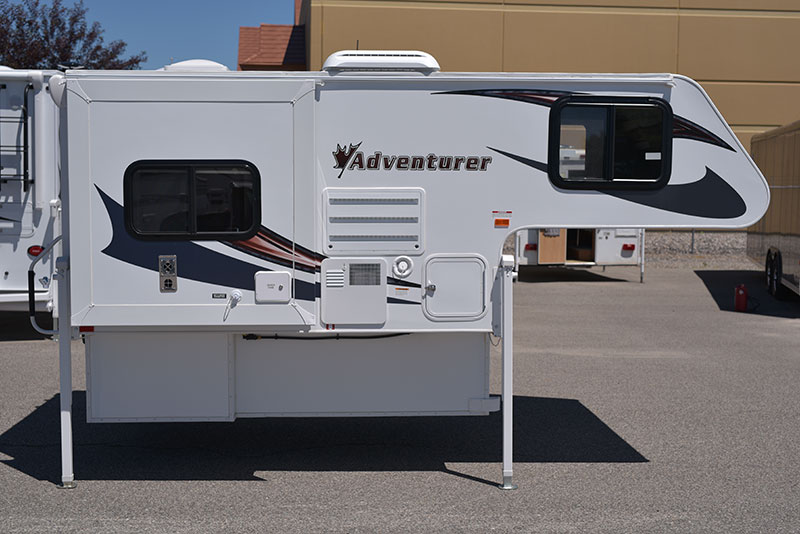 The center of gravity of the 80GS is marked at 39-inches, a position that places the center of gravity forward of the rear axle on the majority of short bed trucks.  This center of gravity should move even further forward when the 11-gallon fresh tank is filled.
Capacities
| | |
| --- | --- |
| Capacities | |
| Fresh | 11 gallons |
| Grey | 6 gallons |
| Black | 6 gallons |
| Water Heater | 4 gallons |
| Propane Tanks | 20 pounds |
| Batteries | One Battery |
The realities of trying to build a fully-self contained, lightweight, hard side truck camper require some tough choices.  Perhaps there's no better example of these hard choices in the 80GS than the relatively small tank sizes; 11-gallons fresh, 6-gallons grey and 6-gallons black.
Solo campers could stretch the 6-gallon capacity of the black tank to 4 to 6 days.  If you're camping as a couple, cut those numbers in half.  From experience, we likely need to dump a 6-gallon black tank every 2 to 3 days.
This limitation vanishes if you're predominantly a weekend camper, or prefer full hookup sites.  Weekend campers only need 2 to 3 days of tank capacity, and full-hookup campsites bypass the camper holding tanks all together.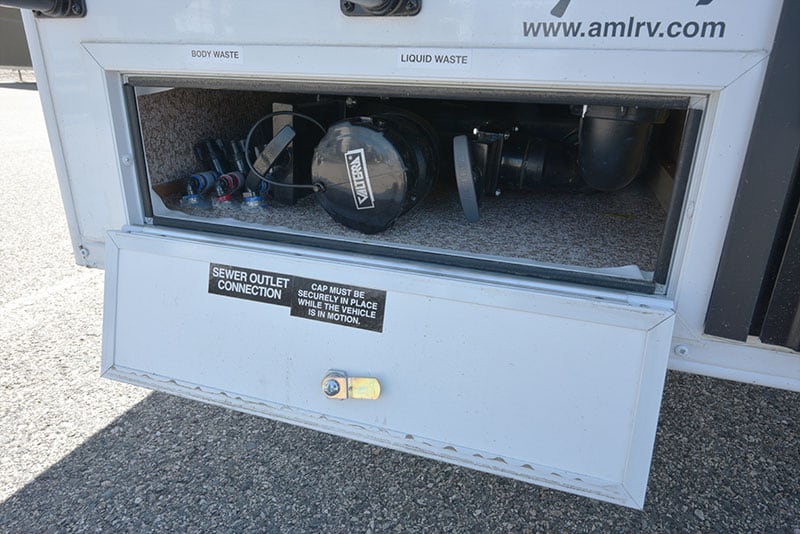 That stated, if you intend to use the 80GS for long-term, long-distance or dry camping, the small tanks could be a challenge.  In those situations, you could seek out bathrooms and bushes.
Another option is to step up the Adventurer 80S with its 20-gallon fresh, 14-gallon grey, and 14-gallon black tanks.  Of course that camper also weighs 2,056-pounds dry, necessitating more truck.  In truck campers, there are always trade-offs.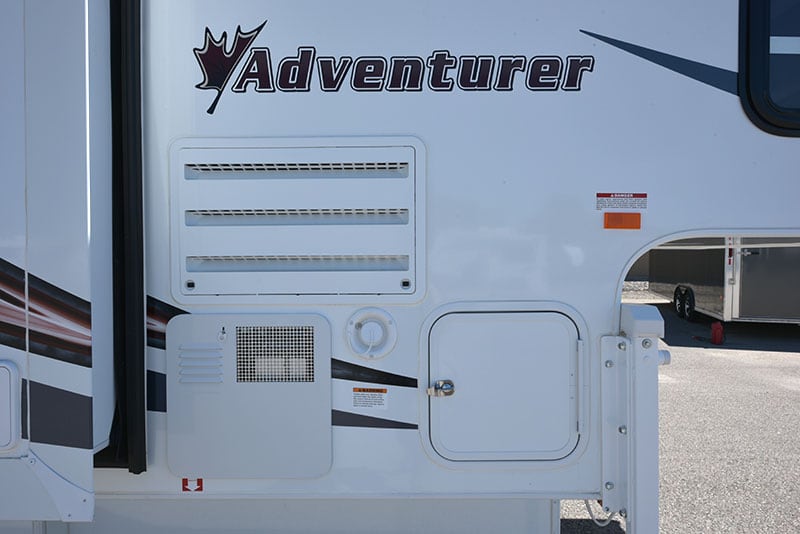 The water heater in the 80GS has a 4-gallon capacity.  We have taken short Navy showers for years with 6-gallon and 4-gallon hot water heaters and never once run out of hot water.
Again the limiting factor will be the 6-gallon grey tank.  Weekend campers and full-hookup folks are fine, but everyone else will need to ration their shower habits, or use campground showers.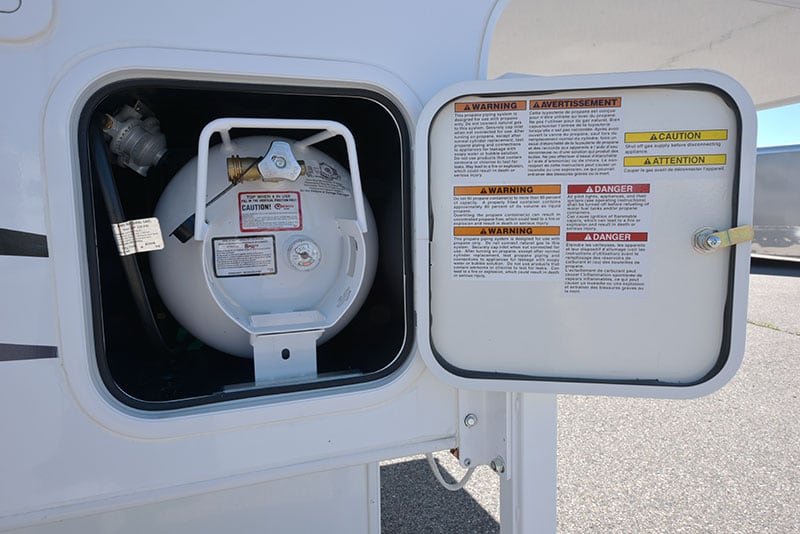 The Adventurer 80GS has one 20-pound horizontal propane tank.  While not exchangeable like 20-pound vertical tanks, this 20-pound tank easily accessed and refilled at propane stations coast-to-coast.
With only one propane tank, 80GS users will need to keep tabs on their propane use.  If this tank runs dry at 2:00am in the middle of freezing nowhere, you have a situation.  The obvious advice is to get in-tune with your propane use, and refill before you run out.  How do you do that?  Experience.
Wet Weight Calculation
We have already celebrated Adventurer Manufacturing for providing the gold standard in accurate dry-with-options weights.  Now let's get run the wet weight numbers using Truck Camper Magazine's standardized wet weight calculation.
Base Dry Weight – Special Factory Order Only
Adventurer 80GS: dry weight, 1,684 pounds + 11 gallons fresh, 91.7 pounds + 4 gallon full hot water heater, 33.4 pounds + 20-pound full propane tank, 20 pounds + battery, 65 pounds + stuff, 500 pounds = 2,394.1 pounds
Optioned As Reviewed
Adventurer 80GS: dry weight, 1,752 pounds + 11 gallons fresh, 91.7 pounds + 4 gallon full hot water heater, 33.4 pounds + 20-pound full propane tank, 20 pounds + battery, 65 pounds + stuff, 500 pounds = 2,462.1 pounds
Truck Recommendations
The Adventurer 80GS debuted in 2009 with an impressive 1,466 pound dry-weight.  Since then the 80GS has been upgraded with numerous model year updates, dealer requests, and consumer suggestions.  The result of these improvements is a camper that now weighs in at 1,684-pounds dry, a 218-pound increase.
I bring this up for one reason; the Adventurer 80GS was originally designed for half-ton trucks.  Even at its original 1,466-pound dry weight, properly matching the 80GS to a half-ton was a tough proposition.  At 1,684-pounds (without options) it's even tougher; 14.8-percent tougher to be exact.
Lucky for Adventurer, the past decade has seen some remarkable payload capacity improvements in the half-ton truck market.  Perhaps the best example of this is a 2018 Ford F150 XL 6.5-foot short bed, 4×4, Super Crew, 3.5L EcoBoost V6 with the Heavy Duty Payload Package and 18-inch wheels.  In this very specific configuration, the 2018 Ford F150 has a staggering 2,870 pounds of payload.
If you were to special order this Ford and match it to the reviewed Adventurer 80GS (2,462.1 pounds wet), you would have 407.9 pounds of excess payload.  If you have your heart set on a half-ton and the 80GS, you can put this combination together and have one heck of a sweet set-up.
Most half-ton trucks have nowhere near that level of payload capacity.  For starters, the majority of 2019 Ford F150s on dealer lots barely break into the 1,500-pound payload capacity.  To get serious payload capacity in a half-ton, you really need to custom order a half-ton with that priority in mind.
Although the 80GS was designed for half-ton trucks, some may want to match the camper to three-quarter and one-ton short bed trucks.  This would likely take care of the payload concerns, but careful measurements will be required.  A riser kit and/or forward spacer may be necessary to clear the truck cab and bed rails.
In the rare case that someone wants to match the 80GS with a dually truck, the 84-inch width will require swing-out brackets and swing-out extensions.  We recently ran into this exact situation on another truck and camper match.  Always, always, always measure before loading a camper.
The Verdict
For a camper that managed to avoid our review attention for nine-plus years, the Adventurer 80GS really impressed us.  First and foremost, we were immediately struck by the level of design refinement throughout the unit.  That makes sense given how long the 80GS has been in production.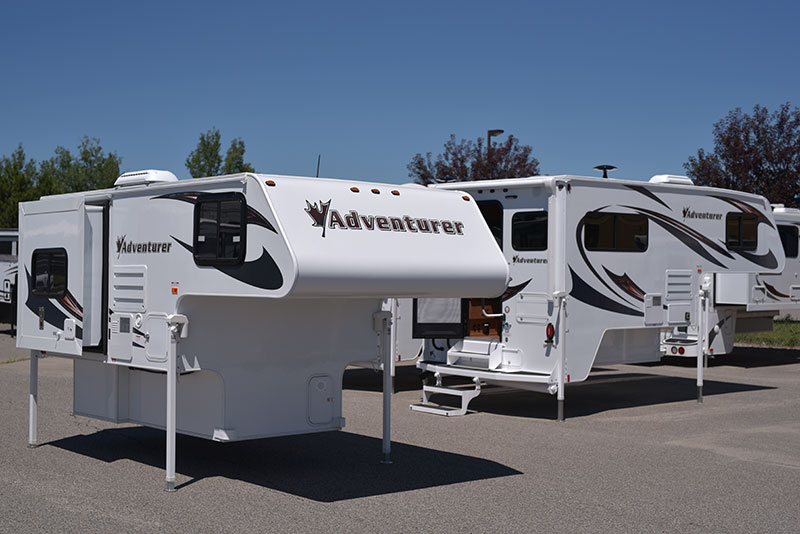 Inside the 80GS feels modern, bright and inviting.  The upper kitchen slide-out gives the unit a welcome sense of openness and turns what would have otherwise been a tight kitchen into something workable.  The U-shape dinette looks like a corner booth in a restaurant.  That is until you remove the table and the dinette area turns into a sprawling sofa lounger.
We have three main concerns about the 80GS; limited storage, limited tank capacities, and a potentially challenging truck match.  Originally designed for half-ton trucks, larger holding tanks and cabover cabinetry were off the menu.  Two duffle bags would take care of a week's worth of clothes, but not everyone wants to live out of luggage while traveling.
At 11-gallons fresh, 6-gallons grey, and 6-gallons black, the 80GS is well suited to weekend campers and those who prefer full-hookup campgrounds.  Folks looking for long-term, long-distance, or extended dry camping capabilities should really be looking for a camper with more tank capacity.  Adventurer's own 80S would be a good start.
Once again we have a half-ton targeted camper that pushes the limits of most half-tons.  The good news is that Adventurer Manufacturing provides you with an accurate dry-with-options weight.  Take that and run it through our step-by-step truck and camper matching advice and you'll be set.
What Adventurer has in the 80GS is an exceptional hard side slide-out camper for weekend get-aways and/or full-hookup camping.  If either of those describes what you're looking to do, put the 80GS on your very short list.  If you need more tank capacity or storage, check out Adventurer's 80S.
Pros
Fully self-contained slide-out camper in a lightweight package
Short bed half-ton compatible if carefully matched – see Truck Matching above
Slide-out creates significantly more kitchen counter space and storage
Large U-shape dinette is big enough for four adults to sit
5-volt USB outlets and 12-volt in dinette
Proven floor plan with nine years of upgrades and refinement
Cons
Kitchen slide only moves cabinetry and countertop
Wet bath has a tall entry step-up and lacks a sink
Dinette bed is small for adults – 60-inches by 30-inches
East-West cabover lacks storage
Limited holding tanks restrict dry camping capabilities
Plumbing and electrical fit and finish could be better
Model Information

2019 Adventurer 80GS
MSRP: $19,145 (base)
Warranty: Transferable 1-Year Bumper-To-Bumper, and 3-Year Limited Structural
Adventurer Manufacturing, ALP
3303 West Washington Avenue
Yakima, WA 98903
Phone: 509-895-7064
Request an Adventurer Brochure
Web: amlrv.com
Quality, Customer Service, and Long-Term Reliability
Truck Camper Magazine inspects all reviewed truck campers for design, material, and quality issues and reports what we find. However, since Truck Camper Magazine reviews only brand new truck campers, our reviews do not address long-term quality, customer service, or reliability.
To learn about a brand's long-term quality, customer service, and reliability, Truck Camper Magazine recommends talking directly with truck camper owners at truck camper rallies and online via truck camper forums and truck camper owners groups.
Please be sure to balance your gathered feedback across multiple sources including direct correspondence with the truck camper manufacturers and your closest truck camper dealers.
If you are new to truck campers, start in the Newbie Corner.