TCM reviews a Wolf Creek 840 hard side, non-slide, wet bath truck camper designed for a long bed or short bed truck.  It's a genuine sofa camper, kicking it non-slide style.

If you've been reading Truck Camper Magazine for almost any length of time, you know I have a soft spot for sensible hard-side, non-slide truck campers like the subject of this review.
A hard-side, non-slide camper, when designed and executed right, offers all of the versatility the hard-side truck camper concept can offer without the complexity, hassle, and potential maintenance issues of slide-outs.  Put bluntly, hard-side, non-slide truck campers get out of the way, and let you enjoy truck camping.
After several long-term experiences with slide-out truck campers, my opinion hasn't changed, not one iota.  Okay, maybe a little.  The floor space of a slide-out model is undeniably impressive.  Then again, waiting for a slide-out to slide out so I can get to the bathroom or a map makes me nuts.  I remain a hard-side, non-slide kind of guy.
Above: The Wolf Creek 840 in Garden of the Gods
In the Wolf Creek 840 we have a classic hard-side, non-slide floor plan that's been re-imagined as a modern Northwood truck camper.  For those who aren't hip to the Northwood build-style, that means aluminum framing, closed cell foam insulation, reactive hot-melt pinch-roll laminated walls and floors, and a level of quality control that rivals anything we've seen in the RV industry.
Northwood's team is already thinking, "Wow, he's giving us a great review!"  The rest of the industry is yelling at their computers, "Dang it!  He's giving them a great review!"
Well folks, not so fast.  We're about to dig deep into this Wolf Creek camper and give it a serious nose-to-bumper analysis.  Now that we have everyone's attention, let's get started.
Graphics Gone Wild
From a graphic design perspective, I think the Wolf Creek series is one of the best looking truck campers on the market.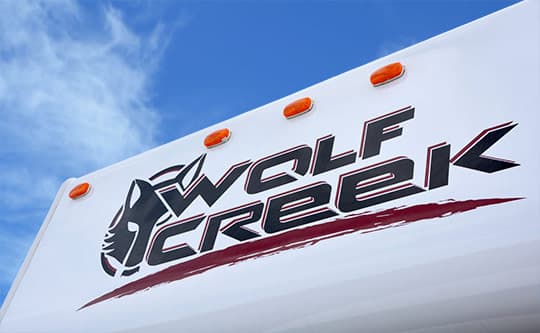 The Wolf Creek logo, revised in 2013, is really sharp and clear.  The dramatic red and grey swooshes give Wolf Creek campers an attractive and somewhat aggressive appearance.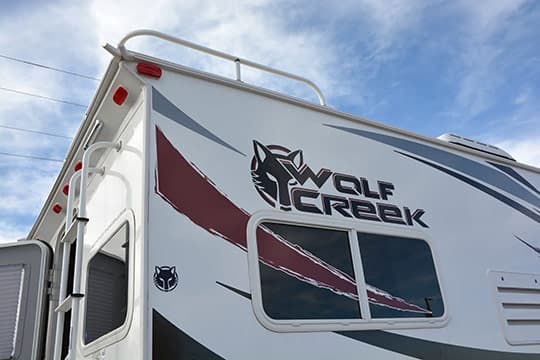 That said, I can't stand exterior graphics that spill over the windows. In the world of RVs, truck campers are relatively small.  Views and daylight from windows are an important way that truck campers avoid feeling closed-in.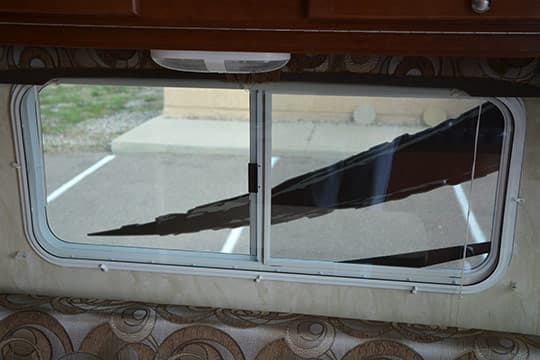 Every window, and the sense of space that window provides, is precious.  Blocking the light and view of a truck camper window with an exterior graphic is no-no.  Truck camper owners want to eat lunch and look out onto the beauty that surrounds them, not the inside of a decal.
COG Sticker Happy
Since we're already talking about stickers, allow me to talk about my favorite.  Some folks like warm sunny days in the Spring.  Others enjoy holding hands with their significant others, or listening to birds sing.  Those things are wonderful but, when it comes to truck campers, give me a posted red and white center of gravity sticker and I'm tickled pink.