TCM reviews a Wolf Creek 840 hard side, non-slide, wet bath truck camper designed for a long bed or short bed truck.  It's a genuine sofa camper, kicking it non-slide style.

If you've been reading Truck Camper Magazine for almost any length of time, you know I have a soft spot for sensible hard-side, non-slide truck campers like the subject of this review.
A hard-side, non-slide camper, when designed and executed right, offers all of the versatility the hard-side truck camper concept can offer without the complexity, hassle, and potential maintenance issues of slide-outs.  Put bluntly, hard-side, non-slide truck campers get out of the way, and let you enjoy truck camping.
After several long-term experiences with slide-out truck campers, my opinion hasn't changed, not one iota.  Okay, maybe a little.  The floor space of a slide-out model is undeniably impressive.  Then again, waiting for a slide-out to slide out so I can get to the bathroom or a map makes me nuts.  I remain a hard-side, non-slide kind of guy.
Above: The Wolf Creek 840 in Garden of the Gods
In the Wolf Creek 840 we have a classic hard-side, non-slide floor plan that's been re-imagined as a modern Northwood truck camper.  For those who aren't hip to the Northwood build-style, that means aluminum framing, closed cell foam insulation, reactive hot-melt pinch-roll laminated walls and floors, and a level of quality control that rivals anything we've seen in the RV industry.
Northwood's team is already thinking, "Wow, he's giving us a great review!"  The rest of the industry is yelling at their computers, "Dang it!  He's giving them a great review!"
Well folks, not so fast.  We're about to dig deep into this Wolf Creek camper and give it a serious nose-to-bumper analysis.  Now that we have everyone's attention, let's get started.
Graphics Gone Wild
From a graphic design perspective, I think the Wolf Creek series is one of the best looking truck campers on the market.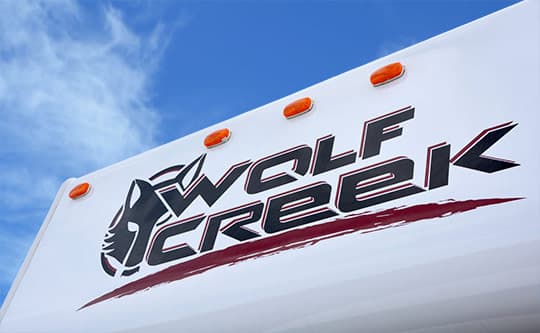 The Wolf Creek logo, revised in 2013, is really sharp and clear.  The dramatic red and grey swooshes give Wolf Creek campers an attractive and somewhat aggressive appearance.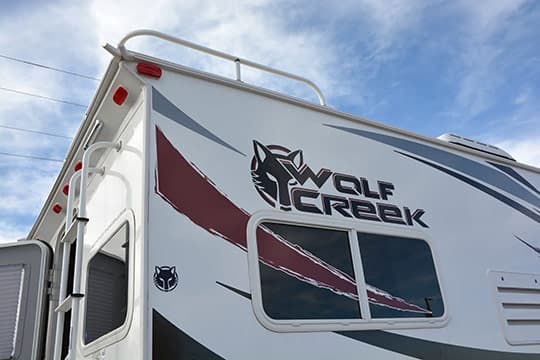 That said, I can't stand exterior graphics that spill over the windows. In the world of RVs, truck campers are relatively small.  Views and daylight from windows are an important way that truck campers avoid feeling closed-in.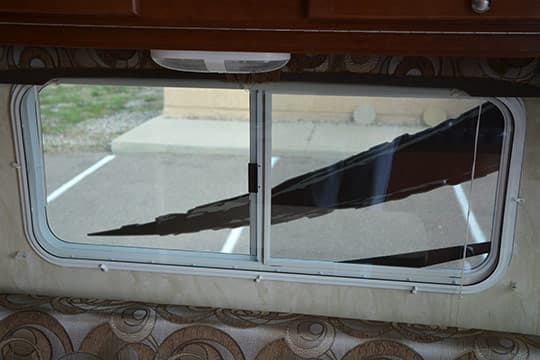 Every window, and the sense of space that window provides, is precious.  Blocking the light and view of a truck camper window with an exterior graphic is no-no.  Truck camper owners want to eat lunch and look out onto the beauty that surrounds them, not the inside of a decal.
COG Sticker Happy
Since we're already talking about stickers, allow me to talk about my favorite.  Some folks like warm sunny days in the Spring.  Others enjoy holding hands with their significant others, or listening to birds sing.  Those things are wonderful but, when it comes to truck campers, give me a posted red and white center of gravity sticker and I'm tickled pink.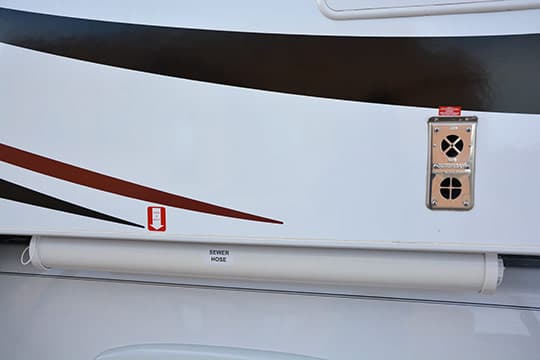 Too many companies fail to mark the center of gravity of their truck campers.  Some say it's impossible to determine a true center of gravity due to the water, option, and stuff weight added by the customers.  While that's technically true, there's no excuse for manufacturers not making an effort to mark the center of gravity on the campers they build.  At a minimum, a COG sticker is a visual indicator that center of gravity needs to be on the consumer's safety radar screen.
Thank you, Northwood, for putting a center of gravity sticker on the Wolf Creek 840.  Let your example, and my relentless harping, eventually influence the manufacturers who continue to fail this basic safety standard.
Appropriate Propane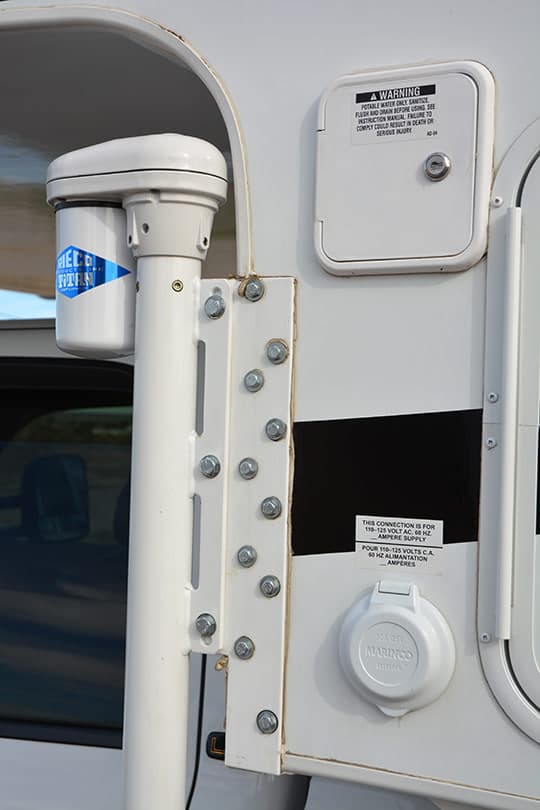 The driver's side of the Wolf Creek 840 includes the thirty-five gallon fresh water fill, detachable marine-stye shore power connection, propane compartment, battery compartment, and water heater.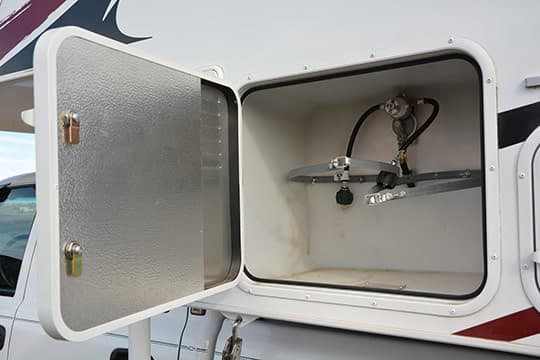 In the above photograph, you can see the metal straps that hold the Wolf Creek 840's two 20-pound, 5-gallon propane tanks (not pictured) in place.  These straps work well, but can be sharp, difficult to secure, and quite cold in the winter.  I recommend using work gloves when handling propane tanks with these straps, especially in cold temperatures.
I am pleased to see Northwood opting for two 20-pound tanks in the Wolf Creek 840.  The 30-pound tanks are very heavy, and are even more challenging to lift and load.  In the winter, when propane tanks can be extremely cold, it gets even more interesting.
Believe it or not, we actually changed the 30-gallon propane tanks in our camper to 20-pound tanks for this reason.  We also believe 20-pound tanks are more appropriate for truck camping, and offer plenty of capacity.  20 and 30-pound propane tanks are the same diameter, so any truck camper owner should be able to make this weight and back-saving switch.
Batteries Up
The driver's side exterior battery compartment is a welcome sight.  No maddening boxed interior battery compartment here.  No need to dismount the camper to get to the batteries on the front wall.  If a Wolf Creek 840 owner needs to check their batteries, or remove them for trickle charging in the winter, they're right there on the side for quick access.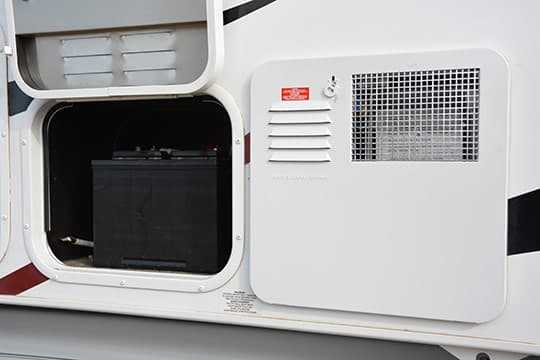 The Wolf Creek 840 battery compartment has room for two Group 27 batteries.  With almost all-LED lighting, two Group 27 batteries is plenty for a week of conservative boondocking.  If you need heat for below freezing temperatures at night, plan on conserving aggressively, or adding a 100-plus watt solar panel system and/or a generator.
With two batteries, we would not hesitate to go off-grid for a week in the Wolf Creek 840.  We would be careful to only use one or two interior LED lights at a time, and keep the heat low or off at night, depending on the weather.  We're comfortable with that lifestyle.  If you're not, go for the solar panel or a generator.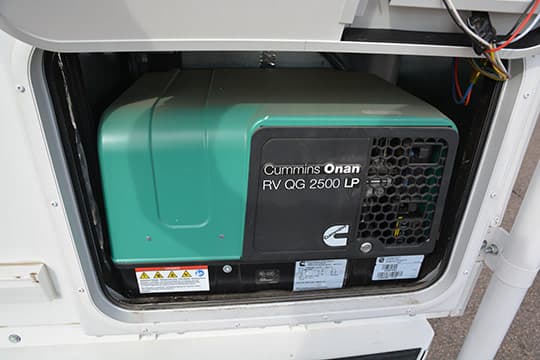 Speaking of generators, if you're the type of truck camper person who likes to drive off-grid and use your microwave or air conditioner at the push of button, then get the optional propane Cummins Onan generator.  If you don't need push-button convenience, I recommend a portable gas Honda EU2000i generator, or its equivalent.
With two batteries and all-LED lighting in nearly every modern truck camper now, we have been generator-free for three or four years.  Empty generator compartments are awesome for exterior storage.
Sewer Hose Happy
The passenger's side of the Wolf Creek 840 features the refrigerator vent, heater vent, aforementioned stunningly attractive center of gravity sticker (sigh), and a sewer hose tube.  Other than the sewer hose tube, everything on the exterior that you need to access is on the rear or driver's side.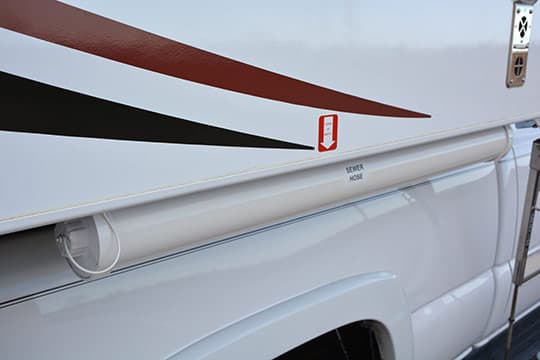 Dear Northwood; please move the sewer hose tube to the rear under skirt where it will be closer to the dump valves and won't potentially drip on our trucks.  While dumping an RV sewer is a routine and simple activity for any RV with a black tank, it's not something that needs to be made more complicated than necessary.  I would also look into something other than a sewer hose tube as the caps for these tubes can be difficult to thread.  Dumping and difficult do not mix well.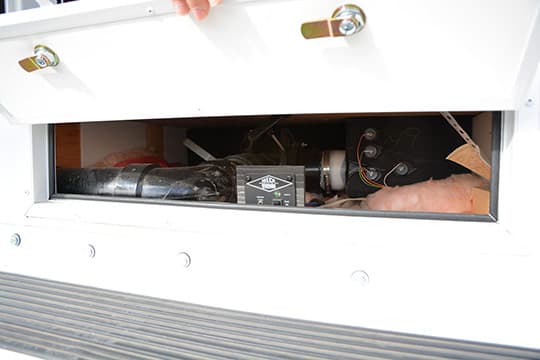 The dump valves on the Wolf Creek 840 are located inside a compartment under the rear entry door, along with the activator switch for the Rieco-Titan jack system.  The black and grey tank dump valve pulls are actually black and grey in color, a nice touch.  Did we tell you about the time one company forgot to close the black dump valve before loaning us a camper for a week?  That was fun.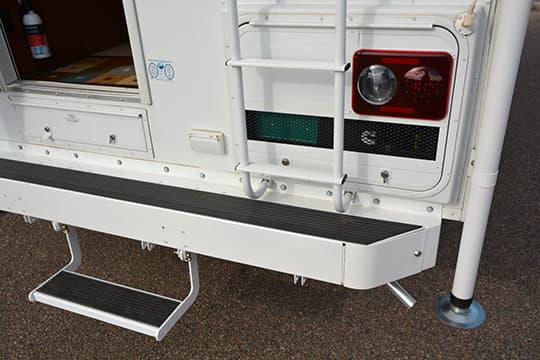 The standard Wolf Creek 840 bumper is a simple affair and should be familiar to anyone who's looked at truck camper bumpers over the past decade or two.  There are provisions to mount the swing-down entry step to either side for towing applications.  There's also a built-in sewer hose compartment…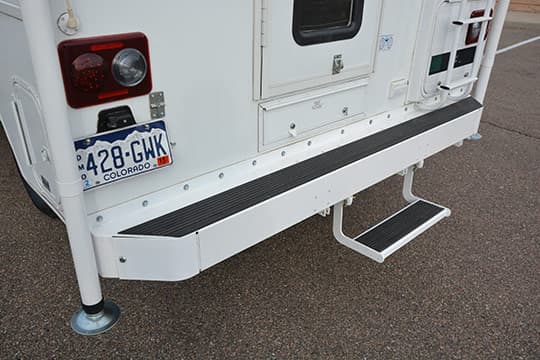 Wait a minute!  Didn't we just talk about a sewer hose tube on the passenger's side?  Yes we did.  Why two sewer hose compartments?  I don't know.  Maybe Northwood wants you to have two sewer hoses, just in case you need to dump in stereo.  Then again, the tube on the passenger's side is actually labeled "sewer hose".  Perhaps this rear bumper compartment is really for fishing rods, or miniature vaulting poles for the height-challenged Olympic hopefuls among us.  Beats me, but we certainly dig the bonus storage.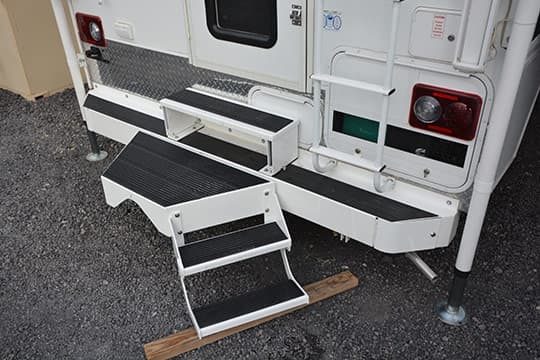 Above: Northwood's Fox Landing bumper system shown on a 2015 Arctic Fox 990
Getting back to the bumper, you can also opt for Northwood's popular Fox Landing; a fold-up, turn-out, mini-porch, side-stepping bumper system that is the envy of many truck camper owners.  The Fox Landing is especially well suited for towing with Torklift International's SuperHitch towing system.
Roof Top Nudity
The roof of the Wolf Creek 840 I reviewed was almost naked.  There were just two hatch openings, two system vents, one refrigerator vent, a peak-a-boo bathroom skylight (keep reading), and a rear rack system.
It's likely that many folks will add an optional air conditioner, but that still leaves lots of real estate for solar panels.  You really don't need more than one 100-watt panel if you have all-LED lighting and use power conservatively, but it's great to have the space for more panels.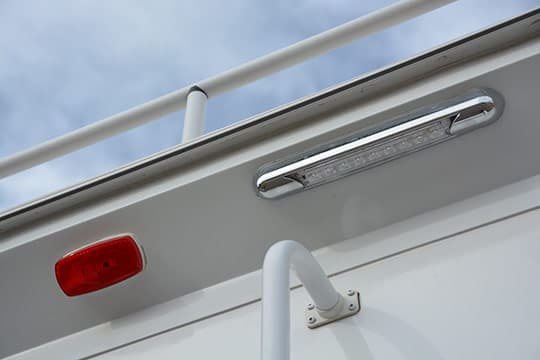 Just under the roof on the Wolf Creek rear is another nice touch; a new exterior LED light bar.  LED lights are now brighter and whiter than the incandescents they replace making them perfect for improving outside night time visibility.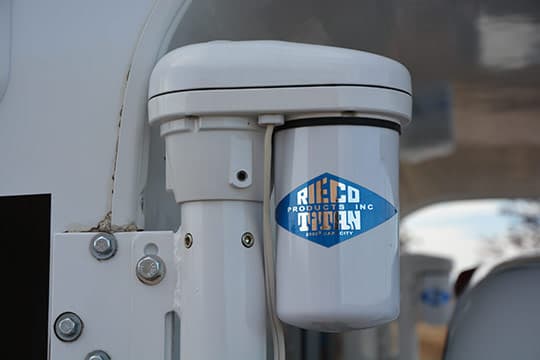 The Wolf Creek 840 we reviewed had a set of electric remote control Rieco-Titan jacks, the same jacks used on Arctic Fox truck campers.
Our Standard Weight Sticker Warning
Never pay any attention to the weight sticker on the back of a truck camper.  I don't care what manufacturer we're talking about, or what the dealer told you; it's wrong.  Nearly anyone who's taken a truck camper to a CAT scale can attest to this fact.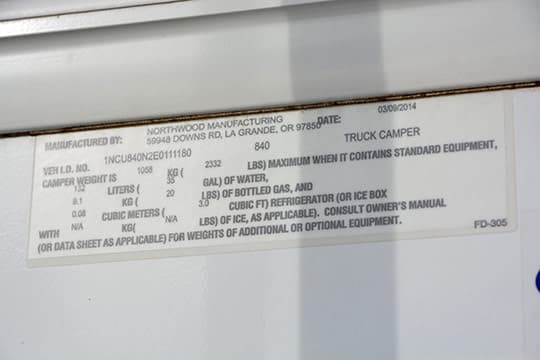 Let's take the sticker on the 2015 Wolf Creek above.  It says 2,332 pounds.  That actually sounds pretty close to where this camper should be, but this weight likely doesn't include a single option.  This is important because options can add hundreds of pounds to a truck camper.  More critically, some companies define options differently than others.
Don't assume anything.  Before purchasing a camper, have the dealer weigh the camper on a portable racing scale system, like an Intercomp E-Z 500, or take the camper to a local CAT scale and weigh it yourself.  Any dealer worth their weight in sea salt should welcome your desire to weigh the camper and match it safely to your truck.
Matching the Wolf Creek 840
Matching the 840 to a truck is a matter of preference, and planning.   First, the camper is designed for long bed and short bed trucks.  That's your first choice; long bed or short?
If you want to match the Wolf Creek 840 to a short bed, my strongest recommendation is to go with a one-ton truck.  Fully wet and loaded, this camper will weigh 3,000 minimum.  Here is the TCM Buyers Guide wet weight calculation, based on Northwood's supplied base dry weight:
Wolf Creek 840: dry weight, 1,992 pounds + 35 gallons fresh, 291.9 pounds + 6 gallon full hot water heater, 50 pounds + 2x 20-pound full propane tanks, 40 pounds + 2 batteries, 130 pounds + stuff, 500 pounds = 3,003.9 pounds
Fully optioned, wet, and fully-loaded with your stuff, it's quite possible that this camper will be 3,500 pounds, or more.  That's square into one-ton short bed territory, especially if you go with four-wheel drive, and a diesel engine.
Option two is go match the 840 with a long bed truck.  Once again, I recommend a one-ton truck.  You could even go for a dually giving yourself the option to upgrade to an Arctic Fox 990 slide-out model in a few years.  Either way, a late model one-ton means you can almost forget matching, and just go truck camping.
Even if you're going for a one-ton, I always recommend running the numbers.  You are, after all, making your own RV.  Do it right.  Then go have fun with the peace of mind of knowing you have a safely matched truck and camper.
Space… the Truck Camper Interior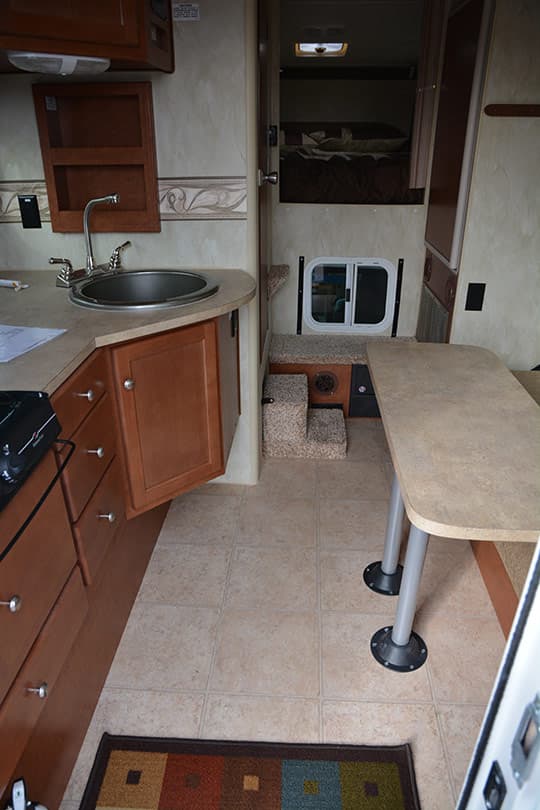 While it will never be mistaken for a slide-out model, the interior of the Wolf Creek 840 offers ample walk around space.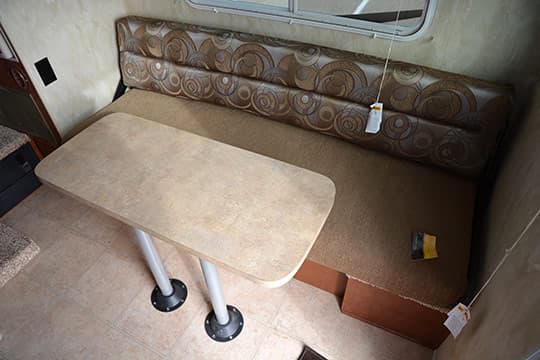 When not in use, the table in front of the sofa can be dismantled with the legs and table top being placed on the bed.  That would really open up the main area of the camper interior.  Where did we put that bowling set from Louisville 2012?
I would like to see a window on the driver's side rear wall to complete the panorama of rear and side windows in the back.  The Arctic Fox 865 has exactly this arrangement, and the resulting view is wonderful.  By the way, do you want to know what our favorite Northwood truck camper is?  It's the off-menu, tell them Gordon sent you, Arctic Fox 865.
The Non-Slide Sofa Camper
Northwood's Wolf Creek sofa has a trick up its sleeve; it's a sofa-bed.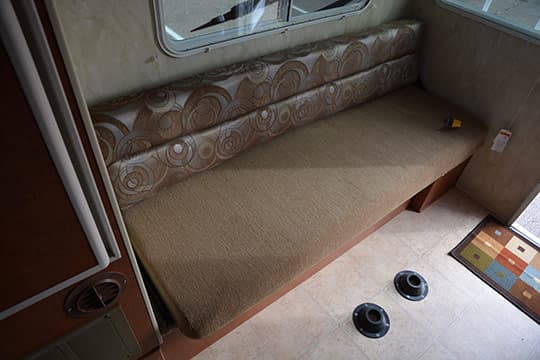 In seconds, the sofa "rolls-over" to become a bed.  It's so easy a magazine publisher can do it, with one hand, while trying to take pictures.  Trust me, I know.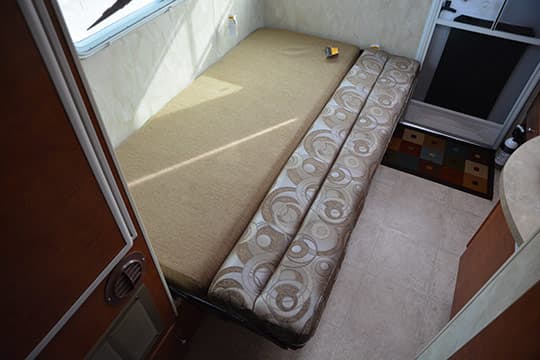 The sofa-bed cushions are a bit firm, but not quite the brick-under-your-buns firm that the Arctic Fox dinette cushions are.  I still prefer a face-to-face dinette for eating, working, and staring into my wife's eyes (sorry), but it sure would be nice to have this sofa once all the dining, writing, and wife gazing is over.
Perhaps it's time to reconsider the non-slide approach to a sofa-camper.  With the removable table in-front, you get a stable place to eat and work.  Maybe you can't sit as many people with this sofa-table approach versus a face-to-face dinette, but you get the sofa bonus.  Best of all, you get a sofa-camper without the potential headaches, structural compromises, weight, and cost of a multi-slide.
Just imagine a nice HDTV under the facing kitchen cabinetry, and we're talking living room sofa and HDTV comfort, to go, in a non-slide truck camper.  Impossible?  2015 mod contest contestants, make it so!
A Place To Store Towels, Food, or Small Children
Above the sofa-bed is another classic throw-back; a pull-down bunk and storage cabinet.
I attempted to set up the bunk by pulling down the cabinet face into horizontal position and placing the included cushions to make a bed.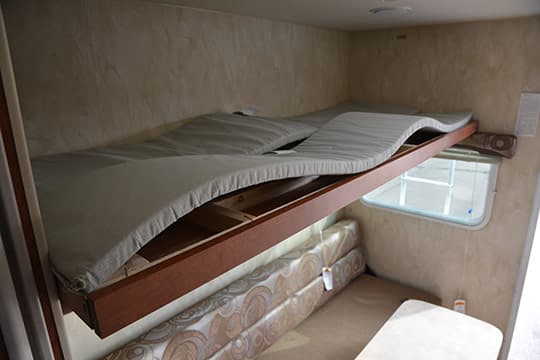 It was likely user-error, but I could not get the cushions to sit right.  This was evidently not easy enough for a magazine publisher to do.  I also didn't see the slat-covers that made the base of the bed, but I did spot them after the photo shoot.  This design probably works better once the cushions are flattened out, and the slats are in properly.
If this feature is important to you, I would spend some time setting it up and trying it out with the intended youngsters.  I also would not put anyone over fifty pounds up there, or anyone who tends to roll around a lot when they sleep.
Angela and I would leave the cushions at home and just use this as a storage area.  It's not very deep, but it's plenty of space for storing towels, bedding, food, and kitchen supplies.
A Big Counter Offer
The kitchen in the 2015 Wolf Creek 840 offers ample counter space for meal preparation and a large round sink.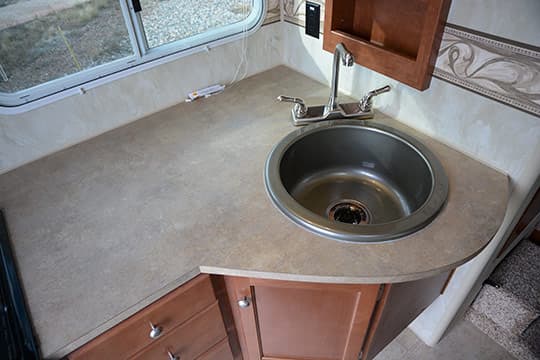 Together with the tall stainless steel faucet, the round sink will make quick work of dish, pot, and pan washing.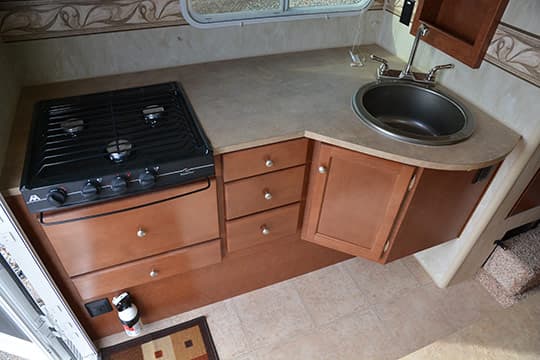 Some folks might prefer a two basin rectangular sink, but a single basin round sink offers more room for pots and pans, and takes up less counter space.  For a camper like the 840, a round sink makes sense.
Overall, the kitchen in the Wolf Creek 840 has an impressive quantity of storage options including five drawers with metal roller bearing guides, three large cabinets, and a two-shelf spice rack.
If you opt for the optional oven, you lose the big pull-out drawer.  I'm actually quite impressed that Northwood made the traditional oven optional and created this big pull-out drawer standard.  I bet most folks would actually prefer this storage drawer to an oven.  Then again, Angela likes to bake brownies and her famous "Everglades" lasagna on the road, so we would go for the oven.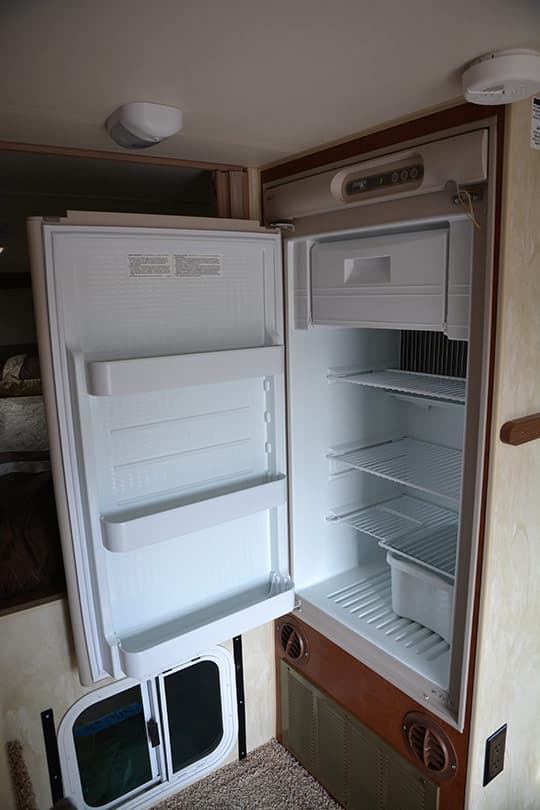 Across from the sink area on the driver's side, the optional five cubic foot refrigerator is somewhere between a small dorm-room sized refrigerator seen in smaller campers, and the six and seven cubic foot refrigerators found in larger campers.
We had a camper with a refrigerator this size for a year, and were pleasantly surprised at how little it changed our food storage habits.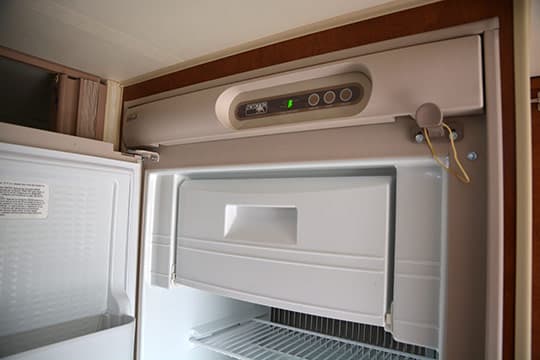 The freezer was a big limitation, but it worked for the limited amount of frozen food we normally travel with.
Take a long look at the above photos and think about how much food you bring.  Do we prefer a six cubic foot refrigerator?  Yes, but a five cubic foot refrigerator worked just fine and represents a smart balance of size and weight for a camper like the 840.
Systems Monitor Keeps It Together
Located mid-ship in the kitchen area, the Northwood systems monitor is a huge improvement over the science project assembly of panels, controls, and switches some manufacturers install into their campers.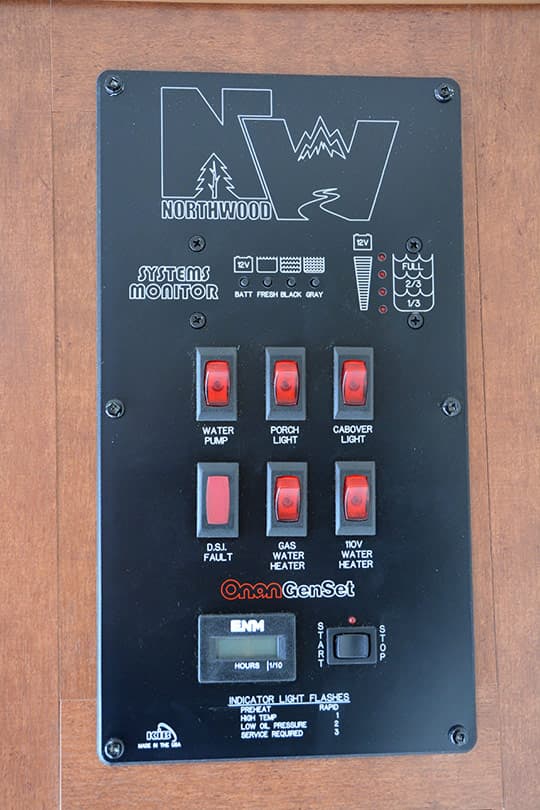 In one place you can check the battery and tank levels, and control the water pump, porch light, cabover lights, gas water heater, electric water heater, and optional Onan generator.
At first blush, the Northwood systems monitor is lot of functionality to absorb in a small area, but an owner should quickly get used to this neat and convenient presentation.  The systems monitor is a first-class solution that keeps everything together as simply as possible.  I'm also smitten that they put the systems monitor into the Wolf Creek line, and not just the Arctic Fox line.  Excellent work, Northwood.
Peek-A-Boo Steps
One interesting and funky design twist on the 2015 Wolf Creek 840 are the disappearing "peek-a-boo" steps for the wet bath.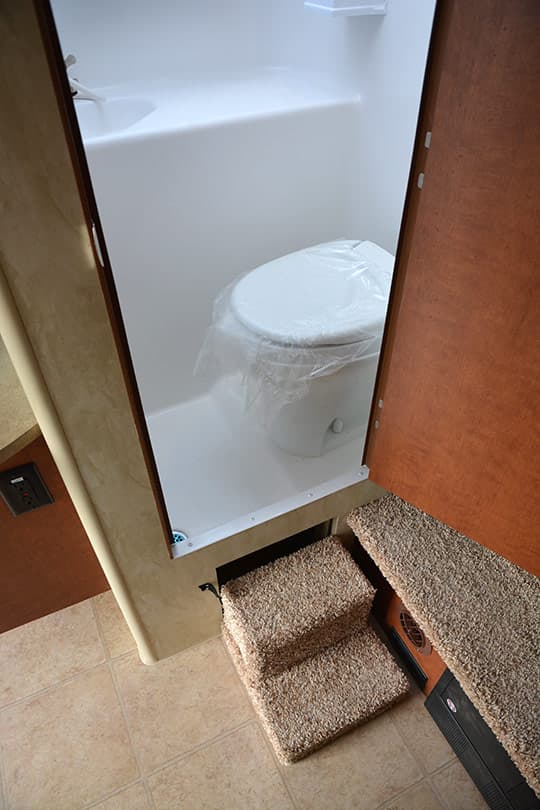 Just under the bathroom door is a two-step set of stairs that you lower into the floor, or push up under the bathroom and latch.  I actually said, "That's neat" out loud when I discovered these steps, even though I was the only one there.
Northwood's peek-a-boo steps, as I call them, serve an important function as the step-up to the wet bath would otherwise be a quite high.  With the steps down, the climb into the wet bath is much easier, but the steps are not residential height and may take some getting used to.
The Wet Bath and the Three Bears
The wet bath is another winner from Northwood; an honest to goodness one-piece fiberglass stall with built-in sink, counter space, shower, mirrored medicine cabinet, LED light, towel rack, and shielded toilet paper holder.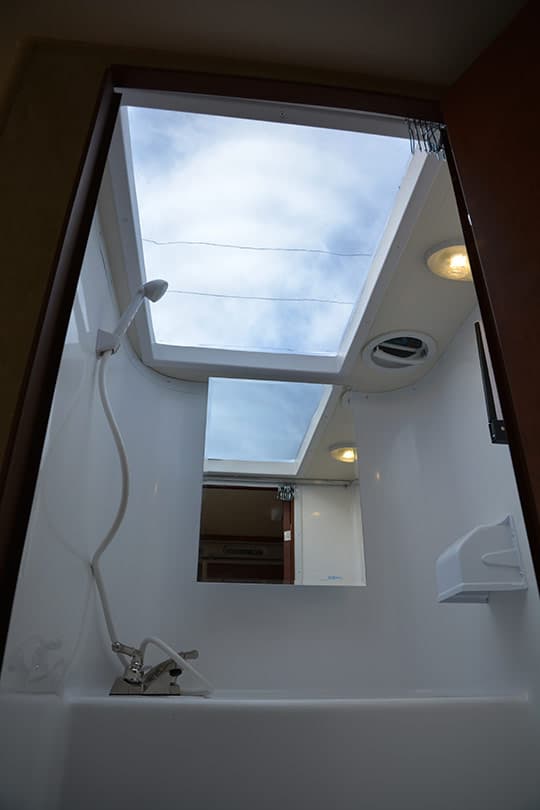 Standing 6'3", I was particularly smitten with the skylight that allowed me to stand tall in the bathroom.  Even better, I could see onto the roof and surrounding area.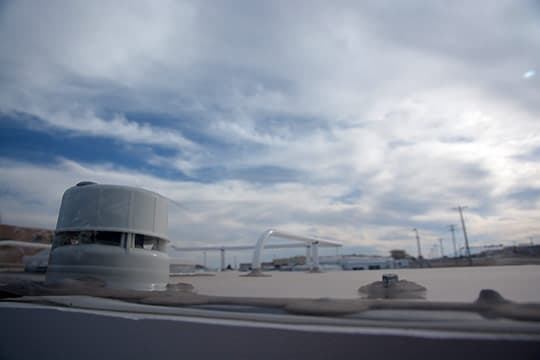 Above: This photo hints at the outside view tall folks enjoy from the bathroom skylight
For years I have been pleading with the industry to make me a truck camper periscope.  The reason is simple; sometimes one needs to see what's going on outside their camper.  Too many campers, including the 840, have limited visibility in one or more directions (especially out front).
When some knucklehead is making noise outside at Walmart at 2:00am, I would like to be able to see what they're doing.  Mind you, this very rarely happens and we have never had any real trouble on the road.  Never the less, I want a periscope to see what's up, and torpedoes to take care of any trouble makers.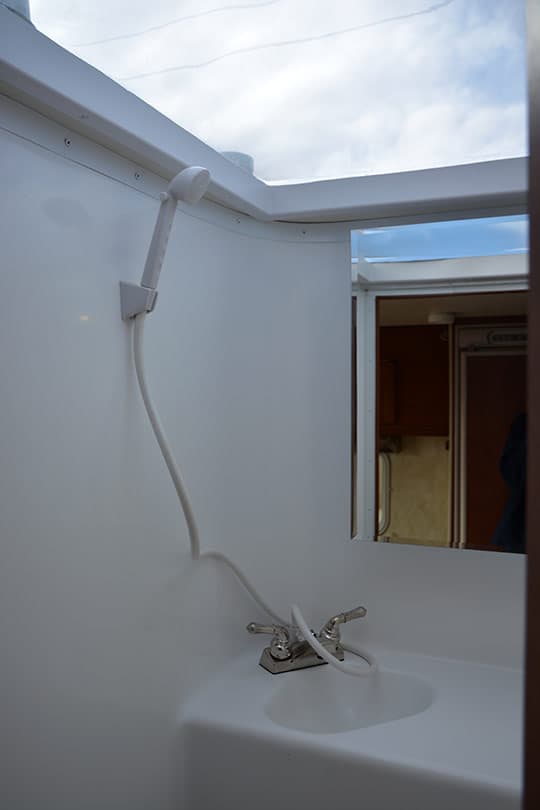 Being able to see from the bathroom skylight could address this need somewhat.  Visibility is still obscured by the camper roof itself, but you have the ability to see around the camper to some degree.  If you're not height challenged, try it when you see the 840.  It's a neat, and probably unintentional, benefit.
The wet bath in the 840 is the Goldilocks of wet baths.  It's not too big to take space unnecessarily from the rest of the camper.  It's not too small to be uncomfortable when you're in it.  A bigger wet bath, like what's in the Arctic Fox series, would be more comfortable, but this is just right for a camper like the 840.
Service Under the Stairs
As a non-basement design, the 840 gives you wheel well access on the passenger's side through a cabinet door.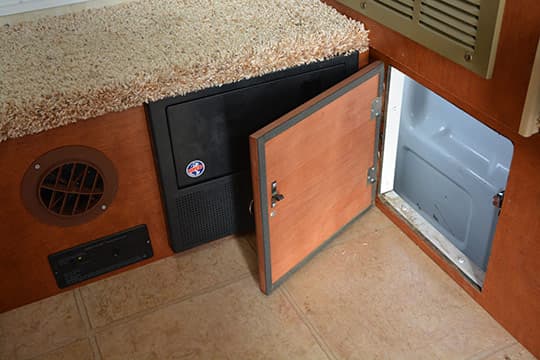 This is another old school trick that allows you to store stuff in the truck.  In similarly featured campers, we have stored gallon water jugs, shoes, and even dirty laundry bags in this area.
Just be careful.  A good friend once told us an absolutely hysterical story about a laundry bag stored in such an area littering a highway with flying dirty underwear, bras, and T-shirts for many miles before someone finally flagged them.  "Uh sir, I think your bra is stuck to my bumper".  That's a life moment for you.
Owning our own ten year old truck camper has given us a much stronger appreciation of anything a manufacturer does to make a camper more user or dealer serviceable.
Take the step up to the cabover in the Wolf Creek 840.  Lift it up and you have quick and easy access to the Rieco-Titan jack controller, power converter, water pump, and the fuse panel.  Everything is well laid out, relatively simple to follow, and well executed.
All I can say is, "Thank you, Northwood!"  If you own an 840, you'll thank Northwood if you ever need to replace a water pump, check the jack controller, or trouble-shoot an electrical problem.  This is truly a thing of beauty.
The front step also features the fuse panel, a ducted heat vent, and an LP detector, all right where they should be.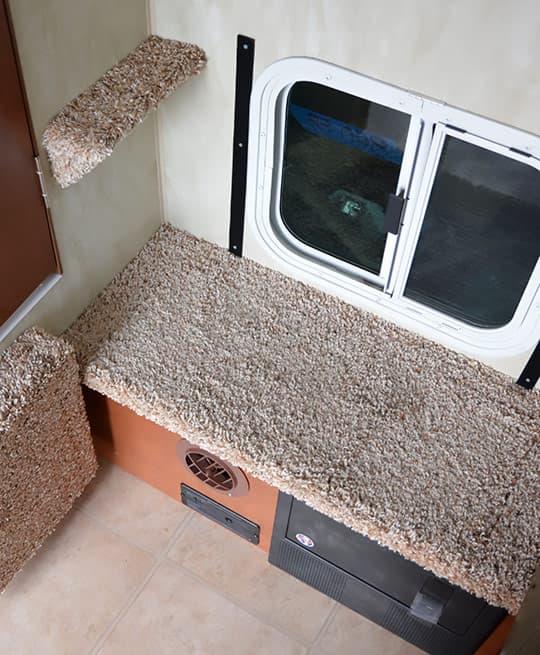 To aid in cabover entry and exit, the Northwood design team put a small lip on the exterior bathroom wall about mid-way up from the cabover step.  This is a welcome addition and does help getting in and out of the cabover easier.  That said, I would encourage you to try this before committing to the Wolf Creek, especially if you have any mobility issues.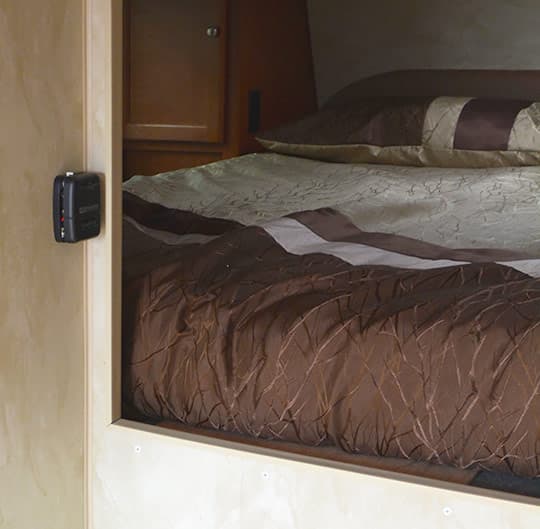 It may seem like a minor detail, but I really like the location of the thermostat in the Wolf Creek 840.  Located in the middle of the camper, it should aid in equalizing the temperatures between the cabover bedroom and main camper area.  Furthermore, it's easy to reach from the bedroom if you want to turn the heat up or down from bed.  Want to turn down the heat before falling asleep to avoid killing your battery overnight?  No problem.  Want to turn up the heat before getting out of bed on a frosty morning?  Can do.
Keeping the Wedding Sweet
I realize we live in a world where more is often seen as better, but I prefer balance, function, and a right-tool-for-the-job approach to things.  That approach describes the cabover in the 840.  Both sides have two cabinets and additional floor space for more storage.
Each side also has a big window.  The driver's side window is the emergency escape hatch, and the passenger's side is an identical-sized slide-open window.  The symmetry is quite attractive, as are the equal storage opportunities to avoid any spousal, "You have more storage than I do!", "Not-ahh!", and "Yea-hah!" entanglements.  Not that that ever happened with us.
Continuing with their marital fairness theme, Northwood has put 110-volt outlets on either side of the cabover for charging phones and other devices at night when plugged into shore power.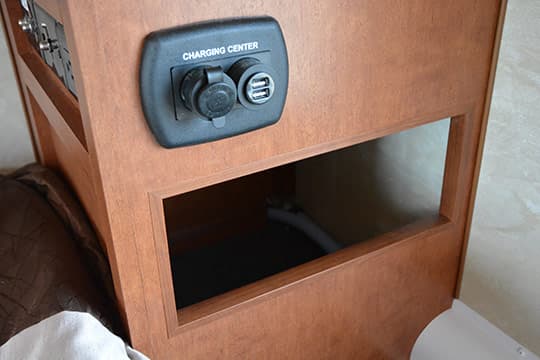 USB outlets are also included, as are the necessary ports to install a HDTV flat panel.  We sure travel in luxury these days.
Where the Heki were you last Tuesday?
The reading lights in the cabover are essentially mini incandescent interrogation lights.  The lights are too bright, too hot, and way too power hungry.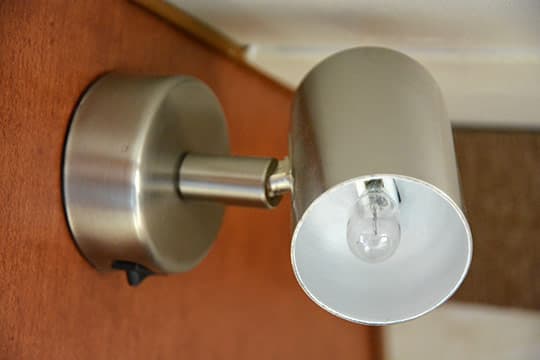 I would be willing to bet that most Northwood owners, upon discovering these hot lights next to their faces in bed, are not pleased.  Besides, it's only a matter of time before they're upgraded to LED.  Why not do this now?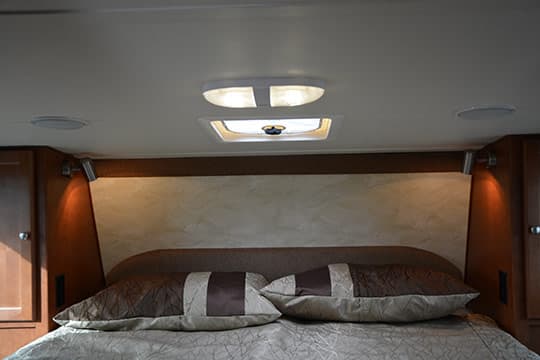 Above the bed is a vent, two stereo speakers, and a two-sided LED light.
Northwood has decided to not install Heki skylights in their campers as so many of their competitors have.  Instead, they install vents or Fantastic Vent fans.
Having lived with both Heki skylights and Fantastic Vents in cabovers, I have mixed feelings about Northwood's decision.  Heki skylights offer a tremendous amount of light into the cabover, helping to make up for the front cabover windows that were all-but abandoned a decade ago.
Unfortunately, Heki skylight parts are prone to failure.  The replacement parts are often difficult to source, and expensive when you can find them.  We have never experienced these problems with the Heki equipped campers we have camped in, but it's something to consider.
Fantastic Vents, on the other hand, are simply awesome.  They work incredibly well to draw air through a truck camper, and are virtually maintenance free.  That stated, a Fantastic Vent isn't going to give you the light and sense of openness offered by a Heki skylight.  In comparison, Fantastic Vents make a cabover feel dark and closed in.
Which one would we prefer?  If forced to chose between the Heki and the Fantastic Vent in the cabover, I would probably pick the Fantastic Vent.  In my book, reliability trumps darn near everything.  I have never heard of a Fantastic Vent failure.  Unfortunately, I can't say that about Heki skylights.
Wrap It Up
I love the 2015 Wolf Creek 840.  The sharp graphics and logo make it look awesome on the outside.  The time-tested and proven floor plan makes it work exceptionally well on the inside.
The kitchen is full of storage and lots of counter space.  The wet bath is the picture of form and function, all anyone who doesn't insist on a dry bath should ever need.  The refrigerator is just big enough to work well.  And the cabover is brimming with storage, equally placed, on both sides.
Yes, I'm not pleased with the decals on the windows, but the owner can remove them, or have the dealer remove them.  I would also move the sewer hose tube to the back skirt area, or use the secondary sewer hose area if it fits a standard sewer hose, but that too is something the owner or a dealer could make happen.
Honestly, it's all I can do not to gush about this camper.  All of the design decisions feel right for a camper this size and price.  If you're looking for a hard-side, non-slide truck camper, put the 2015 Wolf Creek 840 on your shopping list.  It's a winner.
Quality, Customer Service, and Long-Term Reliability
Truck Camper Magazine inspects all reviewed truck campers for design, material, and quality issues and reports what we find.  However, since Truck Camper Magazine reviews only brand new truck campers, our reviews do not address long-term quality, customer service, or reliability.
To learn about a brand's long-term quality, customer service, and reliability, Truck Camper Magazine recommends talking directly with truck camper owners at truck camper rallies and online via truck camper forums and truck camper owners groups.
Please be sure to balance your gathered feedback across multiple sources including direct correspondence with the truck camper manufacturers and your closest truck camper dealers.  Click here if you are new to truck campers.
Request a Wolf Creek Brochure.  For more information on the Wolf Creek 840, visit Northwood's website at www.northwoodmfg.com.