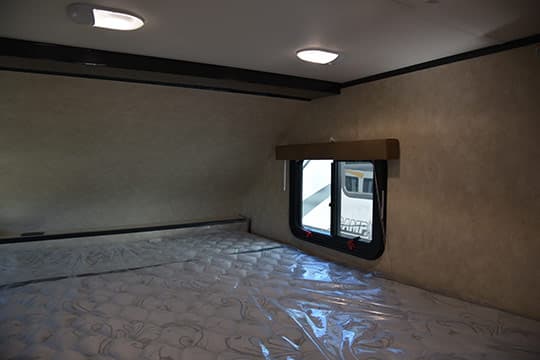 The cabover features two windows, one on either side for the all-important cross ventilation.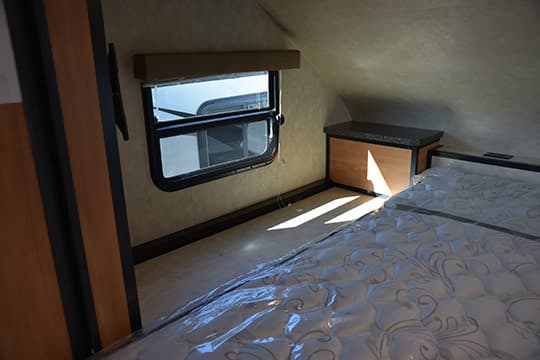 The driver's side window is a vertical crank-out, perfect for a little air when it's raining.  The passenger's side doubles as the escape hatch and features a slider.
The overhead LED lights in the cabover seem to line-up well for the North-South configuration.  Since that's the vastly more popular orientation for hard side truck campers, this makes sense.
At 34" (from top of mattress to ceiling), the cabover height in the CampLite 8.6 is impressive for a camper of this size.  I was able to sit up and be comfortable in the 8.6 cabover.
Wrap It Up
There is a lot to like about the 2015 CampLite 8.6.  First, the wood-free all-aluminum and composite construction prevents many of the common pitfalls of long-term truck camper ownership.  For this reason alone, some folks will drive to their nearest CampLite dealership, and buy the floor plan that best suits their needs.
The fact that the 8.6 goes just beyond the tailgate, and stops, makes it a perfect candidate for a towing truck camper rig.  According to our 2015 reader survey, almost 76% of our readership tows something behind their truck camper.  Over 42% tow a boat for goodness sake.  If you're in this majority, the tailgate length of the 8.6 could be very enticing.
At around 3,000 pounds, the projected wet weight is very reasonable for a wide assortment of long bed trucks.  With this wet weight, and its tailgate length, this camper is open to all kinds of trucks and towing applications.  We're talking about a seriously robust, versatile, and compatible build and design here folks.
My main reservations about this camper are with its awkward storage.  It feels like a camper that was designed with the above criteria in mind, but without thinking about the day-to-day life of actually being in the camper.  Where does the silverware go?  Where do the towels go?  Give us more options for our T-shirts, socks, and underpants.  We all camp with underpants, right?
All kidding aside, the 2015 CampLite 8.6 is an impressive camper.  Even better, I can see it improving – especially if LivinLite embraces the booth-style dinette, and works on the storage.  Give this camper another evolution, and it will be a serious non-slide, long-bed contender.
Quality, Customer Service, and Long-Term Reliability
Truck Camper Magazine inspects all reviewed truck campers for design, material, and quality issues and reports what we find.  However, since Truck Camper Magazine reviews only brand new truck campers, our reviews do not address long-term quality, customer service, or reliability.
To learn about a brand's long-term quality, customer service, and reliability, Truck Camper Magazine recommends talking directly with truck camper owners at truck camper rallies and online via truck camper forums and truck camper owners groups.
Please be sure to balance your gathered feedback across multiple sources including direct correspondence with the truck camper manufacturers and your closest truck camper dealers.
If you are new to truck campers, read our Newbie Corner.  To request more information on the CampLite 8.6 request a brochure.